This Air Fryer Salmon is the absolute best way to cook perfect salmon every time! It's made with a quick, flavorful spice rub and it's tender and flaky in the middle, and perfectly golden on the outside.
It comes together in 10 minutes can be served with absolutely any side for the perfect meal!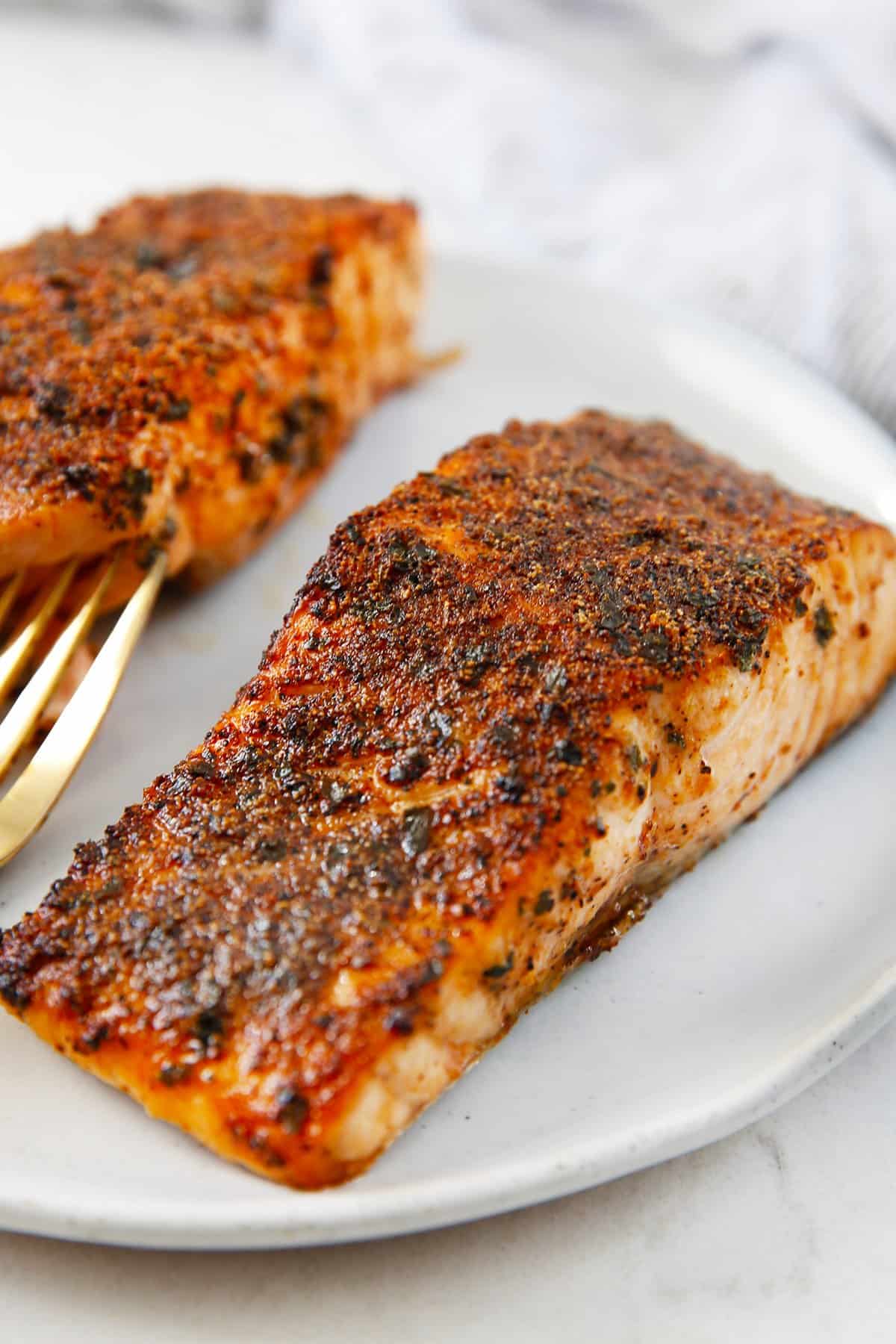 Easy Recipe for Making Perfect Salmon in the Air Fryer
Cooking in the air fryer is my new favorite thing to do lately! I love quick dinners, as you know, and this air fryer salmon recipe could not be any easier to throw together. It's hands down my new way to prepare and cook salmon right now and the whole things comes together in 10 minutes!
It cooks fast, cooks just right, and is absolutely delicious. Plus, no smelling your entire house up like salmon!
We're coating salmon filets in a touch of olive oil followed by the perfect sweet and spicy blend of seasonings! Then air frying those salmon filets for just a few minutes until they're tender, flaky, perfectly golden and crisped on the outside. Seriously incredibly delicious.
Ingredients Needed
Salmon: you'll need one pound of salmon cut into 2 filets for this recipe.
Olive Oil: we're coating the salmon in oil before air frying to add moisture and help the seasonings stick.
Spice Rub: we're whipping up a homemade spice rub with a mixture of garlic powder, chili pepper, coconut sugar, cilantro, salt and pepper.
Seasoning Variations
While I love the sweet and spicy mix I listed for this recipe, you can totally get creative with the seasonings you use for this salmon recipe. Try everything bagel seasoning, taco seasoning, Cajun seasoning, or even burger seasoning!
How to Cook Salmon in the Air Fryer
Season the salmon: Rub each fillet with olive oil, then season liberally with the spice rub.
Air fry: Place the salmon in the preheated air fryer and cook until tender and flaky. Keep in mind that the cooking time can vary depending on the thickness of the salmon you use and your air fryer.
Why Salmon in the Air Fryer?
Good question! While I love making salmon in the oven or on the stovetop, the air fryer is hands down my new go-to method because it's essentially mess-free. No oil splattering, no house smelling like salmon for hours… it's truly a breeze in under 10 minutes and cooks perfectly every time!
What Type of Air Fryer to Use
That's definitely a personal preference! We've tried quite a few air fryers over the years. We have and use this basket style, this Instant Pot air fryer attachment and this toaster-style air fryer! They all work great, so what you really need to do is consider a couple of questions: 1) Do you want/need a new toaster? 2) Do you have space for a new solo appliance?
You should also be aware of what size air fryer you want. Some can be quite small so you may have to air fry certain foods in batches.
What Temperature Should the Air Fryer Be On for Salmon?
I cook salmon in the air fryer at 400ºF and it comes out perfectly. It's a high enough temperature that the outside gets nice and crispy, but not so high that it burns before the inside of the salmon is cooked all the way through.
Can I Use Frozen Salmon?
Yes! You can totally cook frozen salmon in the air fryer if that's what you have on hand.
For frozen salmon: Wrap the filets in foil and cook first at 400ºF for 7 minutes. After 7 minutes, unwrap the salmon and cook for another 6-11 minutes or until the salmon is crisped and the internal temperature is 145ºF.
Is Air-Fried Food Good for You?
We all know I'm not at all afraid of healthy fats. But when I fry foods, I use avocado oil and that can get expensive. One of the perks of "frying" in the air fryer, is it uses a super small quantity of oil.
While that is my favorite reason to use the air fryer, if you are looking to cut down on some fats, the air fryer can definitely help you achieve that as well. As compared to deep-fried food, food made in the air fryer has the same "fried" texture and flavor, but without the excess oil.
And bonus: it's incredibly convenient and super easy to use!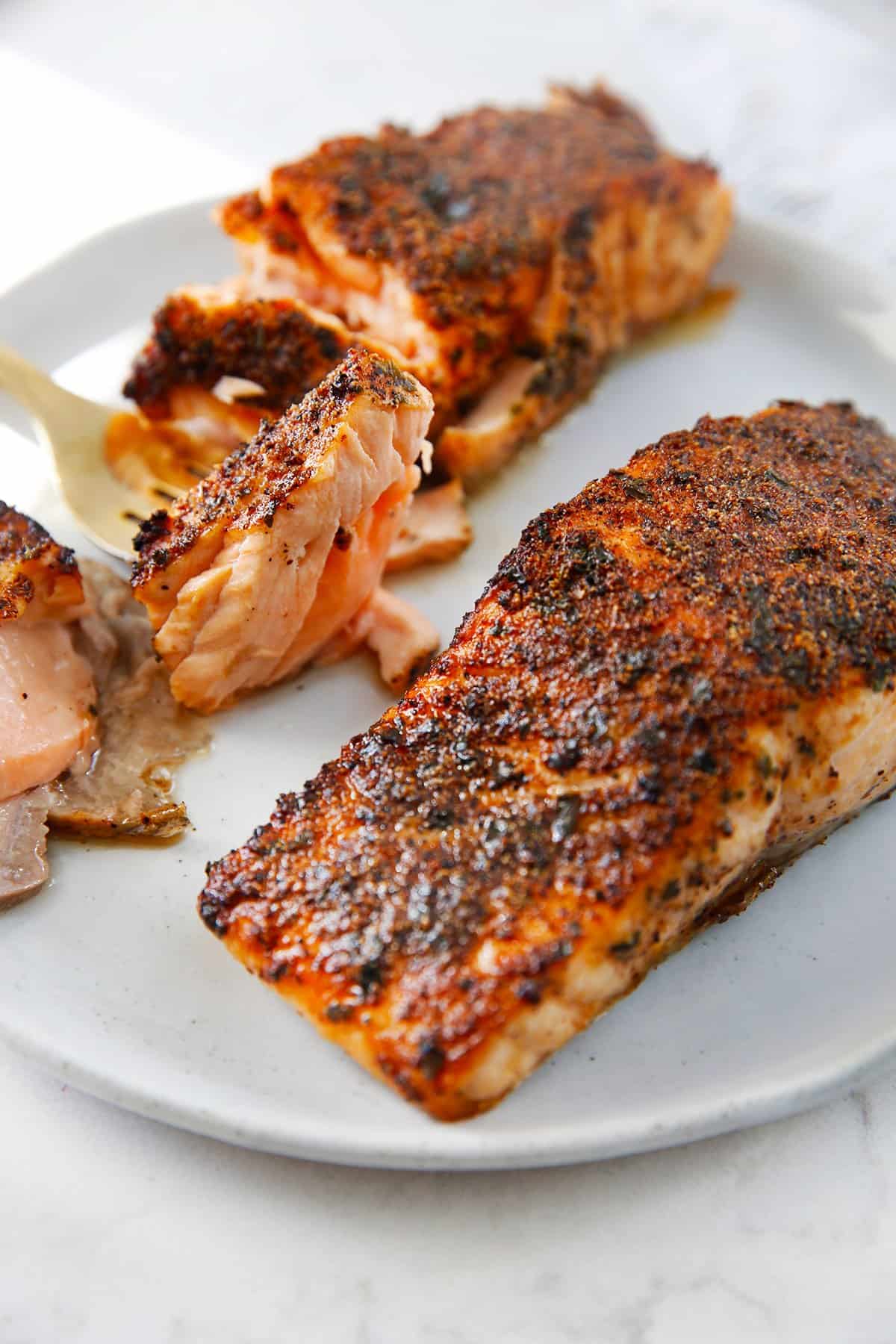 Air Fryer Salmon Hot Tips!
Preheat the air fryer. The air fryer should be hot before you add in the salmon for it to cook properly.
Don't overcrowd. Make sure there's enough space in your air fryer for the air to circulate around the salmon. If they're on top of each other, they won't cook evenly.
Try to have them even. Try making sure your filets are somewhat even in size for even cooking!
You'll be able to tell that the salmon is done if it can be easily flaked with a fork. You can also use a meat thermometer to check the internal temperature. It should be 145ºF.
How to Serve it!
I love to serve this air fryer salmon with…
Rice: Cauliflower Rice, Coconut Rice, or the Best Rice Ever!
Salads: With this Mediterranean Quinoa Salad, over my favorite Chopped Greek Salad, or with this Spring Mix Salad to make it an entree salad!
Paired with Pasta: Penne Alla Vodka, 20-Minute Fresh Tomato Pasta, Spaghetti Carbonara, or really just any pasta!
With a side of veggies: Try my air fryer asparagus or easy stir fry veggies!
Honestly, you name it, it truly goes great with everything!
How to Store It!
Leftover salmon will last in an airtight container in the fridge for up to 3 days or in the freezer for 2-3 months. Freezing is not my preferred method, but can be done. I prefer to eat it within a few days!
To reheat, thaw overnight in the fridge if frozen then warm on medium-low on the stove with a little bit of oil, in the air fryer at 350ºF until heated through, or in the oven at 350ºF for 8-10 minutes.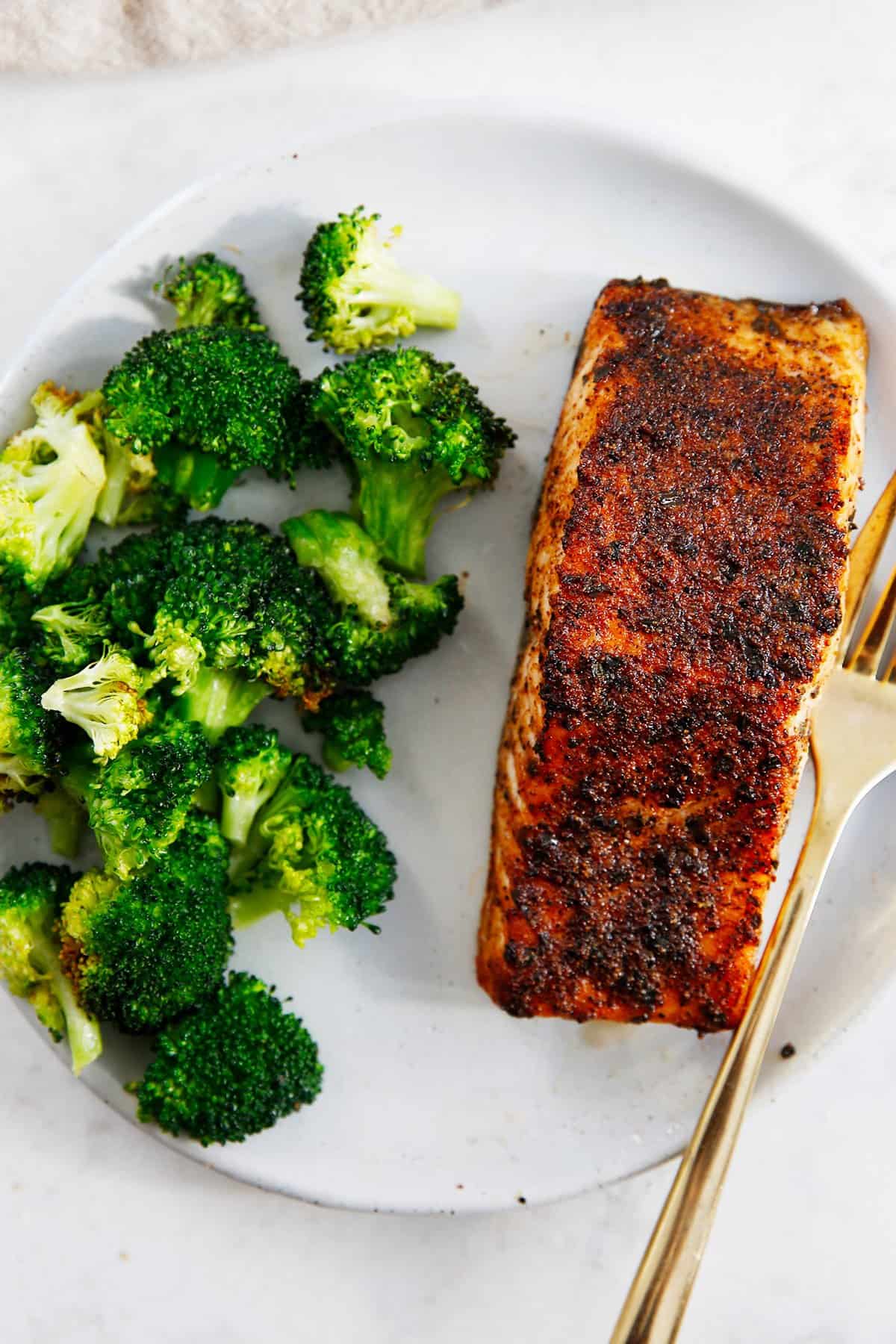 More Air Fryer Entrees You'll Love
More Seafood To Try!
Watch The Video
Print
Air Fryer Salmon
This Air Fryer Salmon is the absolute best way to cook perfect salmon every time! It's made with a quick, flavorful spice rub and it's tender and flaky in the middle, and perfectly golden on the outside. Serve with absolutely any side for the perfect meal!
Author:
Prep Time:

00:02

Cook Time:

00:08

Total Time:

00:10

Yield:

2

1

x
Category:

Seafood

Method:

Air Fryer
1

pound salmon, cut into

2

filets

1 tablespoon

olive oil

1/2 teaspoon

garlic powder

1/2 teaspoon

chili pepper

1/2 teaspoon

coconut sugar

1/2 teaspoon

cilantro

1/2 teaspoon

salt and pepper
Lemon wedges, optional, for serving
Instructions
Preheat the air fryer to 400°F (if yours has a preheat option)!
Rub each fillet with olive oil and season with the seasoning blend.
Place the salmon in the air fryer and air fry for 7-9 minutes, this will depend on the thickness of the salmon.
Open basket and check for desired doneness with a fork. You can return the salmon for another 1 or 2 minutes as needed!
Serve with optional lemon wedges and enjoy!
Notes
Time may vary between air fryers.
I like to use wild-caught salmon, but any will do!
Keywords: air fryer salmon, salmon in air fryer, how to cook salmon in air fryer
3 comments
February 21, 2022
This website may at times receive a small affiliate commission for products that we shared with you in our posts. Although we may receive a commission for linking certain products, there's no additional costs to you and all of our opinion and suggestions are 100% our own and unbiased. That's our promise to you!
Subscribe to get our FREE clean eating guide!
Join our email list TODAY to start recieving our newsletter weekly, access to exclusive content and deals, *and* a FREE complete 24-page clean eating guide!