This Air Fryer Broccoli is a 10-minute recipe for perfectly crisp-tender broccoli with a little char. Keep it simple with oil, salt, pepper, and garlic powder, OR get creative with whatever seasonings you like. This recipe is quick, versatile, and delicious!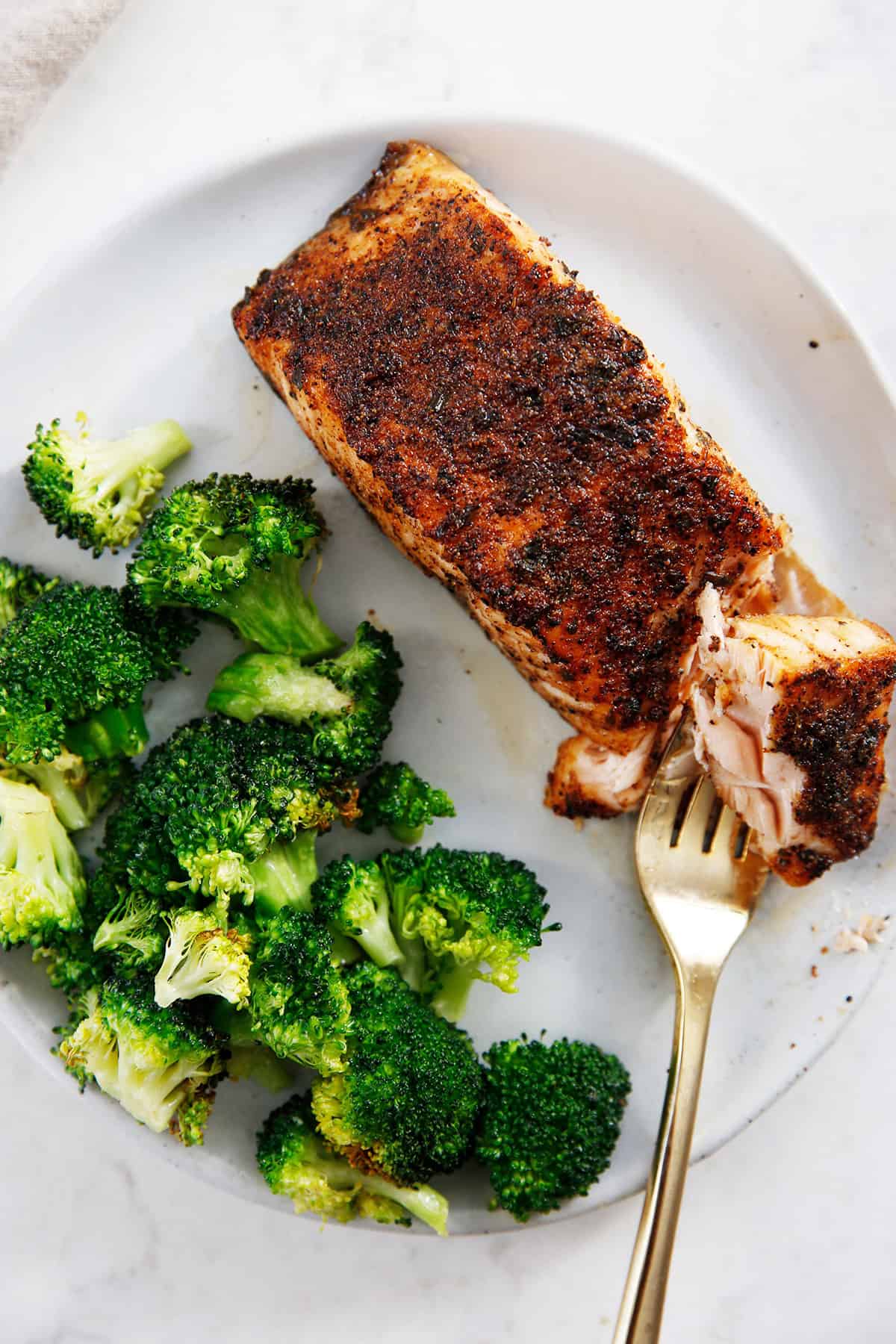 Easy Air Fryer Broccoli
If you're ever not quite sure what side dish to serve with lunch or dinner, then this Air Fryer Broccoli is your answer. Not only is this recipe incredibly quick and easy, but it's also simple, versatile, and totally customizable. Keep it easy with garlic powder, salt, and pepper or play around with any seasonings your heart desires.
This recipe makes cooking and eating veggies so darn easy! I grew up loving charred burnt broccoli from a local restaurant in New York, and I can achieve that in the air fryer now! What a win.
Ingredients Needed
This air fryer broccoli recipe consists of just 5 simple ingredients!
Broccoli Florets: you'll need roughly 4 cups of broccoli florets. Think medium-sized head or a bag from the store!
Oil: I like to use either olive oil or avocado oil.
Seasonings: we're dressing our broccoli up with a simple blend of garlic powder, salt, and pepper.
Seasoning Variations
While garlic powder, salt, and pepper keep this air fryer broccoli super versatile, you can totally get creative with seasonings and flavors.
Spice it up with cayenne or red pepper flakes, toss it with taco seasoning and serve it with chicken tacos, drizzle it with coconut aminos (soy sauce alternative) and a dash of sesame oil to serve with Asian salmon, make it cheesy with a sprinkle of fresh parmesan…the sky is the limit!
How to Cook Broccoli in the Air Fryer
Cooking broccoli in the air fryer really could not be easier!
Season: In a mixing bowl, toss together broccoli, oil, and seasonings until fully coated.
Air fry: Transfer the mixture to a preheated air fry and cook until crisp-tender.
Do You Need to Add Water?
Nope! While some people add a splash of water to the air fryer to prevent burning, I haven't found a need for it. I air fry without water and it comes out perfectly every time!
Can You Put Frozen Broccoli in the Air Fryer?
Totally! While frozen broccoli doesn't become quite as crisp-tender as fresh broccoli does, it's still delicious. Here's how to air fry frozen broccoli:
Thaw the broccoli: Preheat the air fryer to 400ºF, then add in the frozen broccoli as-is. Cook for 5 minutes to thaw.
Season: Transfer the thawed broccoli to a mixing bowl and toss with oil and seasonings.
Air fry: Air fry as directed!
Air Fryer Broccoli Pro Tips
Use evenly sized florets. Cut your broccoli florets so they're relatively similar in size to ensure that they cook at the same rate.
Preheat the air fryer. Preheating the air fryer to 400ºF first results in broccoli that's perfectly crisp on the outside but soft and tender in the middle. Not preheating the air fryer can affect the texture.
Don't overcrowd the basket. While you can make as much broccoli as you need, be careful to not overcrowd the air fryer basket. The air should be able to circulate around the florets so they cook evenly. If needed, work in batches!
If you do use more broccoli in one batch, you may need to adjust the cooking time to make sure that the broccoli cooks all the way through.
What Type of Air Fryer to Use
We've tried quite a few air fryers over the years. We've have and use this basket style, this Instant Pot air fryer attachment and this toaster-style air fryer! They all work great! It's quite a personal preference which you choose. Do you want/need a new toaster? Do you have space for a solo new appliance? All these things will go into consideration when shopping and deciding which of those will work for you. It's not a small appliance, so make sure you have space for it!
What there is to be aware of about air fryers though is that some of them can be quite small. If yours has a small capacity, you may have to make the food in batches. Though I'm guessing if you've been using this air fryer for a while, you've already learned that.
Cooking it in batches, if you have a small capacity air fryer, ensures there is plenty of air circulation around the wings so they can get crispy. If you do need to do it in batches, at the very end you can put all of the wings back in the basket and cook for one minute to warm them all back up!
Let's Make it a Meal
This air fryer broccoli is an incredibly versatile side dish that can be served with pretty much any main dish you like!
I love to serve with air fryer salmon or perfect air fryer chicken breast and a pile of rice, next to a bowl of Pasta Alla Vodka, or even on its own as a healthy snack!
How to Store
Air-fried broccoli is best right away, but leftovers will last in an airtight container in the fridge for up to 5 days. To reheat, warm in the air fryer at 350ºF until heated through and re-crisped.
More Air Fryer Recipes
More Broccoli Recipes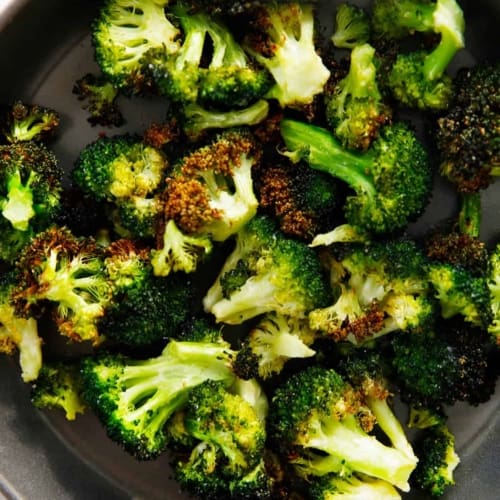 Air Fryer Broccoli
This Air Fryer Broccoli is a 10-minute recipe for perfectly crisp-tender broccoli. Keep it simple with oil, salt, pepper, and garlic powder, OR get creative with whatever seasonings you like. This recipe is quick, versatile, and delicious!
Ingredients
10

ounces

broccoli florets

roughly 4 cups

2

tablespoons

oil of choice

I use olive oil or avocado oil

1

teaspoon

garlic powder

1/4

teaspoon

fine sea salt

1/4

teaspoon

pepper
Instructions
Cut broccoli into fairly even florets.

In a large bowl drizzle broccoli with olive oil, garlic powder, salt, and pepper. Toss to coat evenly.

Preheat your air fryer to 400ºF, according to the manufacturer's instructions.

Add the broccoli to the air fryer basket and cook for 4 minutes.

Open the air fryer door, toss broccoli with tongs, and cook for the remaining 4 minutes, until tender to your liking. You can add a minute or two more if desired.

Serve immediately!
Notes
The cook time may vary slightly based on your air fryer, so keep an eye on it towards thee end!