How to Make Perfect Scrambled Eggs: my tips and tricks for creamy, fluffy, and delicious scrambled eggs with just oil or butter, eggs, salt, and pepper!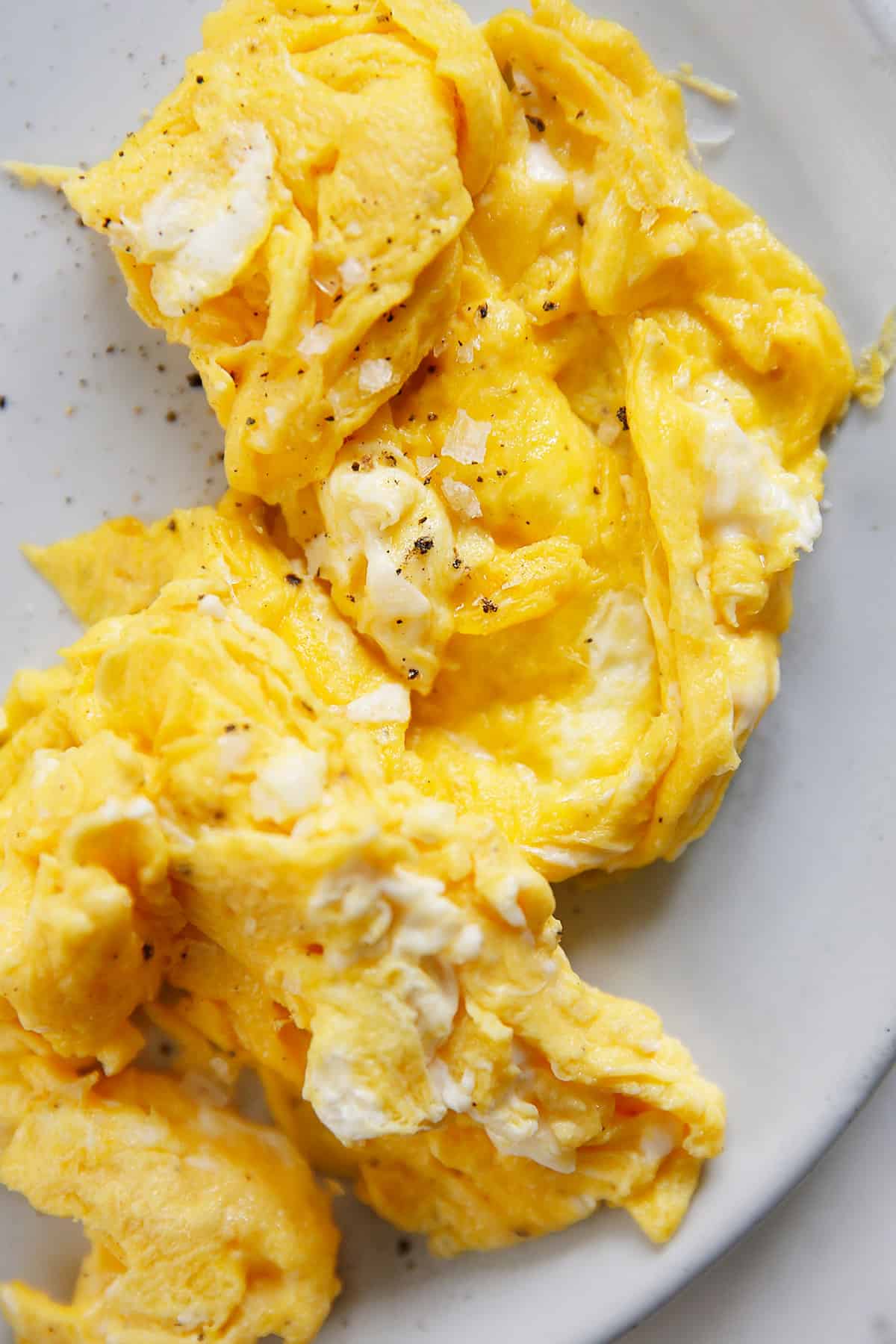 How to Make Perfect Scrambled Eggs
Scrambled eggs may seem like a super basic recipe. And while they are super simple, they are also super easy to mess up. A few simple factors can be the difference between dry and over-cooked, watery and flavorless, or perfect, fluffy, creamy scrambled eggs.
So, with that in mind, I'm going to walk you through what I do to make the absolute best scrambled eggs every time!
My Best Tips for Making Perfect Scrambled Eggs
Use a nonstick pan. While we do add a fat like oil or butter, it helps to use a nonstick pan to make sure the eggs can be easily removed with no sticking. See below for my non-toxic, nonstick picks.
Scramble with a fork. A whisk can incorporate too much air into the egg, which can result in airy scrambled eggs. A fork combines everything perfectly.
Stir in large sweeping motions as you cook. You'll break the scrambled egg up as it cooks, to get that scrambled egg texture. Use a spatula and slowly drag it along the bottom of the pan so they cook nice and even!
Take the eggs off the heat once just about done. This is to account for carryover cooking AKA… the eggs will continue to cook since the skillet is hot. So to avoid dry eggs, just remove them when they appear to have just 20 or so seconds left to go!
Serve right away. Scrambled eggs are best hot out of the pan. Garnish and enjoy!
Should You Beat Eggs Before Scrambling?
Yes! Mixing the egg before adding it to the hot pan allows the yolk and the white to get well incorporated. This results in scrambled eggs with a more balanced flavor and better texture.
While it may seem like it will save you a bowl by cracking the eggs right into your skillet, trust me, you will not have the same results!
What Heat Should You Cook Scrambled Eggs?
Cook them low and slow!
Low heat is the key to perfect scrambled eggs! While it can be tempting to crank the burner up in the hopes that the eggs will cook faster, all this does is dry them out and increases the chances that they will burn.
Do You Add Milk to Scrambled Eggs?
Nope, I do not! I actually recommend not adding milk to your scrambled eggs. I find that, rather than making the eggs richer and creamier, it just masks their delicious flavor. 
If you follow all of the right steps, you'll end up with perfectly creamy scrambled eggs without any added milk or cream!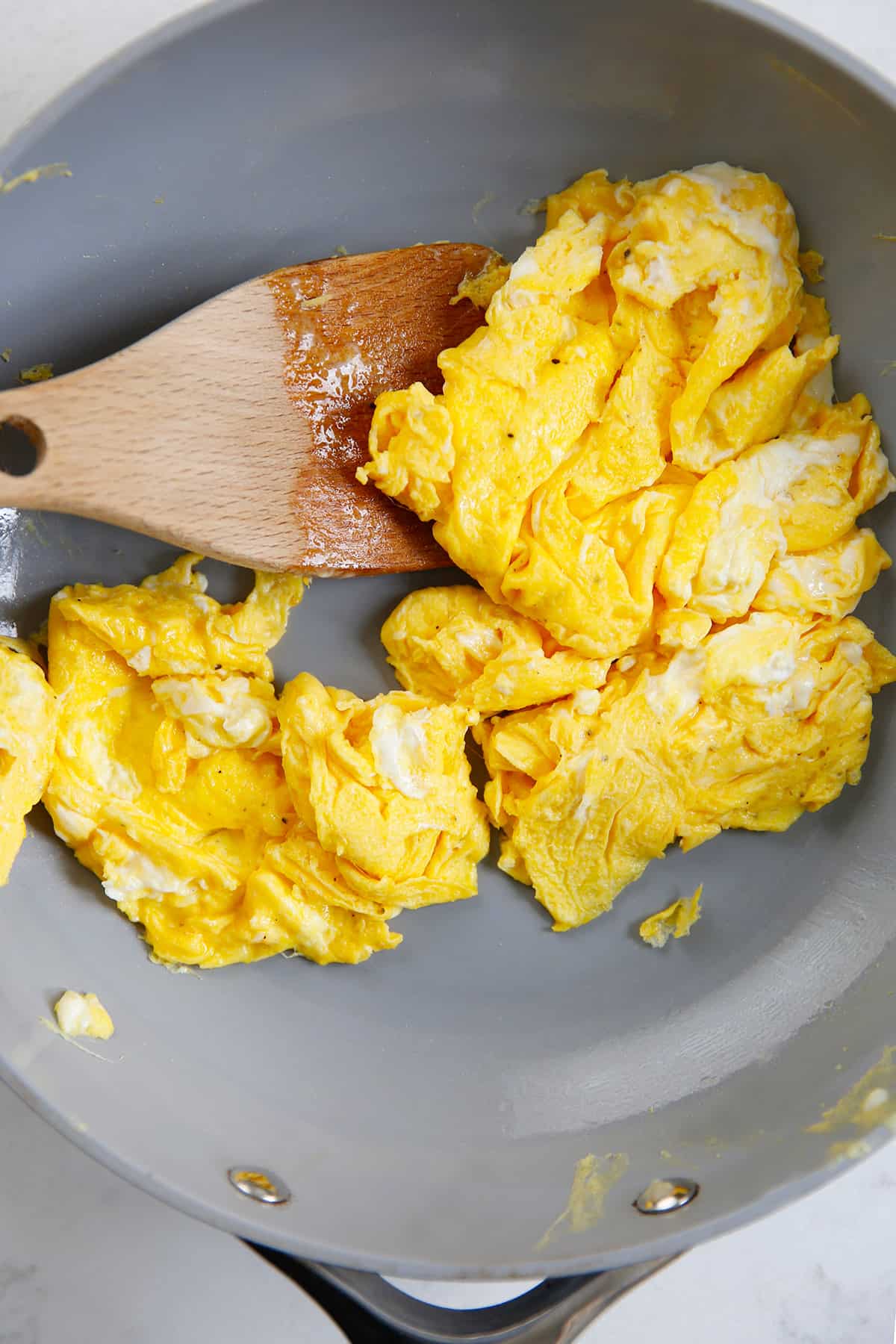 Non-Toxic, Non-Stick…
Pans do matter with eggs, and if you've ever had a stainless pan a disaster after cooking them, you understand why! Find my favorite non-toxic cookware options here, but in short:
My favorite non-stick options for everyday lower-heat cooking…
(I use these everyday for things like pancakes, eggs, etc.)
Caraway: All-around, Caraway is a fantastic brand. Everything is made with high quality, ceramic-coated aluminum. There's no lead, cadmium, or other toxic materials.

Pros: Oven safe, heavy, beautiful, great non-stick, two sizes, and retains heat REALLY well.
Cons: Not to be used for high-heat cooking, or really cooking nearly any meat.

Our Place: I'm a big fan of the Always Pan from this brand, in particular. It's designed to replace eight pieces of traditional cookware — a fry pan, a saute pan, a steamer, a skillet, a saucier, a saucepan, a non-stick pan, a spatula, and a spoon rest. It can do it all! The coating is made without toxic materials, including PFAs.

Pros: Comes with a steamer insert that is amazing, beautiful, and great non-stick.
Cons: Only one size, not oven-safe, and not for high-heat cooking.

Greenpan: This company manufactures a variety of cookware options, all of which use a ceramic coating called Thermolon. Everything is made with natural materials and does not release toxic fumes, even at a high heat. This is by far the least expensive option of the bunch. But with that inexpensive cost, comes a price. These pans seems to go through wear and tear a lot quicker.

Pros: Inexpensive.
Cons: Doesn't really seem to last more than a year, even when taken care of well and the handle can smell like it's burning if too high of heat.
What Can You Put in Scrambled Eggs?
While scrambled eggs are great plain or with some sea salt or chives on top, they also make a great vehicle for a number of different mix-ins should you desire.
Tip: Cook mix-ins first. Add-ins (if using) like veggies and meat release moisture and grease. Cook them first so you don't get all of that extra stuff into your perfect eggs!
Here are a few ideas:
Spices. Keep it simple with salt and pepper or spice things up with paprika, cayenne pepper, red pepper flakes, chili powder, or even dried herbs like basil, dill, oregano, etc.
Cheese. You can add pretty much any cheese to your scrambled eggs to take the flavor up a notch. Try feta, cheddar, Monterey jack, Swiss, mozzarella, etc. If you do decide to add cheese, wait until the eggs are nearly done cooking. It doesn't need much time to melt into the creamy eggs.
Veggies. Diced veggies are a great way to pack some nutrition into your scrambled eggs. Try mushroom, bell pepper, onion, spinach, etc. My one tip for adding veggies is to cook them first. They release a lot of moisture as they cook which will water down the eggs. Pre-cooking is best!
Meat. You can also bulk your scrambled eggs up with the addition of cooked protein like breakfast sausage, diced bacon, chorizo, diced ham, or even shredded chicken. Again, cook it first!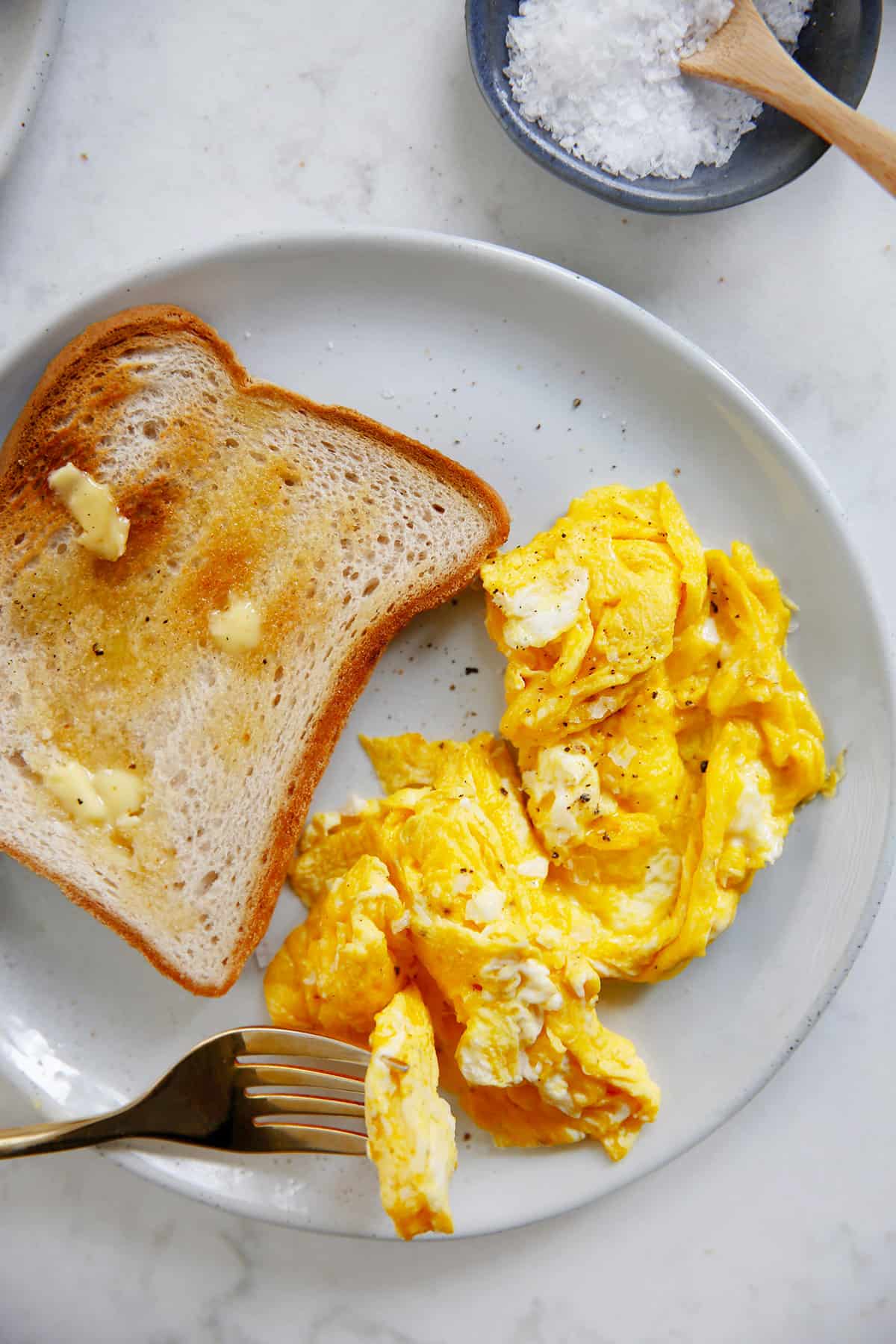 Let's Eat!
Top with flakey salt, cracked pepper, chives, and with a side of bacon, some buttered toast, home fries… you name it!
How to Store Them!
Scrambled eggs are definitely best right away, so I recommend only cooking as much as you'll need. However, if you do have leftovers they will last in an airtight container in the fridge for 3-4 days.
To reheat, warm in the microwave or in a little bit of melted butter or oil on low on the stove until heated through.
More Egg Recipes You'll Love
Watch The Video: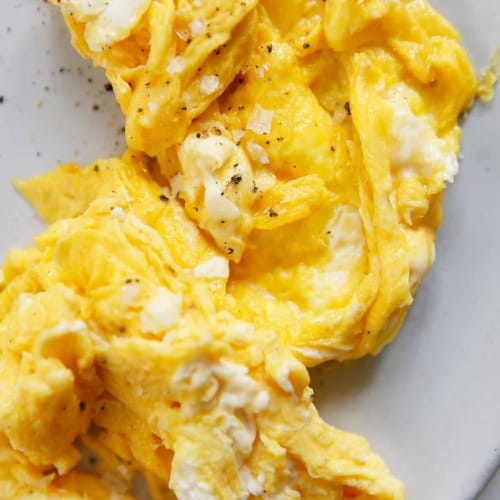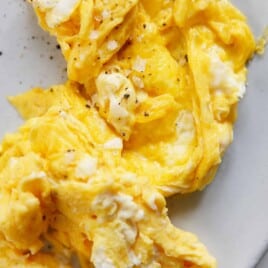 Perfect Scrambled Eggs
How to Make Perfect Scrambled Eggs: my tips and tricks for creamy, fluffy, and delicious scrambled eggs with just oil or butter, eggs, salt, and pepper!
Ingredients
1/2

tablespoon

butter

ghee, or oil of choice

4

eggs

Pinch

of salt and black pepper

Garnishes of choice
Instructions
In a bowl add eggs, salt and pepper. Scramble with a fork. 

Heat a nonstick pan (see note) to medium-low heat. Add butter or oil.

Pour in eggs and use a spatula to slowly drag it along the bottom of the pan, creating large soft curds.

Take the eggs off the heat once just about done to avoid dry eggs.

Serve right away. Garnish and enjoy!
Notes
See post for my non-toxic, nonstick picks.