Aside from these breakfast cookies being packed with awesome nutrients, they are also easy to make and taste like banana bread. Yes, banana bread.

Breakfast Cookies
Before we get into the cookies, I have to tell you how excited I am about today's post. I am teaming up with Vital Proteins to share with you this protein-packed, delicious recipe, but I want to tell you why I love Vital Proteins Collagen Peptides so much, and how I sneak it into my diet daily.
My mom and I have been adding collagen into our diets for over a year and a half now and have been truly amazed at what we've seen. Let me tell you about her, first. My mom's hair hasn't stopped growing and is thicker than ever. Before she started using collagen protein daily, her doctor told her she might have to start taking medicine for Osteoporosis. At her next visit her doctor was stunned that she no longer had it! Now, I'm not saying collagen is the cure, but it was one of the only changes she made so she absolutely attributes it.

I love it as it's wonderful for your skin, nails, and hair, and also for joint and gut health. Now, how do we sneak it into our daily routine (aside from breakfast cookies)? Through my coffee (yes it's tasteless)!
Easy breezy. I just add a scoop into the mug, pour in the coffee, and it dissolves instantly with no taste. But, these cookies… what a treat! Loaded with protein, healthy fats, and some good carbs to make up the perfect fueling snack anytime of day.
Make them nut-free
Swap out almond flour for oat flour and omit nuts for your favorite add-ins!
Watch the video:
Other collagen recipes:
---
Yields
12
Prep Time
8 min
Cook Time
15 min
Total Time
23 minutes



Author: Lexi
---
Directions
Preheat oven to 350°F and line a baking sheet with parchment paper.
In a bowl smash bananas until soft and mushy.
Add in almond flour or oat flour, crushed nuts (if adding), shredded coconut, pinch of salt and collagen peptides and mix to combine.
Add in maple syrup and vanilla, and mix to incorporate.
Fold in any add-ins as desired.
Scoop 12 cookies onto the baking sheet and bake for 15 to 17 minutes.
Let cool completely before serving.
Lasts for up to 1 week in the refrigerator or in an air-tight container on the counter, or in the freezer for up to 1 month.
Recipe Notes
For these cookies I use the blue bottle of collagen peptides, not the green. The green is for gummies and other gelatin items.
Make them nut-free: Swap out almond flour for oat flour and omit nuts for your favorite add-ins!
---
Nutrition
Loading nutrition data...
In partnership with Vital Proteins. All opinions are always 100% my own.
171 comments
May 18, 2016
Click to edit CSS
Click to edit CSS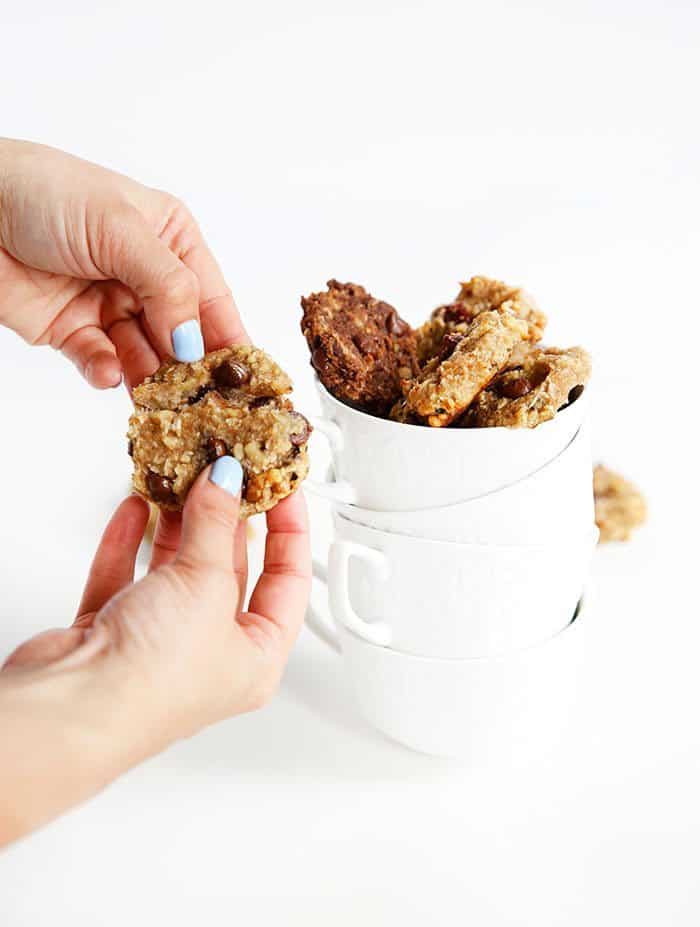 Subscribe to
Lexis Clean Living
Join our email list to get instant updates and weekly summaries of our top content and special exclusive offers along with our free clean eating kickstart guide!
This website may at times receive a small affiliate commission for products that we shared with you in our posts. Although we may receive a commission for linking certain products, there's no additional costs to you and all of our opinion and suggestions are 100% our own and unbiased. That's our promise to you!