These Paleo Chocolate Strawberry Cups are the perfect paleo and vegan Valentine's Day treat. Made with an easy, 2-ingredient chocolate ganache and my favorite chia seed jam, everybody will love this decadent treat that is easy to make and require's no baking!
Paleo Chocolate Ganache Strawberry Cups
Now, you can really make this jam with any fruit, but we made it festive for Valentine's Day with strawberries! Store them in the fridge, pop them in your mouth for a bite-size treat, and enjoy! You can also gift them and share with others!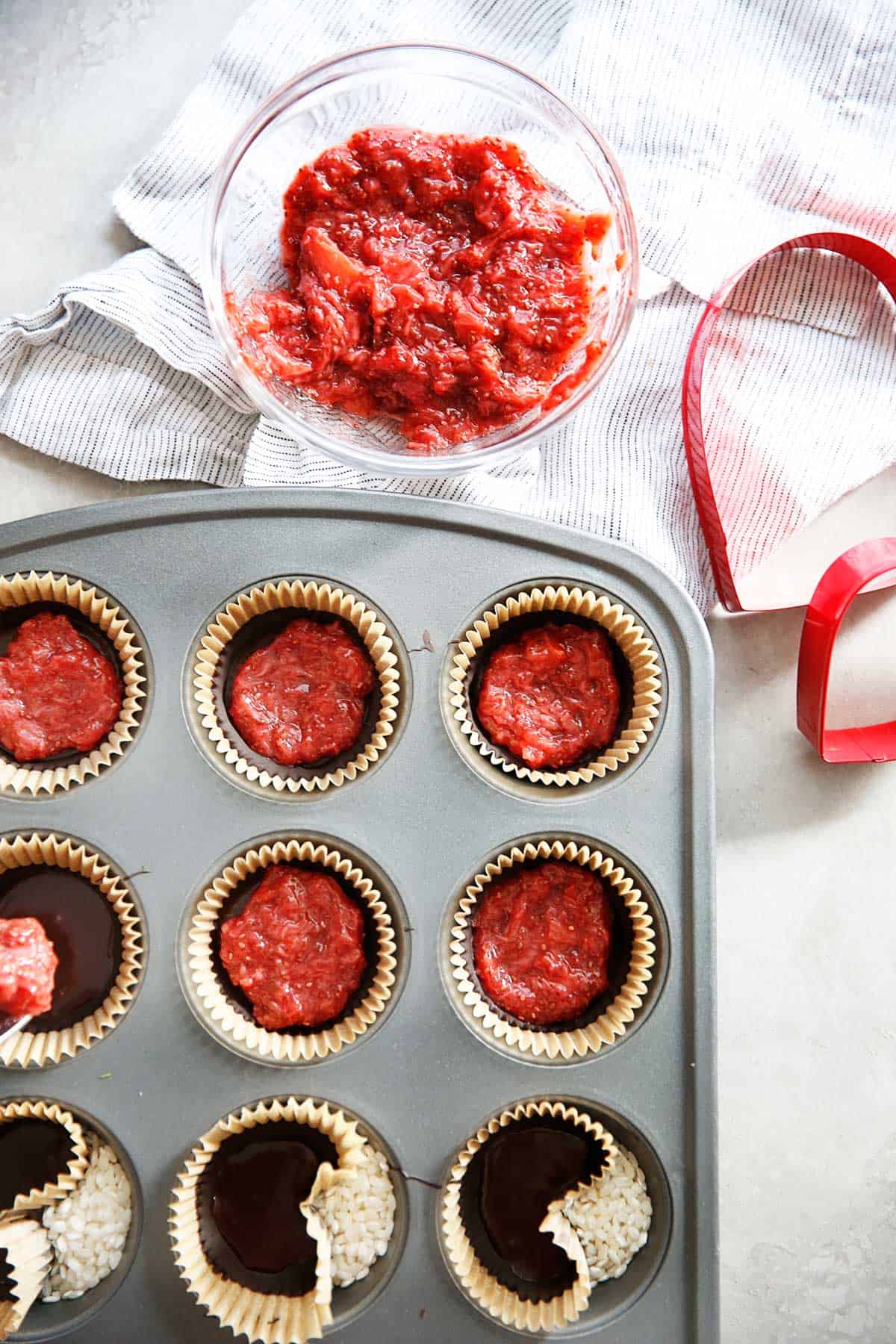 How do you make molded chocolate cups?
You can fill your parchment paper liners with some chocolate and brush the chocolate upwards, or have fun making them into shapes, like these heart shape chocolate cups above. We formed them and filled the space with dry rice!
What kind of chocolate is good for melting?
I use dark chocolate chips! You can always add a little coconut oil to your melted chocolate for them to harden!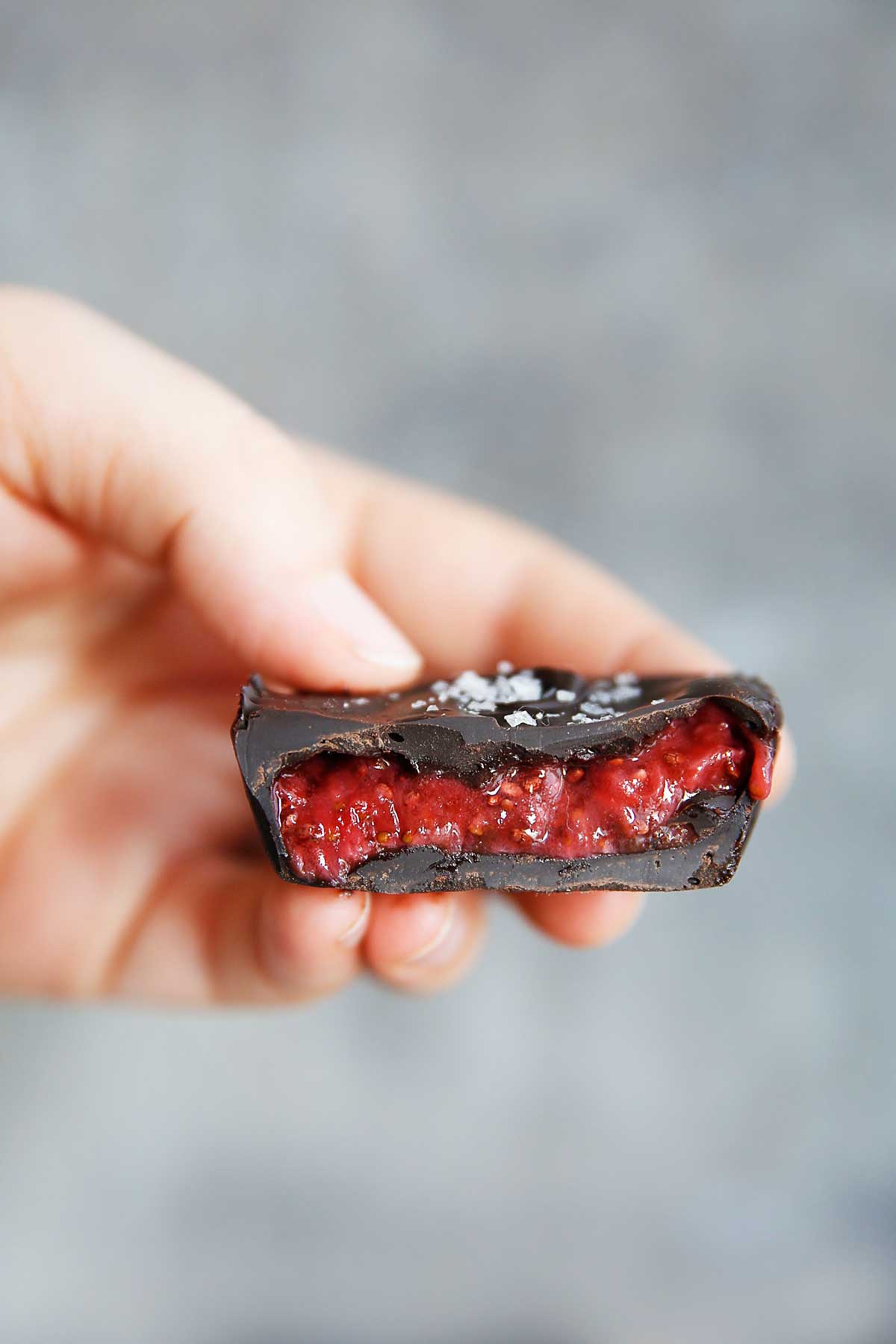 Just look at that heavenly bite topped with malden sea salt. You can't even see the gooey ganache ready to power through the bite!
These chocolate strawberry cups are:
Decadent
Fruity
Balanced
Paleo
Vegan
The BEST treat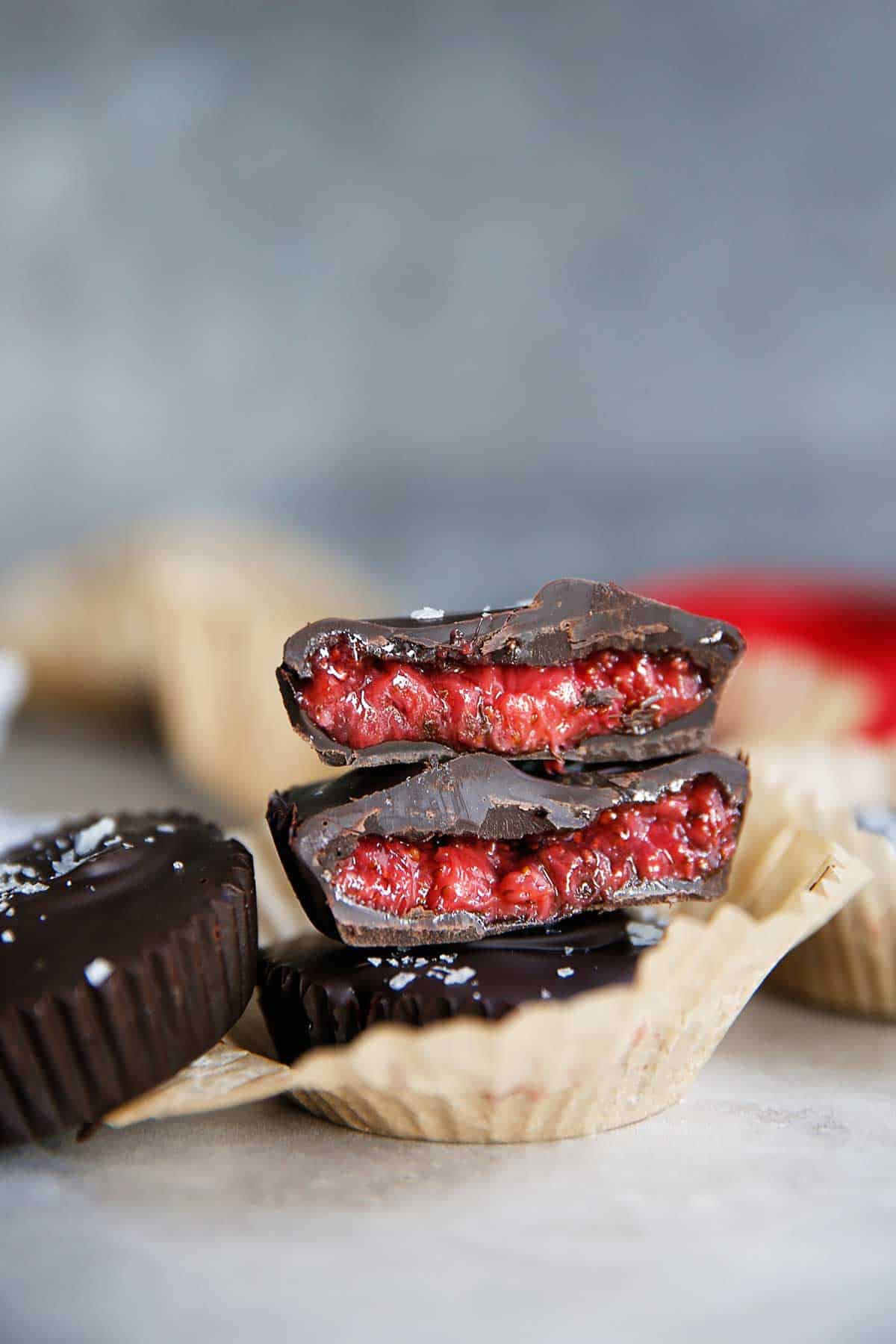 Want other chocolate dessert recipes? Try these favorites: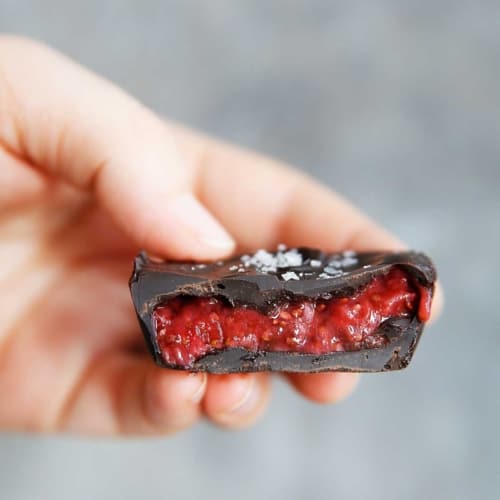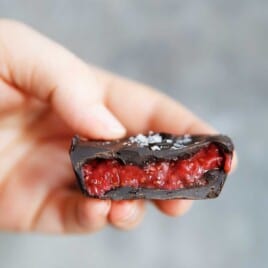 Paleo Chocolate Ganache Strawberry Cups
Instructions
Make strawberry jam as directed

here

 and let cool.

Melt chocolate over double boiler, or using preferred method for melting chocolate.

Pour 1 tablespoon melted chocolate inside parchment liner. You can make them into different shapes as seen in the pictures above, too. Using the back of a spoon, line chocolate 1/3 of the way up the liner to create a cup. Repeat for the remaining cups.

Place tin inside of refrigerator for 10 minutes or freezer for 5 until hardened.

Meanwhile make ganache; heat coconut cream in a pan until it starts to bubble along the edges (do not let boil).

Place 1/2 cup chopped chocolate in heat proof bowl.

Pour hot coconut cream over chocolate, taking care that chocolate is completely submerged. Let sit for 10 minutes undisturbed (mixing it before this will make it grainy).

Stir ganache with whisk until shiny and emulsified.

Take out tin from refrigerator and spoon 1 tablespoon of ganache into chocolate cups. Repeat with remaining and place in refrigerator for 10 minutes to cool.

Once cool, spoon 1 tablespoon jam on to ganache. Using a spoon smooth out the jam until it is level.

Reheat remaining chocolate gently until smooth. Top strawberry jam filling with about 1 tablespoon of melted chocolate.

Sprinkle with sea salt and let cool in refrigerator for 10 minutes or until hardened and ready to serve.

Store in the refrigerator for 1 week or the freezer for up to 3 months.