These Espresso Candied Pecans are the perfect edible gift! This sweet snack recipe is so easy and makes a ton. Perfect for snacking or for gifting friends and family for the holidays!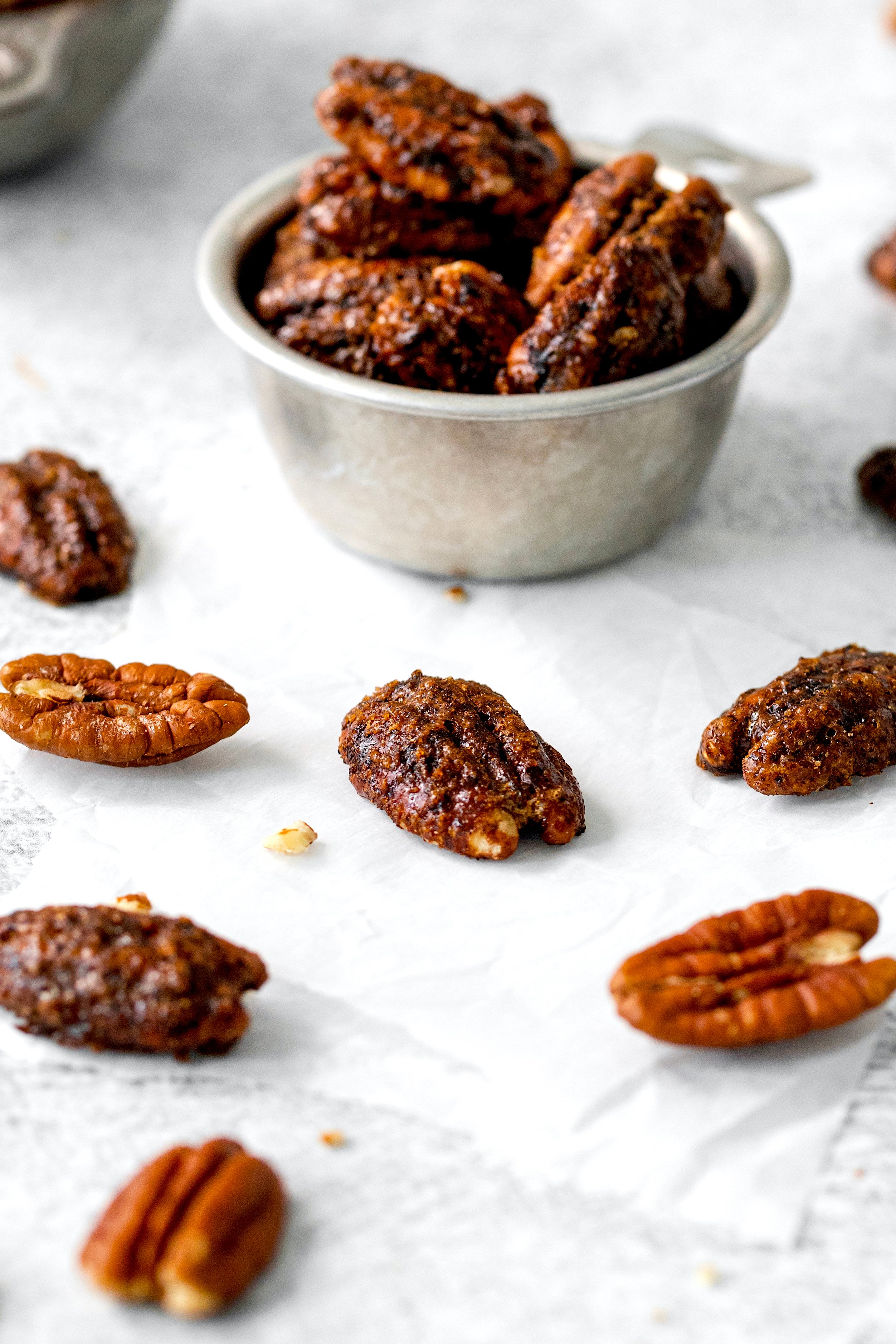 Easy Candied Pecans Recipe
One of my favorite things to do during the holidays is whip up little gift-able treats and snacks for friends and family (and myself.)
These Espresso Candied Pecans are always a hit! They're so simple to make and they taste amazing. They remind me of those delicious smelling nuts at the mall! Except they're healthier and cheaper, because they're homemade.
Warning: it's basically impossible to stop munching on these once you start!
What You'll Need
This recipe for candied pecans requires just a few ingredients you probably already have on hand!
Egg White and Water: helps bind the cinnamon sugar coating to the pecans and gives the finished product a crunchier texture.
Pecans: use whole, shelled pecans.
Espresso Powder: a little bit of espresso powder cuts the sweetness with just a hint of coffee flavor. See below for a swap!
Sugar:

I use maple sugar to sweeten the nuts, but other sugars will work too.

Spices: we're using a simple combination of cinnamon and fine sea salt to add flavor to the pecans.
Variations
Use another nut. Have other nuts in your pantry you want to use? Feel free! This recipe works great with walnuts, almonds, cashews, peanuts, hazelnuts, you name it.
Spice things up. Feel free to mix up the flavors with other spices. Add pumpkin pie spice, cocoa powder, chilli powder, or even cayenne pepper.
No Espresso Powder? No Problem!
Skip the espresso. Don't want the coffee flavor? Just leave out the espresso. The nuts will still be delicious. You can also sub cocoa powder!
How to Make Candied Pecans
This easy candy pecans take just 10 minutes to prep! Here's a quick summary of the recipe:
Beat the egg and water: In a bowl, beat together the egg white and water until frothy.
Mix the candy coating: In a separate bowl, combine espresso, sugar, cinnamon, and sea salt.
Coat and bake: Toss the pecans in the egg white mixture, then transfer to the spice mixture and stir until evenly coated. Transfer to a baking sheet and bake at 250ºF for 30 minutes.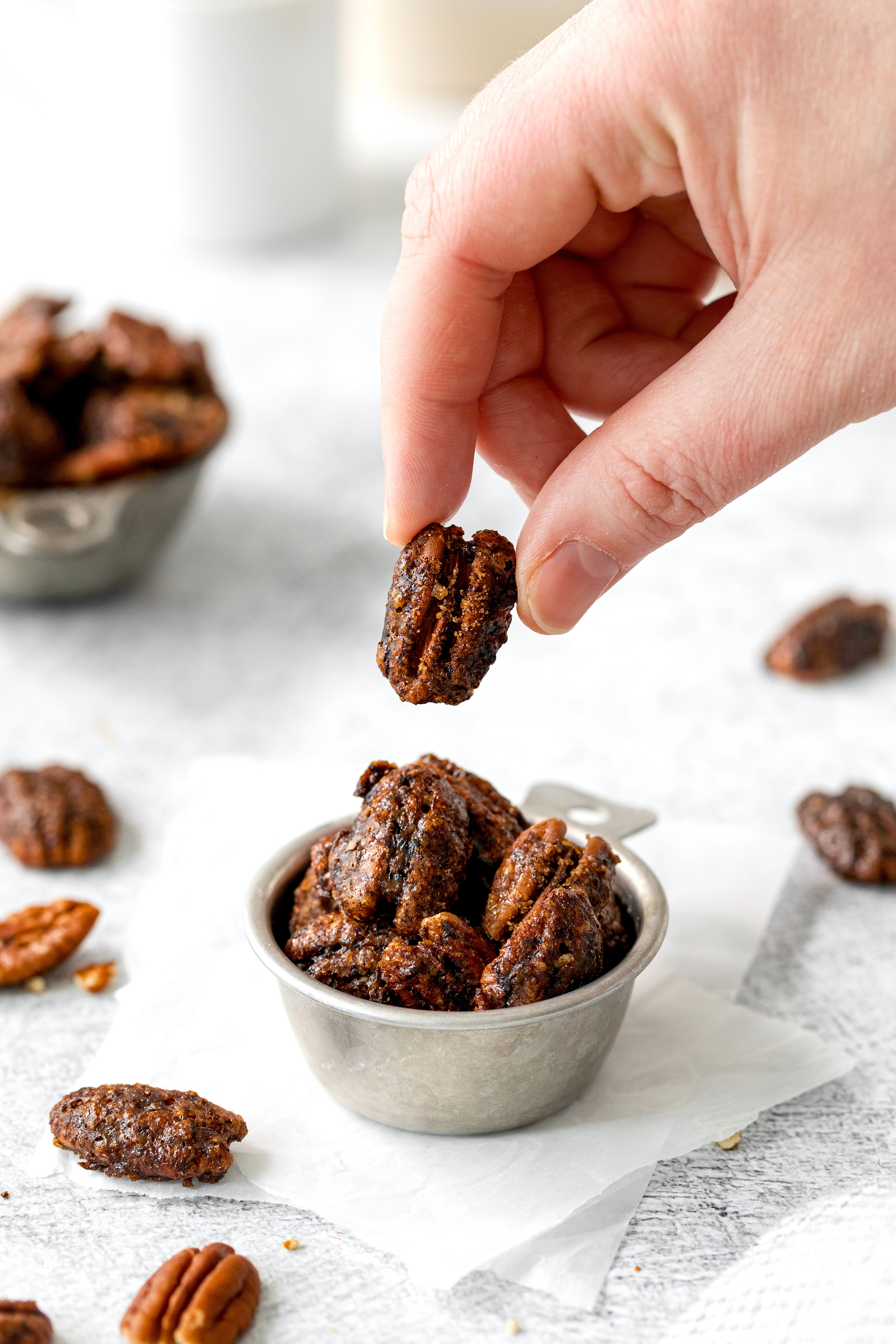 Why Are My Candied Pecans Chewy?
There may be a couple of reasons that your candy pecans aren't as crunchy as you want. Here are a few of my best tips for the perfect texture!
Preheat the oven. We want the oven to be nice and hot before adding in the pecans so they start cooking right away.
Use egg white. The egg white helps the coating stick and makes the candied nuts crunchier after baking.
Bake in a single layer. The key to that crunch is allowing each and every nut to be exposed to the heat. If they're stacked up on the baking sheet, then they'll get soggy rather than crunchy.
Keep in mind that the pecans will also just naturally get chewier as they sit. The fresher they are, the better!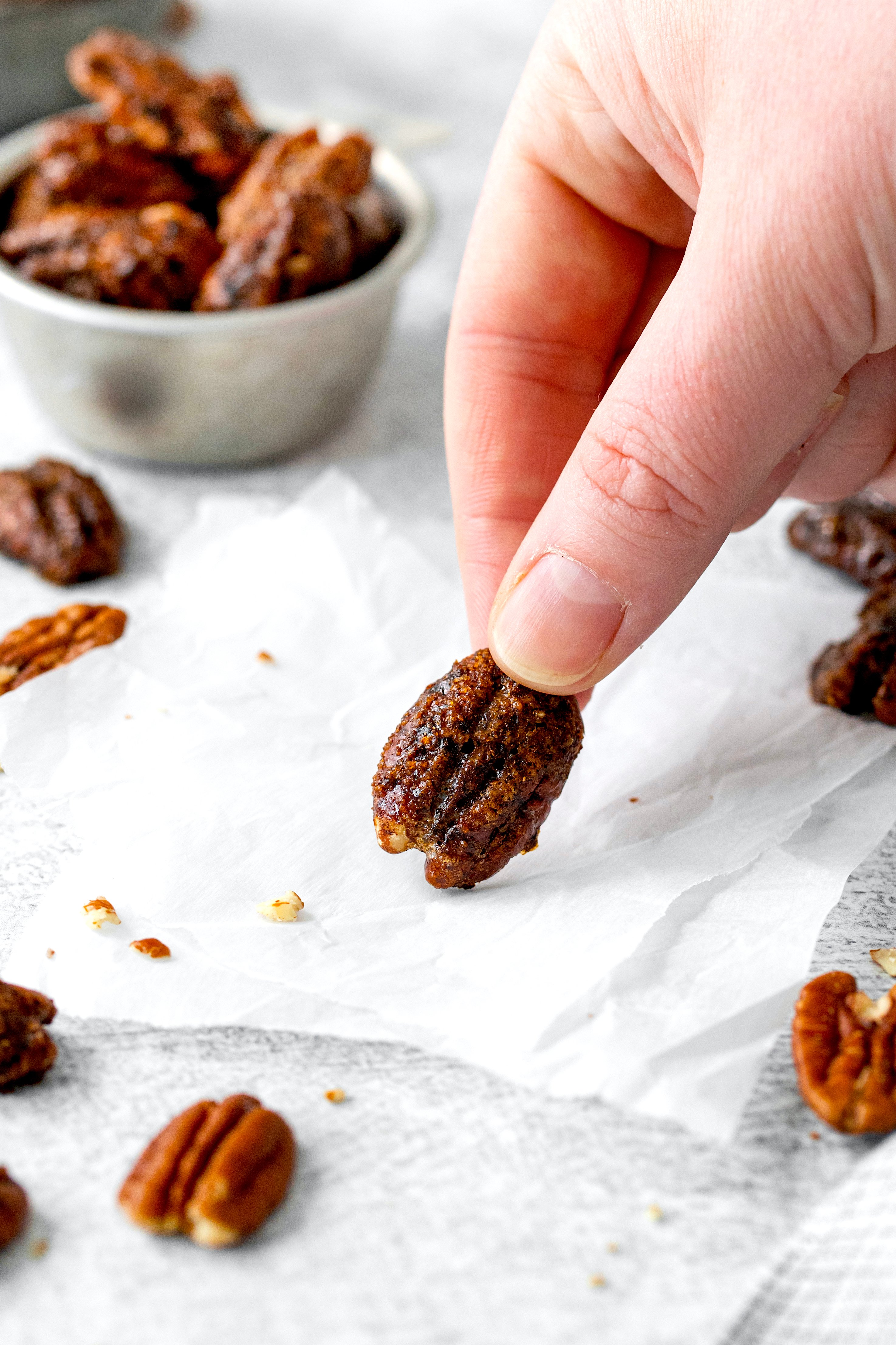 Serving Suggestions
There are actually so many ways you can serve these candied pecans! Here are a few ideas:
As a gift. Package these nuts up in little baggies tied up with ribbons and gift them to friends, family, neighbors, teachers, you name it.
As a snack. Keep them all to yourself and munch on them as a little snack throughout the day or mix them into a bowl of your favorite yogurt.
With breakfast. Add a sprinkle of these into a bowl of oatmeal or serve them chopped up over pancakes.
As a side dish. Chop them up and serve them as a garnish over your favorite salad or as a topping for sweet potato casserole.
In dessert. Enjoy them as a topping for ice cream, pumpkin pie, cranberry apple crisp, chocolate bark, you name it.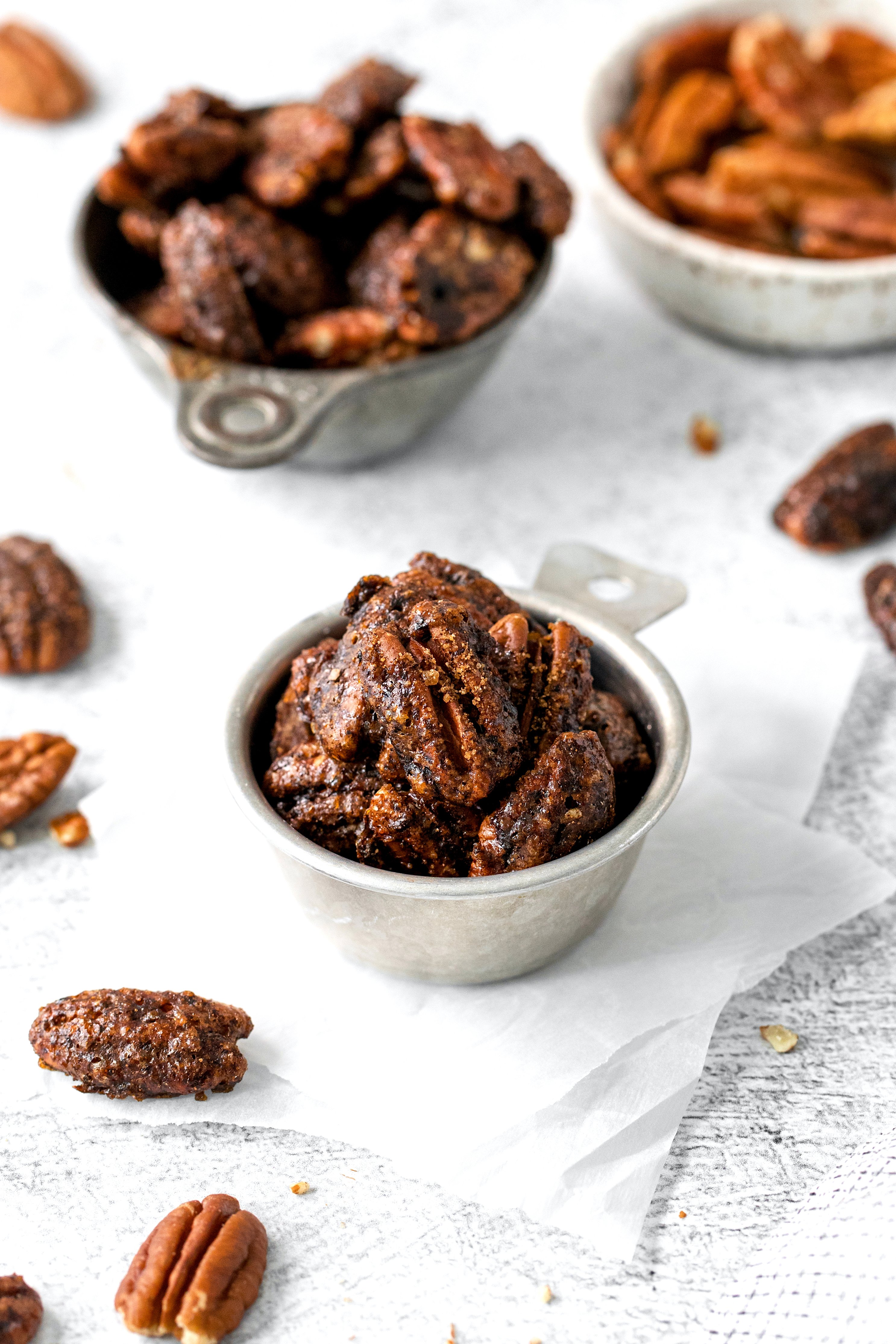 How to Store
Candied pecans will last in an airtight container at room temperature for up to a week or in the freezer for up to 2 months.
When you're ready to serve, simply thaw them at room temperature.
More Edible Gift Ideas to Try
Looking for more homemade edible gifts? Here are a few of my favorites!
Watch the Video: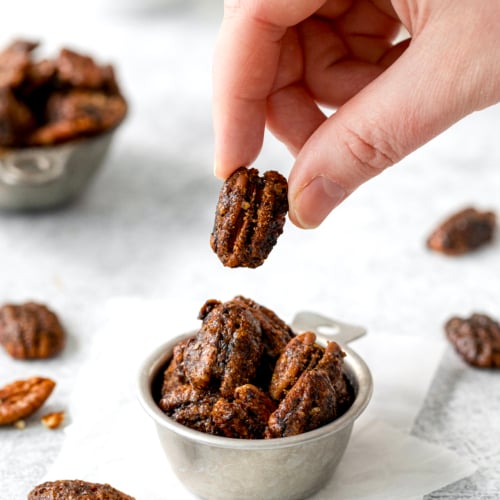 Espresso Candied Pecans
These Espresso Candied Pecans are the perfect edible gift! This sweet snack recipe is so easy and makes a ton. Perfect for snacking or for gifting friends and family for the holidays!
Ingredients
1

egg white

1

teaspoon

water

2

cups

shelled pecans

2

tablespoons

espresso powder

1/4

cup

maple sugar

1/2

teaspoon

cinnamon

1/4

teaspoon

fine sea salt
Instructions
Preheat oven to 250°F and line a half-sheet tray with parchment paper.

Beat egg white and water together until frothy.

In a separate bowl mix together espresso, maple sugar, cinnamon, and sea salt and set aside.

Toss pecans in frothed mixture first and then place in spice mixture until evenly coated. Place on sheet-tray.

Bake for 30 minutes, flipping every 10-15 minutes.