If there is one cocktail recipe you need to know how to make, it's a classic margarita! This easy, 4-ingredient recipe is all you need to to know for how to make a margarita. It's a classic for a reason and I'm sharing the insider knowledge I learned on how to make the best one ever!
How to make a Margarita
When you have a good Margarita, you know it. This margarita recipe omits any added sugar or agave and instead highlights the classic margarita ingredients making it both sour and a bit sweet from the added liquor, and served on the rocks! And I'm sharing my insider tip on how to make it the best margarita ever!
A local bartender here in Boston (at a restaurant we frequent often) is the authentic Margarita master, and graciously taught me his method! This recipe is just right with the right mix of flavors and a little insider technique I'm so excited to share. It's the perfect drink for one, or can be double or tripled to serve more.
The secret is in the ice
Carlos, my favorite bartender,  taught me the art of a quality margarita. Here's what he said:
Go to the grocery store and buy a bag of ice. It melts faster than ice from your freezer, making the margarita cold but also diluting the alcohol just right to be the perfect balance that doesn't need all the sweetener. Using store bought ice means you can rely on the natural sweetness of the Cointreau instead of adding a simple syrup.
Shake your cocktail shaker sixty times. YES, SIXTY TIMES. He counts every time he makes one! Why? It gets that ice moving and groving mixed into the other ingredients. You're looking for the outside of the shaker to be cold and frosted, and that's when you know it's mixed just right.
What are the ingredients of a Margarita?
Tequila: It's worth getting a good quality here, since it's the star of the show
Cointreau: You can use Triple Sec, but Cointreau is much better quality.
Fresh Lime Juice
Bagged ice: This is the secret for our special technique!
Don't forget you margarita glasses!
What's the best tequila for making margaritas?
Here are a few favorites:
Casamigos
Espolon
Clase Azul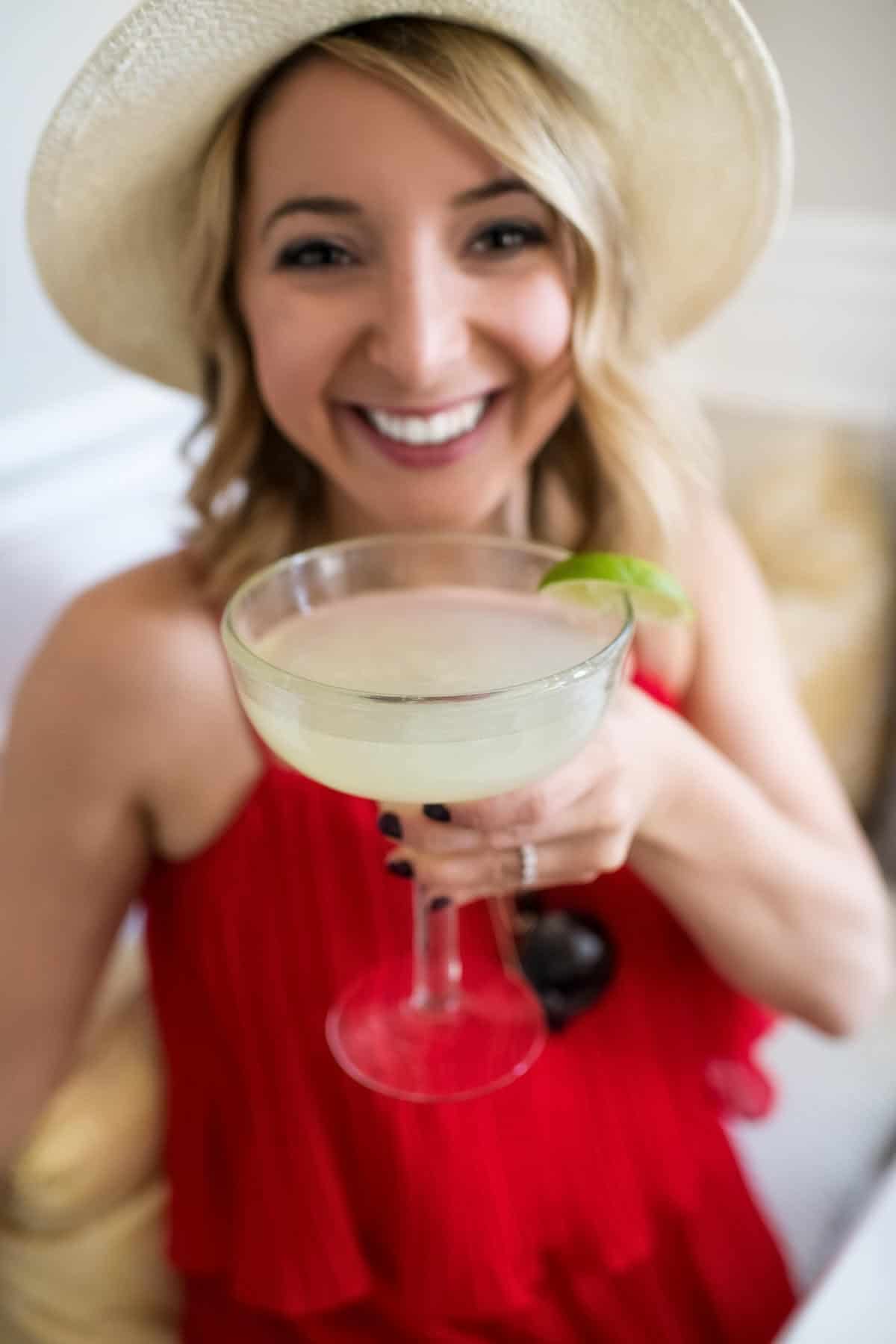 Can you make a pitcher of margaritas?
Margaritas are best made individually or in small batches (like 1-3 at a time). I don't recommend making them in big batches because they easily get too diluted, but if you really want or need to, it can be done!
If I'm hosting and making margaritas for many people, instead of doing a pitcher I'll prep all the ingredients I need, like pre-juice my limes and lemons and have that ready to go. That way I can make them quick each time we need another couple of drinks! Depending on how big your cocktail shaker is, you could make 2-3 drinks at a time.
Want to make it spicy?
Add in one or two slices of fresh jalapeños into your shaker! Remember, the seeds in the jalapeño is what is the spiciest!
How do you make a salt rim?
You can make a salt (or sugar) rim two ways. The first is by squeezing lime or lemon juice (or water) onto a plate with edges, and then dipping the glass rim into it. Then dip the wet rim onto a plate of salt (or sugar). Alternatively you can just take a lime or lemon wedge and rub it along the rim, and then dip it into the salt.
Watch the video here:
---
---
If you like this cocktail recipe, check out these others:
---
The BEST Margarita Ever!
If there is one cocktail recipe you need to know how to make, it's a classic margarita! This easy, 4-ingredient recipe is all you need to to know for how to make a margarita.
Ingredients
2

cups

ice cubes

preferably purchased bagged ice (see notes)

2

ounces

silver tequila

1

ounce

Cointreau

3/4

ounce

lime juice

Squeeze of lemon juice

Lime slice or wedge

for garnish

Salt for rim

optional
Instructions
Place the ice in a cocktail shaker. Add the tequila, Cointreau, lime juice, and lemon juice,

Shake vigorously about 60 times (yes, 60 times!), until the shaker is cold and almost frosted.

Pour into the margarita glass with the ice cubes. Garnish as desired and serve immediately.
Notes
Bagged ice is essential for a quality Margarita because it dilutes the drink the correct amount, see post for more info.
Cointreau is less sweet than triple sec and more authentic.