Homemade Croutons are simple to make, and help curb food waste by using leftover bread! Learn How to Make Croutons with this simple guide.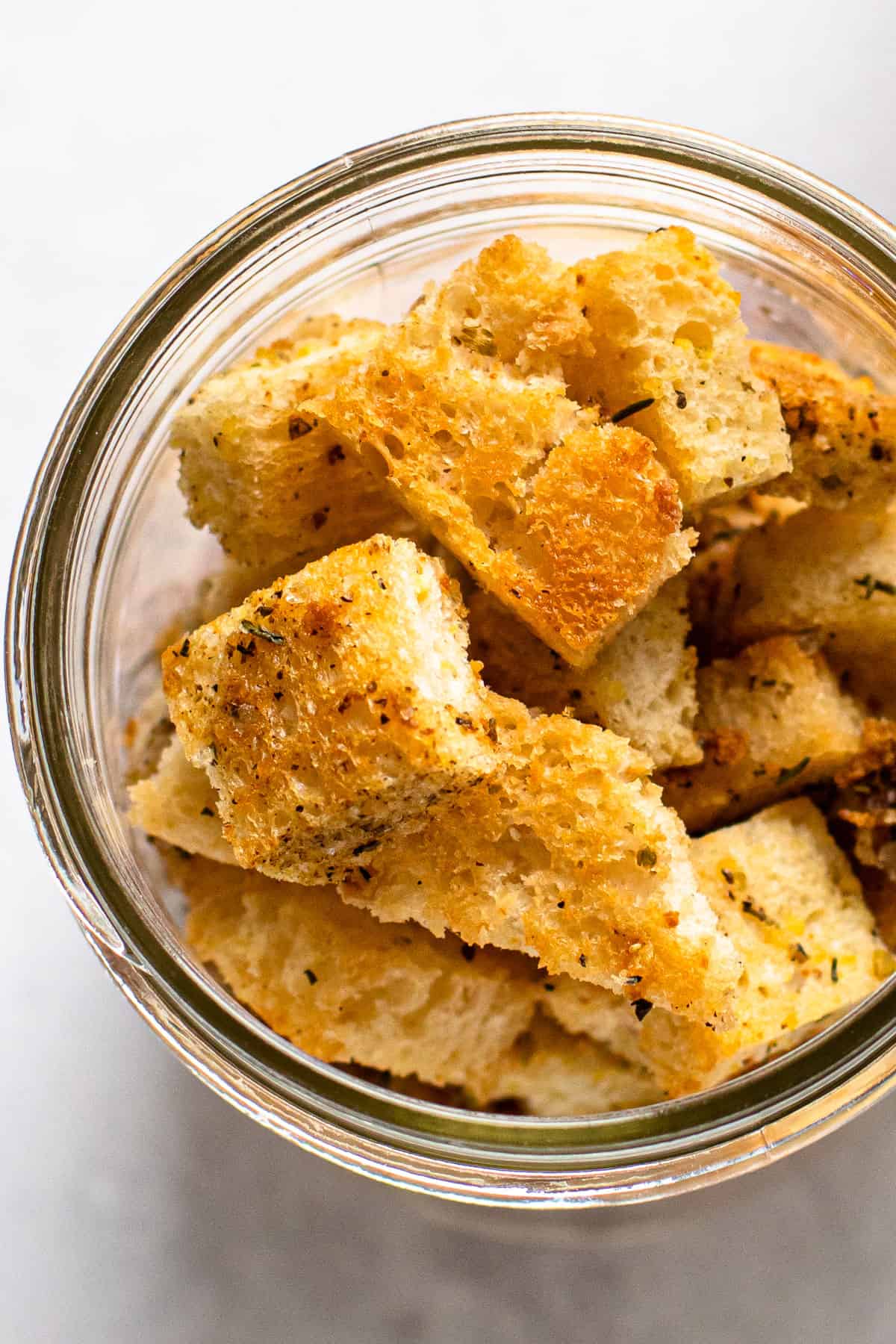 Homemade Croutons
Once you make your own croutons at home, you'll never buy them at the store again. Homemade croutons are one of those things that are definitely different than anything you can find in the store and it's worth it to take the 20-ish minutes it takes to make them at home. Making them at home results in croutons with a much better texture (so crunchy!) and flavor (they're slightly addictive!).
And, croutons are almost always the answer to "How can I use up this bread that is stale?" since the aim of making croutons is to dry out bread anyways!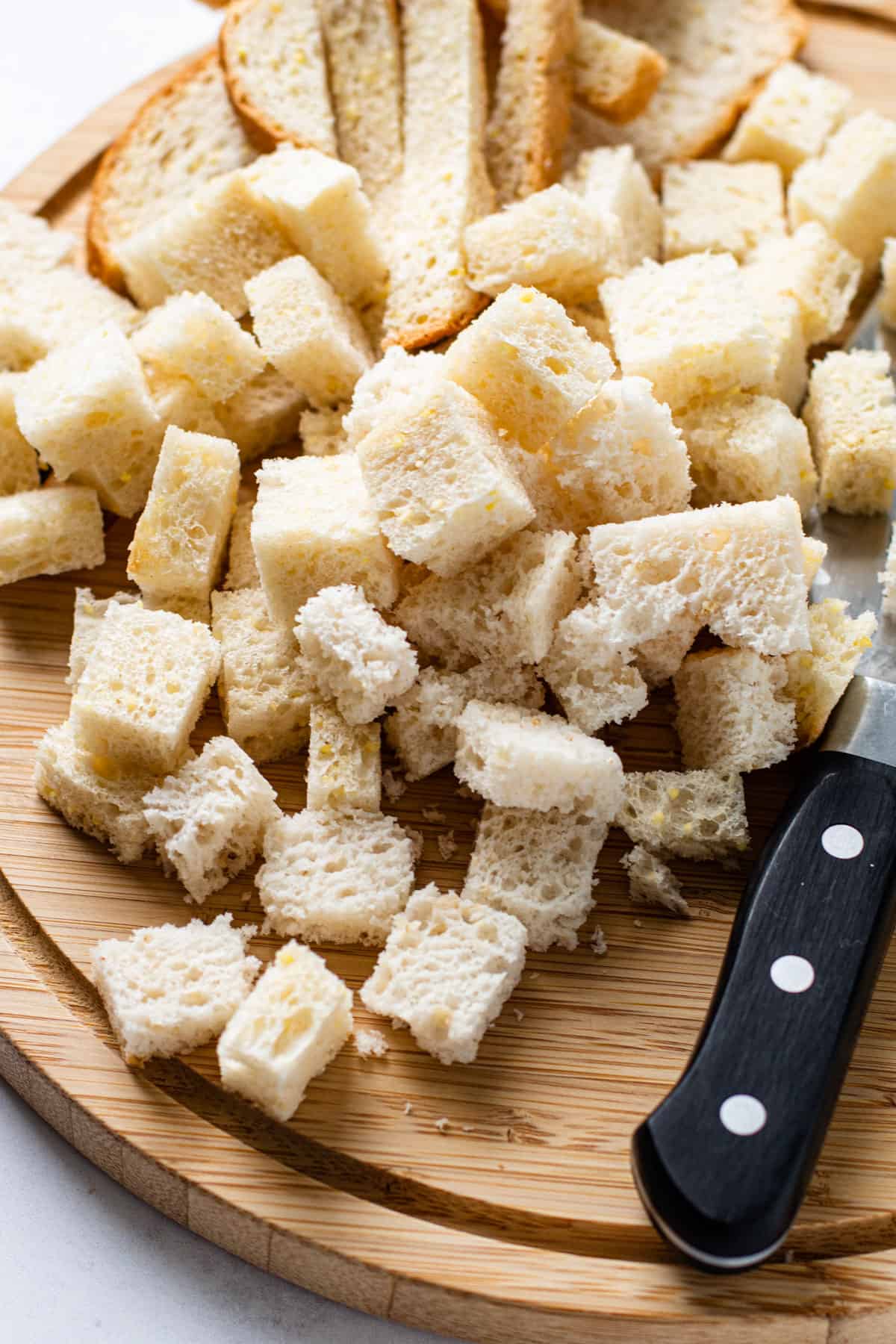 What You Need to Make Croutons
The short answer is you need:
Beyond those two basic ingredients, we recommend some seasoning in the form of
salt
pepper dried spices and herbs
In the recipe below we offer the specifics of what we recommend to make your croutons, but this is very much a customizable recipe and you can use what you have on hand or experiment with different flavors by adding in other ingredients.
Some guidelines though are that if you plan to keep the croutons in your pantry for a length of time (we have found that two weeks is about how long croutons keep in the pantry), you need to add in only shelf-stable items. So don't add anything to your croutons that couldn't sit at room temperature for a while, such as fresh herbs, parmesan cheese, or butter. If you did want to add those to your croutons, plan to only do so if you are using the croutons that day.
Steps for Making Croutons
The process couldn't be more basic, and I'm willing to bet over time you will develop your own specific recipe of making croutons. Here are the basics steps needed to make croutons:
Cut or tear the bread.
Toss with olive oil and seasoning.
Bake until lightly browned and toasted.
How to Store Croutons
When you make croutons, you are baking and drying out the bread. So theoretically, the croutons themselves should be shelf-stable for about two weeks in an air-tight container. This is assuming you didn't alter the recipe and add in any non-shelf stable ingredients.
If you make the croutons in bulk, or do not think you will use them up in the two-week time period, you can also freeze croutons for up 6 months at a time!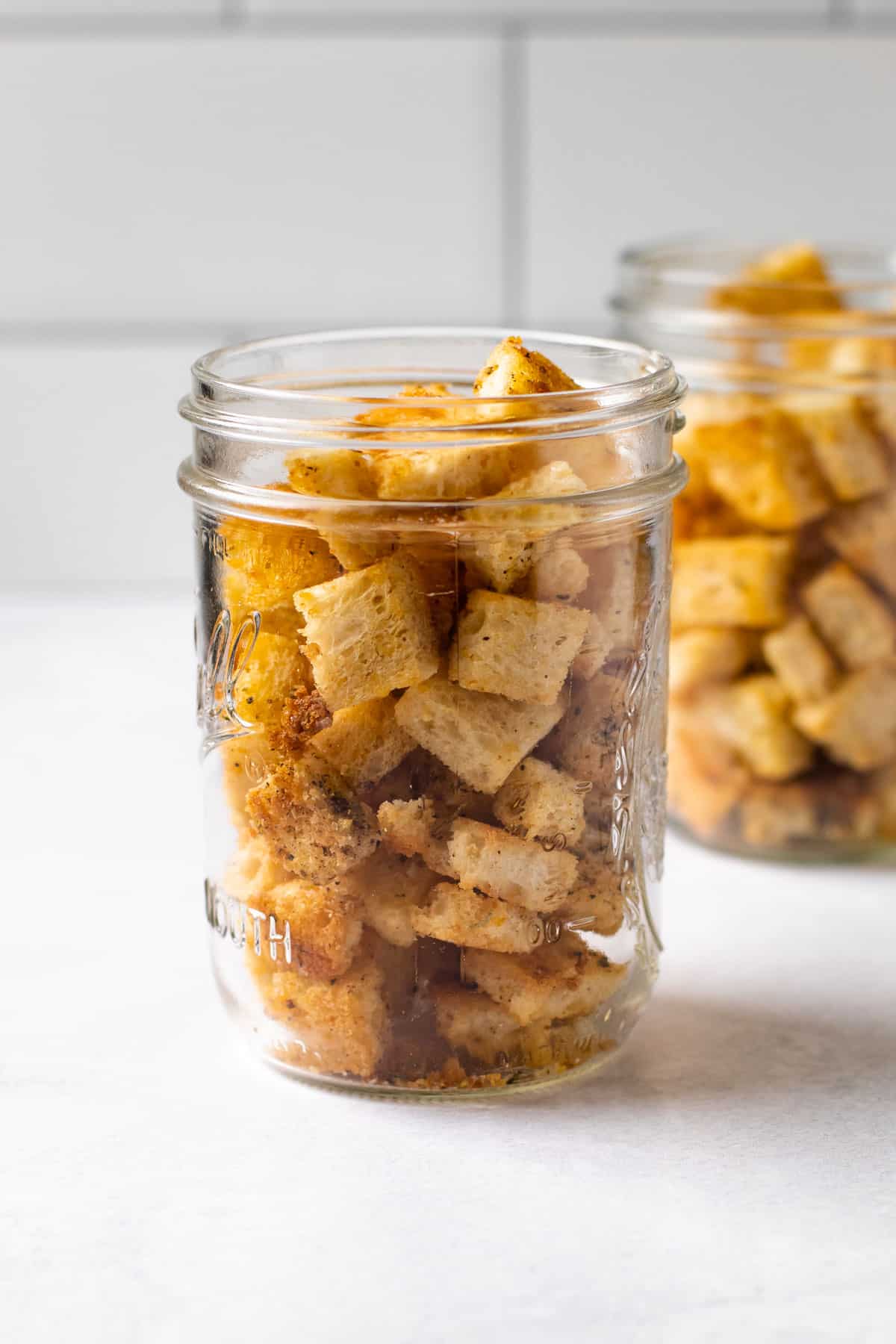 Ways to Use Them
You are forwarned, but homemade croutons are insanely snackable. But asides from just snacking on them, homemade croutons are great on:
Soup
Salads
Casseroles
Stuffings
Stuffed Peppers
Grain Bowls
Here are some recipes that would be amazing with croutons: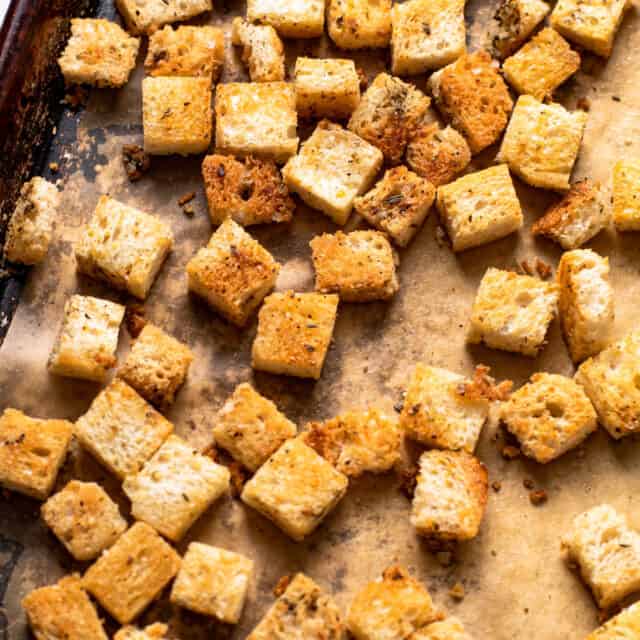 How to Make Croutons
Homemade Croutons are simple to make, and help curb food waste by using leftover bread! Learn How to Make Croutons with this simple guide.
Ingredients
1

loaf of bread

about 12-16 ounces

2

tablespoons

olive oil

1-½

teaspoon

Italian seasoning

½

teaspoon

salt

½

teaspoon

garlic powder

¼

teaspoon

ground black pepper
Instructions
Preheat oven to 400ºF and line two rimmed baking sheets with parchment paper.

Cut or tear bread into crouton-sized pieces (I recommend about ½" to 1" in size). You can cut off the crust if desired, but it's not necessary.

Gently toss together bread cubes, Italian seasoning, salt, garlic powder, and pepper in a large bowl. Then, drizzle in the olive oil while mixing until the bread crumbs are evenly coated.

Spread half of the croutons evenly onto one baking sheet, and the remaining bread cubes on the other baking sheet.

Bake in the oven for 10-15 minutes, tossing the bread cubes halfway through to ensure they bake evenly. The baking time will vary, depending on the type of bread, and how dry it is, so keep a close eye on them during the baking time.

Let the croutons cool completely before storing them for up to two weeks in an airtight container.
Notes
Use any bread you want here. Drier breads work better, such as French bread or Italian bread, but you can truly make bread crumbs out of anything, including leftover hotdog or hamburger buns. Gluten-free bread tends to break apart easy so be gentle when tossing it together in the bowl.
An alternative to tossing the bread with olive oil is to use a single-ingredient cooking spray (I love this Avocado Oil Spray) that will thinly and evenly coat the bread cubes instead pouring and tossing together the oil and bread.
Nutrition
Serving:
1
/2 cup
Calories:
82
kcal
Carbohydrates:
12
g
Protein:
3
g
Fat:
2
g
Sodium:
240
mg
Fiber:
2
g
Sugar:
1
g