This Italian-Style Spaghetti Squash Casserole is such a flavorful, simple, and healthy dinner casserole when you are craving comfort food! It's low carb, gluten-free, and hearty!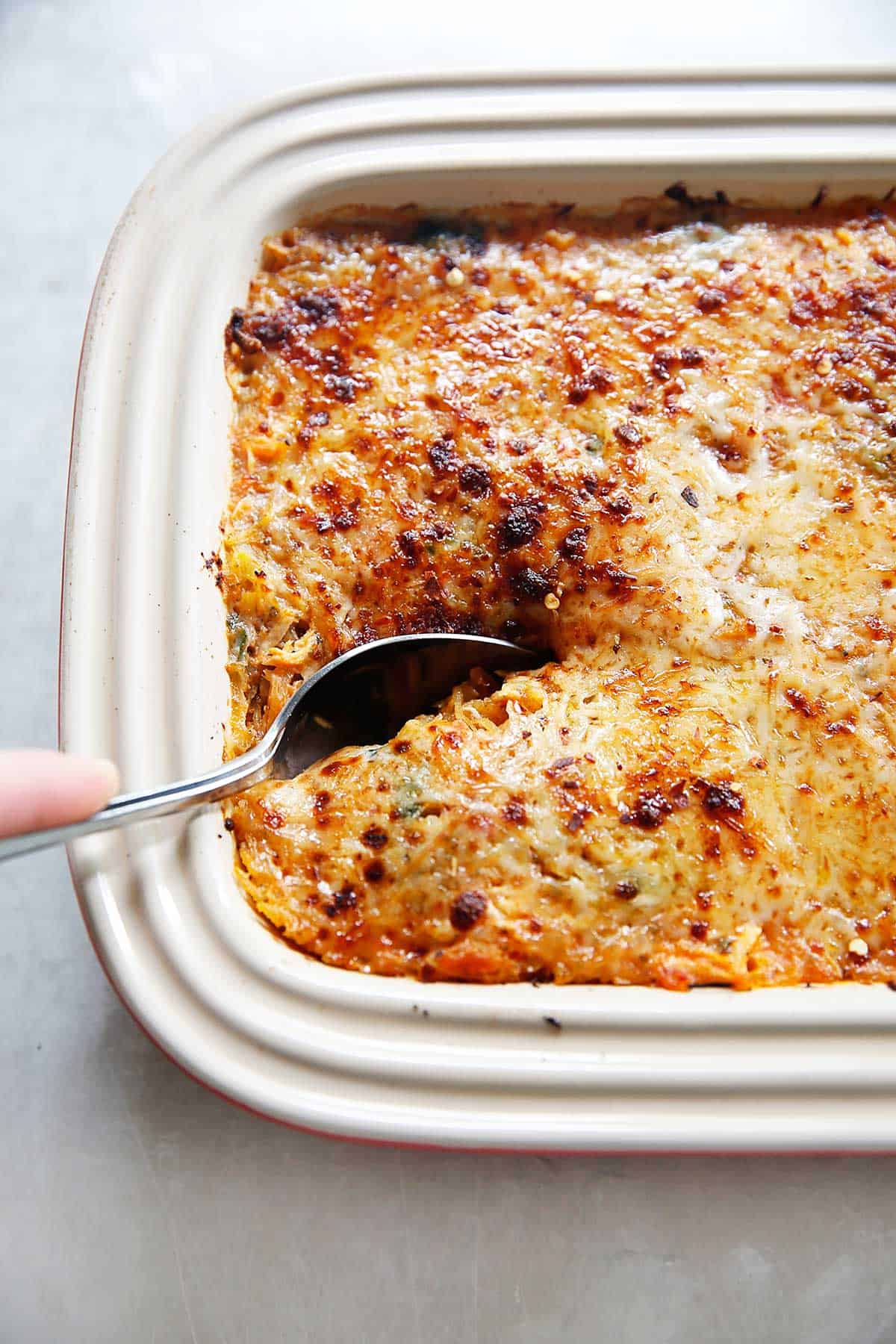 How to Make A Spaghetti Squash Casserole
Craving Italian food? This spaghetti squash dinner filled with sautéed spinach and chicken is your answer. This is an amazing dinner, my friends. Everyone who has tried it absolutely loves it. A huge hit all around!
Gluten-free, Grain-free, dairy-free if you omit the cheese, and so filling! This dinner makes for the perfect meal-prep item as well. Make it at the beginning of the week and enjoy the leftovers for lunch or dinner all week long!
Ingredients
Scroll down for the full recipe!
Spaghetti squash
Olive oil
Salt and pepper
Garlic
Spinach
Chicken Breasts
Tomato Sauce
Egg
Italian Seasoning
Red Pepper Flakes
Garlic Powder
Parmesan Cheese
How to Roast Spaghetti Squash
If cooking spaghetti squash feels intimidating to you, you're not alone. But believe it or not, it's actually super easy to make. I've put together instructions for making either roasted spaghetti squash or instant pot spaghetti squash. 
You can find my full tutorial for two different methods on roasting spaghetti squash!
Preheat oven to 375ºF and line a baking sheet with foil or parchment paper.
Cut spaghetti squash in half, lengthwise.
Scoop out seeds.
Brush inside with oil.
Place facedown on baking sheet and adding water to the baking sheet.
Bake for 45-50 minutes, or until you can pierce with a fork.
Simply scrape out "spaghetti" with a fork and Enjoy!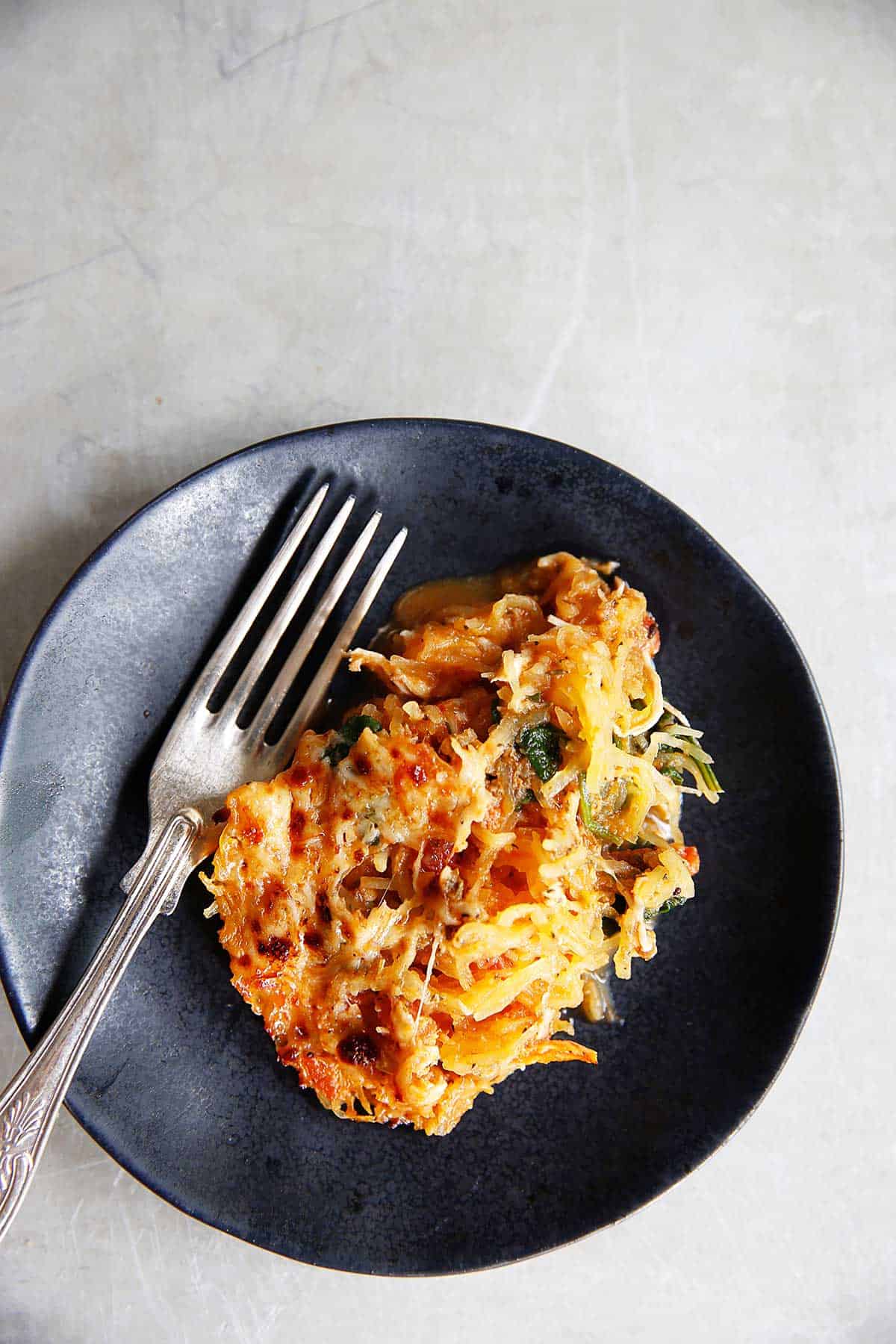 How to Cut Spaghetti Squash (Safley)
Spaghetti squash has pretty thick walls so it can be somewhat difficult to cut through. Your best answer to safely cutting a spaghetti squash is to have a large sharp knife, and a flat stead surface to cut it. As long as you do it safely and proceed with caution, you will be just fine! Just follow these few simple steps:
Set the squash horizontally on a cutting board.
Use a large, sharp chef's knife to cut off each end.
Flip the squash so it stands upright with the widest end on the cutting board.
With one hand, steady the spaghetti squash, and with the other press the knife into the squash before using your weight to leverage the knife through the squash.
Once the knife is at least an inch inside the squash use your other hand to push down on the knife until it cuts through the squash entirely. Slice down the center to split it into two halves lengthwise.
Once the squash is cut, use a spoon to scoop out the seeds and it's ready to cook!
Do You Eat the Skin of Spaghetti Squash?
No! Definitely not. While some types of squash have edible skin, spaghetti squash is not one of them. To serve the squash, you'll scoop out the "noodles" and discard the skin.
Chicken For This Casserole
Feel free to make shredded chicken in the Instant Pot or shortcut with a rotisserie chicken!
Other Spaghetti Squash Recipes: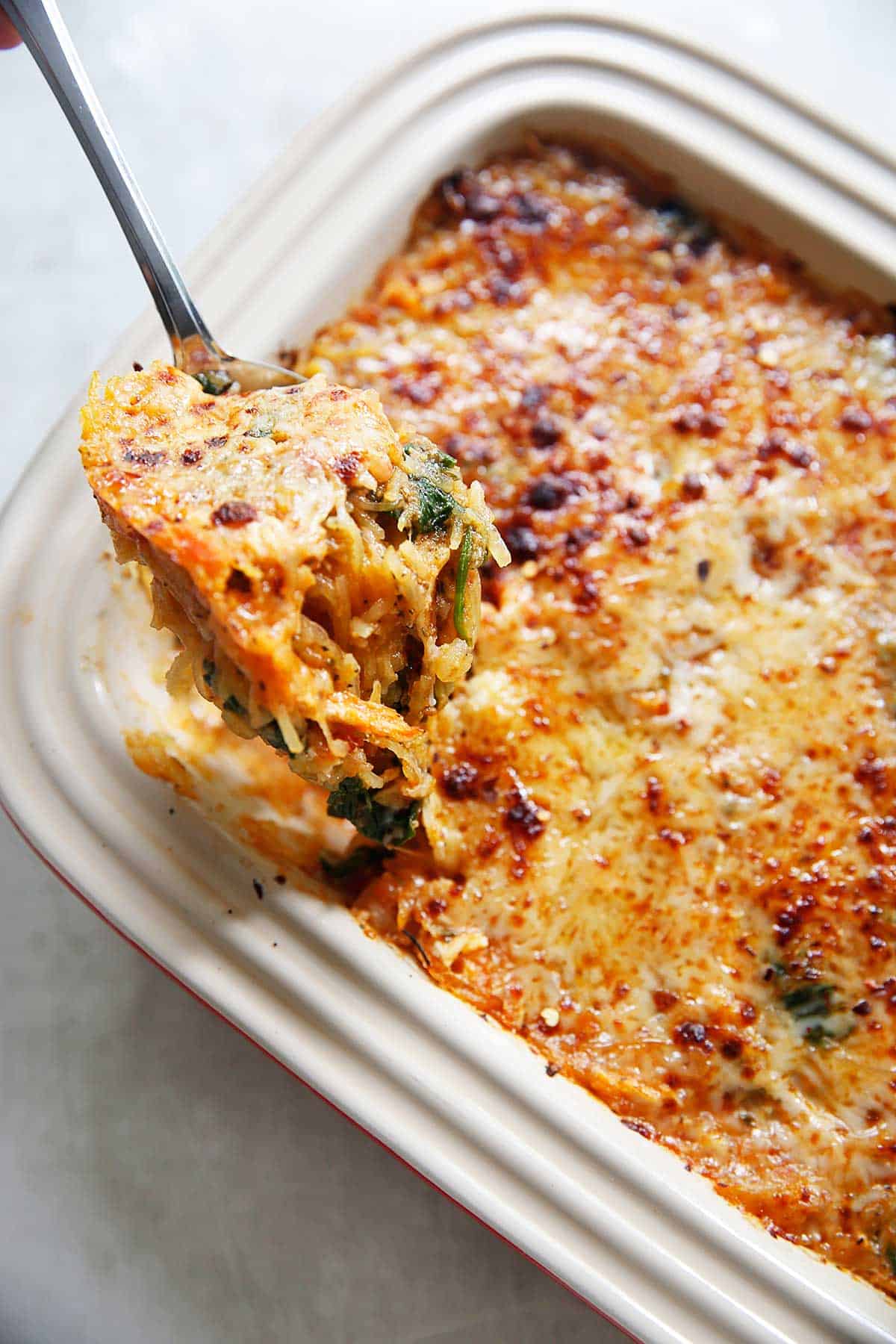 Watch the Video: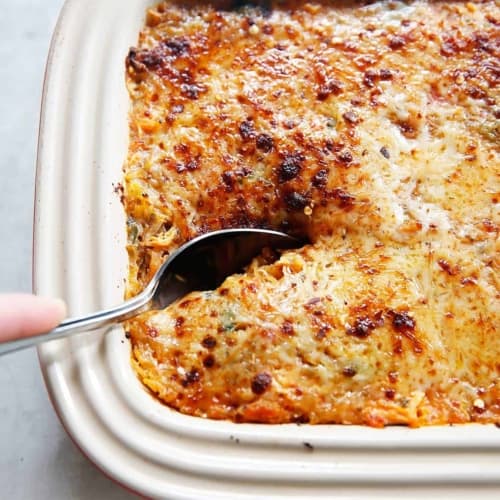 Italian-Style Spaghetti Squash Casserole
This Italian-Style Spaghetti Squash Casserole is such a flavorful, simple, and healthy dinner casserole when you are craving comfort food! It's low carb, gluten-free, and hearty!
Ingredients
Spaghetti Squash:
1

Spaghetti squash

sliced in half and seeds scooped out

2

teaspoons

extra-virgin olive oil

1/2

teaspoons

sea salt

1/2

teaspoon

black pepper
Other Ingredients:
1

teaspoon

extra-virgin olive oil

1

clove

garlic

crushed

3

handfuls fresh spinach

1

lb.

organic boneless chicken breasts

baked or boiled and shredded

1

cup

tomato sauce of choice

homemade or store-bought

1

egg

1 1/2

tablespoons

Italian seasoning

more to taste

1/2

tsp

red pepper flakes

more to taste

1

tablespoon

garlic powder

1/2

teaspoon

freshly ground pepper

1/2

teaspoon

salt

Optional: 1/4 cup fresh parmesan cheese

more for topping
Instructions
Preheat the oven to 375 °F.

Cut spaghetti squash in half and scoop out seeds. Drizzle with olive oil, sea salt, and black pepper.

Line baking sheet with parchment paper.

Lay spaghetti squash face down on baking sheet, and add 1/4 cup water. Bake for about 30 minutes until fork tender. Let cool.

Once cool, scrape out spaghetti squash using a fork and place in a medium mixing bowl and set aside.

In a small skillet over medium-heat, heat oil and sauté garlic. Add spinach and sauté until wilted.

Add spinach and garlic mixture, shredded chicken, tomato sauce, egg, cheese if using and spices to the bowl with the spaghetti squash. Mix until well combined.

Transfer entire mixture to a baking dish.

Sprinkle with fresh parmesan and red pepper flakes

Bake at 375 °F for 10 minutes. Broil on high for 3-5 minutes, or until the cheese has started to bubble and brown.

Serve warm!
Nutrition
Calories:
287
kcal
Carbohydrates:
7.7
g
Protein:
36
g
Fat:
12.3
g
Saturated Fat:
3.1
g
Cholesterol:
142
mg
Sodium:
980
mg
Fiber:
1.4
g
Sugar:
2.8
g