Looking for the easiest Paleo Chocolate Frosting that's dairy-free and requires only 2 ingredients? This is it! It's so simple to put together and can be used in a variety of ways to make the prettiest and rich and chocolately cupcakes or cakes.
Paleo Frosting Recipe
When you find out how to make this recipe you are going to wonder how something so easy can look so beautiful! This recipe requires just 2 ingredients (though there are some optional add-in's if you want) and is pretty simple to make! It's the perfect rich chocolate frosting, even if you don't need to be dairy-free and Paleo. Use this chocolate frosting to top your favorite cupcake, to decorate a cake or even to make those beautiful chocolate drips on a cake!
Here is what you need to make it:
Dark Chocolate (take care to use dairy-free if you need, such as Enjoy Life's brand)
Coconut Cream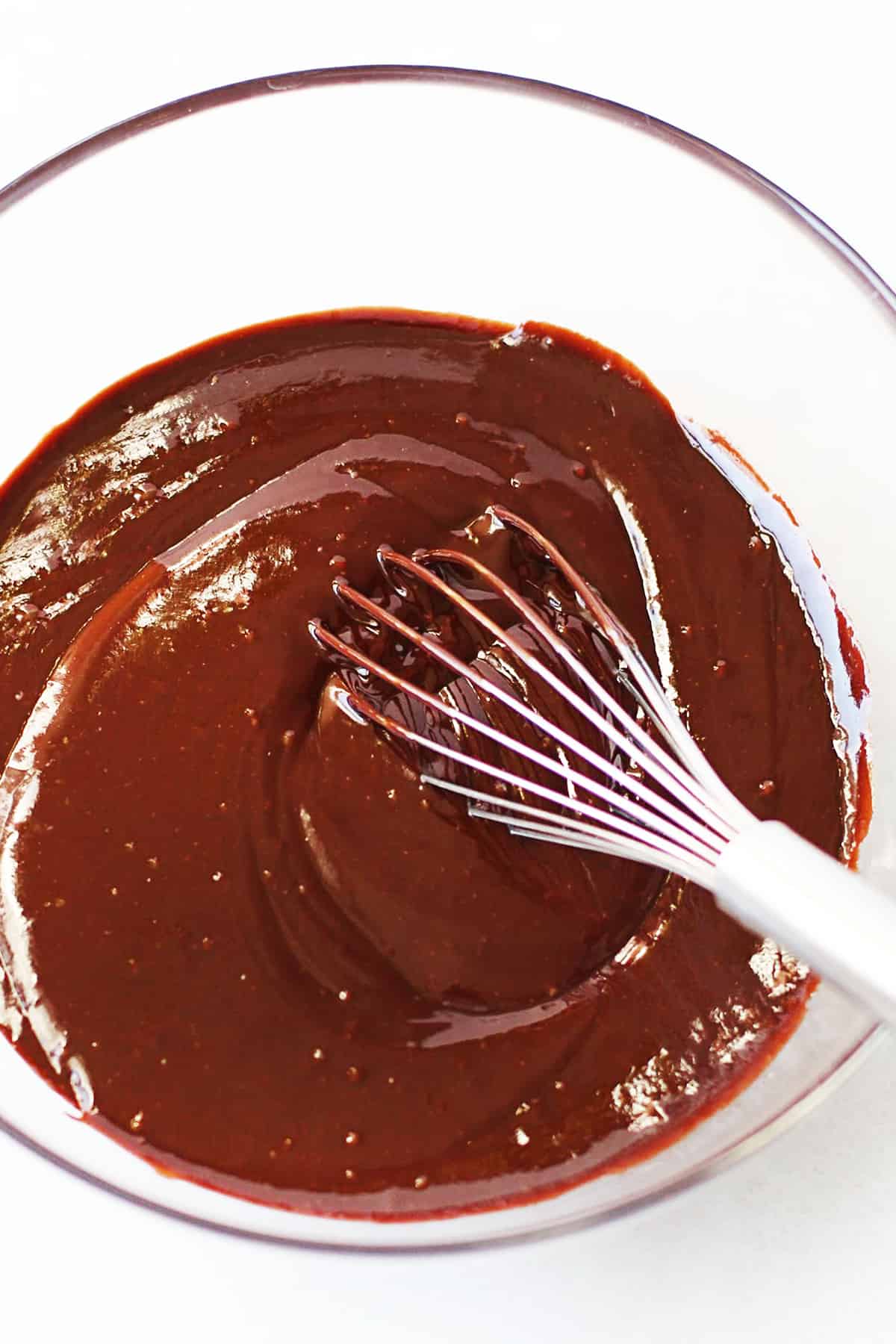 How to Make Dairy Free Chocolate Frosting
In the most basic form, this is a paleo ganache frosting. Basically the chocolate is melted with hot coconut cream, and it's stirred together until silky and smooth. Just make sure to use coconut cream. If you can't find the cans specifically labeled coconut cream, you can chill a can of coconut milk and scoop off the solidified cream.
Different Ways to Use It
I love how versatile this frosting is! Here are the two different ways you can use it:
As a Ganache Topping
A cupcake could be "frosted" with just the plain silky ganache as is. It creates a beautiful and thick glaze on top of the cupcakes (just like in this recipe here). To do it: dip the top of each cupcake carefully into the glaze and swish around to make sure it's covered completely. Then gently lift it up to let to let the excess glaze drip off and quickly flip it back right side up on a wire rack to cool completely.
As a Whipped Frosting
Once the ganache is completely chilled (but not too hard) you will whip it with an electric mixer. Whipping it will add air to the chilled ganache and make it light and fluffy. It will significantly lighten the color and make it spreadable and easy to use in a piping bag.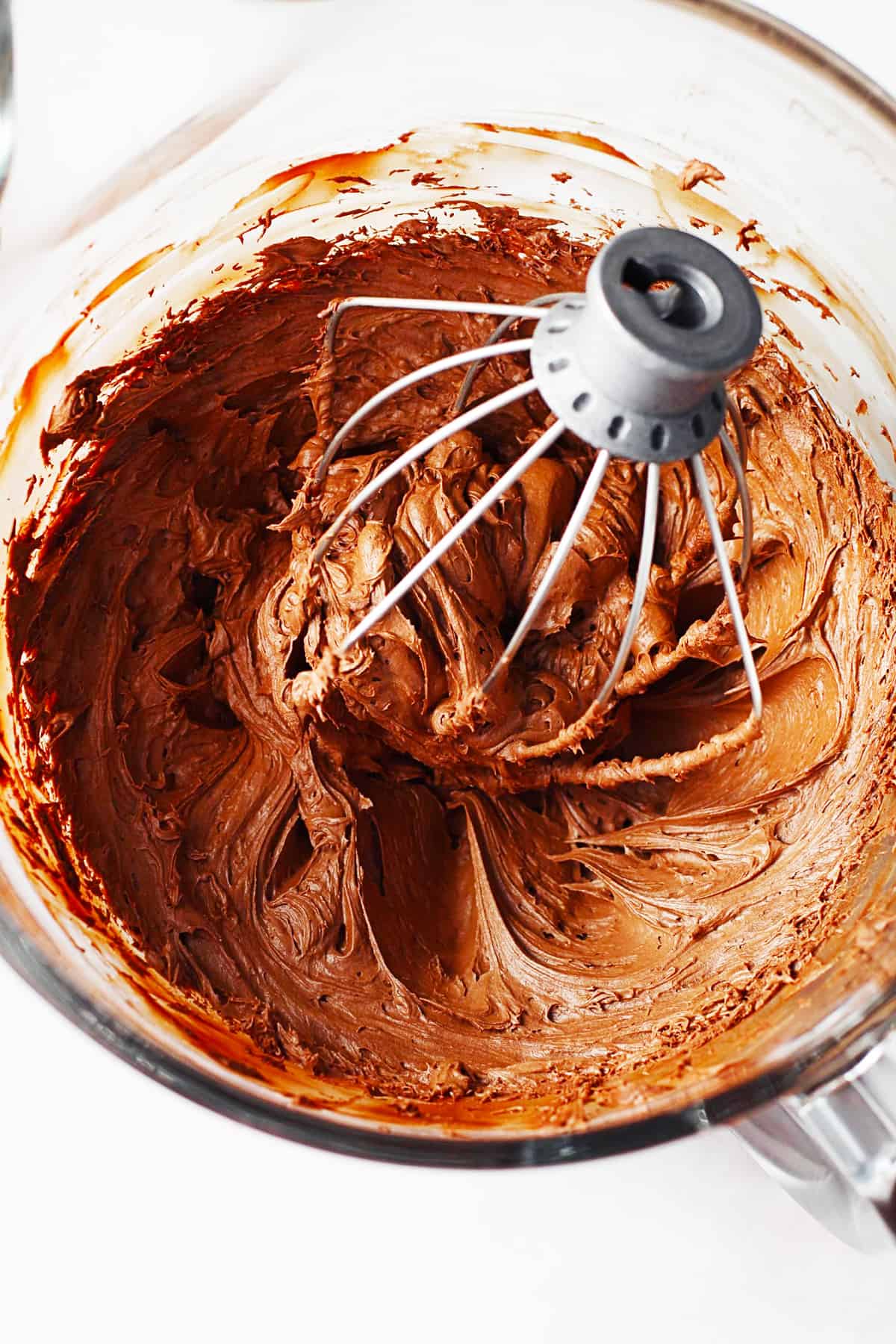 Optional Additions
So the frosting as it is written is pretty decadent and ALL about that chocolate flavor. Which is great, but it also is possible to switch up the flavor a bit and add in some different ingredients and dress up your cupcakes / cake.
Powdered Sugar: Looking for a more sweeter chocolate frosting? Add in about 1/2 cup organic powdered sugar when you are melting it. Of course, this makes it NOT paleo, but still leaves it dairy-free.
Extracts: There are so many different flavors you can add in here! The most obviously being vanilla extract. Start with 1 teaspoon for that. Other flavors could be peppermint, orange, or even almond. Start with 1/4 teaspoon for those and increase as desired.
Flaky Sea Salt: After you've finished frosting your cupcakes go ahead and sprinkle on some flaky sea salt. A little sprinkle of sea salt always is a welcome addition.
Sprinkles: Because, of course! Add these after you've finished frosting your cupcake.
Freeze Dried Fruit Powder: Using a sprinkle of freeze dried fruit powder not only can make the cupcakes or cake look pretty, but it also adds a nice punch of flavor without adding in extra moisture. Raspberry or strawberry would be great here! But feel free to experiment. Freeze dried fruit can be commonly found in most grocery stores now, just make sure to read the ingredient list. Look for a brand that lists only the actual fruit as the ingredients. Add this after you've finished frosting your cupcake.
Use this Paleo Chocolate Frosting with these recipes: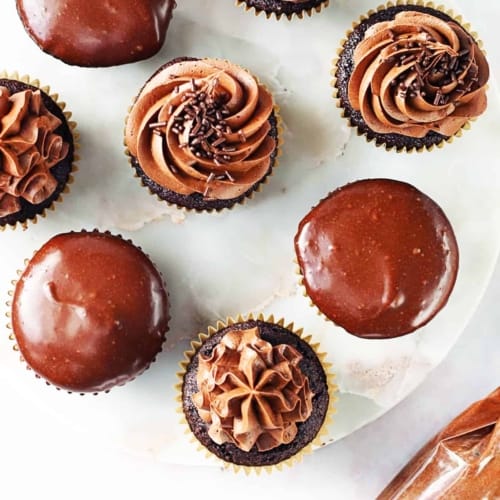 2-INGREDIENT PALEO CHOCOLATE FROSTING
Looking for the easiest Paleo Chocolate Frosting that's dairy-free and requires only 2 ingredients? This is it! It's so simple to put together and can be used in a variety of ways to make the prettiest and rich and chocolately cupcakes or cakes.
Ingredients
12

ounces

about 2 cups dark chocolate, chopped

1

cup

8 ounces full-fat coconut cream

Pinch

sea salt

optional
Instructions
Place chocolate in a heat proof bowl.

Heat coconut cream until it is very hot (but not boiling) either in a microwave or in a very small pot over a low flame.

Pour the cream over the chocolate and shake the bowl to make sure the chocolate is covered by the hot cream. Let sit undisturbed for 5 minutes.

Whisk the chocolate and coconut cream together until a smooth ganache is formed. Let sit at room temperature for about 30 minutes. Then move mixture to the freezer for 10 minutes. Remove from the freezer and stir around the mixture to make sure it chills evenly. Place back in the freezer for 5 minutes. Remove and check to see that the mixture is fully chilled, but not completely hard. The ganache should be easily spreadable, but quite chilled. If it's still warm or very soft, place back in the freezer and check on it every 5 minutes. If it's too hard, let it sit out until it's softened a bit.

Whip the ganache with an electric mixer, until lightened in color and fluffy, about 5 minutes on medium high speed. Make sure to frequently scrape down the sides of the bowl to ensure it is evenly whipped. When done, it should be an easily spreadable consistency.

Use immediately with your favorite cupcake or cake recipe.

Recipe will make enough frosting to frost between 12-16 cupcakes, or a 3-layer 6" or 8" cake.
Notes
You can use chocolate chips here, instead of chopped chocolate, but make sure they're medium to high quality to ensure the proper consistency.
Make sure to check ingredients of chocolate to ensure dietary requirements such as dairy-free. For dairy-free Enjoy Life is a great choice and for Paleo Hu Chocolate is a good choice.