Homemade Gluten Free Hostess Cupcakes are a fun weekend baking project! It starts with a super moist gluten-free chocolate cupcake, filled with homemade marshmallow fluff (made without any refined sugar) and dipped in a dairy-free chocolate ganache! Pipe on either some of the marshmallow fluff or melted white chocolate to complete the classic hostess-style cupcake look!
Gluten Free Hostess Cupcakes
Ever have one of those iconic packaged chocolate cupcakes? Our version of Gluten Free Hostess Cupcakes may look like the classic treats of an American childhood but they taste like the sophisticated version you should have been eating all along. We took the best gluten-free chocolate layer cake and turned them into cupcakes, stuffed them with Homemade Marshmallow Fluff and topped them with a decadent chocolate ganache. We piped on that icon swirl with melted white chocolate, but if you skip that and use extra fluff, you'll have yourself a dairy-free, gluten-free and refined sugar-free cupcake of your dreams.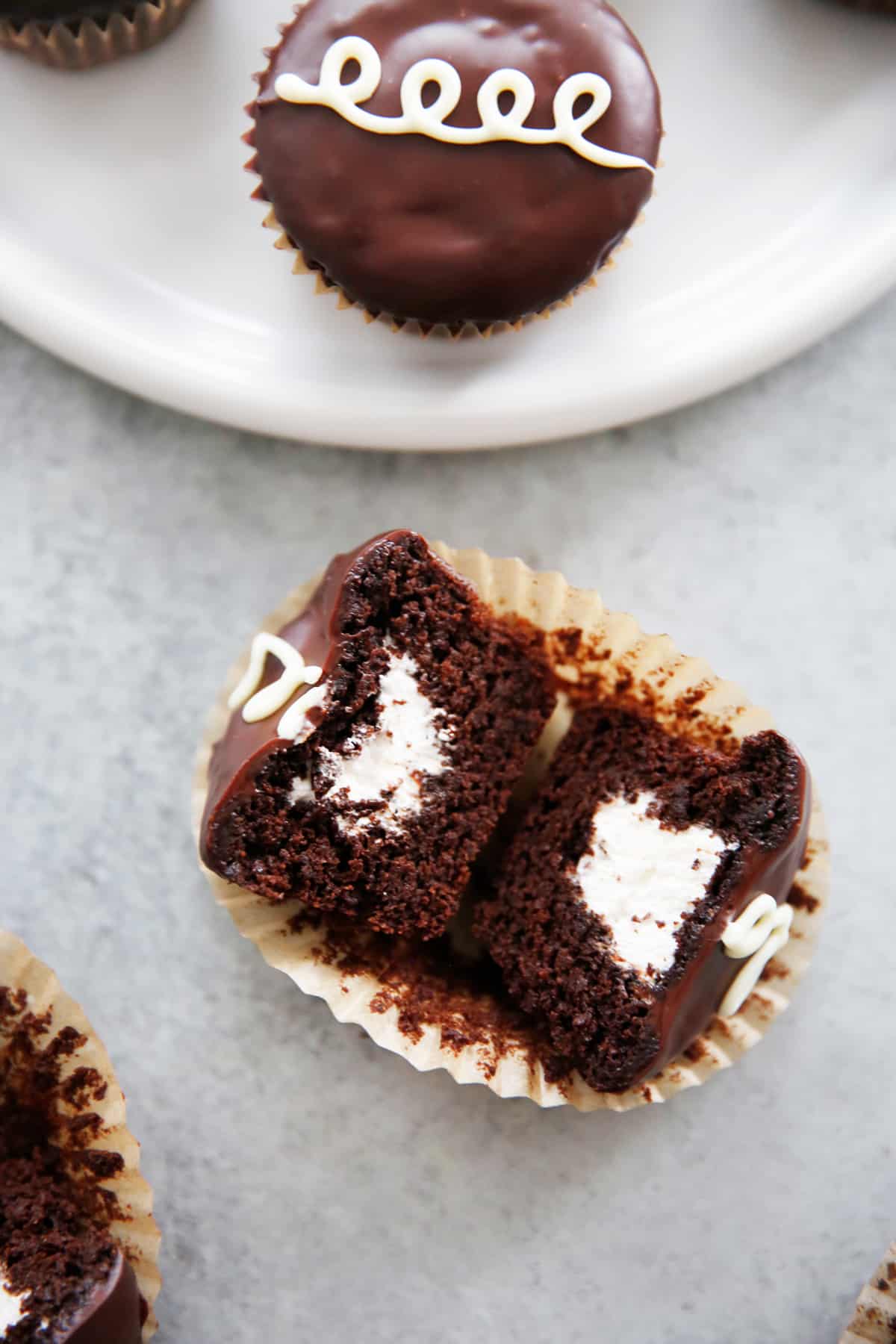 There are definitely a few steps needed to complete this recipe. But it's such a cute treat to recreate with healthier ingredients and the final outcome is so dang delicious! The hardest part of this recipe is making the Homemade Marshmallow Fluff, but we created an entire post to really get detailed about how you can make it. All of the remaining steps are just basic baking skills that if you follow the instructions are very achievable.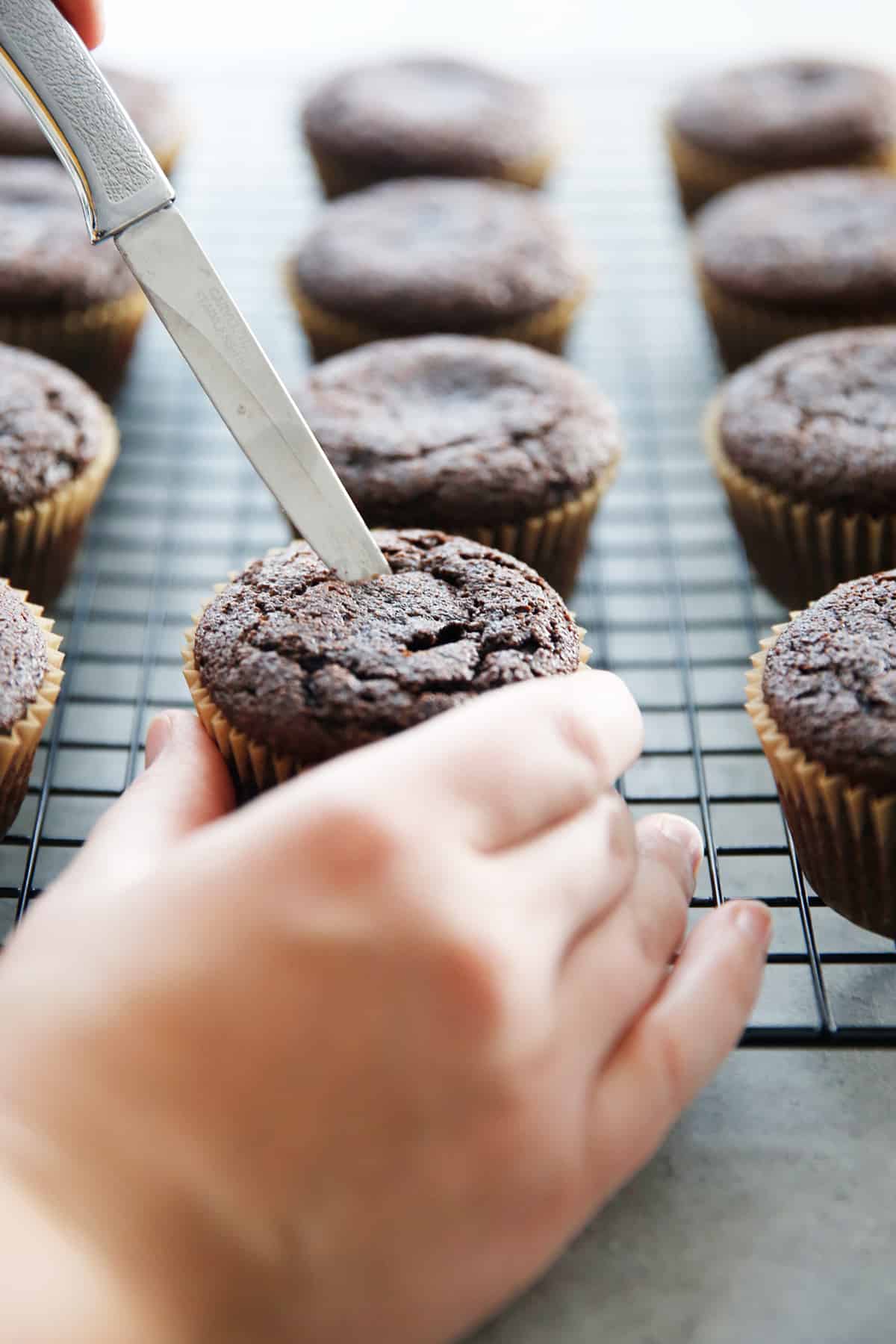 How do you make chocolate ganache
Making a ganache is simply heating up a milk and pouring it over chocolate! In this case we are using coconut milk and mini chocolate chips. You can do this either in a small pot on the stove, or you can use a microwave to heat up the cream.
Can marshmallow be substituted for marshmallow cream:
No. If you want to skip making the marshmallow cream you can either purchase some at the store, fill the cupcake with a vanilla buttercream, or you can leave it out all together.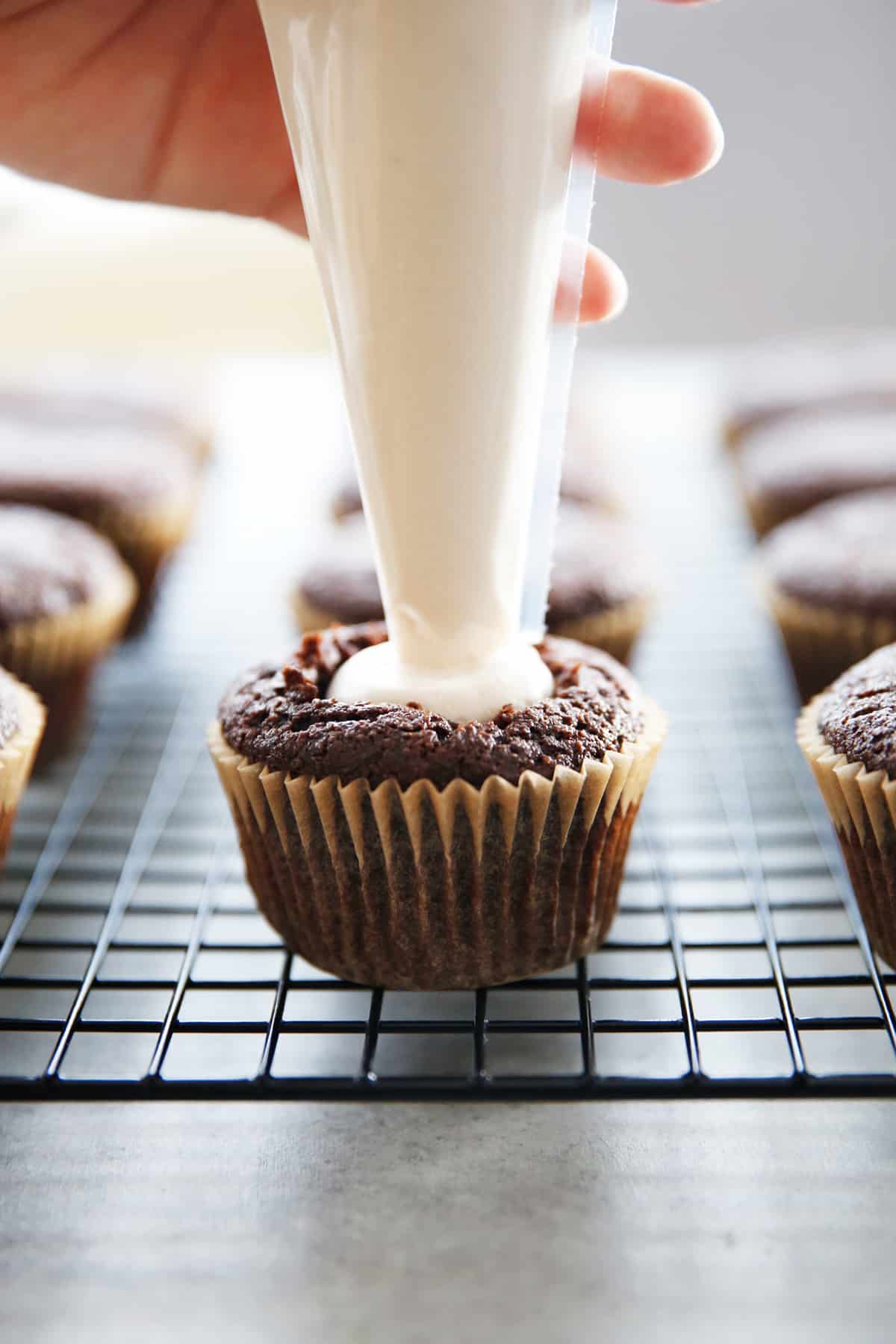 How to prep cupcake components ahead of time:
There are a few components of making these cupcakes as close to the classic version as possible. But the good news is that they can easily be broken down into steps that can be done a day or two apart from one another.
Make the cupcakes: This step can be done two days ahead of time! You can store the cupcakes in the refrigerator in an airtight container.
Make the Homemade Marshmallow Fluff: This can be done up to one week ahead of time. If the marshmallow fluff gets slightly deflated you can easily whip it back up with the electric mixer.
Make the ganache and melt white chocolate for topping: This is easiest if done at the same time you plan to assemble the cupcakes.
Assemble the cupcakes: The cupcakes can be left at room temperature in an air-tight container for up to two days, but they are best eaten within the same day.
In this recipe we used these tools:
Stand Mixer
Muffin Tin
Piping Bags
Essentials: Bowls, whisks, spatula, knife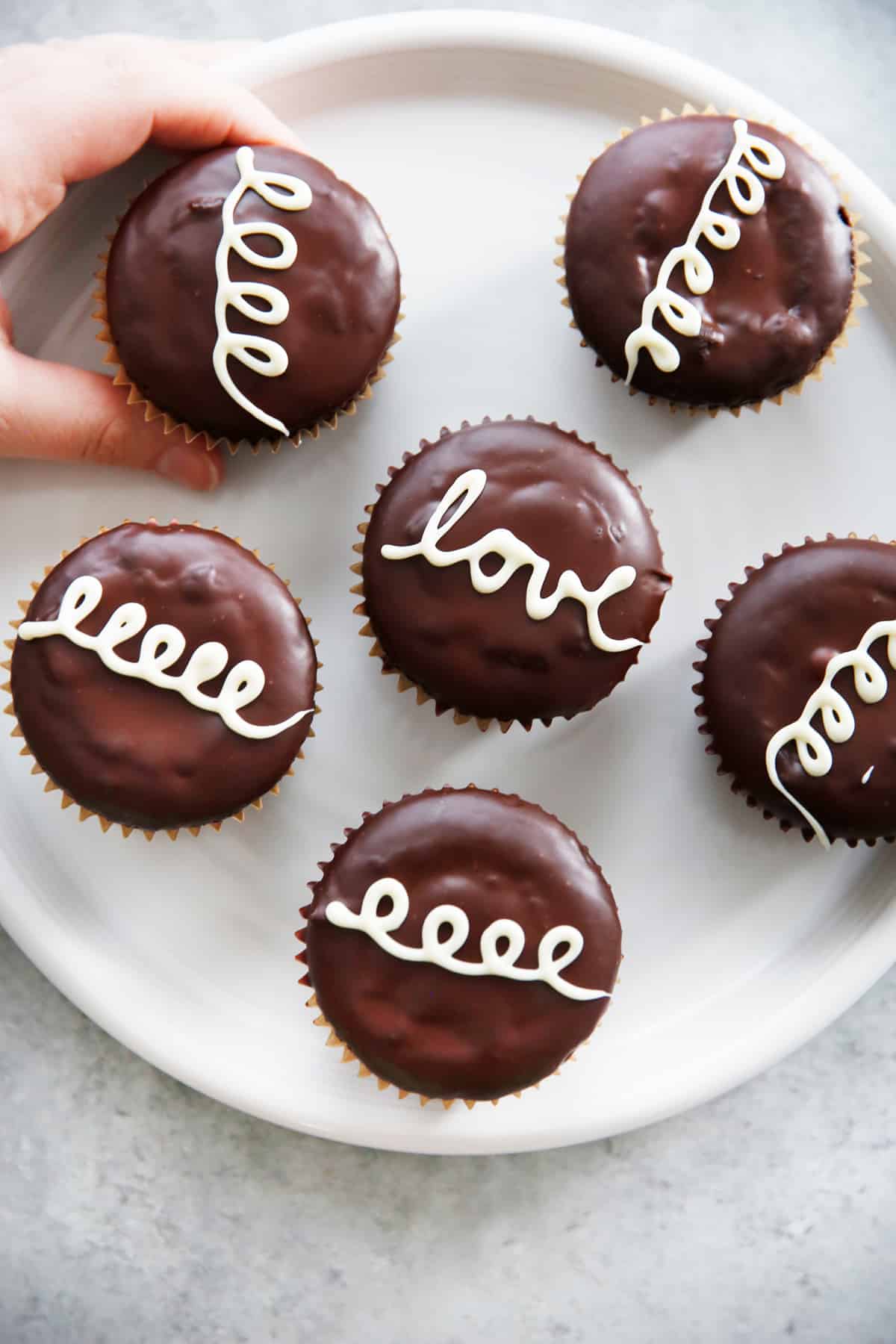 If you like this Valentine's inspired recipe, check out these others:
Gluten Free Hostess Cupcakes
Ingredients
For cupcakes:
For Filling:
For Ganache:
1/3 cup coconut milk

½ cup mini chocolate chips (if dairy-free use dairy-free chocolate chips)
To pipe swirl
1/4 cup white chocolate, melted
Directions
Prepare and cool cupcakes:
Pre-heat oven to 350ºF and line 2 muffin tins with 16 parchment paper liners.

In a medium bowl add almond flour, cocoa, coconut flour, baking powder, baking soda, and sea salt. (see note)
In a large bowl whisk eggs. Add in coconut sugar, milk, coffee, avocado oil and vanilla extract. Whisk to combine.

Add dry ingredients into wet ingredients and whisk to combine completely.

Divide batter evenly between 16 cupcake liners bake in pre-heated oven for 16-18 minutes minutes, or until a toothpick inserted and removed is clean of any wet cake batter.

Let cupcakes cool in the pan for 10 minutes before removing and cooling completely on a wire rack.
Make the filling:
Make 1 batch of Homemade Marshmallow Fluff and that post will have everything you need to know in it about doing so. You will have more than you need for this recipe but it is almost impossible to get egg whites to whip up if it is less than 3, so you'll need to make the whole batch.
Make Chocolate Ganache:
Place mini chocolate chips in a heat proof bowl.

Heat coconut milk until it is very hot (but not boiling) either in a microwave or in a very small pot over a low flame.

Pour over chocolate and shake the bowl to make sure the chips are covered by the hot milk. Let sit undisturbed for 5 minutes.

Whisk the chocolate and coconut milk together until a smooth ganache is formed. It is best to do this right before assembling the cupcakes because you'll want the ganache to be warm, but not hot.
Assemble the cupcakes:
Cut out a well from the cooled cupcakes with a knife and set aside the top. Using a spoon scoop out a teaspoon sized amount of cake to create a larger hole, and discard the cake scraps. Using your fingers gently press the sides of the hole until it is set and there are no loose crumbs.

Fill a pastry bag with the marshmallow cream and cut out a small hole. Fill the cupcakes and place the reserved cut top back on the cupcake and gently push it down so it's flat.

Dip the top of each filled cupcake carefully into the glaze, and gently lift it up to let to let the excess glaze drip off and than quickly flip it back right side up on a wire rack to cool completely.

To pipe the swirl either fill a pastry bag with melted and slightly cooled white chocolate, or you can use extra marshmallow fluff and make 4-5 swirls on the top of the cooled cupcake.

Enjoy cupcakes within two days. They can be stored at room temperature in an air tight container.
Recipe Notes
If your almond flour and cocoa powder is really lumpy you should sift all the dry ingredients together in a bowl.

You can skip the coffee and just increase the milk by 1/4 cup.

If your chocolate ganache ever gets too cold you can gently rewarm it it over a double-boiler or in the microwaves for 10 seconds at a time.

If you would like to make less chocolate cupcakes, you can use these ingredient amounts:

1-1/4 cups (120) almond flour

⅓ cup plus 1 tabespoon (35g) high-quality cocoa powder

1/4 cup (24g) coconut flour

3/4 teaspoon baking powder

1/2 teaspoon baking soda

1/4 teaspoon fine sea salt

2 eggs

3/4 cup coconut sugar

1/4 cup milk of choice

2 tablespoons cup coffee (see note)

2 tablespoon cup avocado oil

1 teaspoon vanilla extract
Loading nutrition data...
There may be affiliate links in this post! By clicking on them, or purchasing recommended items I may receive a small compensation, at no cost to you! However, I only recommend products I absolutely love and use in my own home! Thank you for supporting Lexi's Clean Kitchen when you shop! See my
privacy policy
for more information about this, the information we save, and more!
use our hashtag!
I am so excited that you are making a recipe and would love to see how it turns out! Make sure to use the hashtag on social media!
#LEXISCLEANKITCHEN
share this post!
subscribe to the email list!