This Pina Colada Smoothie is the perfect creamy and flavorful on-the-go breakfast. It's made with frozen pineapple and coconut milk to create that classic piña colada flavor. This smoothie is dairy-free, packed with healthy fats, and so delicious!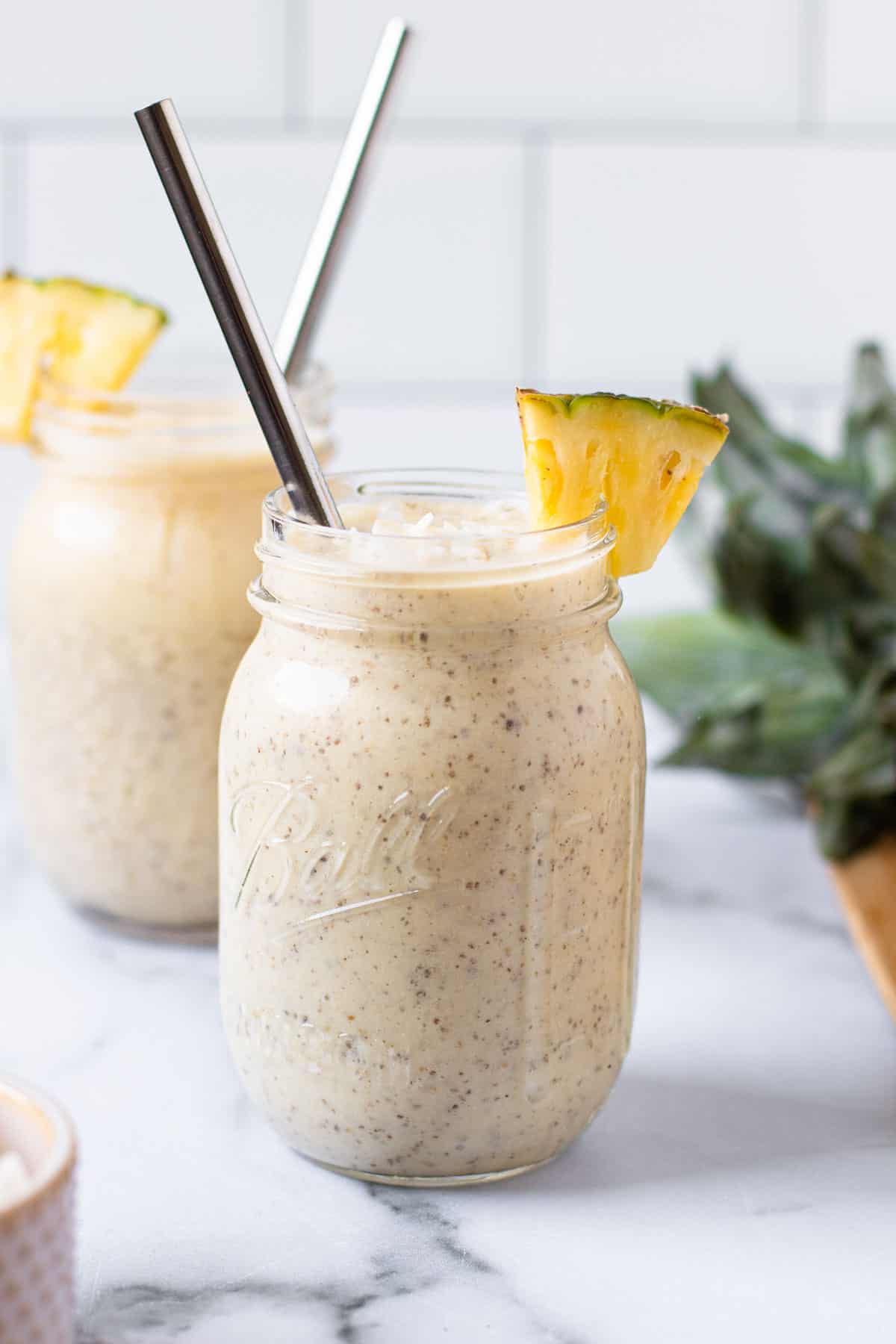 Healthy Piña Colada Smoothie Recipe
What better way to start the day than with a refreshing tropical (and healthy) drink in your hand! This smoothie is the ultimate quick breakfast or snack for every season.
It's made with just a few simple ingredients and will keep you fueled throughout the morning thanks to healthy fats and fiber. This smoothie is rnaturally sweetened, has so much sweet, tropical flavor, and is ready in 5 minutes,
Ingredients Needed
Our recipe is not only creamy and delicious, but we wanted to make sure this smoothie was healthy and and filling, too!
Pineapple Chunks: use frozen pineapple for a thick, creamy texture.
Coconut Milk: I use organic lite unsweetened coconut milk. You can use a carton or can.
Honey: my natural sweetener of choice. You can omit if you'd like!
Flaxseed, Chia Seeds, or Hemp Hearts: you can use one, two, or all three of these ingredients to give the smoothie a boost of fiber and added nutrients.
Coconut Oil: you can't go wrong with a little healthy fat and some extra coconut flavor.
Optional Protein Powder: If using, go for vanilla or unsweetened.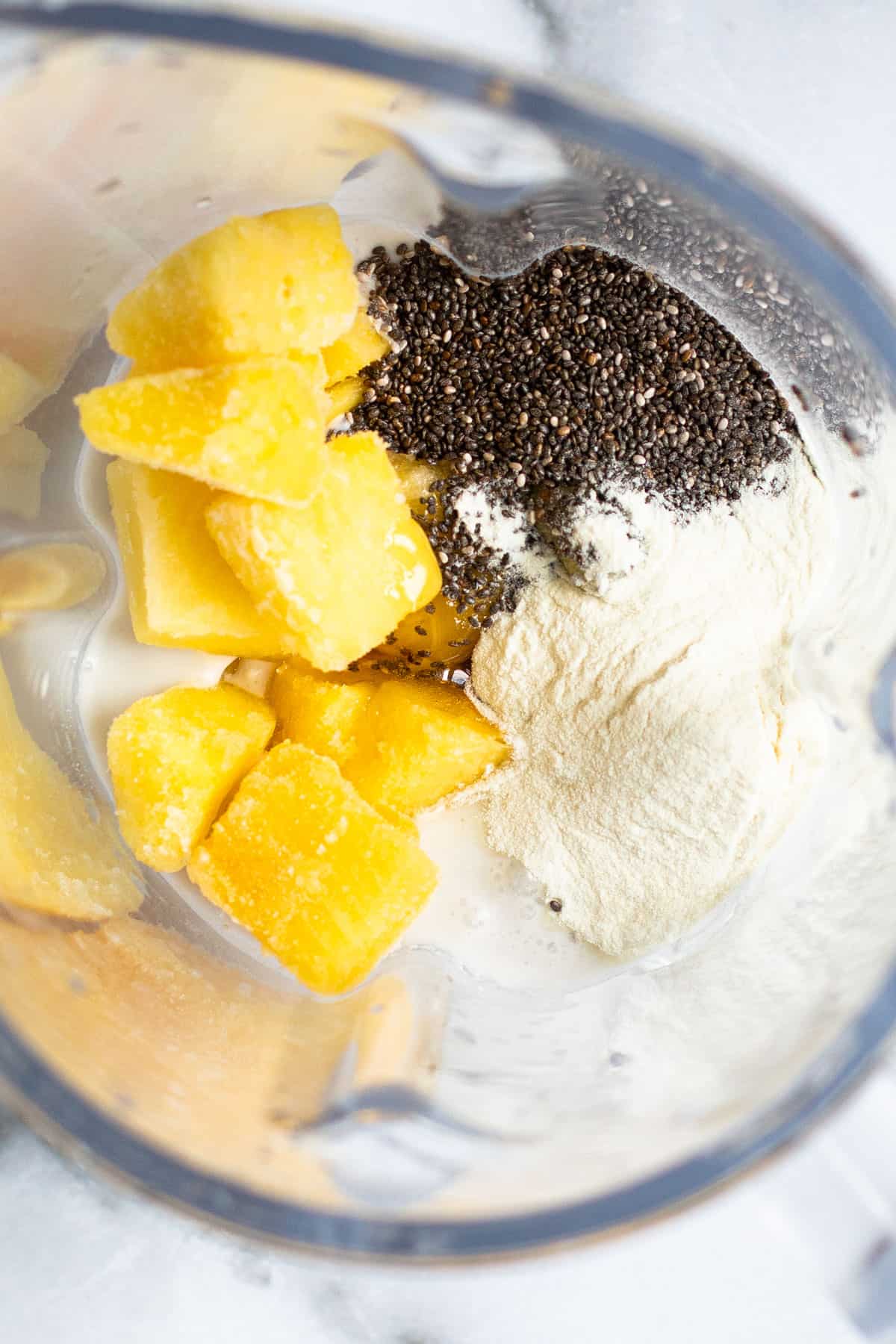 How to Make a Pina Colada Smoothie
Who doesn't love a 5-minute, healthy, and delicious breakfast?!
Combine and blend: Place all of the smoothie ingredients into a blender and blend until creamy.
Garnish and serve: Pour the smoothie into a serving glass, garnish with pineapple and coconut, then serve.
How to Thicken a Smoothie
There are a couple of key ways to create a thick and creamy smoothie:
Start with less liquid. I recommend starting with less of the recommended amount of coconut milk, blending, then adding more only as needed. You can always
Use frozen fruit. Frozen fruit is the key to a creamy smoothie. I like to keep it on hand so it's ready to go whenever I'm craving a smoothie!
Can You Use Fresh Pineapple?
In theory, yes, but I definitely recommend using frozen pineapple for a thicker, cremaier texture.
If you do decide to use fresh pineapple, you will likely need to add ice to the smoothie to create a thick and creamy texture.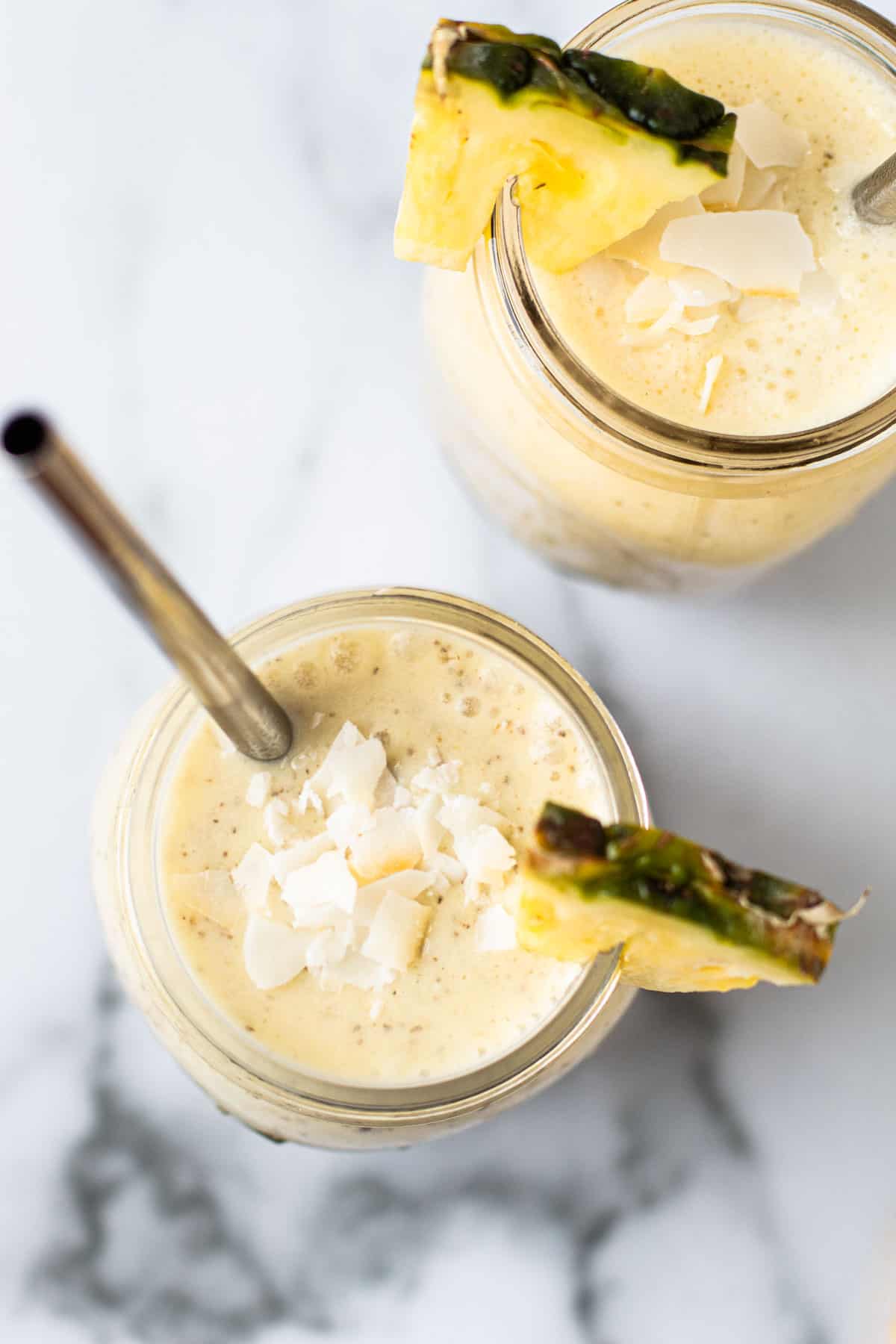 Best Blender for Smoothies
Now, in theory, you can use any blender to make a smoothie. However, after years of using various blenders, our team here has found that a high-speed blender is definitely a worthy investment. Here's why:
Quality. High-speed blenders last a long time. You will absolutely get your money's worth!
Performance. A high-speed blender does a much better job of, well, blending. That means better, creamier smoothies!
We do realize that purchasing a high-speed blender is not for everyone. With that in mind, we're sharing a few blenders at different price points that we've had good luck with!
some of the blenders we've used and liked in the past.
Recommended: Vitamix
I (Lexi) have used a variety of blenders. The top two contenders are Blendtec and Vitamix. If you're investing big and want the best quality blender out there, go Vitamix. It truly does hold the test of time! 
Mid-range price option: Kitchenaid Diamond 5 Speed Blender
Our food editor uses this blender at home. It is moderate in price and works relatively well. However, it is not the same as a high-speed blender, especially when it comes to smoothies. This blender requires more liquid than a high-speed blender would in order to get the frozen smoothie ingredients fully blended up.
Single serving blender option: Ninja Person Blender
Many people prefer to have a single-serving blender to keep at home or in the office for making smoothies. The bonus is that the basin you use to blend can double as a cup!
Smoothie Pro Tips
Serve right away. Smoothies are best served right after blending!
Make more! Serving more people? This smoothie is super easy to double or triple if needed.
Kick the nutrition up a notch with a handful of spinach. Keep in mind this will affect the color of the smoothie.
Use other fruit. This smoothie is super customizable, so add whatever fruit you like! Strawberries or banana slices would be delicious. Again, use frozen fruit for the best results.
For an even creamier smoothie, add a scoop of Greek yogurt.
Serving Suggestions
I recommend serving this smoothie right away after blending for the best texture. I love to top it off with a slice of fresh pineapple and shredded coconut.
You can also serve it topped with homemade coconut whipped cream for a real fun pina colada vibe!
Making Smoothie Packs for Easy Morning Smoothies
Smoothie freezer packs are so popular, and for good reason: they make even quicker work of making morning smoothies. Instead of buying pre-made ones, you can turn this smoothie recipe into pre-made smoothie packs you can keep in your freezer ready to go anytime you want a pina colada smoothie.
To make smoothie packs: Simply place all the ingredients, except the milk, inside of a plastic or a reusable bag and freeze until ready to use, up to one month.
When you are ready to use it, simply dump the ingredients from the bag, add in the milk and blend it.
More Healthy Smoothie Recipes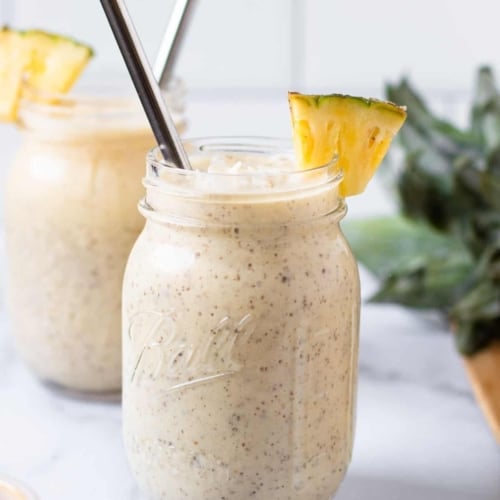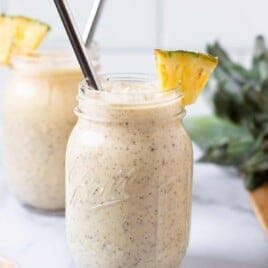 Piña Colada Smoothie
This Piña Colada Smoothie is the perfect creamy and flavorful on-the-go breakfast. It's made with frozen pineapple and coconut milk to create that classic piña colada flavor. This smoothie is dairy-free, packed with healthy fats, and so delicious!
Ingredients
1

cup

frozen pineapple chunks

1

cup

organic unsweetened coconut milk

lite

1

teaspoon

honey

optional

1

tablespoon

ground flaxseed or chia seed or hemp hearts

½

tablespoon

coconut oil

1

scoop protein powder

optional
Instructions
Place all ingredients in 

blender

 until smooth and creamy.

Garnish with a pineapple slice and shredded coconut, if desired.

Serve immediately.