This Coffee Banana Smoothie is the perfect way to start the day. It's a creamy, flavorful smoothie that's nutrient-dense and packs a coffee punch. Ready in just 10 minutes!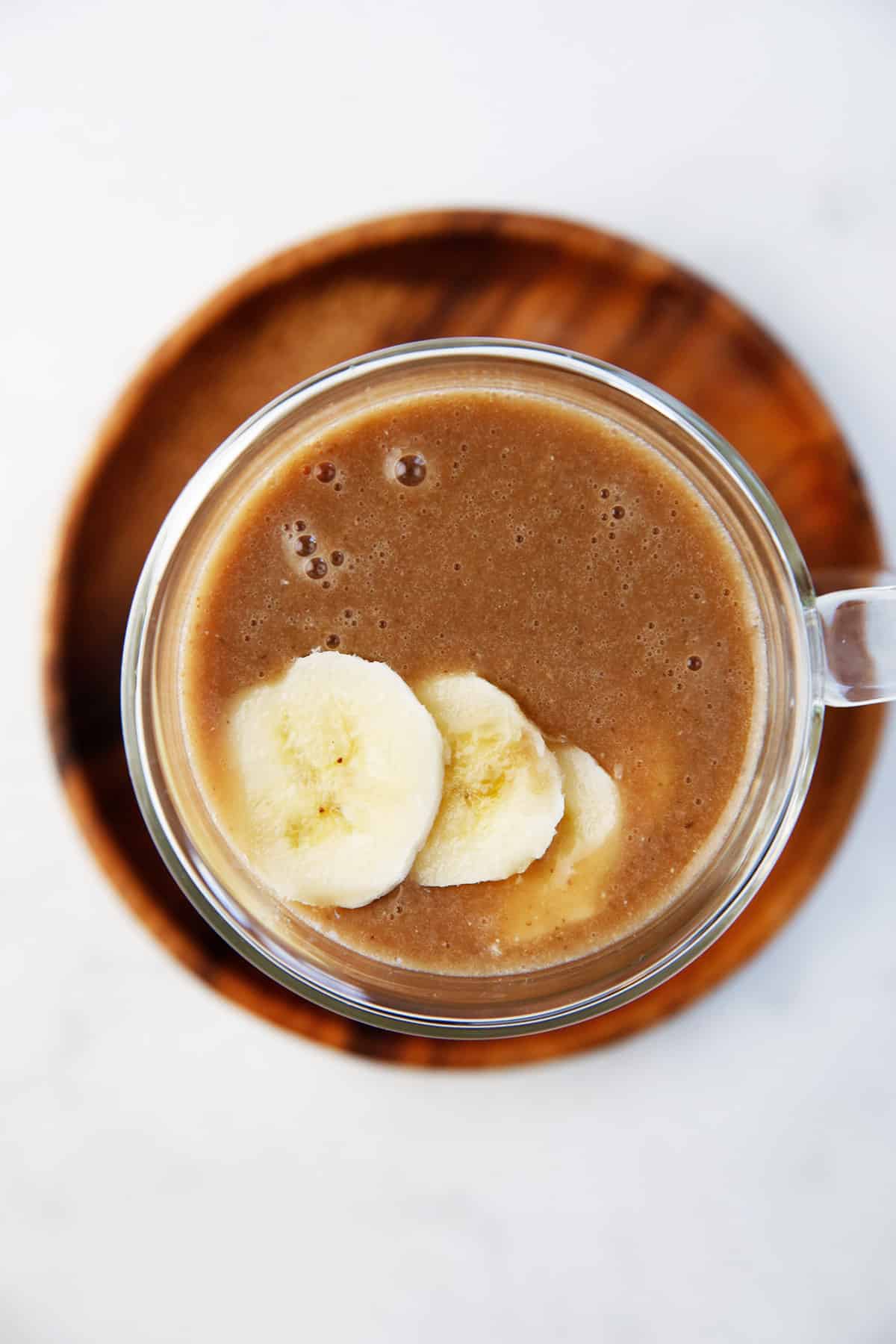 Coffee Protein Smoothie
This coffee protein smoothie is a flavorful, and refreshing shake that's loaded with coffee, banana, chia seeds, healthy fats, natural sweetener, and more. It's nutritious, thick and creamy, and absolutely delicious!
I absolutely love starting my day off with a smoothie. I also love starting my day off with a cup of coffee. But, I usually never finish my coffee. That's how this banana coffee smoothie recipe came to be! It's basically the perfect addition to my morning routine that I've loved for years now!
Ingredients Needed
This coffee smoothie recipe is packed with good-for-you ingredients. It's dairy-free, refined sugar-free, and oh-so-good! Scroll down for the full recipe.
Milk: I use unsweetened almond milk but any type of milk or milk substitute will work.
Coffee: you can use freshly brewed (and chilled) coffee or cold brew. 
Banana: frozen banana is always the way to go for creamy thick smoothies.
Protein Powder: I like to use Collagen Peptides or a good unflavored protein powder, like Ritual.
Chia Seeds: give the smoothie an extra boost of nutrition and helps thicken.
Sweetener: this is an optional addition but I like to add a little bit of maple syrup to sweeten the smoothie a bit. You could also use honey or agave nectar.
Ice: this is also optional, but can help thicken the smoothie if you'd like it thicker.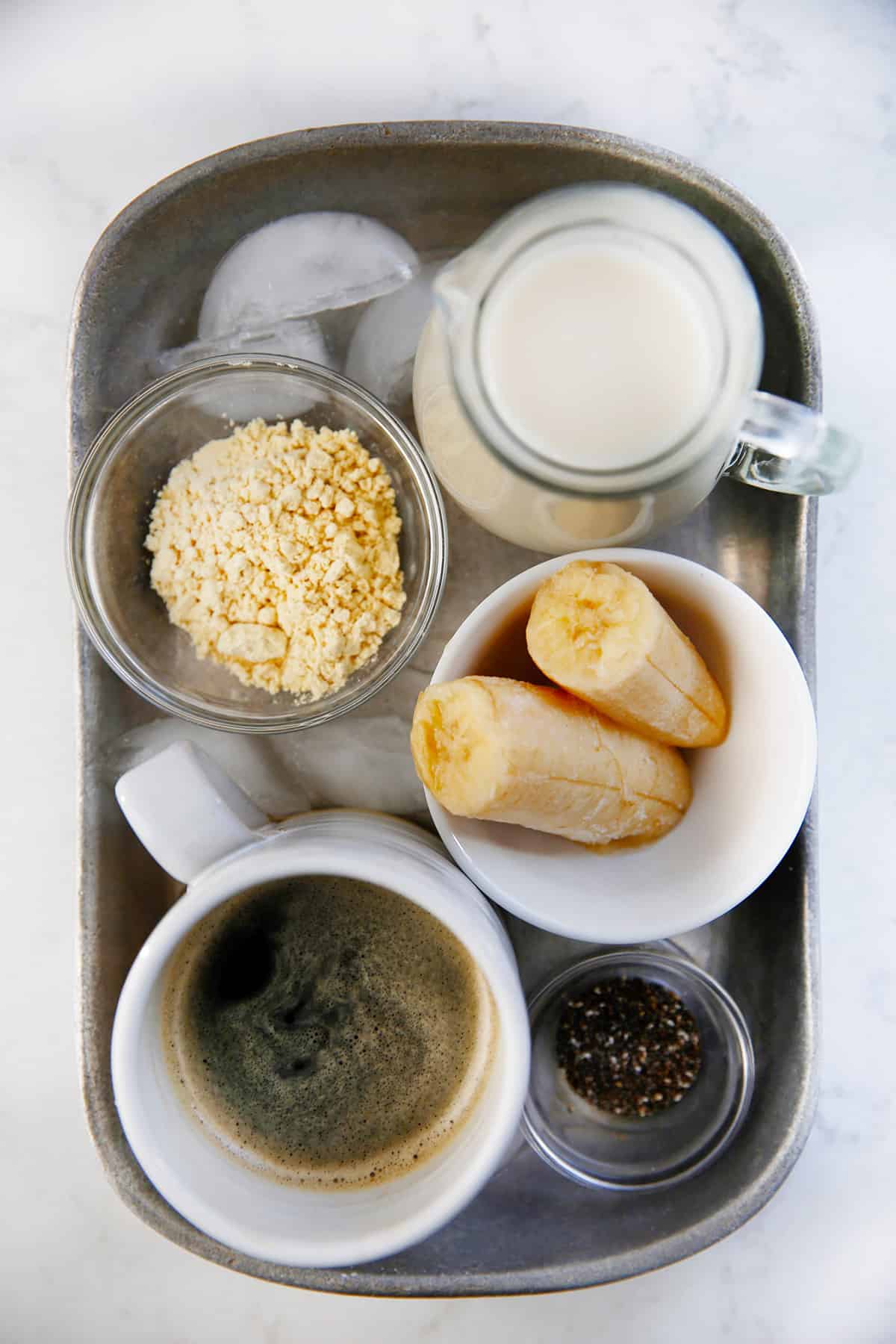 How to Make this Coffee Banana Smoothie
This coffee protein smoothie comes together in just 10 minutes!
Combine all ingredients: Add all of the ingredients to a high speed blender.
Blend and serve: Blend until smooth, then taste and adjust if necessary before serving. You may want to blend it up with more ice if it's not as thick as desired.
How to Thicken a Smoothie
The best way to thicken the smoothie is to just start with less liquid and add more until it has reached your desired texture. If you blend everything up and your smoothie is too thin for your liking, you can add more banana, more ice, or switch things up and add half of an avocado or a scoop of yogurt.
Another great way to create a thick and creamy smoothie is to use frozen fruit. I like to keep frozen fruit on hand at all times so I'm prepped and ready to go whenever I'm craving a smoothie.
Fresh Fruit vs Frozen Fruit
Frozen fruit is the key to a great smoothie! I always have frozen fruit on hand because they help make smoothies deliciously cold and add thickness. Plus, frozen fruit lasts longer and contains the same nutritional elements as fresh fruit does. Buy them fresh in season and freeze them up and get pre-frozen fruit in the freezer section!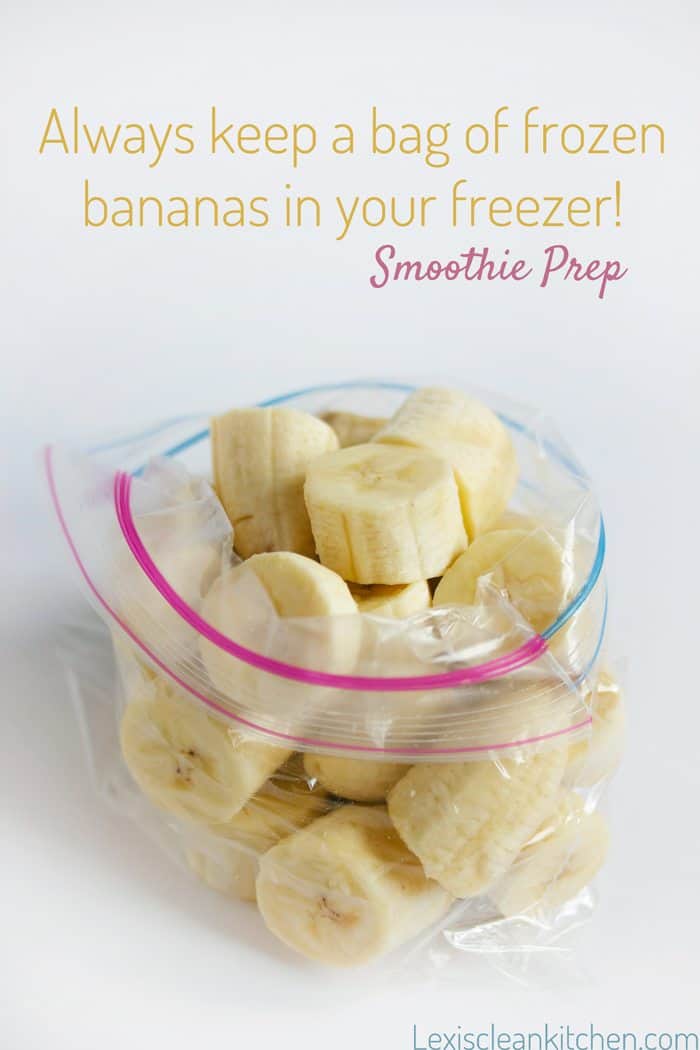 Do the Bananas Need to be Frozen?
As annoying as that is, I'm gonna say yes. Frozen bananas are part of what makes the smoothie so creamy. Without them, the smoothie won't be nearly as thick or creamy.
If you're prepping further in advance, I recommend freezing the bananas whole (they last longer this way.) If you're shorter on time and want the bananas to freeze quickly, you can cut them into smaller pieces. If they're sliced and frozen you will likely want to use them up within a few days.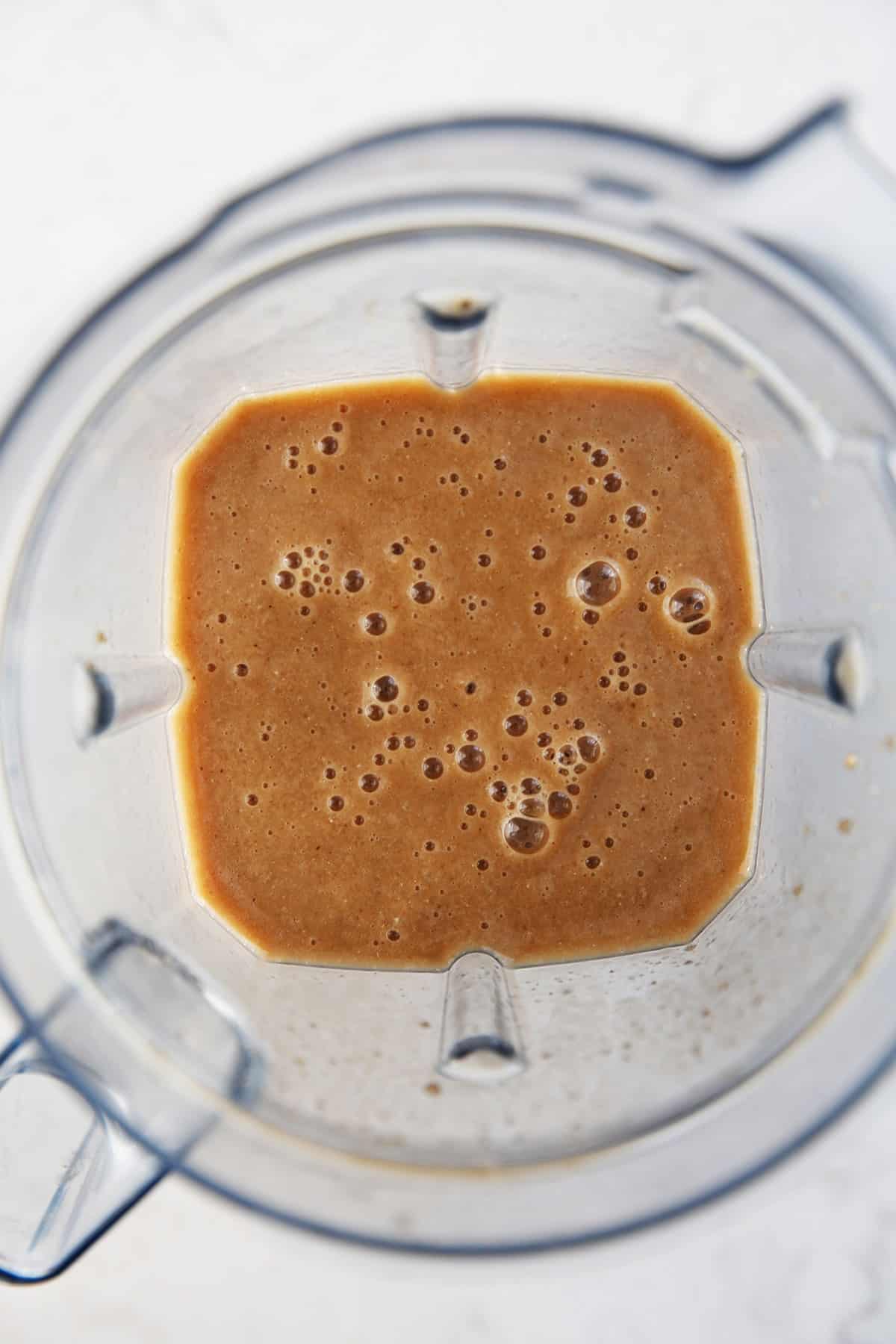 Can You Put Ground Coffee in a Smoothie?
In theory, yes but I don't recommend it. Ground coffee will alter the texture of the smoothie and you would have to add more milk to compensate for the lack of coffee liquid.
I prefer to use either freshly brewed coffee (that is then chilled) or cold brew in this coffee smoothie recipe. However, if you'd rather use ground coffee to achieve the coffee flavor, that technically works too.
Smoothie Pro Tips
Here are a few tips for making the best coffee banana smoothie!
Use chilled coffee. There is honestly nothing worse than a warm smoothie. Be sure the coffee you use is chilled so your smoothie is nice and cold!
Keep frozen bananas on hand. Frozen bananas add so much sweetness and make the texture of smoothies so creamy. I like to buy a big batch of extra ripe bananas and keep them on hand in the freezer so they're ready to go when I'm craving a smoothie.
Start with less. When it comes to the liquid, coffee, and sweetener, I always like to start with less and add more to taste. That way the flavor and consistency of my smoothie is just right. 
Serve right away. Smoothies are best fresh! 
Make it creamier. Want an even creamier smoothie? Try adding your favorite yogurt, half an avocado, or even frozen cauliflower (trust me)!
You can make a decaf coffee smoothie by simply swapping the regular coffee out for your favorite decaf variety.
Kick the nutrition up a notch by adding in a handful of spinach, frozen cauliflower, coconut oil, protein powder, rolled oats, ground flaxseed meal, hemp seeds, or a scoop of nut butter. 
Best Blender for Smoothies
Now, in theory, you can use any blender to make a smoothie. However, after years of using various blenders, our team here has found that a high-speed blender is definitely a worthy investment. Here's why:
Quality. High-speed blenders last a long time. You will absolutely get your money's worth!
Performance. A high-speed blender does a much better job of, well, blending. That means better, creamier smoothies!
We do realize that purchasing a high-speed blender is not for everyone. With that in mind, we're sharing a few blenders at different price points that we've had good luck with!
some of the blenders we've used and liked in the past.
Recommended: Vitamix
I (Lexi) have used a variety of blenders. The top two contenders are Blendtec and Vitamix. If you're investing big and want the best quality blender out there, go Vitamix. It truly does hold the test of time!
Mid-range price option: Kitchenaid Diamond 5 Speed Blender
Our food editor uses this blender at home. It is moderate in price and works relatively well. However, it is not the same as a high-speed blender, especially when it comes to smoothies. This blender requires more liquid than a high-speed blender would in order to get the frozen smoothie ingredients fully blended up.
Single serving blender option: Ninja Person Blender
Many people prefer to have a single-serving blender to keep at home or in the office for making smoothies. The bonus is that the basin you use to blend can double as a cup!
Can You Make Smoothies Ahead of Time?
I do not recommend blending the smoothie too far in advance. Smoothies are best consumed immediately. For the thickest, creamiest possible texture, serve immediately after blending!
But… You Can Make it a Smoothie Freezer Pack!
You may already know my love for smoothie packs! They are a great thing to have in the freezer for a quick snack, breakfast, or to freezer prep for a friend (great before the arrival of a baby!) 
So yes, you can prepare these ahead of time, placing all the ingredients into a freezer-safe bag or container, and freezing until ready to use. They will last that way for up to 1 month! Don't blend the smoothie ahead of time, though! Smoothies are best when enjoyed right after blending! See this post for more information on how to make smoothie freezer packs!
For this smoothie specifically, coffee ice cubes would be ideal for your freezer pack!
Have Leftover Smoothie?
We pour any leftover smoothie into a popsicle mold and enjoy later as a frozen treat. Though frozen smoothie pops are best consumed within a few days of making.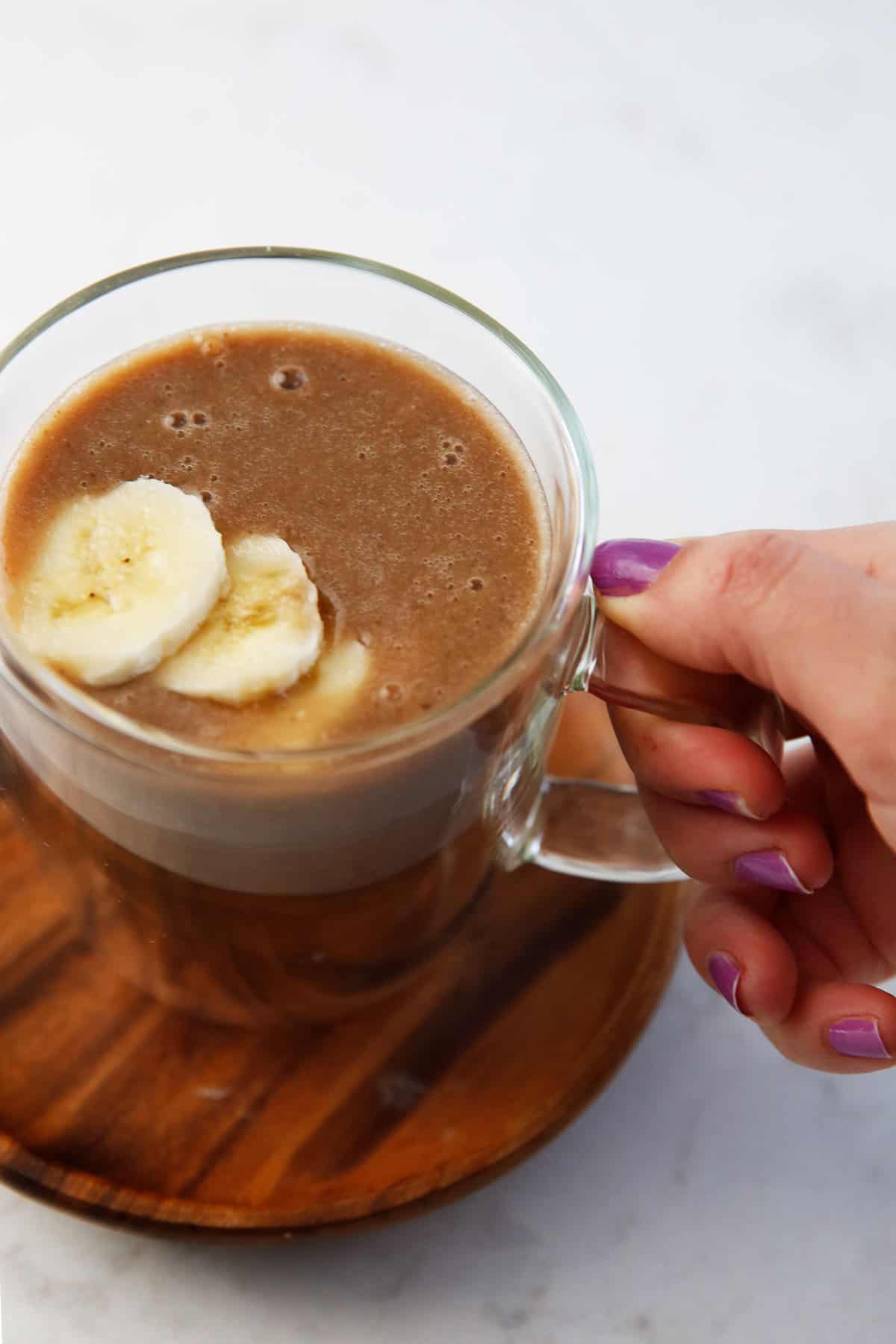 Smoothie Tools I Use
Reusable Silicone Bags (for smoothie packs)
Bag Opener (to fill your packs)
Labels/Sharpies to label/date!
More Healthy Smoothie Recipes You'll Love
Watch the Video: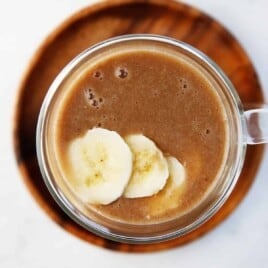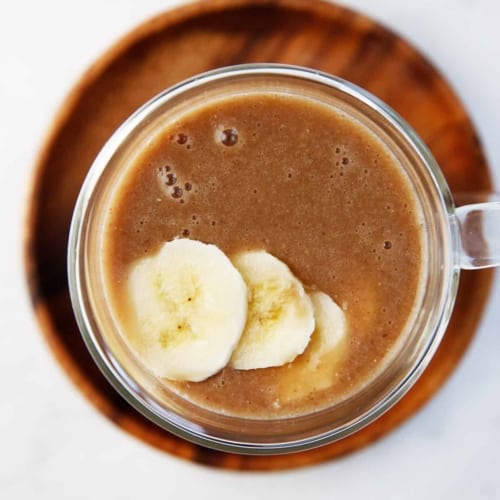 Banana Coffee Smoothie
This Coffee Banana Smoothie is the perfect way to start the day. It's a creamy, flavorful smoothie that's nutrient-dense and packs a coffee punch. Ready in just 10 minutes!
Ingredients
1/2

cup

unsweetened almond milk or milk of choice

1/2

cup

freshly brewed coffee or cold brew

if freshly brewed, place in fridge for 10 minutes until chilled

1

frozen banana

1/2

tablespoon

chia seeds

Optional: 1 scoop protein powder

I like collagen peptides

Optional: 1 teaspoon maple syrup

honey, or sweetener of choice

Optional: Handful of ice cubes to thicken as desired
Instructions
Combine all ingredients in a high speed blender.

Blend until creamy.

Add ice and blend further if needed to reach desired consistency.

Enjoy!
Notes
If your smoothie isn't as thick enough as you'd like, add the optional ice and blend again.
Nutrition
Serving:
2
g
Calories:
96
kcal
Carbohydrates:
15.5
g
Protein:
6.2
g
Fat:
2.3
g
Saturated Fat:
0.3
g
Sodium:
101
mg
Fiber:
3
g
Sugar:
7.2
g