This Pizza Burrata Dip is the ultimate appetizer! It's easy to make, indulgent, and packed with crispy prosciutto, sautéed grape tomatoes, a special marinara sauce, and warmed up creamy burrata cheese.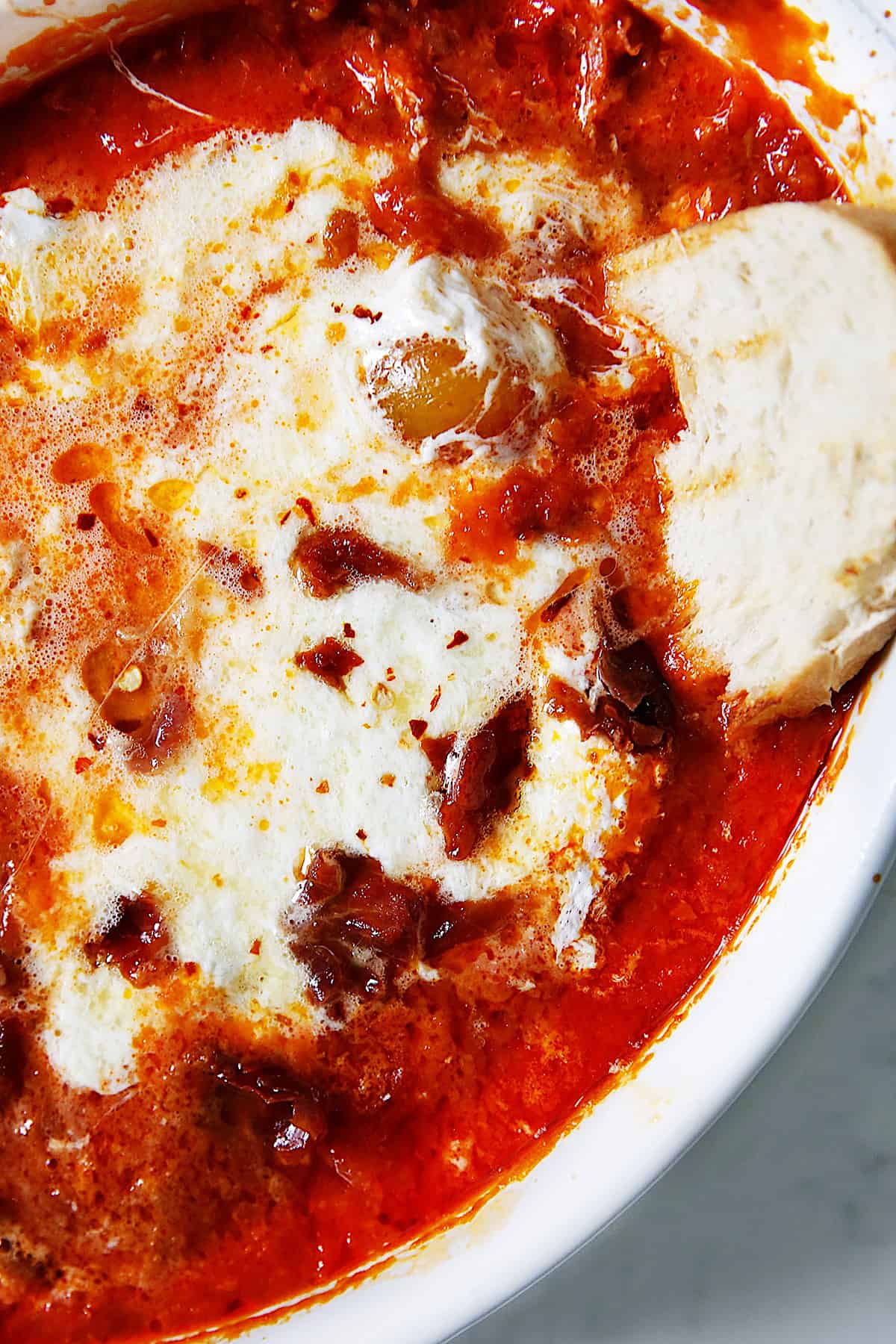 Incredible Pizza Dip Recipe
I created this pizza burrata dip recipe after I tried a similar (and amazing) dip in Maine. I had one bite and I knew I needed to recreate it somehow. And so this pizza burrata dip came to be!
Now, burrata cheese on its own is decadent and indulgent enough. So pair that with fresh tomatoes cooked down until they burst with tons of fresh garlic, flavorful thick sauce made easily from store-bought marinara sauce, salty prosciutto, and more, and you'll never make another dip again. Trust me.
This pizza dip recipe is cheesy, creamy, saucy, flavorful, and so good paired with toasted baguette slices, crackers, or garlic bread. Plus, you can keep this as a dip or turn it into an entree with my pizza burrata pasta recipe!
Ingredients Needed for This Pizza Dip!
It actually uses just a few ingredients and makes the most amazing dip
Oil: both olive oil and avocado oil work great.
Prosciutto: chopped prosciutto adds a delicious salty flavor and crispy texture to the otherwise rich and creamy dip.
Garlic: I always prefer freshly minced garlic but pre-minced will work as well.
Seasonings: you don't need too many seasonings since you'll get plenty of flavor from the marinara sauce. I like to enhance the flavor with salt and add a little extra spice with red pepper flakes.
Grape Tomatoes: you'll use whole grape tomatoes. No need to slice before cooking. They burst open when they're heated.
Store-Bought Marinara Sauce: use your favorite variety, but make sure it's great quality! I like Rao's!
Burrata Cheese: you'll need one piece/ball of burrata for this recipe. Leave it whole! You just melt it over the top of the dip as-is. I love Maplebrook Farms!
For Serving: I serve this dip with toasted bread or crackers and garnish with fresh basil and red pepper flakes.
So first of all… what is Burrata?
Burrata is a soft Italian cheese that consists of an outer layer of mozzarella and an ultra creamy interior filled with curds of cheese and cream. Burrata cheese is slightly more expensive than other varieties, but it makes up for its cost in richness, creaminess, and flavor. Trust me.
Now, How to Make My Pizza Burrata Dip!
This pizza dip recipe comes together so quickly and easily! See the full details in the recipe card below.
Cook the prosciutto: Heat oil in a small skillet, then add in prosciutto. Cook until crispy, then remove and set aside.
Cook the tomatoes: In the same skillet, add more oil, then sauté garlic with red pepper flakes until fragrant. Add the tomatoes and cook until they burst.
Make the dip: To the tomato mixture, add marinara sauce and simmer to thicken.
Bake: Transfer the dip to a 9×13" baking dish, top with the ball of cheese, then bake.
Garnish and serve: Top the dip with prosciutto, garnish as desired, and serve with bread or crackers!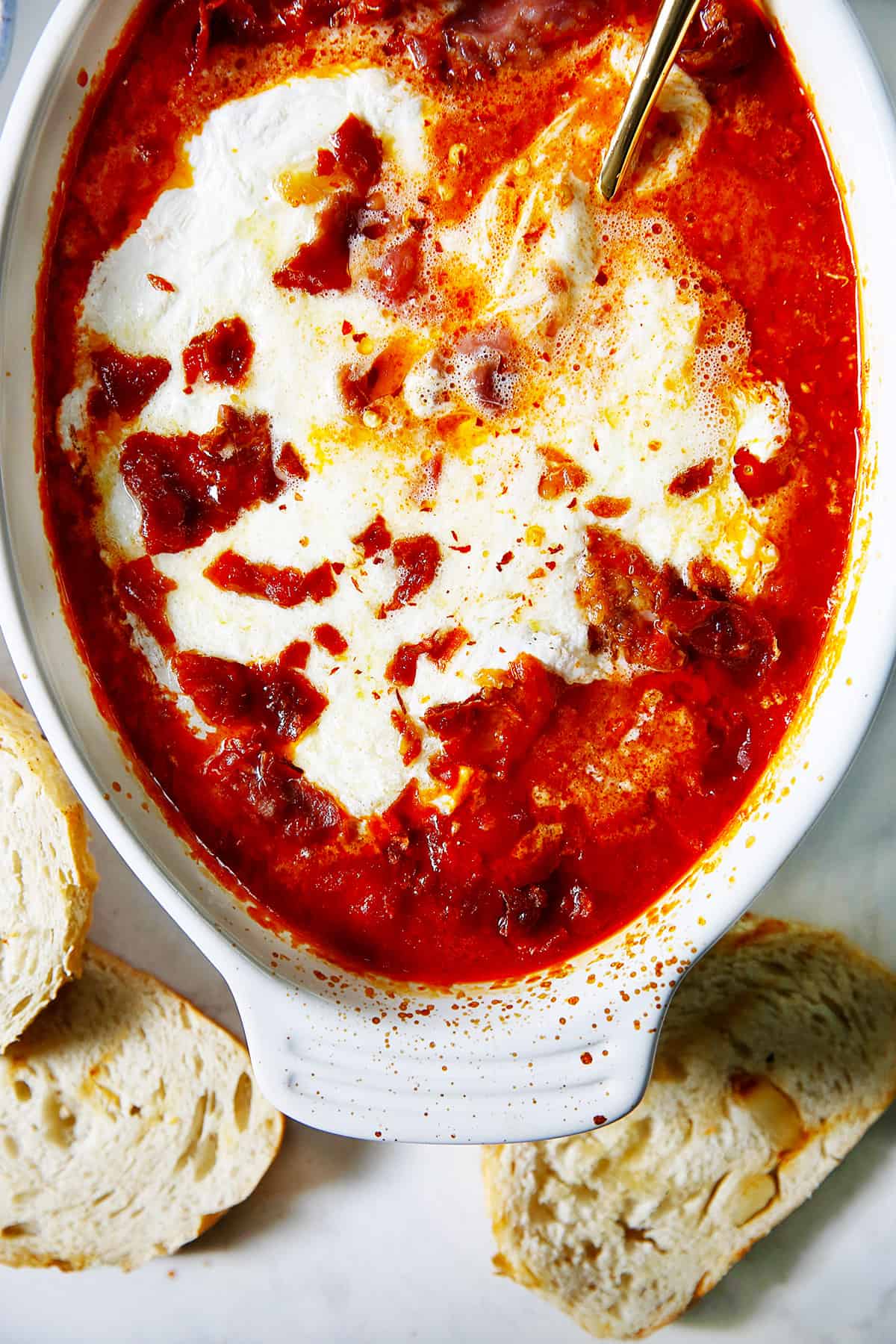 Tips and Notes for This Pizza Dip
Don't overcook. You want to bake it long enough for the cheese to melt and no more than that. Overcooked burrata cheese becomes dry.
Don't go over-board with toppings. While you can add other pizza toppings if you want, my recommendation is to keep it simple. It really is all about the thick delicious marinara base and the burrata! The flavor is too good to compromise.
If you can't find burrata cheese, you can swap it out for fresh mozzarella. It won't be quite the same but it will still taste delicious.
Make-Ahead and Storage Instructions
Once baked, this pizza dip is definitely best right away. However, you can get ahead by assembling it in advance.
To prep ahead of time, assemble as directed, but instead of topping with burrata and baking, cover the baking dish with plastic wrap and store in the fridge for up to 3 days. When you're ready to serve, simply uncover, top with cheese, and bake as directed.
Baked pizza burrata dip will last covered in the fridge for 3-5 days. To reheat, bring to room temperature, then bake at 350ºF until heated through. I don't recommend freezing this dip because the texture of the cheese will be affected.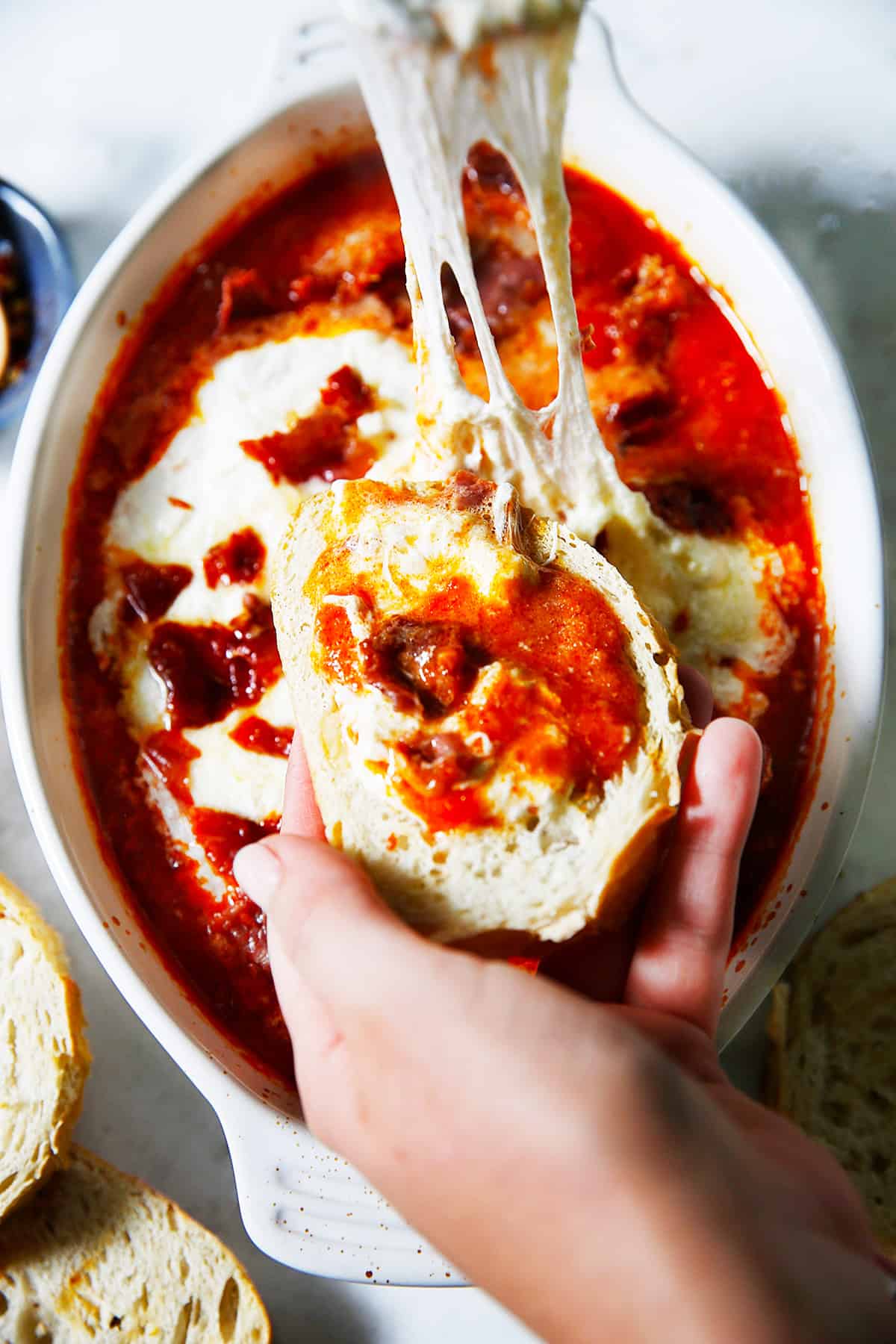 Serving Suggestions
If you're not already eating this dip straight out of the baking dish with a spoon…it's delicious with toasted baguette slices, crackers, bagel chips, breadsticks, or garlic bread.
You can also transform this appetizer into a main dish by turning it into pizza burrata pasta!
More Dip Recipes You'll Love
Watch the Video: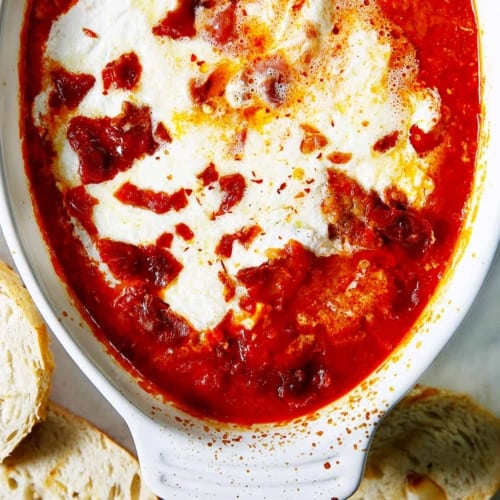 Pizza Burrata Dip
This Pizza Burrata Dip is the ultimate appetizer! It's easy to make, indulgent, and packed with crispy prosciutto, sautéed grape tomatoes, a special marinara sauce, and warmed up creamy burrata cheese.
Ingredients
1 2-

ounce

package prosciutto

roughly chopped

2

teaspoons

olive oil

2

garlic cloves

minced

1/2

teaspoon

red pepper flakes

2

cups

grape tomatoes

1 pint

½

teaspoon

fine sea salt

2

cups

jarred marinara sauce

see note

1

piece/ball of burrata

4-6 ounces

Toasted bread or crackers

for serving

Fresh basil

for garnish

Red pepper flakes

for garnish
Instructions
Preheat oven to 350°F.

Heat 1 tablespoon olive oil in a small skillet over medium. Once hot, add prosciutto and cook for 2 minutes, then flip and cook another 2 to 4 minutes until crispy. Set aside. 

In the same skillet once prosciutto is removed, add 1 tablespoon more oil, then add the garlic and red pepper flakes and cook for 2 minutes until fragrant. Add the tomatoes and let them cook until they burst, about 10 minutes, stirring often. Add a touch more oil if needed.

Add marinara sauce into the tomato mixture. Reduce heat and simmer to cook sauce down for 10 minutes.

Either leave the mixture in your skillet if oven-safe, or pour marinara/tomato sauce to a 13×9 inch baking dish (or similar size). Top with the ball of burrata in the center.

Bake in the preheated oven for 15 minutes, or until the cheese is warmed through.

Top with crispy prosciutto. Serve hot immediately with your favorite bread or crackers. Garnish with fresh basil if desired!
Notes
Use your favorite, really good quality marinara sauce here!