Easier to make than you might think, this Gluten-Free Garlic Bread is the perfect side dish to serve with a cozy meal. Learn our simple recipe to make the best garlic bread.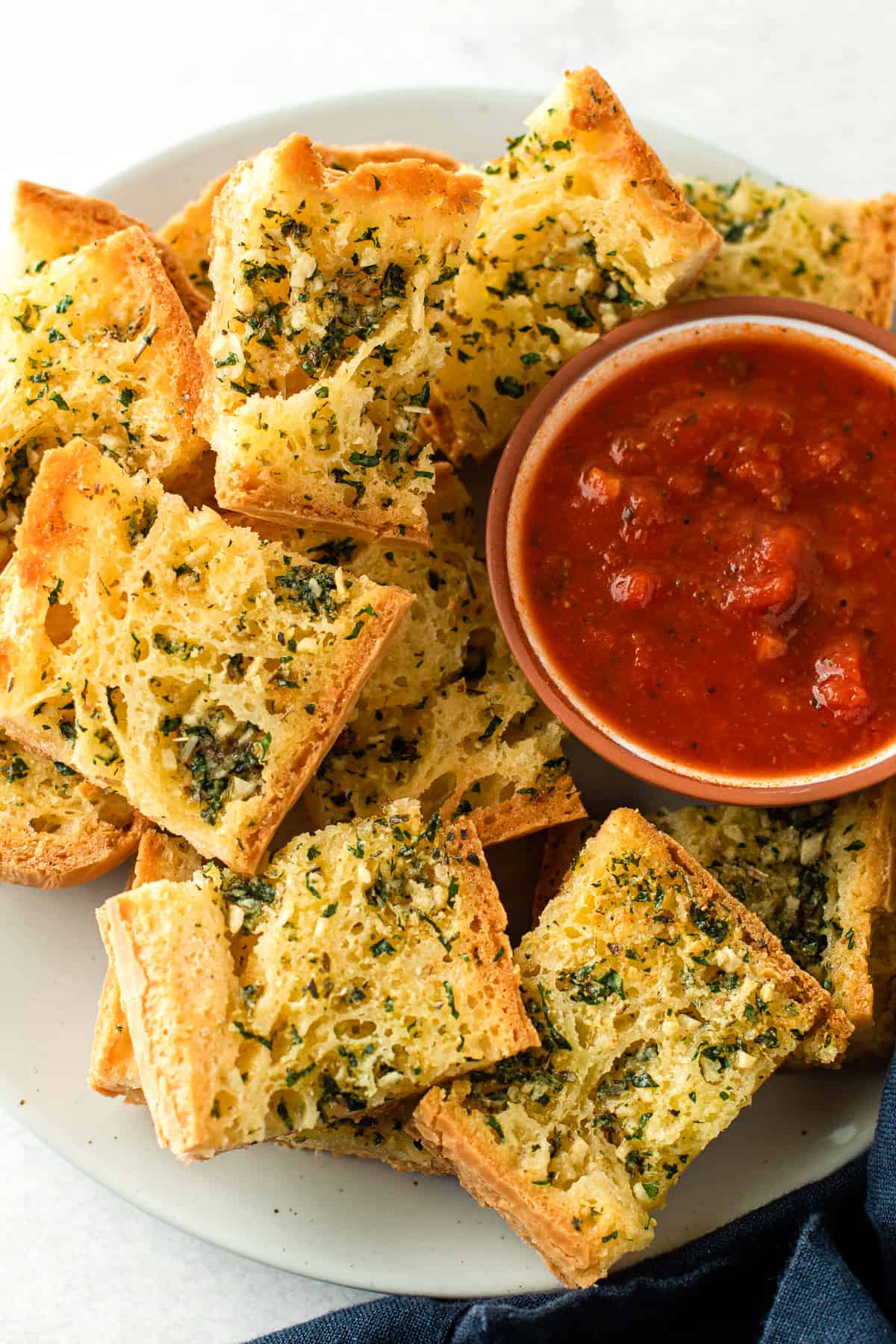 Easy Garlic Bread
Homemade Garlic Bread is almost always the answer to what to pair with dinner that everyone will love. And if you've never made it before, you might think it's complicated. Luckily for all of us, it's actually simple to make! Mix up a few pantry ingredients, slather it on your gluten-free bread and bake! That means you can have homemade garlic bread in under 15 minutes!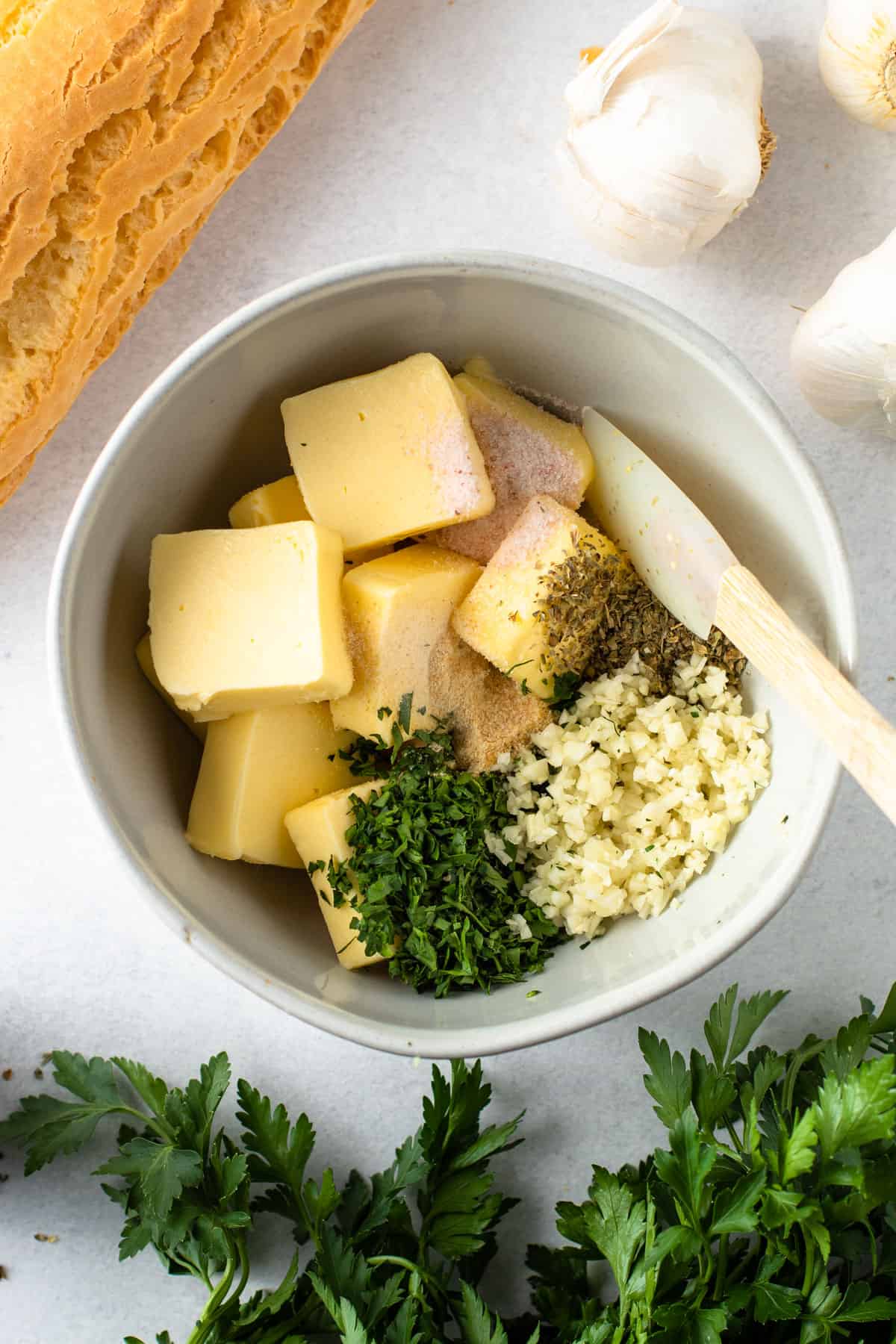 Ingredients Needed
Garlic Cloves

Salted Butter

Garlic Granules or Garlic Powder

Italian Herbs

Fresh Parsley

Paprika

Gluten-Free French Baguettes (or other bread of choice)
Optional Add-In's:
Add in some cheese if desired, to make it cheesy garlic bread. Parmesan cheese, mozzarella or cheddar would be great here!
Switch up the herbs and add in your favorite herb or spice to customize the flavor!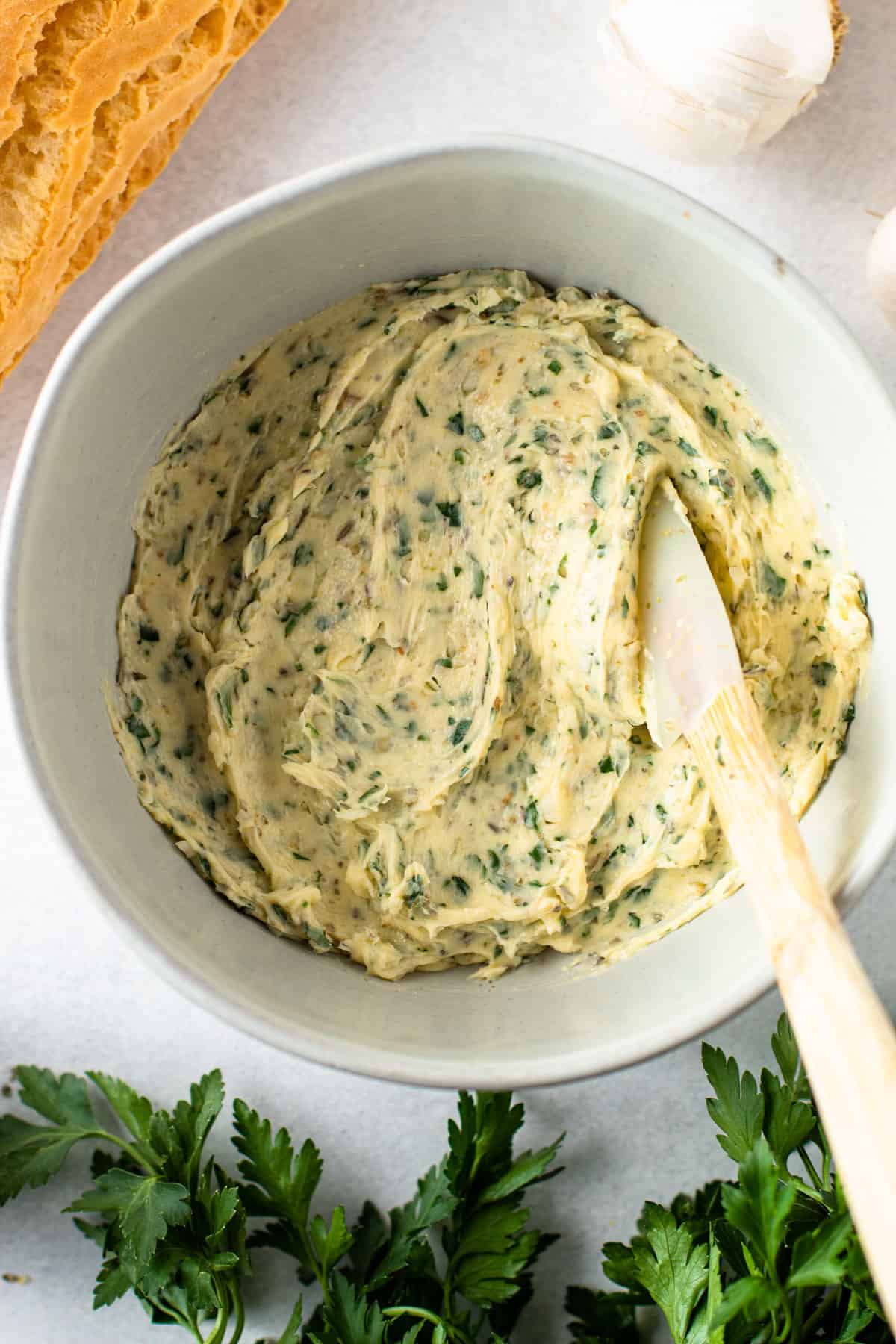 What Type of Bread to Use
We are so lucky to live in a time when there are a ton of gluten-free bread you can buy at the store that are really good! We tested this recipe using a gluten-free baguette we found in the frozen section. We defrosted it at room temperature before starting the recipe.
But the truth is, you can basically use this recipe with any bread that works for you, so long as it's a whole loaf that you can slice in half.
Want to make your own gluten-free bread to use? Check out my recipe for Gluten-Free and Paleo Bread! You could either make it as the whole loaf, sliced in half. Or you could make the mini rolls and slice those in half and turn them into garlic rolls!
Ways to Use Leftover Garlic Butter
There will likely be some leftover garlic butter from this recipe, which if you ask me, is a bonus! The garlic butter will last around 2 weeks in the refrigerator. You can of course use garlic butter at a later date for more garlic bread, or you can use it for other meals.
Garlic butter would be a great addition to any dish that will be complemented by the addition of….buttery garlic! Think pasta dishes, rice dishes, meat! Think: sauted chicken breasts or thighs in the garlic butter. Or, a quick simple pasta with garlic butter and cheese. Or the perfect Pan-Seared Steak with a finish of garlic butter. Basically, the options are endless. Just be sure if you are going to saute something in it, you may need to add a splash of oil to help bring the smoking point up, so the butter doesn't burn.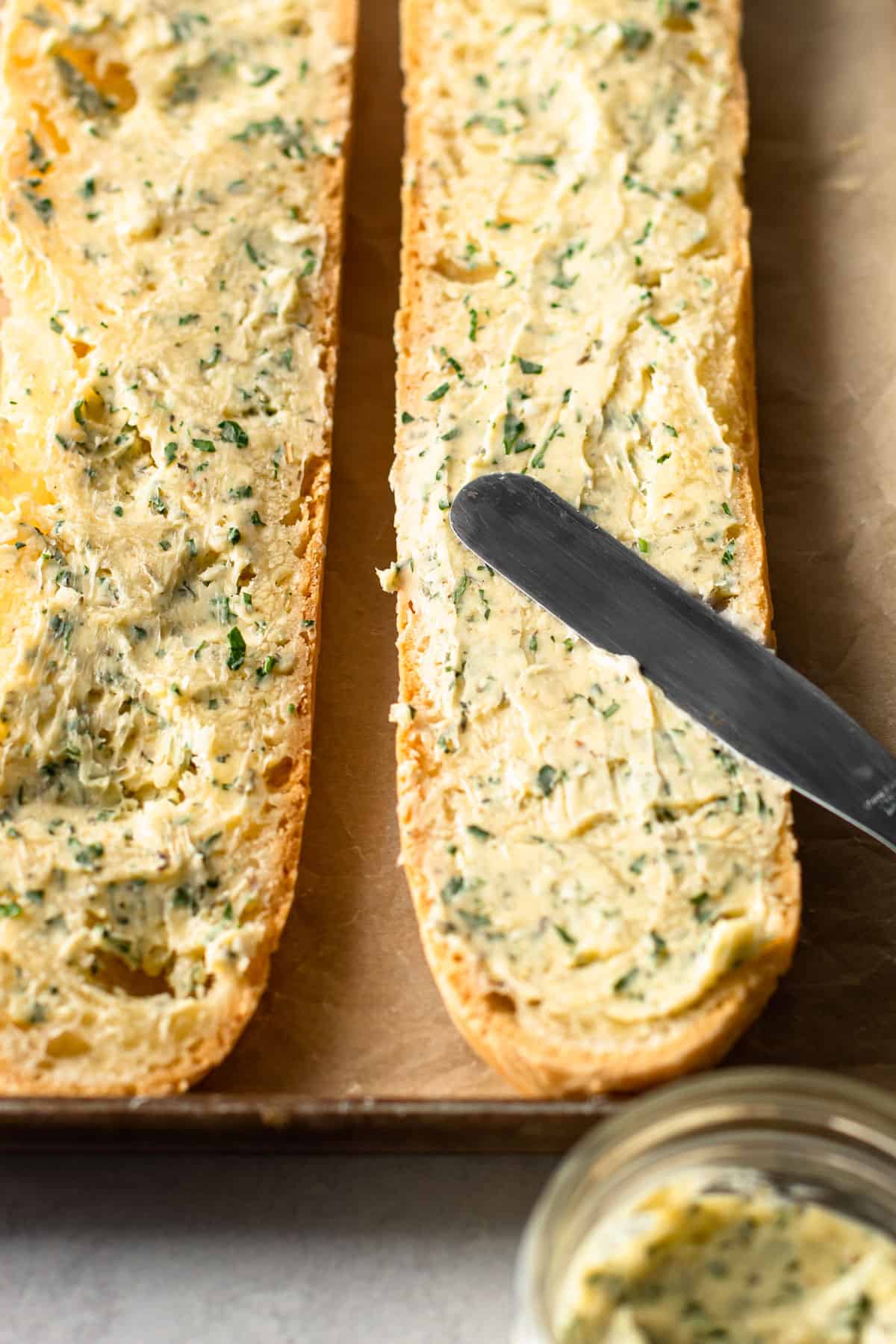 How to Bake Garlic Bread
We recommend baking this bread in a simple two-step process. First, you bake the bread slathered in garlic butter in the middle of a pre-heated 350ºF oven until the bread is nice and toasty, and the garlic butter is melted into the bread. And then, you turn on the broiler and move the bread to the top rack to broil for 2-3 minutes, or until the bread is bubbling all over. This second step is essential for making sure the garlic gets fully cooked.
Dishes to Serve with Gluten-Free Garlic Bread
You can serve this garlic bread all by itself, with a little marinara sauce for dipping–it's that good! But if you are looking for some inspiration to serve alongside this side dish, here are some suggestions: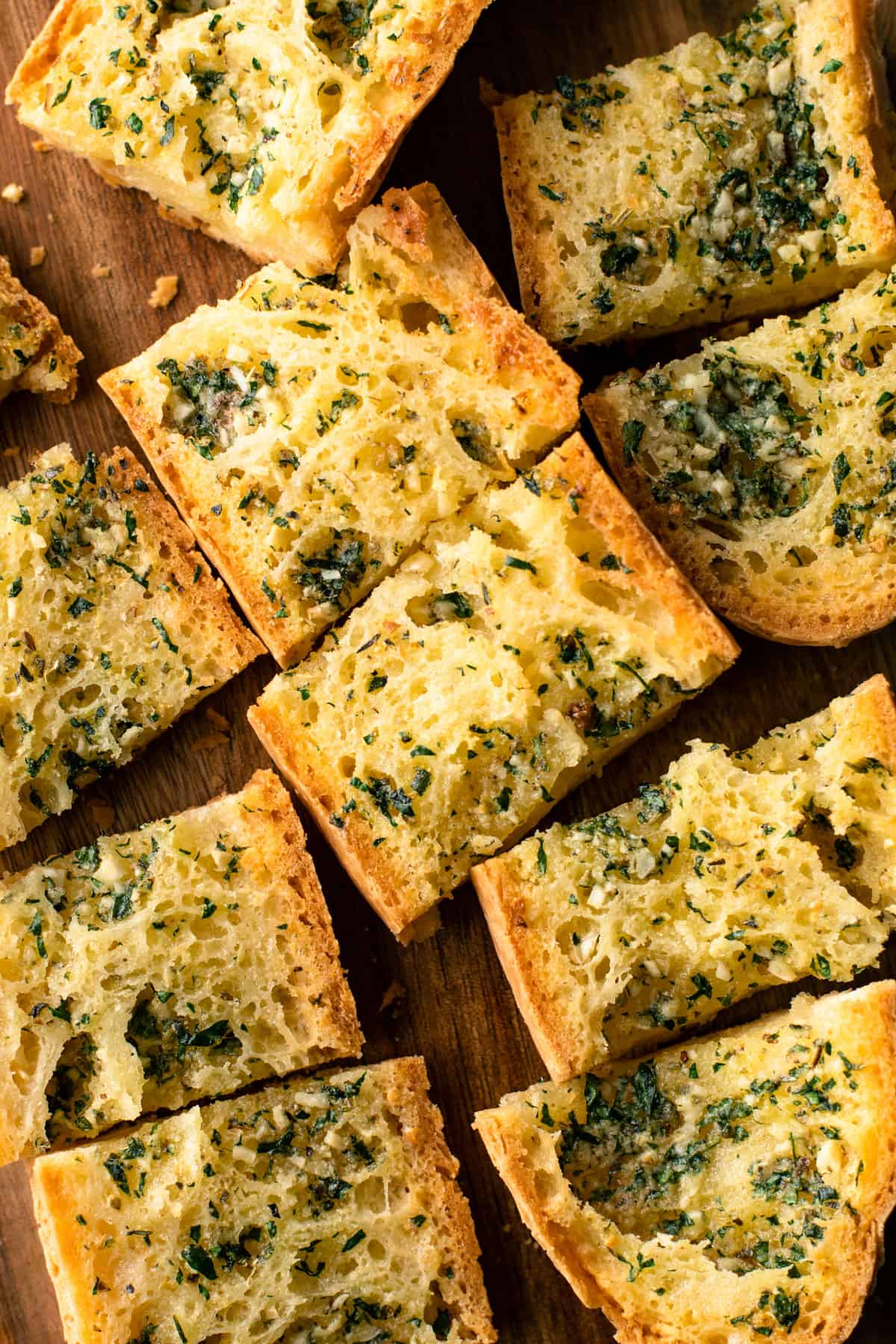 How to Make Garlic Bread Ahead
Even though this recipe is already pretty easy, you can prepare the garlic bread, up until the point of baking it, and stick it in the freezer for another day! That means, garlic bread ready whenever you need it!
When you are ready to prepare it, you can bake it straight from frozen, adding a couple of extra minutes of bake time as needed.
---
If you like this garlic-centric recipe, check out these others: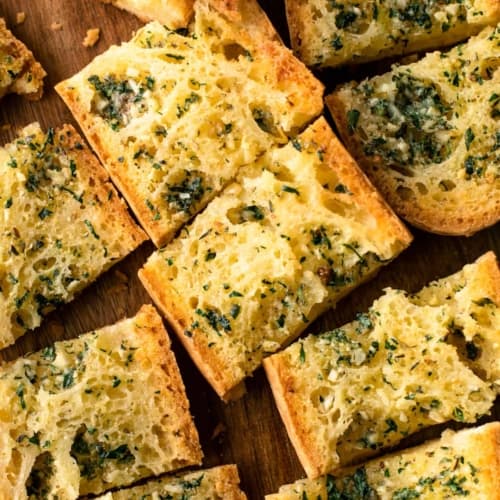 Gluten-Free Garlic Bread
Easier to make than you might think, this Gluten-Free Garlic Bread is the perfect side dish to serve with a cozy meal. Learn our simple recipe to make the best garlic bread.
Ingredients
3

cloves

of garlic

minced

½

cup

salted butter

softened (see note)

1

teaspoons

garlic granules or garlic powder

1

teaspoons

italian herbs

2

tablespoons

fresh parsley

finely minced

Pinch

paprika

1

gluten-free french baguettes

or other bread of choice
Instructions
Pre-heat oven to 350ºF.

Add garlic, butter, garlic powder, italian herbs, parsley, and paprika to a bowl. Mix together until full combined.

Cut the baguette in half and place on a rimmed baking sheet.

Liberally spread the garlic butter on top of the baguettes.

Bake in the middle rack in the oven for 10 minutes. Switch the heat setting to the broiler, and broiler the garlic bread for 2-3 minutes, or until the tops are bubbling all over.

Let cool until safe to handle. Slice into pieces.

Serve warm.
Notes
We like the use of salted butter for this recipe, but you can use unsalted butter and just add ½ teaspoon fine sea salt to the garlic butter mixture.
You will have leftover garlic butter, depending on the size of the bread you use. Leftover garlic butter will keep for up to two weeks in the refrigerator. See the body of the text for ideas on how to use garlic butter aside from the garlic bread.
If you do not need to be gluten-free, feel free to use another bread. This recipe will also work with a different style of bread such as Italian or sourdough bread.
Nutrition
Serving:
1
/8 recipe
Calories:
153
kcal
Carbohydrates:
11
g
Protein:
3
g
Fat:
12
g
Saturated Fat:
7
g
Cholesterol:
30
mg
Sodium:
200
mg
Fiber:
1
g
Sugar:
1
g