These Pumpkin Lasagna Roll Ups are a fun-spin on the classic lasagna with Fall flavors and are a family favorite that we all love. Plus, this recipe freezes great!
Made in partnership with my friends at Star Market®.
Pumpkin Lasagna Roll Ups
While classic lasagna is a crowd pleaser, we all know it can be messy and take time! These lasagna roll ups come together pretty easily, are tidy and neat, and are the perfect portion sizes for everyone!
I'm thrilled to partner with Star Market® to share these autumn lasagna roll ups with you and "Fall" into flavor! Get it? I love shopping for my organic herbs, pasture-raised eggs, organic cheese and more for this dish at Star Market®. Their easy-to-navigate app and their Fall Into Flavor content hub makes shopping and recipe planning a breeze! Head to starmarket.com/fall to find Virtual Cooking Classes with celebrity chefs, easy-to-shop recipes, new seasonal recipe inspiration, and more!
This Fall-inspired spin on lasagna roll ups is one everyone will love, and a great way to use a can of pumpkin puree you just may have lying around the pantry!
Ingredients Needed:
Scroll for the full recipe!
Lasagna noodles: Gluten-free or any! Boil them as directed with plenty of salt in your water.
Ricotta cheese: A good quality ricotta is so delicious!
Star Market® exclusive O Organics® pumpkin puree: we are using a full can of pumpkin puree here, so no need to find a random use for the rest of the can!
Sautéed spinach: I love adding extra nutrients into this dish with a quick sauteed spinach addition! You can, of course, omit this.
Star Market® exclusive O Organics® fresh sage and fresh thyme: For all the Fall flavor goodness!
Mozzarella cheese: ½ goes in the filling, ½ goes on top before baking.
Marinara sauce or tomato sauce: Your favorite store-bought or homemade sauce will work great here. Want it extra Fall-festive? Add ½ cup pumpkin puree and a dash of cinnamon to your sauce!
Egg, garlic, salt and pepper.
Optional: Cooked crispy bacon chopped up would be great here, too!
Dairy-Free: Use dairy-free ricotta and dairy-free cheese of choice.
Nutrient Dense Lasagna Dinner!
I love this dish because it's packed with pumpkin puree, fresh spinach, garlic, and fresh herbs. It's flavorful and nutrient-dense!
How to Make These Fall-Inspired Lasagna Roll Ups
Boil the lasagna noodles as directed on the package (salt your water!)
Make the filling in a large bowl.
Place filling in cooked lasagna noodles and roll them up tightly.
Add sauce to the bottom of your oven-safe pan or baking dish and add in the roll ups.
Top with sauce and cheese.
Bake until golden and bubbly.
Garnish and serve hot!
Tips for Great Lasagna Roll Ups
Salt your pasta water! Don't skimp here. It really adds flavor!
Spray your cooked lasagna noodles (I like to use organic avocado oil spray) if not using them right away to avoid them sticking together.
Use your favorite marinara or make your own Fresh Tomato Sauce With Summer Tomatoes
Feel free to add a protein like cooked ground beef, pork, or turkey! If adding meat, mix it into your sauce, and follow the recipe directions as instructed below.
Gluten-Free Lasagna Noodles
Any lasagna noodles will work, even gluten-free ones!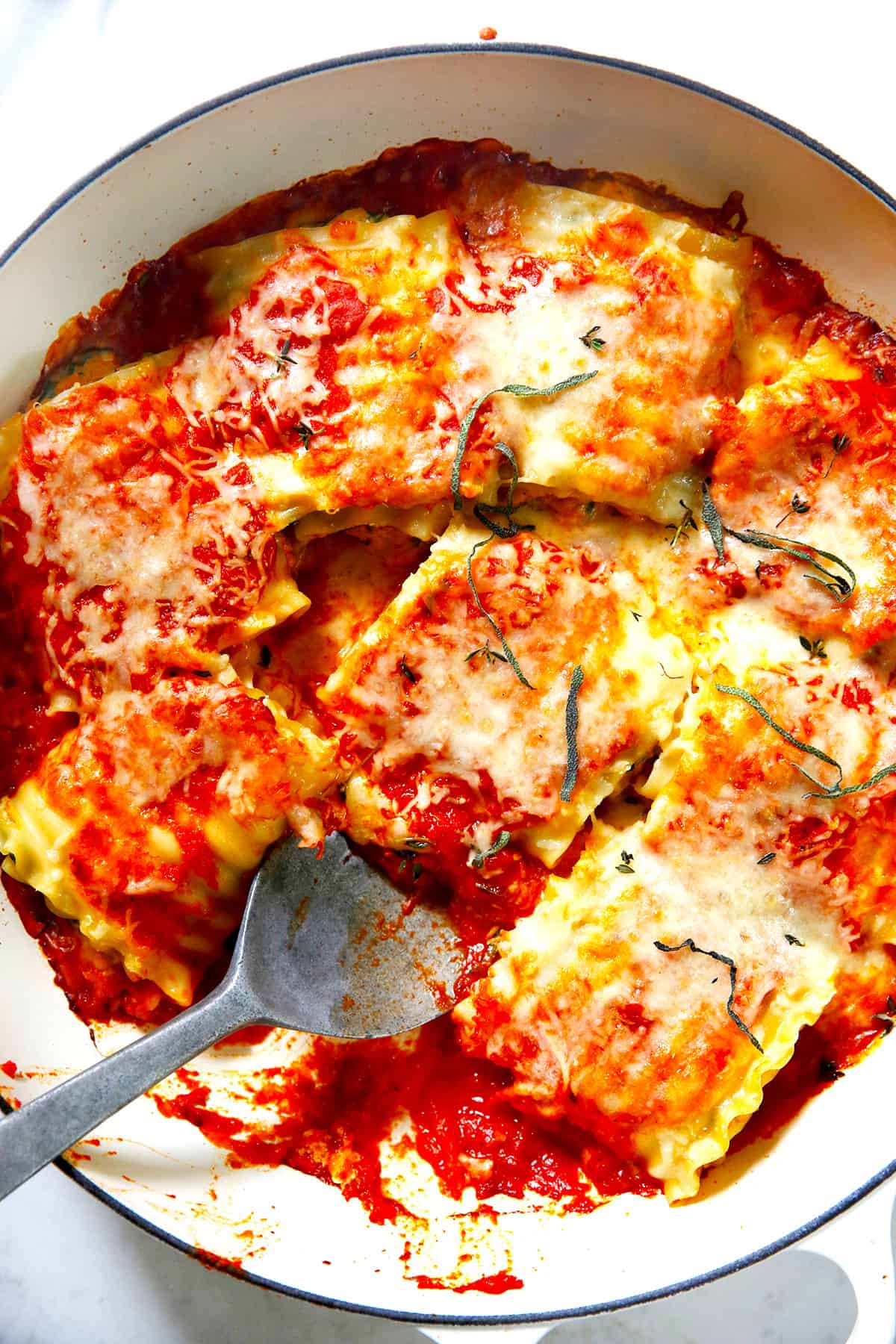 Make Lasagna Roll Ups Ahead of Time
Make it & bake that week: These lasagna roll ups can absolutely be prepped ahead of time! Feel free to make it and store it in the fridge (covered) for up to 5 days before baking!
Freezer friendly: Make a pan of lasagna roll ups and wait… don't bake it yet. Cover it tightly with wrap or foil. You can put this in a large plastic bag to make sure it's sealed well. The lasagna will stay good for up to 3 months in the freezer.
Baking from frozen: Ready to bake the frozen lasagna roll ups? Follow the directions but cook it longer (or let it defrost overnight in the fridge). Preheat the oven to 350 degrees. Cover lasagna with foil (if not already covered with foil) and bake for about an hour, or until the sauce and cheese is golden and bubbling. Then broil for 1-2 minutes to really brown the cheese on top and enjoy!
How to Store
Store in the fridge in an air-tight container for up to 5 days. Reheat in the oven, toaster oven, air fryer, or microwave!
Serve It With:
Pumpkin Lasagna Roll Ups
These Pumpkin Lasagna Roll Ups are a fun-spin on the classic lasagna with Fall flavors and are a family favorite that we all love. Plus, this recipe freezes great!
Ingredients
12 to 15

O Organics® lasagna noodles boiled16 ounces ricotta cheese1

15 ounce can of O Organics® pumpkin puree1 large O Organics® egg2 garlic cloves, minced1 cup sautéed spinach*1/2 tablespoon O Organics® chopped fresh sage1/2 tablespoon O Organics® fresh thyme1/2 teaspoon salt1/2 teaspoon black pepper2 cups grated mozzarella, save half for toppingOptional: Bacon would be great here.
Instructions
Preheat the oven to 350ºF.

Bring a pot of water to a boil and add salt. Cook the lasagna noodles according to the package directions. 

Once the lasagna noodles are cooked, lay them out in a single layer on a plate or sheet pan sprayed with nonstick spray or brushed with a drop of oil.

If using spinach, saute 1-2 cups in a skillet with 2 teaspoons of olive oil and a pinch of salt.

In a large bowl, whisk together the ricotta, all of the filling ingredients, 1 cup of mozzarella (save the rest), and mix until combined. Place roughly 2-3 tablespoons of the mixture on each lasagna noodle. Spread the ricotta filling out all over the noodles. 

Roll up each lasagna noodle tightly from the end.

Spoon ½ cup or so of desired sauce in the bottom of a 9x13 inch baking dish. Alternatively, you could use a 12-inch oven safe skillet too.

Place the lasagna roll ups seam-side down in the dish. Pour the remaining sauce over top of the rollups and sprinkle the mozzarella cheese on top. Bake for 25 to 30 minutes, until golden!
Notes
I recommend making the entire box in case some break or rip while cooking.
Thanks again to Star Market® for sponsoring this post.