Click to edit CSS
Click to edit CSS
Sheet Pan Kielbasa Sausage and Sauerkraut Dinner
This Sheet Pan Kielbasa Sausage and Sauerkraut Dinner has unique flavors and is an easy way to get dinner on the table. Aside from prepping up a few veggies it's largely hands-off cooking which means more time in your life! It's Paleo and Whole30 friendly and will be a hit with the whole family.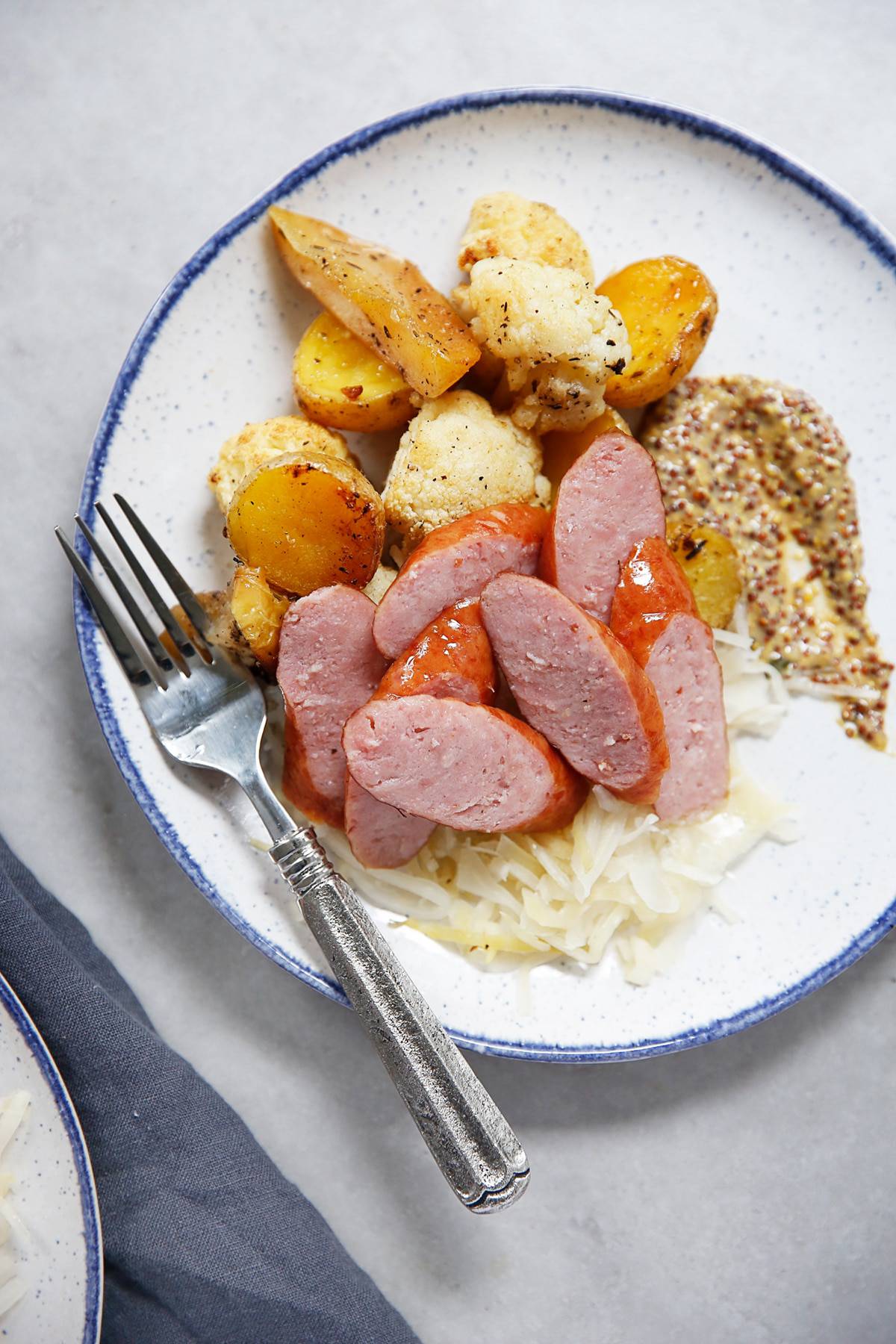 Sheet Pan Kielbasa Sausage and Sauerkraut Dinner
Another Sheet Pan Dinner for the win! We love the unique flavor combination in this Sheet Pan Kielbasa Sausage and Sauerkraut Dinner! The cauliflower, potatoes and smoky kielbasa are complimented nicely with the sweet apples and sour sauerkraut. It's easy to throw together using only a sheet pan and your oven! This would also make a good meal prep lunch as well! Make a double batch to serve as dinner and few make ahead portions or make the whole batch for lunches.
And sauerkraut is a great way to get a nice hit of probiotics naturally so we always love to sneak in these foods whenever possible. Plus, if you've never tried the combo of salty sausage with sweet apples and umami sour sauerkraut, we promise you'll love it.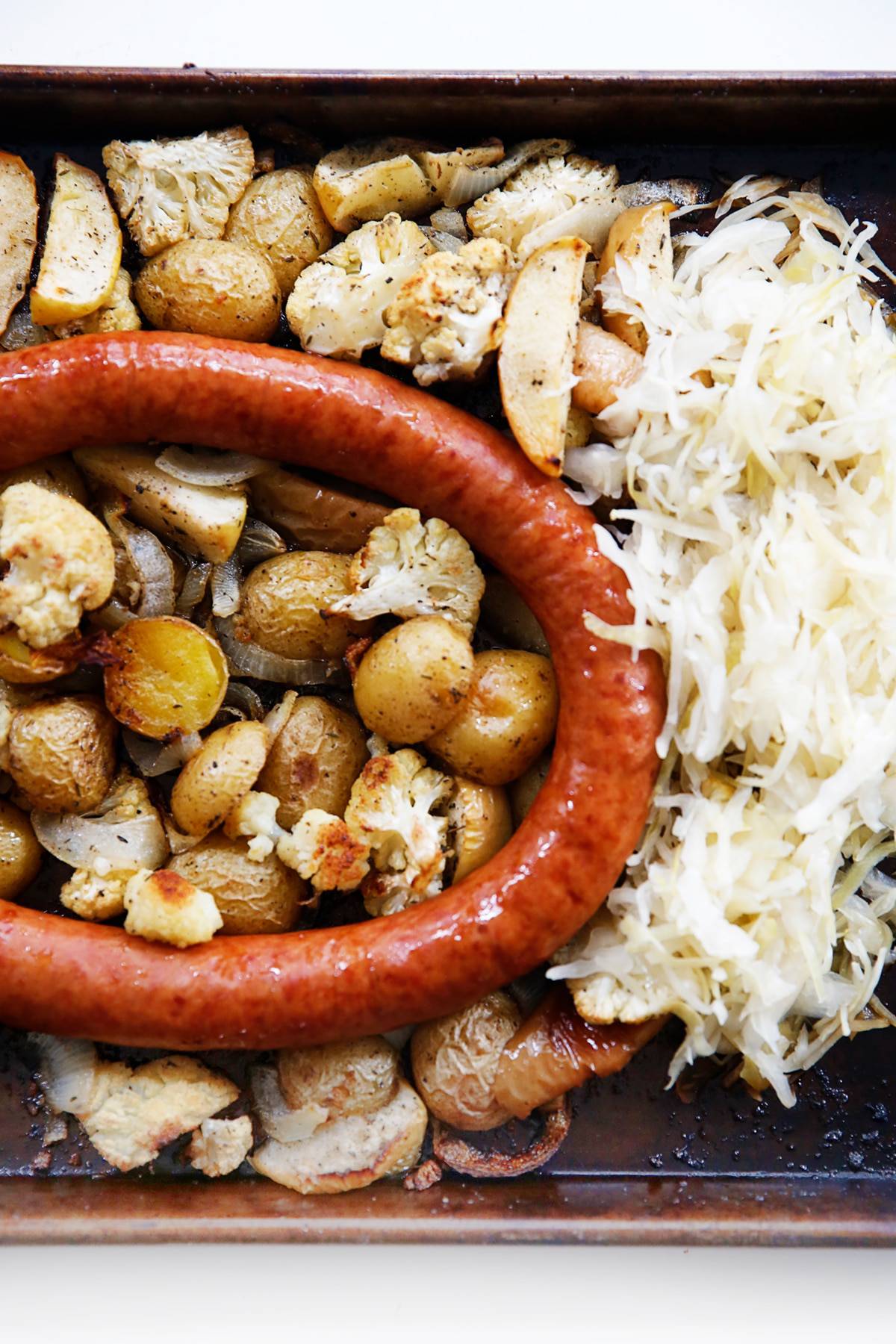 Whenever we make sheet pan recipes we always try to harness what makes this oft overlooked cooking tool amazing: it produces perfectly cooked food that doesn't require much attention other than to set a timer and add in ingredients. The recipe sometimes indicates moving the food around the sheet pan, and this is because depending on how you position the food it uses different cooking techniques. In this recipe we first have the cauliflower, potatoes and apples spread out evenly on a pan so that they can roast. Next we have you pile them close together to finish cooking with the power of steam and add the kielbasa, with a splash of oil on top to help bring the flavor all together. And finally we like cooking the kielbasa whole because it gets a nice crisp skin.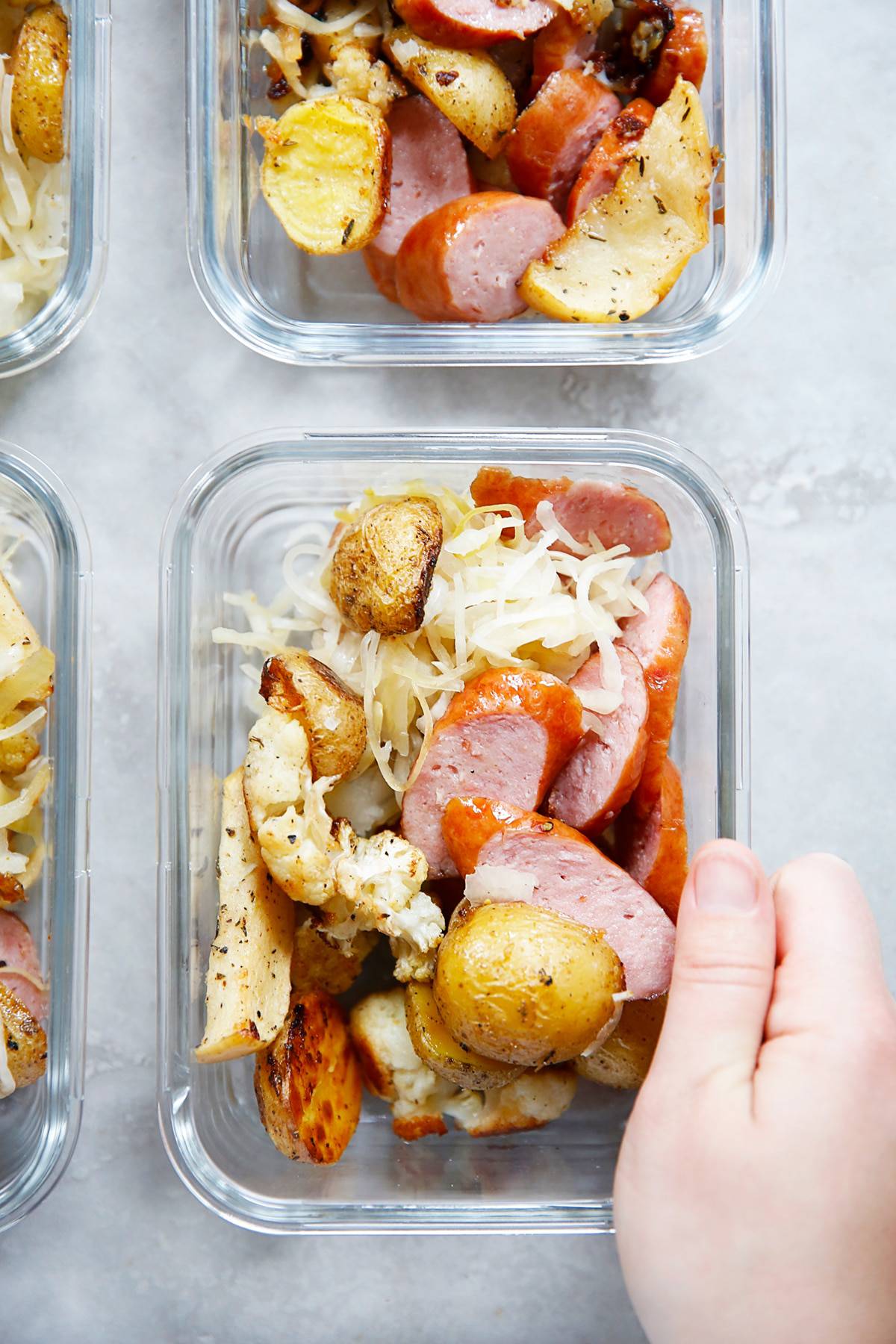 Tips for sheet pan cooking:
Sheet pan dinners are the best. Make sure to read the recipe all the way through (of course) and plan to use a timer! This way you can truly walk away from the oven and not have to worry about when you need to add anything for the next step.
Do the prep ahead of time: Cut cauliflower and onions the night before and mix with oil and spices, then you only have to cut apple and potatoes once you are ready for the actual cooking.
Use the correct size sheet pan. When we say sheet pan we are referring to the rimmed half sheet pan which is 18″ by 13″. The size of the sheet pan matters because you do not want to overcrowd the pan when cooking, so if you are using a smaller sheet pan you may need to use 2 to achieve the same result.
What is Kielbasa
Polish kielbasa is traditionally made from ground pork. Kielbasa (from Polish kiełbasa) is any type of meat sausage from Poland, and it's a staple of Polish cuisine.
What are the best sausages to buy
We purchased natural nitrate free Kielbasa at Whole Foods. If that isn't an option we like to shop organic and local whenever possible for our sausage! Ask your local butcher if you can't find the quality you want in your local market.
If you like this recipe, try these other sheet pan meals:
---
Sheet Pan Kielbasa and Sauerkraut Dinner
This Sheet Pan Kielbasa and Sauerkraut Dinner has unique flavors and is an easy way to get dinner on the table. Aside from prepping up a few veggies it's largely hands-off cooking which means more time in your life! It's Paleo and Whole30 friendly and will be a hit with the whole family.
---
---
Ingredients
1 onion, sliced

½ head medium cauliflower (about 12 ounces), cut into florets

12 small baby yukon gold potatoes (about 1" big), halved

2 fuji, or other crisp apple, cored and cut into 6 pieces each

2 tablespoons avocado oil
1 teaspoon fine sea salt
1 teaspoon ground black pepper

1 teaspoon dried thyme

½ teaspoon smoked paprika
½ teaspoon onion powder
½ teaspoon garlic powder
Pinch cayenne pepper (optional)

1-12 ounce polish kielbasa

1-½ cups sauerkraut, semi drained
Directions
Pre-heat oven to 400ºF.

On a sheet pan combine onion, cauliflower, potatoes, apples, oil and all the spices and toss to combine and then spread out evenly.

Bake for 25 minutes, stirring halfway through.

Remove and move all of the vegetables towards the middle of the sheet pan, creating a small pile. Place kielbasa on top and drizzle the sausage with a bit of avocado oil and place back in the oven for 15 minutes.

Remove from oven and place 1-½ cups of sauerkraut on one side of the sheet tray and continue to bake until the sauerkraut is just slightly warmed, about 3 minutes.

Remove and let sit until the kielbasa is cool enough to handle, about 2 minutes. Slice kielbasa into ¼" slices on the bias and divide sausage and veggies into four portions. Serve with whole grain mustard.
Recipe Notes
If Whole30 check to make sure your kielbasa is compliant.
---
Nutrition
Loading nutrition data...
4comments
February 18, 2019
Subscribe to
Lexis Clean Living
Join our email list to get instant updates and weekly summaries of our top content and special exclusive offers along with our free clean eating kickstart guide!
This website may at times receive a small affiliate commission for products that we shared with you in our posts. Although we may receive a commission for linking certain products, there's no additional costs to you and all of our opinion and suggestions are 100% our own and unbiased. That's our promise to you!