Cucumber Avocado Gazpacho with Shrimp
This Cucumber Avocado Gazpacho with Shrimp is such a refreshing soup for a hot day! You can customize it by adding in a few extra toppings, like corn or tomatoes. This gazpacho soup with shrimp is the perfect dish for a summer party or an easy lunch or dinner when it's hot outside! It's creamy, but dairy-free and Paleo and Whole30 friendly.
Cucumber Avocado Gazpacho Recipe
I love soup all year around, but on a hot day in the summer, a refreshing chilled soup is just what I'm looking for! This soup combines a refreshing mix of avocado, lemon, and cucumber that results in a creamy and flavorful gazpacho. I top it with a few spicy shrimp, corn, basil and hot peppers for a dreamy combination. Feel free to leave off the corn if you are looking for a Paleo or Whole30 soup and add in diced fresh tomatoes instead.
What is Gazpacho?
When you think of gazpacho, most people generally think of a cold soup made from primarily raw ingredients and blended up. The most common type of gazpacho would be one made with a tomato and cucumber base. It's served as an appetizer or a light meal. This green gazpacho uses a similar technique of blending up cold ingredients but makes them creamy (yet dairy-free) thanks to the addition of ripe avocado.
Gazpacho Topping Options
I loved this soup topped with the spicy shrimp and corn, but in reality you can top it with whatever your heart desires (or you have on hand). Some other options would be:
diced fresh tomato
additional diced avocado
additional diced cucumber
hot peppers
pickled jalapenos
crisp bacon
If you like this light summer recipe, check out these others:
---
Cucumber Avocado Gazpacho with Shrimp
When your garden is overrun with cucumbers this summer, this is the salad to make! Or, when you just are really in need of a refreshing, flavor-packed, and super simple salad to throw together. This Easy Cucumber Salad with Herbs uses all of the fresh herbs (parsley, dill, and mint) and features the fresh, cool cumber to complement any dish you're serving up this summer
Easy Cucumber Salad Recipe
This recipe is for when you have found yourself googling: "How do you use a lot of cucumbers?" this summer. Throwing together this Easy Cucumber Salad with ALL THE HERBS is just the answer! This recipe is light, refreshing and a great side salad to accompany all of your grilling mains, seafood or chicken dishes this summer! And it's a great way to use up all those fresh herbs you have too!
This recipe works with either farm fresh large cucumbers you find in the summer, or if you're craving a refreshing side it can also work with store-bought English hot house cucumbers. If you are using extra large cucumbers from your garden or the farm feel free to scoop out the seeds and slice in half moon shapes.
Here's what's in it:
2 large cucumbers, thinly sliced
3 tablespoon extra-virgin olive oil
lemon juice
dijon mustard
dill
parsley
mint
salt and pepper
garlic powder
Pinch of red pepper flakes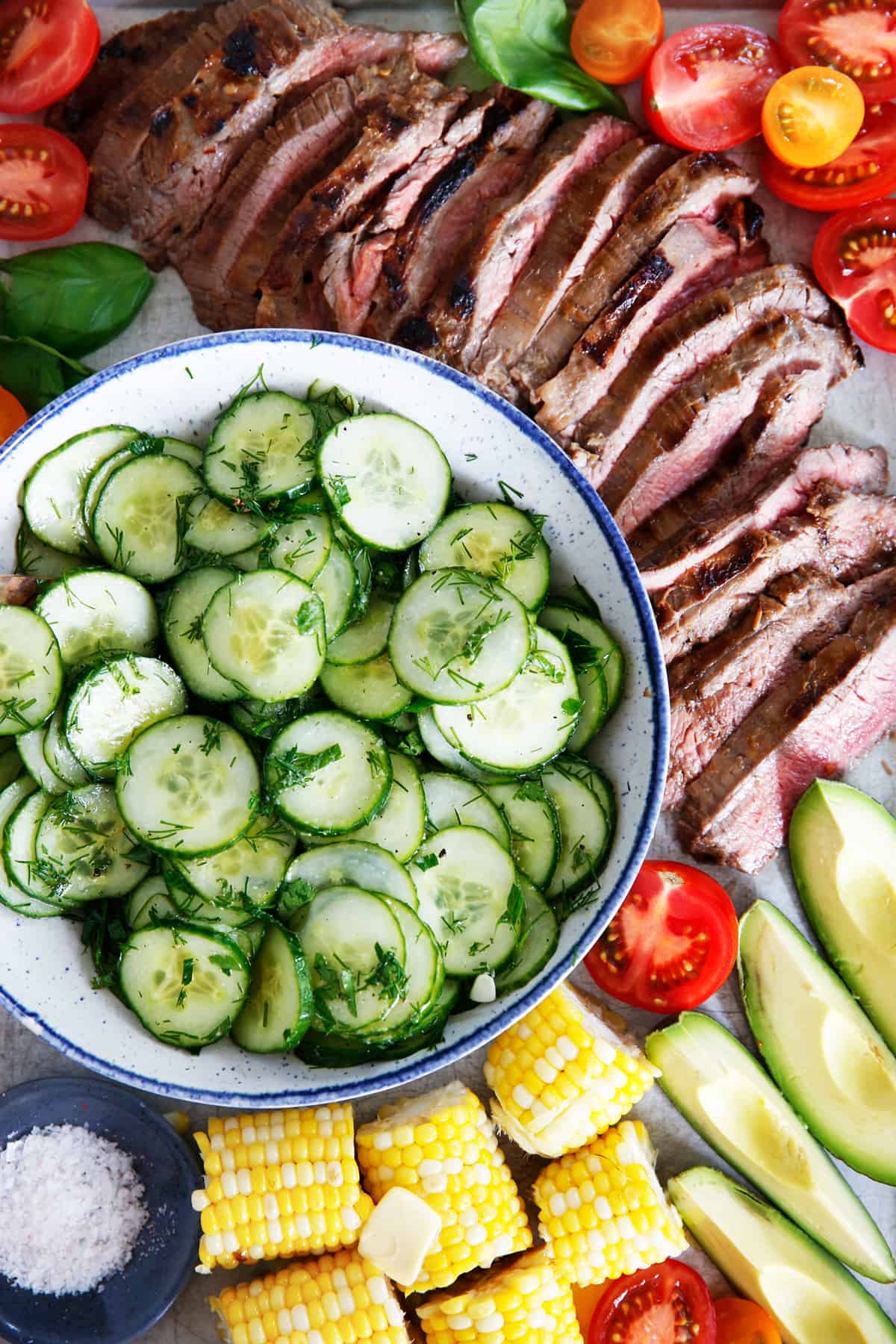 What goes with cucumber salad?
To begin, the best thing about this cucumber salad is that it is oh-so-versatile! It can go with just about anything! It's great to serve as a side for a barbecue, alongside seafood or just about any chicken dish. Here are some of our favorites that go great with this clean cucumber salad:
Looking for more summer sides recipes, check these out:
[yumprint-recipe id='369′]
Easy Cucumber Salad with Lots of Herbs!
Have you ever wondered how to make easy Dill Pickles at home? With the abundance of cucumbers and fresh dill at the farmer's markets and CSA's, let's do something other than tomato cucumber salads, shall we? I love this recipe because it's EASY to make. We are going to walk you through the canning process too so you don't have to feel intimidated to process and make your own pickles this season!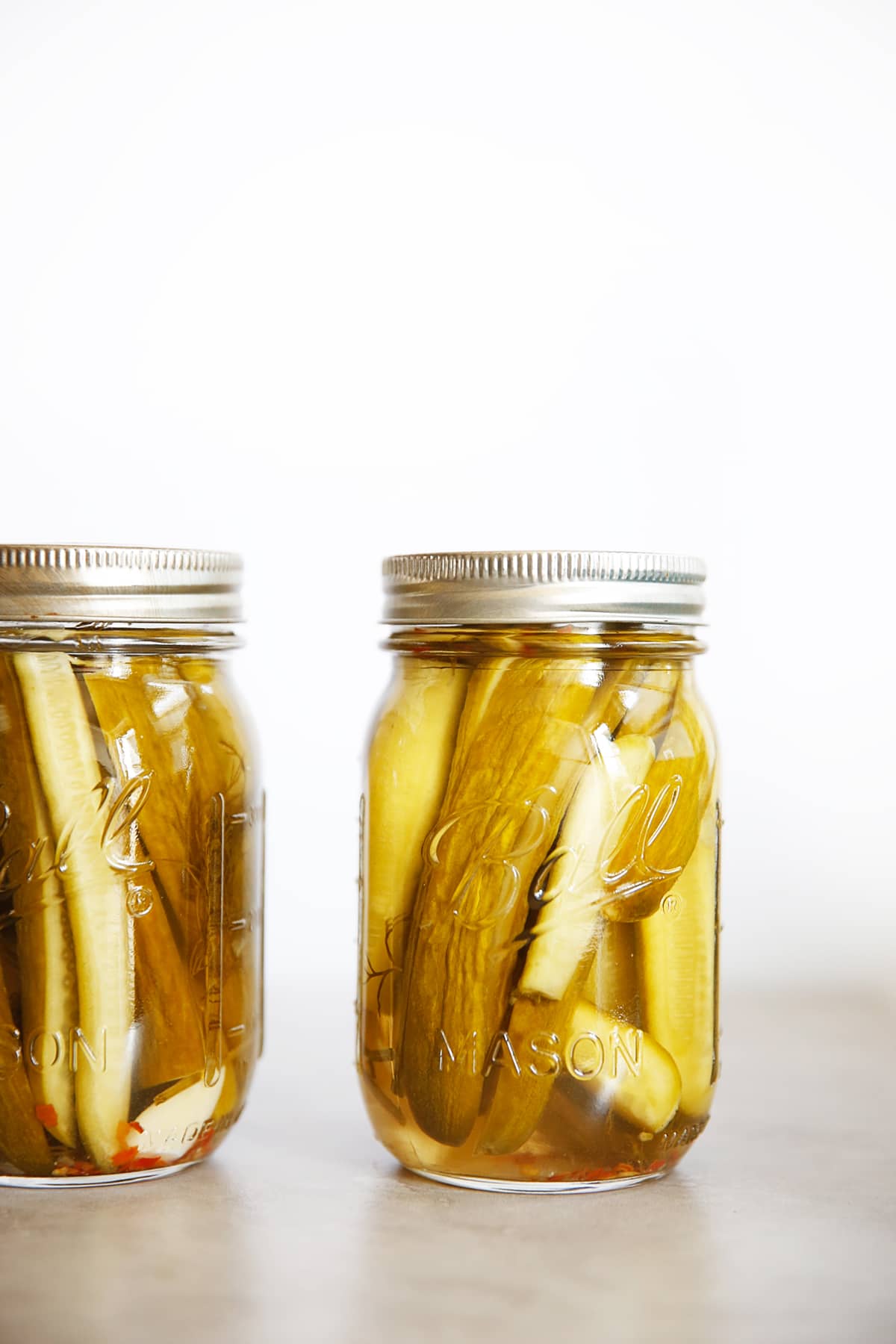 Easy Dill Pickles
Pickles are the best! Especially pickles made from the abundance of in-season cucumbers found at the end of the summer. We want to share with you an easy recipe to make dill pickles that you can either process in mason jars to preserve the taste of summer all year long, or to quickly put up in the refrigerator to use up your cucumber supply now!
What type of cucumber is best for pickling?
Either way, let's start with the basics: what kind of pickle should you use? Definitely always start with the best possible produce you can find when you want to preserve something. Let's face it, if you preserve a mediocre vegetable in some vinegar, it isn't suddenly going to turn in to a better vegetable just because you place it in vinegar.
So for our dill pickles you want to source out small and freshly-picked cucumbers that are not bruised or damaged in any way. We like the smaller and younger cucumbers because they stay crunchier than the more mature large cucumbers that have larger seeds and softer flesh.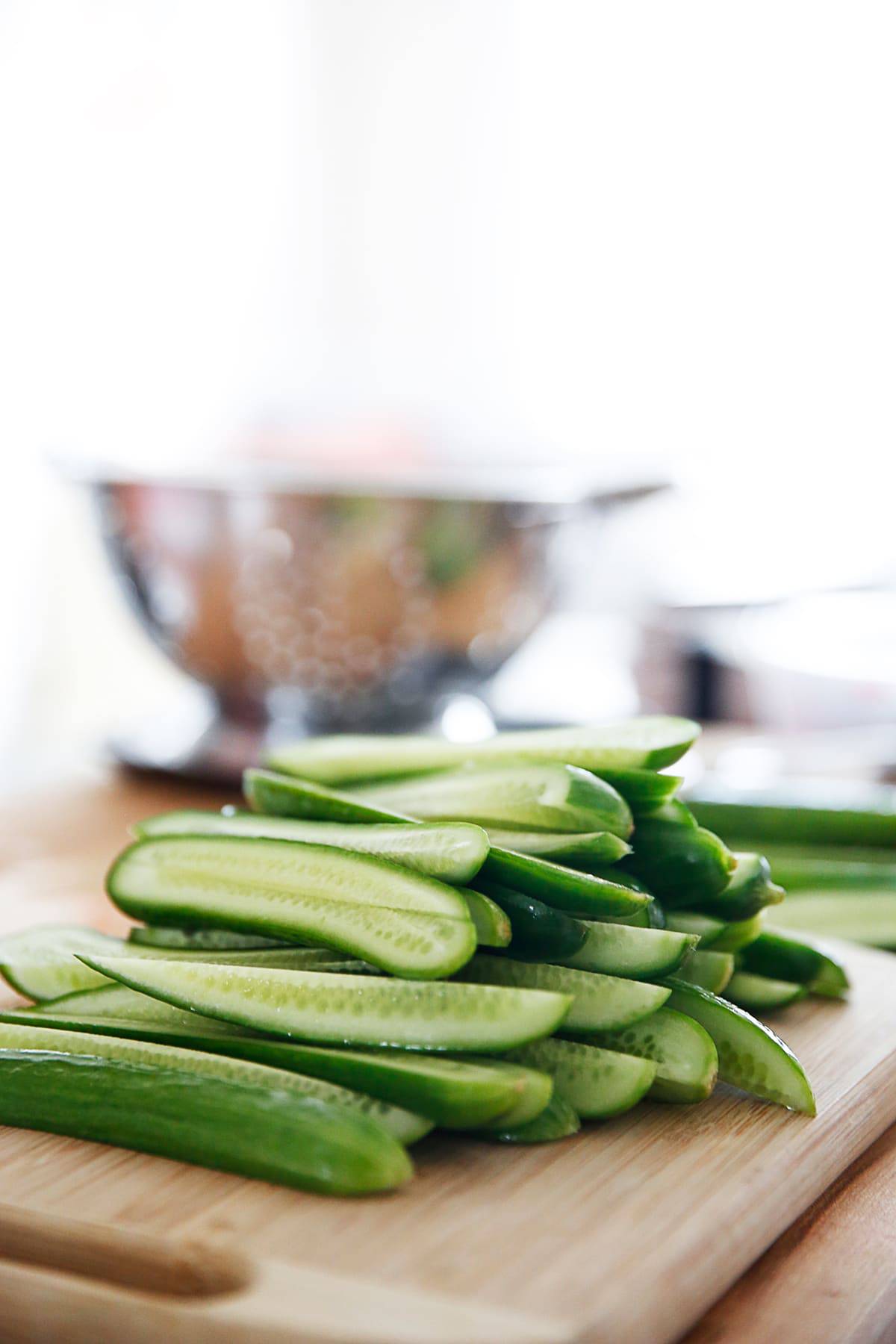 How do I make cucumber pickles?
Once you have found the best cucumbers, you can decide whether you want to preserve the cucumber in canning jars using a boiling water canning method, or you can make refrigerator pickles. If processed properly, canned pickles are shelf stable, unopened, for about a year. Refrigerator pickles will keep for 3 months in your refrigerator. We've included instructions for both in the recipe. It's slightly more complicated to process using a boiling water canning method but we've got you covered with some tips below.
Canning 101:
Canning is simply the process of preserving food in jars to become shelf stable. To do this you need to use clean and intact jars and submerge them in a boiling water bath for a specified period of time. This process eliminates any oxygen from the jars making the food shelf stable. However, this lack of oxygen could create a dangerous environment for the growth of a bacteria called botulism. This is super rare and can be prevented by following a few basic rules to assure you are canning safely. Once of the most important aspects of canning is to make sure that your food has a high level of acid. If the food isn't naturally high in acid, like say cucumbers, you need to create a pickle liquid that is high in acid, like one that is made up of vinegar, to assure that nothing dangerous can grow in your processed jars. Below are some tips to help you safely process your pickles:
Follow the recipe. Whether it is our recipe, or a recipe from another reputable source, follow it to assure you are using the correct amount of vinegar to water.
Follow the instructions: Take care to follow specific instructions when a recipe tells you to leave a certain amount of headspace or not to disturb the canning jars after they've been processed. They all play a roll in making sure the lid seals properly.
Check to make sure that the lid has sealed after going through the canning process by pressing down in the center of the lid. If it doesn't move when you press down on it, it has likely sealed. To take it one step further, remove the band and try to remove the lid. If it doesn't come off easily your jar has sealed properly. You can store the jars with or without the bands on.
For additional information on canning safety and procedures check out The National Center for Home Food Preservation.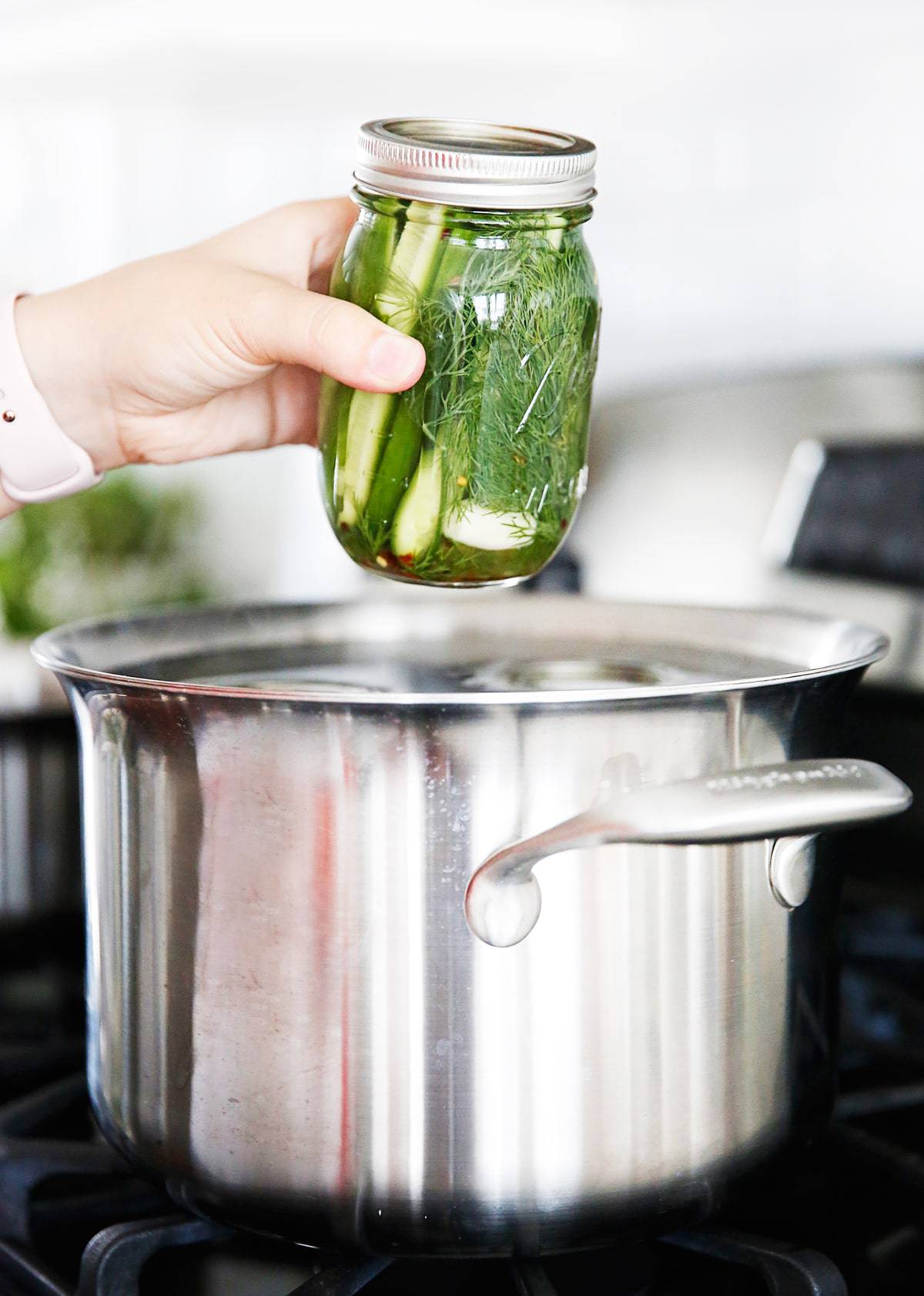 What equipment do you need to can?
While they sell many kits and specialized pieces of equipment to can, you really need just a few basic things to start. If you feel like you are going to process a lot of fruits and vegetables, it might make sense to invest in them, but if you are just starting out begin with this small list: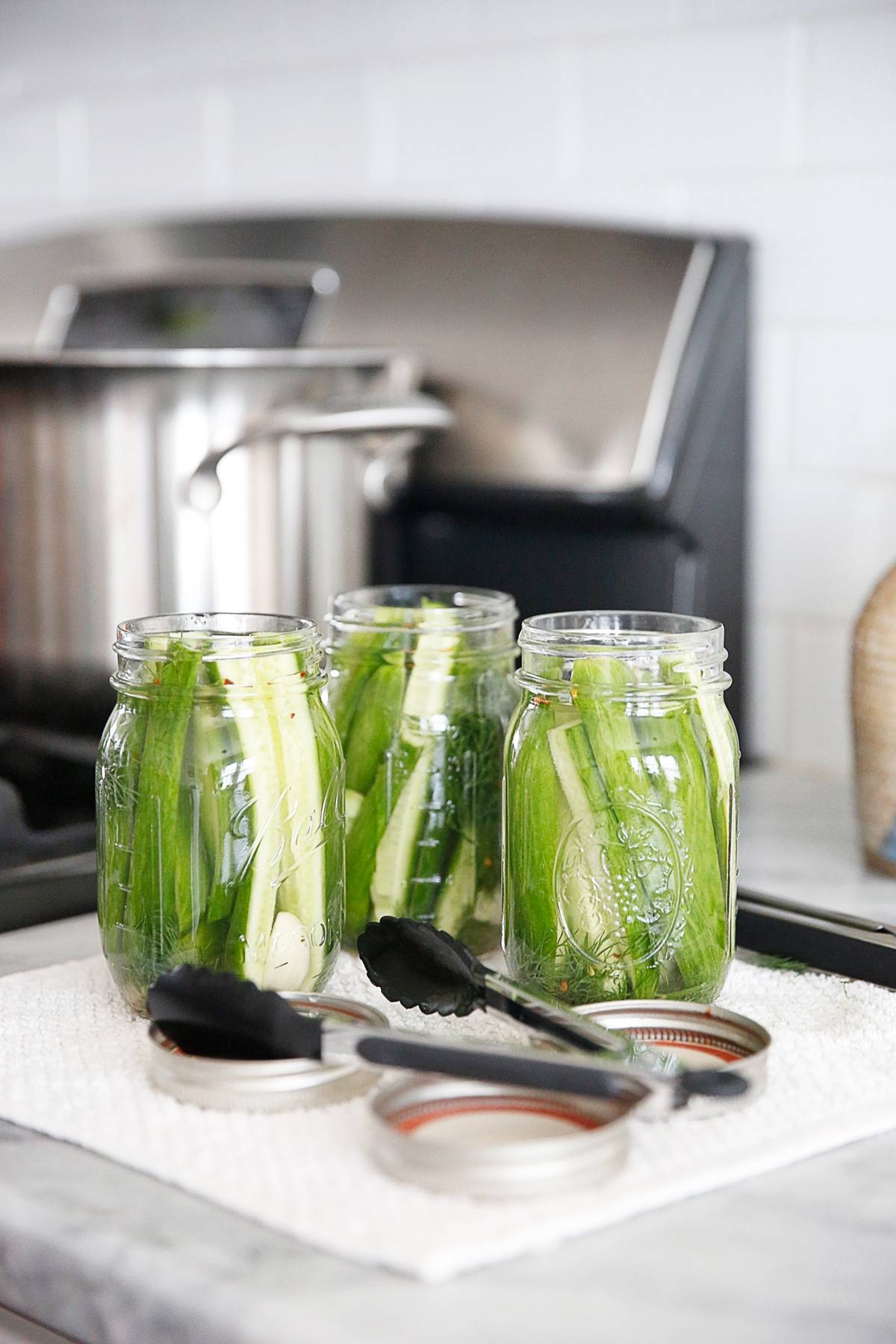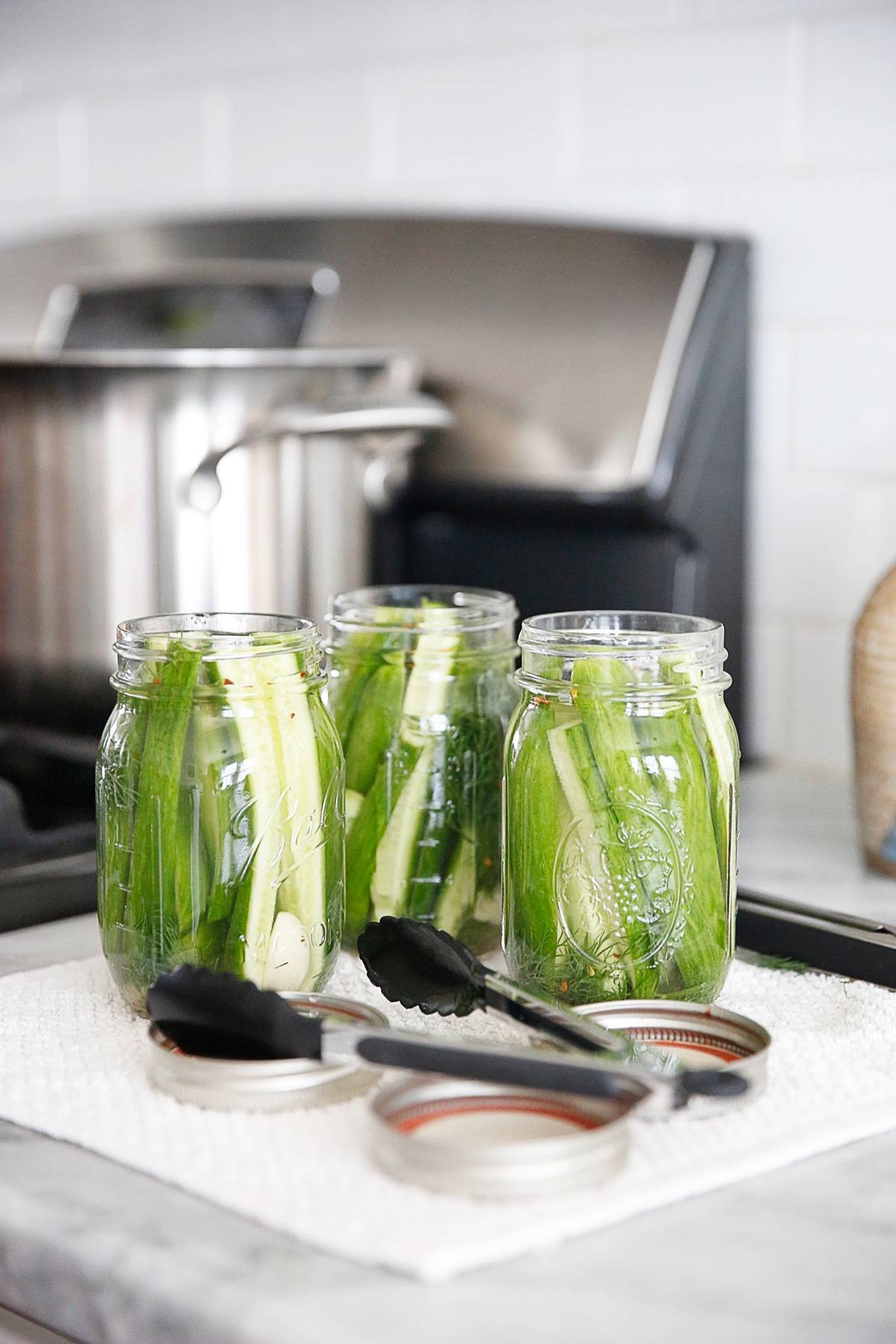 How long do you have to boil jars for canning?
Each recipe should give you a specific instruction on how long to process each jar. It depends on what you are processing. For our recipe we are processing pints, so we recommend to process for 15 minutes in boiling water, and then let sit for 5 more minutes before removing to rest for 12-24 hours because checking the seal.
How do you sterilize canning jars?
You can clean jars, lids and bands in warm soapy water and then place in water to boil for 5 minutes. The lids and bands do not have to be warm when beginning the process of canning, but the jars do, so if it's best to leave them at a temperate of at least 180ºF after sanitizing. The jars need to be warm to prevent them from breaking when your pour in the hot pickling liquid. Another method to sterilize the jars and bring them to temperature is to put them through a sanitizing cycle in the dishwasher right before you are to begin the process.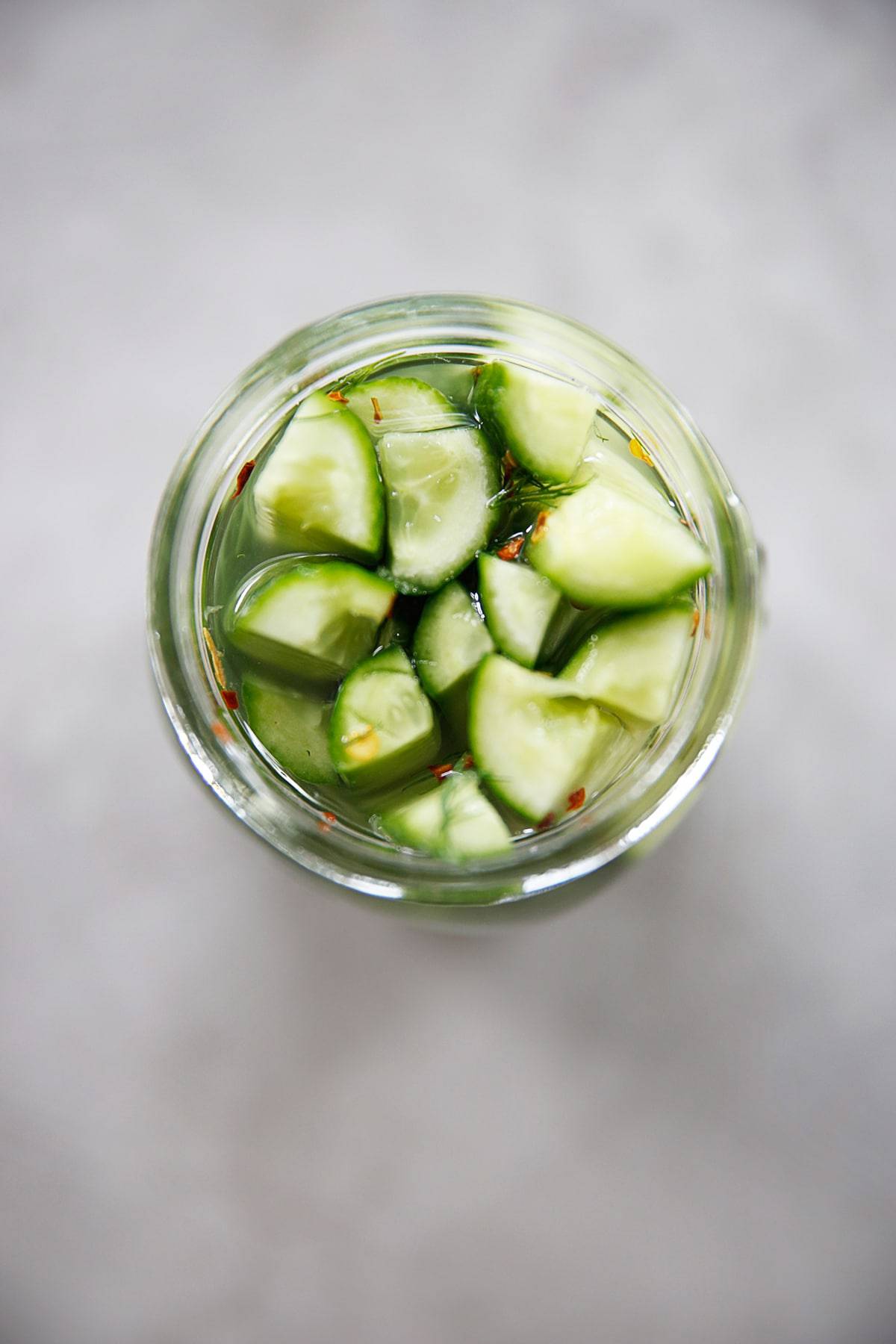 A beginner's Guide to Canning
Food canning can seem daunting since there's a little science that happens, but it is actually easy and can be great for those who have a garden or an abundance of food to use up (especially in the Summer), since you can preserve it and store it for winter when things aren't as in season! When you properly can foods, the container will be airtight to prevent spoilage (you want that pop at the end)! Depending on the type of food, you can keep it stored for differing lengths of time, typically about a year! Canning is just so cool.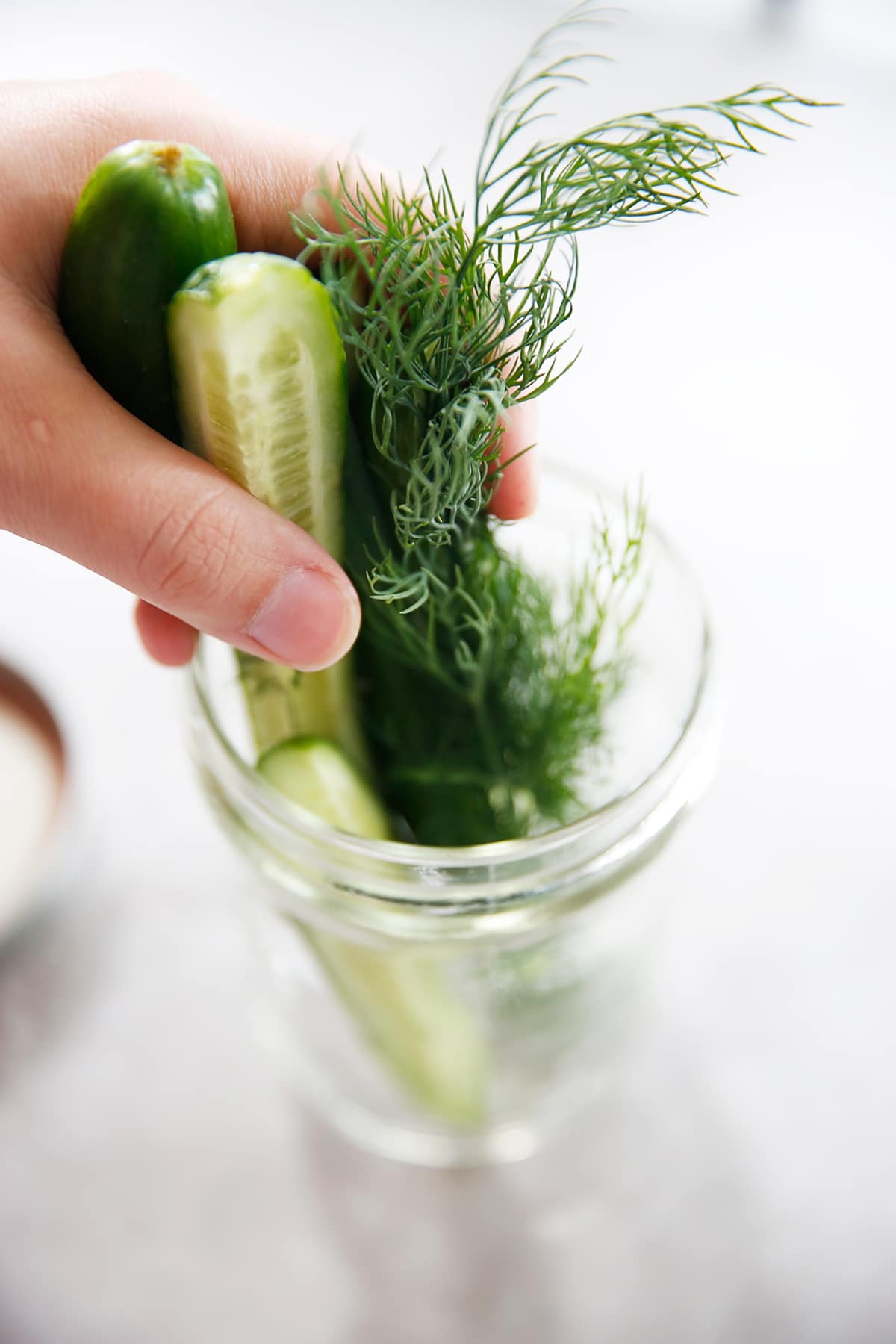 Have cucumbers but don't want to make pickles? Try these cucumber recipes that we love: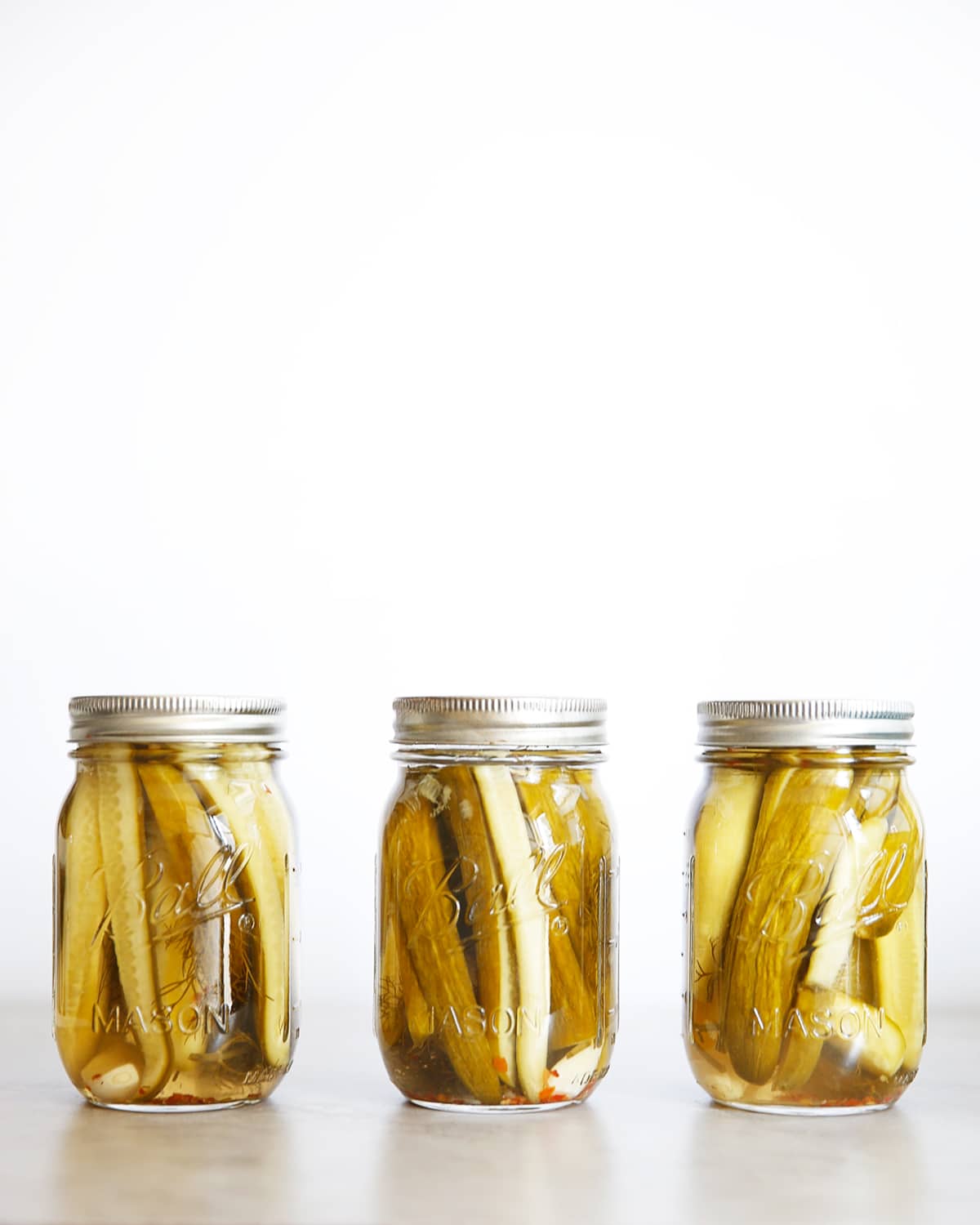 Have you tried canning?!
Easy Dill Pickles (Plus Everything To Know For Canning!)
These Thai Turkey Burgers with Spicy Sriracha Slaw are our new favorite low carb and paleo-friendly dinner! You can grill them outside or inside on your grill pan, and then serve them as low carb thai turkey burger bowls, or as a lettuce wrapped burger! The spicy slaw is packed with veggies and mango for a sweet and spicy crunch! This dinner is a must-make!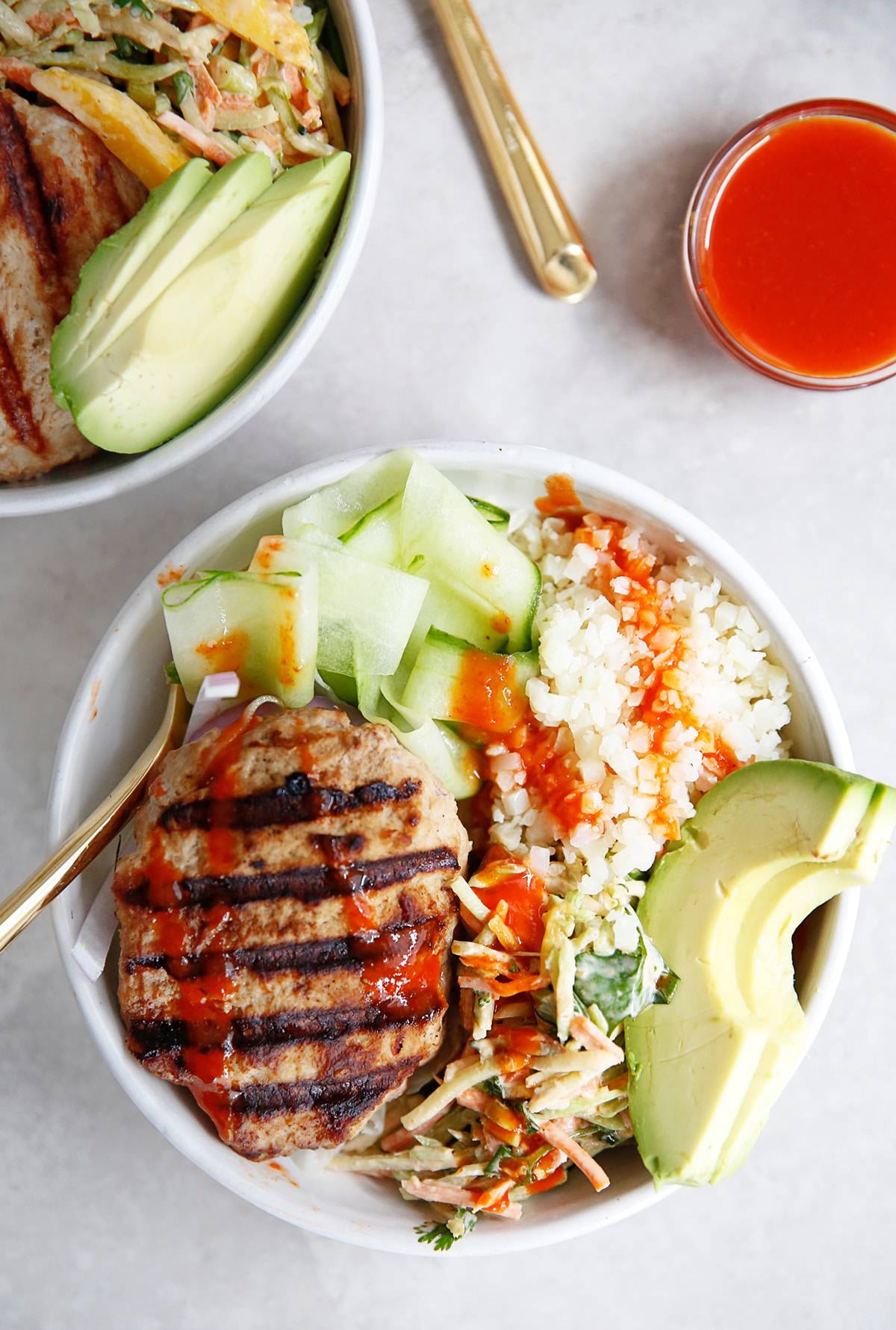 Thai Turkey Burgers with Spicy Sriracha Slaw
I am all about these thai turkey burgers right now! The dish takes a quick 30 minutes to put together but is full of exotic flavors to make a weeknight meal special. You can enjoy the last of the summer weather we are having and take this outside to prepare on the grill or savor this dish all year long and make on the grill pan inside. The burgers are flavorful and moist and a great low carb dinner!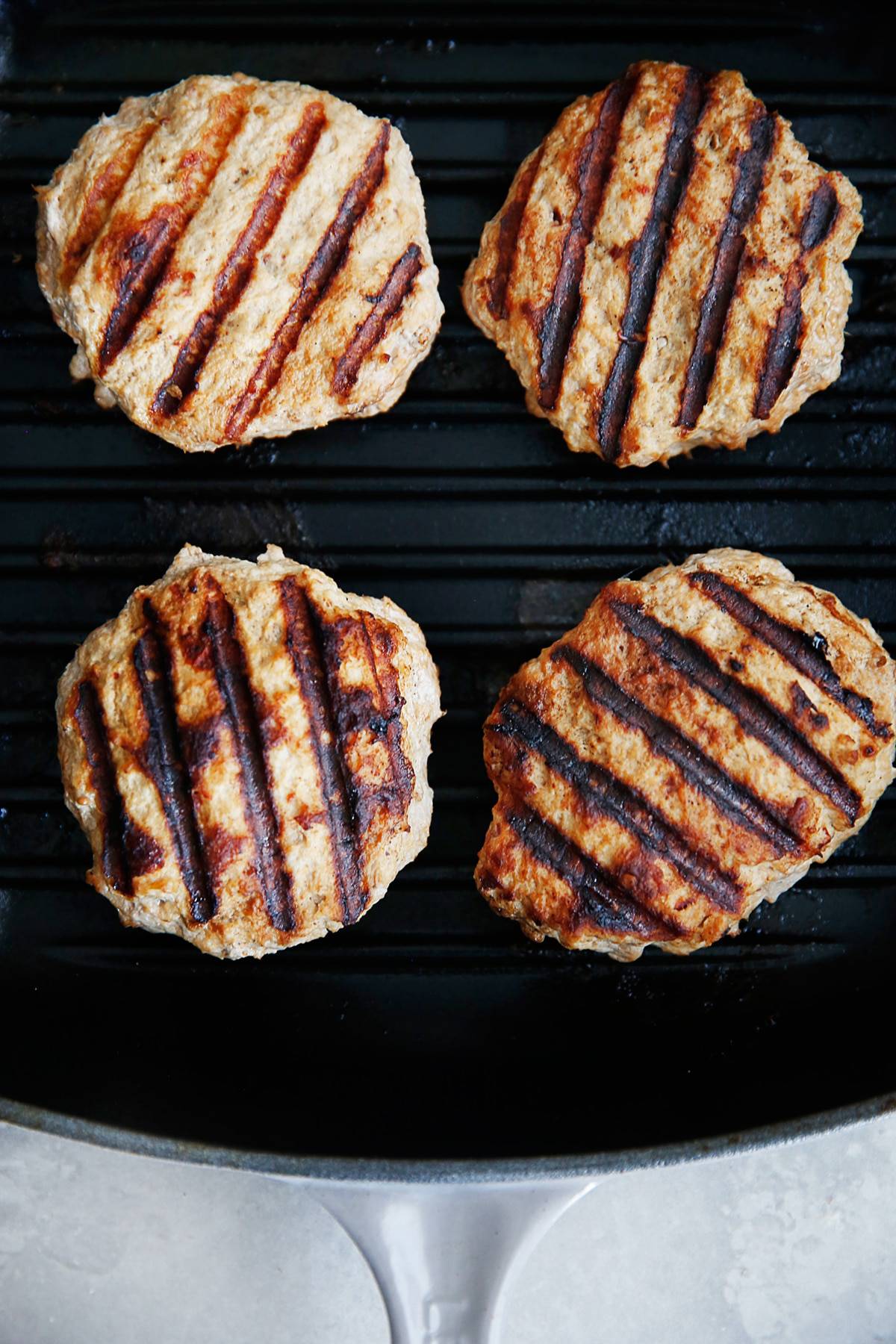 We wanted to keep the accompanying slaw simple so we prepared this using a pre-shredded broccoli and carrot slaw mix, but if you don't have this readily available go ahead and shred some using a food processor or a box grater. The mangos REALLY make this side dish stand out but just make sure to use a perfectly ripe one so it adds the right amount of sweetness.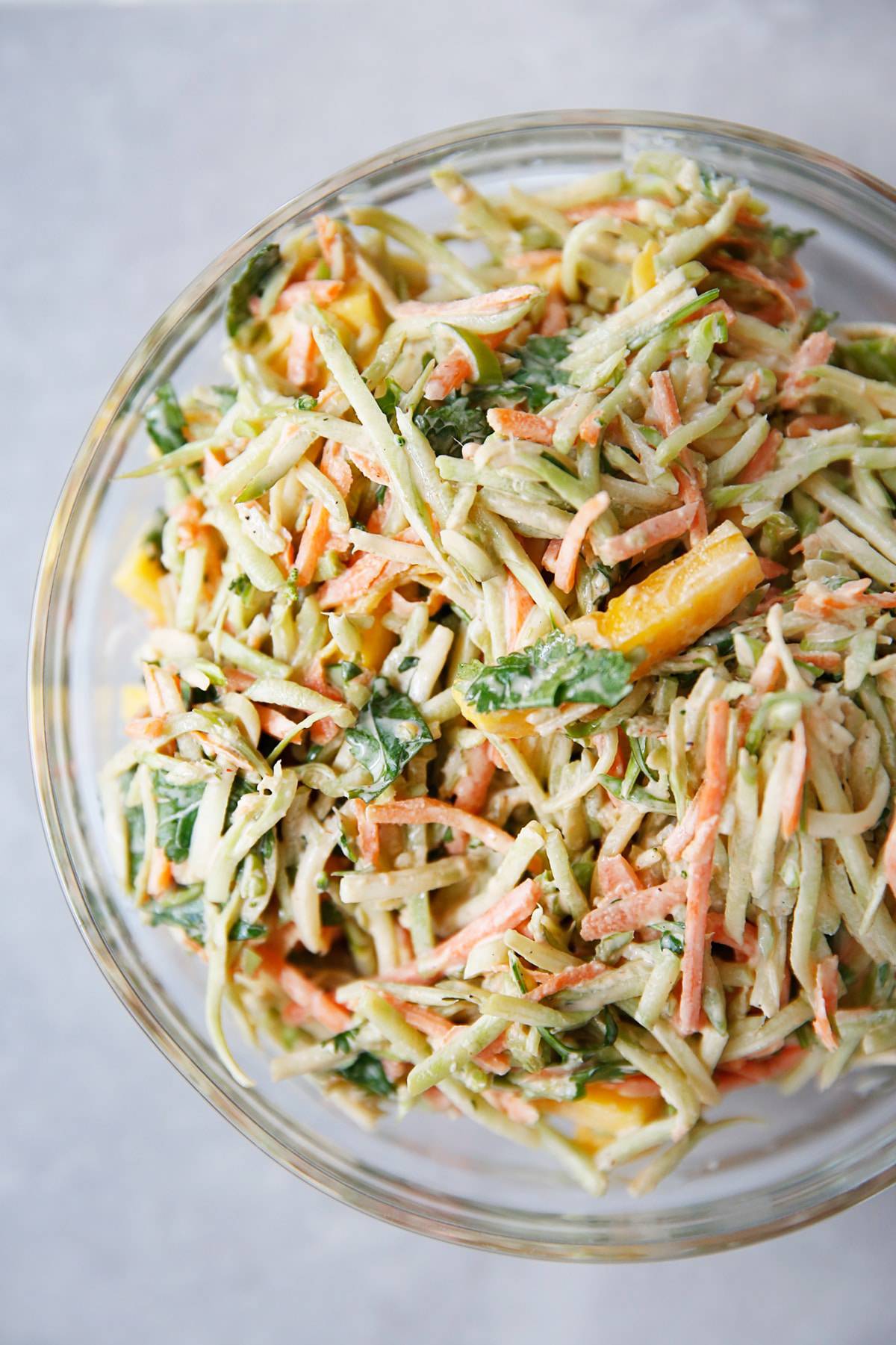 You can serve them as lettuce wrapped burgers for the perfect low carb dinner that satisfies!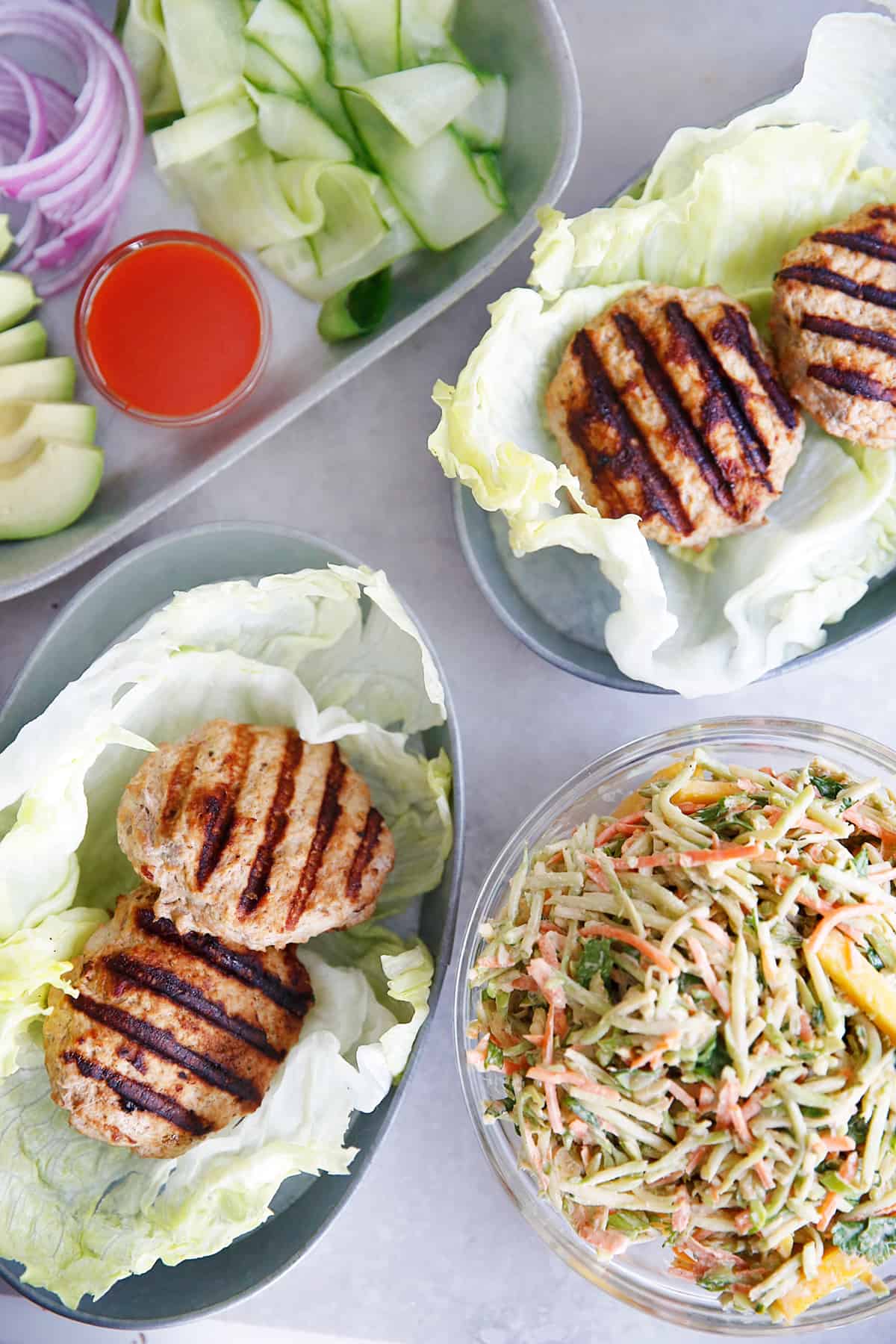 Or make it into a low carb burger bowl with the slaw, cauliflower rice, avocado, red onion, and ribboned cucumber drizzled with a little extra sriracha. PERFECT!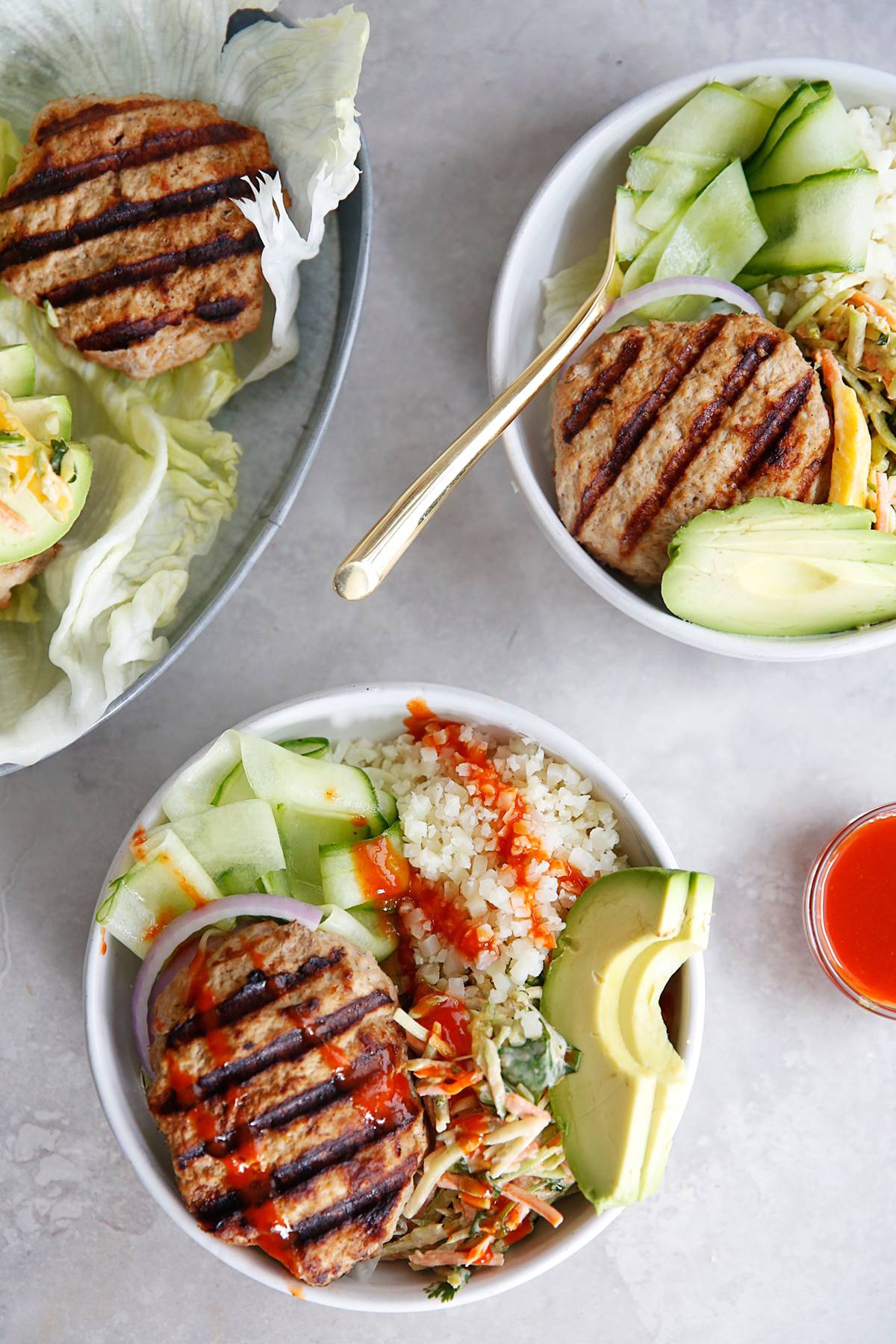 Want other burger recipes? Try these favorites:
Thai Turkey Burgers with Spicy Sriracha Slaw
This Detox Smoothie Freezer Pack is one of my favorites! A delicious make-ahead smoothie that is full of cleansing whole foods like pineapple, celery, cucumber, chia seeds, honey and lemon to nourish your body and assist with detox. This easy and healthy smoothie is the perfect start to your day.
Detox Smoothie
We are on week 4 of our Make-Ahead Freezer Smoothie Pack series! If you are a long-time reader of mine, you know that I believe that food can play a big part in not only keeping the body healthy, but also healing the body. This Detox Smoothie Freezer Pack is the end of a series of 4 nutritionally-minded smoothies packs that target specific health benefits. For the finale we'll do a round-up and a bonus guide to making 30 Smoothie Freezer Packs that are budget friendly!
This week we're talking about how important it is to eat foods that naturally assist your body with detoxing!
Toxins are EVERYWHERE in our environment and unfortunately in the foods we eat. Our liver and kidneys naturally do a great job at detoxing, but it is also helpful to include foods that assist the body in detoxing. I have personally dealt with a lot of bloating throughout my gut healing journey so we wanted to incorporate some cleansing and de-bloating ingredients into this smoothie!
Best Detox and Cleansing Foods
Luckily there are a lot of of foods that assist in detoxing! Some popular ones are teas, citrus and seeds. Today in our smoothie we're using pineapple, celery, cucumber, chia seeds, honey and lemon!
Check out the rest of the make-ahead smoothie freezer pack series:
Detox Smoothie Freezer Packs
This Tomato Cucumber Salad with Crispy Cumin Chickpeas & Green Yogurt Dressing is my new favorite cucumber tomato salad to date. This vegetarian cucumber salad is made with fresh tomatoes and cucumbers, easy pickled onions, crunchy cumin roasted chickpeas, and paired with an amazing dairy-free yogurt dressing that is packed with herbs. Made in partnership with Silk Almondmilk Yogurt Alternative.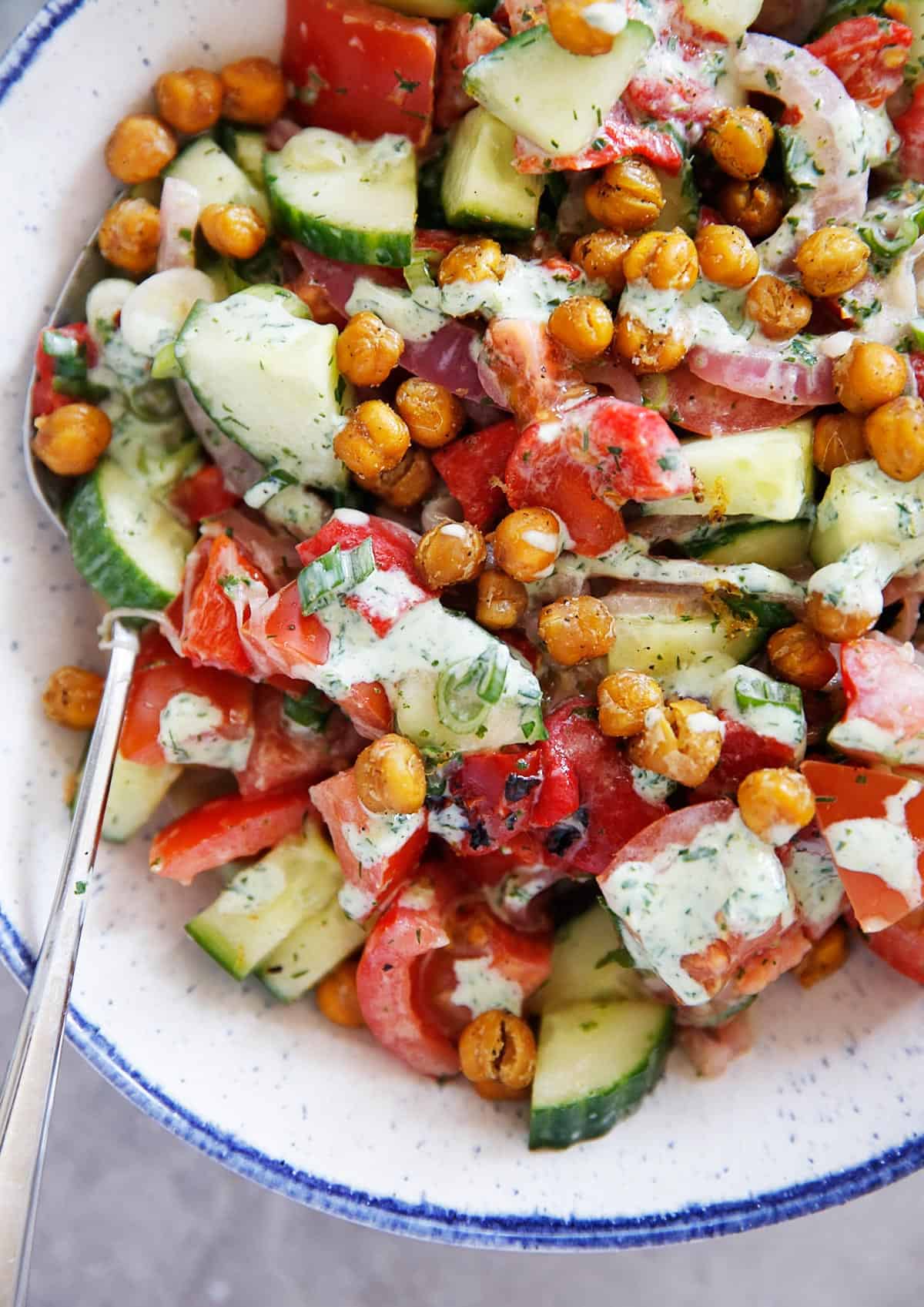 Cucumber Tomato Salad
I am excited to partner with Silk today for this recipe. We absolutely love using Silk Almondmilk Yogurt Alternative in our recipes! It's creamy and mimics traditional yogurt perfectly, especially for yogurt dressing! There are five delicious flavors in single-serve cups which have 5-6g protein from California almonds. They also now have NEW Almondmilk 24oz tubs (Plain & Vanilla) which are great for a variety of occasions. All these products have 7-8g protein from California almonds and offer a smooth, creamy texture!
How do you make a tomato cucumber salad
This salad is:
Flavorful
Fresh
Packed with a crunch
Nutritious
Great for a party
Use Silk's store locator to find Silk Almond Dairy Free Yogurt Alternative in your area, and visit https://silk.com/spoonfulofsilk for a coupon!
How do you make crispy chickpeas:
Pre-heat oven to 350 degrees. Line rimmed baking sheet with parchment paper.
Drain and rinse chickpeas really well. Pour on to clean kitchen towel and rub chickpeas dry. The skins will start to loosen.
Place dried chickpeas in large bowl leaving behind any skins. Add 1 tablespoon oil, salt and pepper and toss to coat. Place chickpeas on baking sheet and bake for 40 minutes.
Place chickpeas back in bowl and toss to coat with remaining 1 tablespoon oil, cumin, garlic powder and lemon zest. Place back on baking sheet and continue baking for 5 minutes.  Let cool.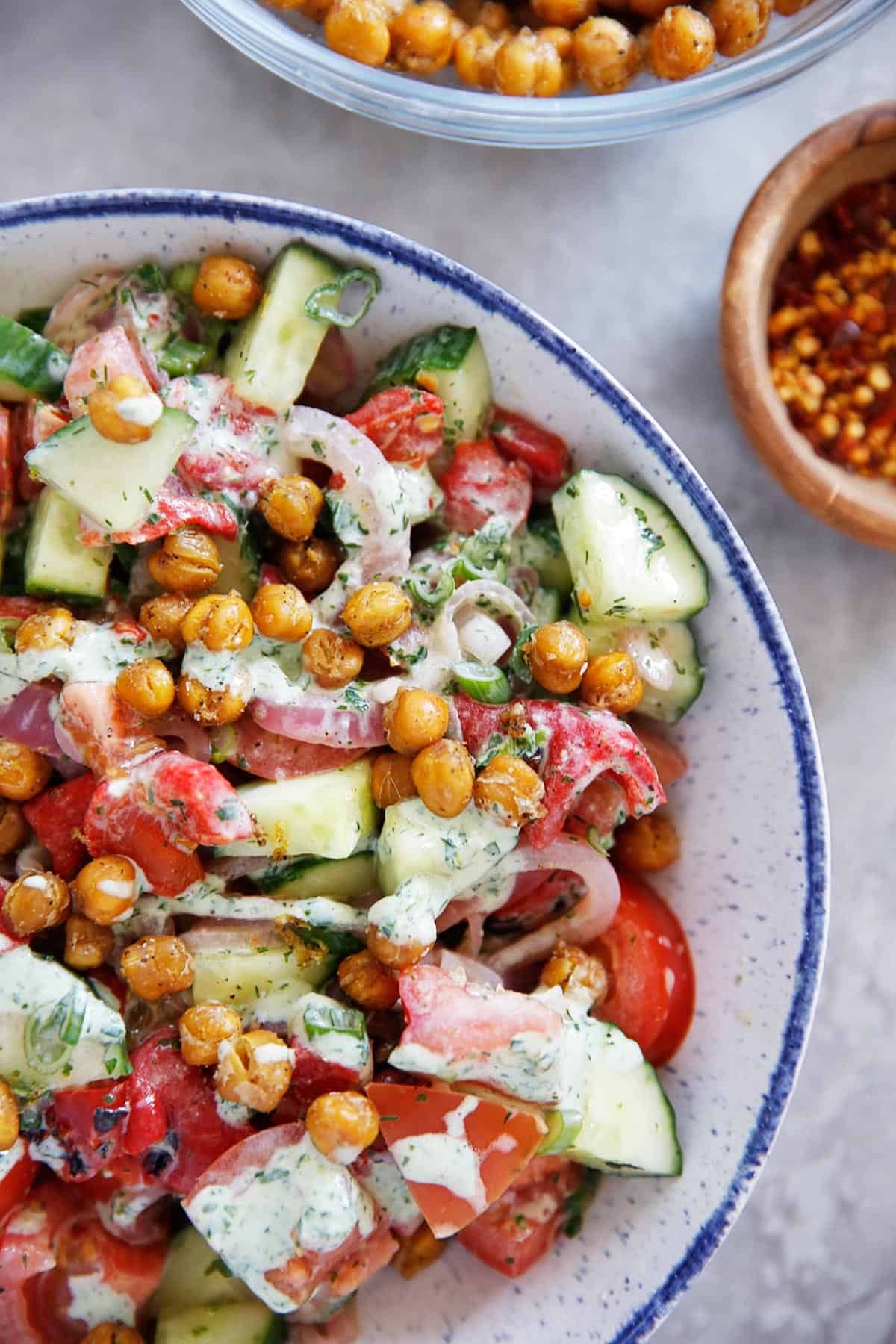 If you like this salad recipe, you'll also love these fresh salads:


This is a sponsored conversation written by me on behalf of Silk. The opinions and text are all mine.