Healthy Spinach & Artichoke Dip
Bound to be a hit at your next party, this Healthy Spinach Artichoke Dip has all that creamy flavor without any dairy. This paleo, vegan and Whole30 friendly appetizer is simple to put together and nobody will know this isn't the classic version.
Healthy Spinach Artichoke Dip
Is there anything better than Spinach and Artichoke Dip? It is such a classic appetizer that everyone loves. We wanted to update it to make it a bit more healthy so we took all the flavors to create a nutrient-dense dip that is so creamy and delicious without any actual cream! We did leave an option to top it with cheese and broil it, but the dip itself is so flavorful it won't be missed if you need to leave it off for a totally dairy-free dip.
This crowd favorite is perfect for parties, or for an appetizer for a night in. It's simple to make, made with mostly pantry staples and can even be made ahead of time (no more than a day) and reheated.
Ingredients Needed
Olive Oil

Frozen Spinach

Canned Artichokes

Garlic

Salt and Pepper
Cashew Cream

Cheddar Cheese (optional, omit for dairy-free)
How to Make Healthy Spinach Artichoke Dip without Dairy
To make this dish free from any dairy, we turned to cashew cream. Cashew cream is simply soaked cashews that are blended until they are smooth and creamy. It's a great replacement for heavy cream or in some recipes cream cheese. It can be used for both savory or sweet recipes! We've used in so many different dishes, and it's our number one choice to replace dairy where it fits.
We left it optional to add a bit of cheese on top of the dish to get that traditional spinach and artichoke dip feel, but you won't miss it too much if you omit it to make this dish totally dairy-free.
What to Serve with this Dip
Serve this dip with crackers (homemade or store-bought), tortilla chips, and cut up veggies.
If you like this healthy dip recipe, check out these others:
If you like this spinach and artichoke recipe, check out these others:
[yumprint-recipe id='244′]
Healthy Spinach & Artichoke Dip
This Roasted Eggplant Dip is such a delicious and healthy appetizer or snack for weekend entertaining! You will not believe how simple the dip is to prepare. It's also gluten-free, dairy-free, Whole30 and Paleo friendly. Serve with some delicious homemade crackers and veggies and you've got an appetizer win!
Roasted Eggplant Dip Recipe
It's mid-summer and I can guess you are looking for ways to use up all those veggies you are either harvesting or finding at your local farmer's market or CSA, right? This Roasted Eggplant Dip recipe is the perfect way to do so! This veggie dip couldn't be simpler to make: roast off a few veggies, puree and serve with homemade gluten-free crackers and raw veggies. This flavorful eggplant spread is the perfect healthy appetizer to serve guests for your next BBQ or party! Plus it's dairy-free, Paleo and Whole30 friendly!
Eggplant Dip Ingredients:
Eggplant
Fresh Tomatoes
Onion
Garlic
Olive Oil
Salt and Pepper
Lemon Juice
Is Eggplant Healthy?
Eggplant is a low-calorie nutrient-dense food that is high in fiber and many other nutrients. You should feel good about eating this healthy dip!
Can you Make This Ahead of Time?
You can make the dip 1 day ahead of time. Let dip come to room temperature, or warm briefly in the toasted oven before serving.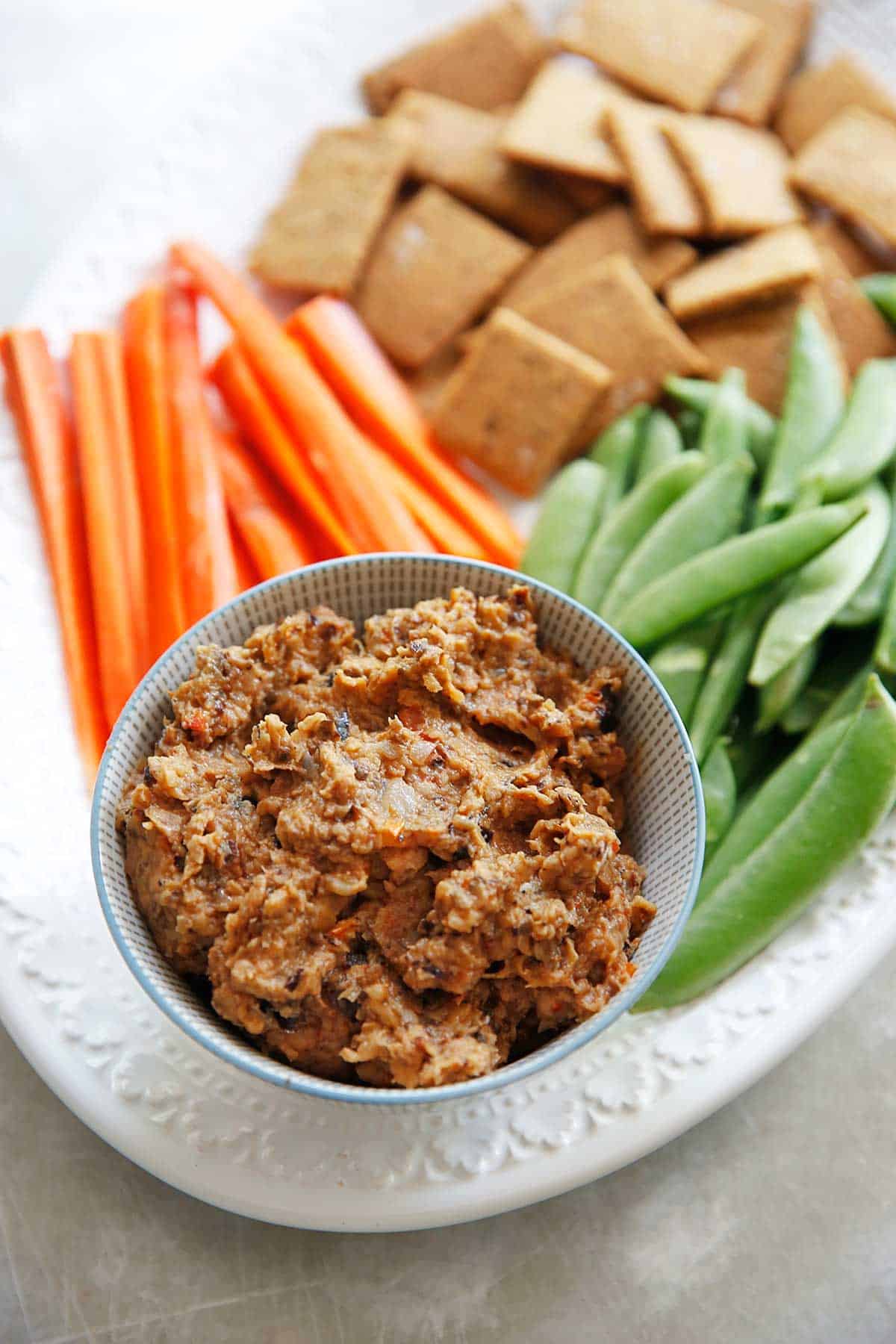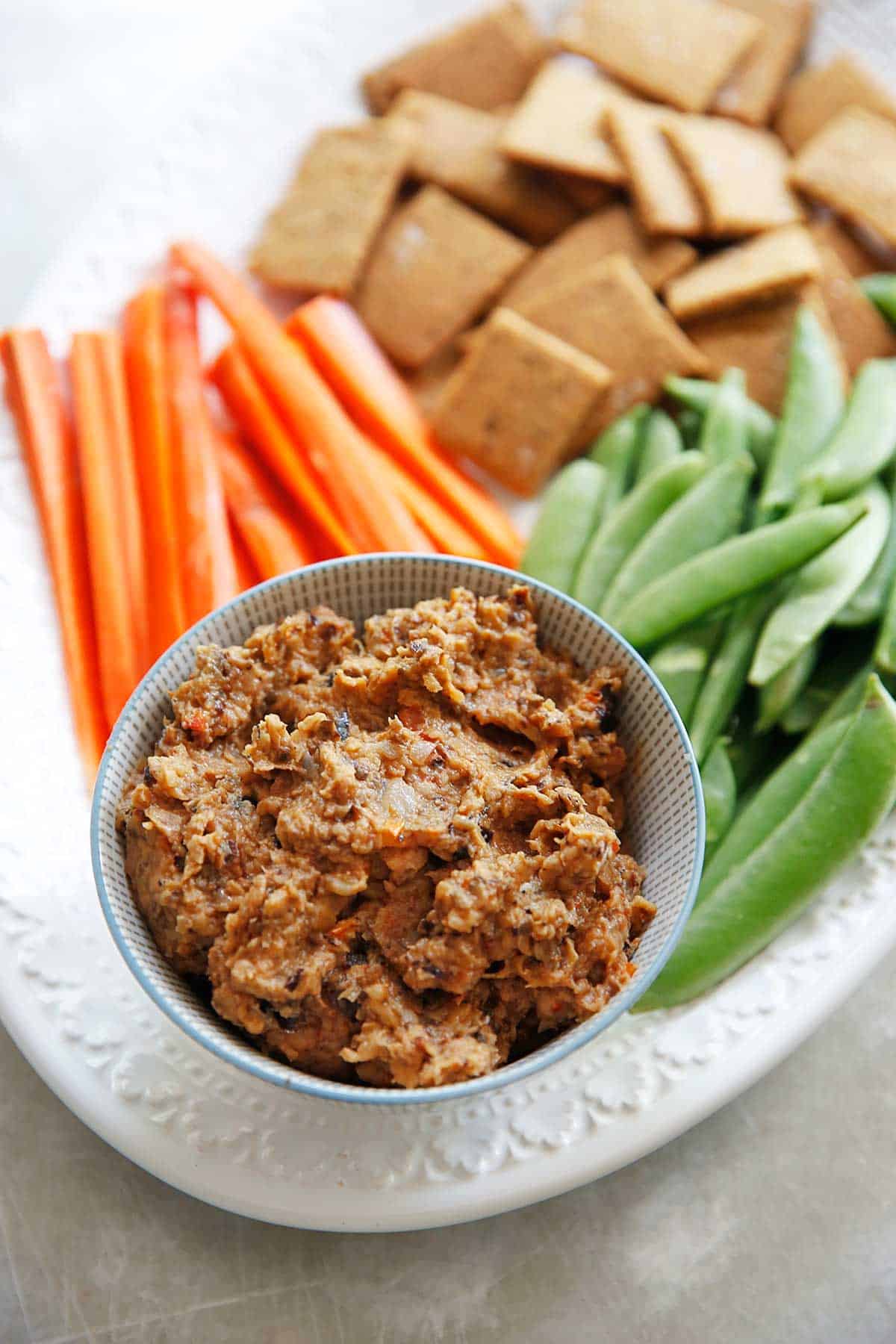 If you like this eggplant recipe, check out these others:
If you like this healthy appetizer, check out these others:
Roasted Eggplant Dip
This 7 Layer Taco Dip is just what any party, or fun Saturday night needs! 7 layers of Mexican inspired flavor that is so delicious! This dip is gluten-free and optionally dairy-free and paleo!
7 Layer Taco Dip Recipe
Is there any better food to bring to a pot luck or serve at your own party than a 7 Layer Taco Dip? Don't think so! This classic dip is made healthier here with a few homemade substitutes for standard store-bought ingredients, and so so worth it! This version is gluten-free and we offer a few substitutions to make it paleo and dairy free if you need it.
Be warned: there is no way there will be any leftovers when this dish is served, so make sure you get in there early if you want to have some yourself!
How to make a 7 Layer Taco Dip
Make or gather all of the layers!
Layer 1: Refried Beans

(or extra guacamole for paleo/whole30)

Layer 2: Cooked beef mixture

Layer 3: Salsa

Layer 4: G

uacamole

Layer 5: Cooked beef mixture

Layer 6: Cheddar cheese (substitute another layer of salsa for paleo/whole30/dairy-free)

Layer 7: Chopped Lettuce, Tomato, Red Onion
Layer in all of the ingredients in an oven 8″x8″ (or similarly sized ) oven safe dish. After placing in cheddar cheese put in the oven to melt. Layer on the remaining and serve with hearty tortilla chips and veggies.

Can this be made ahead of time?
You can assemble and prep this entire dish 1 day ahead of time, with the exception of adding the fresh ingredients on top. You can prep those ahead of time though and have them all ready to go for your party. Right before serving place the assembled dip under the broiler to warm up and melt the cheese, and then top with fresh lettuce, tomato and onion.
What to serve with this dip?
Serve it with the classics: Tortilla chips (either corn or a grain free option like Siete) and veggies like celery, cucumber, peppers or carrots.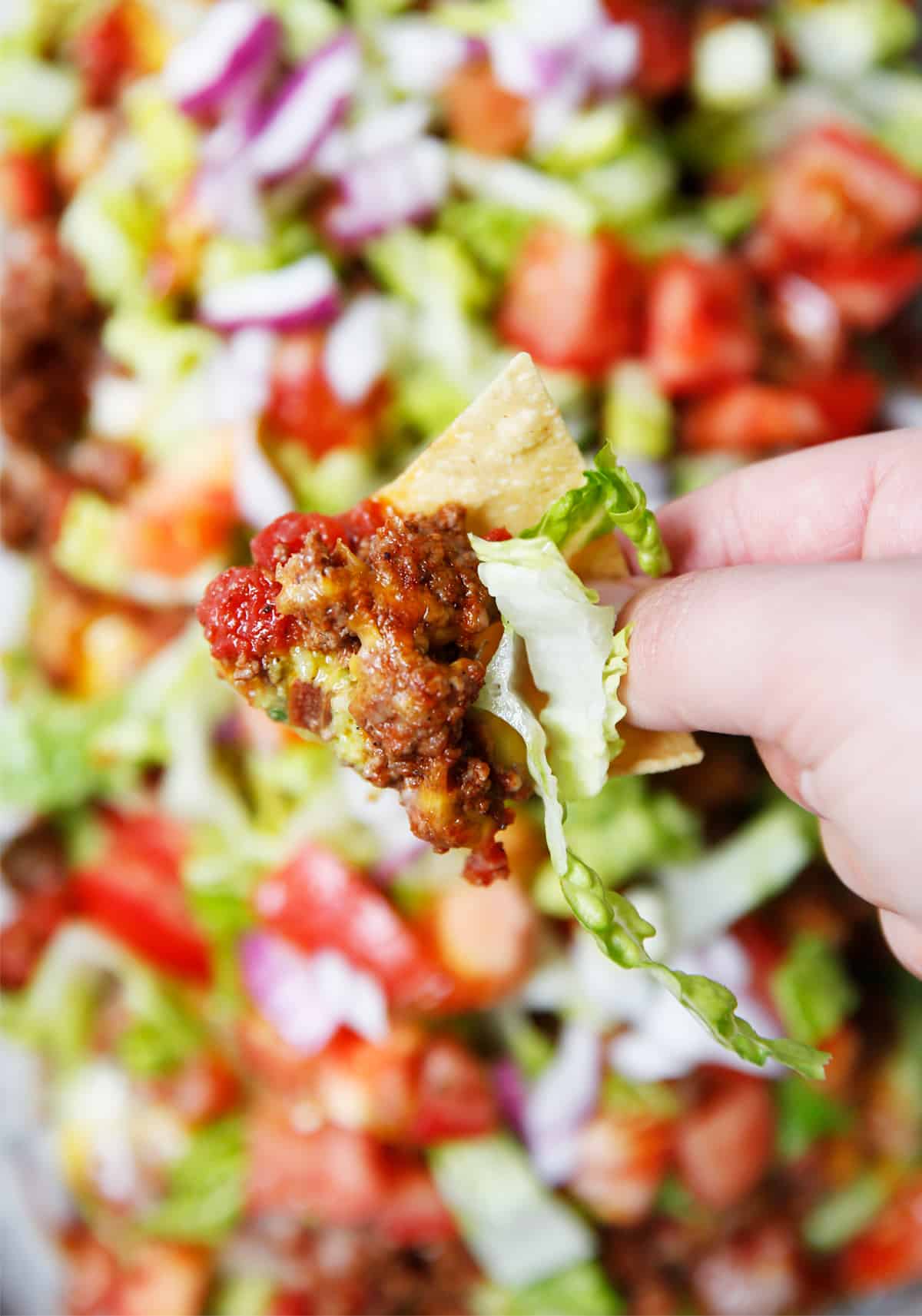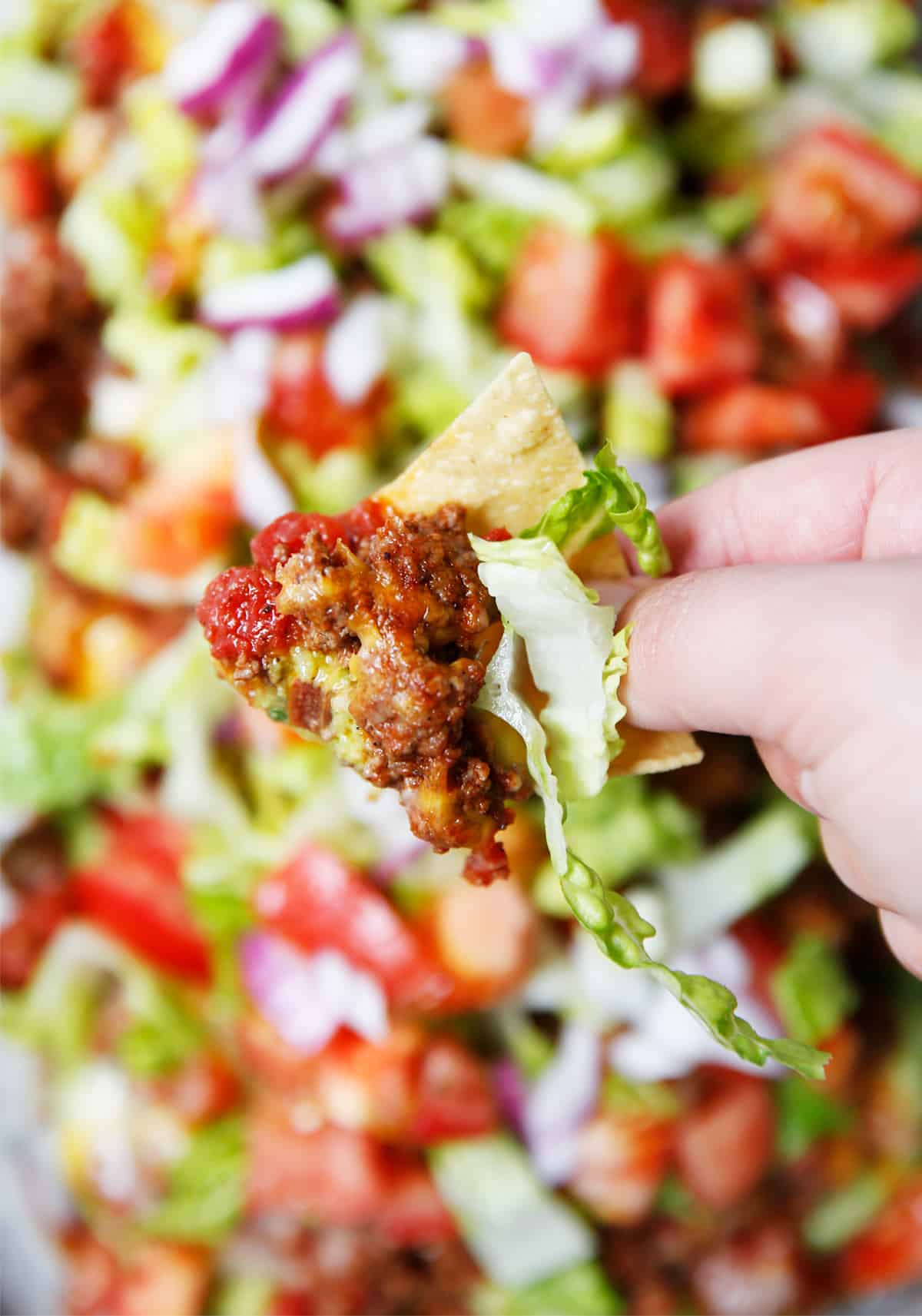 If you like this dip recipe, check out these others:
7 Layer Taco Dip
This Cauliflower Hummus recipe is so simple to put together and is a great vegan and legume-free alternative to traditional hummus. It's Whole30, Keto and Paleo friendly and truly you wouldn't notice it wasn't traditional hummus.
Cauliflower Hummus
Cauliflower really is a magical vegetable that can be turned into anything! Previously we've made noodle-free tuna casserole, hash browns, cauliflower parmesan, and pizza bites with cauliflower and now we've turned a classic dip into a legume-free version! This Cauliflower Hummus is so close in flavor to the real thing that most people eating it wouldn't know it wasn't traditional hummus. This is a great dip for people who can't tolerate beans, those eating a paleo diet or a low carb diet. But also it's just a really great dip: no special diet or lifestyle needed to love this one.
And the best part about it all is that it's so easy to make. Simply roast some cauliflower and garlic (of course!) and whirl it up in a food processor or blender with some traditional flavorings and it's done!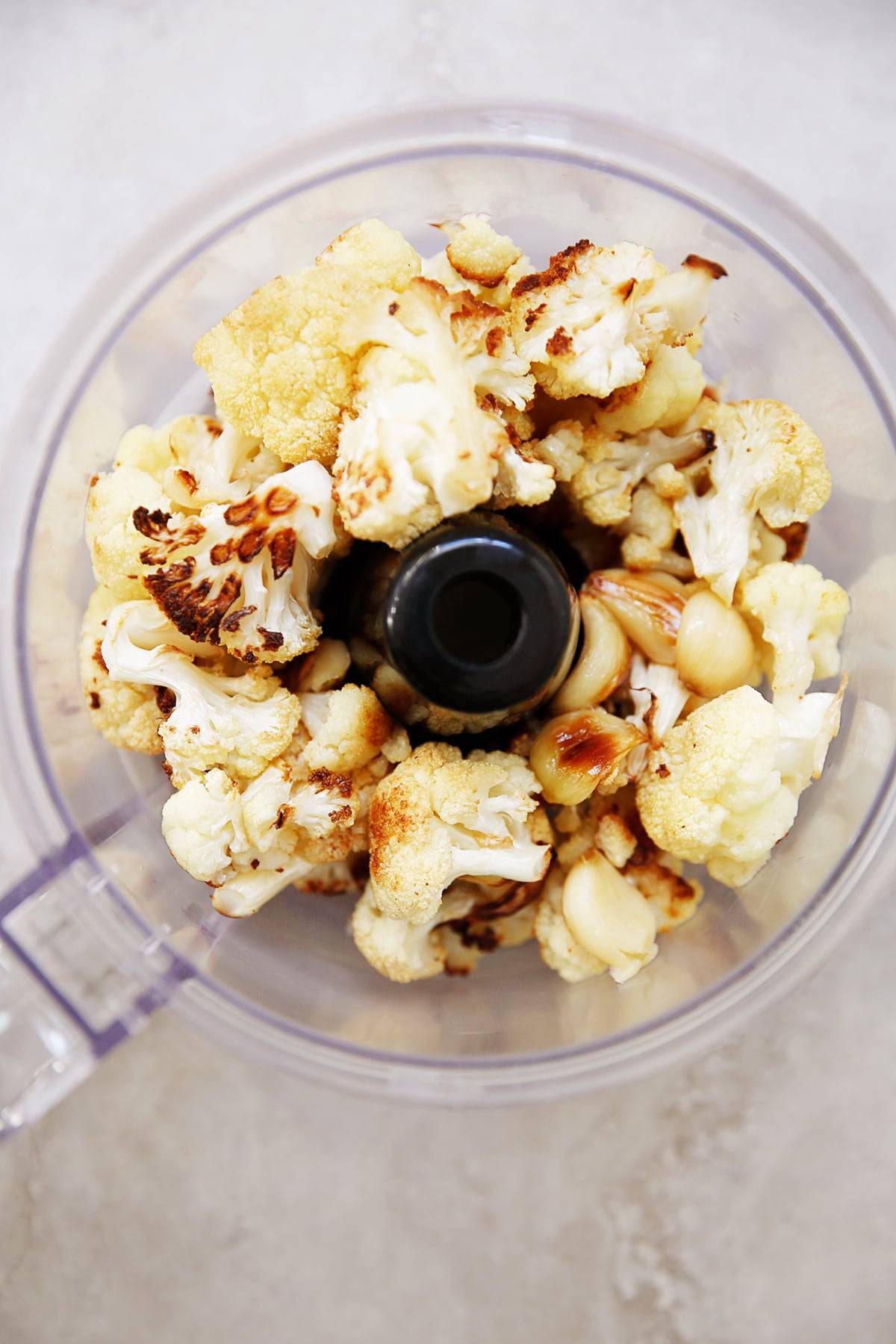 What do you serve cauliflower hummus with?
This is a great dip to serve alongside a spread of crackers, vegetables or pita or a gluten-free equivalent. This would also be lovely served along a dinner like grilled chicken and vegetables.
How long can you store cauliflower hummus?
It can be kept in a refrigerator for about 3 days. It can easily be made ahead of time if serving at an event!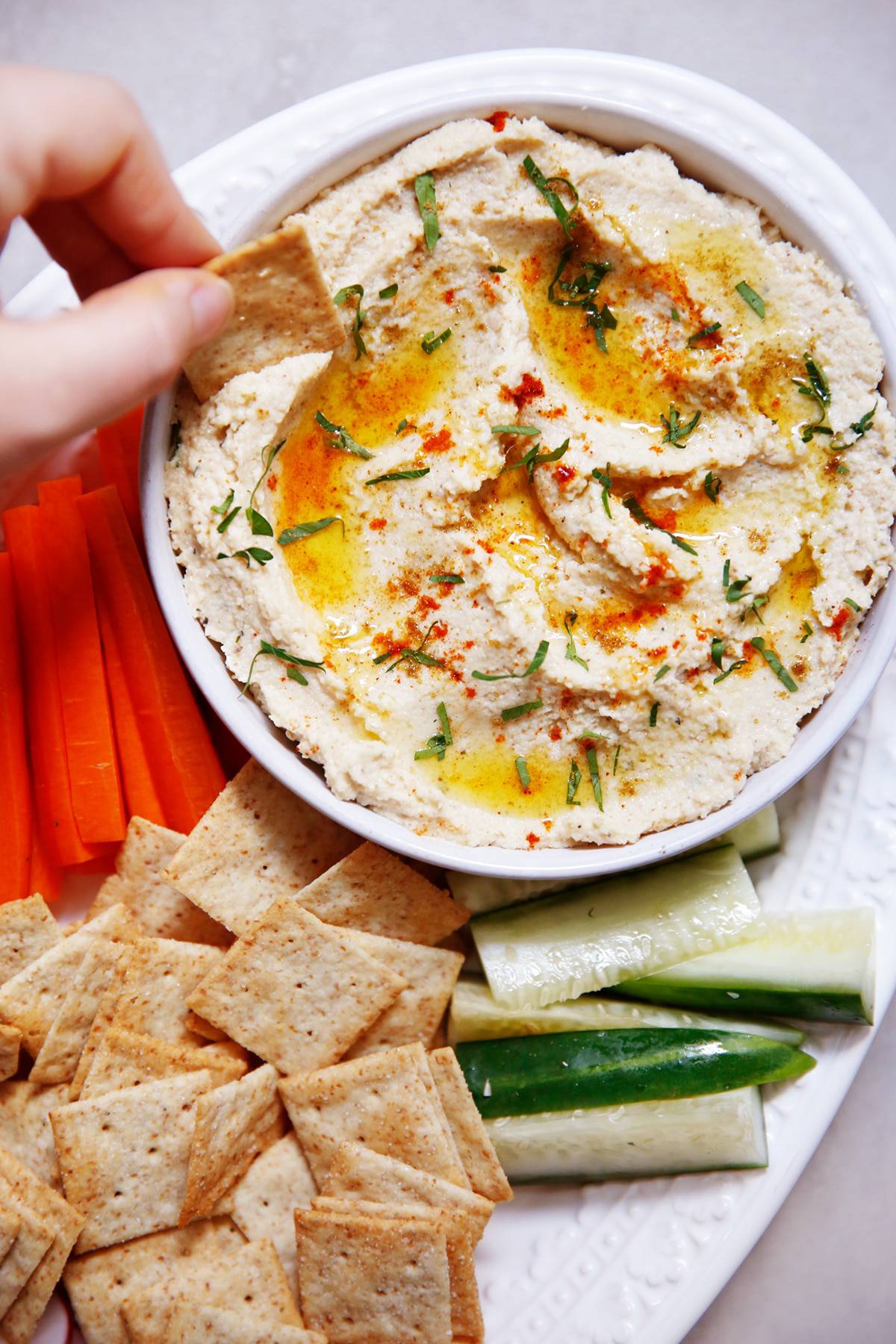 Tools we used in this recipe:
Sheet pan
Food Processor
Essentials: knife and spatula
If you like this dip recipe, check out these others:
Video:
---
Cauliflower Hummus
This Jalapeño Popper Dip is the perfect appetizer to serve for Game Day and can conveniently be prepared ahead of time and baked up right before serving! It has all the classic flavor of Jalapeño Poppers without having to individually make them. This gluten-free and keto dip has two options to make: as a creamy dairy version or or you can substitute in cashew cream for a dairy-free and delicious alternative that's also paleo friendly.
Jalapeño Popper Dip
With the BIG GAME coming up soon it's the perfect time to discuss all the best game day eats! This Jalapeño Popper Dip is an obvious contender because it has all the elements of jalepeño poppers but made easier as convenient dip. It's warm and comforting and a bit spicy! We've included both a dairy version with all the cheesy goodness as well as a dairy-free version which is remarkably similar, made using our new favorite ingredient: cashew cream! We liked them both the same, so don't make us choose which one is better!
This dip can also be made almost entirely ahead of time and then baked right before serving so that you have more time to prepare for guests. All you have to do is prep the dip up until the baking step and right before serving pop it in the oven.
To get the cheese-y flavor in our dairy-free version we used cashew cream, mayo and some nutritional yeast! Nutritional yeast is inactive yeast, usually fortified with vitamin B12, that is a favorite amount vegans as it replicates the cheese flavor.
We opted to use pickled jalapeños in this dip because we love them and the acidity that it adds to the dish. We also added some salty bacon to the mix, but if you'd like to make this vegetarian or vegan (cashew cream version only) you can leave it out! We also added in a bit more nutrients in here with the addition of some baby kale. We love the color it lends to the dip and think it fits well, but you can also opt to leave this out if desired.
Serve this up with a spread of tortilla chips, or crackers (we love Simple Mills Almond Flour Crackers) and cut up vegetables!
If you like this game day recipe, check out these others:
Jalapeño Popper Dip (Options for Dairy and Dairy-Free)
I am so excited about this Chicken Bacon Ranch Baked Hummus Dip! Chicken, bacon, and ranch flavor is one of my all-time favorite flavor combinations, and if you haven't tried baked hummus, you need to try it immediately!! This hummus dip recipe is made in partnership with Van's Foods Gluten Free Crackers!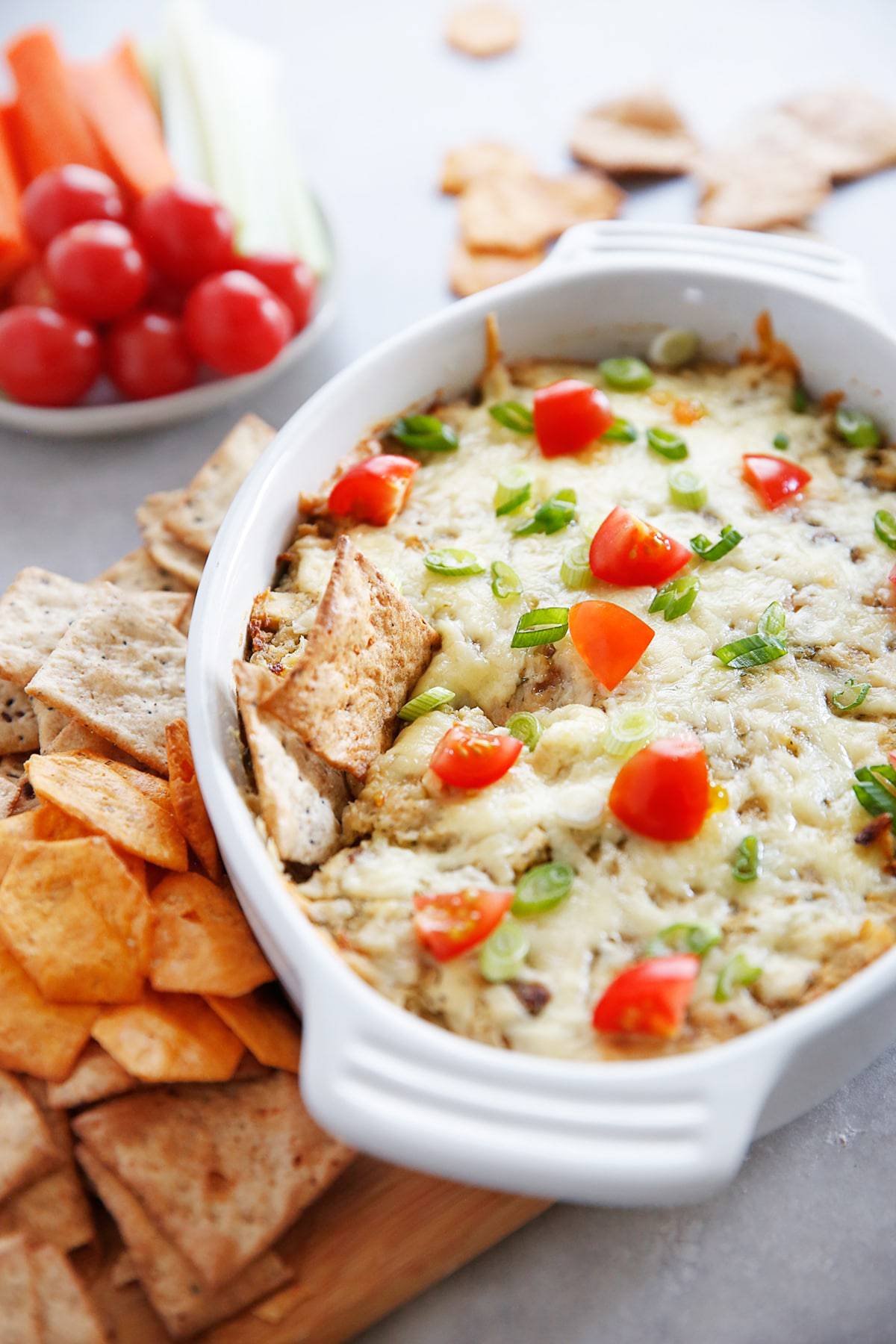 I am SO excited to partner with my friends at Van's Foods to bring you today's recipe, especially since May is Celiac Awareness Month! When entertaining and making a dip, I always have 4 things to serve it with:
These crackers (our favorite is Fire-Roasted Veggie)
Carrots
Celery
Grape Tomatoes or Red Pepper Slices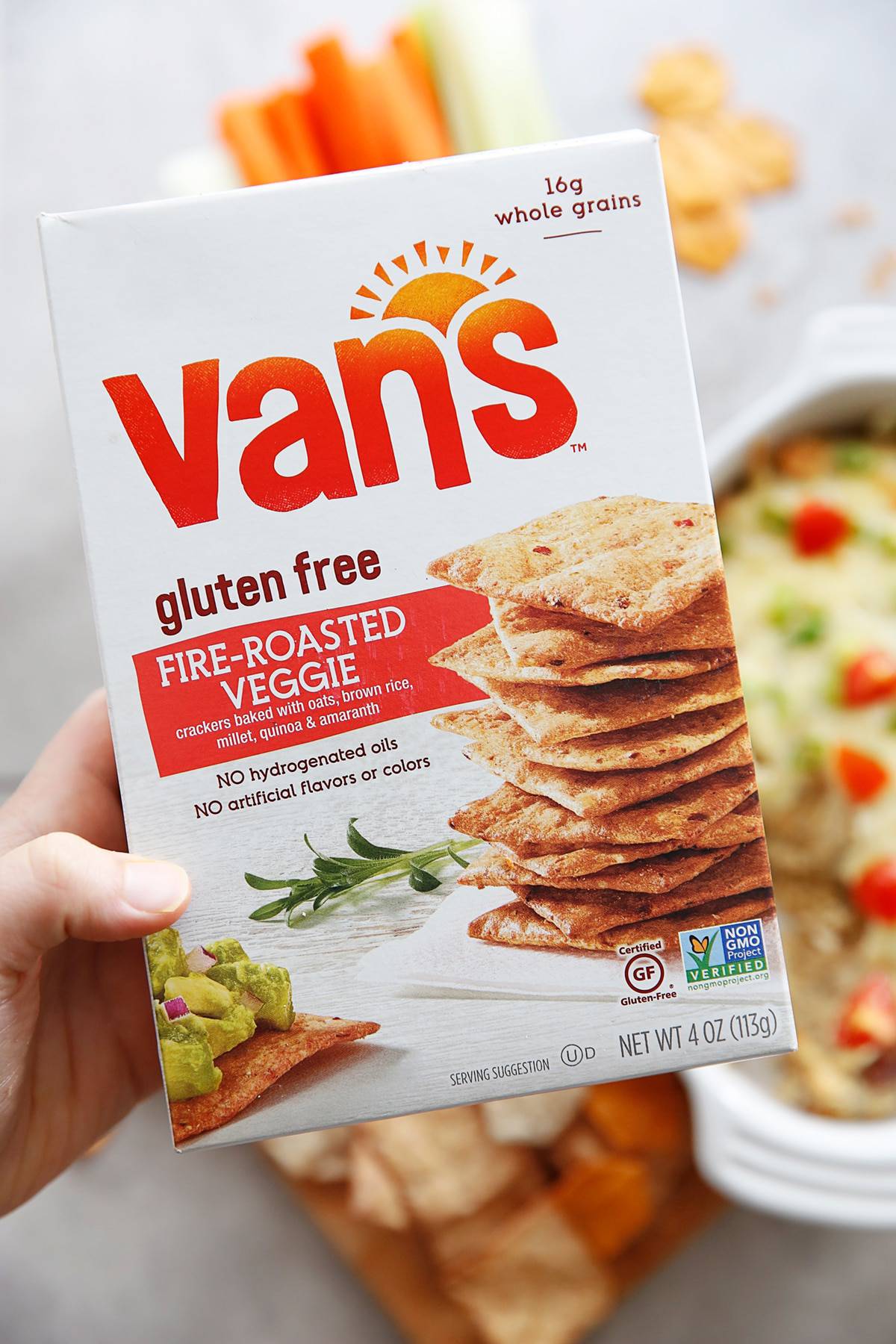 They are gluten-free (it fools everyone), so delicious, and made with ingredients you can feel good about serving.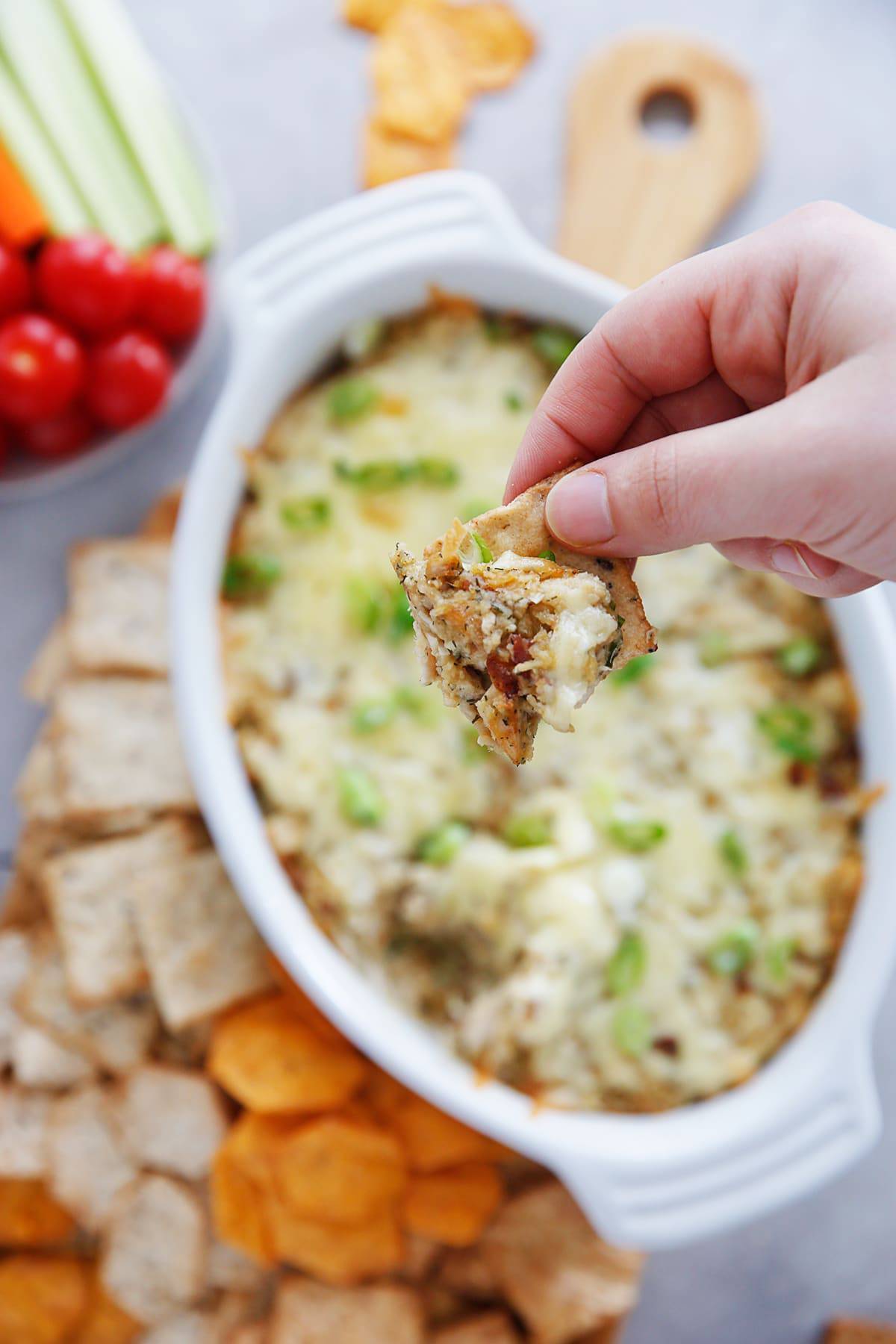 If you like this hummus dip recipe, try these others:
Want other dip recipes? Here are our other favorites: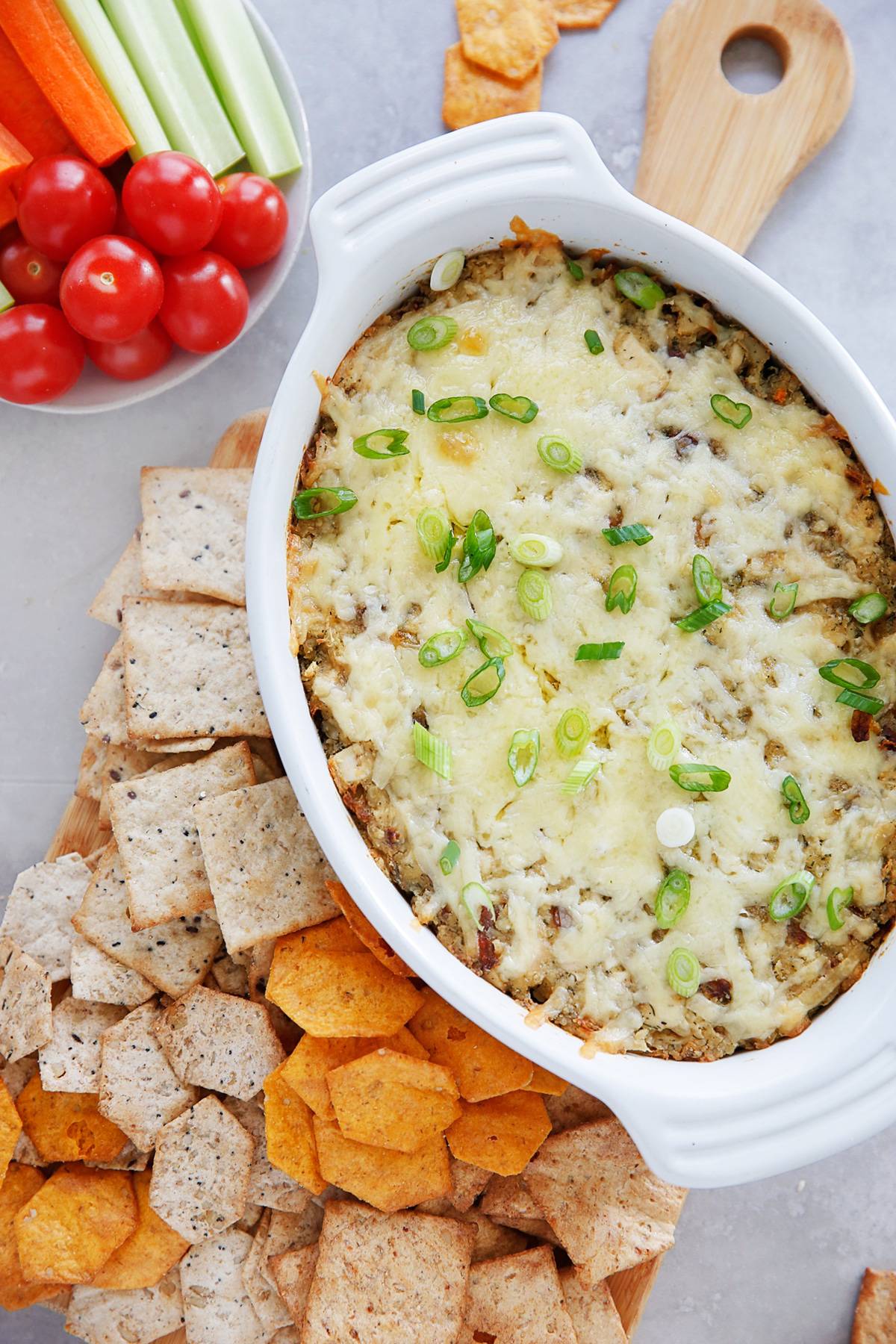 Watch the video:





This post is sponsored by Van's Foods. All thoughts and opinions are always 100% my own! I love their crackers and think you'll love them too! Thank you for continuing to support LCK and the brands I work with!
Chicken Bacon Ranch Baked Hummus Dip
This Baked Southwestern Hummus dip is going to be your new favorite part appetizer! Hummus is baked with a topping of southwest style veggies and cheese and serve warm! It's a crowd-pleasing dip that is sure to be on repeat for all of your parties.
Southwestern Hummus Dip
If you love southwestern flavors, this Southwestern Hummus Dip is for you! It is such a fabulous vegetarian dip for entertaining or to enjoy as a snack! If you haven't made my first hummus dip and you are skeptical about baked hummus, I promise, it is so so good.
Veggies, beans, and spices; cooked to perfection! Baked hummus is my new go-to game day dip because it is so easy to make and is perfect for prepping ahead of time. I throw it all together and top it with cheese, then cover and refrigerate until ready for baking. Simply bake, add your garnishes, and serve!
Check out these other hummus recipes:
If you like this appetizer, check out these others: