This Upside Down Gluten Free Apple Cake is unbelievably simple to make and so delicious. It's grain-free, nut-free and dairy-free but with no shortage of delicious apple cinnamon flavor. It's perfect to serve up for Rosh Hashanah or to whip up for a weekend baking project after you've gone apple picking.
Gluten Free Apple Cake
We're bringing an oldie but a GOODIE out from the archives, updated with new photos! This Gluten-free Upside Down Apple Cake was originally published back in 2015, but we thought it was time to give this simple and delicious cake an updated look. I developed this recipe to be a grain-free and gluten-free alternative for a Rosh Hashanah Honey Cake. Whether you celebrate or not, this is the ultimate Fall cake all season long! This cake is fluffy, moist, flavorful, and loaded with your favorite Fall flavors. It's also made using a dairy-free honey caramel that is to die for.
How to Make Upside Down Gluten Free Apple Cake
To make this Gluten Free Apple Cake, you'll start off by making Paleo Caramel. I promise, it's easy to make. We wrote a whole post all about how to make it, so if you are looking for more information or to read about the different sugar options you have for making it, be sure to check that out. For this cake, if you want to make it for Rosh Hashanah be sure to make the caramel with honey.
After you make the honey, you'll want to grease a pan (we used coconut oil) and layer some sliced apples inside of it. Be creative as you want when layering in the apples. Just make sure the apples are sliced thin, and are basically uniform in size so they cook evenly. Next you'll pour in the caramel and set aside the pan.
Making the cake couldn't be easier. It's made all in one bowl, with a handful of simple paleo ingredients. We love that this recipe is both grain free AND nut free, using just two flours: tapioca and coconut. After the cake has been made, you'll pour the batter on top of the apples and smooth it out before baking.
Once the cake is baked, you'll let it cool slightly before inverting the cake on to a platter!
Tools Needed for this Gluten Free Upside Down Cake
While this cake definitely looks impressive, you don't need any fancy kitchen equipment to make it. The caramel is made on the stove top, and the cake is whisked together in a bowl. No thermometer or stand mixer needed! To make this you'll need: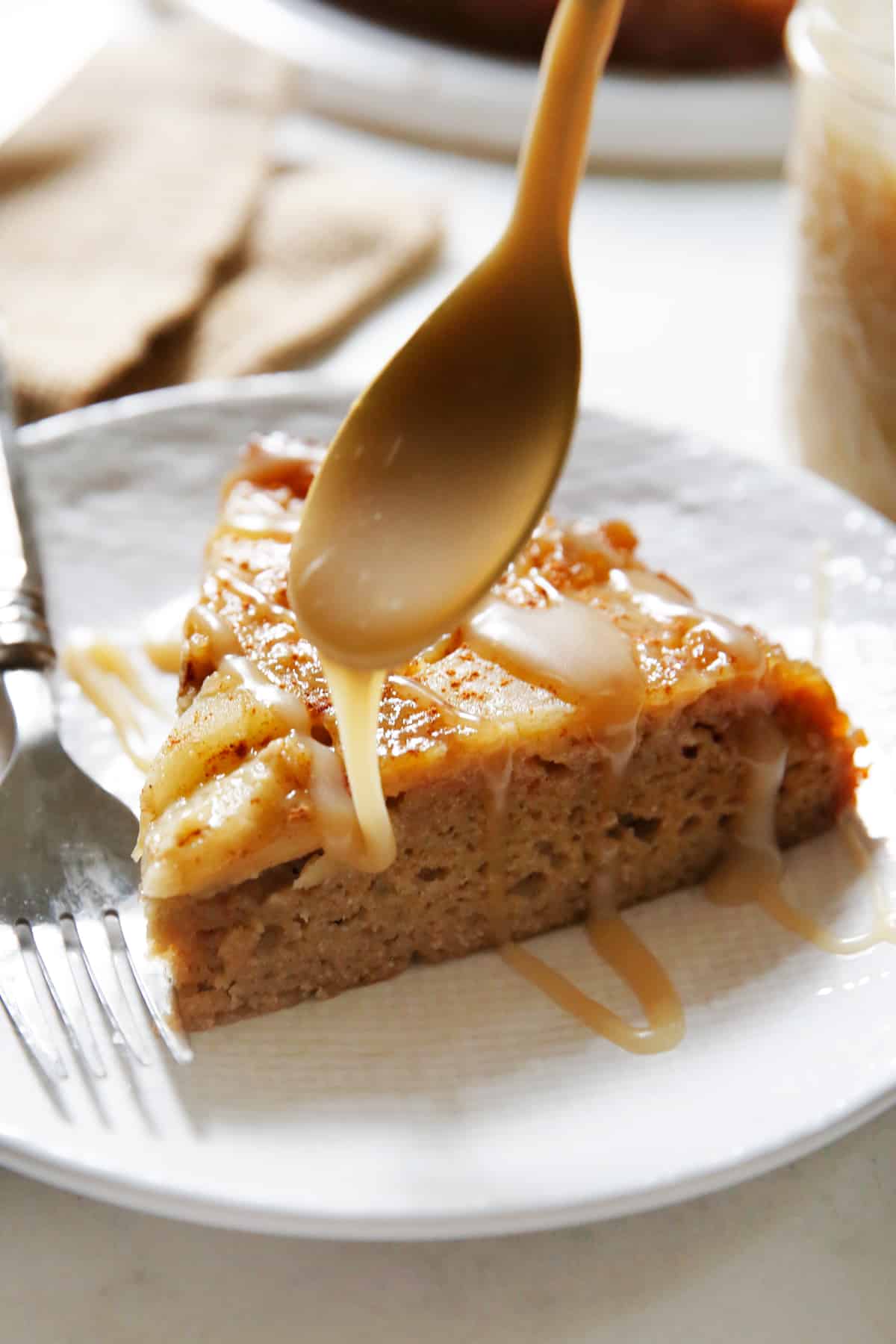 If you like this apple recipe, check out these others:
---
Caramel Apple Upside Down Honey Cake
2015-09-09 11:57:21
Ingredients
1/2 cup coconut flour
1/2 cup tapioca flour
1/2 teaspoon baking soda
1/2 teaspoon baking powder
1/2 teaspoon cinnamon
Pinch fine sea salt
Wet Ingredients
5 organic eggs
1/2 cup + 2 tablespoons unsweetened applesauce
1/3 cup + 2 teaspoons raw honey
1 teaspoon vanilla
Apple Bottom
2 apples, peeled, cored, and sliced
1/3 cup homemade caramel
Instructions
Preheat oven to 350
Grease 8 inch round pan
Slice apples and lay them in the bottom of the baking pan
Heat caramel   if it isn't already hot and pour evenly over apples
In a large bowl combine dry ingredients (sift if flour has clumps)
Add in wet ingredients and whisk together
Pour cake batter into cake pan on top of the apple mixture
Bake for about 30 minutes, or until a toothpick comes out clean
Once cooled completely, carefully flip the cake pan upside down onto a serving dish
Lexi's Clean Kitchen https://lexiscleankitchen.com/