Spicy Shrimp and Citrus Salad
When perfectly cooked shrimp with just the right amount of spice gets paired with all the winter citrus, you get salad magic! This Spicy Citrus Shrimp Salad comes together in roughly 20 minutes, and it's the perfect hearty weeknight salad that everyone will love. Especially during the winter months when fresh citrus is in abundance!
Citrus and Spicy Shrimp Salad
Get ready to fall in love with this Spicy Citrus Shrimp Salad! Not only am I in love with the beautiful colors of winter citrus, but the bursts of flavor it gives pairs so lovely in a salad. Everyone will love this easy shrimp salad recipe! You can make it spicy or not, and rest assured, the combination of lettuce, zesty shrimp, sliced citrus, and an easy grapefruit vinaigrette is absolutely the greatest combination when paired together.
What winter citrus is best?
While we love the combination we used here, you can absolutely get creative if you don't like one of the citrus fruits we used.
Some in-season winter citrus includes:
Oranges
Blood Oranges
Cara Cara Oranges
Pink Grapefruit
White Grapefruit
Mandarin Oranges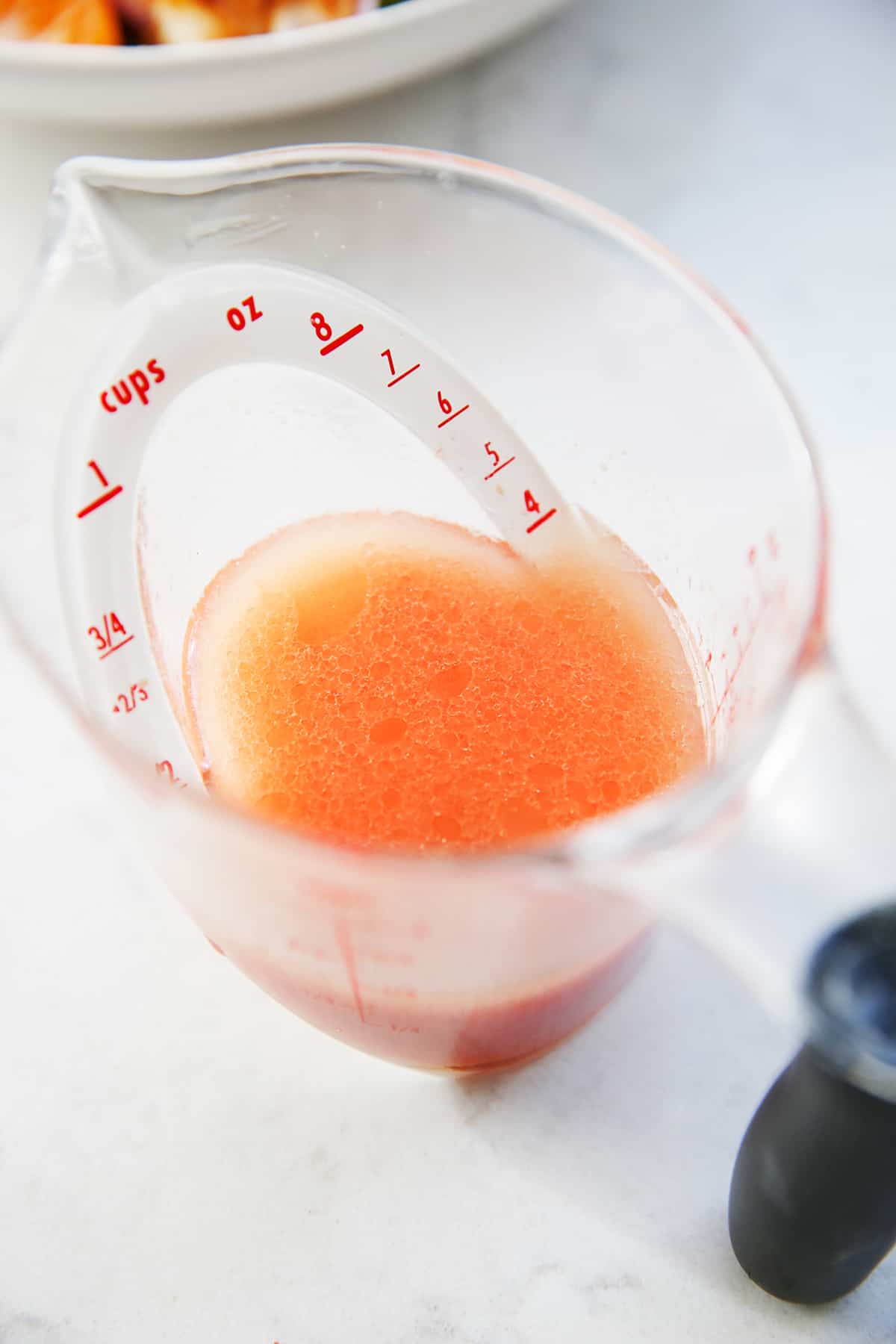 How to Make this Shrimp Salad Recipe
It doesn't take much to put together this salad. First assemble all of your salad ingredients, which largely consists of segmenting citrus. Then, make your dressing! And finally, cook your shrimp! Layer it all up and serve immediately.
Making salad dressing at home
I love making my own dressings for a few reasons.
They come together in a few short minutes. You simply need your ingredients, a bowl or mason jar, and a whisk!
You often have all the ingredients right in your pantry.
Often you'll find store-bought salad dressings to have added sugars, preservatives, and icky oils, so making them yourself makes your salad dressing even healthier!
Plus, you can customize your dressing with your salad ingredients for less waste. For example, we used the grapefruit juice from the extra grapefruit in this salad for the dressing.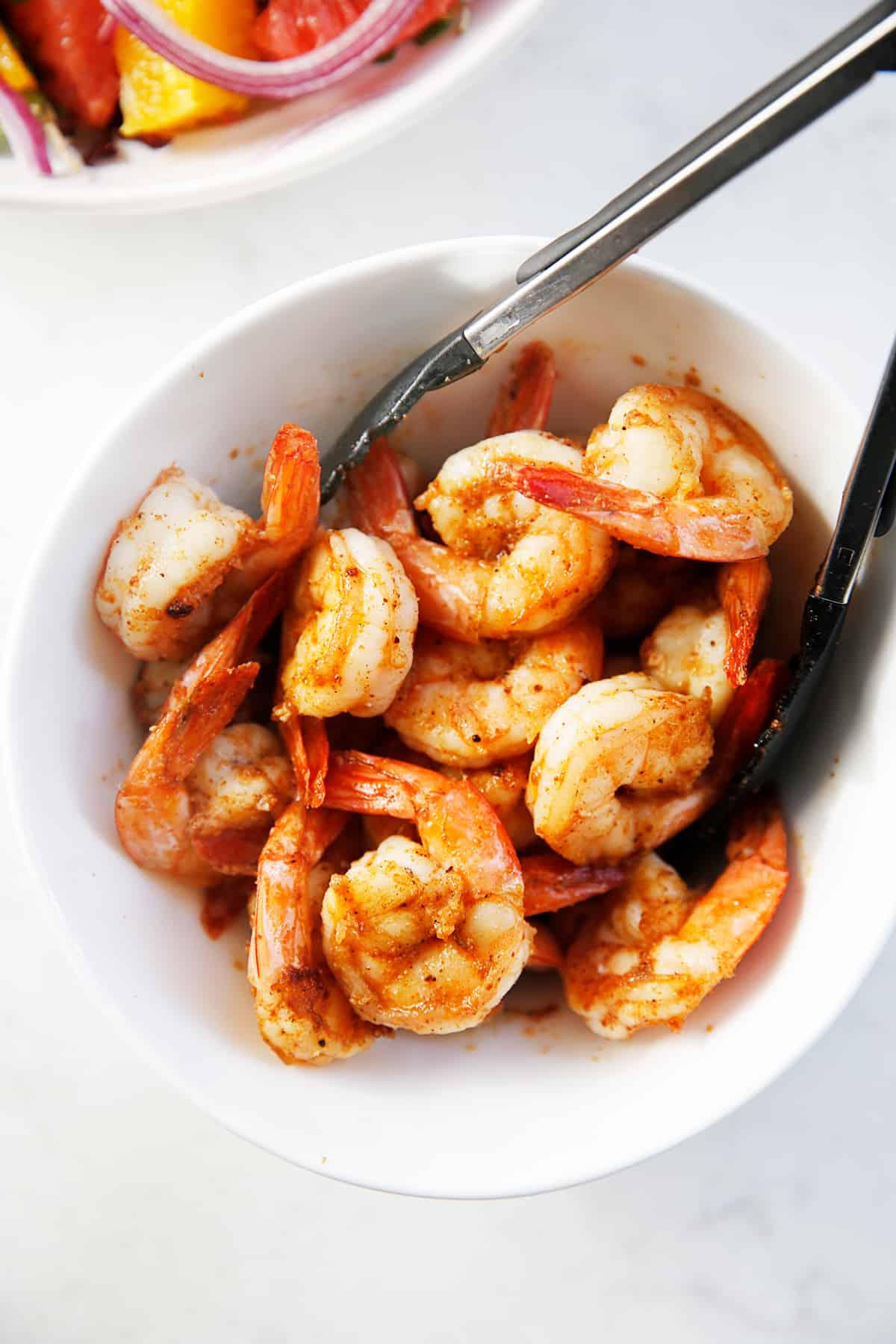 I love this zesty shrimp that cooks up in no time! It uses a few simple spices and you simply cook, let cool slightly, then serve on top of your salad! It would be delicious on top of any salad, or alone served with Herb and Garlic Quinoa, Oven Roasted Vegetables, or Homemade Guacamole for taco night! You can cook this shrimp in a skillet for ease, or if it's grilling season, throw it on the grill!
Why are citrus fruits segmented?
Citrus fruit, like oranges and grapefruit are often segmented *basically* for presentation purposes. They look gorgeous, don't you agree? When segmenting, you are removing the membrane, so you're left with beautiful pieces of the fruit that are very juicy and delicious — perfect for a salad!
How to segment an orange or a grapefruit
Place the fruit flat end down on the cutting board. Using a sharp knife, slice off the top and bottom of the orange.
Using even downward strokes, slice the skin away from the flesh and discard until completely peeled. Then, remove any remaining white pith.
Cut between as close to the membranes as possible, to segment the fruit!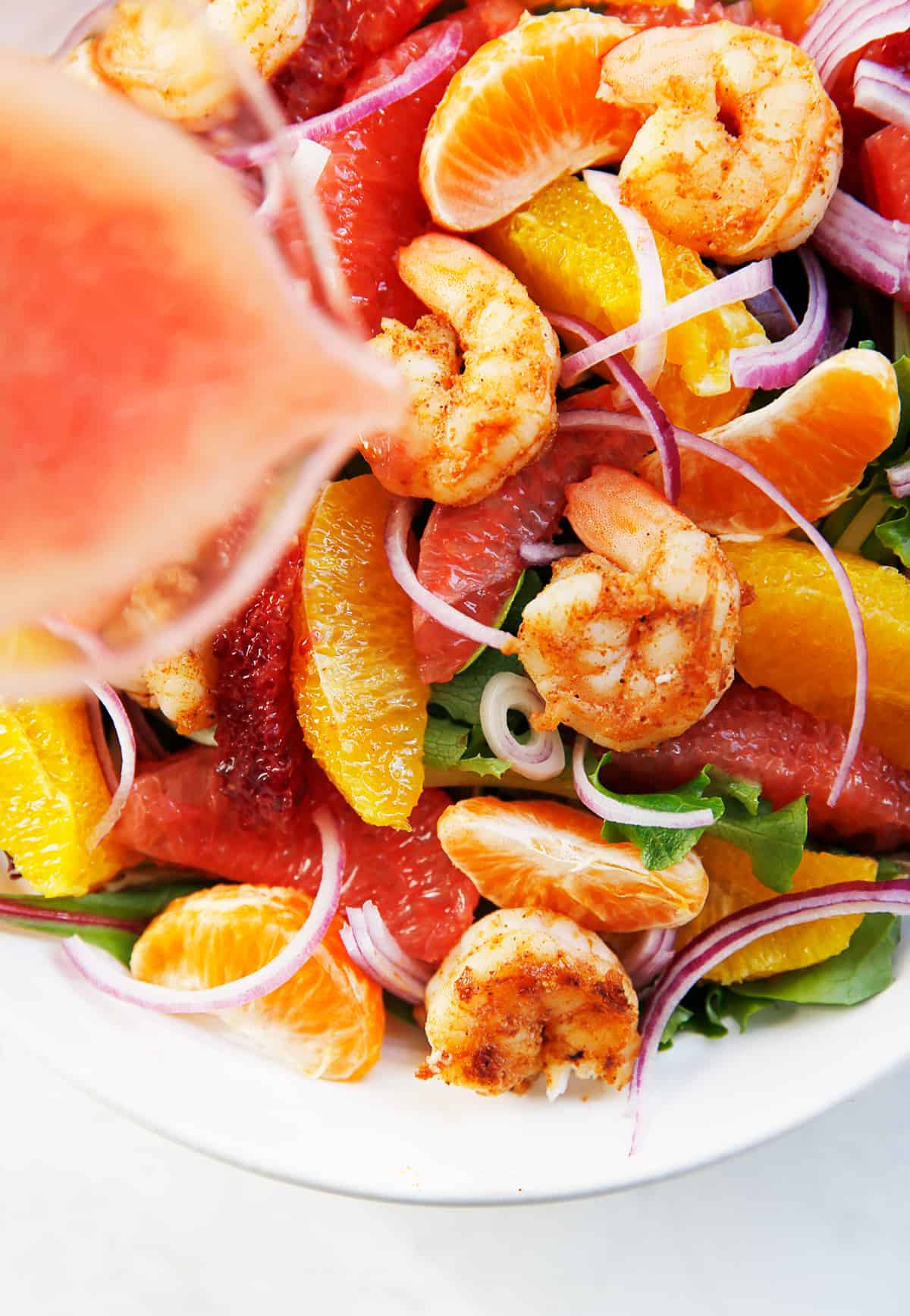 Like this salad recipe? Try these other favorite salads:
Want more shrimp recipes? Try these favorite easy shrimp recipes:
[yumprint-recipe id='340′]
---
Pin it for later:
What is your favorite way to use Winter citrus?
Spicy Shrimp and Citrus Salad
Looking for a flavor-packed dinner that's going to be a hit? This healthy chopped antipasto salad recipe with chicken is loaded with fresh ingredients and is simple to make! It's low-carb, paleo-friendly and kind of like eating an Italian sub without the bread (making it gluten-free, too)!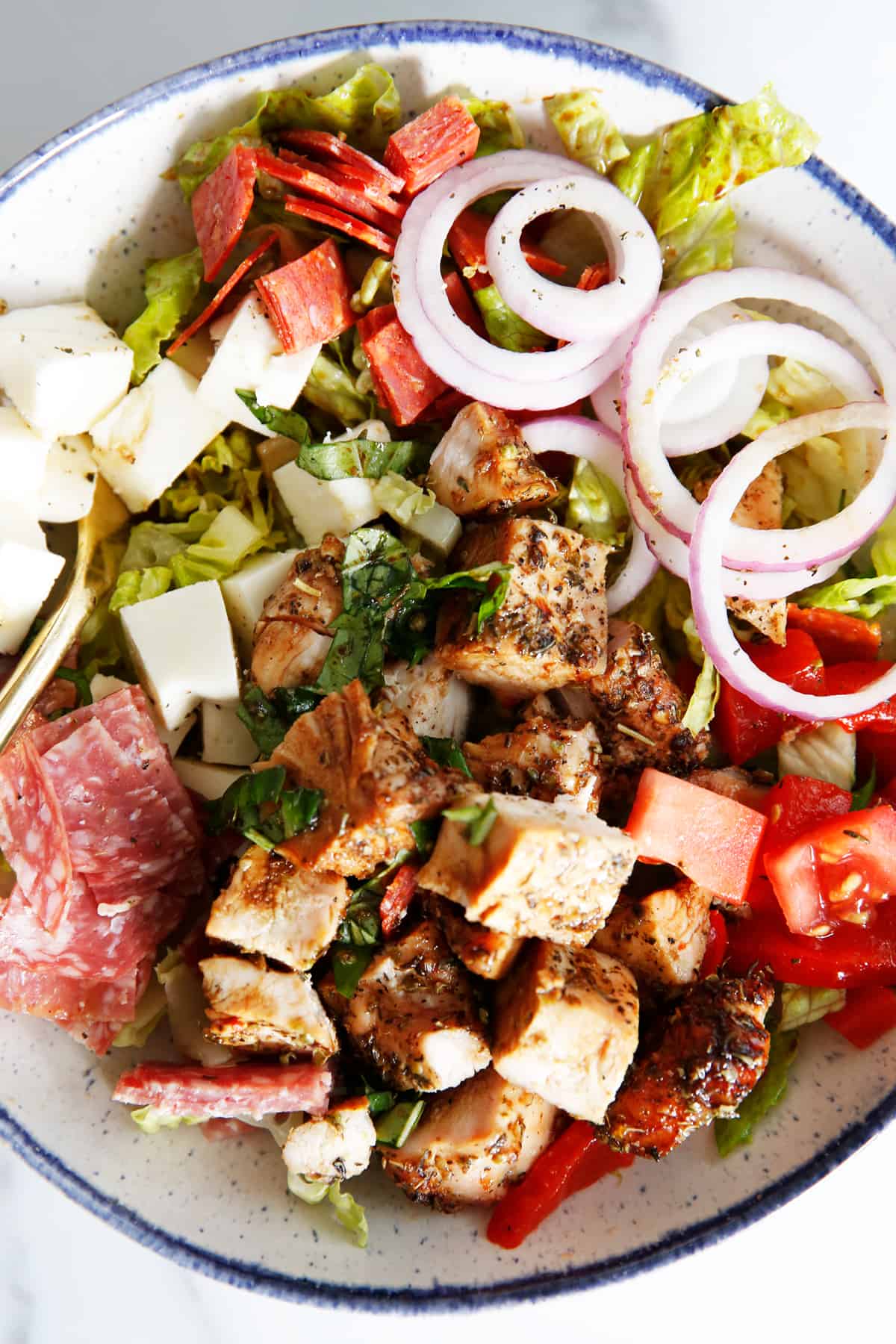 Italian Antipasto Salad Recipe with Grilled Chicken
Let's talk about what's in this easy weeknight dinner! To begin, this antipasto salad has the best marinated and grilled chicken. Secondly, this salad has all of the best Italian meats. And finally it has crisp chopped lettuce, fresh veggies and an amazing basil balsamic dressing. Have I sold you yet on eating this salad, or what?! This salad is basically an Italian sub turned into a salad with dinner-worthy chicken added in to make this hearty and delicious. This is to say, this is the perfect salad to bring to potlucks, picnics or cookouts or make it for dinner tonight!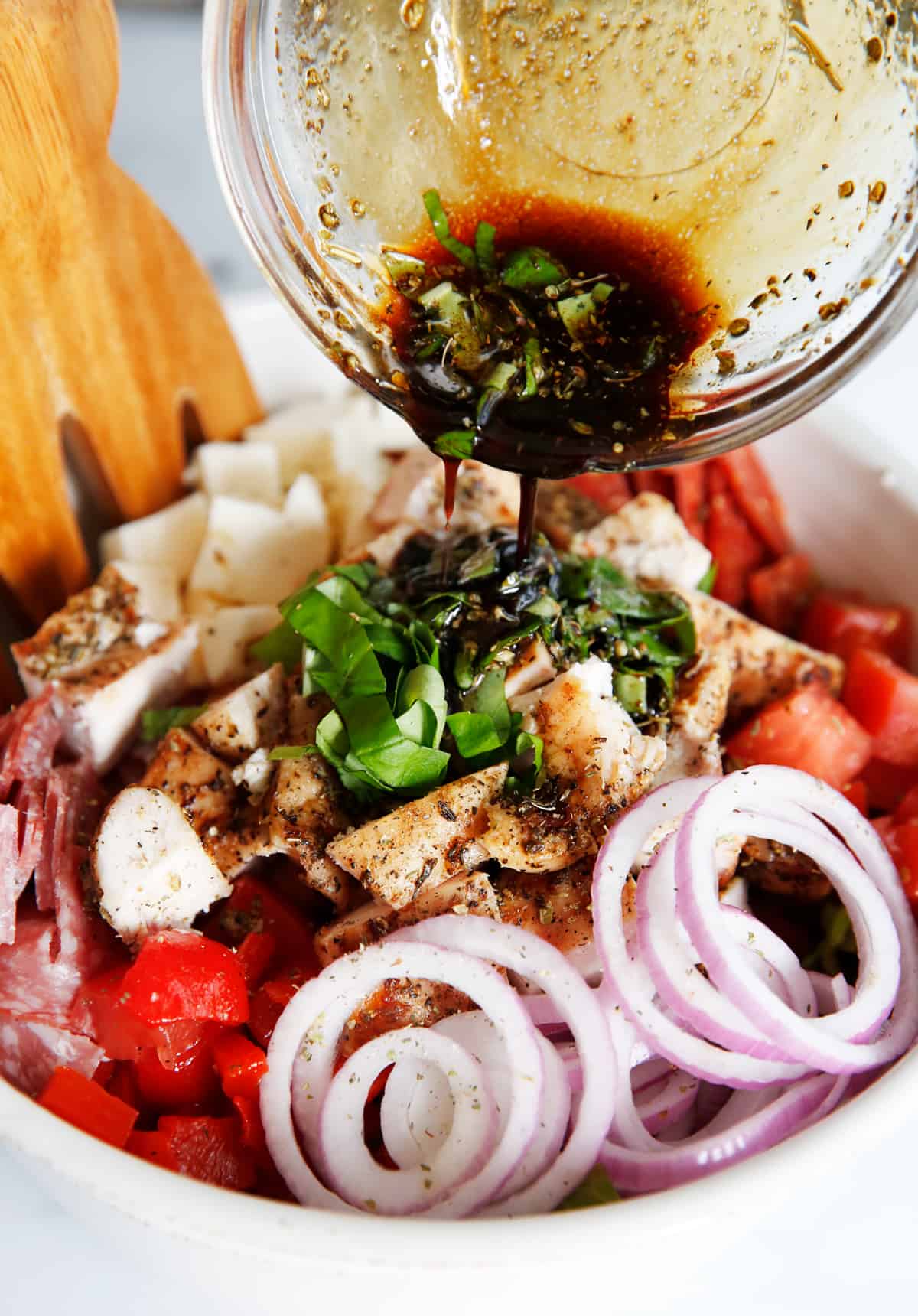 What is antipasto salad?
The word antipasto in Italian specifically refers to a pre-meal course. But in this instance I'm referring to the American style antipasto salad made up of cured meats and veggies. This antipasto salad recipe adds the extra addition of marinated grilled chicken to make it feel a little bit more like dinner. If you want an even easier meal you could skip the chicken and bulk up on the veggies for an even easier no-cook dinner recipe.
What kind of meats are in it?
The grilled chicken is the star of this dish along with classic Italian-American deli meats: pepperoni and salami! However, you can add any other Italian meats that you love. Some other great options are prosciutto, capicola or ham!
Can you make it ahead of time?
You can assemble everything for this salad about 2-3 days ahead of time, setting the dressing aside until ready to serve! Therefor, this hearty salad is a great meal prep option as well! You can make a big batch and pack some for the work week ahead.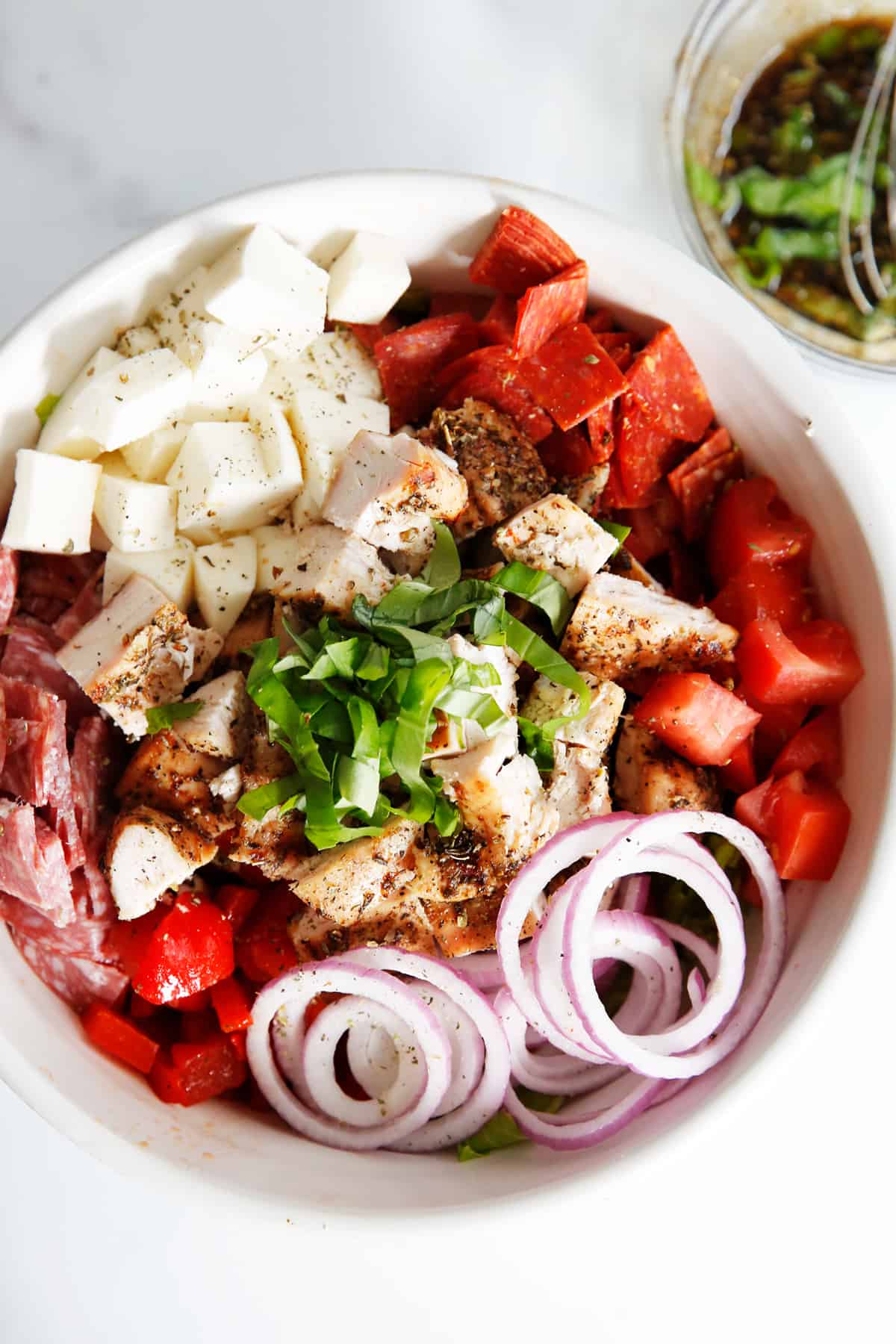 If you like this hearty salad, check out these others:
Grilled Chicken Chopped Antipasto Salad
---
---
Ingredients
Marinated Grilled Chicken
Everything else
Basil Balsamic Dressing
Directions
Chop chicken and place into a plastic bag
Add all marinade ingredients into the bag, toss, and set in the fridge for 30 minutes or longer
While marinating, chop lettuce, roasted red peppers, tomato, salami, pepperoni, and onion
Arrange in your dish
Remove chicken and heat your grill to medium heat
Place chicken on the greased grill for 9-12 minutes, flipping halfway through
Remove chicken and add to your salad plate
Take the additional 1/2 tbsp of seasoning and sprinkle over salad
In a bowl, whisk together dressing ingredients
Pour over salad and enjoy
---
Nutrition
Loading nutrition data...
Chopped Antipasto Salad with Chicken
This Sheet Pan Greek Meatballs with Veggies and Chickpeas is a delicious dinner that will make the whole family happy! The greek meatballs have a healthy dose of spinach and a nice bright lemon and herb flavor to complement the veggies and chickpeas. This largely hands-off cooking dinner is gluten-free and optionally dairy-free too!

Sheet Pan Greek Meatballs with Veggies and Chickpeas
We can't get enough of sheet pan dinners, and we're happy to hear neither can you! Sheet pan dinners are great because they minimize dishes and utilize hands-off cooking! We love this Sheet Pan Greek Meatballs with Veggies and Chickpeas for all of those reasons, but most important we love it because that flavor is so bright with a healthy does of vegetables! The meatballs are made up of chicken, spinach, lemon and greek spices and optionally feta. It's easy to leave that out if you are dairy-free but we love the salty kick it gives the meatballs.
We used a bunch of veggies like red onions, peppers and eggplants to accompany the meatballs, but it's easy to swap out for what's in season or available to you, so long as it cooks in relatively the same amount of time. The chickpeas don't get super crunchy because they're cooked with a lot of vegetables with moisture but they add some nice texture and of course a healthy dose of fiber! All together this dish is so flavorful and likely to be your new favorite sheet pan dinner!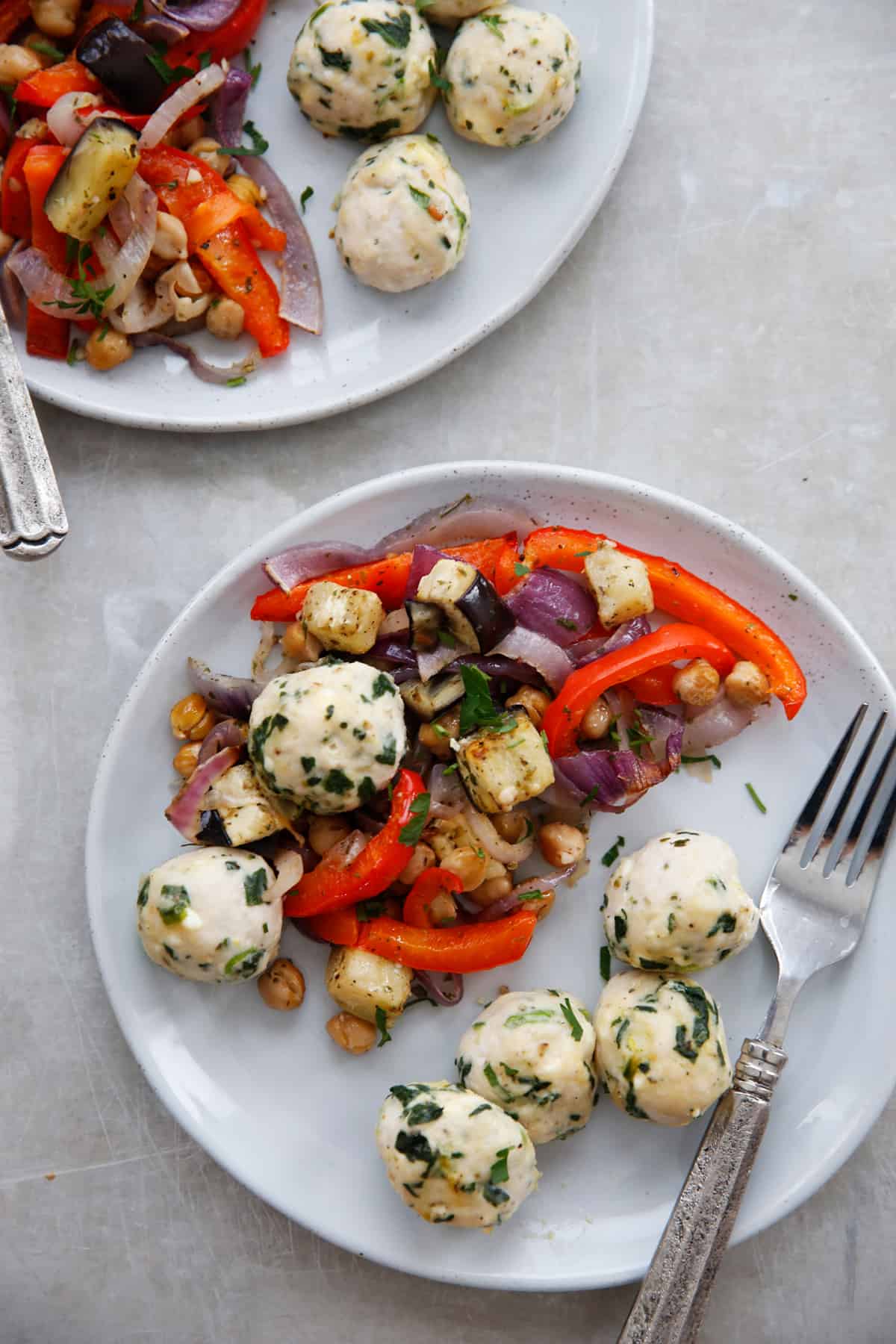 What vegetables go with meatballs?
We love recipes when they're versatile in terms of what veggies you can use, and this sheet pan dinner is no exception. We opted to use red onions, red peppers and eggplants (along with chickpeas) for this dish because they complemented the lemon and herb greek meatballs, but really you could use any veggies that would cook in the directed amount of time. Some other options:
cauliflower (small florets)
broccoli (small florets)
diced zucchini or summer squash
grape tomatoes
Tips for sheet pan cooking:
Sheet pan dinners are the best. Make sure to read the recipe all the way through (of course) and plan to use a timer! This way you can truly walk away from the oven and not have to worry about when you need to add anything for the next step.
Do the prep ahead of time: You can prepare so much of this meal the night before so that right before cooking all you have to do is cook! Chop all the veggies (minus the eggplant, which may brown if left cut overnight) and prepare the chickpeas and spices in a bowl and cover overnight in the fridge. You can also prepare the meatball mixture the night before so all you have to do is scoop them when ready to bake.
Use the correct size sheet pan. When we say sheet pan we are referring to the rimmed half sheet pan which is 18″ by 13″. The size of the sheet pan matters because you do not want to overcrowd the pan when cooking, so if you are using a smaller sheet pan you may need to use 2 to achieve the same result.
Watch the video:
If you like this sheet pan recipe, check out these others:
---
Sheet Pan Greek Meatballs with Veggies and Chickpeas
This Sheet Pan Greek Meatballs with Veggies and Chickpeas is a delicious dinner that will make the whole family happy! The greek meatballs have a healthy dose of spinach and a nice bright lemon and herb flavor to complement the veggies and chickpeas. This largely hands-off cooking dinner is gluten-free and optionally dairy-free too!
---
---
Ingredients
For Veggies and Chickpeas:
1 tablespoon oil

1- 15 ounce can chickpeas, drained and rinsed

1 red bell pepper, cored and sliced
1 red onion, cored and sliced

½ eggplant, diced to 1 inch pieces

1 tablespoon lemon juice

1 teaspoon garlic powder

1 teaspoon dried oregano

½ teaspoon salt

½ teaspoon pepper
For meatballs:
1 egg

2 tablespoons almond flour

1 teaspoon oregano

½ teaspoon salt

½ teaspoon pepper

Zest from 1 lemon

2 cloves garlic, minced
1/2 cup frozen chopped spinach, squeeze out

1/2 cup feta cheese, plus more for garnish (optional)

2 green onions

1 lb. ground chicken (white or dark meat)

parsley, for garnish
Directions
Preheat oven to 400ºF and lightly oil a 12" x 18" sheet pan.

In a large bowl mix all of the ingredients for the veggies and chickpeas and toss to combine. Place the vegetable mixture on the sheet pan, spread out evenly and bake for 15 minutes.

Meanwhile to the bowl add the egg, almond flour, oregano, salt, pepper, lemon zest and garlic and whisk until combined. Add in the spinach, feta, green onions and ground chicken and mix together.

Take the sheet pan out of the oven at 15 minutes and move the veggies and chickpeas to each side to make space in the center for the meatballs.

Using a small scoop (like a cookie scoop) portion meatballs onto the sheet pan (you want the meatballs to me on the small size, about 1" in diameter). Bake for an additional 10 minutes, or until the meatballs have cooked through to 165ºF.

Garnish with fresh parsley and serve immediately, or portion in meal prep containers and cool completely before closing the lid.
Recipe Notes
For dairy-free: leave out the feta!
---
Nutrition
Loading nutrition data...
Sheet Pan Greek Meatballs with Veggies and Chickpeas
This gluten-free and healthy Slow Cooker French Onion Soup is comfort food at it's finest. It's made using simple ingredients you likely already have in your pantry, is largely hands-off cooking, is an economical meal and is so rich and flavorful. It can be eaten as is as a light soup, or more traditionally topped with melted cheese and either store-bought or homemade bread.
Slow Cooker French Onion Soup
French Onion Soup is such a classic comfort food, it's hard not to love. If you've only eaten it at restaurants you might think it's difficult to make because it's SO rich and flavorful, but truly it isn't that hard at all! And we've made it even easier by throwing the whole thing in the slow cooker for easy, hands-off cooking! This Slow Cooker French Onion Soup is a great example of taking really basic pantry items like onions, broth and a few other simple ingredients and turning it into something amazing by slow and low cooking. Recipes using pantry staples are a great to have in your back pocket on days when you don't have time to run to the grocery store but still want to be able to cook up a great meal for your family.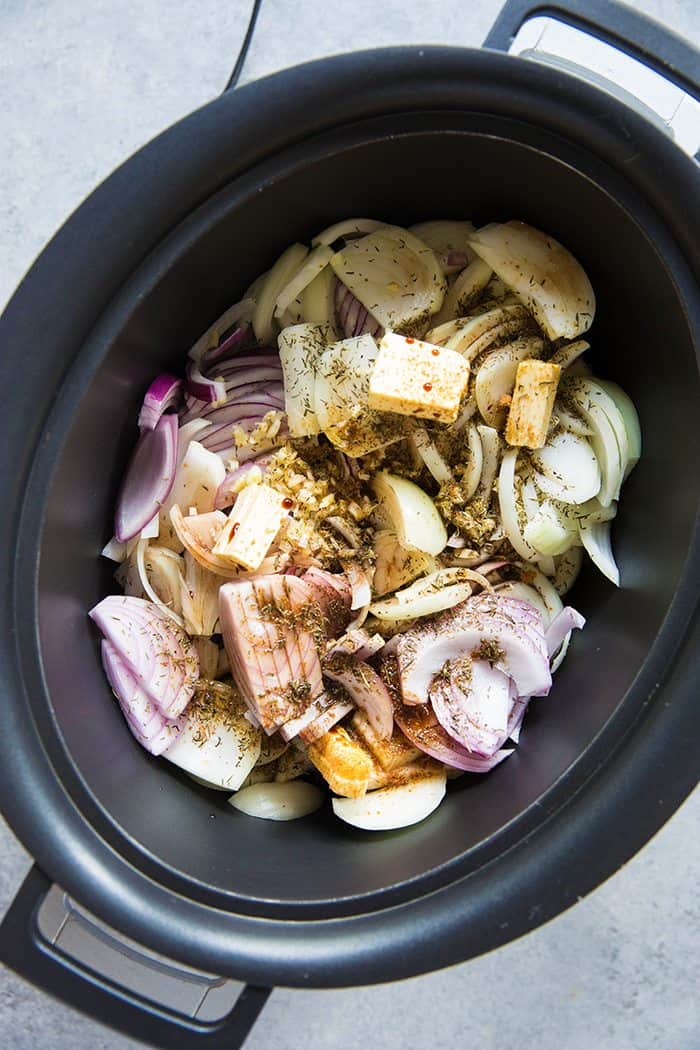 What is French Onion Soup Made Of
Traditionally French onion soup is made by slowly caramelizing onions on the stove top, which can require lots of babysitting and stirring to make sure the onions don't burn. The onions are then coated in flour and simmered for longer with broth. This Slow Cooker French Onion Soup recipe however takes all the amazing flavors of this bistro classic and tosses them all in the slow cooker to make while you are busy doing other things! The first step is to cook all the onions for about 6 hours, which doesn't require any stirring. This step can have some wiggle room if you are about and about because it's hard to burn onions in the slow cooker, so if you aren't home during the end of the 6 hours of cook time, the onions will likely be fine for 2-3 hours after. Next you simmer the onions in the broth for the remainder 2 hours of cooking time. Classic French onion soup is topped with a large crouton-like piece of bread and cheese. We've given directions on how to do this, but truly you can leave this off and this soup is still really flavorful!
What is the best onion to use for French onion soup
This Slow Cooker French Onion Soup recipes uses two kinds of onions. Yellow onion are more sweet with a really bright flavor and red onions have more depth with a touch of bitterness. Together they make a really nuanced and flavorful french onion soup!

Can you cook French Onion Soup in the Instant Pot?
The short answer is: yes! We've included the directions for cooking this soup in the Instant Pot in the notes section of this recipe. However we have to say that it is a little bit more hands on cooking than the slow cooker version.
If you like this slow cooker SOUP recipe, try these other favorites:
Want to try other crock pot comfort food favorites? Try these:
Watch the video:
---
[yumprint-recipe id='389′]
Slow Cooker French Onion Soup (Gluten-Free)
This Lemon Basil Shrimp Salad is tangy with a kick and the perfect refreshing lunch or light dinner on a summer day! Simply toss everything in a bowl, taste, and devour! Check out the video below for how to make it.
Lemon Basil Shrimp Salad Recipe
Don't you love easy, 1-bowl, super flavorful lunches or dinners? This Lemon Basil Shrimp Salad is light on the prep but heavy on the deliciousness. Eat this tossed shrimp salad in a lettuce cup, over a bed of grains or all by itself! It's my favorite meal to whip up super quickly that has so much flavor! The options are endless!
Here's what you need to make it:
1 lemon
rice vinegar
olive oil
garlic
fresh basil
sriracha
honey
dijon mustard
1 lb. (about 15-20) large cooked shrimp
cherry tomatoes
1 red onion
1 avocado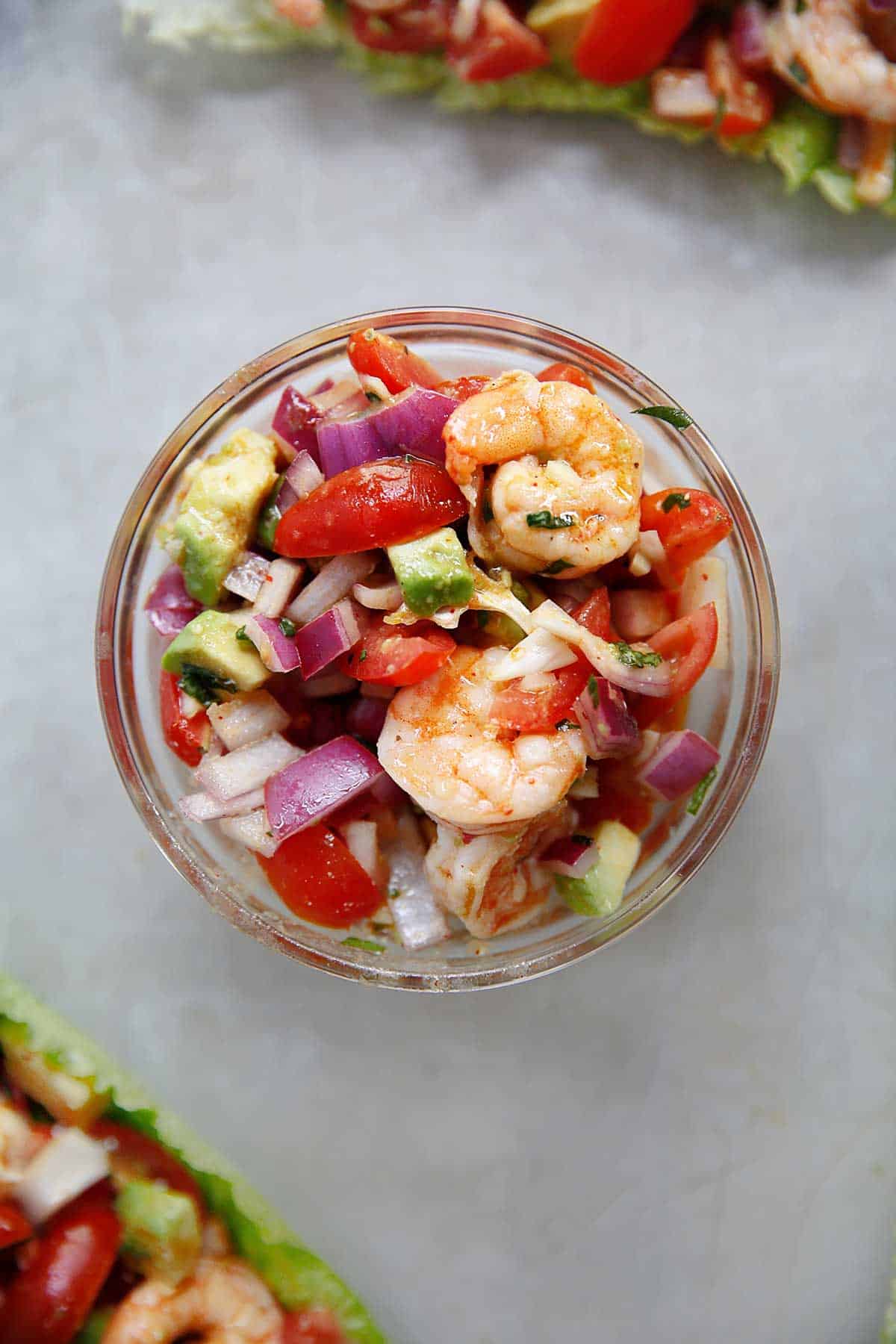 Can't buy precooked shrimp?
This shrimp salad recipe calls for fully cooked shrimp. If you can't buy them, you can starting with raw shrimp. Clean, devein, and remove the tail. Cook in a small skillet with oil of choice, salt, and pepper until pink, fully opaque and fully cooked through.
Can this be made ahead of time?
You can make this day up to 1 day ahead of time, but ideally served within a few hours after making it.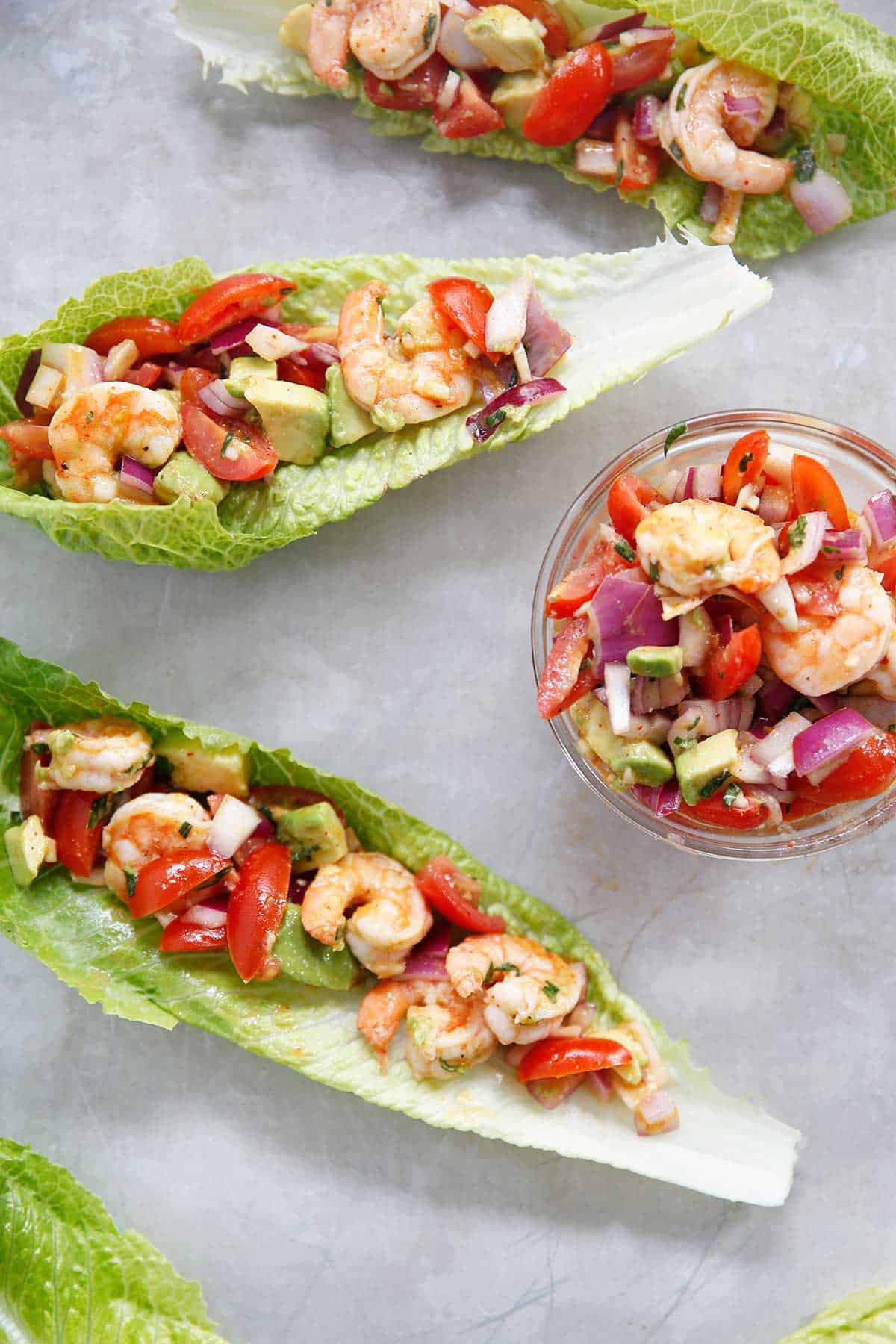 Like this shrimp recipe? Check out these others:
Watch the video here:
---
Lemon Basil Shrimp Salad
---
---
Ingredients
15/20 large shrimp, roughly chopped
1 cup grape tomatoes, diced
1 red onion, chopped
1 avocado, diced
1 tablespoon fresh basil, more for garnish
Lemon-Basil Marinade
Directions
In one bowl combine cooked shrimp, grape tomatoes, onion, avocado and basil and set aside.
In another bowl combine marinade ingredients and mix well, taste and add more ingredients to your liking.
Pour marinade over shrimp salad and toss.
Serve in a lettuce leaf, garnish with fresh basil, and serve with additional lemon if desired.
Recipe Notes
If you are starting with raw shrimp. Clean, devein, and remove the tail. Cook in a small skillet with oil of choice, salt, and pepper until pink, fully opaque and fully cooked through.
You can also use about 30 whole baby shrimp instead of the large.
---
Nutrition
Loading nutrition data...