These Pickled Onions are the perfect way to brighten up any dish. They're easy to make and are fresh, tangy, and delicious served on salads, tacos, sandwiches, burgers, you name it!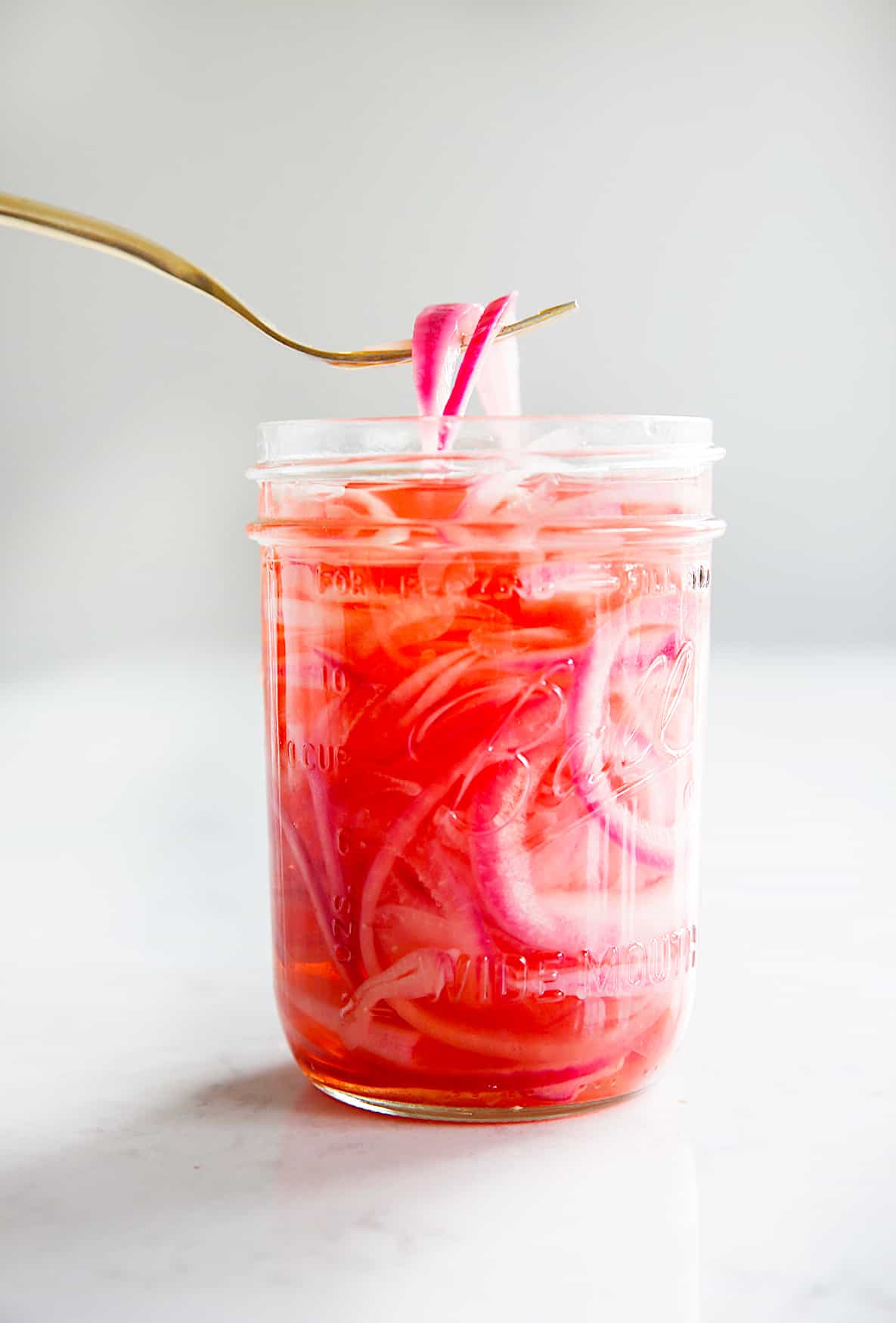 Easy Pickled Red Onions
You've probably had pickled onions in certain dishes at restaurants. You've maybe even bought a jar at the store to add to your own recipes. But do you know how to pickle red onions all on your own?
This quick pickled red onions recipe is so simple, requires just 5 ingredients, and is ready to serve in under an hour!
Ingredients Needed
Here's what you'll need for this pickled onion recipe:
Onion: I love the flavor of red onions, but you can use white or yellow onions if you prefer!
Water:

A little bit of water helps tone everything down just enough for the perfect balance of flavors.

Apple Cider Vinegar: The sweeter flavor of apple cider vinegar complements the flavor of red onions deliciously, but feel free to use white vinegar, rice vinegar, or even red wine vinegar if that's what you have on hand.
Maple Syrup: A little bit of natural sweetness helps offset the tangy, tart flavors of the other ingredients.
Salt: Enhances the flavors in the pickling mixture.
Variations
Make Them Garlicky. Give your onions a garlicky flavor twist by slicing up a couple of cloves and adding them into the mix.
Make Them Spicy. Add a little bit of heat with peppercorns or freshly cracked black pepper, red pepper flakes, or even sliced up habanero or jalapeño peppers.
Make Them Citrus-y. Give them a little extra tang with a squeeze of lime juice. I bought some with lime juice from a farmers market recently, and really liked the flavor!
How to Make Pickled Onions
This simple pickled onions recipe comes together in just a few minutes! Here's a summary of the recipe. Scroll to the recipe card below for full instructions and ingredient amounts.
Cook the pickling mixture: In a saucepan, mix together water, vinegar, maple syrup, and salt. Bring to a simmer.
Combine with onions: Add sliced onions to a mason jar, then pour the hot vinegar mixture over the top. Use a spoon to press the onions into the vinegar and pop any air bubbles. Cool to room temperature for 20-30 minutes, then serve or store in the fridge.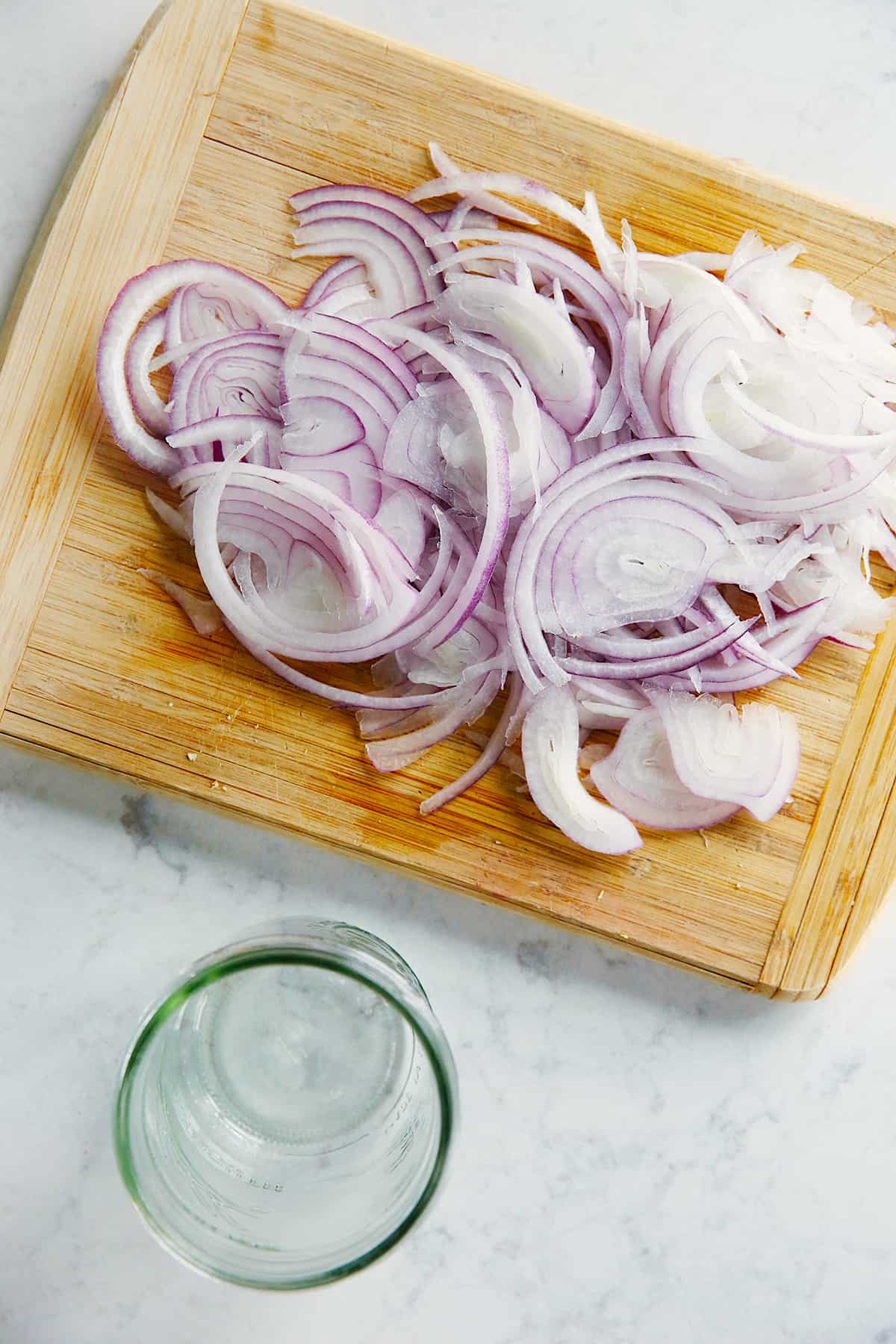 Do You Have to Brine Onions Before Pickling?
Nope! Some people choose to soak their onions in a salt water mixture before pickling, but I don't find it necessary.
In theory, this step draws out extra moisture to keep the texture of the onions nice and crisp even as they sit in the vinegar mixture. However, since we're pickling quickly, there isn't a big risk of the onions becoming overly mushy. Might as well save the time!
Can You Pickle with Just Vinegar?
In theory, yes, but I highly recommend using the couple of additional ingredients listed.
Water and salt helps balance out flavors and maple syrup offsets the bitterness of the onion and vinegar. Without those, your pickled onions will be much more pungent!
Can I Can These Quick Pickled Red Onions?
No! Please do not try to can these pickled onions. This recipe is a quick "refrigerator pickle" recipe. It's not designed for canning and has not been tested for longer storage.
If you do want canned pickled red onions, I recommend finding a recipe designed for that!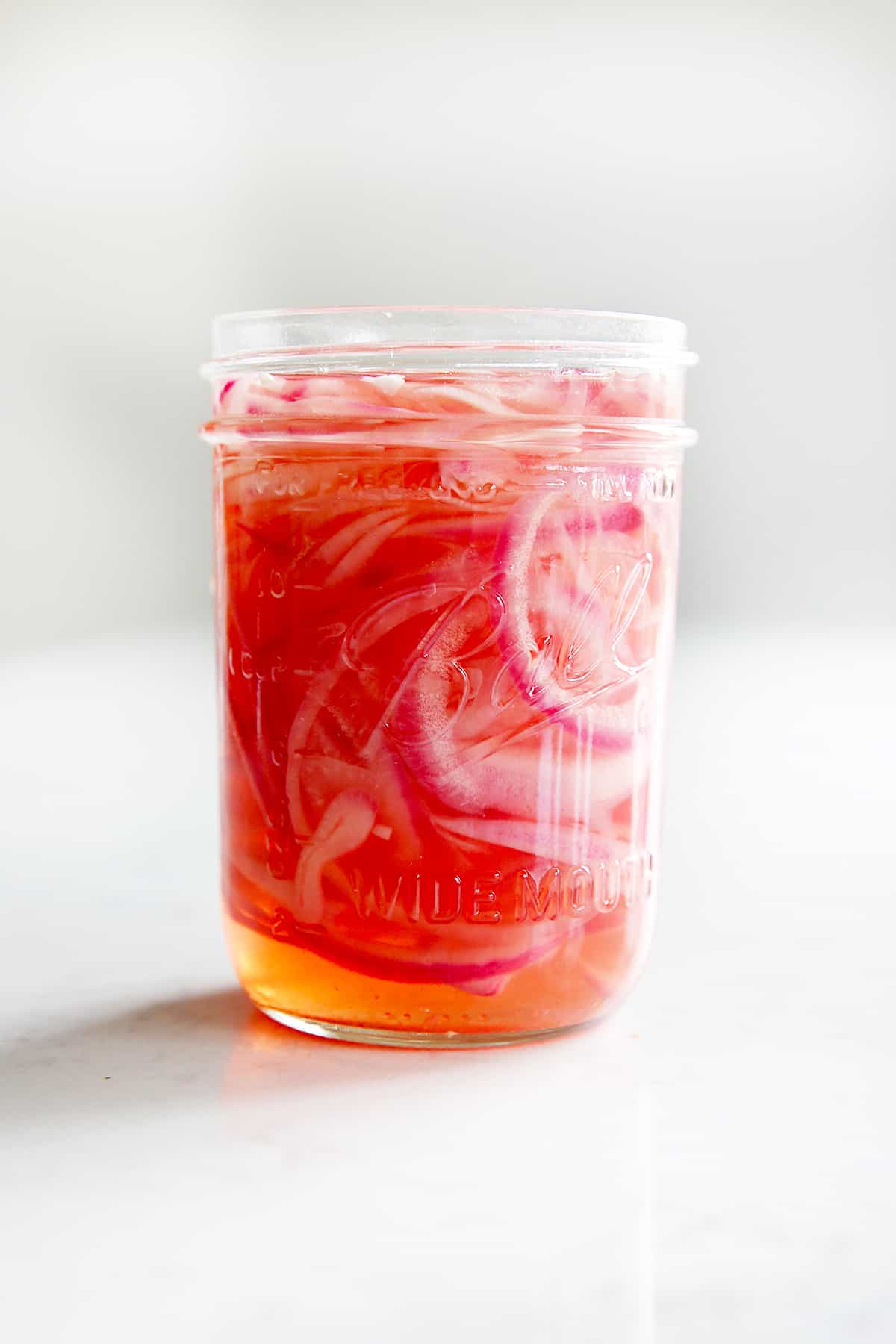 Tips and Notes
Slice the onions thinly. Around 1/4-inch thick is just about perfect for me. Any thicker and the onions will take longer to pickle fully.
A mandolin works best but a knife is fine, too. If you have one, the easiest way to thinly slice the onions is using a mandolin (if you're scared of one, ignore this tip). If you don't have one, you can use a sharp knife. Just be very careful.
You can tell the ones are done pickling when they're a brighter pink color and they become nice and tender. The liquid will also have cooled down.
Let them cool. to room temp before you put them in the fridge. This goes for anything hot, but especially these!
Extra pickling liquid? You can use it to pickle anything! Cucumbers, jalapeños, carrots, cabbage, you name it. Pretty soon you'll be pickling everything!
What Do You Eat with Pickled Red Onions?
And it doesn't stop there! These pickled onions make an excellent addition to so many different recipes. Feel free to get creative with it!
How Long Do Pickled Onions Last?
For ultimate freshness, I recommend enjoying your pickled onions within 3 days. However, they will last in an airtight container in the fridge for anywhere from 2-3 weeks.
More How-To Recipes To Try
Watch The Video: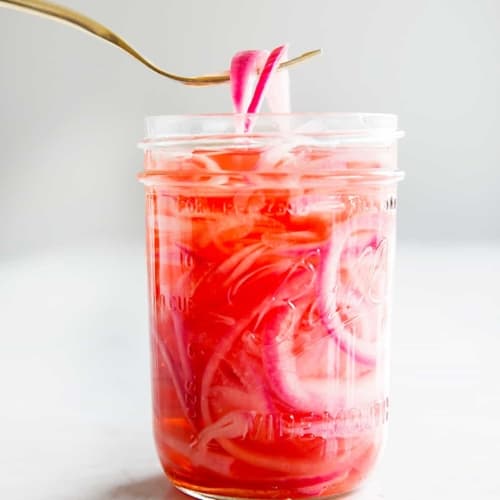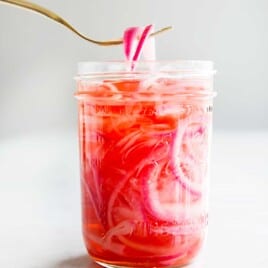 Pickled Onions
These Pickled Onions are the perfect way to brighten up any dish. They're fresh, tangy, and delicious served on salads, tacos, sandwiches, burgers, you name it! 
Ingredients
1

medium red onion

thinly sliced

1

cup

water

1/2

cup

apple cider vinegar

or white vinegar

2

teaspoons

maple syrup

1 1/2

teaspoons

sea salt
Instructions
In a small saucepan, combine the water, vinegar, maple syrup, and salt. Bring the mixture to a gentle simmer over medium heat.

Place the thinly-sliced onions into a mason jar.

Pour the hot vinegar mixture over the onions, use a spoon to press the onions down into the vinegar, and let them cool to room temperature (about 30 minutes), at this point they should be sufficiently pickled for serving, but longer the better here!

Cover the jar and refrigerate leftover pickled onions for later! These quick pickled onions are best  within 3 days, but they keep for 2 to 3 weeks in the refrigerator and fabulous on salads, bowls, tacos, with eggs, and more!