Quick Restaurant-Style Salsa
Nothing tastes better than fresh homemade salsa! This restaurant style salsa is SO easy to make, much less expensive than buying it in the store and customizable to suit your exact tastes. Get this BEST EVER salsa recipe right now, grab your ingredients (likely already in your pantry) and serve it up with your favorite chips or tacos.
Easy Restaurant Style Salsa
Have you ever gone to a restaurant and been served salsa and chips and realize, just as your meal is coming, you aren't hungry anymore because you've devoured so much of the them? Same. And same thing will happen at home with this delicious restaurant-style salsa! It's delicious and fresh tasting (all while using mostly pantry staples) and a CINCH to put together. Seriously it takes like 5 minutes from start to finish. Serve as is, or pair with your favorite taco recipe (we've got a few you might like).
Ingredients Needed for Salsa
Canned Diced Tomato (this is essential for that restaurant style taste)
Canned Green Chiles
Garlic Clove
White Vinegar
Tomato Paste
Red Onion
Diced or Grape Tomatoes (you can omit if you don't have them, but this gives the salsa a bit of a fresh feeling!)
Salt
How to Make Salsa in a Blender
This explanation is going to be short and sweet because all you need to do to make restaurant style salsa in the blender is place all of the ingredients in the blender and give it a few pulses! That's it. Depending on what type of blender to use, just start off with two pulses and then check to see the consistency. Keep pulsing with the blender until it is the right consistency for you. I found 3 pulses were enough to blend my salsa! This can also be done in a food processor.
Do I need to use fresh tomatoes for salsa?
NO! While you definitely can, we made a version that comes together so quickly, doesn't require fresh tomatoes, and tastes just like the restaurant salsa you know and love!
Customize your Salsa
This recipe is pretty basic. Feel free to add in some other flavors or ingredients to customize it the way you want. Here are some ideas:
You can use fresh tomatoes if you have an abundance on hand: now, it will taste less like restaurant style salsa, but can be pretty darned delicious.
Add in fresh herbs: grab some fresh cilantro!
Add in some spices: have some fun with some smokey flavor with either smoked chipotle peppers or even smoked paprika. Other spices? Cumin, chili powder, black pepper, and garlic powder!
Want a kick? Add fresh jalapeño! Remember, the seeds are the spiciest part. Know your audience, too.
Make it different: add in roasted red peppers for a unique twist.
Add in some bonus items: you can add fruit, such as pineapple or mango for a tropical twist.
Brighten it up: once you make it, taste and if you want a little something extra, add a little fresh lime juice.
How long will homemade salsa last?
It should last for roughly one week in the fridge in a sealed container!
Serving salsa:
It goes great with so many things, like our Homemade Guacamole, 15-Minute Chicken Tacos, Two-Ingredient Salsa Chicken (Instant Pot or Slow Cooker), and as dressing on our Taco Salad!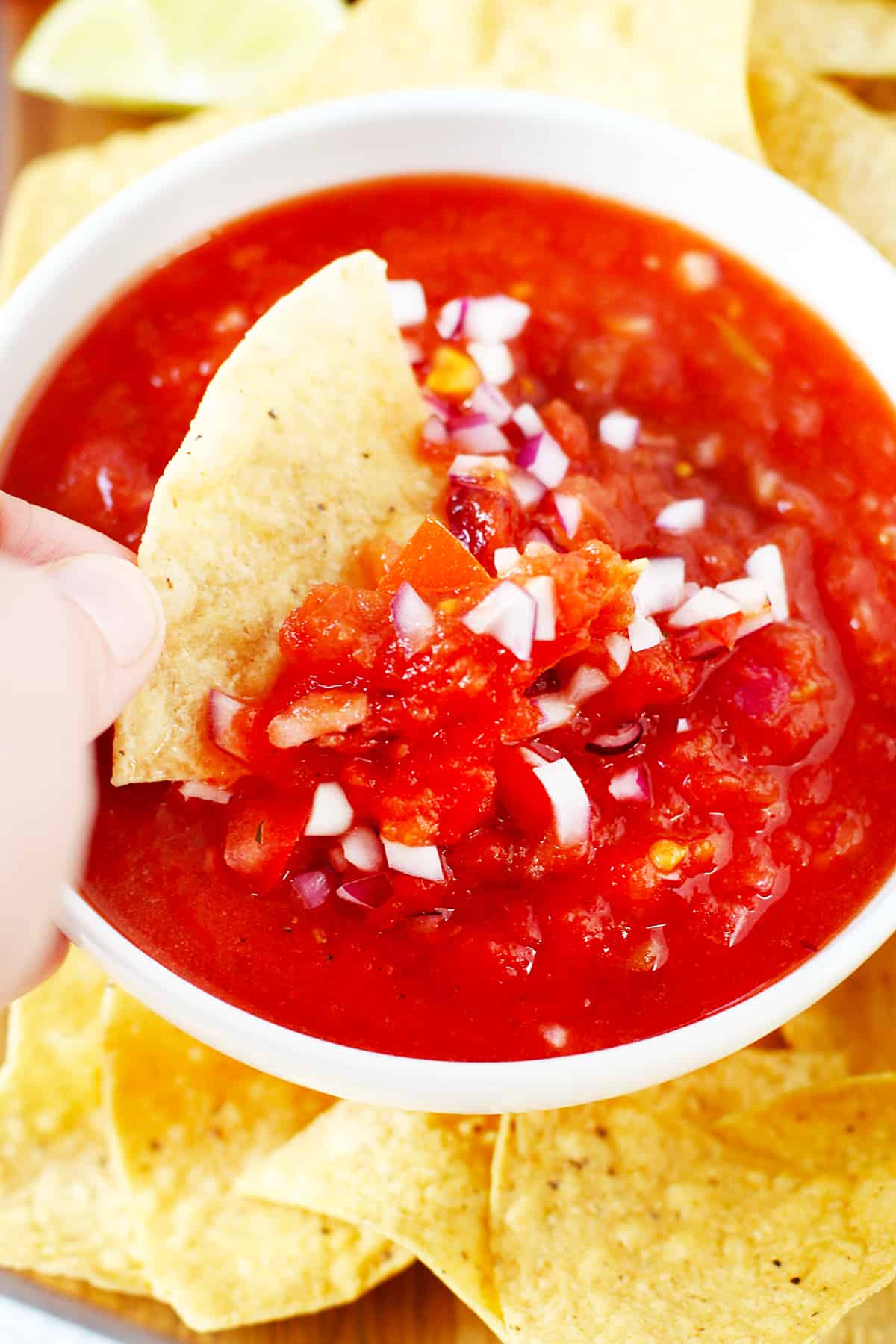 If you like this salsa dip recipe, check out these other appetizer dips we love:
[yumprint-recipe id='241′]
Quick Restaurant-Style Salsa
This Corn Avocado Salsa recipe is a quick and delicious side to serve up with just about anything! This cool summer side dish is easy to make and is gluten and dairy free!
Avocado and Corn Salsa Recipe
This is the perfect summery side dish to serve when the weather is HOT. This Avocado and Corn Salsa comes together quickly. It is the perfect easy side dish to throw together and flies off the table! This dish is served great with nearly anything, but we especially like it for other quick cooking summer dishes like this Blackened Fish, quick Chicken Tacos or this Garlic and Lime Grilled Steak.
Corn Salsa Ingredients
Fresh Corn on the Cob
Red Onion
Cherry Tomatoes
Avocado
Olive Oil
Lime
Cilantro
Salt and Pepper
Methods to Cook the Corn
The only piece of this salsa that needs to be cooked is the corn! There are a few different methods you can use to cook it. You can quickly boil it, as we suggest in the recipe. Or you could grill it! Additionally you can also cook corn in the Instant Pot using these directions here.
If you like this avocado recipe, check out these others:
If you like this side dish, check out these others:
[yumprint-recipe id='40']
Avocado and Corn Salsa
Looking for an easy weeknight meal? This easy and healthy Taco Salad recipe is it! It's simple to prepare, deliciously satisfying, and customizable with your favorite taco toppings! Made in under 30 minutes, it's the perfect family friendly dinner that is also gluten-free, Paleo and Whole30 friendly.
Taco Salad Recipe
Taco night can't come easier when traditional ground beef tacos are turned into taco salad bowls! This easy and healthy Taco Salad recipe is most definitely going to be a crowd favorite. It's delicious, so customizable and best of all easy-breezy to make! We take the classic flavor of a ground beef taco with seasoned meat and toss it together with all the usual suspects like romaine, avocado, tomato and (optionally) cheese. To make it easy-as-can-be, use a store bought salsa to help season the meat and to use as a dressing on the assembled salad. It works well with both a red salsa and a green salsa verde.
Want to make it a taco salad bar? If you have picky eaters in your family leave all the different salad ingredients in small bowls and let everyone make their own taco salad bowl! Plus the little ones will think it is fun and just might be tempted to try something new!
Ingredients for Taco Salads
Ground Beef
Spices

Salsa

Romaine lettuce

Cherry tomatoes

Red onion

Pickled jalapeños

Cheddar cheese (optional, omit for Whole30 or Paleo)

Avocado
Want to customize it to your favorite taco topping? Swap out what you don't have or don't like with what you've got on hand. Some other great additions are:
Canned beans
Shredded kale
Corn
Crushed up tortilla
Shredded chicken or pork
Hot sauce
How to Make Taco Salad
This couldn't be easier! All you have to do to make this dish is:
Brown some ground beef and add the spices
Mix up your taco fixings in a large bowl
Divide among plates and top with cooked ground beef
Serve with a side of salsa or hot sauce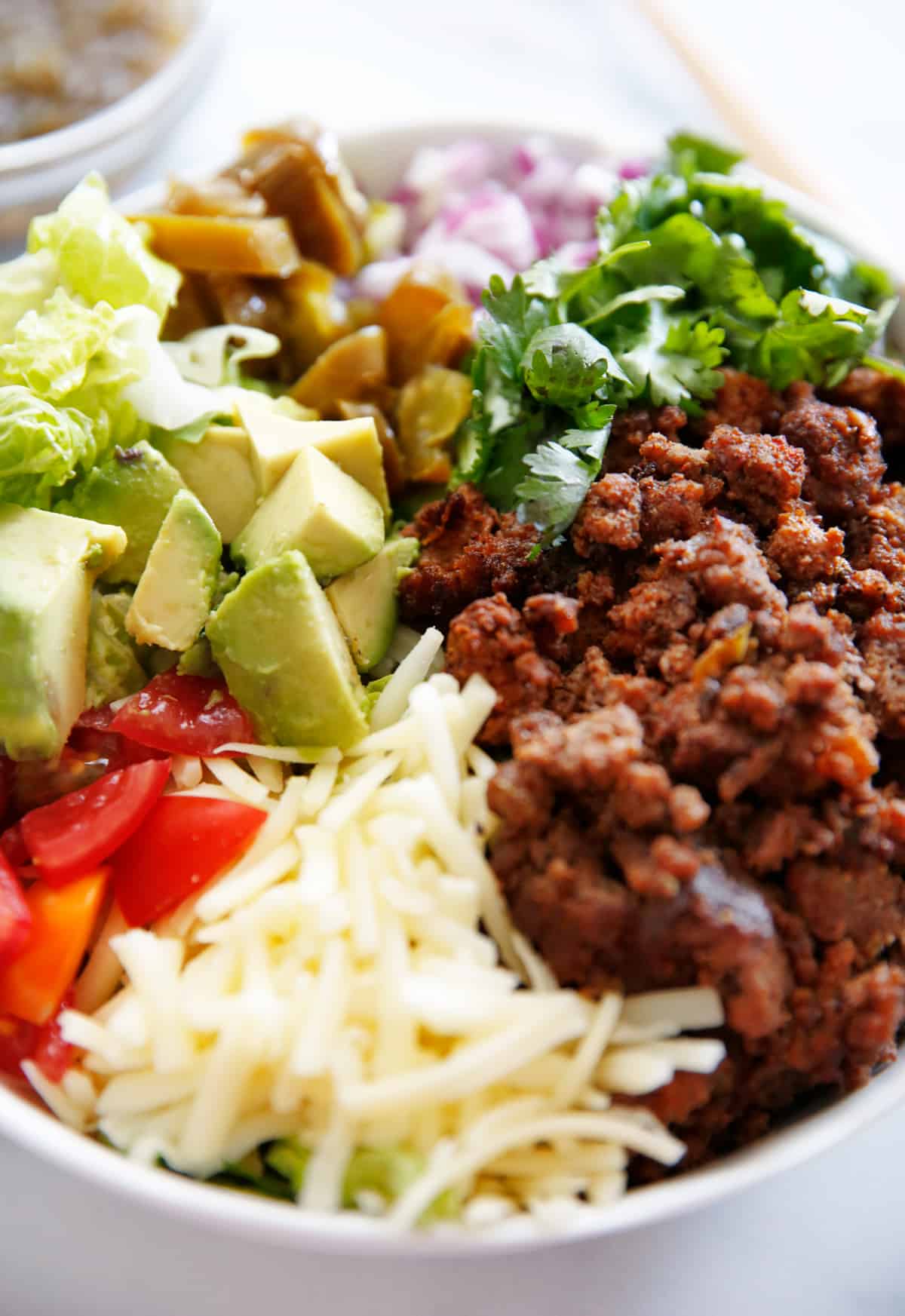 If you like this simple and healthy salad recipe, check out these others:
Healthy Taco Salad
Looking for an easy weeknight meal? This Easy and Healthy Taco Salad recipe is it! It's simple to prepare, deliciously satisfying, and customizable with your favorite taco toppings! Made in under 30 minutes it's the perfect family friendly dinner that is also gluten-free, Paleo and Whole30 friendly.
---
---
Directions
Heat oil in a skillet over medium heat. Once hot add beef and cook until browned, about 8 minutes. Drain excess fat. Add all of the spices to the beef and ¼ cup salsa and cook for 2 more minutes. Remove from heat and set aside.
Meanwhile assemble salad: In a large bowl toss together lettuce, tomatoes, red onion, jalapeños, and cheese. Divide between 4 bowls and top with ground beef.
Serve with remaining salsa on the side for dressing.
---
Nutrition
Loading nutrition data...
Taco Salad
This Strawberry and Mango Salsa Chicken is the perfect light dish on a spring or summer night! It has contrasting sweet and savory flavors that make it so good! This mango chicken is also easy to put together and pairs so well with many other dishes! It's gluten-free and paleo too!
Grilled Mango Salsa Chicken Recipe
With grilling season upon us, this Grilled Strawberry and Mango Salsa Chicken should be on weekly rotation! We can't get enough of grilling with a touch of sweetness! The best part of this delicious dish is that it's simple to prepare, and EVERYONE is going to love it! The chicken is marinated in a sweet mango puree and then grilled to perfection and topped with a fresh mango and strawberry salsa. It's gluten-free, paleo and just dang delicious!
Why We Love Mangos
Did you know that mangos provide 100% of your daily vitamin C, 35% of your daily vitamin A and 12% of your daily fiber? And they're super delicious, of course! They are rich in antioxidants as well, which help fight free radicals. A diet rich in mangos and other vitamin C rich fruits can help aid in improving gut health as well!
How do you cut a mango?
There are a lot of different methods out there for cutting mangos. Some say to peel the mango and slice. We found the easiest way is to slice off two chunks of the mango on the flat side. Then cut up the pieces while it's still in the skin and then scoop it out.
Alternatively you could also cut the mango halves, then using a glass similar in size scope out the mango in one large chunk. Then dice it up!
Can you swap out other fruits?
We love this with mango and strawberries, but you could probably substitute a few other sweet fruits here, such as pineapple or peaches!
Using a Grill Pan or a Grill
Our first choice for cooking this recipe is to cook it on an outdoor grill. Since this chicken has a sweet mango marinade, cooking it on the grill where there is more air circulation is better and there is less likely of a chance to burn. However, we have tested it on a grill pan and it works, but you shouldn't leave too much of the marinade on the chicken before placing on the pan to grill since it has a tendency to burn before it is cooked through.
If you like this grilled chicken recipe, check out these others:
[yumprint-recipe id='355′]
Strawberry and Mango Salsa Chicken
These Mahi Mahi Tacos With Tropical Salsa are the perfect low-carb, light and healthy lunch or dinner! The crunch of the lettuce with the creamy tropical salsa and perfectly spiced fish makes for taco perfection. These flavorful fish tacos will be loved by all and are also dairy-free, gluten-free, paleo and whole30 friendly.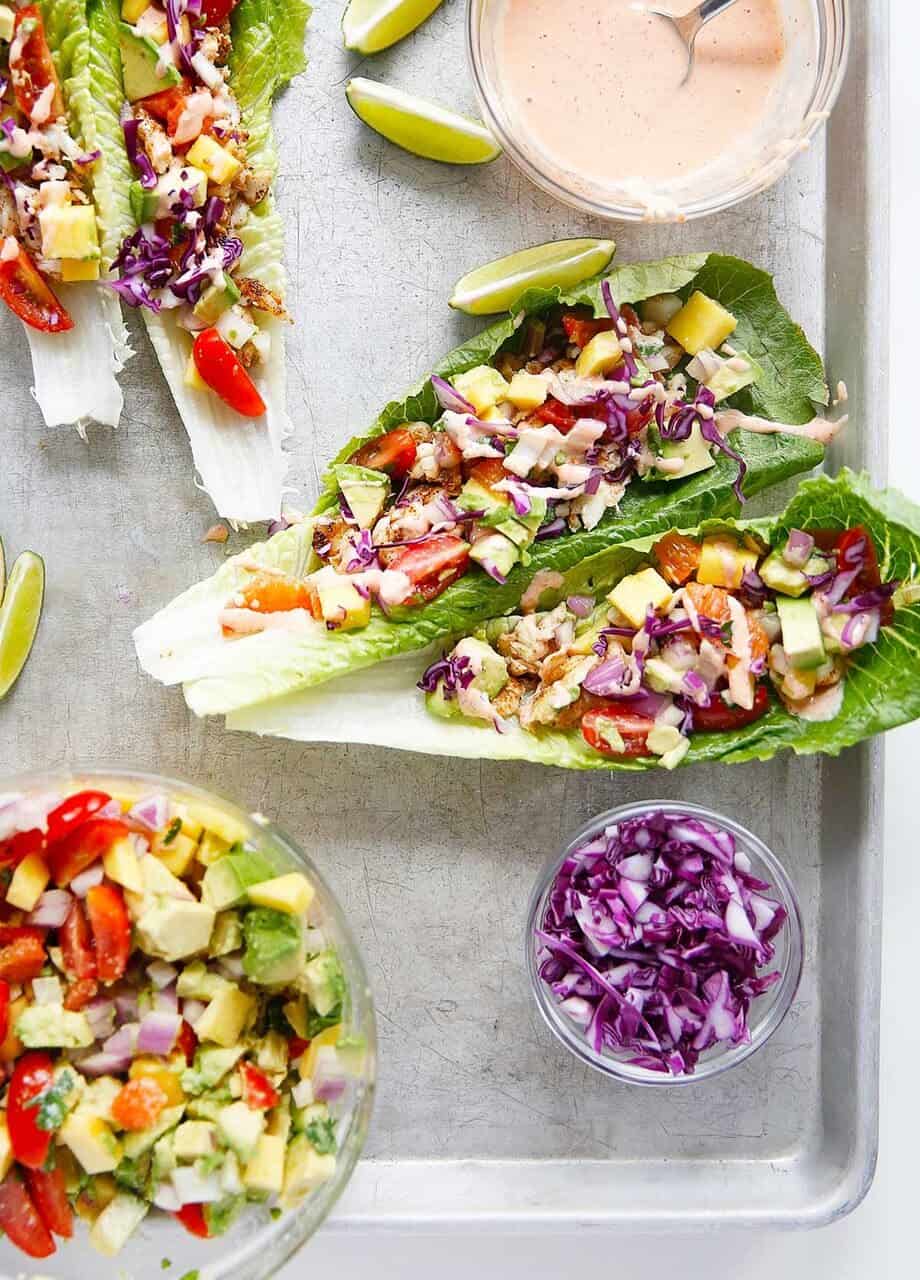 Mahi Mahi Tacos with Tropical Salsa
These Mahi Mahi Tacos are everything! And when served alongside this outrageously flavorful tropical salsa and drizzled with a sriracha mayo it makes just the perfect combination of spiced, tangy, creamy and bright tacos! And the best part about this dish is that it truly is easy to put together! The most "work" this recipe requires is some chopping and cooking of fish. Other than that it's basically just assembly!
How to Make Mahi Mahi Tacos
Like most fish, cooking Mahi Mahi is quite simple and quick! There is a blackened style spice mix rubbed over the fish first, and then it is cooked on a grill pan! Here are the spices used:
chili powder
cumin
garlic powder
onion powder
salt and pepper
How to make the tropical salsa:
This tropical salsa has an explosion of different flavors and textures! It has sweet mango and oranges, with creamy avocado and bright tomatoes and of course lime juice and cilantro! All you have to do is dice up the ingredients and toss it all in a bowl for serving.
What to serve with these tacos:
You can serve these Mahi Mahi tacos either in a romaine lettuce leaf for crunch low carb option, or in hard taco shells! We recommend serving it with some lime wedges, shredded cabbage and a spicy sriracha mayo! It also might be really nice with this easy cabbage slaw.
If you like this taco recipe, check out these others:
If you like this seafood recipe, check out these others:
Mahi Mahi Tacos with Tropical Salsa
---
---
Ingredients
For the fish
1 mango, diced
1 orange, diced
1 avocado, diced
1/2 red onion, finely chopped
1 cup grape tomatoes, chopped
2 tablespoons lime juice
1 teaspoon cilantro
1 teaspoon ground garlic from garlic mill
Homemade Spicy Sauce
1/4 cup organic mayonnaise, homemade or store-bought
2 tablespoons Sriracha
Ingredients for Assembly
Directions
In a bowl combine seasoning for the fish; season fish and place in the fridge until ready to cook.
In a medium mixing bowl, mix the tropical salsa ingredients together. Taste and adjust seasoning as needed. Store in the refrigerator until ready to assemble.
Spray grill pan with oil of choice and cook fish over medium heat for about 4-5 minutes on both sides, or until fish is opaque and flakey.
Move fish to cutting board, chop into pieces, and place into a bowl.
On a serving dish lay out desired amount of lettuce leaves or taco shells, depending on what you are using.
In a small bowl, mix together spicy sauce and place on the serving dish.
Recipe Notes
I serve mine with tortilla chips and a bowl with extra tropical salsa!
Updated March, 2017
---
Nutrition
Loading nutrition data...
Mahi Mahi Tacos with Tropical Salsa
This Roasted Tomatillo Salsa Recipe is super simple to make and so delicious! Use as a condiment for your next taco night, or just about anywhere.
Roasted Tomatillo Salsa Recipe
Tomatillos and cilantro are bursting out of my CSA, along with carrots, cucumbers, tomatoes, and celery! It may sound complicated to make salsa verde but it couldn't be simpler: broil up some tomatillos and blend with a few other ingredients. Serve it with all those farm fresh veggies for the ultimate appetizer, or use it to make a One Pan Salsa Verde Chicken and Rice dish, in some enchiladas or scooped up with some tortillas.
Ingredients Needed
Ripe Tomatillos
Jalapeño
1 tablespoon avocado oil
1/2 cup chopped fresh cilantro
1/3 cup chopped onion
2 teaspoons lime juice
Pinch sea salt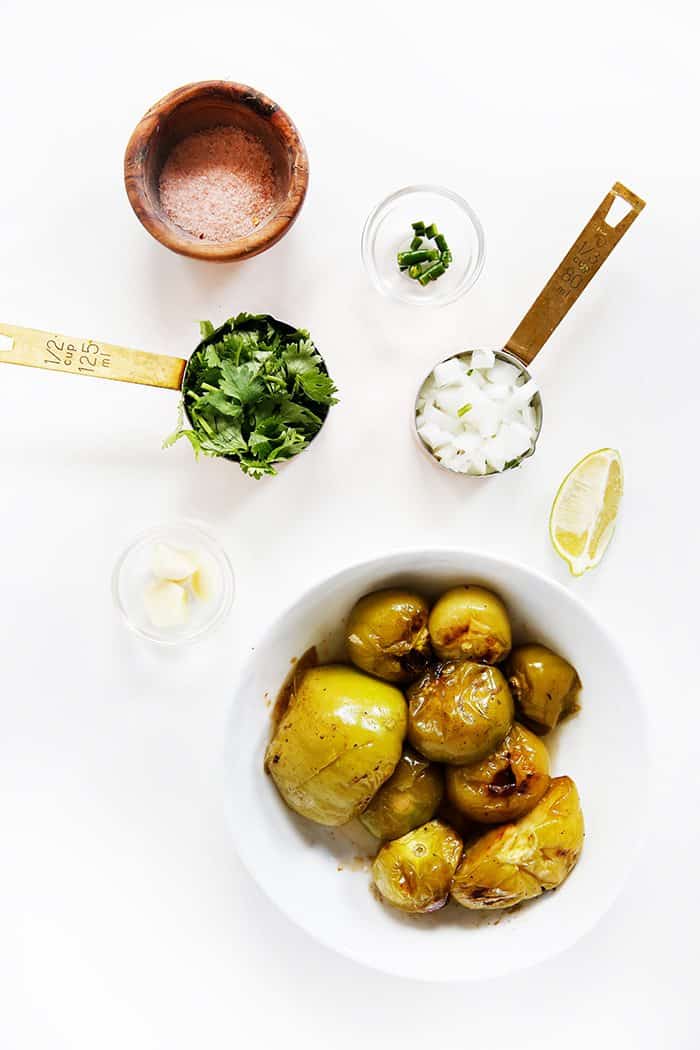 If you like this salsa recipe, check out these others:
[yumprint-recipe id='381′]
Roasted Tomatillo Salsa Verde
This 3 Ingredient Breakfast Skillet is hearty, flavorful and QUICK! It's the perfect, customizable, week day breakfast.

Sometimes I throw some other veggies, like spinach, onion, and sweet potato, into the mix, but most of the time it's as simple (and tasty) as this 3-Igredient Skillet.  I love using a good salsa because it gives you all the flavors you need! Literally, you don't even need to spice this beauty. It's. ALL. Packed. In!

Look at that yolk!
Here's a glimpse at the steps:



I was selected by American Express to contribute to their Tumblr community. As such I was paid for my services, but all opinions in general and about American express are my own.
3-Ingredient Breakfast Skillet

---

---

Ingredients

Directions

Recipe Notes

*Adjust based on how many people you are serving. Example: If you're making it for 2 people, and you want 2 eggs each, reduce the amount as desired.
**Cooking time will vary based on how yolky you want your eggs

---

Nutrition

Loading nutrition data...
What is your favorite breakfast?