With all the classic flavor of a taco, this easy-to-make soup is a family-friendly weeknight dinner win. Customize your soup by adding on all your favorite toppings! It's made in about 30 minutes, and is also gluten-free, Paleo and Whole30 friendly.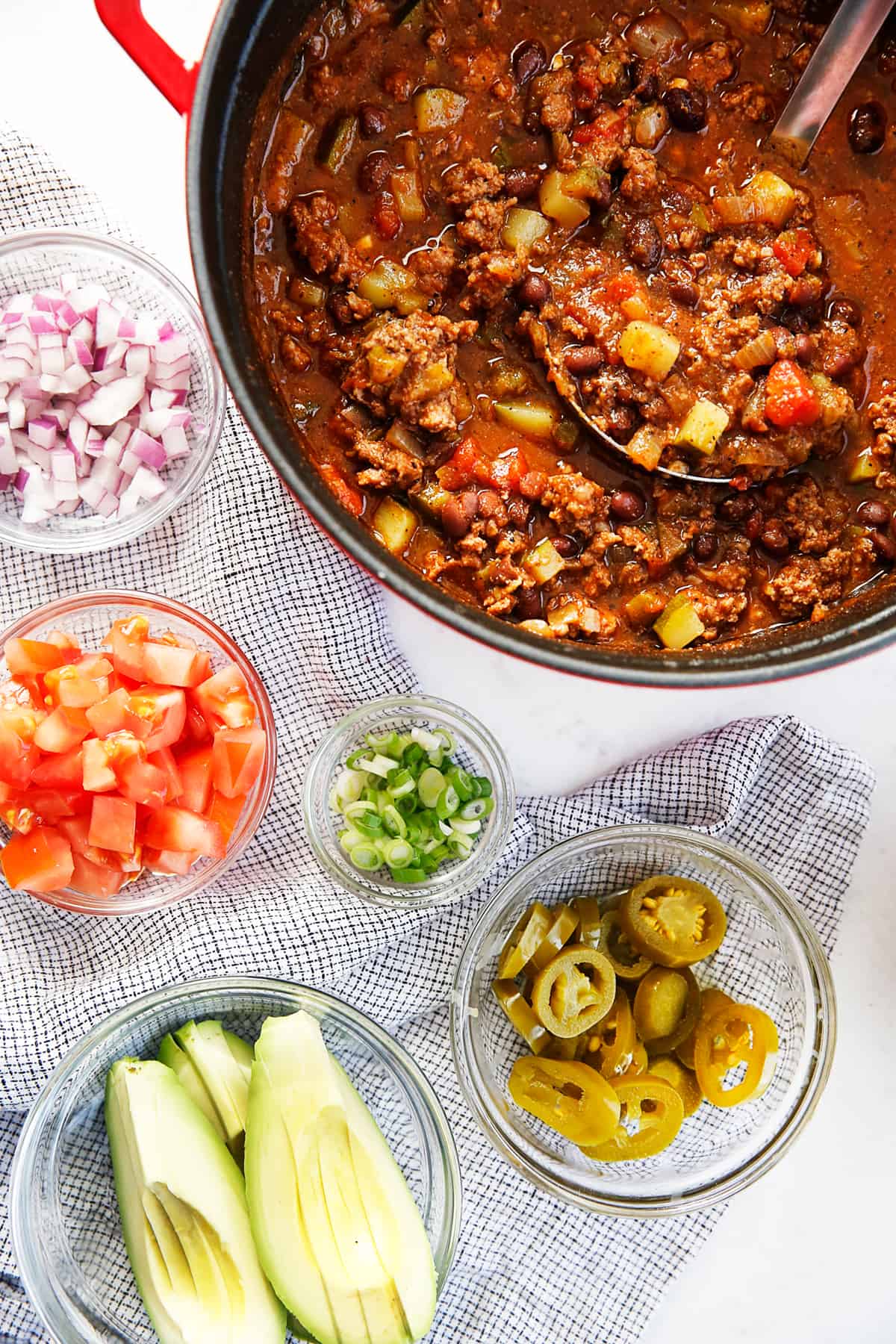 Taco Soup Recipe
Taco night can't come easier when traditional ground beef tacos are turned into taco soup! This easy and healthy Taco soup recipe is most definitely going to be a crowd favorite. It's delicious, so customizable and best of all easy-breezy to make! We take the classic flavor of a ground beef taco, plus a few hidden veggies, seasoned it and quickly cook it all together. Top it with your favorite taco toppings and dinner is ready in just about 30 minutes. This also works equally as well for lunch meal prep for the week!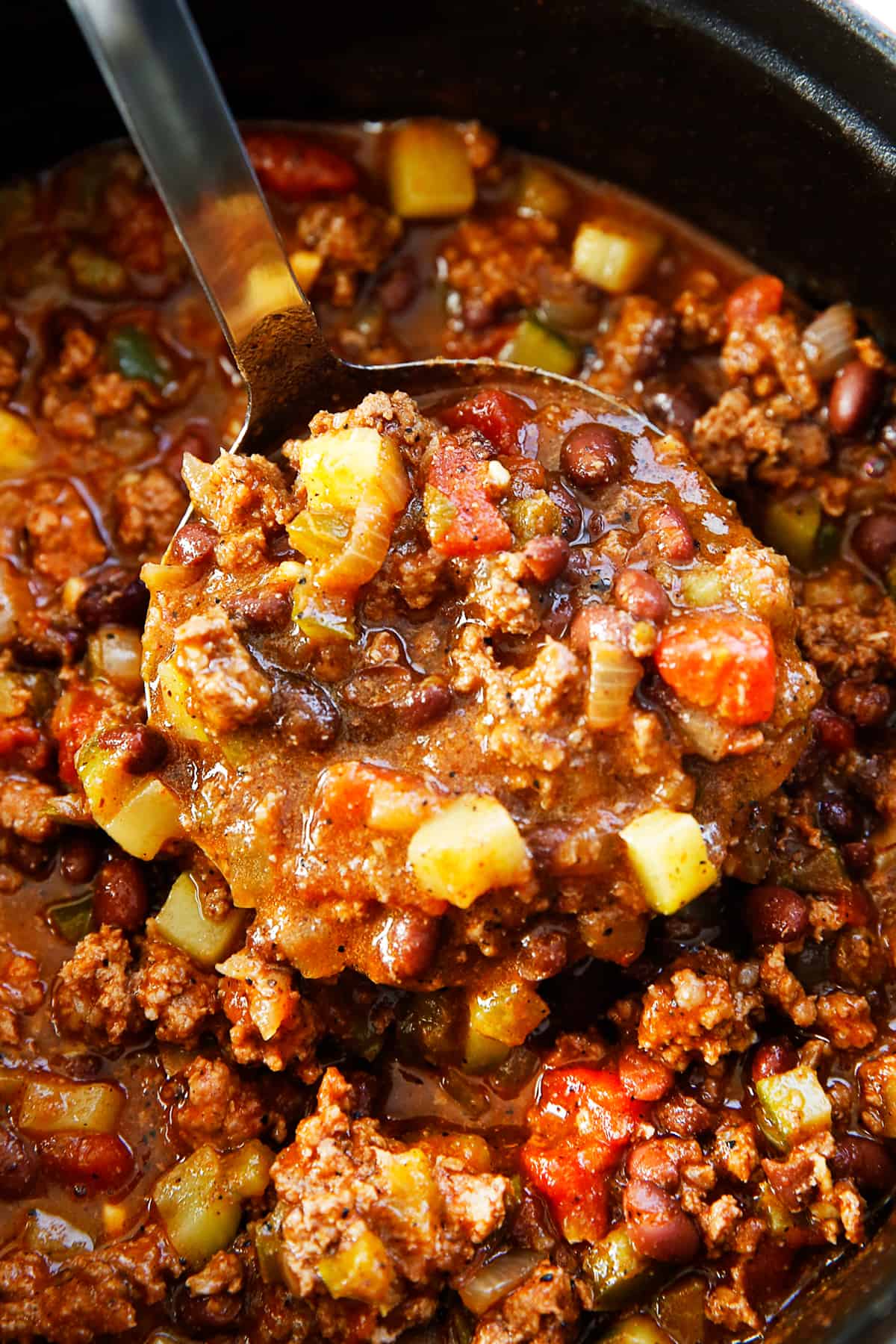 Ingredients Needed
Ground Beef
Spices
Onion
Garlic
Bell Pepper
Zucchini
Olive Oil
Diced Tomatoes
Black Beans (optional, omit for Whole30 and Paleo)
Beef Broth
Customize it with your favorite taco toppings. We love to top it with fresh tomato, pickled jalepeno, tortilla chips, cheese and avocado!
How to Make Taco Soup
This soup is pretty simple to make as-is on the stove top. We chose not to give Instant Pot directions because likely it would take the same amount of time because of the time it takes for the Instant Pot to heat up.
Cook ground beef and cook until no pink remains. Add onion, pepper and garlic and cook until beginning to soften. Add in zucchini and all spices and stir together and cook until the spices are fragrant.
Add in remaining ingredients and bring to a boil then reduce heat and let simmer for 15 minutes or until the zucchini is tender.
Taste and adjust spices as desired. Top with optional garnishes!
If you like this healthy soup recipe, check out these others:
30-Minute Taco Soup
2015-08-20 16:09:07
Serves 4
Ingredients
1 1/2 lb. ground beef
1 15 oz. can stewed tomatoes
1 onion, diced
2 garlic cloves, crushed
2 tbsp extra-virgin olive oil (code LEXI for 10% off)
1 green pepper, diced
1 medium zucchini, diced
optional: 1 can black beans
Taco seasoning
1 tbsp chili powder
1 tsp garlic granules
1/2 tsp onion powder
1/4 tsp cayenne pepper
1 tsp paprika
1 tsp ground cumin
2 tsp fine Himalayan sea salt
1 tsp black pepper
Toppings
Shredded Cheese
Avocado
Scallions
White Onion
Non-GMO Tortilla Chips
Diced Tomatoes
Shredded Lettuce
Jalapeno
Instructions
In a Dutch oven heat oil and sauté garlic
Add in diced onions and cook for 2-3 minutes, stirring often
Add in zucchini and green pepper and let cook for an additional 2 minutes, stirring often
Add in ground beef and cook until brown
In a bowl combine taco seasoning spices
Mix in taco seasoning mix
Add in stewed tomatoes
Bring to a boil then reduce heat and let simmer for 10-15 minutes
Taste and adjust spices as desired
Lexi's Clean Kitchen https://lexiscleankitchen.com/