How to Have the Ultimate Wellness Retreat at Home 
You're officially convinced that staycations can be just as good as vacations (or even better!). Great. But what are you actually going to do during your staycation? I have a great suggestion for you: an at-home wellness retreat! Setting one of these up is really simple, and it's going to give you many of the benefits of a spa weekend. We are sharing a few specific tips to help you make one happen!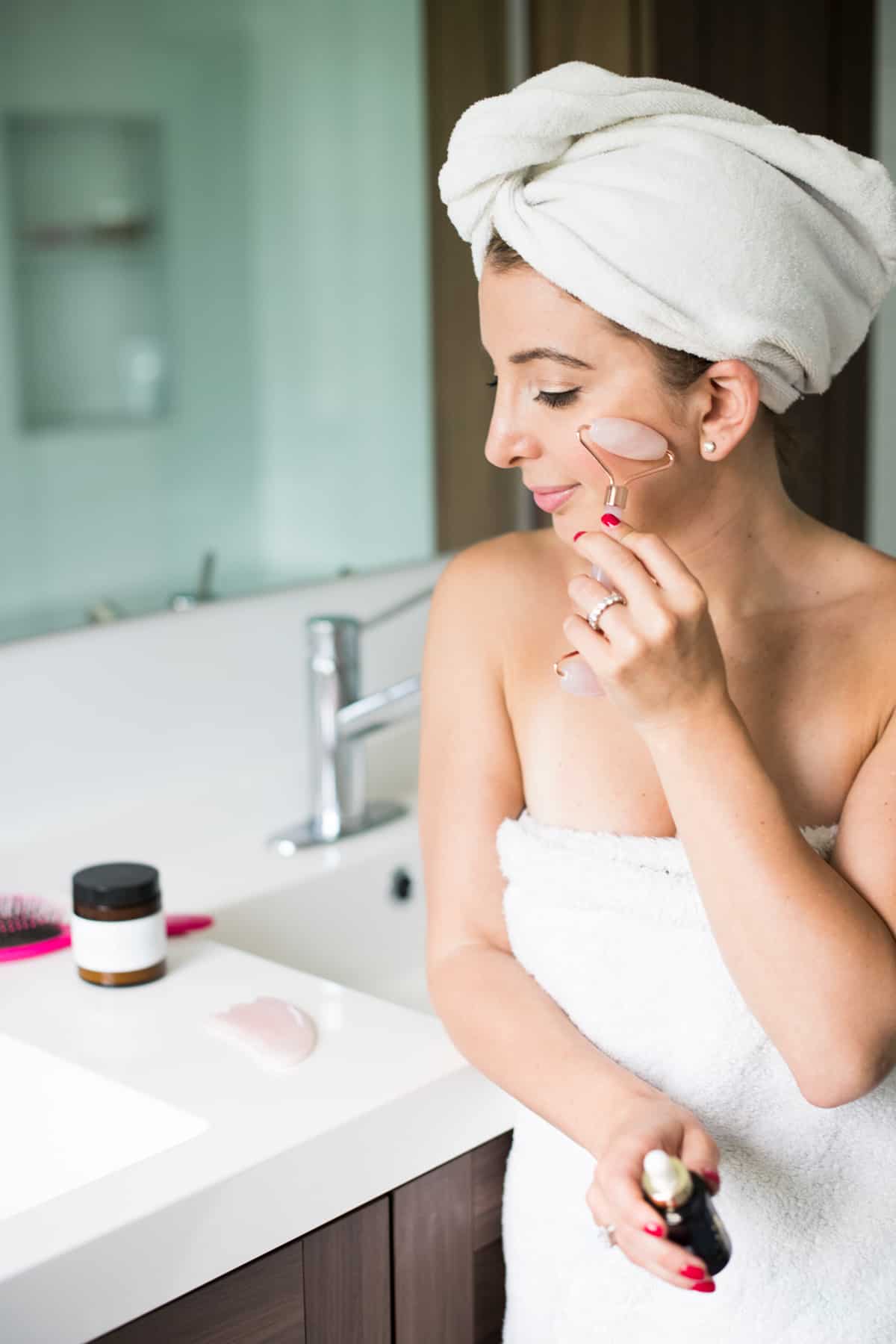 How to Have the Ultimate Wellness Retreat at Home

 
Make your home feel like a spa
---
16 Ways to Create an At-Home Wellness Retreat:
1. Make the time. Just because an at-home wellness retreat doesn't require you to book flights or plan accommodations in advance doesn't mean that you should just wing it! The trick to turning your run-of-the-mill staycation into a DIY spa is all in the little things — and that starts with being intentional about planning the experience. Don't just wait until you happen to have a free day around the house! Take some time now to look at your calendar and choose a day (or two! or three!) for your retreat. Block out those days on your schedule and protect them! 
2. Plan a flexible agenda. Now that you have the retreat on your calendar, it's time to go one step further. If you were treating yourself to a spa or wellness weekend away, you'd likely have an itinerary of treatments or classes, and you can replicate that for your at-home version. Take your favorite ideas from this list and plug them into a loose schedule for your day or weekend. This will ensure that you do more than sit around and binge Netflix (no judgement — but you deserve more for a wellness retreat!) and will remind you to treat yourself with extra special care. 
3. Pack like you're going away. The night before your retreat is scheduled, set aside a few of the items that you would bring for a getaway. Your favorite cozy slippers, a journal, and a fun new set of workout clothes would most likely all make it into your duffel bag for this kind of trip. Toss those items and anything else that feels essential into a tote that you can carry with you throughout your at-home retreat. You'll eliminate the need to dig through your closets or dressers on a day that you're trying to relax. 
4. Test out some clean recipes. Choose a few healthy, new-to-you dishes and get in the kitchen! You'll have a delicious menu for your staycation, but you'll also get to reap the benefits of relaxing, unhurried time prepping food. Cooking really can be a mindful, stress-busting activity!
Some of my favorite clean dishes for an at-home wellness retreat:
5. Visit a local spa. If it's in your budget to indulge with one or two treatments at a nearby spa, you should totally go for it. Think about how much money you're saving by planning an at-home retreat! Do a little browsing on Groupon and other online discount sites to see if you can score a good deal on a massage or facial guilt-free. 
6. Check out a new fitness class. No wellness retreat is complete without a little movement! Break out of your typical routine so the occasion feels special by finally signing up for that class you've been considering for the last few months. Try a different kind of yoga or a new spinning instructor… or go with something completely different than what you usually do! If your wellness retreat is planned for a few days, you could even check out a few different classes. You might just find your new favorite workout! 
7. Step away from your phone. You knew it was coming! If you really want to benefit from a day or weekend dedicated to wellness, you're going to have to disconnect — and that means phone, email, Instagram, Facebook… the works. Stash your devices in a drawer, under the bed, or somewhere else very far away from where you plan to hang out. I promise that they'll still be there when you get back, and you'll feel much better for having taken a break. Absence makes the heart grow fonder! 
8. Take a bath. A relaxing soak in the tub (hello, favorite bath sea soak) is one of the easiest ways to DIY your own spa experience. And you don't need a fancy jetted tub or jacuzzi to make it happen! Uplevel your bath with candles (Code LEXI for 20% off your first purchase), essential oils, and some relaxing music, and treat yourself to new bath or body wash for the occasion. In the future, you'll associate those products and (safer) fragrances with your wellness retreat, and they'll take you right back to the memory of making time for yourself. Afterwards, lather up with your favorite body butter or lotion!
9. Invite a trainer or fitness instructor to your home. If you're not in the mood to try a new or intense workout, you might consider bringing a familiar instructor or a more mellow form of exercise into your retreat space (AKA your home). Ask your favorite yoga teacher or the trainer you usually work with at the gym if they'd be open to an at-home session. If you can bring the class to your backyard or to the peaceful space you've created in your living room with candles and music, all the better! 
10. Face mask and multitask. During your at-home wellness retreat, you should face mask while you do… well, everything. I highly recommend Beautycounter's Charcoal Mask. What is it about face masks that just makes all other things feel better? If you're trying to stick to a budget and skipping spa treatments, this is a great alternative! 
11. Experiment with meditation and mindfulness practices. There are so many apps and online platforms out there that can help you get a taste of the meditation and mindfulness you might experience at a more traditional retreat. Try Headspace or Calm to start! If you've tried experimenting with these practices before and haven't had a lot of success, I encourage you to give it one more shot during your at-home wellness time. Without outside stress or distractions, you might find that you enjoy it more! 
12. Include your friends! I'm willing to bet that you have a few friends in the area who would enjoy some or all of these suggestions. Get them involved! If you're up for it, you might even consider turning your at-home retreat into a slumber party. Do your nails, a face mask, and watch a fun movie. Fun, right? That being said, don't forget to leave at least a few hours set aside just for you.
13.  Stay hydrated. Stock your kitchen with a selection of your favorite teas and fill your fridge with fruit to add to your water. Nothing can cancel out all of your other wellness efforts quite like getting dehydrated. 
14. Treat yourself to a private chef. Don't feel like cooking all of the clean meals for the wellness retreat yourself? Call around to some local restaurants and see if any of their chefs can come whip up something delicious on-site, or research nearby private chefs online. It doesn't need to be anything fancy — just a trained foodie who can come pamper you for a bit and show you the basics of a healthy dish that might even be new to you. Assuming you're not on a super tight budget, it's these small indulgences that can kick your at-home retreat up a notch! 
15. Enjoy fresh air. Get outside! Bring a book or journal into the yard or take a walk in the neighborhood after dinner. Getting fresh air is so good for you, and since you're intentionally slowing down for this retreat, you should have plenty of time to do it.
16. Do a little bit of nothing. Between fresh air and face masks and clean eating and journaling, don't forget to budget a little time for pure relaxation. Grant yourself permission to take a nap or read a book or watch a movie… whatever it is that helps you recharge! 
---
In this post:
---
Pin it for later:
This website may at times receive a small affiliate commission for products that we shared with you in our posts. Although we may receive a commission for linking certain products, there's no additional costs to you and all of our opinion and suggestions are 100% our own and unbiased. That's our promise to you!
Subscribe to get our FREE clean eating guide!
Join our email list TODAY to start recieving our newsletter weekly, access to exclusive content and deals, *and* a FREE complete 24-page clean eating guide!