Growing up in New York, the "everything" bagel was my go-to sandwich bread. A toasted egg everything or a whole wheat everything… You name it, I loved it. These Everything Bagel topped Cauliflower Rolls are low carb, paleo-friendly, and a perfect roll alternative.

Now, you know I don't eat those bagels anymore, not even the gluten-free ones, so I bring to you an alternative that is really so beyond good! When these rolls were baking in the oven my whole apartment smelled like those glorious everything bagels I loved so much.
Cheers to another delicious and healthy alternative!
'Everything Bagel' Cauliflower Rolls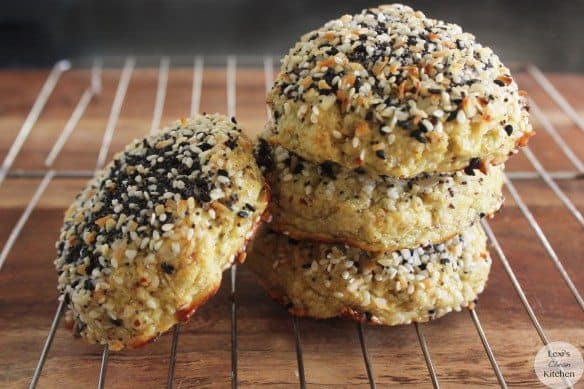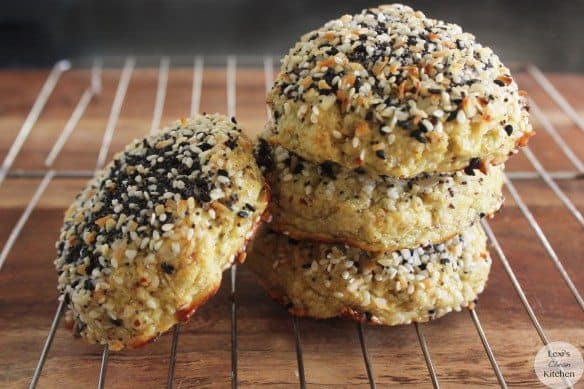 Ingredients
Cauliflower Buns
Instructions
Preheat oven to 400°F and line a baking sheet.
In a food processor, or using a hand grater, pulse/grate cauliflower until rice consistency.
In a bowl combine eggs, cauliflower rice, almond flour, coconut flour, garlic powder, and salt,
In a separate bowl combine "everything" topping ingredients.
Roll cauliflower mixture into even sized balls and lay onto the baking sheet. Sprinkle "everything" topping and slightly press them into the top,
Bake for about 30 minutes, or until golden brown.
Optional: For extra crisp rolls, remove from baking sheet and broil on high for 3 minutes with the buns directly on the oven rack.
Remove from baking sheet and let cool directly on a cooling rack.
Serve as rolls with your meal, or serve as bread with your favorite sandwich ingredients.
Recipe Notes
Updated 12/2016.
Note: Cauliflower sizes vary. If yours is bigger or makes more riced cauliflower, and it seems like it needs a little extra love to make them firm, add an additional egg and tablespoon of flour. 3 cups of packed riced cauliflower is the correct consistency for these rolls. Makes 4 large or 6 medium rolls.