Growing up in New York, the "everything" bagel was my go-to sandwich bread. A toasted egg everything or a whole wheat everything… You name it, I loved it.
Now, you know I don't eat those bagels anymore, not even the gluten-free ones, so I bring to you an alternative that is really so beyond good! When these rolls were baking in the oven my whole apartment smelled like those glorious everything bagels I loved so much.

Cheers to another delicious and healthy alternative!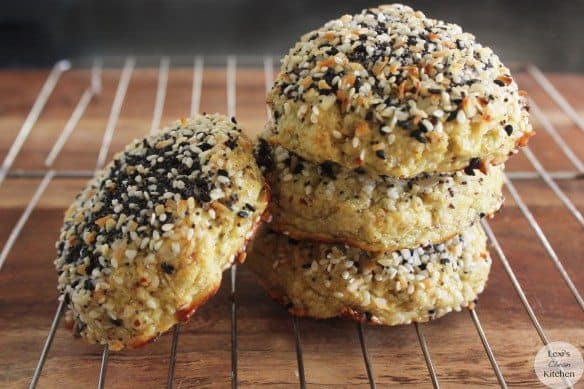 'Everything Bagel' Cauliflower Rolls
2014-01-11 15:32:29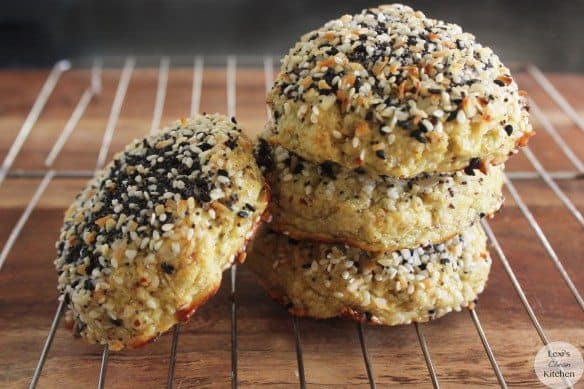 Ingredients
1 head cauliflower, riced (about 3 cups)
2 tbsp almond flour
1 tbsp coconut flour
1 tbsp organic corn meal (not paleo- you can sub almond flour)
2 organic eggs
1/2 tsp garlic powder
1/4 tsp Himalayan sea salt
"Everything" Topping
1/2 tsp poppy seeds
1 tbsp sesame seeds
1 tsp dried minced garlic
1 tbsp dried minced onion
1/2 tsp Himalayan sea salt
Instructions
Preheat oven to 400
In a food processor, or using a hand grater, pulse/grate cauliflower until rice consistency
In a bowl combine eggs, cauliflower rice, almond flour, coconut flour, corn meal, garlic powder, and salt
In a separate bowl combine "everything" topping ingredients
Lay parchment paper on a baking sheet
Make 4 even sized balls and lay onto parchment paper
Sprinkle "everything" topping and slightly press them into the top
Bake for 15-20 minutes, or until bread-like consistency (it might be longer depending on the size you make)
Optional: Broil on high for 3-5 minutes after baking
Optional: For extra crisp, remove from baking sheet and do the broiling step with the buns directly on the oven rack
Remove from baking sheet and let cool directly on a cooling rack
Serve with your favorite sandwich ingredients
Notes
Please note: Cauliflower sizes vary. If yours is big, and it seems like it needs a little extra to make them firm, add an additional egg and tbsp of flour
Lexi's Clean Kitchen http://lexiscleankitchen.com/