This No Sugar Added Slow Cooker Apple Butter is my favorite Fall spread. It's Whole30-compliant, paleo-friendly, made with no added sugar, and is so delicious! Filled with in-season fresh apples and fall spices, you're home will smell heavenly.

I received my undergraduate degree at the University of Massachusetts, Amherst and found a serious love for the heavenly apple butter (and popovers! Oh my friends, you have noooo idea) from Judie's Restaurant. If you've ever been to Judie's, I know you can relate.
But, it's been a while now since I've been there, and since leaving I have been wanting an apple butter recipe of my own that wasn't loaded with refined sugar. You know, one that I could spread on the bread that I no longer eat, or to top the oatmeal that I no longer eat! Ahhh! Rest assure, I find my ways to eat this (by the spoonful). Topping on protein waffles/pancakes, anyone?
I have experimented making apple butter in multiple ways (like a recipe that doesn't take 12 hours, type of way), and have never been satisfied. I mean, the longer the better when making apple butter, so a 2-hour version just has never cut it for me. It doesn't have that traditional apple butter feel. So, trust me on this one- aside from the prep and the finishing touches, you just leave it in the slow cooker and go about your day (or sleep, I generally choose to cook it overnight)!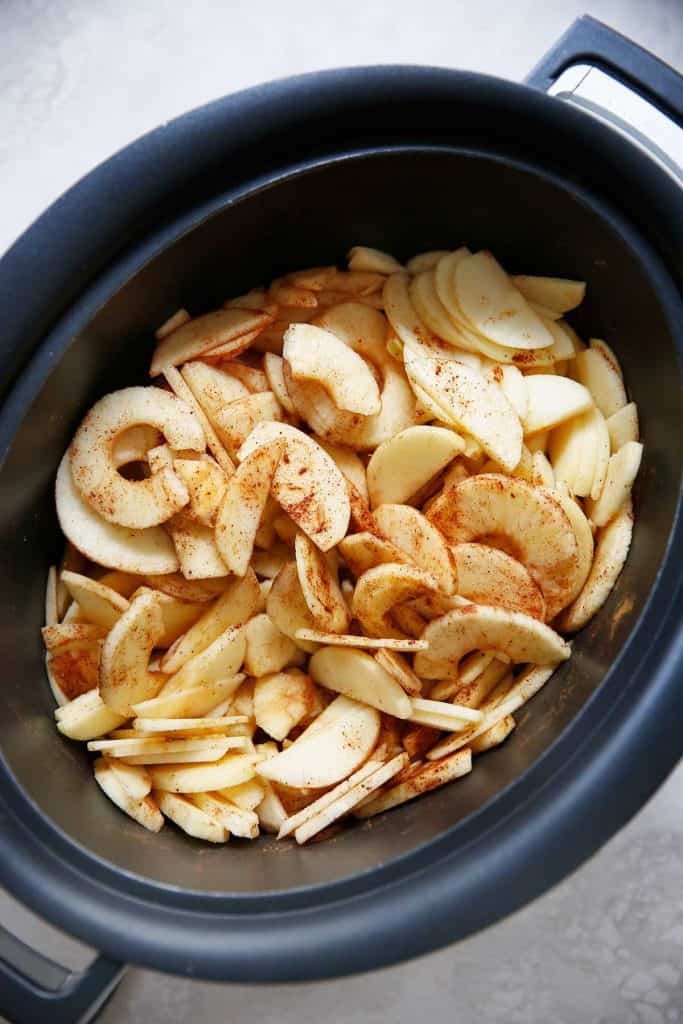 So, Mike and I went apple picking this weekend, which is always such a fun Fall activity. What's even more fun is the copious amounts of apple recipes that will surely follow. While there I picked up some fresh apple cider (nothing else added, just apples)! The second we arrived home from our outing you can bet the first thing that came out was my slow cooker, and my trusty apple corer.

Beautiful day …and so many apples!

Discovery of the day: climbing, throwing, and catching apples is not my forte.
No Sugar Crock Pot Apple Butter
Ingredients
10-12

organic apples, cored, pealed, sliced

1

cup organic apple juice or cider (read labels- find one with no added sugar!)

1

teaspoon lemon juice

1/2

teaspoon nutmeg

1/2

teaspoon vanilla extract

1

teaspoon cinnamon

1/4

teaspoon ground cloves

Pinch of fine sea salt
Instructions
Put everything in slow cooker. The cider or juice should not overpower apples. Cook on low for 10-12 hours.
At 10 hours, once apples are dark, immerse hand blender or transfer to a high speed blender and blend until smooth.
Put lid back on slightly ajar and let cook for the remaining 2 hours. If you're in a time crunch, place into a pot on the stove over medium-low heat and let simmer until thick.
Let cool, store in jars in the fridge for up to 1 week unless canning.
Recipe Notes
-If not as thick as you'd like, transfer to pot and cook over medium heat until thickens (use a lid, it will splatter)
-Very thick and spreadable. Perfect top spread on toast, or to top your favorite oatmeal, pancakes, or waffles!
Make it last a year! How to can this apple butter using the Water Bath Canning Method:

Heat water in a large, deep saucepot equipped with a lid. If you have a canning rack or a cooling cake rack, place the rack at the bottom of your saucepan. Bring the water to a simmer (not a boil) and carefully submerge your jars along with their lids for about 5 minutes or until warm. Make sure water is inside your jars to keep them submerged.
Carefully remove the jars and lids from the warm water with tongs and place on a cooling rack set over a kitchen towel. Pour the apple butter into each jar using a funnel, leaving at least 1/4 inch of space at the top. Make sure there are no air bubbles in the jam and that the rim of the jar is clean before securing the lid.
Cover your saucepan and bring the water to a boil over medium-high heat. Submerge the tightly closed jars in the boiling water for 10 minutes.
Take your saucepan off the heat and allow your jars to sit in the hot water for another 5 minutes.
Carefully take your jars out of the hot water and place on a paper towel. Check jar lids for seals by making sure the lids do not flex up and down when pressing the middle of the jar.
Store in a cool, dark place for up to one year! Once opened make sure to store in the refrigerator for up to one week!
use our hashtag!
I am so excited that you are making a recipe and would love to see how it turns out! Make sure to use the hashtag on social media!
#LEXISCLEANKITCHEN
share this post!
subscribe to the email list!