These tried and true Paleo Pancakes are the real deal! Made simply with just a few paleo ingredients, these light and fluffy pancakes are perfect for any day of the week!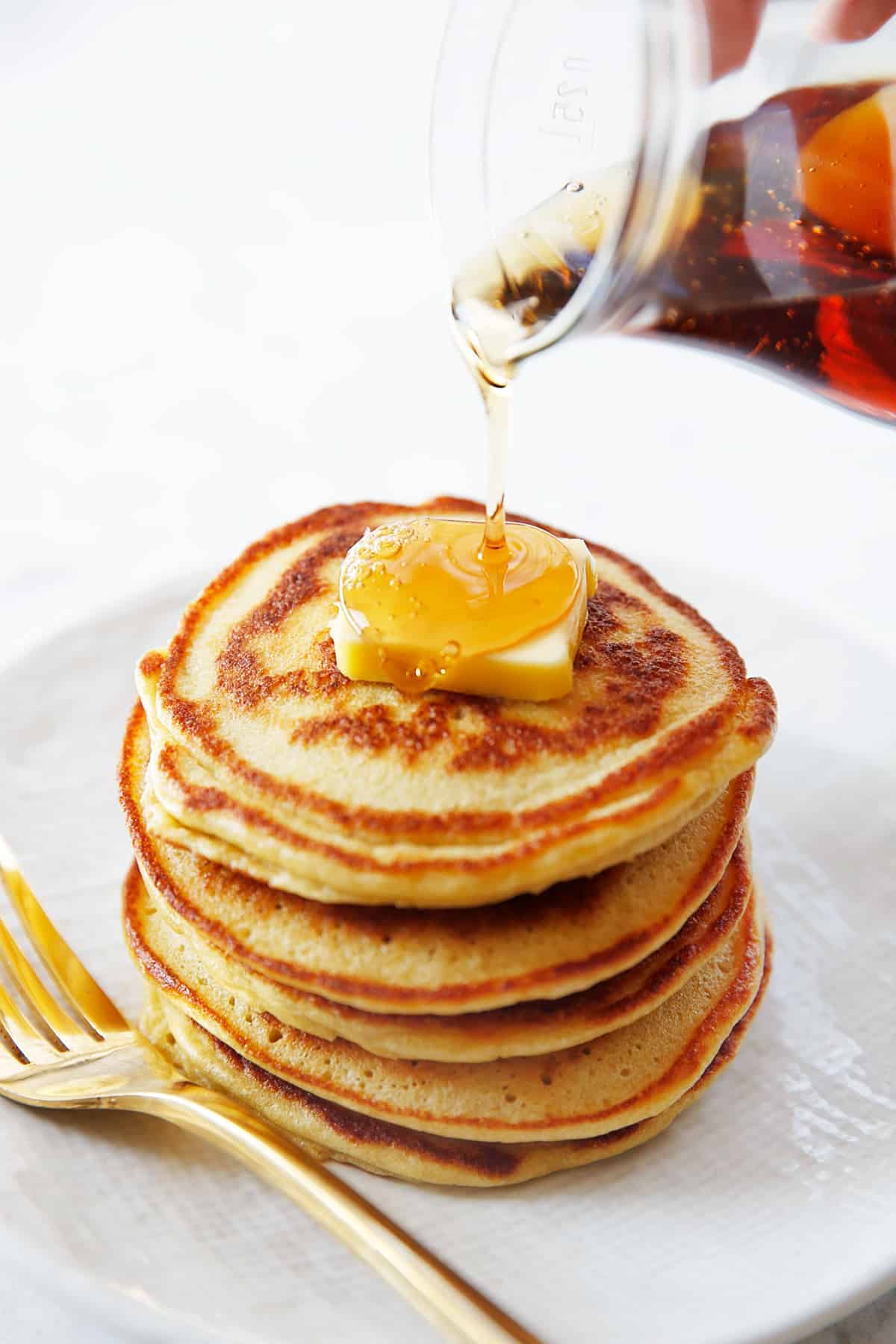 Almond Flour Pancakes
Hands-down, this is one of the most popular and beloved recipes on this site! It's been made by thousands of people and is a huge hit, both with paleo and non-paleo eaters! These pancakes are fluffy, golden, and can easily hold any of your favorite add-ins. I'm not kidding when I say these Paleo Pancakes are the real deal.  They are paleo pancakes made with almond flour, are kid-friendly, freezer-friendly, and nobody will know their paleo! Guaranteed! These paleo pancakes are made gluten-free, grain-free, refined sugar free, and without banana. I make batches of the mix for my mom every time she comes to visit, and she's not grain-free!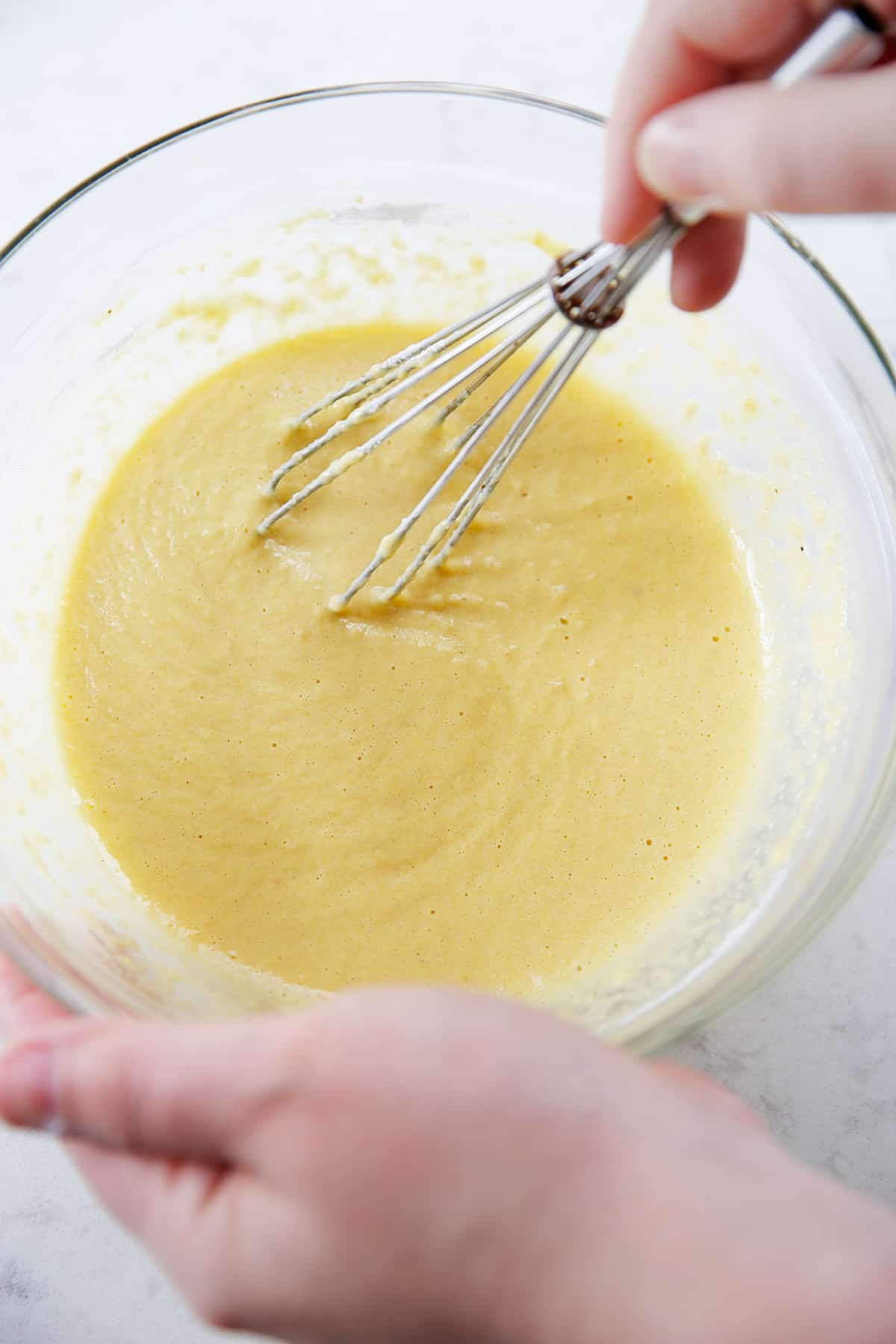 Paleo Pancake Ingredients
Almond Flour
Tapioca Flour
Eggs
Unsweetened Applesauce
Baking Powder
Vanilla Extract
Optional Add-In's: Chocolate Chips, Blueberries, Bananas
Common Substitute Questions
Can you use almond meal instead of almond flour?
Yes. Almond flour is made from blanched almonds which have had the skins removed, and is ground more finely than almond meal, which typically still contains the skins and has a more coarse grind. Both will work, though I prefer almond flour!
Can you swap the almond flour with anything?
We know many people are allergic to almonds. Unfortunately, the almond flour isn't easily substituted with something else. If you tolerate oats, we've had success swapping oat flour with almond flour in some recipes so you could give this a try here, though we haven't tried it ourselves.
What can you use instead of applesauce?
Pumpkin puree will work as a substitute for the applesauce, but it will make the pancakes taste slightly of pumpkin.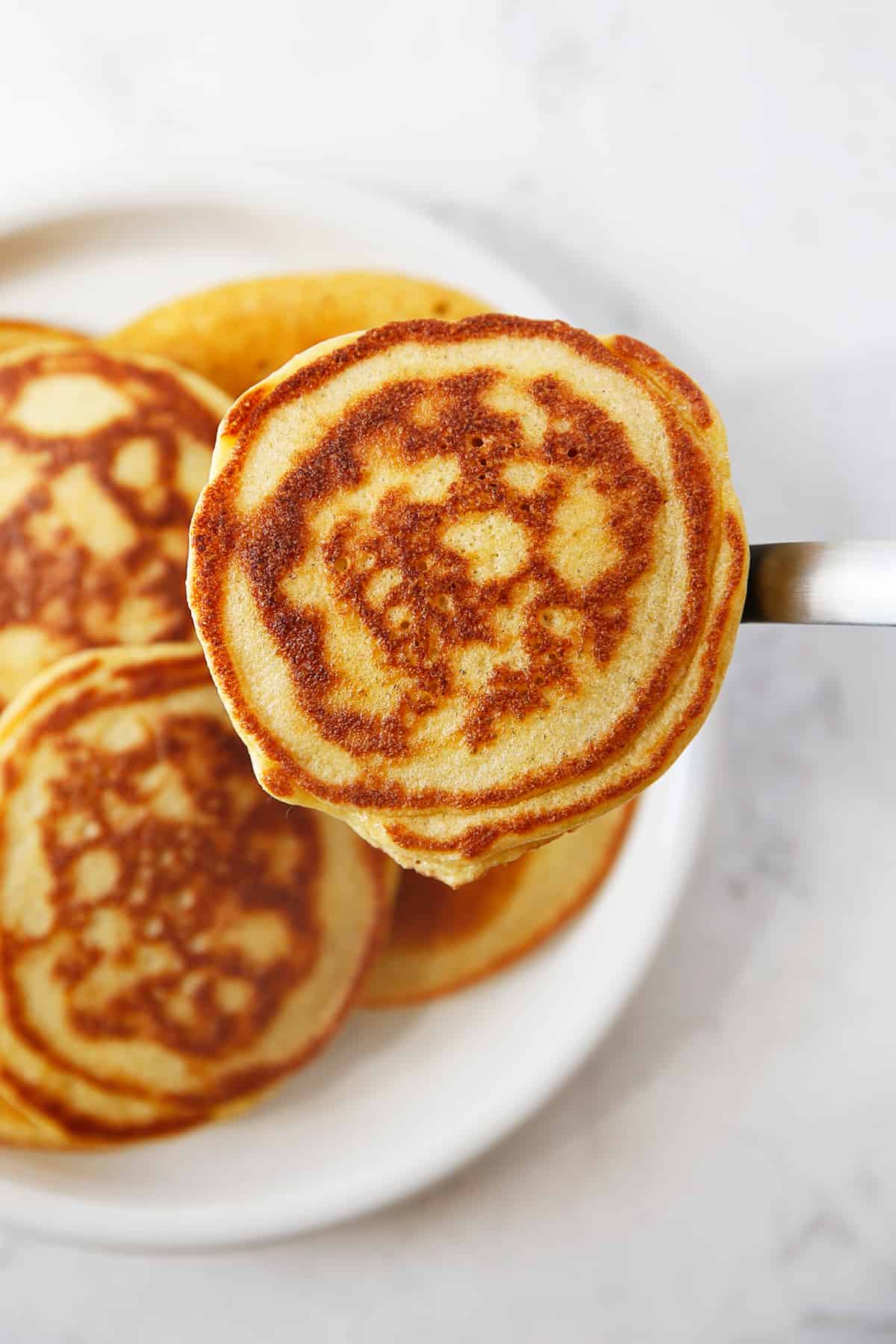 How to Make Almond Flour Pancakes
It couldn't be easier to make these pancakes: add all ingredients to a bowl and whisk together! Then cook in your favorite skillet, making sure place your favorite add-in's to the batter while cooking. Serve pancakes hot with maple syrup, if desired!
Make-Ahead Instructions
The pancakes batter should be cooked immediately. However, you can make them and keep them warm on a wire rack on the keep warm setting in your oven. They also freeze wonderfully! Let them cool completely at room temperature, then freeze on a parchment lined baking sheet. Once frozen, you can place in a bag or storage container for longer storage, about 1-2 months. You can heat up in a toaster or microwave until warmed through.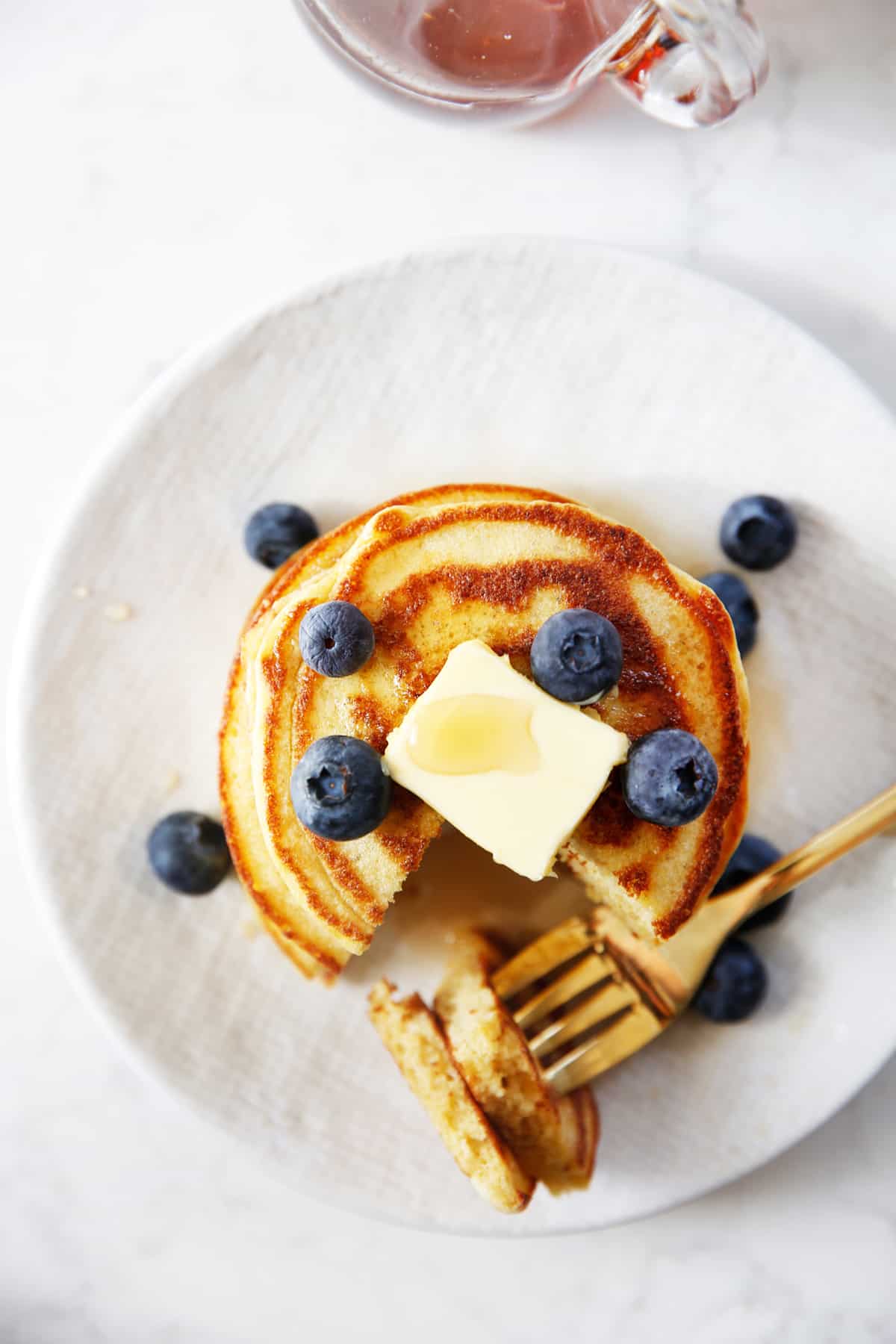 Is maple syrup allowed on Paleo diet?
I drizzle these pancakes with good quality maple syrup and top with grass-fed butter! Real maple syrup is a paleo-friendly alternative to white sugar. Always look for good quality, 100% pure maple syrup! Technically butter is not allowed on a paleo diet because it contains dairy. If you are strict paleo, skip the butter or use ghee!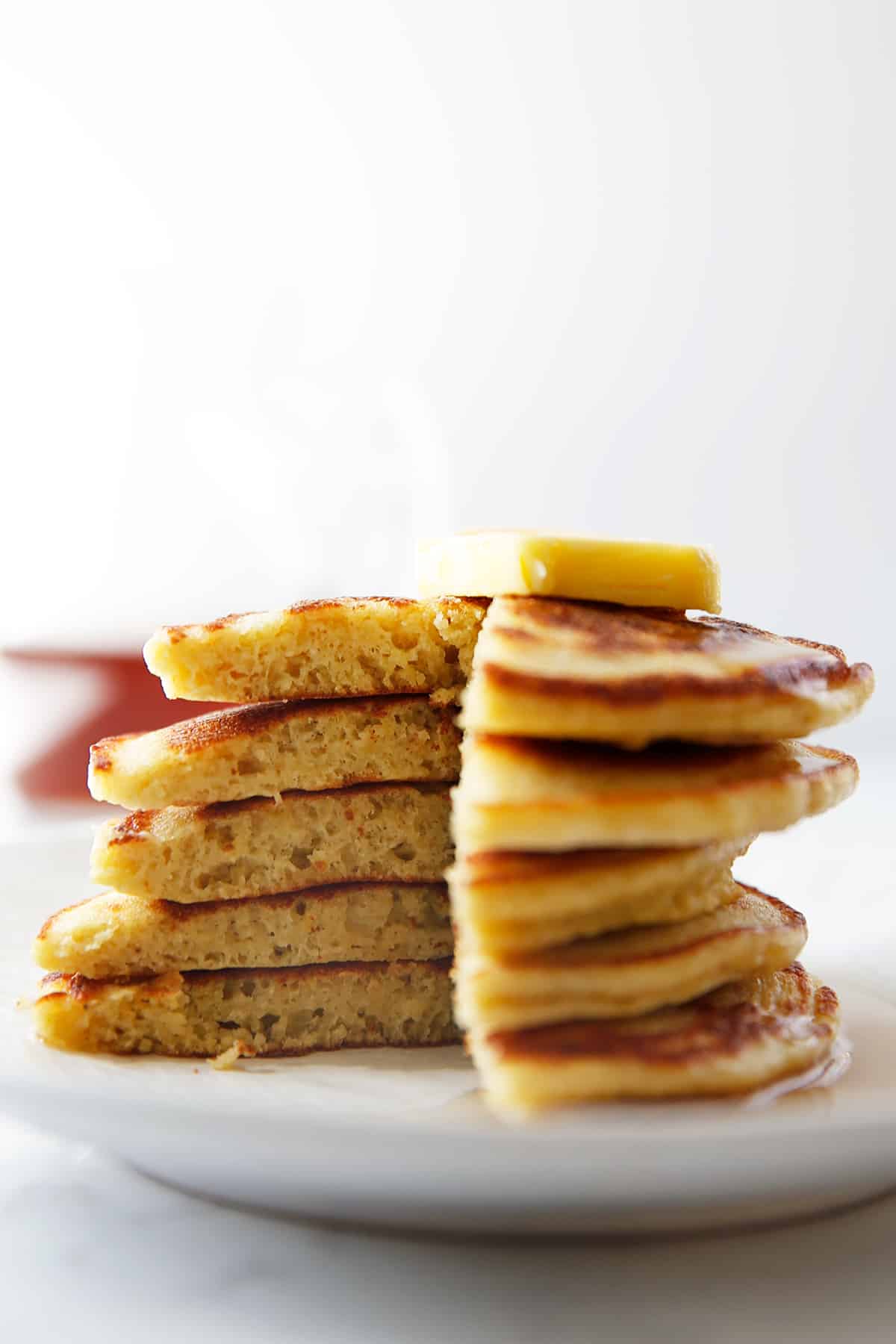 ---
Watch the video here:
If you like this breakfast recipe, check out these others: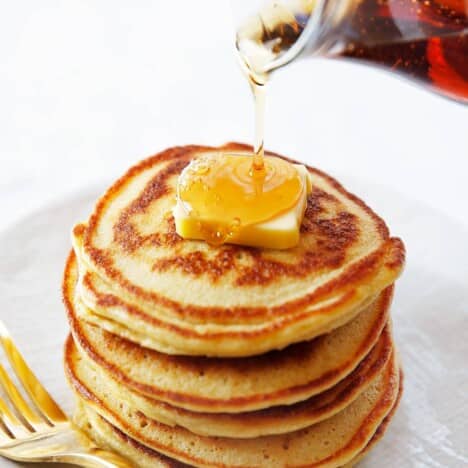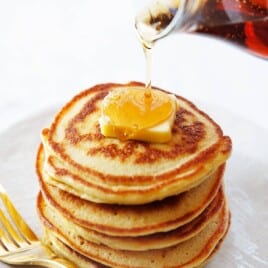 Fluffy Paleo Pancakes
These tried and true Paleo Pancakes are the real deal! Made simply with just a few paleo ingredients, these light and fluffy pancakes are perfect for any day of the week!
Ingredients
2

eggs

1/4

cup

unsweetened applesauce

1/2

teaspoon

vanilla extract

1/2

cup

50 grams almond flour

1/2

cup

60 grams tapioca flour

1

teaspoon

baking powder

pinch

salt

1/3

cup

add-ins of choice

chocolate chips, blueberries, bananas

butter or ghee or oil

for cooking
Instructions
Heat butter or oil in a nonstick

skillet

over medium heat. Once hot add 1/4 cup batter and drop in add-ins if using on to pancake batter.

Let cook until golden brown, about 3 minutes, then flip and continue to cook for about 2 minutes until pancake is fully cooked.

Continue with remaining batter.

Serve pancakes with desired toppings and serve immediately.
Nutrition
Serving:
1
/2 recipe
Calories:
281
kcal
Carbohydrates:
15
g
Protein:
7.5
g
Fat:
13
g
Saturated Fat:
5
g
Cholesterol:
200
mg
Sodium:
67
mg
Fiber:
2
g
Sugar:
3
g