16 Books to Read this Fall
With the beginning of fall comes lots of talk about pumpkin spice coffee, Halloween costumes, apple pie, and the impending holiday season. For book lovers, fall marks the start of the coziest time of the year, when it's more than acceptable to stay inside with a stack of good books and lose yourself in a good story.
If that sounds good to you, you're probably in the market for some book recommendations to add to that stack. Keep scrolling for 16 must-read titles to pick up for the fall.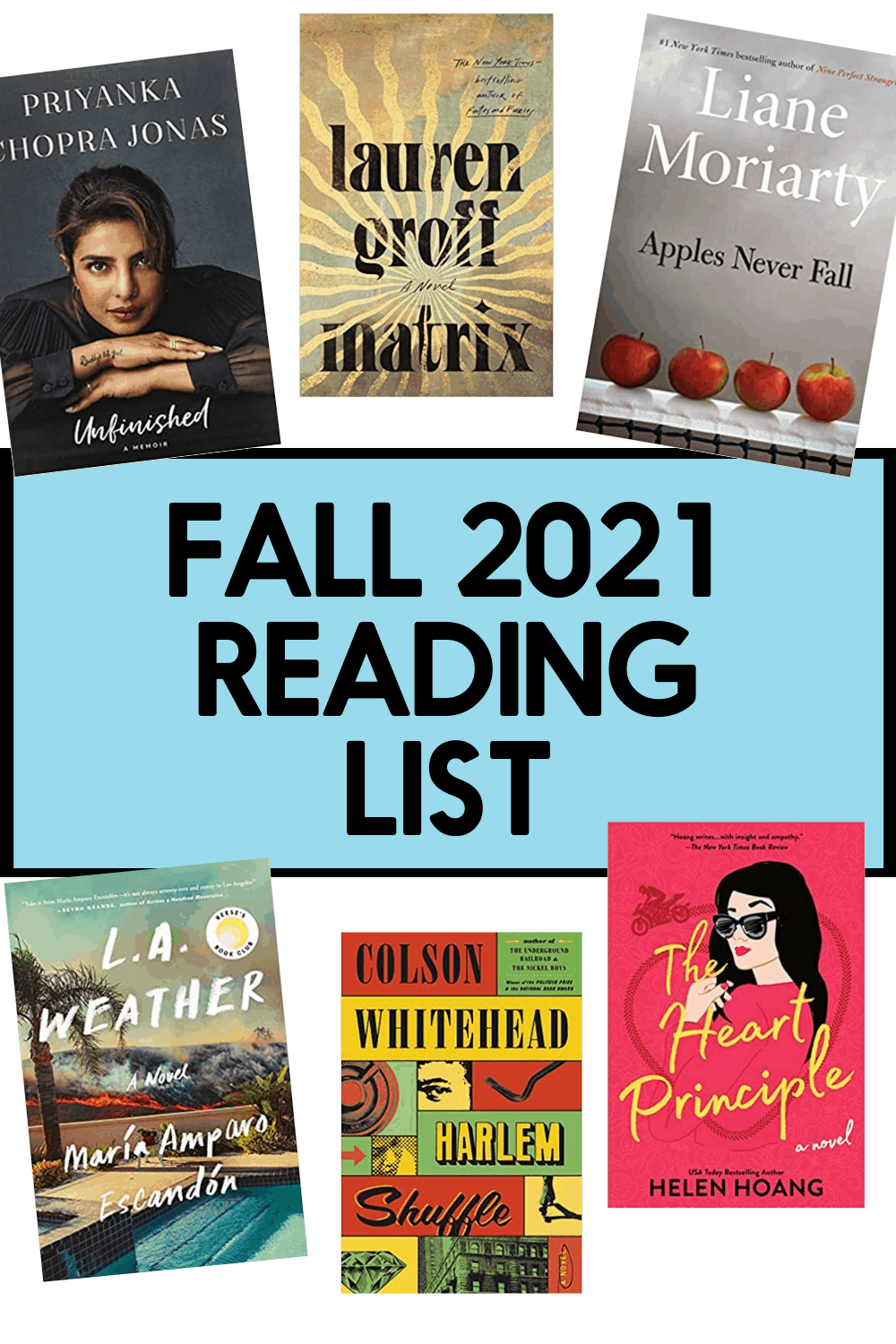 16 of the Best Fall

2021 Books
Cozy up with your new favorite read.
---
It's easy to get overwhelmed by all of the amazing books out there, so I've put together this shorter list to guide your fall reading. Enjoy!
1. Beautiful World, Where Are You: A Novel by Sally Rooney: If you've been in any bookstore over the last few years, chances are that you've seen Sally Rooney's books make a big splash. Normal People and Conversations with Friends were just about everywhere when they were published in 2017 and 2018, respectively, and Rooney's latest novel is set to be another phenomenon in the literary world. Beautiful World, Where Are You is the author's highly anticipated book about relationships coming together and falling apart and everything in between. This one is bound to be talked about among readers everywhere over the next few months.
2. The Heart Principle by Helen Hoang: Are you in the mood for a little romance this fall? Look no further than Helen Hoang's The Heart Principle. Thanks to her Kiss Quotient series, Hoang has made a name for herself as an author of relatable romantic novels that prioritize representation. The Heart Principle is no exception! It's the third installment in the Kiss Quotient series, but you definitely don't need to read the other books to enjoy this one. It tells the story of a violinist named Anna Sun who experiences burnout — I feel that! — after a video of one of her performances goes viral. Before long, Anna's long-term boyfriend tells her he wants an open relationship, and she decides to seek out new prospects of her own. Will Quan Diep — a tattooed motorcyclist who is so not Anna's usual type — turn out to be exactly what she needs? Read the book and find out.
3. The Love Songs of W.E.B. Du Bois by Honoree Fanonne Jeffers: When Oprah selects a title for her book club, people tend to take notice… and it's no wonder! The Love Songs of W.E.B. Du Bois is the latest novel to get the Oprah treatment and has been getting rave reviews and shooting to the top of bestseller lists ever since. An award-winning poet, Honoree Fanonne Jeffers makes her fiction debut with this book, which takes readers along on the main character's journey to learn more about her family's lineage in the deep South. Pick up The Love Songs of W.E.B. Du Bois if you're ready to learn — and feel — a lot.
4. Harlem Shuffle: A Novel by Colson Whitehead: Colson Whitehead has won the Pulitzer Price not once, but twice, and any time he writes something new, it's a major event for book lovers anywhere. Cozy up with Harlem Shuffle if a peek at '60s-era New York City is up your alley for fall reading.
5. L.A. Weather: A Novel by María Amparo Escandón: Attention all fans of Reese Witherspoon (and her book club)! L.A. Weather is Reese's latest pick, and if that gorgeous cover isn't enough to draw you right in, the premise definitely will be. In L.A. Weather, María Amparo Escandón weaves a beautiful story of family — the good, the bad, and the challenging. Set against the backdrop of a bone-dry Los Angeles, the novel introduces readers to the Alvarados… not to mention their many secrets.
6. Matrix: A Novel by Lauren Groff: It's been a while since the brilliant Lauren Groff published a new novel, but they always say the best things are worth waiting for. Matrix is a fantastic read for anyone who loves history, scandal, and in-depth peeks into complex characters. Our heroine is Marie de France, a seventeen-year-old sent to live in England by Eleanor of Aquitaine. In her new home, Marie finds sisterhood and a new kind of strength for herself and other women.
7. The Dating Playbook by Farrah Rochon: Love is in the air this fall, thanks to Farrah Rochon and her latest contemporary romance novel, The Dating Playbook. Grab your favorite blanket, something warm to drink, and this delicious new book. It's especially well-suited for fans of the fake-dating turned will-they-or-won't-they storyline. Yeah, this sounds like the perfect book to wind down with this season.
8. Apples Never Fall by Liane Moriarty: You may already know Liane Moriarty's name from books (and TV shows!) like Big Little Lies and Nine Perfect Strangers, but this bestseller definitely isn't finished telling page-turning stories. Between Moriarty's fame and its juicy storyline, Apples Never Fall is basically guaranteed to have all the bookworms buzzing over the next few months. Perfect for fans of novels that explore drama in marriages and between siblings, Apples Never Fall is a sure thing.
9. Taste: My Life Through Food by Stanley Tucci: Stanley Tucci's memoir is easily one of the most highly-anticipated books of 2021. In October, his love letter to food finally hits shelves, and you won't want to waste time pre-ordering yourself a copy — especially if you love food as much as I do. In Taste, the award-winning and beloved actor takes readers inside his personal history through stories in and around the kitchen. If you didn't know about Stanley Tucci's foodie inclinations, you're about to find out.
10. Beautiful Country: A Memoir by Qian Julie Wang: If you're keeping up with celebrity book clubs, here's another one to put on your radar. Jenna Bush Hager chose Beautiful Country for her famous Today Show #ReadWithJenna book club. It's the author's first book, which makes things that much more exciting! Beautiful Country shines a spotlight on one immigrant's experience and will leave you feeling all the feels and blown away by the writer's beautiful words.
11. This Will All Be Over Soon: A Memoir by Cecily Strong: Fans of "Saturday Night Live" and "Shmigadoon!" will recognize Cecily Strong from her work on-screen, but you don't need to be familiar with her to get something out of her book. Unlike many celebrity memoirs, it's not a Hollywood story. Instead, it explores the matters of grief, life, and death that unite all of us. This Will All Be Over Soon is wrapped up in Cecily Strong's unique voice, which will offer you a brand new perspective on universal truths.
12. The Charm Offensive: A Novel by Alison Cochrun: Alison Cochrun's The Charm Offensive has been getting rave reviews from every corner of the book world for the last few months. It was also selected as a highly-anticipated read for the fall by outlets like BuzzFeed, Bustle, and Entertainment Tonight. This queer love story takes place on a reality dating show, so it's ideal for anyone who tends to find themselves distracted from reading by the TV. (Guilty!)
13. Unfinished: A Memoir by Priyanka Chopra Jonas: Priyana Chopra Jones has made headlines as a model, actor, and wife of Nick Jonas — and now she adds "author" to that list. If you've devoured celebrity memoirs in the past, Unfinished should absolutely be added to your personal reading stack. You'll learn about every aspect of the author's life, from her childhood in India to her glittering career today and everything in between.
14. The Plot: A Novel by Jean Hanff Korelitz: Did you binge-watch "The Undoing?" If you did, you might not know that it was actually based on a book called You Should Have Known, written by Jean Hanff Korelitz. The author has been getting attention for her newest novel, which explores the fascinating matter of literary theft. What happens when a writing teacher runs with a plot originally devised by one of his students… and becomes famous for it? The Plot answers this question! This zany ride of a book has been getting lots of press lately and you're going to enjoy every page.
15. Cultish: The Language of Fanaticism by Amanda Montell: Non-fiction readers looking for the perfect read for this fall should pick up a copy of Cultish, in which journalist and content creator Amanda Montell takes a close look at the social science of cult influence. The author's research will offer you lots of food for thought about why you find yourself falling down rabbit holes and into obsessions through documentaries, social media, and more.

16.The Rural Diaries: Love, Livestock, and Big Life Lessons Down on Mischief Farm by Hilarie Burton Morgan: This book isn't quite as shiny and new as the rest of the titles on this list, but it recently crossed my radar and I just had to share! Hilarie Burton Morgan is an actress best known for her work on shows like "One Tree Hill" and "White Collar," but she's more recently forged a new life as the owner of a farm in upstate New York. Her bestselling book The Rural Diaries takes readers behind the scenes of that new life and all that it's taught her about family, community, and life, in general.
Check out the 2020 Fall Book List:
Check out the 2019 Fall Book List:
---
Pin it to save for later:
Want even more books to dive into?
Check out our Summer reading list from this year, too!
1 comment
September 24, 2021
This website may at times receive a small affiliate commission for products that we shared with you in our posts. Although we may receive a commission for linking certain products, there's no additional costs to you and all of our opinion and suggestions are 100% our own and unbiased. That's our promise to you!
Subscribe to get our FREE clean eating guide!
Join our email list TODAY to start recieving our newsletter weekly, access to exclusive content and deals, *and* a FREE complete 24-page clean eating guide!