This recipe for easy Pumpkin Spice Coffee can be made using your favorite regular coffee or made into a Pumpkin Spice Latte. It's refined sugar-free and customizable so you can make it dairy-free if you need to!
Pumpkin Spice Latte Recipe
It's Fall and that means we're all collectively craving Pumpkin Spice Coffee! There is no shortage of it available in coffee shops now, but it's pretty pricey and the ingredients are a little vague. Is there actually any pumpkin in that store-bought stuff? Well, no need to wonder for our recipe! Our Pumpkin Spice Latte recipe uses a homemade pumpkin butter, a splash of maple syrup and sprinkle of pumpkin spice to get that authentic pumpkin spice coffee taste! You can make it custom how you prefer, either as a latte with espresso and steamed milk, or keep it simple and add it to the cup of coffee you normally make for a super festive and delicious morning cup.
Here's what you need to make it:
Pumpkin Butter: Make a big batch now for the season and freeze what you won't use in two weeks time in small portions. When you are ready to use it, let it thaw in the refrigerator overnight, as needed.
Maple Syrup (or omit if you prefer to not add any additional sweetener)
Coffee or Espresso
Milk or creamer of choice
How to Make a Pumpkin Spiced Latte
Traditionally a latte contains a shot or two of espresso (or very strong coffee) topped with steamed milk. In the coffee shop, a pumpkin spice latte will contain this with some pumpkin flavored syrup. Our pumpkin spice latte actually contains pumpkin and you get to control the sweetness. To make it:
Place pumpkin butter and maple syrup in a cup. Add in very hot espresso stir together until completely combined.
Steam your milk either with a steam wand, using a handheld milk frother, or heat your milk and froth. Top with steamed milk and sprinkle with pumpkin spice and serve immediately.
How to Make Pumpkin Spice Coffee
We first discovered this pumpkin coffee during our testing of the pumpkin butter. We had so much leftover that we started using it in unexpected ways, including one morning when our Food Editor Kelli placed some in her coffee cup and discovered how well it works to make pumpkin coffee! Using it this way makes it taste just like a latte, without any extra effort of making espresso or steaming milk. To make easy pumpkin flavored coffee:
Place pumpkin butter and maple syrup in a cup. Add in very hot coffee and stir together until completely combined.
Top with milk, or creamer of choice and sprinkle with pumpkin spice and serve immediately.
What Milk to Use
You can use any milk that you already do for your coffee! For dairy-free we prefer to use almond milk or oat milk, but any milk you typically use works too.
Check out these posts for homemade dairy-free milk:
Frothing the Milk
There are a few different tools out there to froth milk.
An attached steam wand: If you have an espresso machine with an attached steam wand, use that to steam the milk.
Hand held milk frother: This is the one I use. You can froth the milk with or without heating it up first, but I prefer to heat it first before frothing.
If you don't have a milk frother and don't want to buy one to make this is, you can slowly heat up the milk in a pot to the point of boiling. It will froth up a bit. Shut off the heat and use immediately. It won't work exactly the same as milk that has actually been frothed, but it's a close second.
Other ways to use up Pumpkin Butter
This recipe calls for making pumpkin butter to use in the pumpkin coffee. Pumpkin Butter is a sweet spread made up of cooked pumpkin puree with added sweetener and warm spices. Our recipe calls for either making it in the Instant Pot or in a Slow Cooker. It does make a large batch. You can freeze whatever you won't use up in two weeks time. Freeze it in small portions so you can take out to defrost only what you plan to use. However, pumpkin butter has lots of uses. Use up any extra pumpkin butter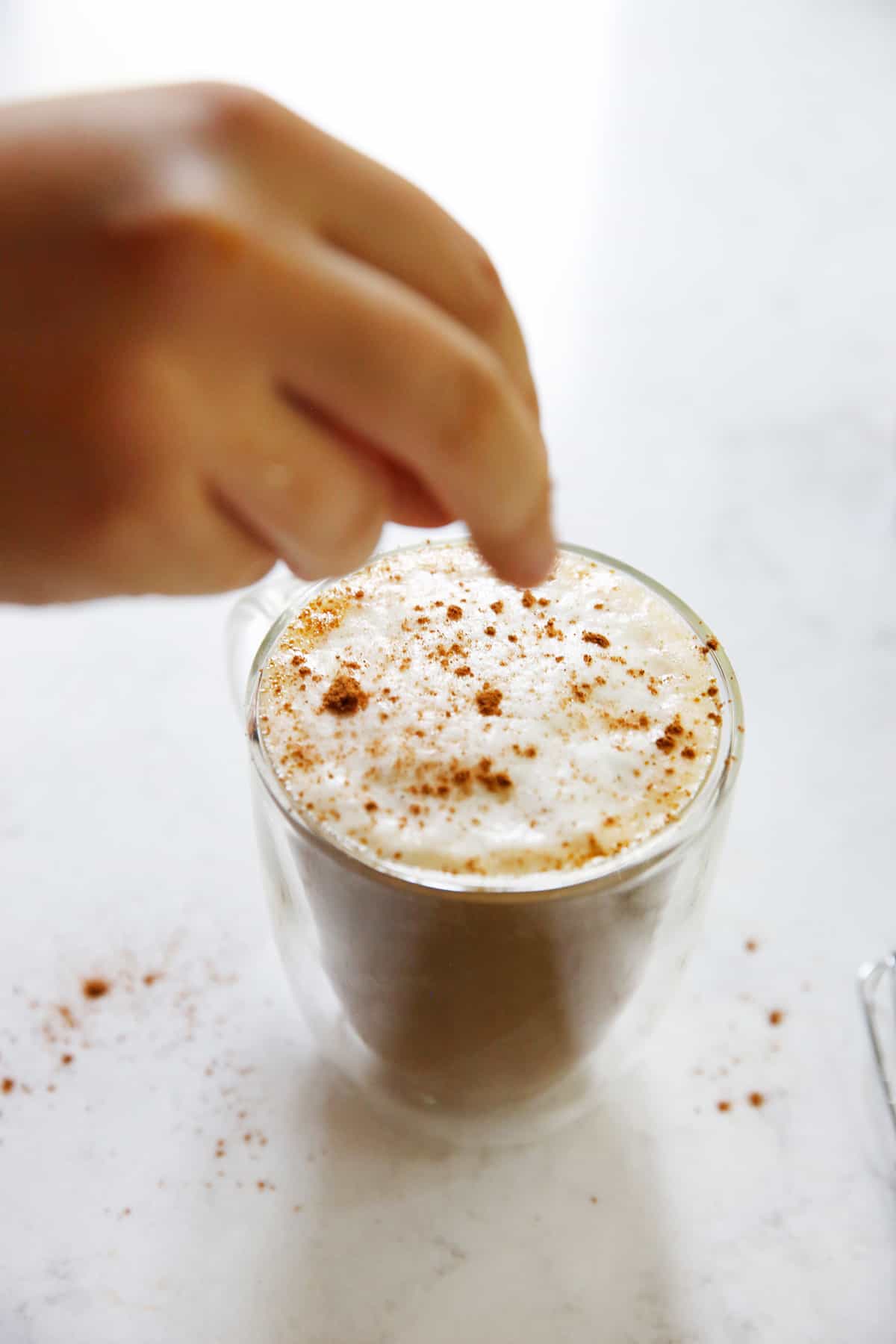 If you like this pumpkin recipe, check out these others:
Directions
Place pumpkin butter and maple syrup in a cup. Add in very hot espresso or coffee and stir together until completely combined.
Loading nutrition data...
There may be affiliate links in this post! By clicking on them, or purchasing recommended items I may receive a small compensation, at no cost to you! However, I only recommend products I absolutely love and use in my own home! Thank you for supporting Lexi's Clean Kitchen when you shop! See my
privacy policy
for more information about this, the information we save, and more!
use our hashtag!
I am so excited that you are making a recipe and would love to see how it turns out! Make sure to use the hashtag on social media!
#LEXISCLEANKITCHEN
share this post!
subscribe to the email list!