This Gluten Free Apple Pie has all the markings of the classic version we all know and love: a buttery crust with thinly sliced juicy apples laced with cinnamon and nutmeg. It's the perfect pie to serve during the holidays or a fun weekend baking project to mark the fall season! It's made using unrefined sweeteners and uses the BEST gluten-free crust.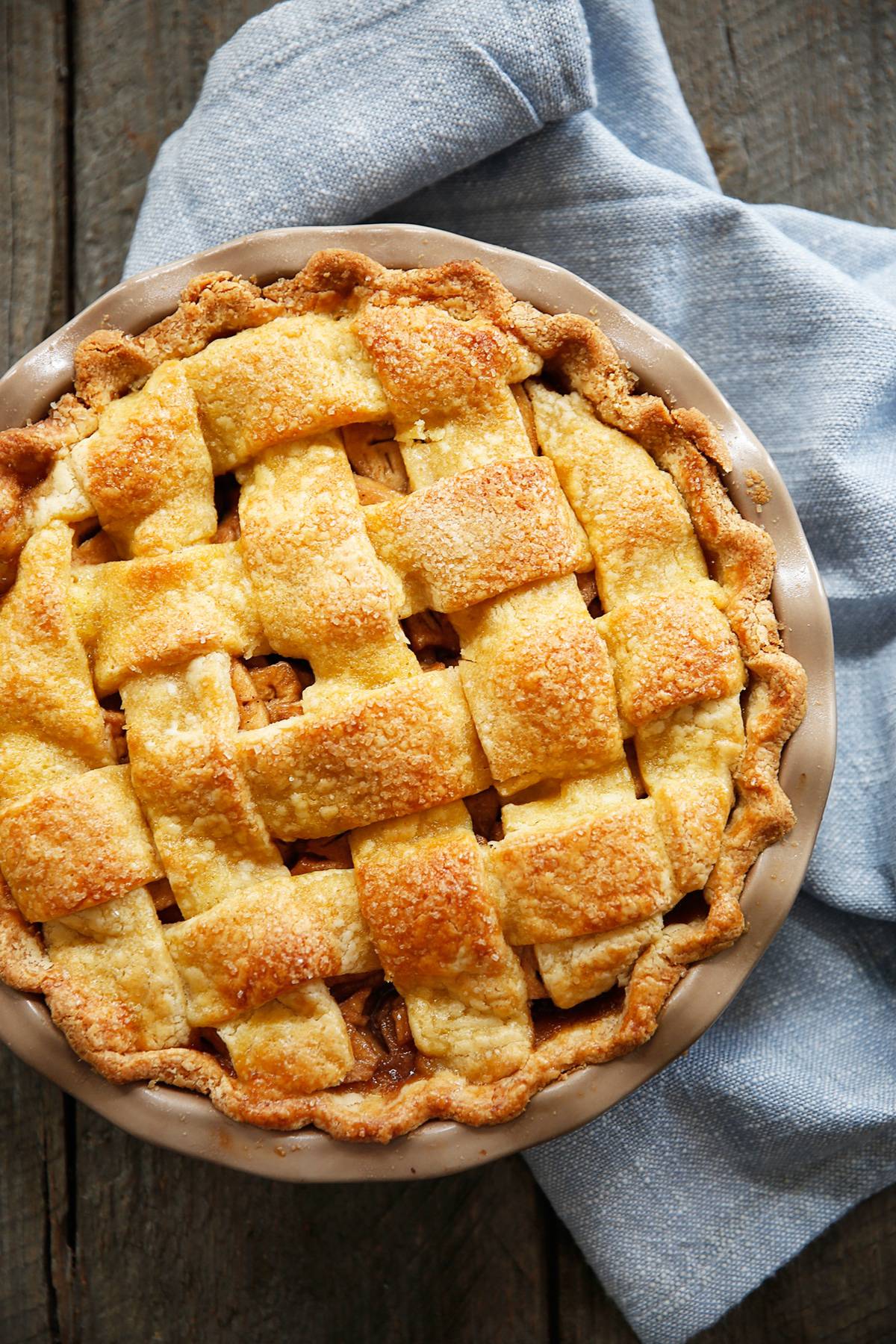 Gluten Free Apple Pie
If you must know how to make one pie out there, THIS IS THE ONE. We knew when we were planning our apple recipes for this month that we had to include a Gluten Free Apple Pie because it is such an iconic American dessert, and for good reason! Apple pie is a must-make during the fall season: at least once!
This recipe is definitely staying true to what we believe is a classic apple pie with juicy cinnamon and spice apples encased in a buttery pastry. We turned to our favorite pie dough that uses almond and tapioca flour and butter. If you are dairy free and are looking for a substitute for the butter in the crust, palm shortening or a non-dairy butter can work but it alters the flavor of the crust a bit. We also use tapioca flour in the filling to thicken the pie.
We use a combination of gala and granny smith apples in this pie, but if those aren't available check out this apple guide to figure out which apples are best for baking.
TIPS to make pie baking easy peasy:
Make the crust 1-2 days ahead of time.
Roll the crust out ahead of time. Place the bottom crust in a tin and cover with plastic. Place the top crust on a parchment lined baking sheet, and cover with plastic wrap. This ensures it doesn't dry out. You can do this a day ahead or a few hours ahead of time. It also makes it easier to work with the crust since it's already cold. If you are choosing to weave a lattice do so on a piece of parchment paper. When ready to place on the top crust of the pie simply invert the lattice from the parchment on to the filled pie.
When peeling and slicing the apples, squeeze apples with lemon juice to prevent browning.
When placing the apples inside of the rolled out dough, make sure to pack them in tightly! This reduces the chance that the filling will shrink when baking and leave a gap between the apples and top crust.
Make sure the crust is cold when rolling it out and working with it. If it's getting too warm and melty, place it back in the refrigerator for 10-15 minutes.
Make the whole pie a day ahead of time! You can leave it at room temperature, covered, for 24 hours. Simply place in the oven at 350 for about 10-15 minutes to warm up, if desired.
We chose to weave a lattice to top our apple pie, to show it can be done with gluten-free crust, but it is totally not necessary. You can simply place a rolled out crust on top with a few slits for steam to escape, or you could roll out the crust and stamp a few decorative designs or apple cut outs on it. If you do want to do a lattice, it's easier with this crust if you use bigger strips of pastry. And, I may sound like a broken record here but make sure your pastry is cold while you are working with it! We definitely had to place the pastry back in the refrigerator at least once between the rolling out the pastry and weaving the lattice. So when in doubt, chill the pastry for 10 minutes and you'll have an easier time.
We used these kitchen tools in this recipe: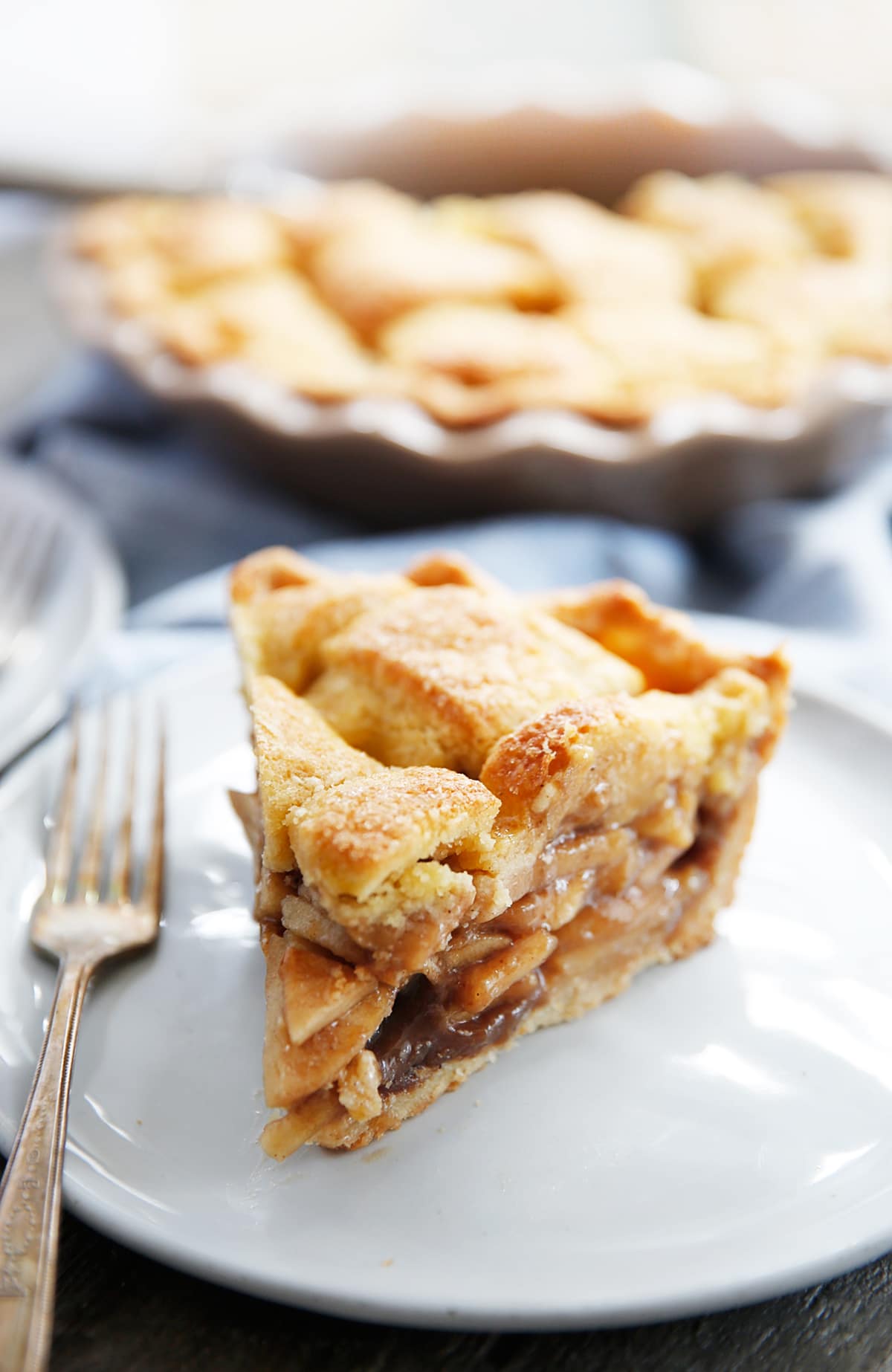 If you like this pie recipe, check out these others:
Ingredients
For Crust
For Filling
Directions
To Make Pie Crust:
In a food processor combine almond flour, tapioca flour, salt and cold butter and pulse until the butter is broken down into pea-sized pieces.
Shape dough into two round disks, wrap in plastic wrap and transfer to refrigerator until cold, at least 4 hours or overnight.
To Prepare Crust and Filling:
Preheat the oven to 350ºF. Remove one dough disk from the refrigerator (leave the other chilling). Between two sheets of parchment, roll out dough to fit the size of a 9 inch pie tin, about a 12 inch circle. Removing one sheet of parchment and invert the pie dough into your tin.
To make the filling: In a large mixing bowl combine the sliced apples, lemon juice, coconut sugar, tapioca, vanilla, salt and spices and toss until combined. Spoon apple mixture inside pastry lined tin and place back in refrigerator while rolling out the top crust. (See note)

Roll out the remaining dough disk to an 11" circle. If you are making a lattice, cut the dough into 8 or 10 strips (depending on your lattice ability!) and weave the lattice on a sheet of parchment.

Remove chilling filled pie from refrigerator and either invert lattice on to the top of the pie, or place the whole rolled pastry on top. Seal the pastry pieces together, and crimp the crust, if desired. If covering the pie make sure to slice in a few holes to let the pie vent. If at any point during the process of making a lattice or placing on the pastry the pie crust gets too warm and is difficult to work with

place in the refrigerator on sheet tray until cool enough to handle 10-15 minutes.
To Bake Pie:
Brush crust with egg wash, and coarse sugar, if using and place on a rimmed baking sheet and bake until apples are tender and filling is bubbly, about 1 hour. If crust is browning too quickly, tent with aluminum foil.
Let cool at least 1 hour before serving, but best to wait at least 4 hours.
Recipe Notes
We use a deep dish 9" pie plate to make our pies and fit about small to medium apples. If you pie pan isn't a deep dish, you may want to use 1-2 less apples.
When placing the apple mixture inside, try to leave as little space as possible between apple slices by moving them around a bit to help them fit as tightly as possible. This makes sure you can pack in as much apple flavor in your pie, and so that your apple filling doesn't sink during baking.
We recommend a mix of apples such as gala and granny smith.
To make an egg wash mix together 1 egg and 1 teaspoon of water until completely combined. An egg wash leaves the pie crust shiny. It can be omitted if desired.
Once baked the pie can remain at room temperature, covered, for about 24 hours. Any longer than this and it should be stored in the refrigerator and briefly warmed up, if desired, before serving.
Loading nutrition data...
There may be affiliate links in this post! By clicking on them, or purchasing recommended items I may receive a small compensation, at no cost to you! However, I only recommend products I absolutely love and use in my own home! Thank you for supporting Lexi's Clean Kitchen when you shop! See my
privacy policy
for more information about this, the information we save, and more!
use our hashtag!
I am so excited that you are making a recipe and would love to see how it turns out! Make sure to use the hashtag on social media!
#LEXISCLEANKITCHEN
share this post!
subscribe to the email list!