Creamy, with just a whisper of coconut, this side dish is a fun twist on traditional rice. This coconut rice of course uses coconut milk, with a bit of lime to give it a slightly tropical feel. We've included directions for both stovetop and Instant Pot cooking!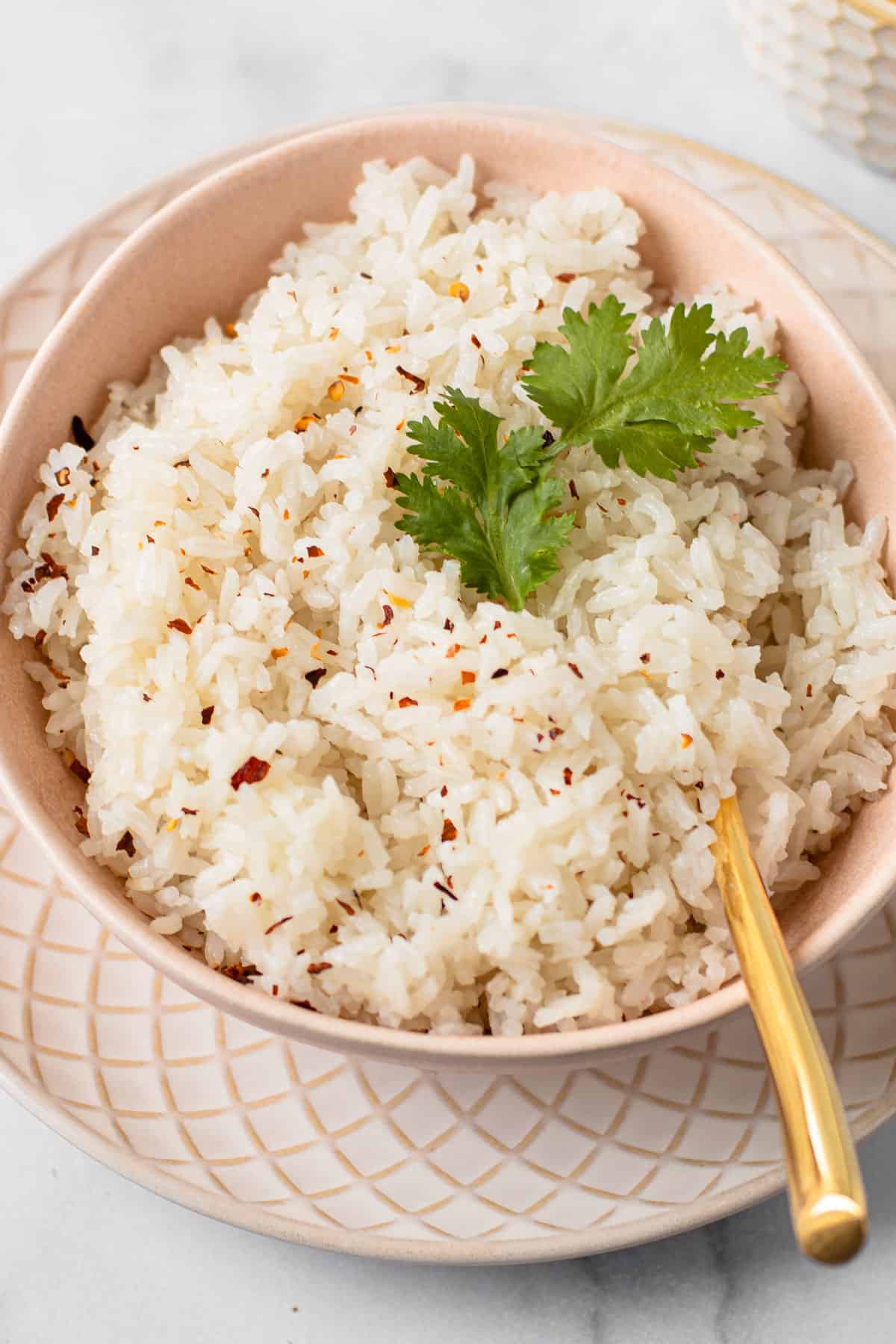 Coconut Rice (Stovetop or Instant Pot)
Swapping out the liquid the rice is cooked in for coconut milk is such a simple way to put a twist on a traditional side dish. This coconut rice is rich, flavorful and a fun way to easily mix things up at dinner time.
Honestly, coconut rice is so good it could be eaten simply on its own! You can also make a really large batch and freeze mini portions of it to take out as needed for a quick dinner side dish, too.
Lately we've been serving it up with Hawaiin Chicken, but it goes really well with a lot of dishes, and everyone in the family is going to love it!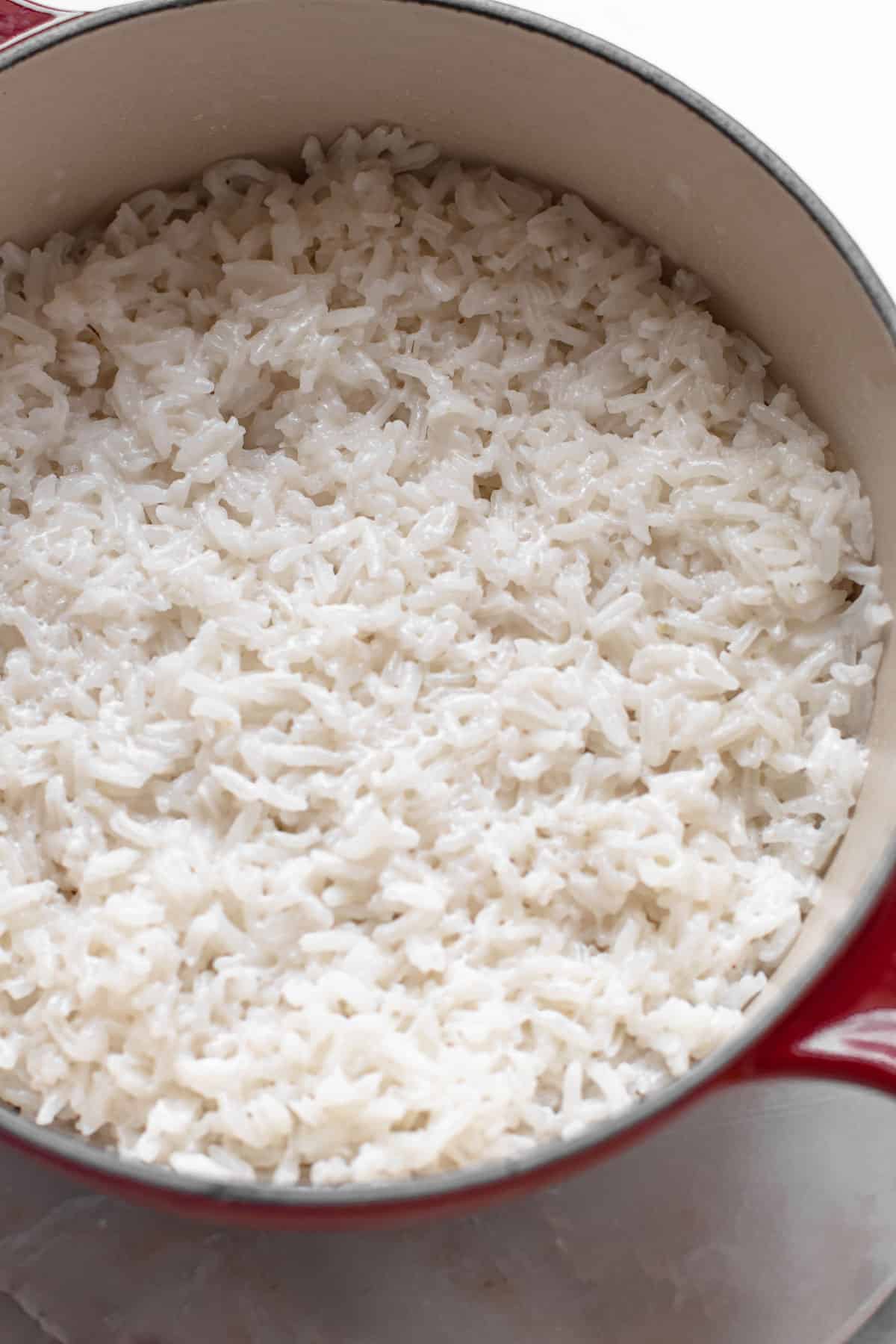 Ingredients Needed
Jasmine Rice: We love this dish with jasmine rice, but alternatively you can use either regular long-grain white rice, or Basmati rice, but we don't recommend using brown rice for this particular recipe. The liquid and the cooking time is dependent on the use of white rice.
Coconut Milk: Use unsweetened coconut milk from a can! This recipe isn't meant to be used with boxed coconut milk beverage. You could use regular or light coconut milk.
Water
Salt
Lime Juice: This adds a nice acidity to the richness of the coconut milk.
Tips for Cooking Perfect Rice
Start with Jasmine rice. As we said above, use the right rice. Do not use short-grain white rice or brown rice for this recipe.
Wash the rice REALLY well, like wash it more than you've ever washed rice before. This is probably the most critical step when making good rice. Washing the rice rids it of excess starch that can make the final dish sticky. To wash, place the rice in a large bowl and fill it with cold water. Agitate the rice with your hands and then empty out the water. Fill it back up and repeat. You'll do this several times until the water starts to get clearer, and then you can drain the rice and give it one more rinse until no cloudy runoff remains.
Let the water boil down before you cook it. This recipe calls for boiling down the water until it has completely evaporated below the rice before you reduce the heat and cover. This deviates greatly from traditional recipes, but it results in a more pleasant texture in the final result. You'll know you let the water boil down far enough once the little bubbles coming up through the rice disappear completely. Then you lower the heat and cover the rice for the remainder of the cooking.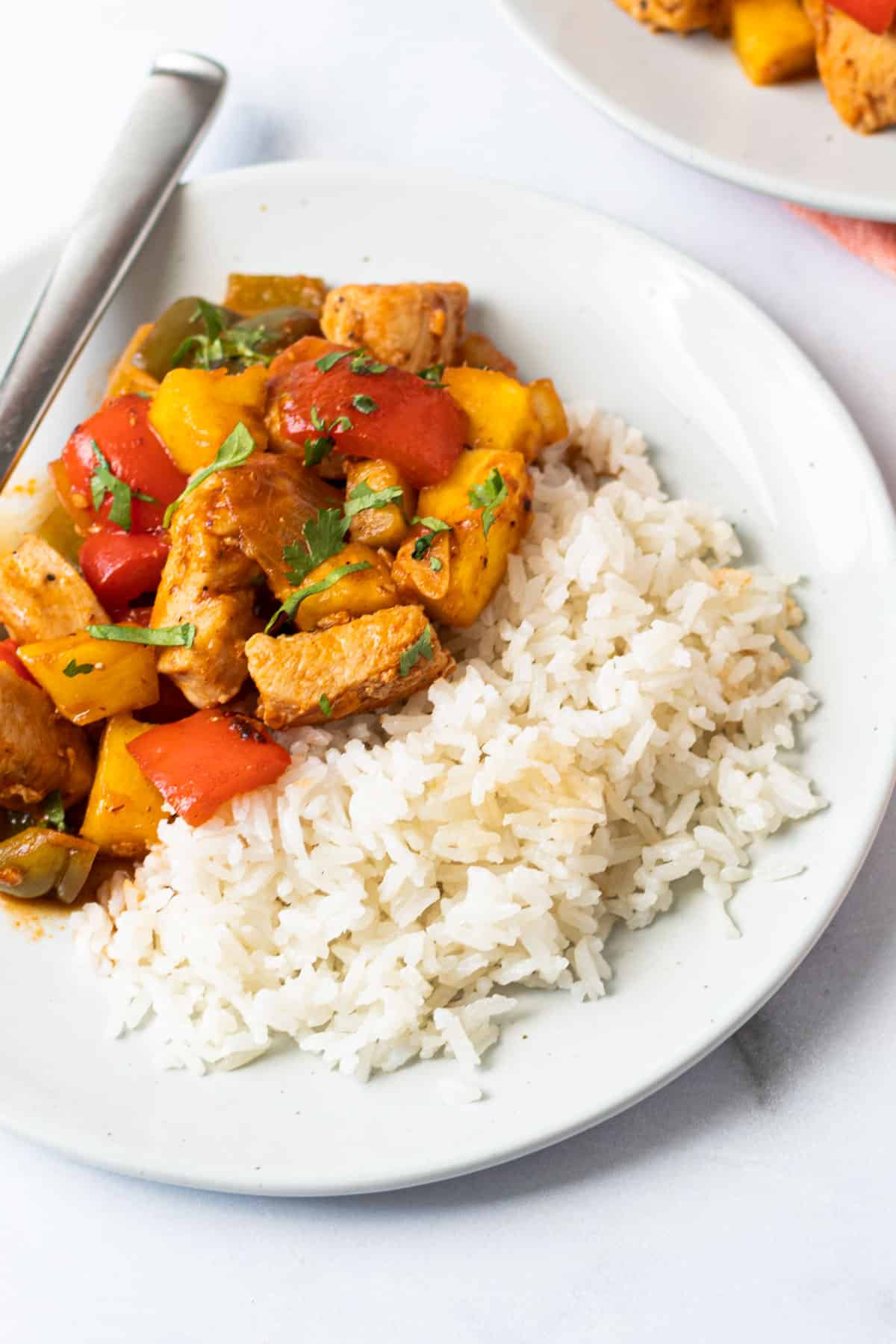 Want to cook it in the Instant Pot?
To cook in the Instant Pot (note that the water amount added is different than the stovetop, all other ingredients stay the same):
Rinse the rice: Place rice in a large bowl and fill with cold water and move the rice around with your hands. Drain the rice and repeat this step until the water inside the bowl is clear.

Add the rice, coconut milk, 1 cups of water (this amount is different than the remainder of the recipe), lime juice and salt and press the rice button (or cook on manual pressure for 12 minutes).

When done use the quick release function.

Fluff with a fork and serve immediately or cool down to use for meal prep.
Dishes to serve with coconut rice:
Watch the video here:
---
---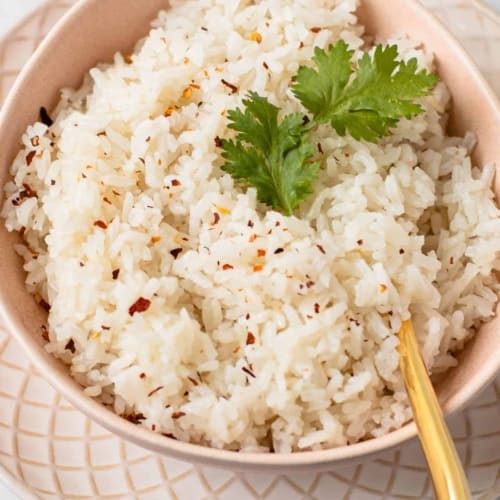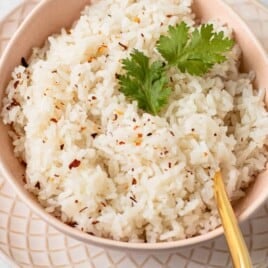 Ingredients
2

cups

Jasmine rice

1

13.5 ounce can unsweetened coconut milk

1-1/2

cups

water

1-½

teaspoons

salt

1

tablespoon

lime juice
Instructions
Rinse the rice: Place rice in a large bowl and fill with cold water and move the rice around with your hands. Drain the rice and repeat this step until the water inside the bowl is clear.

Add the rice, coconut milk, water, salt and lime juice to a medium pot and turn heat to high. Bring to a boil and continue to cook until all the water has evaporated below the rice and the bubbles have disappeared, about 10 minutes.

Cover and reduce temperature to the lowest heat and cook for 10 minutes. 

Once done, fluff with a fork and serve immediately.
Notes
The rice will keep for about 5 days in the refrigerator. Alternatively you can freeze in single serve portions to use for a quick weeknight dinner. To reheat place rice in a medium pot with 2 tablespoons of water and place on low heat with a cover. Cook for about 10 minutes until the rice is completely heated through and the water has been absorbed.
See body of the post for directions for cooking in the Instant Pot.