This Peanut Butter and Jelly Smoothie has become my new staple smoothie that my whole family loves, including my baby! It's nutrient-dense, filling, and tastes just like a peanut butter and jelly sandwich, in smoothie form. It's delicious!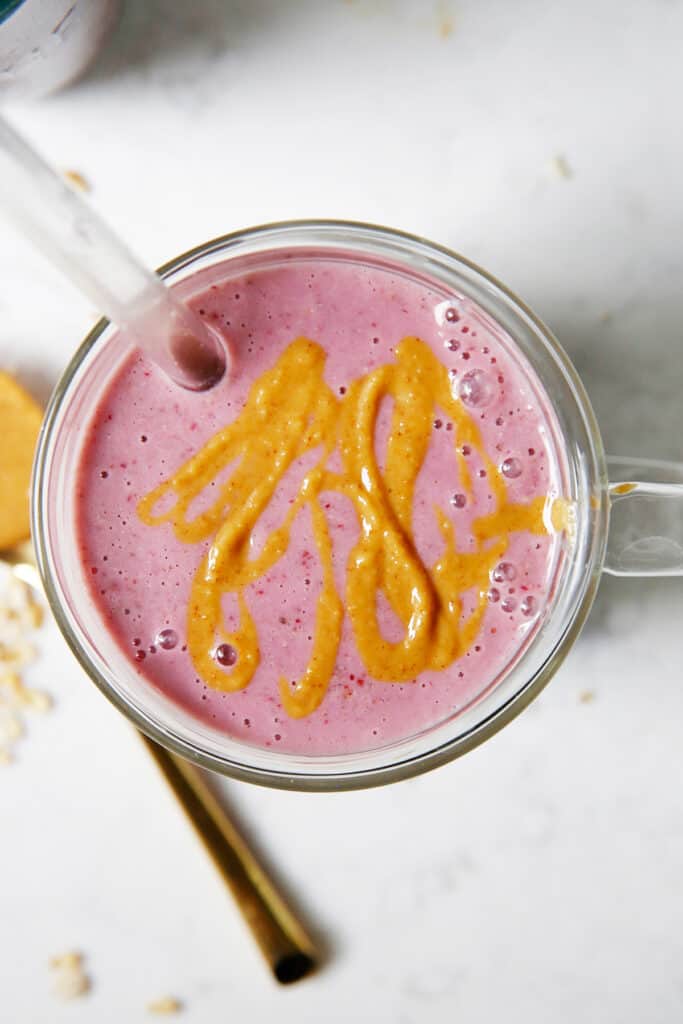 PBJ Smoothie
This smoothie is truly the perfect combination of easy ingredients that create a healthy smoothie recipe everyone will enjoy. You can customize it a bit as needed, and throw it together in a pinch, or make a few freezer packs and stash them in the freezer so you're always prepared!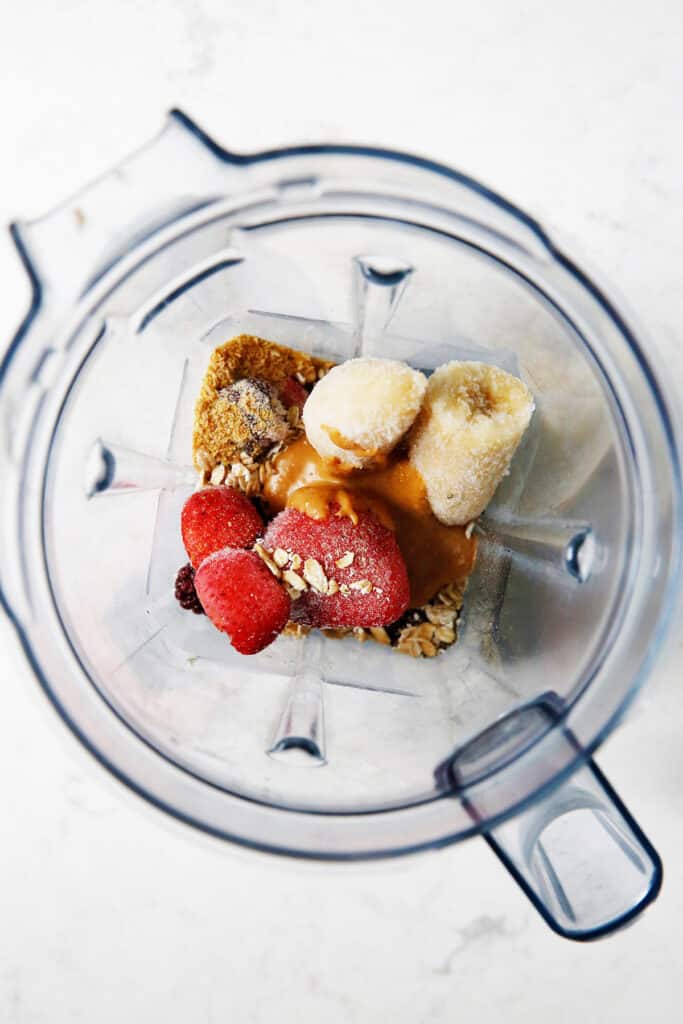 Peanut Butter and Jelly Smoothie Ingredients
Frozen mixed berries: An essential for the PB & J flavor happening here! The cool thing? You can buy bags of frozen organic mixed berries! They usually include: strawberries, blackberries, raspberries, and blueberries! If you don't have this, you can totally just use frozen strawberries! Think, your favorite jelly flavor!
Frozen banana: Frozen bananas are a staple in my freezer, because they are the key to a creamy smoothie! So I always have a bag of frozen, unpeeled, bananas ready to go for smoothies like this one!
Rolled oats: This adds nutrients, tons of fiber, and makes this smoothie extra filling. I always look for glyphosphate-free oats, since oats are a heavily sprayed crop, and don't forget to buy certified gluten-free, if you need to be gluten-free.
Peanut butter: A good peanut butter (any you like!) is key to the PB & J flavors of this smoothie. Though, almond butter would work just fine too. I buy peanut butter with no added oils or sugars, since nut butter can be a sneaky source of random ingredients.
Milk of choice: Any milk will work here! You may end up using more as needed to reach your desired consistency, but start with the cup, so you don't overdo it and have a watery smoothie
Chia seeds: Adding chia seeds to your smoothie will add additional nutrients. You don't taste them, they add omega-3 fat, antioxidants, and fiber. You can omit chia seeds in your smoothie if you don't have them handy.
Ground flax: Another nutrient boost that is optional but adds a whole lot of nutrients, omega-3 fat, and fiber. Can you omit ground flaxseeds in your smoothie? Sure thing!
Optional: A scoop of protein powder: I like adding a scoop of collagen peptides which is flavorless, and my husband Mike likes a scoop of protein powder! If you add protein powder, just check the flavor, because of course that can alter the taste a drop.
Need to make this Peanut Butter and Jelly Smoothie without Banana?
You often see smoothies made with frozen bananas because it's the key to a creamy smoothie with just the right thickness and texture, plus it adds sweetness without added sweeteners. I know some people cannot tolerate banana, so if you need to swap it out and make this without the banana, you can add in 1 cup of frozen cauliflower (no, you won't taste it!) and add in a tablespoon of maple syrup.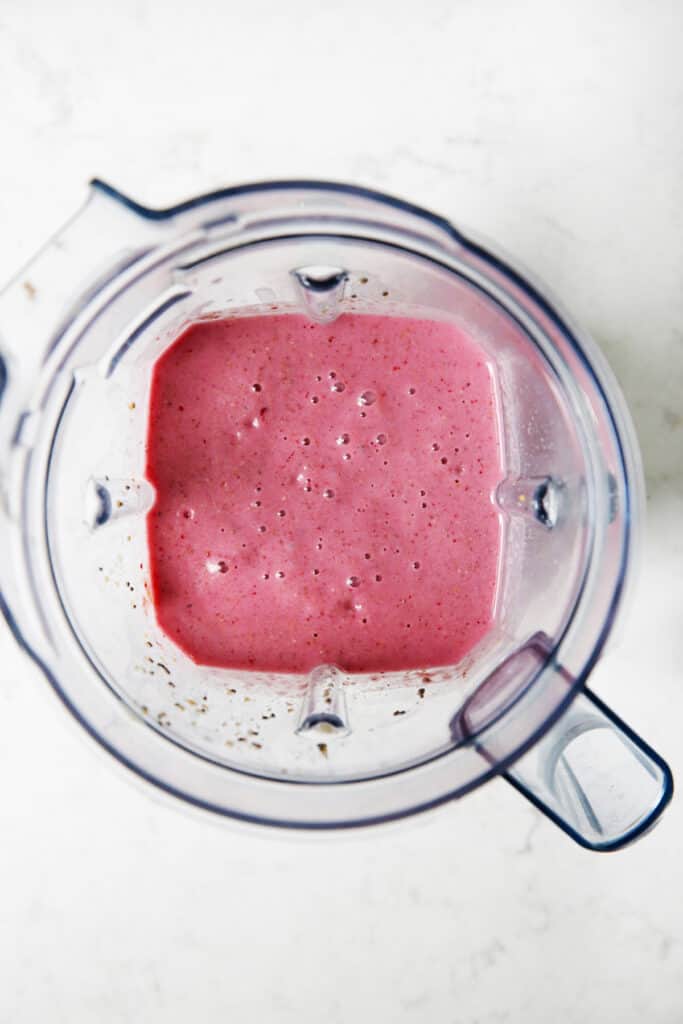 Making a PBJ Smoothie Ahead of Time
You may already know my love for smoothie packs! They are a great thing to have in the freezer for a quick snack, breakfast, or to freezer prep for a friend or before the arrival of a baby! So yes, you can prepare these ahead of time, placing all the ingredients into a freezer safe bag or container, and freeze. Don't blend the smoothie ahead of time, though! Smoothies are best when enjoyed right after blending!
Tips to Make and Use Smoothie Packs
Where should I shop? We recommend purchasing the fruit at a large box store that offers organic frozen fruits, like Costco or BJ's, or a place like Trader's Joes (this is where we purchased some of our ingredients). Amazon Fresh also has some great options for bulk fruit.
How Do I Make Smoothie Freezer Packs? Simply place all the specified ingredients, except the milk, inside a plastic bag (or better yet, a reusable bag) and freeze until ready to use, up to one month.
Can You Freeze a Smoothie for Later? We do not recommend blending the smoothie too far in advance. Smoothies are best consumed immediately.
Have Some Leftover Smoothie? We pour any leftover smoothie into a popsicle mold and enjoy later as a frozen treat. Kids love this! Though frozen smoothie pops are best consumed within a few days of making.
Here are some items we love for smoothie packs:
Bag Opener (to fill your packs)
Labels/Sharpies to label/date!
Fresh Fruit vs Frozen Fruit
I always have frozen fruit on hand, because they make smoothies cold and add thickness! Plus, studies have come to find that frozen berries contain the same nutritional elements as fresh berries, so buy them in-season and freeze them up! Or grab a bag of organic frozen berries, or an affordable organic berry blend that I see in nearly every grocery store!
Best Blender for Smoothies
Now you can use any blender, but after years of using various blenders, our team here has found a high-speed blender is truly the best blender and a worthy investment. A high-speed blender will last a long time, and it is definitely more high-performing than the standard blender. It makes for the creamiest and best-blended smoothie. However, it's an investment, and we realize purchasing one isn't something everybody can or wants to invest in. So we're sharing some of the blenders we've used and liked in the past on the team in addition to our favorite blender.
Recommended: Vitamix
I (Lexi) have used a variety of blenders. My top two contenders I have used for the past 10 years are both the Blendtec and the Vitamix. At this point, if you're investing for a life-long, investment price blender, go Vitamix. Out of the two, it holds the test of time.
Mid-range price option: Kitchenaid Diamond 5 Speed Blender
Our food editor, Kelli, uses this blender at home. It is moderate in price and works relatively well. However, it is not the same as a high-speed blender, especially when it comes to smoothies. This blender requires adding in more liquid than a high-speed blender would, in order to get the frozen smoothie ingredients fully blended up.
Single serving blender option: Ninja Person Blender
Many people prefer to have a single-serving blender to keep at home or in the office for making smoothies. The bonus is that the basin you use to blend can double as a cup!
Key to a filling smoothie
The key to a filling smoothie are the nutrient dense ingredients you choose! So while we have the base recipe written below in the recipe, that are certainly other ingredients you can add in to really bulk up your smoothie.
A few things I love adding to my smoothies:
frozen cauliflower
sliced nuts
nut butters
rolled oats
protein powder or collagen peptides
coconut oil or MCT oil
chia seeds
cacao powder
maca powder
ground flax seed
hemp seeds
pinch of Himalayan sea salt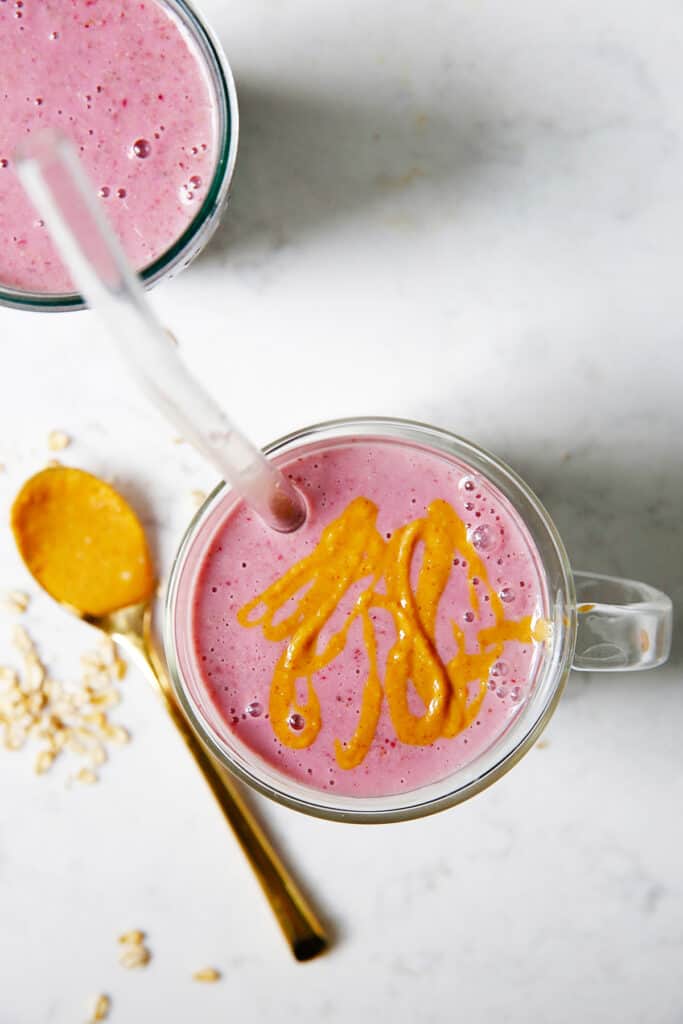 Love smoothies? Try these other smoothie recipes!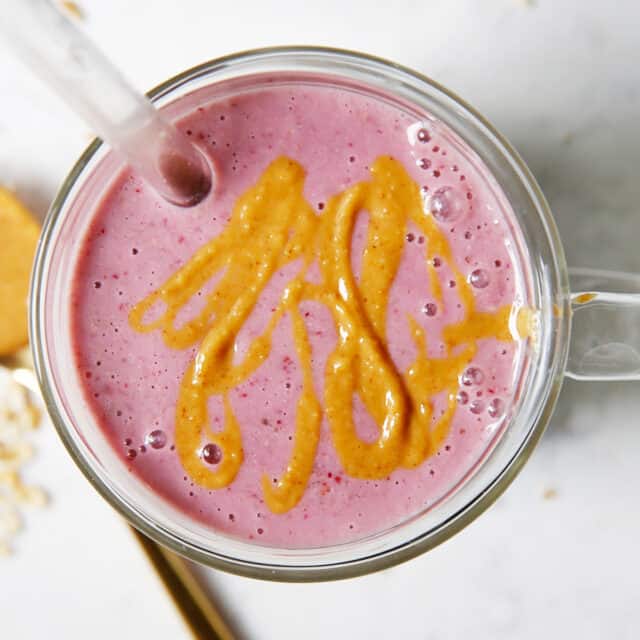 Peanut Butter and Jelly Smoothie
This easy, filling, and nutritious smoothie tastes JUST like a pb&j sandwich!
Ingredients
1

cup

frozen mixed berries

see note

1/2

frozen banana

1

tablespoon

rolled oats

1

tablespoon

peanut butter

1

teaspoon

ground flax

1

teaspoon

chia seeds

1

scoop of protein powder or collagen peptides

optional

1

cup

milk of choice

more as needed to reach desired consistency
Instructions
Place all ingredients into your blender and blend until smooth and creamy.

Drizzle with additional peanut butter, if desired!
Notes
Make sure to buy oats labeled gluten-free if you are gluten-free!
You can buy bags of frozen organic mixed berries! They usually include: strawberries, blackberries, raspberries, and blueberries! If you don't have this, you can totally just use frozen strawberries! Think, your favorite jelly flavor!
Nutrition
Serving:
1
/2 recipe
Calories:
206
kcal
Carbohydrates:
27
g
Protein:
8
g
Fat:
8
g
Cholesterol:
10
mg
Sodium:
99
mg
Fiber:
4
g
Sugar:
14
g