These braised collard greens with bacon are the perfect combination of smoky, salty, sweet, sour and umami with an optional hint of heat if you want! These vitamin rich vegetables are the best addition to a southern fried chicken dinner, or they make a great side with other braised meat and vegetables.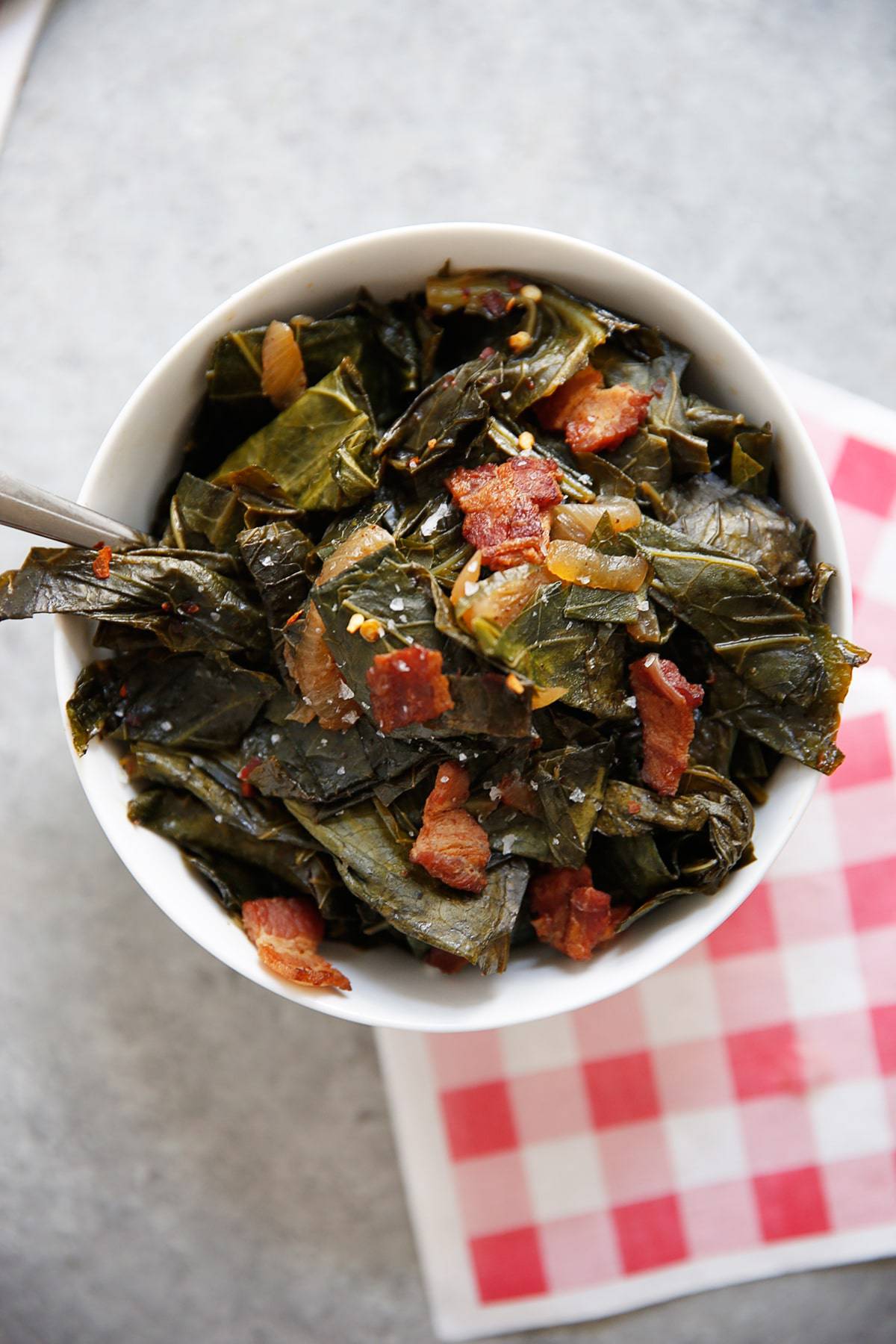 Collard Greens with Bacon
Collard greens with bacon a staple on southern tables, but really they should be a staple everywhere! These vitamin-rich greens are in abundance in the summer months and for sure you'll see them at any farmer's market or tucked away in your CSA box. When they're braised with smoky bacon they're just what you want on your table now!
What Are Collard Greens?
Collard greens are dark, leafy greens with a tough stem, related to the turnip, mustard greens, and kale family. These iron and vitamin-rich greens do best when cooked low and slow and often with a smoked meat, like a ham hock or bacon. While tasty, this method of cooking greens isn't often conducive to weeknight meals, so we re-vamped the traditional southern braised greens to be ready for any night of the week!
Are Collard Greens Healthy?
Collard greens supply good doses of protein, fiber, calcium and iron, but also provides more impressive amounts of other key vitamins and minerals.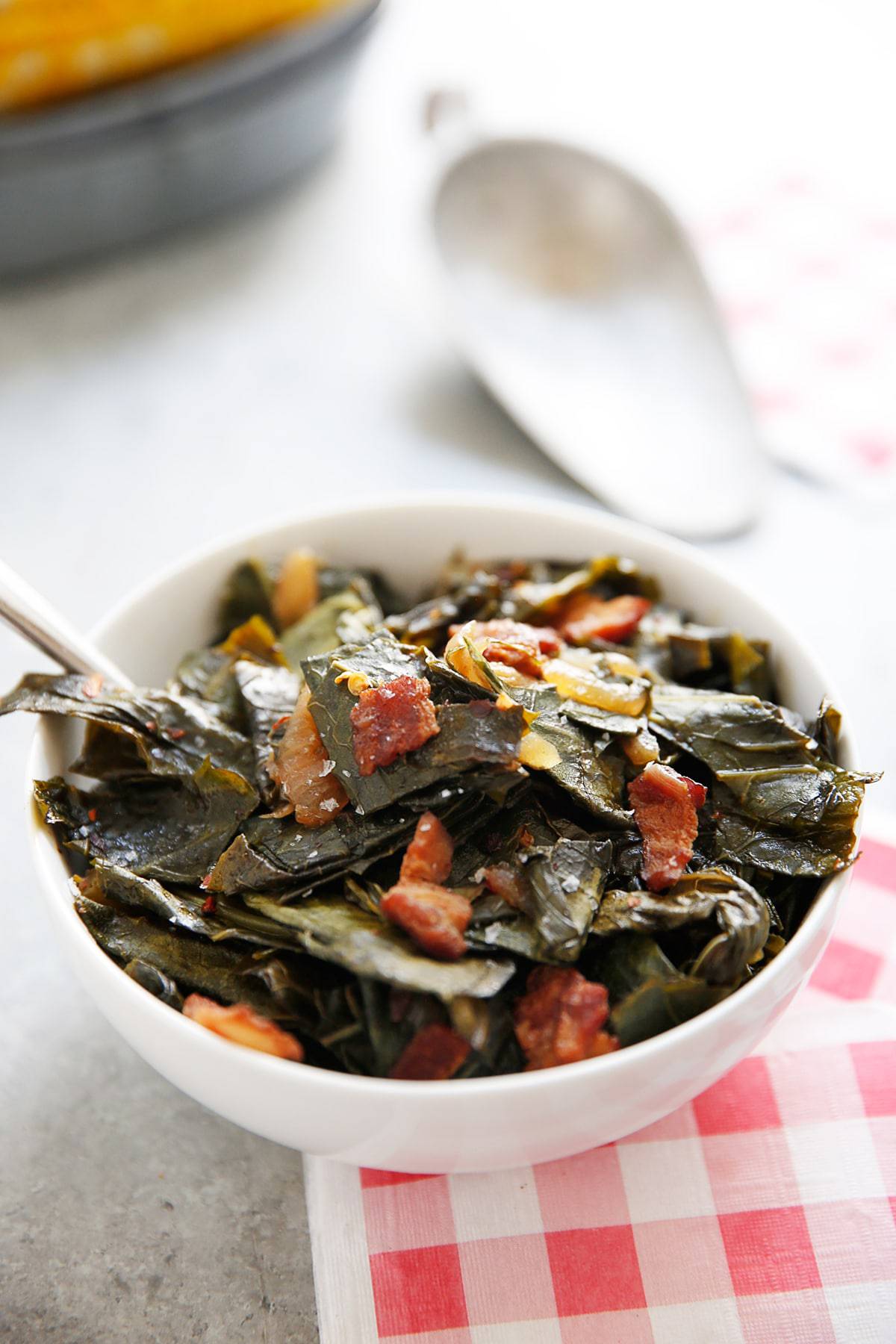 How Do You Prep Collard Greens?
Start by cutting out the tough, fibrous stem. You can do this easily by laying each collard green on top of on another, rolling them up and slicing out the stem.
Next you want to wash them really well. Greens can hold a lot of grit, so you want to fill a large bowl with cold water and submerge the greens. Swish them around for a moment to get all of that grit out, and then let them sit so all the dirt settles to the bottom. Then pull out the greens. If they were especially dirty you may want to repeat this step once or twice more until the water is clear.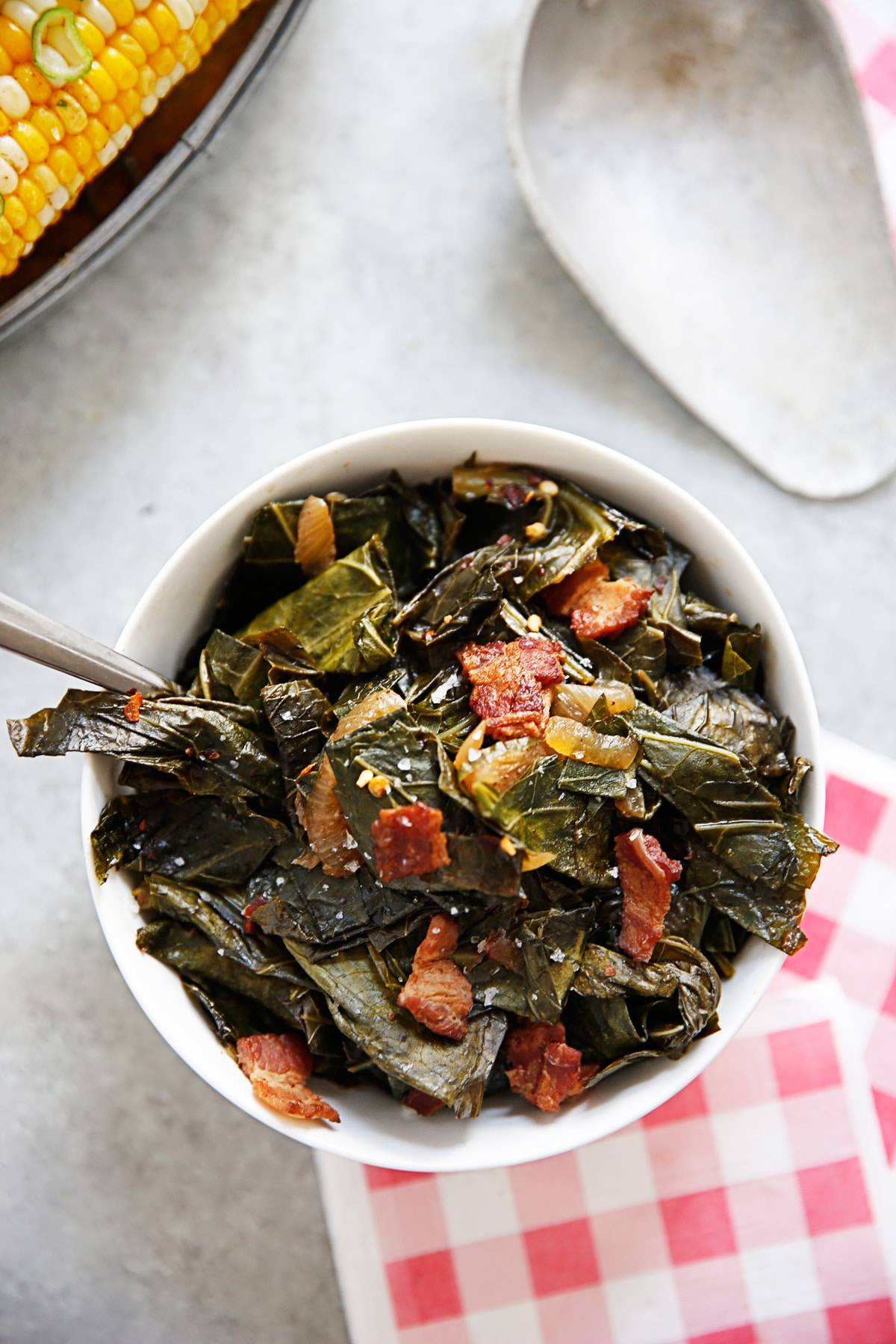 This week we're taking a trip down south and dishing out a new recipe each day to complete the ultimate Southern Fried Chicken Dinner! Each day this week we'll be sharing a recipe to complete an epic southern dinner!
Stay tuned for the rest of the week for the Ultimate Southern Dinner:
Collard Greens with Bacon
Ingredients
3

slices

smoked nitrate-free bacon

diced

1/2

medium onion

sliced to 1/4" thick

2

bunches collard greens

de-stemmed, washed and chopped (see note)

1

cup

chicken stock or water

2

teaspoons

coconut sugar

1

tablespoon

apple cider vinegar

pinch

red pepper flakes

to taste (optional)
Instructions
Heat a large heavy bottomed pot over medium-high heat and add bacon. Cook, stirring occasionally until crisp, about 6-8 minutes.

Lower heat to medium-low and add sliced onion. Cook until beginning to soften, 7 minutes, stirring to prevent burning.

Return heat to medium heat and add 1/4 of the collard greens and 1 cup chicken stock. Scrape up any browned bits on the bottom of the pan and let the greens cook down a bit until you can fit more in the pan. Continue to add more greens until all are able to fit in the pan.

Cook, stirring occasionally until the greens are completely wilted down and have changed color to a dark green, about 25 minutes. Add more liquid if it has evaporated before the collards have cooked down.

Add coconut sugar and apple cider vinegar and and continue to cook until most of the liquid has evaporated from the pan, about 5 more minutes. Taste and season with red pepper flakes, and salt if needed (though do taste, as the bacon will add quite a salty flavory). Serve immediately.
Notes
Collard greens, especially those from the farm, can be really gritty! Make sure to wash well by plunging the greens into a large bowl of cold water and letting them sit for 30 seconds. Remove them from the water by pulling them straight up without disturbing any dirt that fell to the bottom of the bowl.
Nutrition
Serving:
4
g
Calories:
106
kcal
Carbohydrates:
6.2
g
Protein:
6.6
g
Fat:
6.4
g
Saturated Fat:
2
g
Cholesterol:
16
mg
Sodium:
528
mg
Fiber:
1.8
g
Sugar:
2.8
g