These Frosé Slushies are the perfect summer cocktail. They're made with sweet rosé wine blended with fresh lemon, strawberries, and a drizzle of honey.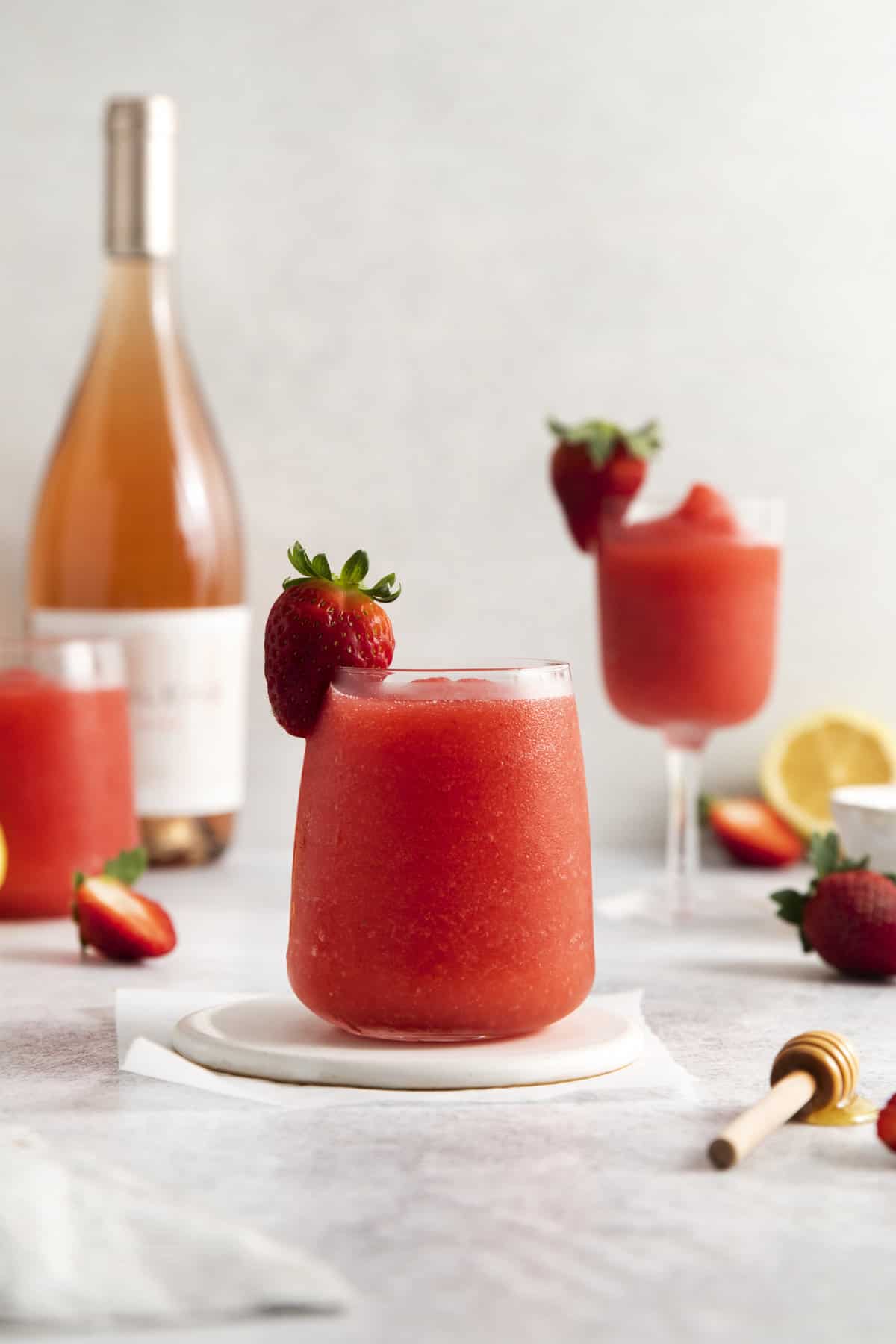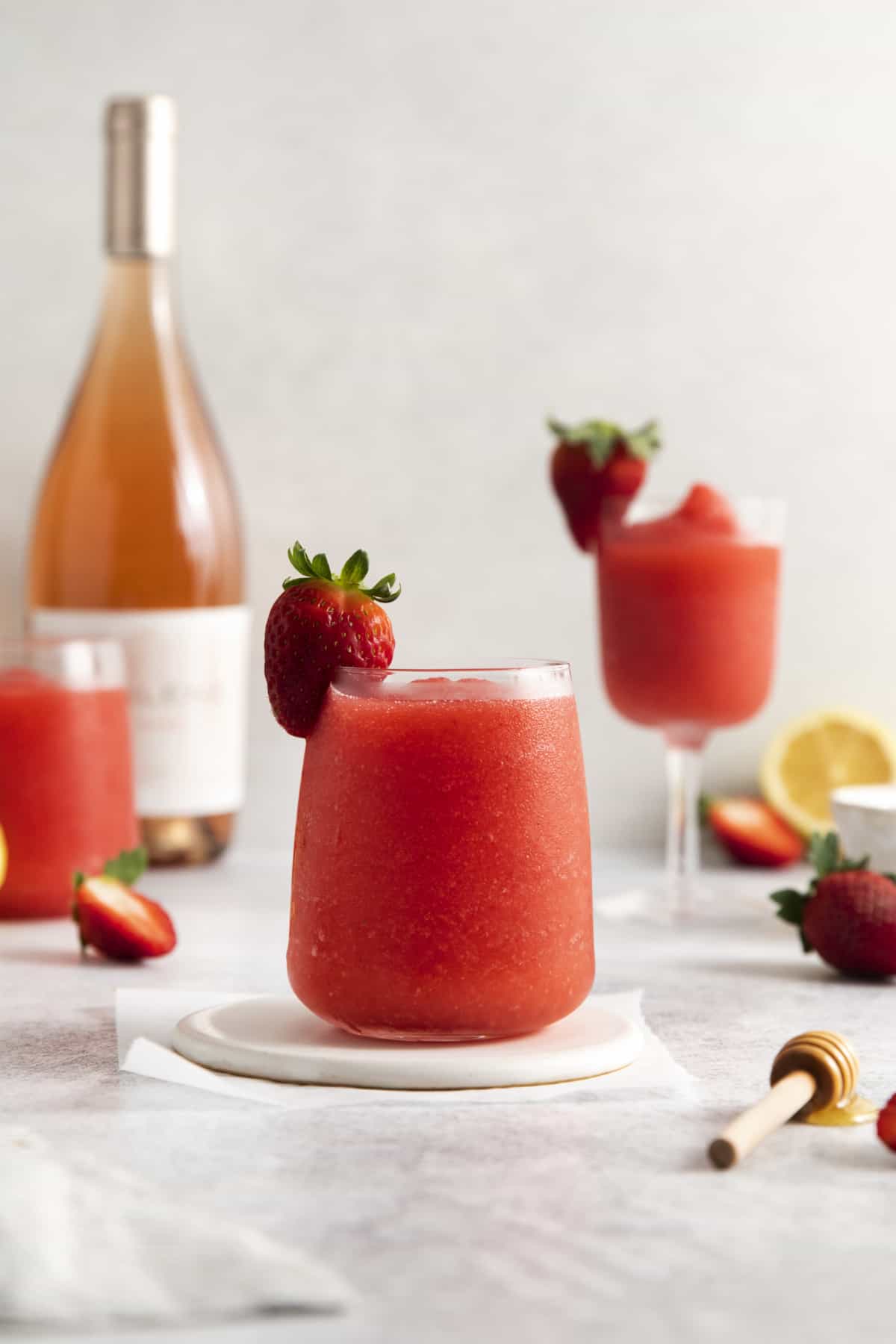 Easy Wine Slushy Recipe
I've known about the frosé trend for some time now, but I hadn't tried it until recently. And since then, I am officially hooked.
I mean, who wouldn't love a refreshing, slushy cocktail with rosé, a little bit of honey, strawberries, and lemon. It's summertime cocktail perfection!
What is the Meaning of Frosé?
Frosé is simply "frozen rosé". It's a mashup of the two words and it's the tastiest blended summer cocktail of all time!
Who doesn't love a wine slushy?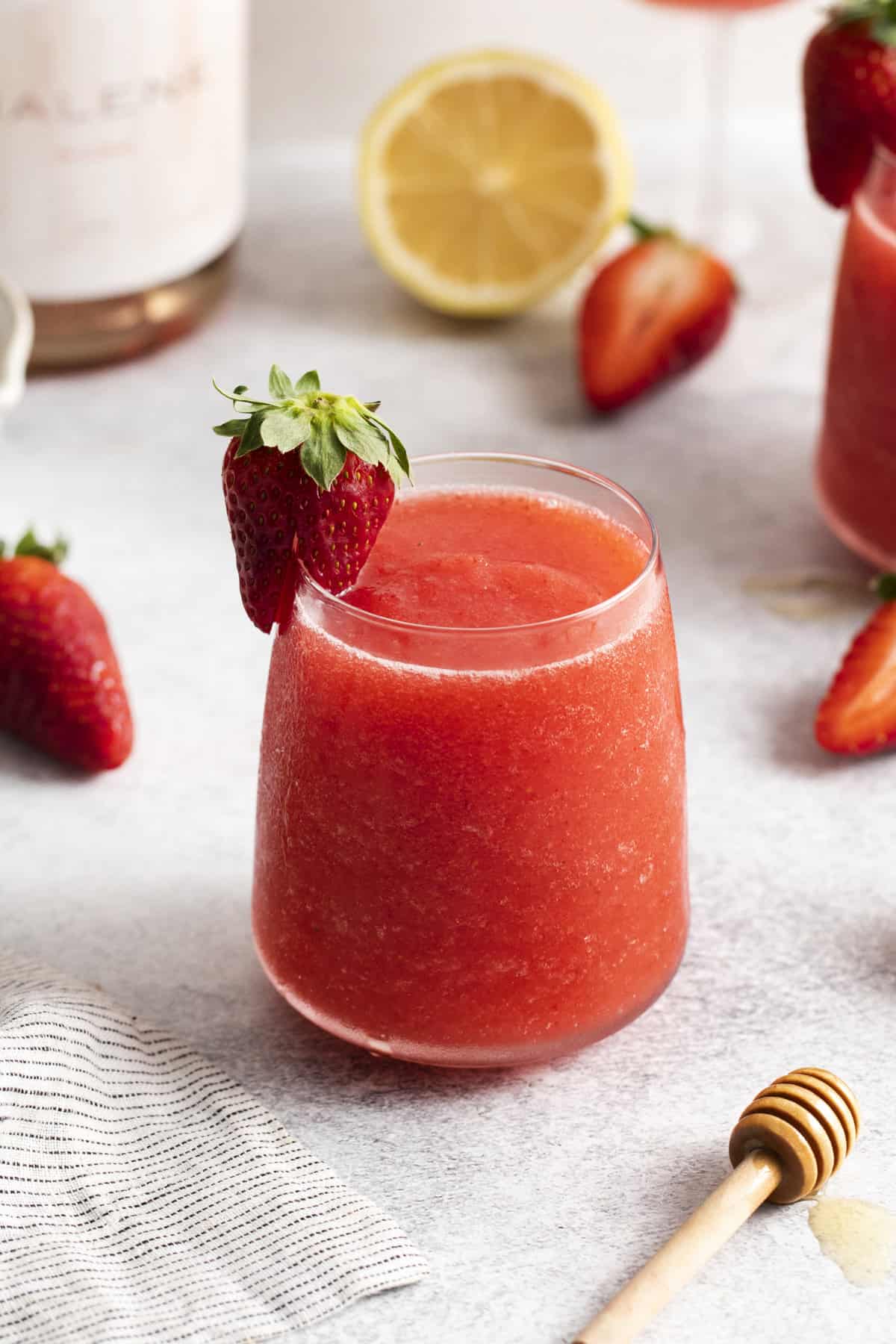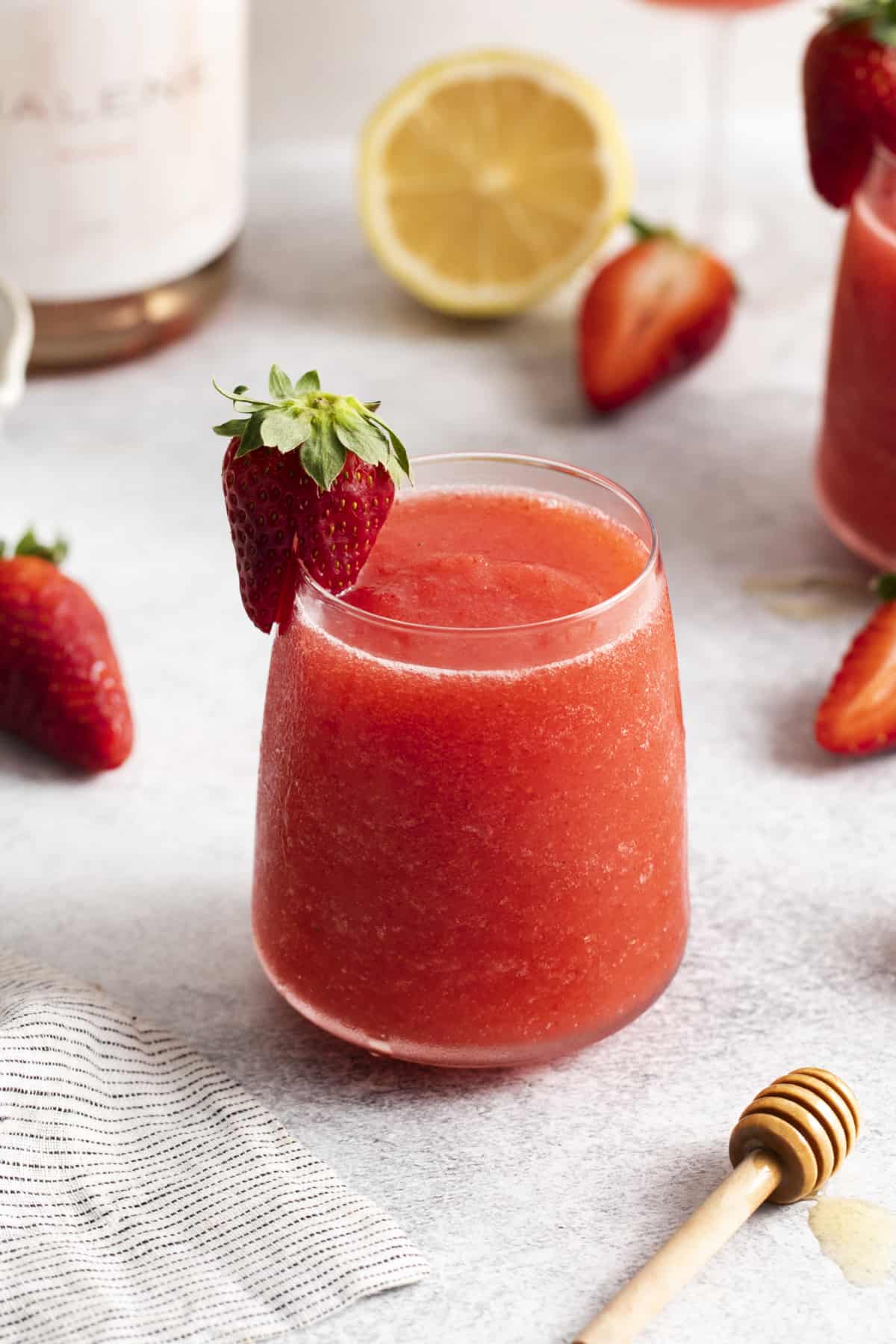 What is Frosé Made Of?
This frosé recipe is made with super simple, sweet, and fresh tasting ingredients!
Rosé Wine: I recommend a full-bodied, darker colored rosé. It's stronger flavor is less likely to get diluted once blended.
Ice: The ice helps give the frosé that classic slushy texture.
Frozen Strawberries: The strawberries add natural sweetness and bring out the flavor of the wine. Plus, they basically make this into a smoothie, right? 😉
Lemon: I recommend fresh lemon juice for the best flavor.
Honey: Honey is my natural sweetener of choice, but feel free to use simple syrup instead.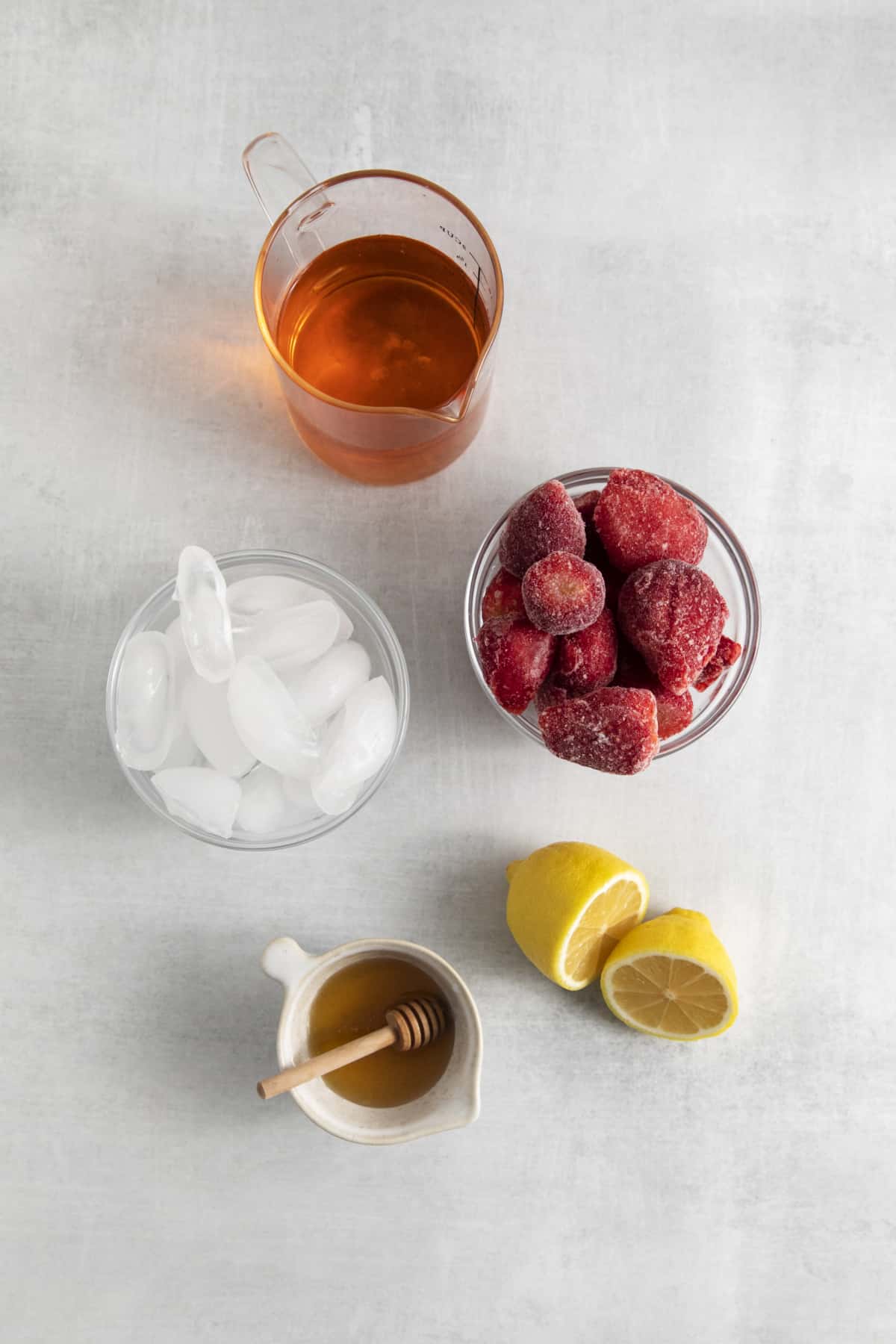 How to Make Frosé
This refreshing frozen rosé recipe is ready to enjoy in just a few minutes!
Combine and blend: In a blender, combine wine, ice, frozen strawberries, lemon, and sweetener. Blend until smooth.
Taste, adjust, and serve: Taste and adjust as desired, then serve immediately.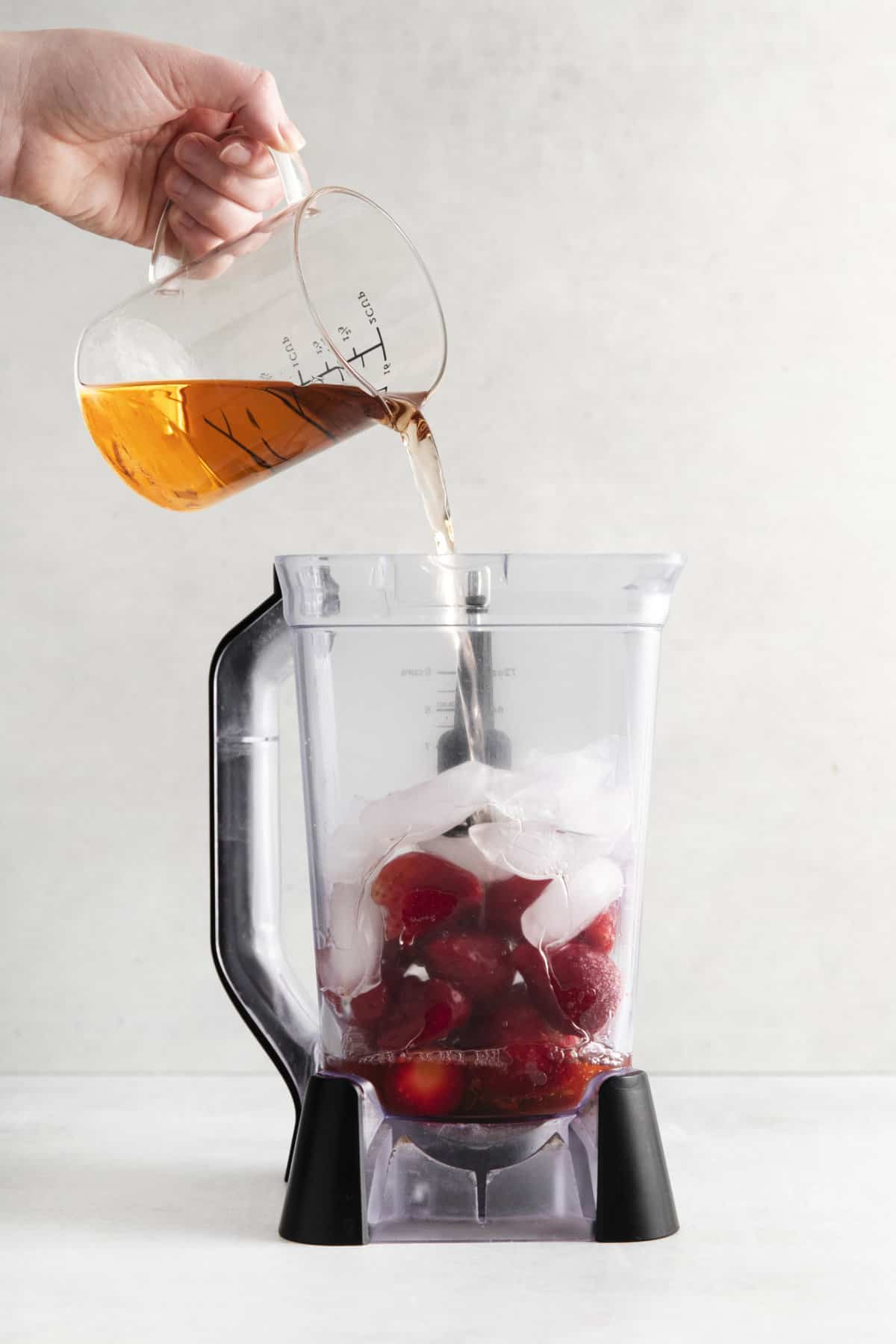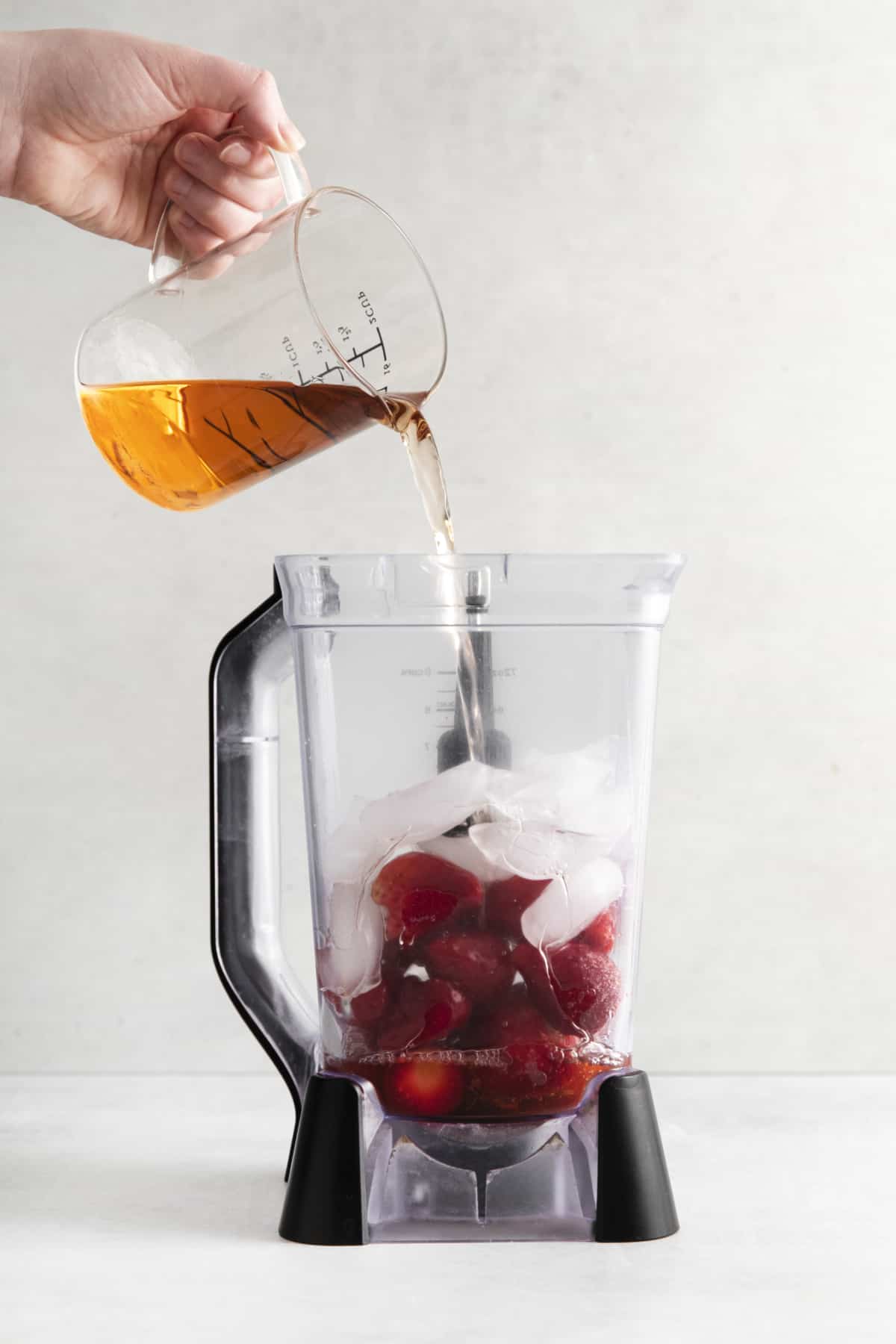 Does Frosé Taste Like Wine?
Yes! In the best way! The flavor of the wine comes through perfectly and is only enhanced by the addition of the fruit, sweetener, and lemon.
It's the perfect balance of sweet, tart, tangy, and refreshing!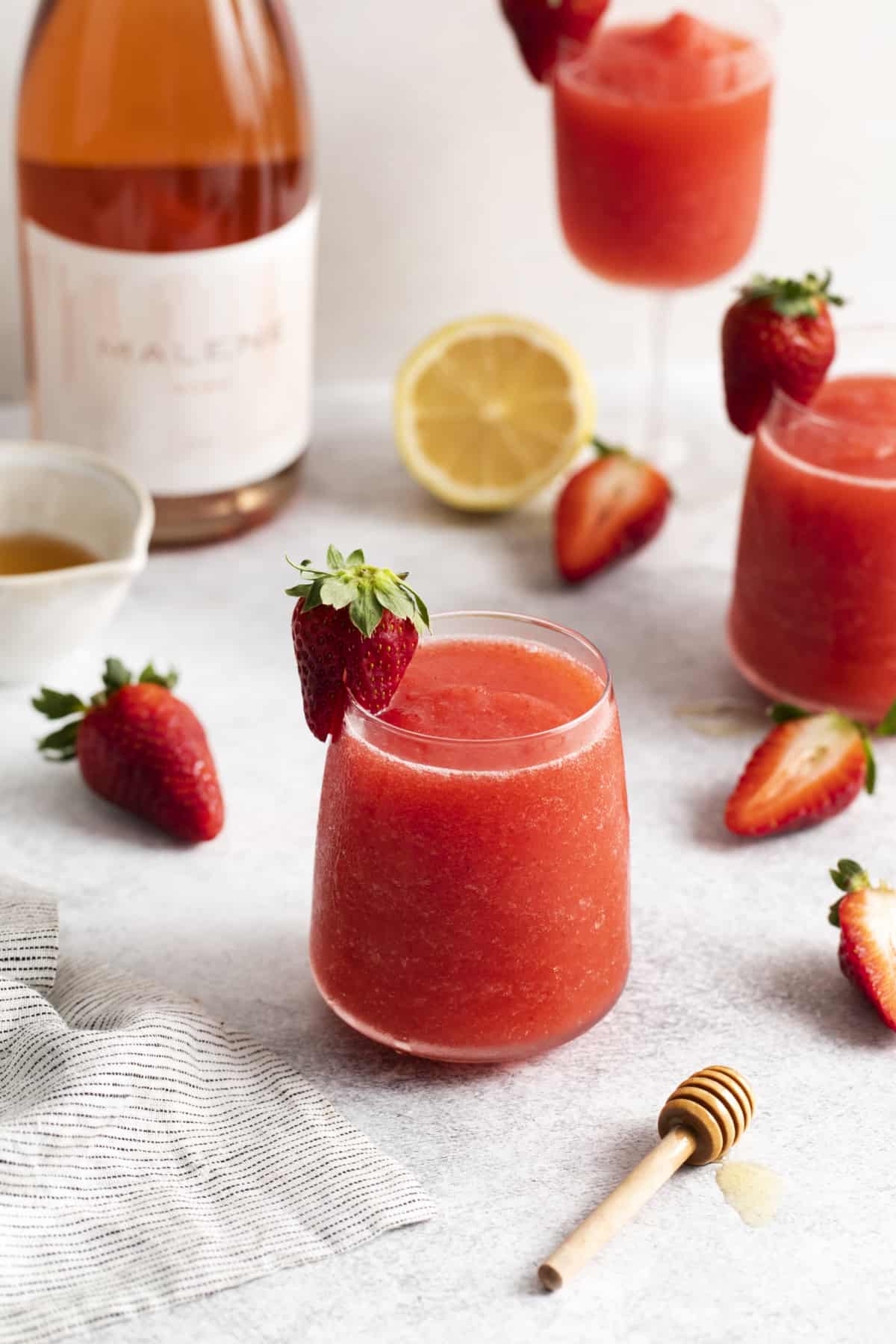 Tips and Notes
Adjust to taste. Homemade cocktails are the best because you can make them just the way you like them. Play around with ingredient amounts to find the best flavor balance for you!
Start with less sweetener, then add more after you taste it. I like mine to be a little less sweet, but others like their's sweeter. You can always add more!
If the frosé isn't thick enough, you can add more ice or berries. Alternatively, pour the mixture into a baking dish, cover it, and place it in the freezer for 30 minutes.
Add other fruit. Try frozen watermelon, raspberries, peaches, or a combination!
Make it boozier. Want to give your cocktail an extra kick? Try adding a shot or two of vodka or tequila blanco.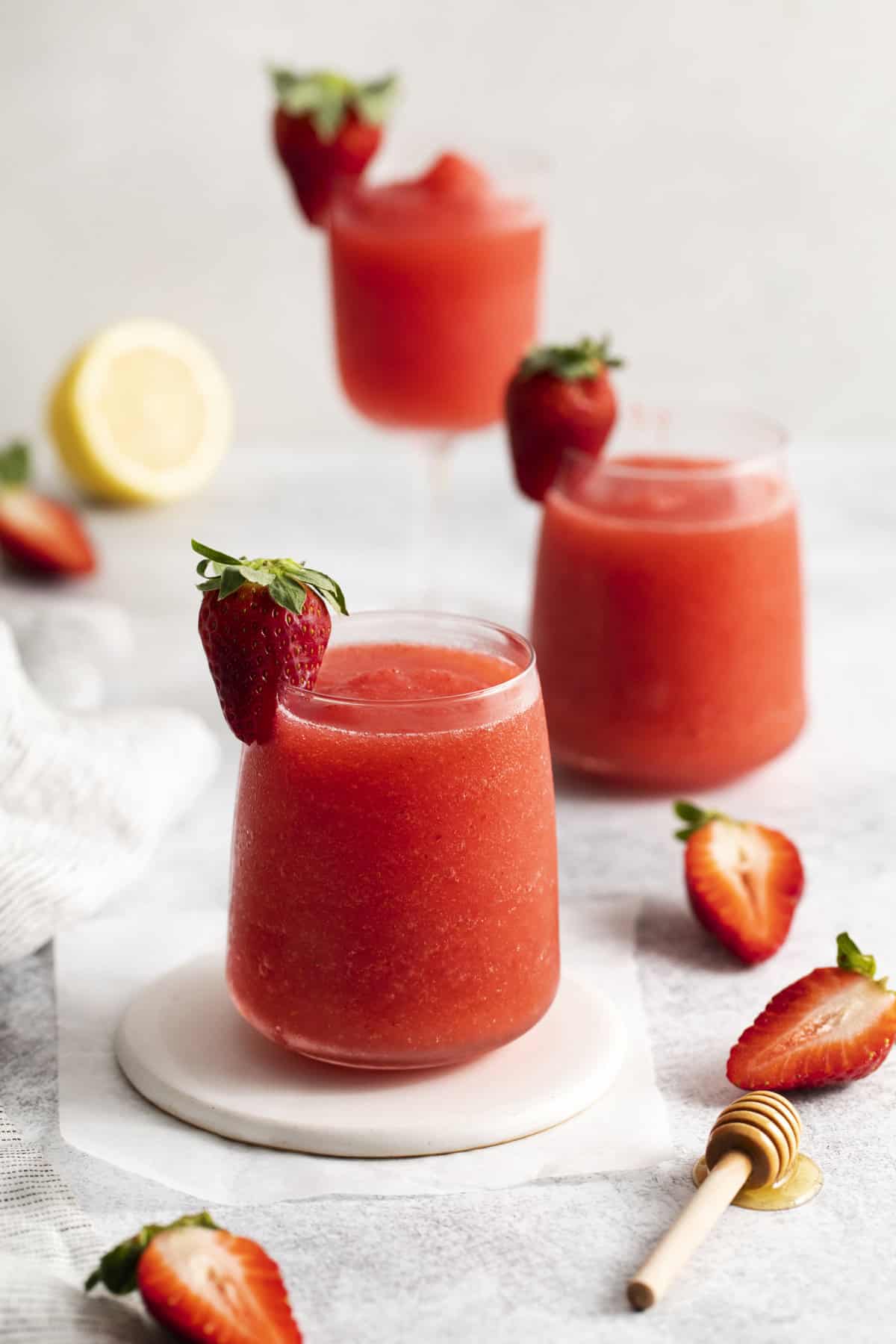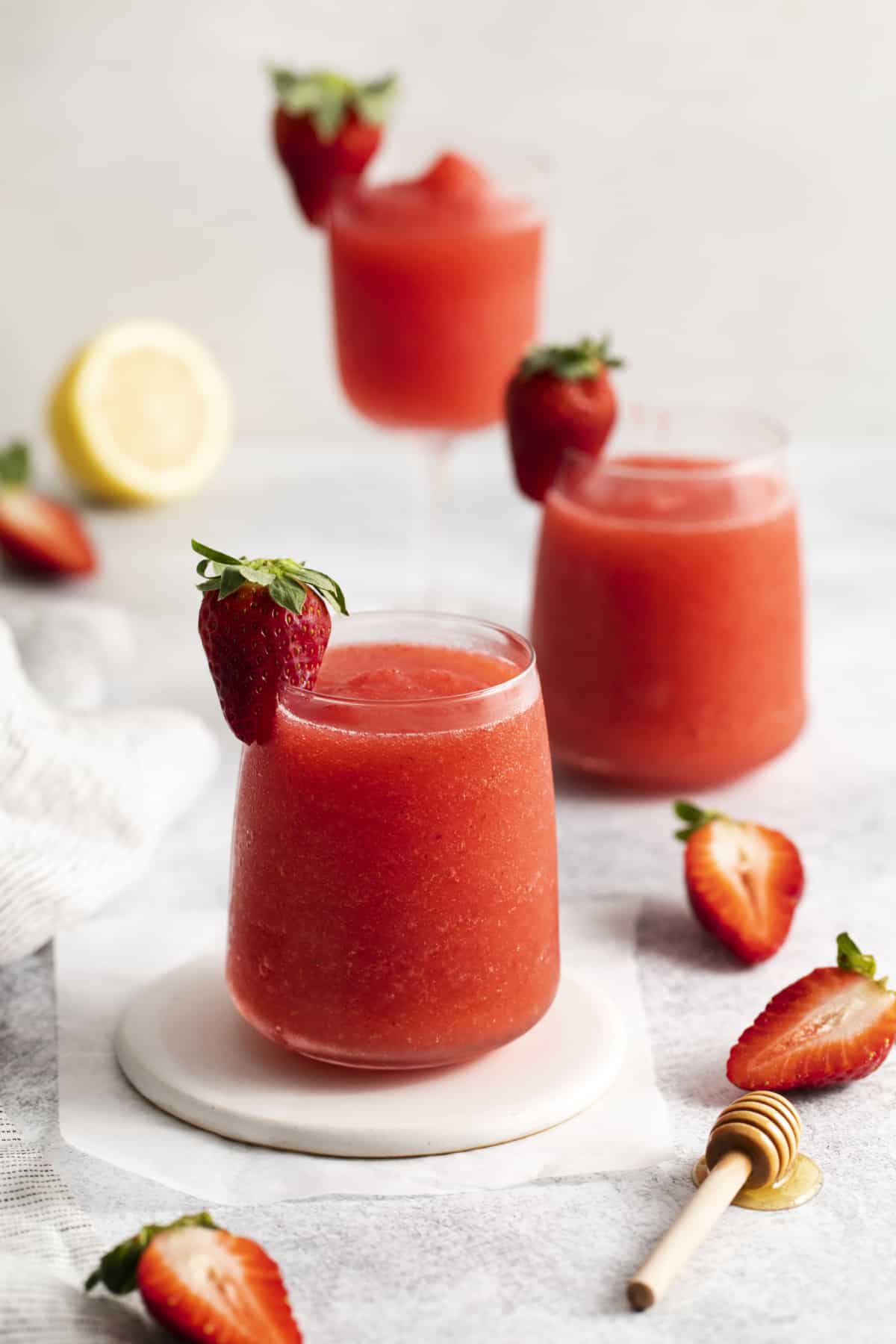 How to Store
For the best flavor and texture, serve this cocktail immediately after blending!
If you do want to prep ahead of time, you can blend the drink, pour it into ice cube trays, and freeze. When you're ready to serve, simply blend again, but keep in mind that the drink will lose some of its flavor as it sits in the freezer.
More Summer Cocktails You'll Love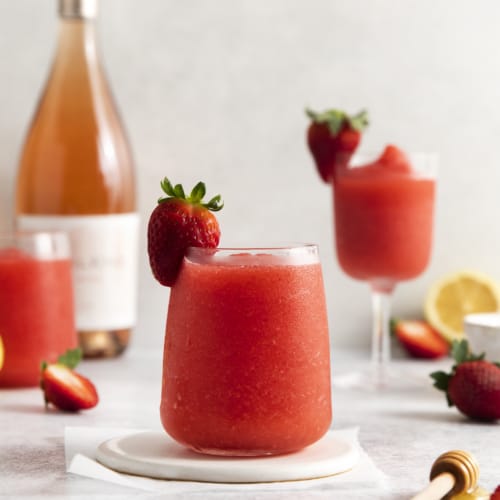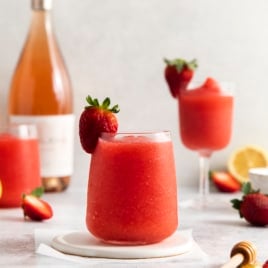 Frosé (Frozen Rosé) Slushies
These Frose slushies are the ultimate way to celebrate rosé season! Refreshing, minimal ingredients, and so easy to prepare… It's a Summer cocktail WIN!
Ingredients
1/2

bottle rose

2

cups

ice

more as needed

2

cups

frozen strawberries

1

lemon

juiced

1/4

cup

honey

or simple syrup of choice
Instructions
Place rose, ice, frozen strawberries, lemon, and 2 tablespoons honey or simple syrup in a blender. Blend until well combined. If you made simple syrup, place the extra sweetener in your fridge for later use.

Taste and add more sweetener before serving depending on how sweet you want it! If it isn't thick enough, add more ice or frozen berries as needed.
Notes
If your frosè isn't thick enough, pour into a baking dish, cover, and place in your freezer for at least 30 minutes, or until ready to serve.
Basic Simple Syrup Recipe:

Place 1/4 cup sugar of choice and 1/4 cup water in a small saucepan.
Cook on low heat until sugar has dissolved.
Set aside to cool and place in the fridge until ready to use.