When I started thinking about recreating a classic ultimate fried chicken I knew I had to hit all the standards of what makes a good fried chicken: crunch on the outside, just the right flavor and spices, and juicy and tender on the inside. And of course it needed to be gluten-free! I've got to be honest, I think this one checks all of those boxes and then some!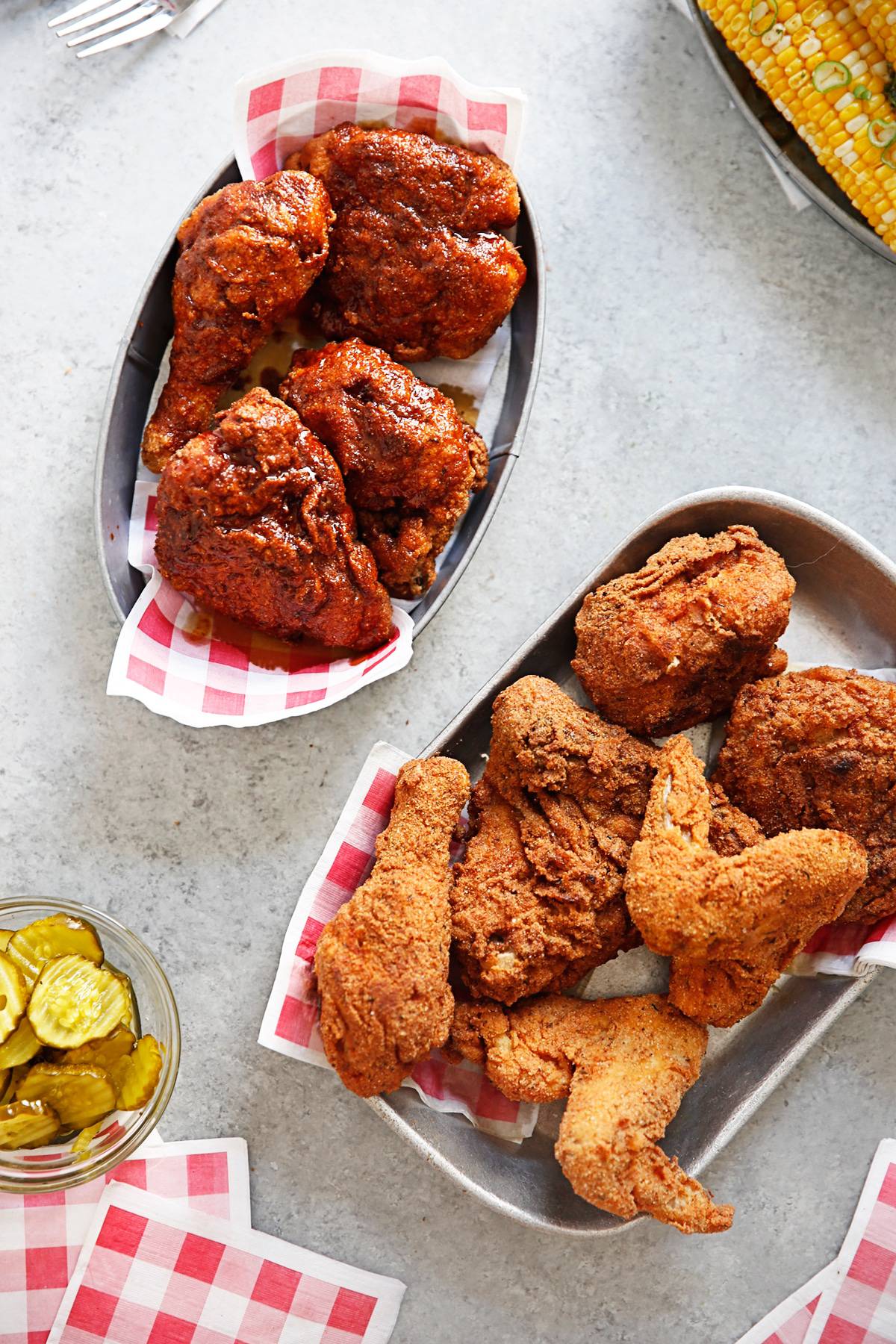 Gluten-Free Fried Chicken
We took a classic approach of triple coating the chicken, using arrowroot, eggs and almond flour. This allows the coating to cling nicely to the chicken and creates an incredibly crunchy exterior!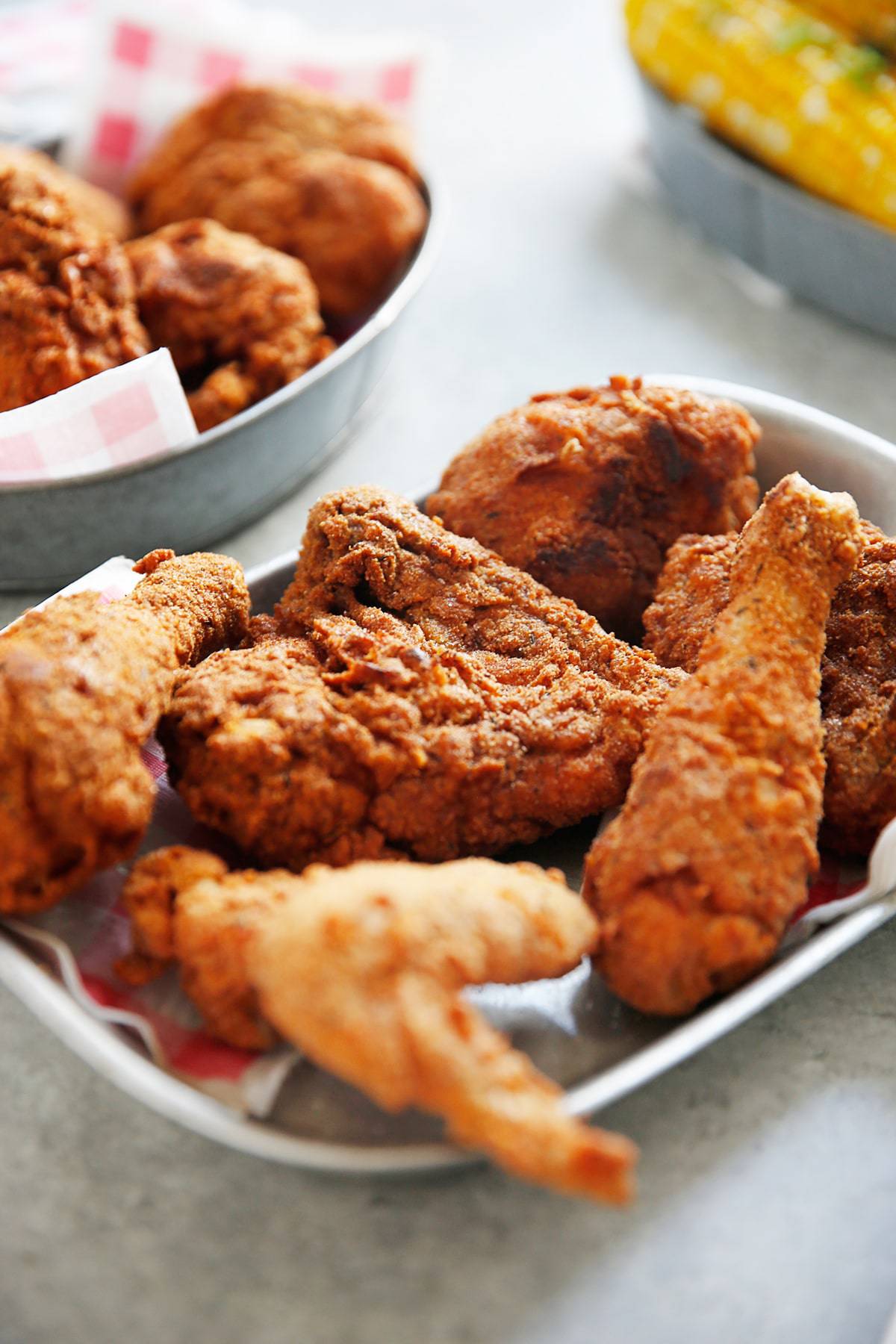 We loved the deep crunch we got when it was deep fried, but also equally delicious was when it was cooked in the air fryer and baked in the oven. We've included all the recipes so you can choose which method works best for your family.
Choose from:
Air fryer method
Frying method
Baking method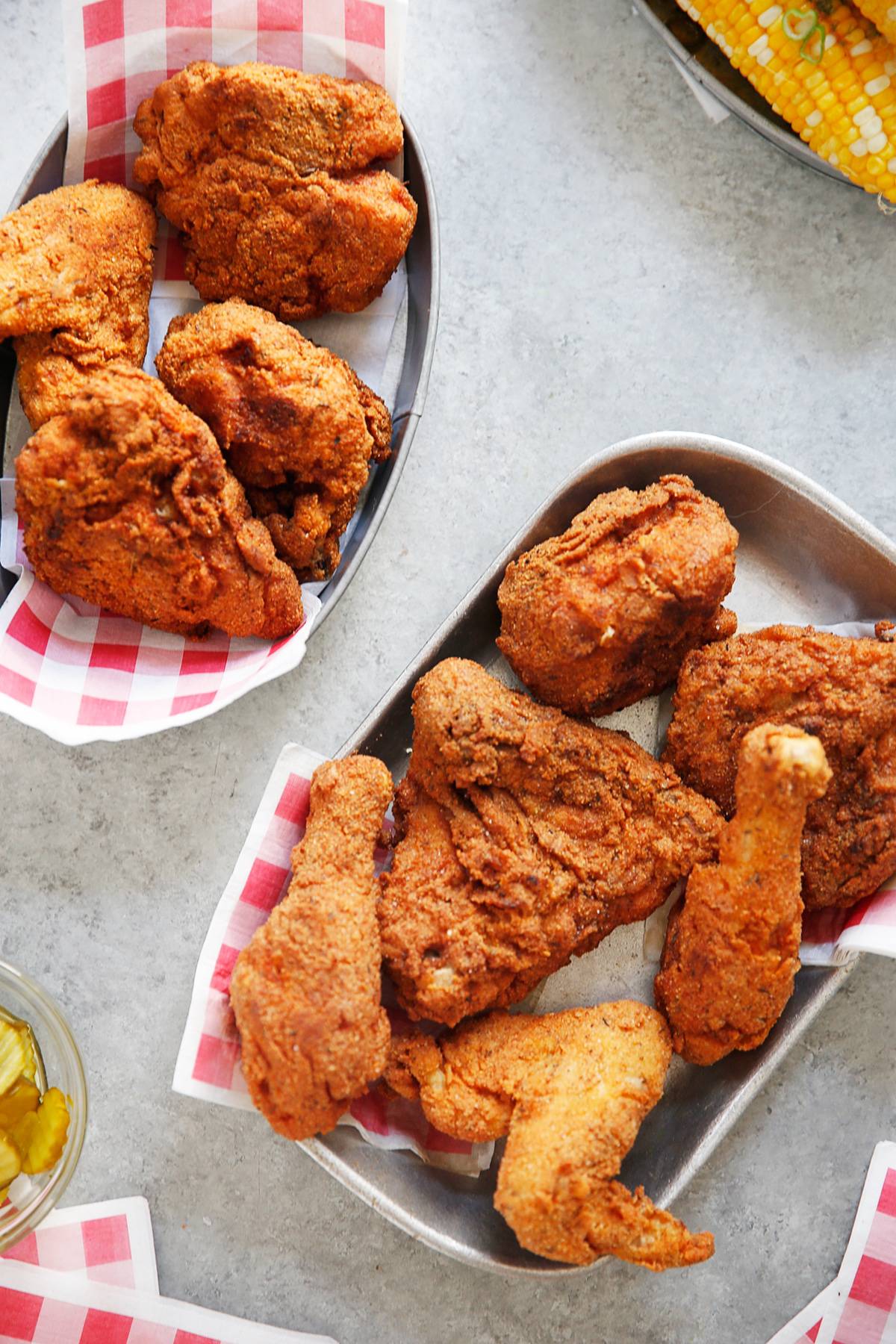 When I was in Nashville, we ate Hattie B's fried chicken (no, not gluten-free or remotely healthy) and I fell in love, but our stomachs weren't so happy with us, since we don't normally eat that way. I knew I needed to come back and recreate that hot chicken, only cleaned up, of course!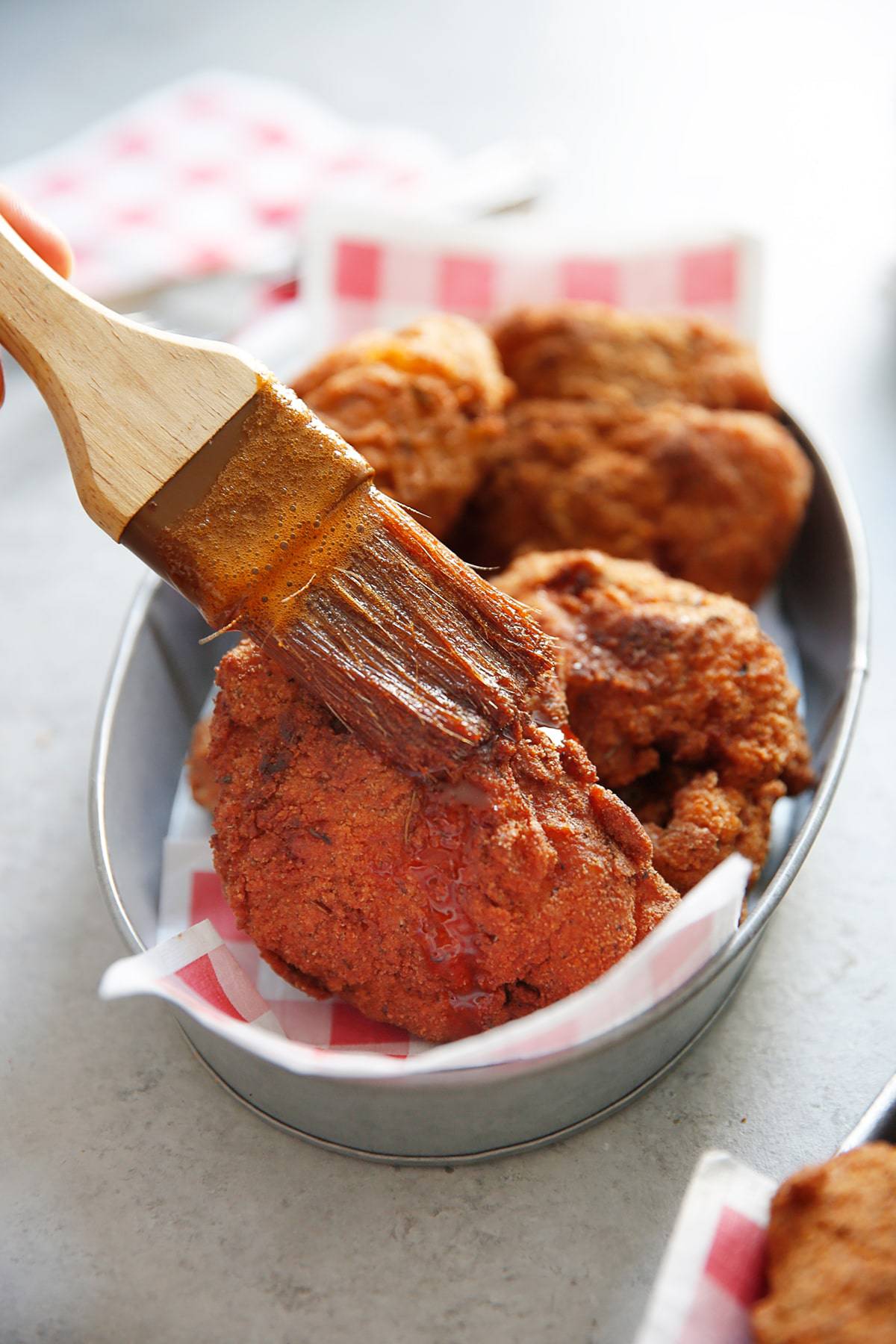 Ready to make the ultimate southern dinner? Here is the menu:
Fried Chicken (Hot or Not)
And tomorrow, a full round-up plus a shopping list will be on the blog for your convenience!!!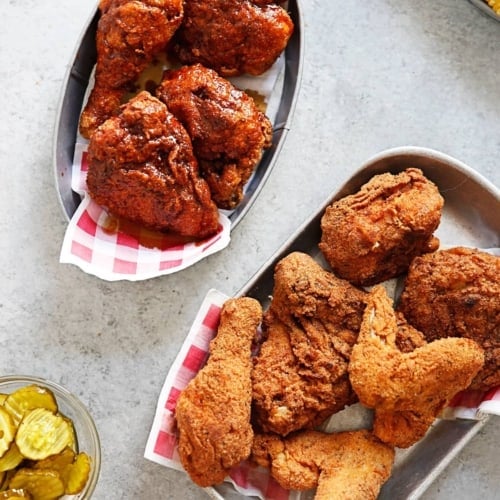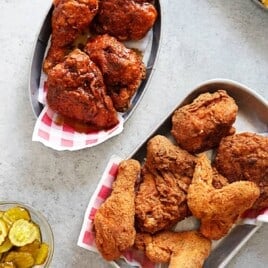 Ultimate Fried Chicken (Gluten-Free)
Ingredients
1-4

lb.

chicken cut to 10 pieces

see note

1

cup

arrowroot flour

3

eggs

2

cups

almond flour

sifted

2

teaspoons

fine sea salt

2

teaspoons

celery seed

2

teaspoon

paprika

1

teaspoon

ground black pepper

1

teaspoon

dried thyme

crumbled

1

teaspoon

garlic powder

5

cups

avocado oil

for frying method (see note)

avocado oil spray

for baking and air frying
To Make Hot Fried Chicken (only with deep fried chicken):
4

tablespoons

cayenne

1

tablespoon

coconut sugar

1

teaspoon

paprika

1

teaspoon

garlic powder

1

cup

hot avocado oil

from frying
Instructions
Begin by setting up your dredging station for the chicken with three shallow bowls. In one bowl place the arrowroot flour. In the second whisk 3 eggs to combine. In the third bowl whisk together the sifted almond flour and spices until combined.

Dredge all chicken pieces in arrowroot, then eggs, and finally in the almond flour mixture, taking care to coat the chicken really well. Place chicken on a plate and let sit while the oil is getting hot.
Deep Frying Directions:
Heat avocado oil over medium to medium-high heat in a heavy bottomed tall dutch oven or similar pot. Heat oil until it reaches 325º. We recommend you use an instant read thermometer or candy thermometer to check the oil temperature.

Place 3-4 pieces of chicken in the pot at a time to fry, being careful not to overcrowd so that the oil temperature stays consistent. Fry, flipping once around 10 minutes, until the chicken reaches at least 165º, about 15-20 minutes depending on the specific cut of chicken.

Place chicken on a plate lined with paper towel to drain the excess oil and season with salt.

Before placing more chicken in the pot, check the temperature to make sure it is 325º. Adjust the heat setting to maintain the temperature and when ready add more chicken.

Fry until no chicken remains. Serve immediately.

If making the Hot Chicken let the frying oil cool 5-10 minutes. In a small bowl whisk spices together. Add one cup of avocado frying oil to the bowl and whisk to combine. Brush hot mixture on to both sides of the chicken and serve immediately.
Air Frying Directions:
Pre-heat air fryer to 390ºF.

Spray the air fryer basket with avocado oil spray and place 2-3 pieces of chicken in the basket. Spray the chicken as well.

Cook at 390ºF for 12 minutes and then flip the chicken, spraying with additional avocado oil. Cook for an additional 8 minutes.

Continue with remaining chicken until it has all cooked through.

Check the temperature of the chicken to make sure it has reached 165, especially larger pieces like the breast.
Baking directions:
Pre-heat the oven to 400ºF and place an oven safe wire rack on rimmed baking sheet.

Place chicken on wire rack, with plenty of space in between and spray liberally with avocado oil spray. Cook in the oven for 20 minutes.

Flip the chicken and spray with additional avocado oil and continue to bake until all chicken is cooked through, 15-20 minutes more. Check to make sure an internal temperature of the meat (close to the bone) reaches at least 165ºF.
Notes
If your market has a butcher, bring the whole chicken for him to cut up right in the store! Make sure to have him split the breast in half to make 10 pieces.
If you don't want to use a whole chicken, get a mix of bone-in chicken pieces equal to about 3 lbs.
The amount of avocado oil you will need for frying will vary depending on the size pot you use. We used a medium sized dutch-oven for frying and needed 5 cups to cover the chicken completely during frying. This oil will not be able to be reused after the frying, so if you would rather use less oil you can use a smaller pot. You want the oil to cover the chicken when frying, so about 3-4" of oil.
Nutrition
Serving:
4
g
Calories:
366
kcal
Carbohydrates:
12.4
g
Protein:
33.7
g
Fat:
20.4
g
Saturated Fat:
3.1
g
Cholesterol:
195
mg
Sodium:
1058
mg
Fiber:
5.2
g
Sugar:
0.7
g
SaveSave