Making your own Pumpkin Puree is so easy, and results in some really fresh tasting pumpkin for all the fall baked goods! We're giving you all the details on how to make it and store it below!
How to Make Pumpkin Puree
At this point in the fall you can hardly visit a grocery store without bumping into a pumpkin or two, which makes this the perfect time to make your own pumpkin puree! If you are thinking it's complicated, let me be the first to tell you, it isn't! All you need is a sharp knife, a spoon, a sheet pan and an oven! Fresh pumpkin puree will complement any recipe you use with it and you'll definitely notice the difference. Plus, it's easy to freeze so you can make a few batches of it now while the pumpkins are abundant and use it all winter long. Ditch the store-bought stuff while pumpkins are aplenty this fall!
Benefits of Cooking and Baking with Fresh Pumpkin
Pumpkin has numerous health benefits. It's low in calories and high in vitamin A and helps support immune health. When you cook with fresh pumpkin you access more of the nutritional value than you would with canned pumpkin. In addition, fresh pumpkin just tastes better! It is more sweet, with a bright taste that really improves any recipes calling for pumpkin puree.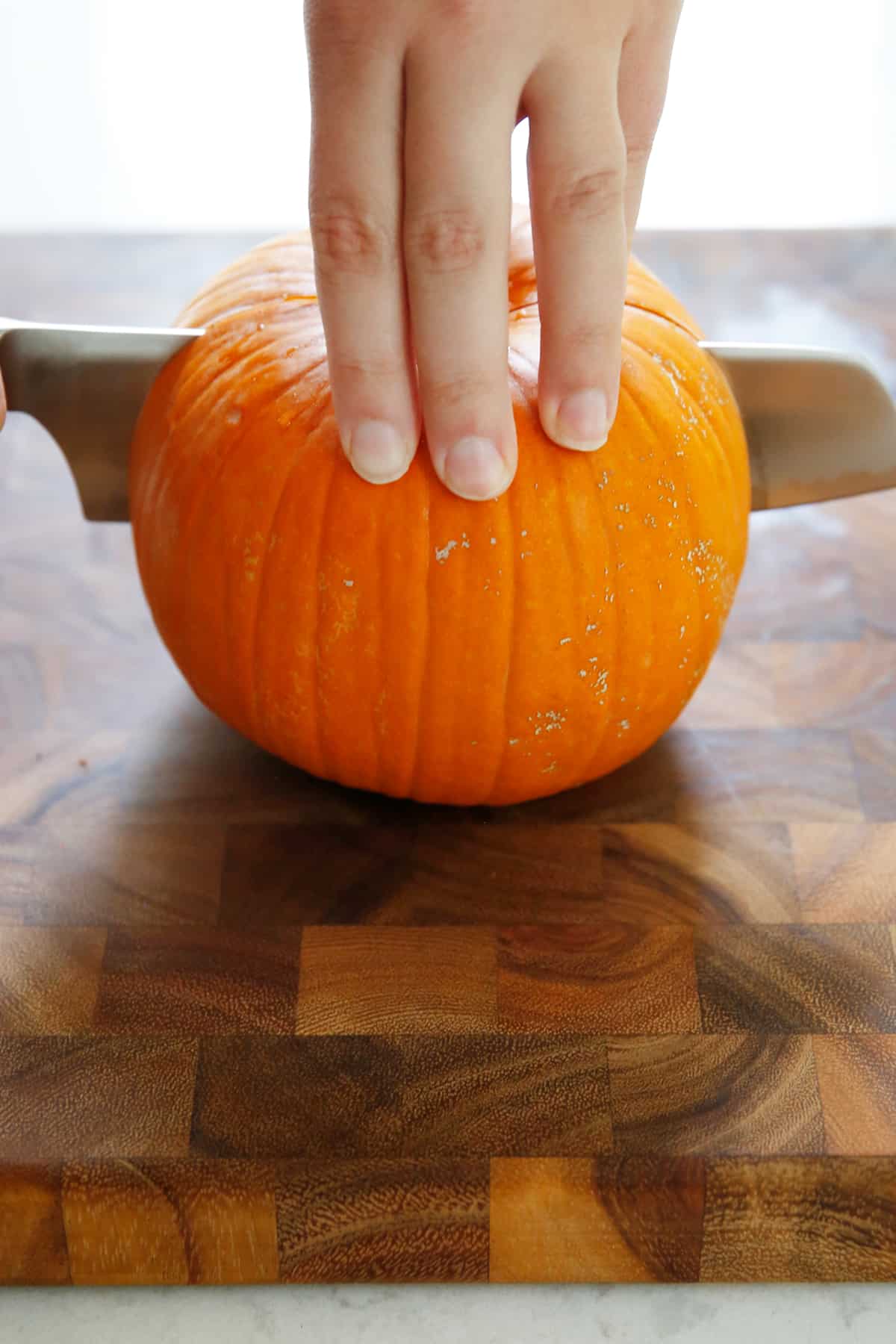 What type of pumpkin is good for pumpkin puree?
It is certainly possible to eat and roast any old pumpkin you find, that doesn't mean that the flesh will taste good to eat. The large pumpkins you might find sitting outside grocery stores that are used to make a jack o-lanterns are not good for eating because they are watery and stringy. You want to choose a pumpkin that will have a creamy and sweet flesh. Below are some of the more common pumpkins that are good to roast and eat. Most grocery stores or farmer's markets will also label whether or not a pumpkin is good for cooking and baking with so check for that when shopping.
Sugar Pumpkins (these are the most common cooking and baking pumpkin you will find)
Pie Pumpkin (another very common varietal)
Fairytale (an heirloom variety with a classic "Cinderella" shape)
White Pie (an heirloom variety that has a white exterior and sweet flesh)
Lumina (an white heirloom variety)
Lakota (a brilliant orange heirloom variety that is similar in taste to a butternut squash)
How to Tell if a Pumpkin is Ripe
Once you've made sure the pumpkin you are buying is good for cooking and eating you'll want to be able to pick out which one is actually best to buy.
Check the outside of the pumpkin and choose one that is relatively similar in color throughout, though some rough spots are ok. Make sure there are no bruises or soft spots on the pumpkin. Check to make sure it still has the stem attached to it and that it feels firm to the touch. Choose one that is roughly about 3-6 pounds. Give the pumpkin a thwack with the palm of your hand. It should sound hollow.
How to Make Pumpkin Puree
It couldn't be easier to make pumpkin puree! All you have to do is:
Wash the pumpkin to remove any dirt or grit from the outside of the pumpkin.
Cut through the pumpkin. This might honestly be the hardest step in this process. You want to make sure you are being safe. We found it easiest to

to cut through the middle from the bottom of the pumpkin first that way you cut through the stem on the bottom. If the stem is too big, feel free to cut it off beforehand.

Once you've got your pumpkin in half you want to scoop out all of the seeds and any stringy flesh. Set the seeds aside and roast them up (see instructions below).
Then you want to salt your pumpkin a bit (even if you are using this for a sweet recipe a little salt will help bring out the flavor) and place on a lightly oiled sheet pan. Cook for 40 minutes, or until you can easily pierce the pumpkin with a fork.
Once the pumpkin is safe to handle, remove all of the cooked flesh from the pumpkin skin and place in a food processor or high speed blender. Puree until smooth!
How to Store Pumpkin Puree
Pumpkin puree can be stored in the refrigerator for up to 5 days.
For longer storage, place in a sealed bag or container and place in the freezer for up to 3 months. Defrost in the refrigerator overnight before using.
What to do with the leftover Pumpkin Seeds
The scooped out pumpkin seeds are great to roast and snack on!
Toss pumpkin seeds with 1 tablespoon of oil of choice and a sprinkle with sea salt.
Line a baking sheet with parchment and spread out seeds.
Bake for 25-35 minutes until golden.
What to do with Pumpkin Puree
Now that you've got some fresh homemade pumpkin puree, you're going to need some recipes to use it with!
Check out these:
Watch the video here:
---
Ingredients
Directions
Preheat oven to 400 degrees and lightly oil a rimmed baking sheet.

Cut the pumpkin in half. It's easiest to cut through the middle from the bottom of the pumpkin first that way you cut through the stem on the bottom. If the stem is too big, feel free to cut it off beforehand.
Scoop out the pumpkin seeds into a bowl, reserve for another use, or discard.
If desired, lightly season with salt. Place on a baking sheet cut side down.

Bake for 40-45 minutes until fork tender.

Let cool until safe to handle. Scoop out the tender filling and place in a food processor or high-speed blender and purée for 3-4 minutes until completely smooth.

Store in an air-tight container for up to 1 week or store in freezer for up to 3 months.
Loading nutrition data...
There may be affiliate links in this post! By clicking on them, or purchasing recommended items I may receive a small compensation, at no cost to you! However, I only recommend products I absolutely love and use in my own home! Thank you for supporting Lexi's Clean Kitchen when you shop! See my
privacy policy
for more information about this, the information we save, and more!
---
Pin it for later:
If you like this how to recipe, check out these others:
use our hashtag!
I am so excited that you are making a recipe and would love to see how it turns out! Make sure to use the hashtag on social media!
#LEXISCLEANKITCHEN
share this post!
subscribe to the email list!