These Gluten Free Crackers are easy-breezy and so darn delicious! Keep them simple with sea salt or add in some seasoning like Everything Bagel spice, Italian spice or Ranch seasoning. Made with a mix of almond flour and ground flax seed these crackers are Paleo, Whole30 and low-carb friendly!
Gluten Free Crackers
There used to be a time that if you were gluten-free there was only one way to get a great tasting cracker that was safe to eat: to make one. But it's 2019 and we're lucky that we live in a time when there are a whole host of amazing gluten-free brands of snacks and foods available. You can walk into any grocery store now and find at minimum, a few options for gluten-free crackers. There are some out there that we absolutely adore (here's looking at you Simple Mills), and some that you can "tell" are gluten-free. But the options and abundance of gluten-free products is ever expanding.
So why make your own crackers when there are so many good options out there? Because simply put, sometimes it's a nice change of pace to be able to turn a few ingredients into a wholesome delicious snack! And honestly, these crackers are not at all complicated, with only a handful of ingredients and lots of different option to customize them with different flavors! We promise you'll love this cracker and be glad you made it! Plus, they're SO DELICIOUS!
They would be a fun baking project to bake with the kids as well! And the resulting cracker can be eaten on its own, used in a dip or added to a charcuterie board. What do you think, ready to make them?!
Seasoning Options
There are a few seasoning options we are suggesting here, but the truth is your options are endless. The trick is to put about half of the seasoning inside of the dough, and use the other half to top the cracker with. We've suggested either plain flaky sea salt, Italian seasoning, Everything Bagel seasoning or a ranch seasoning.
Store Bought Seasoning Blends
If you are using a store bought version of the flavored seasoning make sure to check the label for salt. If the seasoning blend has salt in it you may want to skip the addition of salt in the recipe.
Homemade Seasoning Blends
We are sharing a simple seasoning blend for Ranch spice and the Everything Bagel spice, just in case you are like us and would prefer to control the ingredients a bit more. These blends will keep for up to a year if you are starting with fresh herbs. It will make more than you need for the cracker recipe, store the remainder.
Ranch Seasoning Blend:
3 teaspoon dried dill
3 teaspoon dried parsley
3 teaspoon garlic granules
3 teaspoon onion granules
1-1/2 teaspoon black pepper
Everything Bagel Seasoning Blend:
1 teaspoon

garlic powder

1/2 teaspoon

fine sea salt

1 teaspoon poppy seeds

1 tablespoon sesame seeds

1 teaspoon dried

minced

garlic

1 tablespoon dried

minced

onion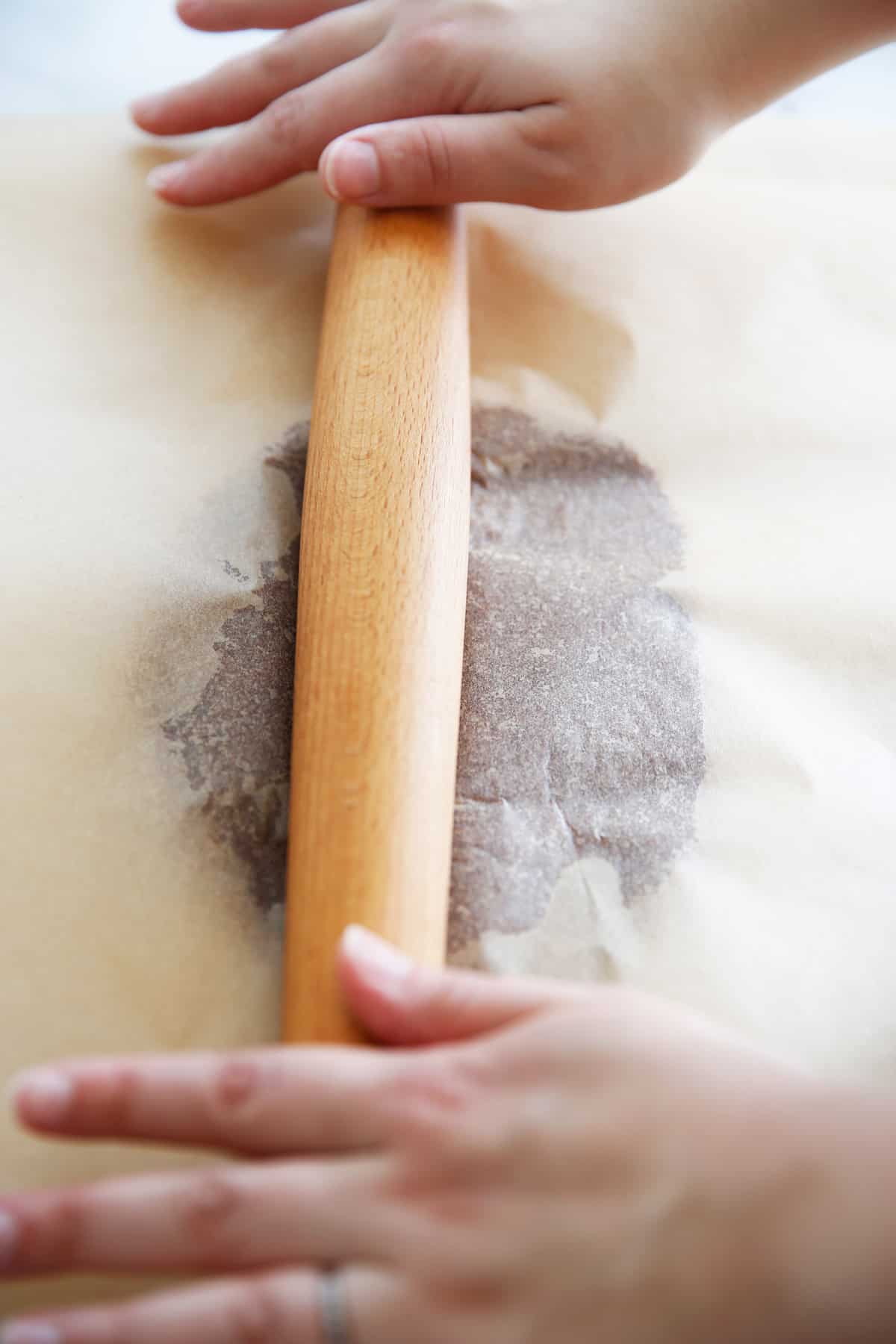 Tips on Making Gluten Free Crackers
This dough is pretty easy to work with and roll out, but here are a few tips to make sure you are successful!
Use a scale to measure out your baking flour to ensure accuracy!
Make sure to blend the butter into the dough completely so that there are no visible pieces remaining. You can use cold butter or room temperature. There is also an option for using oil, as well.
Roll out to the correct thickness between 1/8″ – 1/16″. Too thin and they'll burn and too thick and they'll be chewy (though still delicious).
Set a timer! Start checking on these starting at 15 minutes. Look for very light golden brown edges and completely dry looking crackers.
If you want them ultra crispy, you could break the crackers apart and bake for a few more minutes.
Let them cool for a few minutes before breaking them apart.
Let cool completely before storing. If they have any warmth to them when they are stored they could turn the crackers soft.
Tools you need to make Gluten Free Crackers
Baking sheet (Cookie sheet or rimmed baking sheets both work)
Rolling Pin
Parchment Paper
Pastry wheel or pizza cutter
Basics: Bowl, whisk, spatula
If you like this gluten-free basics recipe, check out these others: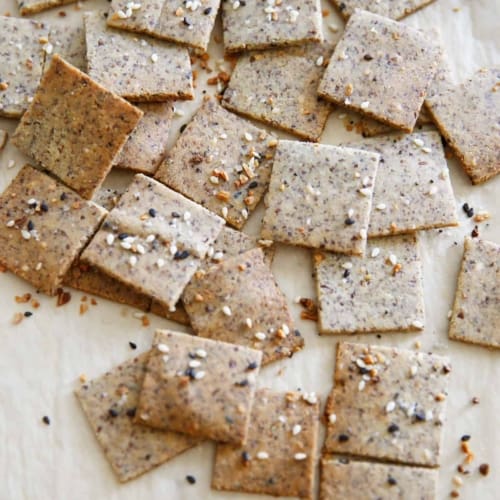 EASY GLUTEN FREE CRACKERS
These easy-breezy homemade crackers can be made in different flavors to suit any occasion.
Ingredients
1

cup

96 grams almond flour

1/4

cup

28 grams ground flax

1/2

tsp

garlic powder

1/2

teaspoon

fine sea salt

4

teaspoons

seasoning

divided (see options below)

1

egg

2

tablespoons

softened butter or olive oil
Seasoning options
Everything Bagel Spice Blend

Italian Seasoning

Sesame Seeds

Ranch Seasoning
Instructions
Preheat oven to 300ºF and position an oven rack in the center of the oven. Line a baking sheet with parchment paper.

In a mixing bowl, whisk together almond flour, flax, garlic powder, salt and 2 teaspoons seasoning.

Add the butter to the dry ingredients and using your hands rub the butter into the mix until it is completely combined, with no visible pieces of butter remaining (or add in the oil). Add the beaten egg to the dough and mix together until completely combined.

Place the ball of dough in the center of the lined flat baking sheet and cover with a second piece of parchment paper. Using a rolling pin, roll out the dough into a rectangle that's approximatly ⅛" - 1/16" inch thick.

Using a pizza cutter, cut the dough into squares. If you end up with leftover scraps of dough, gather them up and repeat the rolling process.

Sprinkle the dough with flaky sea salt or remaining 2 teaspoons seasoning, pressing down lightly to make sure the seasoning sticks.

Bake for 15-20 minutes, until golden brown and crispy.

Store crackers in an airtight bag or container for up to 3 days.
Nutrition
Calories:
254
kcal
Carbohydrates:
7.7
g
Protein:
6.2
g
Fat:
23.8
g
Saturated Fat:
7.2
g
Sodium:
300
mg
Fiber:
6.4
g
Sugar:
0.1
g