Smoothies are a delicious and easy way to get a nutritious breakfast or snack together quickly. We're sharing our favorite healthy smoothie recipes, plus some tips for making smoothies at home, and for making smoothie packs!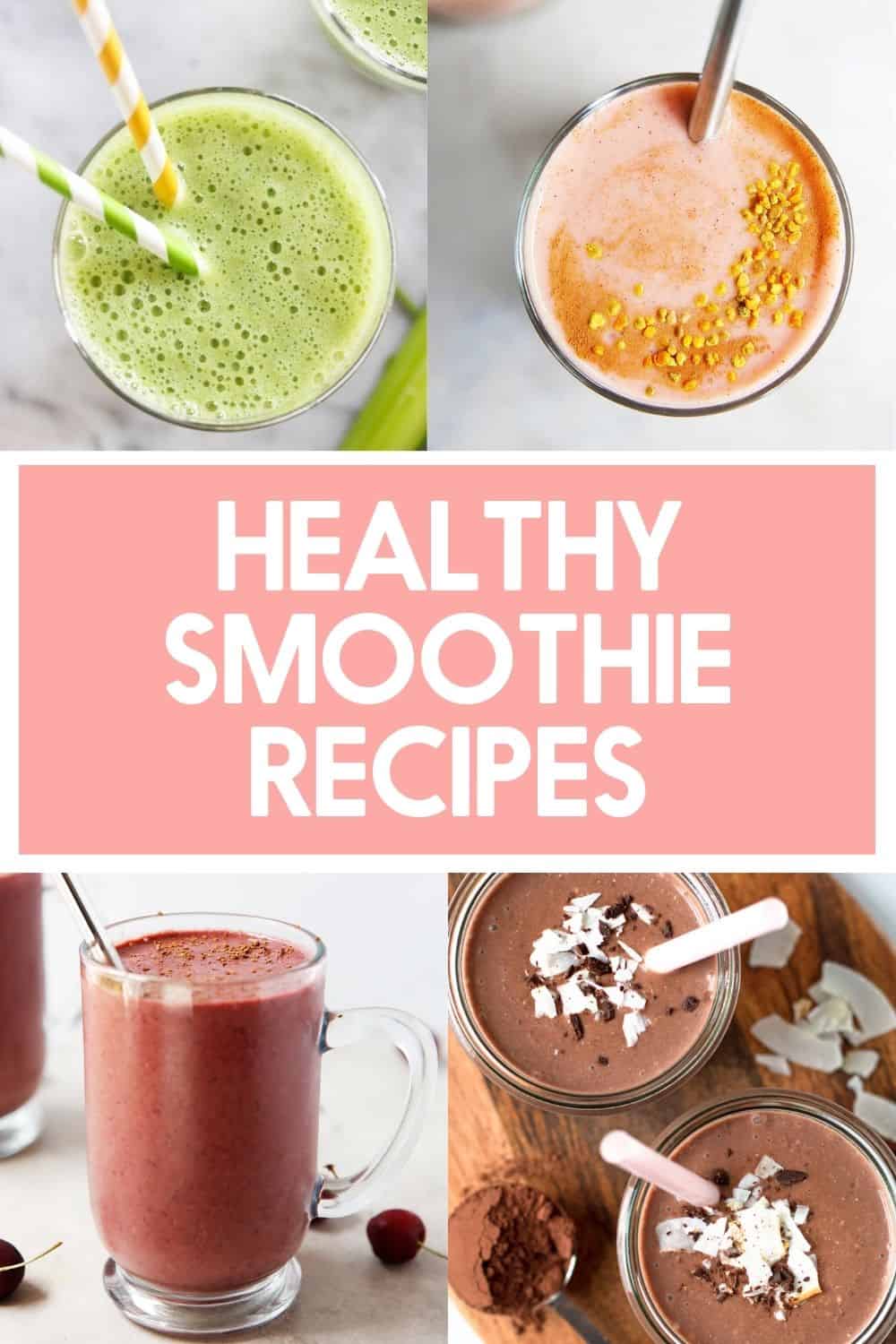 Our Favorite Smoothie Recipes + Tips
A smoothie is the ultimate quick breakfast or snack in every season. It is filling and quick to make! Plus the possibilities for smoothie flavors are endless. I'm willing to bet you could likely make a smoothie right now with whatever you have in your freezer or pantry, and it's going to be delicious. We're sharing some tips on how to build a smoothie from scratch, but we're also sharing some of our favorite smoothie recipes too!
Are Smoothies Healthy?
Smoothies can be healthy, depending on what you are adding to them. A healthy smoothie should include fiber, vitamins, and minerals as well as some optional healthy fats, protein, and other nutrient-dense ingredients. A healthy smoothie should have a variety of ingredients added! However, keep in mind that it can be easy to go overboard on adding in too much of the nutrient-dense ingredients.
When putting together a smoothie, you should be thinking about what your typical standard serving of any given addition to your smoothie should be.
For example, if you are drinking a smoothie for breakfast, you wouldn't want to load it up with multiple servings of sweet fruit that you wouldn't typically consume solo. The same goes for how much protein or fat you are adding to it.
If you wouldn't typically eat 3 tablespoons of nut butter at any given meal, it isn't a good idea to add that into your smoothie. Instead, add just a tablespoon of nut butter, or whatever your normal serving would be.
In addition, look out for adding in ingredients that have added sugars, such as sweetened milk or yogurts. As with anything, you want to consume a variety of foods and in moderate quantities in your ingredients to avoid making an unhealthy smoothie.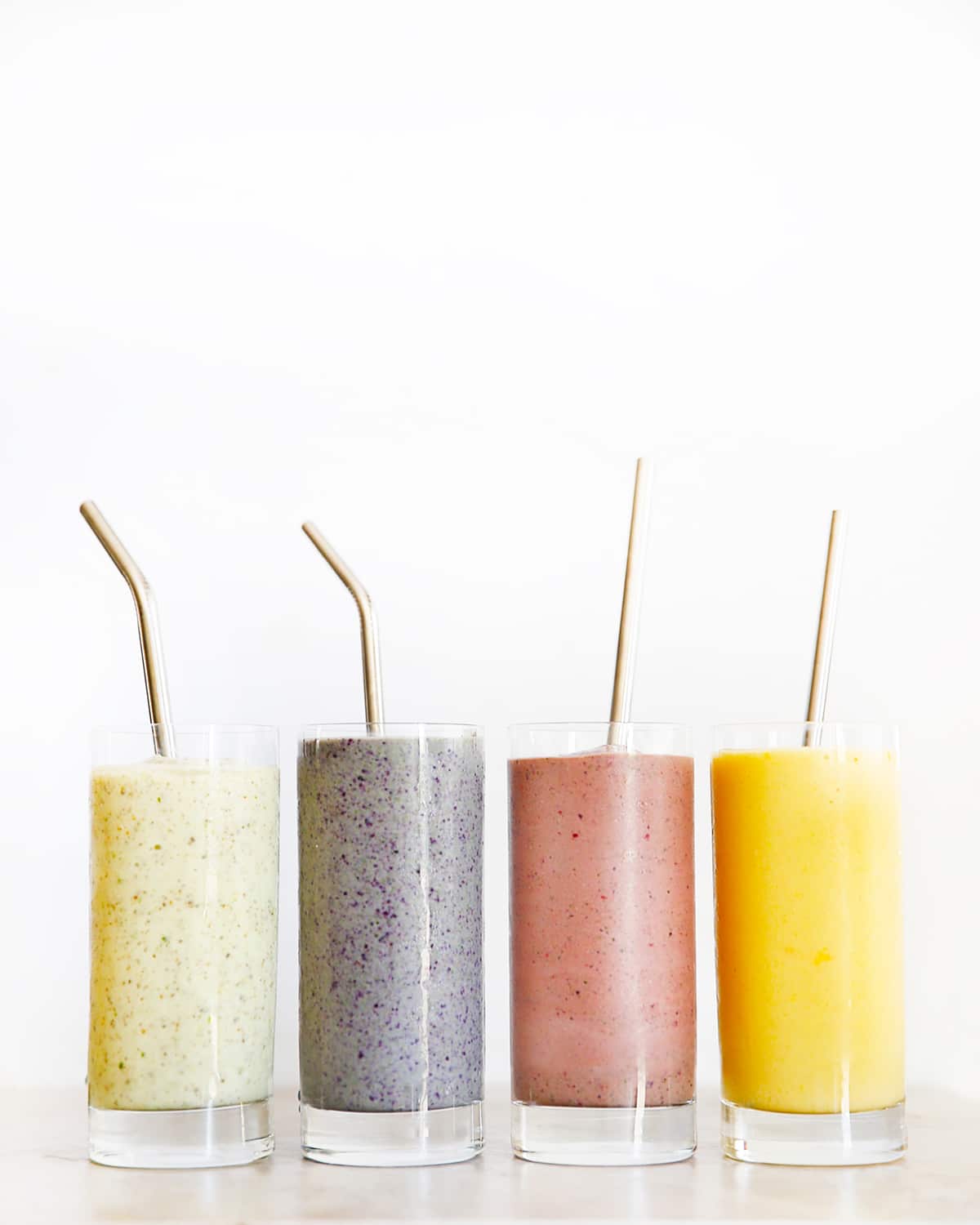 Building a Good Smoothie
Once you've got the basics down, you can pretty much make a smoothie out of anything. However, if you are looking to build up a healthy smoothie, stick to typical serving sizes you would adhere to at any other meal and look to add in a variety of ingredients.
Here is the formula I stick to when building a smoothie:
Choose a base (1 cup): This is the backbone of your smoothie. Choose whatever liquid you want to use to blend it up. While you absolutely could use water, I typically use creamy nut milk such as almond milk or coconut milk. Keep in mind, this liquid also contains proteins and fats too. You could also use a greek yogurt here, in addition to the nut milk or water. This will add protein to your smoothie.
Choose your fruit and or veggies (1-2 cups): I love to use a combination of fruit and veggies when possible. And it's easy to go and use frozen fruit and veggies here. They're conveniently already prepped up and inexpensive.
Make it green (1 cup): It just makes total sense to add in some greens into a smoothie. Most of the time it doesn't affect the taste at all, and adds healthy vitamins and minerals into your smoothie. Frozen chopped spinach is my favorite to add in. But you can just as easily add in kale or any other type of green.
Add a boost: Adding in some plant-based proteins and fats can help make the smoothie more filling. Just be judicious that you don't go overboard adding them in. Some favorites to add in are nut-butters, chia seeds, flax seeds, hemp hearts or collagen peptides. You can also add in some protein powder, if you'd like.
Sweeten it up: While not all smoothies need to be sweet, sometimes it's nice to add in just a touch of sweetness. Frozen bananas are an easy way to do this without adding natural sugars. Keep a bag of them frozen in your freezer for easy smoothie making. You can also add in a small amount of maple syrup or honey if you want. Just be careful to avoid adding in too much sugar depending on what fruit you are using or if you've added in another ingredient that already has added sugar (such as protein powders, yogurts or milks)
You can also add in some other ingredients to add complexity to your smoothie, such as different spices (think turmeric, ginger or cinnamon) or a different flavor profile (think cacao powder or matcha powder).
What are the best things to put in a smoothie?
Here are some of my favorite smoothie ingredients to make a healthy and nutrient-dense smoothie:
frozen fruit
frozen chopped spinach
frozen cauliflower
dairy-free milks or coconut water
half a frozen banana
sliced nuts
nut butters
Super boost add-ins:
protein powder or collagen peptides
coconut oil or MCT oil
chia seeds
cacao powder
maca powder
ground flax seed
hemp seeds
pinch of Himalayan sea salt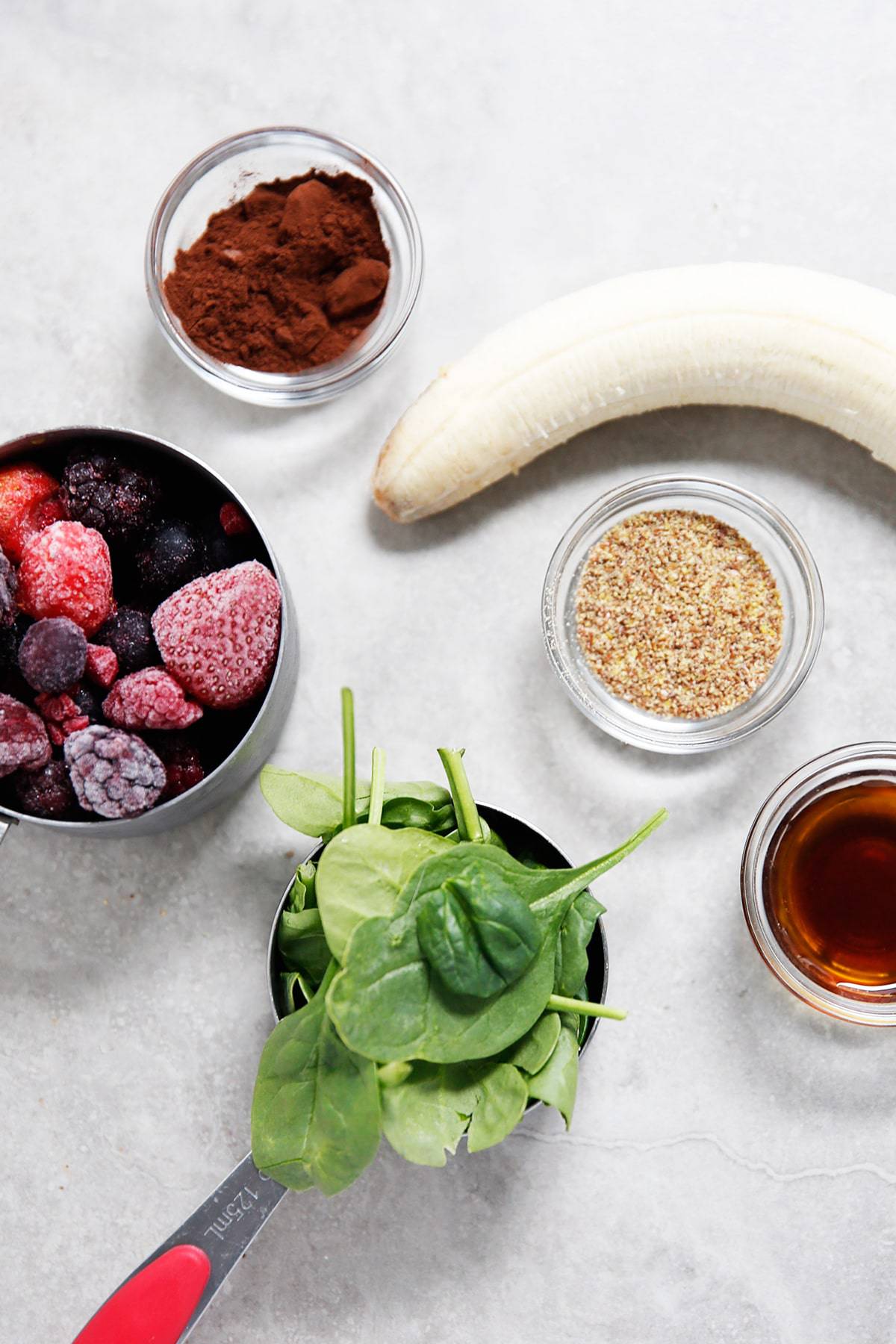 Best Blender for Smoothies
Here on the LCL team, we've tried so many blenders! Over the years, we've come to know there is a clear winner. A high-speed blender is truly the best blender. A high-speed blender will last a long time, and it is definitely more high-performing than the standard blender. It makes for the creamiest and best-blended smoothie. However, it's an investment, and we realize purchasing one isn't something everybody can or wants to invest in. So we're sharing some of the blenders we've used and liked in the past on the team in addition to our favorite blender.
Recommended: Vitamix
I (Lexi) have used a variety of blenders. My top two contenders I have used for the past 10 years are both the Blendtec and the Vitamix. At this point, if you're investing for a life-long, investment price blender, go Vitamix. Out of the two, it holds the test of time.
Mid-range price option: Kitchenaid Diamond 5 Speed Blender
Our food editor, Kelli, uses this blender at home. It is moderate in price and works relatively well. However, it is not the same as a high-speed blender, especially when it comes to smoothies. This blender requires adding in more liquid than a high-speed blender would, in order to get the frozen smoothie ingredients fully blended up.
Single serving blender option: Ninja Person Blender
Many people prefer to have a single-serving blender to keep at home or in the office for making smoothies. The bonus is that the basin you use to blend can double as a cup!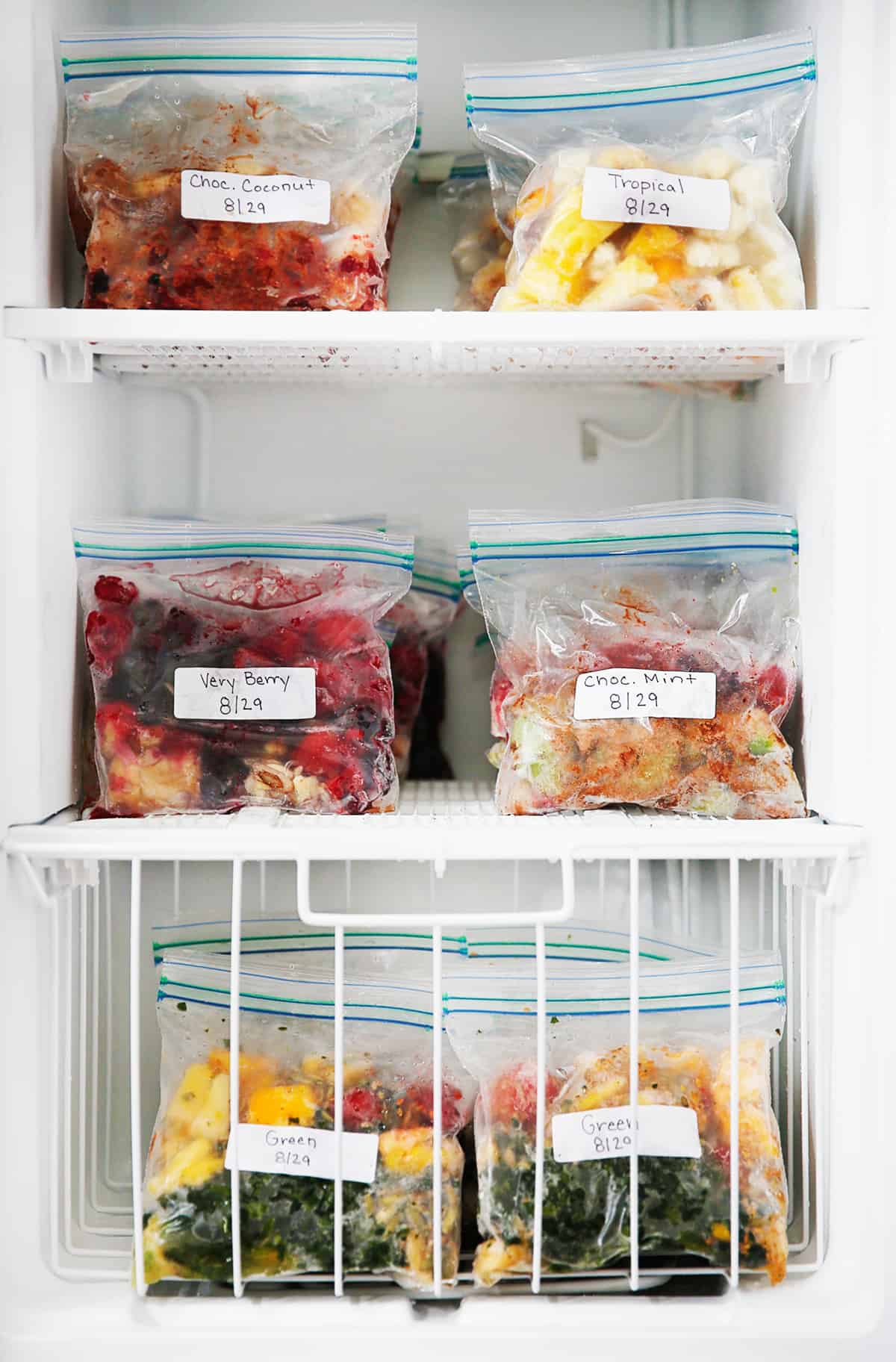 Prepping Smoothies Ahead of Time
Smoothie freezer packs are so popular right now! You can order them via subscription or purchase them by the pack at most stores. We've tried some, and enjoyed a few, but ultimately they are very expensive. One month's worth of smoothie subscriptions can cost you about $240! Yes, there is definitely a convenience factor, but did you know it's also super simple to make your own?
When you make your own, you get to control the ingredients and sweetness and it is so much more affordable. We put together a few different resources for making your own smoothie packs so that you can always have a quick smoothie any time or day.
Here are some of our favorite smoothie pack recipes and guides:
Tips to Make and Use Smoothie Packs
Where should I shop? We recommend purchasing the fruit at a large box store that offers organic frozen fruits, like Costco or BJ's, or a place like Trader's Joes (this is where we purchased some of our ingredients). Amazon Fresh also has some great options for bulk fruit.
How Do I Make Smoothie Freezer Packs? Simply place all the specified ingredients, except the milk, inside a plastic bag (or better yet, a reusable bag) and freeze until ready to use, up to one month.
Can You Freeze a Smoothie for Later? We do not recommend blending the smoothie too far in advance. Smoothies are best consumed immediately.
Have Some Leftover Smoothie? We pour any leftover smoothie into a popsicle mold and enjoy later as a frozen treat. Kids love this! Though frozen smoothie pops are best consumed within a few days of making.
Here are some items we love for smoothie packs:
Bag Opener (to fill your packs)
Labels/Sharpies to label/date!
Healthy Smoothie Recipes
Don't want to build your own smoothie? That's fine too! Here are some of our favorite smoothie recipes:
"Mounds" Chocolate Coconut Smoothie: This Chocolate Coconut Smoothie is like a healthy morning version of a Mounds candy bar and we're here for it! It is the perfect creamy and flavorful on-the-go breakfast to add to your morning routine! It combines nutrient-dense coconut and cocoa powder to get that chocolate-covered mounds flavor! It's is dairy-free, packed with healthy fats and so delicious.
Piña Colada Smoothie: This easy Healthy Piña Colada Smoothie is the perfect creamy and flavorful on-the-go breakfast to add to your morning routine! It uses frozen pineapple, coconut milk blended together to get a classic pina colada flavor! It's is dairy-free, packed with healthy fats and so delicious.
Chocolate Covered Cherry Smoothie: This easy Chocolate Cherry Smoothie is the perfect creamy and flavorful on-the-go breakfast to add to your morning routine! It uses antioxidant-rich frozen cherries and cocoa powder to get a chocolate covered cherry flavor! It's is dairy-free, packed with healthy fats and so delicious.
Coffee Banana Smoothie: This easy Coffee Banana Smoothie Recipe is the perfect creamy and flavorful smoothie to add to your morning routine! It uses leftover coffee or cold brew, and is dairy-free, refined sugar-free, and SO delicious.
Açaí Smoothie Bowl: This Açaí Smoothie Bowl is the perfect refreshing and nourishing treat for warm Spring and Summer days! Paleo-friendly, vegan-friendly, and gluten-free! We love topping ours with gluten-free granola, a mix of berries, and bee pollen for a pop of color and added protein!
Superfood Summer Fruit Smoothie: This Superfood Summer Smoothie is loaded with tropical summer fruits such as kiwi, strawberry, pinapple and raspberries and packed with tons of antioxidants! It is dairy-free, vegan, and the perfect start to any morning!It is creamy, fruity, and packed with nutrients to fuel your body for success!
Banana Mango Smoothie Bowl: Everything is better in a bowl, like today's Banana Mango Smoothie Bowl that's packed with a whole lot of awesome and topped with so much (literally) flavor.
Green Summer Smoothie: Packed with healthy fats and tons of greens, this easy smoothie is definitely on the healthy, yet still delicious side.
Cherry Lemonade Smoothie: This easy Cherry Lemonade Smoothie is the perfect creamy and flavorful on-the-go breakfast to add to your morning routine! It uses antioxidant-rich frozen cherries, some nutrient-packed add-ins, and fresh lemon juice to get that refreshing fruity lemonade flavor! It's is dairy-free, packed with healthy fats and so delicious.
Island Blast Green Smoothie: This Island Blast Green Smoothie is seriously the Best. Smoothie. Ever. It's just the right sweet, packed with tons of greens, and is super refreshing. The combination may seem interesting, but trust me, it's perfect!
Chocolate Almond Butter Smoothie: This Chocolate Almond Butter Smoothie is loaded with healthy fats and protein, and exploding with flavor of a chocolate almond butter cup. It's the perfect way to start the morning, or for a quick afternoon snack.
Creamy Mango Protein Smoothie: This creamy Mango Protein Smoothie is so refreshing and packed with delicious tropical flavors! The perfect smoothie for a beautiful Spring or Summer day! The best part? It is so simple to make with only 6 ingredients. Moreover, it's dairy-free and loaded with protein and fiber to help you stay energized throughout the day!
Pin it for later:
---