How to Make Instant Pot Hard Boiled Eggs
Instant Pot hard boiled eggs are the easiest method to making them to perfection each and every time. They're a hands-off cooking method and the best part: they're so easy to peel!
Instant Pot Hard Boiled Eggs
The Instant Pot electric pressure cooker has become my FAVORITE, easy way to make perfect hard boiled eggs. It's really a method of steaming rather than boiling, and if you've tried my old trusty steaming method for the perfect hard boiled eggs, you can imagine how amazing this method is! Eat them as a snack or make these easy deviled eggs! Once you've done it in the  Instant Pot you'll never look back at another method ever.
Why the Instant Pot is the Best Method to Cook Eggs
There are so many reasons the Instant Pot is a great tool in the kitchen, but one of the best uses of this pressure cooker is how perfect they cook eggs. If you've ever struggled with overcooked, undercooked or hard-to-peel eggs you are going to love this device as much as I do! This machine takes the guess work out of making hard boiled eggs. All you do is place them in, add your water, close the lid and let steam! Then transfer to an ice bath and peel! So simple, and peels PERFECTLY every time. A total game changer. I just love my Instant Pot!!
What you'll need: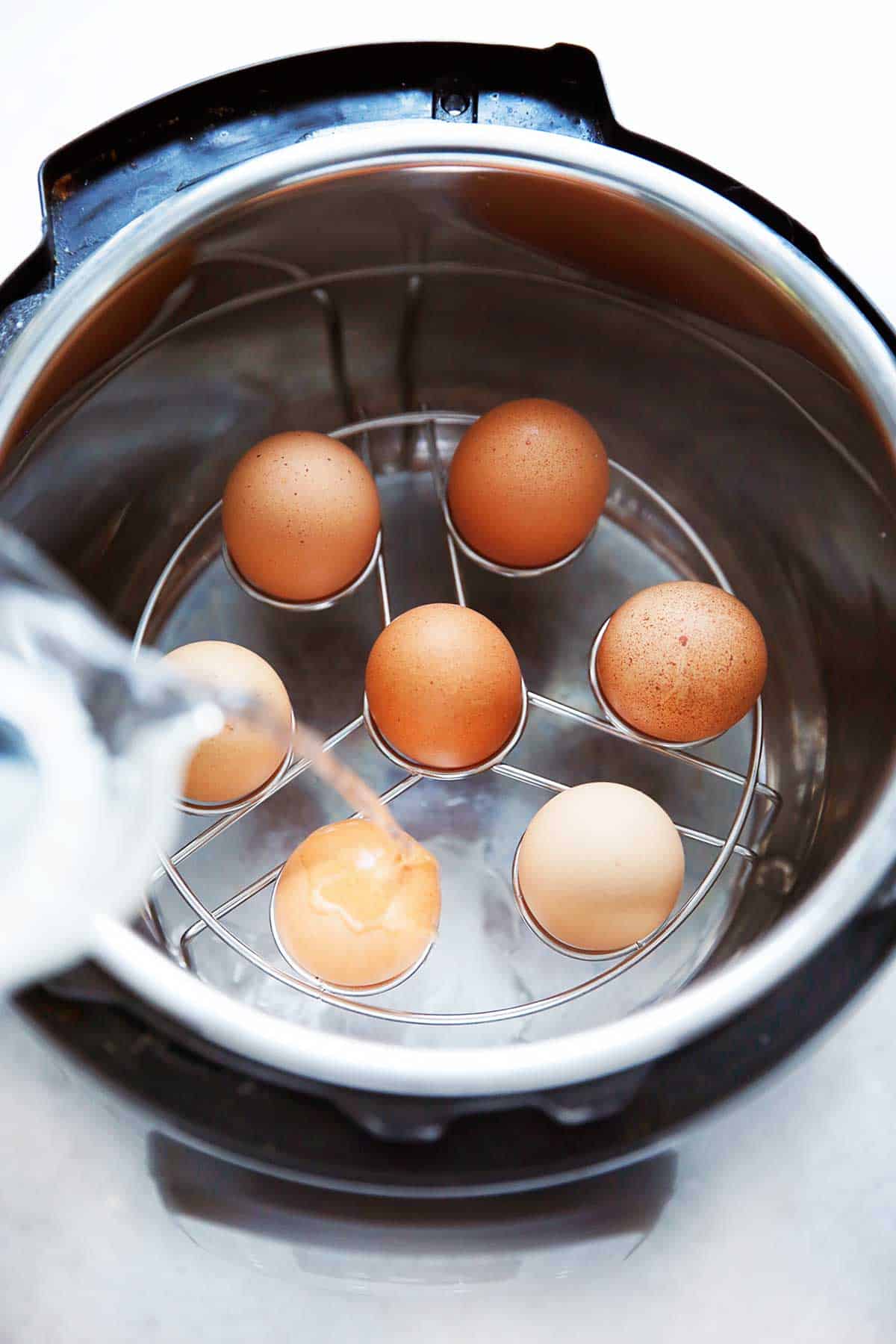 How to Make Hard-Boiled Eggs in the Instant Pot
Place eggs in a steamer basket, in the egg rack, or on your Instant Pot rack.
Add 1 cup of water.
Close the lid, making sure the valve is set to sealing.
Set for 5 minutes at high pressure. Note: It will take the cooker approximately 5 minutes to build to pressure and then 5 minutes to cook.
Quick release.
Place the hot eggs into an ice bath with cold water.
Peel and enjoy!

What to Do with Hard Boiled Eggs:
Eat them as a snack, topped with everything bagel seasoning- see below!
Top your Cobb Salads
Make DEVILED EGGS!
Watch the video:
---
---
If you like this Instant Pot recipe, check out these others:
13 comments
January 1, 2018
This website may at times receive a small affiliate commission for products that we shared with you in our posts. Although we may receive a commission for linking certain products, there's no additional costs to you and all of our opinion and suggestions are 100% our own and unbiased. That's our promise to you!
Subscribe to get our FREE clean eating guide!
Join our email list TODAY to start recieving our newsletter weekly, access to exclusive content and deals, *and* a FREE complete 24-page clean eating guide!