This Pumpkin Chocolate Greek Yogurt Bark is a protein-packed freezer treat, made with just a few staple ingredients and is customizable with tons of topping ideas!
Made in partnership with Stonyfield Yogurt. All opinions are 100% always my own!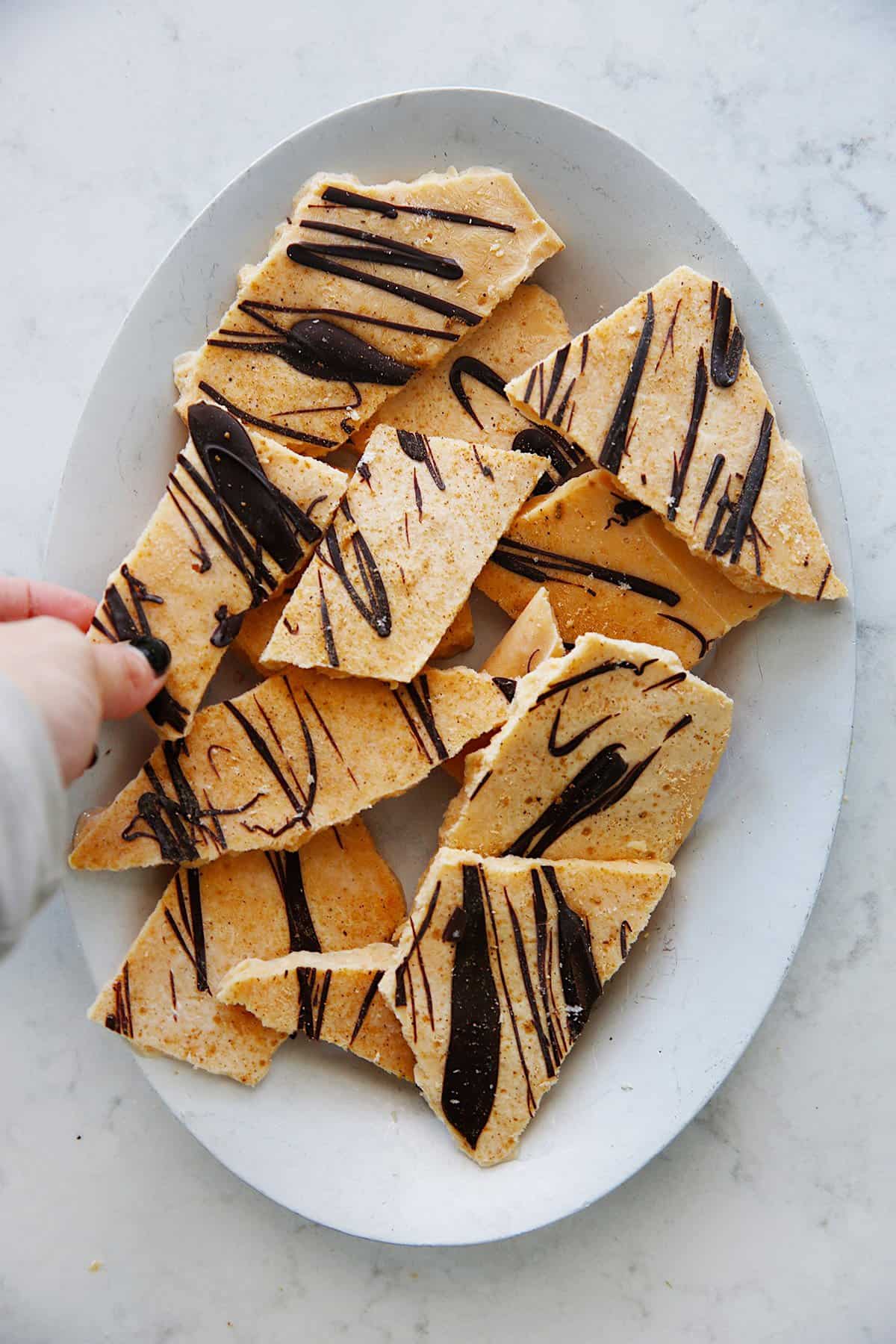 But First… My Visit to Stonyfield Farm Tour
In August I headed to Vermont to learn more about Stonyfield, their organic practices, the core values of the company, meet a few of their farmers, and more! I truly don't know where to begin as the experience, the people I met, and the knowledge gained truly changed my outlook on many things. Now, I've been exclusively buying Stonyfield for years for their transparency (certified B-Corp) and of course, the taste, and left with so much more knowledge.
Organic Farming For Our Future
Organic dairy farming goes beyond the health of the animals, and directly to our health. That's no secret if you've followed me for a while, but Stonyfield's dedication to organic farming and its impact on the world as a whole was super impressive. Organic standards in the US are pretty strict, and that's a great thing! It does mean significantly more work for the farmers and truly, they are thrilled to be organic (they don't want their kids/grandkids rolling around in pesticides, either)!
Organic Standards: What It Actually Means & Why I Buy It
Organic is regulated by the USDA, and is actually pretty strict with its regulations. When you choose to buy and eat organic products, you are ensuring your food does not contain:
Toxic pesticides and chemicals
GMO's
Growth hormones
Antibiotics
Artificial colors or flavors
Sewage sludge or irradiation
And more!
There are also pretty impressive animal welfare requirements. Very different from large scale dairy operations, organic cows are required by federal regulation to be out on the pasture for 120 days per year, with 50% of their diet coming from grazing the pasture. They must also have free access to clean, temperate shade and shelter.
True Pioneers in the Organic Industry
One of our dinners in Vermont was spent with Stonyfield's Co-Founder, Gary Hirshberg (go listen to his How I Built This). His vision made him a true pioneer in organic farming, and now his company proudly supports and partners with hundreds of family farms that make all of their products without the use of toxic chemicals, pesticides, artificial hormones, antibiotics and GMOs.
On top of this, Stonyfield has initiatives all over the U.S. for us and/or towns to get involved with, to create safer land for all of us that aren't sprayed heavily (think the grass by your local park). I told you, they are doing impressive work!
Meeting the Stonyfield Farmers
We visited two farms during our trip: Molly Brook Farm and Ackerman Farm
Myles and Rhonda Goodrich of Molly Brook Farm, who were recognized with the 2022 Vermont Dairy Farm of the Year award, are an amazing couple (I can't wait to visit them again and bring Skylar), who spend 7 days a week around the clock caring for their cows. They know each cow by name (and there were a lot of them!), and these cows spend their days at pasture, grazing on nutritious, organic grasses.
This pasture time spent is great for the cows, the milk produced, but also the earth and us. They eat a variety of grasses, contribute to soil health, and produce extremely nutritious milk! FYI: Cows who graze at pasture produce milk with higher levels of omega-3 fatty acids!
Next we visited Ackerman Dairy, which was another amazing experience as their approach to organic farming came after 6 generations of conventional farming which is quite different. They are a young family with young kids (no small feat), and shared their struggles and gratitude to be able to farm organically with Stonyfield.
These farmers and their families work 365 days a year. They are long days. Organic farming has it's challenges and they really work so hard! Aside from the cows (milking, breeding, caring), it's also the work that goes into growing and fermenting organic, nutrient-rich grasses for the cows! I think as consumers grabbing a container of yogurt in the store, it's so easy to not think about that!
Now… to The Greek Yogurt Bark!
It's a treat we always have in our freezer, no matter the season. It's nutritious, delicious, and gets gobbled up!
Here are the greek yogurt bark ingredients, scroll down for more specifics!
Full-Fat Greek Yogurt: I use Stonyfield grass-fed Greek yogurt since it's extra thick and protein-packed, but you can use regular plain yogurt, or even dairy-free yogurts to make this a dairy-free frozen yogurt treat!
Pumpkin Puree: Adds nutrients and festive fall flavor!
Sweetener: I have made this with both maple syrup and honey. Both work great. The sweetener allows you to control what's in your yogurt, rather than an already sweetened yogurt bought in the store. See below for my note on making this sweeter!
Vanilla Extract: If you've made your own vanilla extract, use that, or use whatever vanilla you have on hand!
Pinch Sea Salt & Pumpkin Pie Spice: Just a little pinch to balance the flavors. P.S. I make my own DIY Pumpkin Pie Spice!
Toppings: I drizzled melted chocolate, more pumpkin pie spice, and flakey sea salt!
Other Topping Ideas To Sprinkle On Or Mix Into Your Yogurt Bark
Granola
Chopped Nuts
Grated Chocolate or Chocolate Chips
Mini Marshmallows
Chopped Cookie Pieces
Nut Butter Drizzle
Sprinkles
Sliced Fruit
Can I Use a Different Yogurt Other Than Greek?
Absolutely! Use a dairy-free yogurt to make it vegan/dairy-free, or use regular plain yogurt if you don't have Greek yogurt! Vanilla yogurt is yummy, too!
Adjusting The Sweetness
You can make this a sweeter treat, or make it less sweet, based on your preference.
Fun Fact: things don't taste as sweet when they are cold! So when you taste it when it's warm, it will taste sweeter than it does as to when it's frozen.
This recipe opts for a middle-of-the-road, not too sweet, but a little sweet, version! The yogurt taste really comes through, and while it will regardless (it is yogurt bark!), you can add roughly 2 more tablespoons of sweetener for a sweeter yogurt bark snack!
How to Make Frozen Yogurt Bark
I promise this is so simple to make!
Mix the yogurt with a little sweetener, vanilla, and a pinch of salt! This balances the tart flavor.
Spread it onto a sheet pan lined with wax paper.
Add desired toppings! Use what you have on hand and get creative.
Freeze.
Break the bark into pieces. I love the imperfection in cracking it by hand, but you can cut it into squares, too!
Enjoy!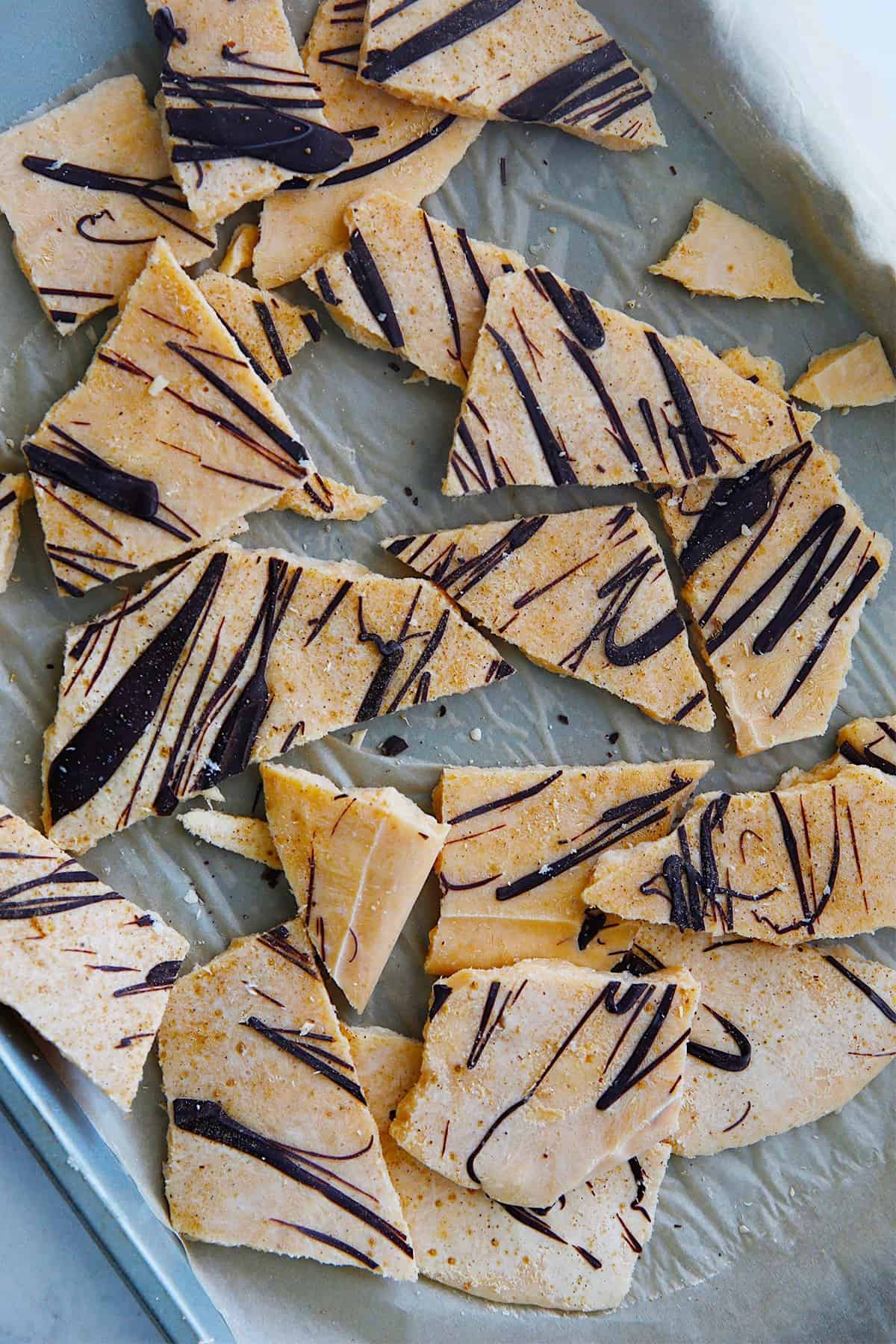 Helpful Tips for Making It
Use a rimmed sheet pan! This will avoid a major yogurt spill, you can picture this.
Use wax paper or parchment paper! I love this brand.
Try to spread as even of a layer as possible, so it thaws evenly! You don't want it too thin, or it will thaw very quickly, so the thicker the better here! Roughly 1/4″ thick.
Be patient and let it freeze: At minimum, freeze your froyo bark for 3 hours. Let me suggest making it the night before and having it the next day!
Storing Your Greek Yogurt Bark
Store your yogurt bark in a container in the freezer until you are ready to eat. I like glass containers or reusable storage bags. When serving it, take out of the freezer just beforehand, so it softens up a little bit, but not too much!
Keep your frozen yogurt bark in the freezer for up to 3 months and enjoy as you want a fun treat everyone will love!
But Wait, Does it Melt Quickly?
Short answer: It can!
Here's what I do… When I'm ready to serve it, I remove the yogurt bark from the freezer and allow to sit for just a minute or two before serving, but don't wait too long or it'll thaw quicker than you'd like!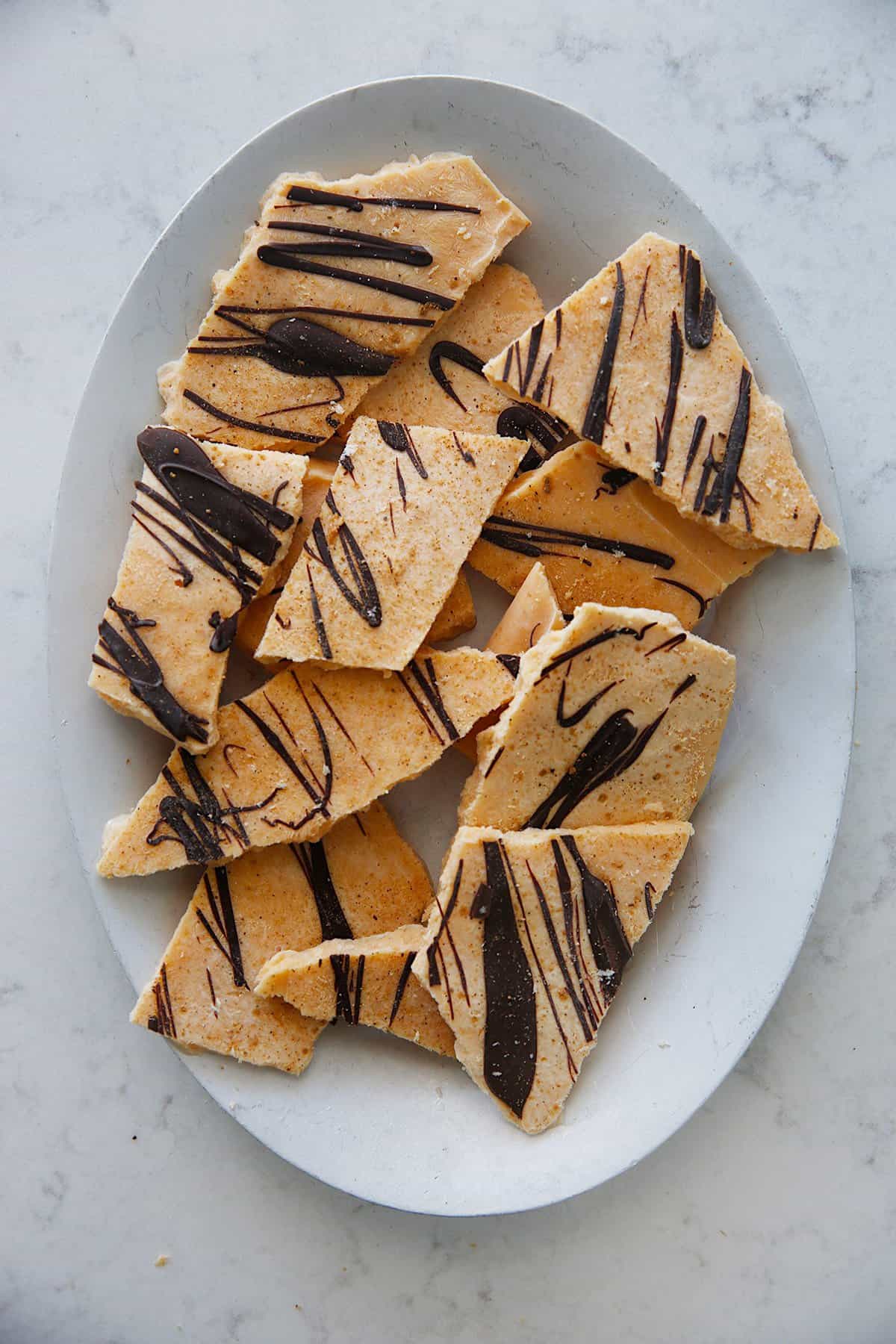 More No Bake Frozen Treats
Watch The Video: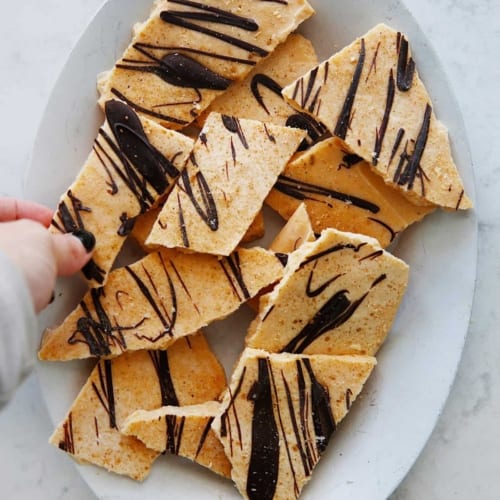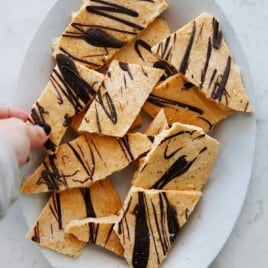 Pumpkin Chocolate Yogurt Bark
This Pumpkin Chocolate Greek Yogurt Bark is a protein-packed freezer treat, made with just a few staple ingredients and is customizable with tons of topping ideas!
Ingredients
2

cups

full-fat Greek yogurt

1/4

cup

maple syrup

1/3

cup

pumpkin puree

1

teaspoon

pumpkin pie spice

additional for garnish

Melted chocolate

for garnish drizzle
Instructions
Line a large rimmed baking sheet with wax paper and set aside.

In a bowl, whisk together yogurt, maple syrup, pumpkin puree, and pumpkin pie spice. Whisk until well combined.

Pour the mixture onto the lined baking sheet and spread it as evenly as possible, using a spatula, roughly 1/4″ thick.

Scatter any add-ins evenly across the yogurt mixture and sprinkle with extra pumpkin pie spice and melted chocolate if desired.

Freeze until firm, at minimum 3 hours.

Once frozen completely break the bark into pieces.

Keep in the freezer until ready to serve. Store in an airtight container or reusable bag in the freezer for up to 3 months.
Notes
Topping Ideas:
Melted Chocolate Swirl
Mini White Chocolate Chips
Granola
Chopped Nuts
Grated Chocolate or Chocolate Chips
Mini Marshmallows
Chopped Cookie Pieces
Nut Butter Drizzle
Sprinkles
Tools I Used: