This Banana Oatmeal Chocolate Chip Muffin recipe is such a delicious, moist nut-free muffin recipe that the whole family will love. They are made with oat flour, coconut flour and are nut-free, gluten-free and refined sugar free! Ready in under 30 minutes and bound to be your new favorite on-the-go breakfast or snack.
Banana Oatmeal Chocolate Chip Muffin
You asked for a nut free muffin recipe and we DELIVERED. Nut-free and gluten free muffins are finally here! We're in love with this Banana Oatmeal Chocolate Chip Muffin recipe. But we won't try to hide it, it took some work to get here. Taste testers, multiple good attempts, multiple bad attempts, but here we are! A nut-free muffin recipe that everyone will actually love.
Way back last year when we started experimenting with using oat flour as a substitute for some of our nut recipes we were intrigued with how well it worked. But it most definitely is not a 1-1 swap as oats are very low in fat, have very little flavor and they are absorbent, so in order to make it work you have to introduce elements to offset it. We had originally settled on using a seed butter to help bring in some of those missing elements, but during testing we were reminded that sunflower seed butter turns green after it's been in contact with baking soda or powder. So after breaking into one of those muffins we were met with a bright green muffin! Perfect for St. Patrick's day, but it won't cut it for any other purpose. Those green muffins by the way, were delicious. So we were a little sad to have to start over from there.
But the good news is that we got there! This Banana Oatmeal Chocolate Chip Muffin is unbelievably moist (…we know, we know…a controversial word!) and full of flavor. It's a gluten free, nut free muffin that is easy to make and would be a fun baking project to do with kids!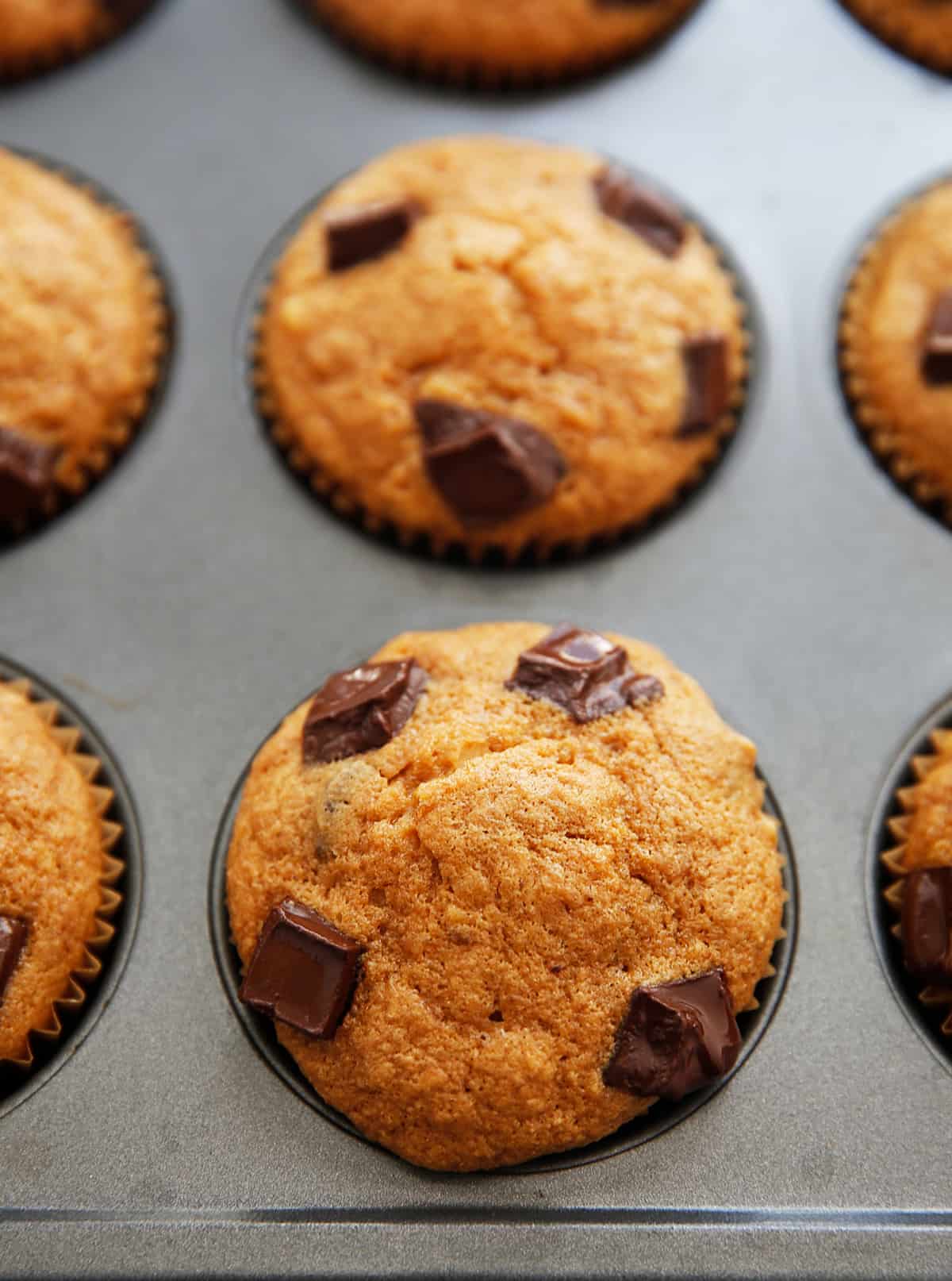 What kind of oat flour should I use?
As we've said in previous oat flour recipes, we recommend you buy premade oat flour. It isn't expensive and easy to purchase in stores these days. We tested this with homemade oat flour and feel the final result is effected by it. However, if you want to make your own oat flour, you certainly can. We just recommend you try to get it as fine as possible.
How do you measure oat flour
This is the first time we recommended this but if you have an electronic kitchen scale at home, it's best to use it here to measure. Oat flour can be tricky to measure as it can be easily compacted, even straight from the bag. The same goes for coconut flour because such a small difference in measuring can impact a recipe because it's such an absorbent flour. So we've included the weight in grams here. Any electronic kitchen scale can switch between grams and ounces, and grams are more precise so we're offering that. If you don't have a scale lightly packing the oat flour into the cup measurement gets you as close to the correct measurement as possible. For coconut flour scoop it in the tablespoon and then level it off.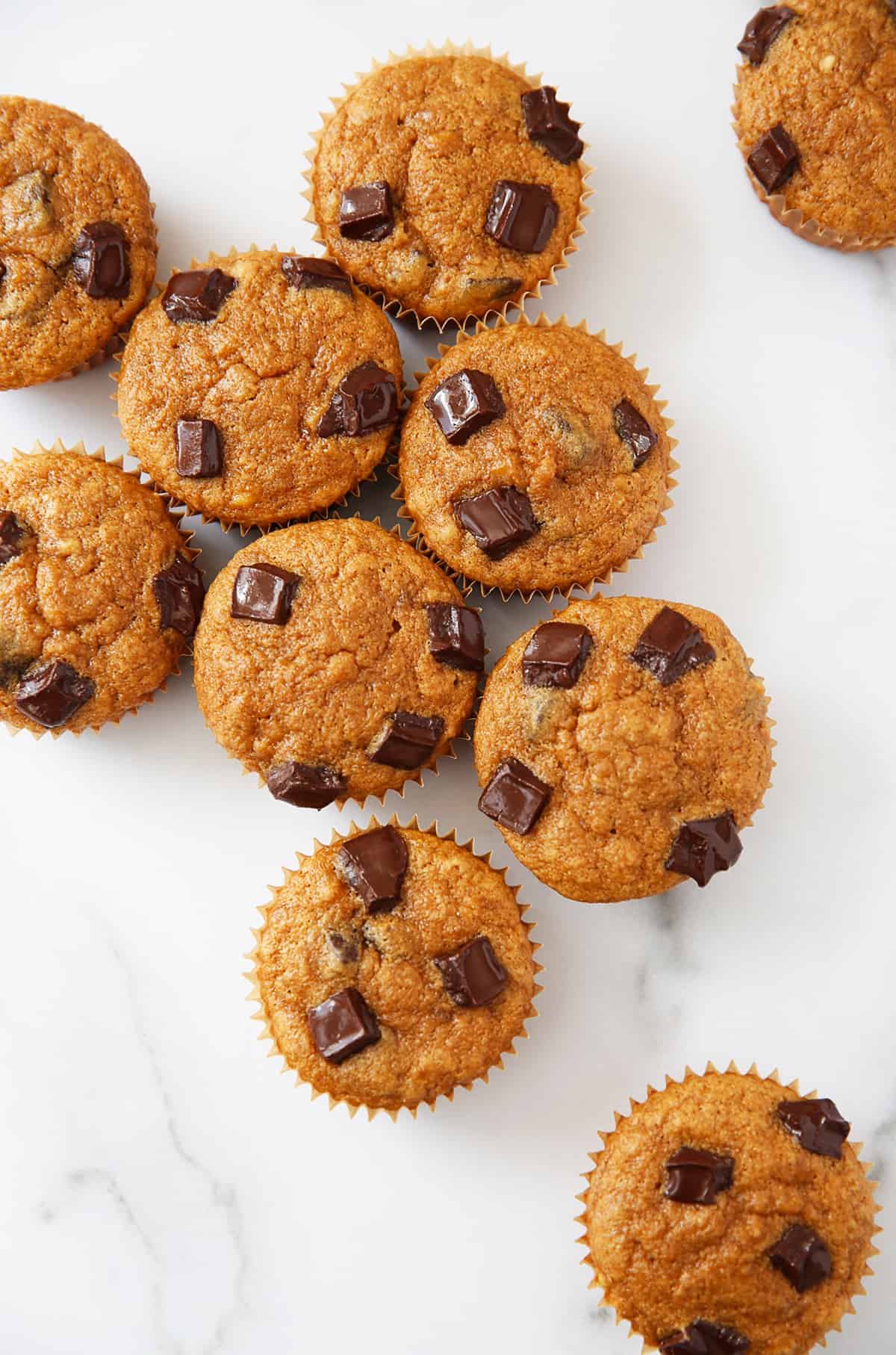 How do you store oat flour muffins?
We've tested storing these at room temperature covered (but not air tight), in an air tight container and in the freezer. They all work! But we prefer to keep these at room temperature covered (in a non-air tight way) for two days at most. The muffins get more moist as the days go on, especially in an airtight container, which can make them feel dense.
So if you want to keep them the freshest you can store in the freezer. Our food editor Kelli has been storing these in the freezer and taking them from the freezer and putting in her kids lunch boxes. By the time the kids get to lunch they are defrosted and ready to eat.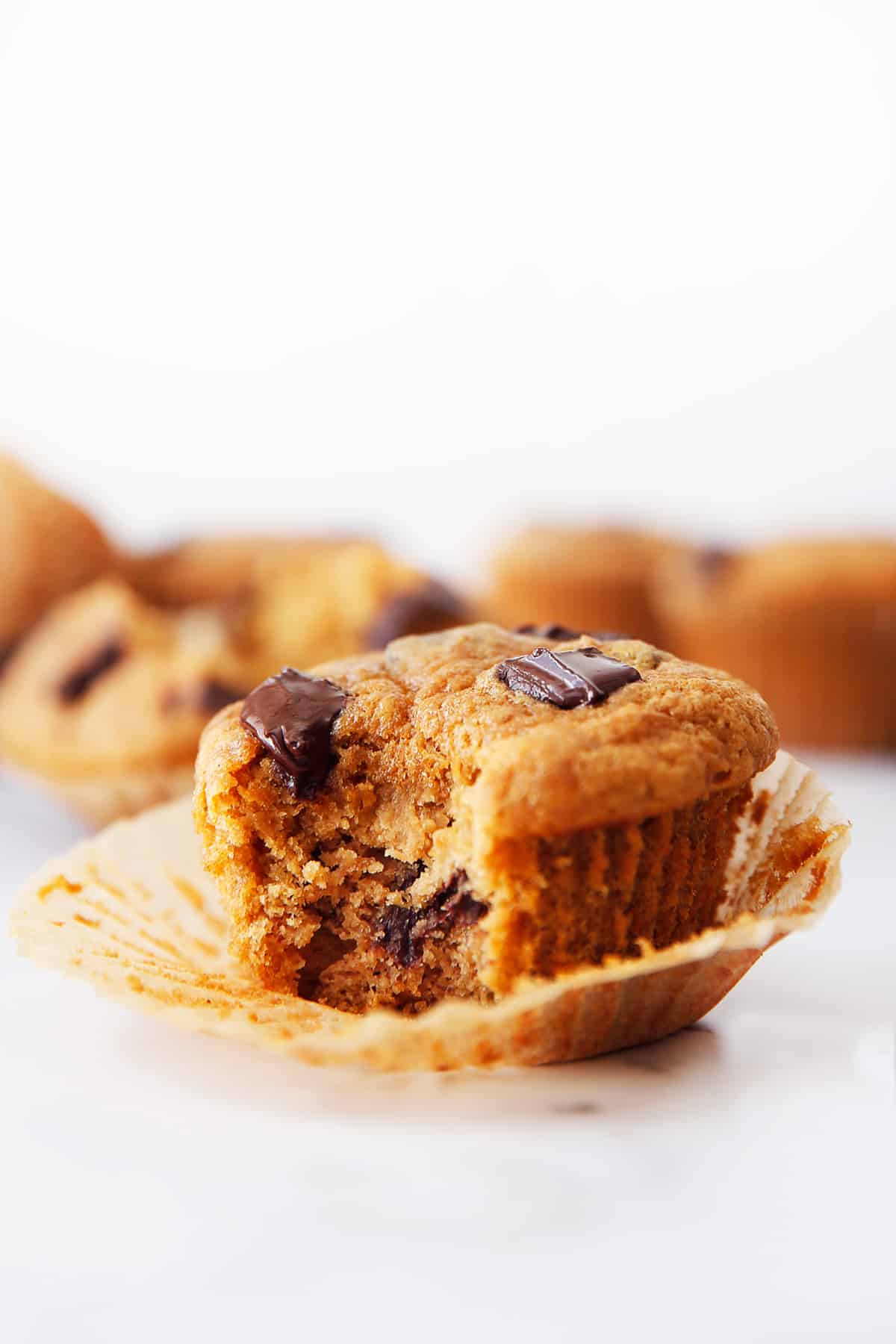 If you like this muffin recipe, check out these others:
Watch the video here:
---
Banana Oatmeal Chocolate Chip Muffins
Directions
Preheat oven to 350ºF and line a 12 cup muffin tin with silicone or parchment paper liners.

In a large bowl mash bananas well. Add eggs, milk, coconut sugar and melted butter and whisk until full combined.
Add oat flour, coconut flour, baking powder, salt and cinnamon and mix with a spatula until smooth.

Fold in chocolate chips.

Divide batter between muffin liners, almost to the top.

Bake in the middle rack for 18-20 minutes, or until the muffins feel slightly firm to the touch.

Serve warm with butter, or let cool completely and store at room temperature covered, or in the freezer for up to 3 months.
Recipe Notes
We've found store bought oat flour to be different than homemade. We prefer the texture to store bought and suggest that is what you use.

If you have an electronic scale at home please use it to measure the flour, as these flours are notorious for being difficult to measure with cup measurements.
Loading nutrition data...
There may be affiliate links in this post! By clicking on them, or purchasing recommended items I may receive a small compensation, at no cost to you! However, I only recommend products I absolutely love and use in my own home! Thank you for supporting Lexi's Clean Kitchen when you shop! See my
privacy policy
for more information about this, the information we save, and more!