This Gluten Free Banana Bread tastes just like the classic version you know and love but made with a blend of healthy oat flour and coconut flour. It is also happens to be dairy-free! This brunch staple is moist, simple-to-make and will be loved by everyone, gluten-free or not!

Healthy Banana Bread
Banana bread just might be one the most classic and comforting bakes. In my mind, a good banana bread should be moist, just sweet enough, full of chocolate chips and most definitely heavy on the banana flavor! This recipe checks all those boxes and more. This recipe today differs from my Browned Butter Banana Bread, which was made with almond flour. This recipe is a more classic flavored banana bread that just happens to be free from gluten, nuts and dairy. But the truth is, nobody will notice any difference, except about how delicious it is! It's also easily made all in one bowl and ready in just about an hour. Say hello to you favorite new gluten-free banana bread recipe!
Ingredients Needed
Banana 

Oat Flour
Coconut Flour
Coconut Sugar
Coconut Oil
Baking Soda + Powder

Eggs

Salt + Cinnamon
Chocolate Chips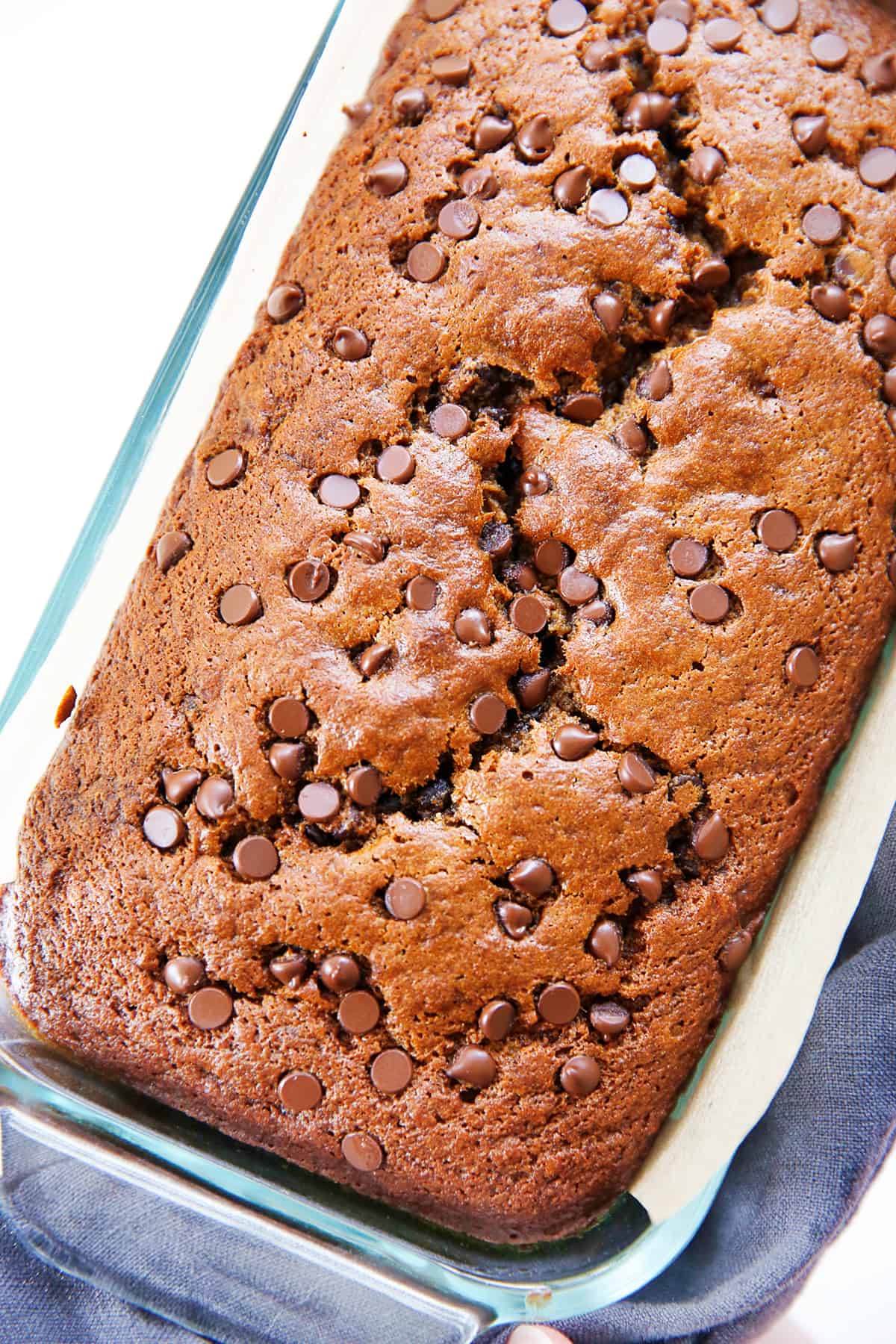 Baking Tips
Measure out your flour correctly! Oat flour can be tricky to measure as it can be easily compacted, even straight from the bag. The same goes for coconut flour because such a small difference in measuring can impact a recipe because it's such an absorbent flour. So we've included the weight in grams here. Any electronic kitchen scale can switch between grams and ounces, and grams are more precise so we're offering that. If you don't have a scale lightly packing the oat flour into the cup measurement gets you as close to the correct measurement as possible. For coconut flour scoop it in the tablespoon and then level it off.
Use only 1 cup of banana. While we love the idea of being able to just throw in 3 bananas instead of heaving to measure out 1 cup of mashed bananas, the truth is adding too much or too little banana can impact this recipe depending on how large the banana is. Start with 3 medium or 2 very large bananas and mash them. Measure them and keep only 1 cup of tightly packed mashed banana.
Bake it correctly. Bake it until the bread springs back lightly and there are no wet crumbs on a toothpick when it's inserted into the middle of the bread. If you have an instant read thermometer it should read about 200 degrees when measured from the middle of the bread.
Let the bread cool slightly before cutting. Like any quick bread, cutting the bread too soon after taking it out of the oven with result in a bread that taste too moist at first, and then later, one that is dry as all the steam has escaped from the bread when it was hot. Let it cool until the bread is no longer warm to the touch, about 3-5 hours.
If you like this quick bread, check out these others:
If you like this banana recipe, check out these others:
Watch the video here:
Gluten Free Banana Bread
---
---
Directions
Preheat oven to 350ºF and grease a 8x5 baking dish and line it with a

parchment paper sling

. Set aside.

Mash bananas well in a large bowl, making sure to only use 1 cup of it. Add in eggs, milk, coconut sugar and coconut oil and whisk until fully combined.
Add in oat flour, coconut flour, baking soda, baking powder, salt and cinnamon and mix with a spatula until smooth. Fold in chocolate chips.

Transfer batter to the prepared baking dish and smooth over the top. Add additional chocolate chips on top, if desired.

Bake in the middle rack for 50 to 60 minutes, or until a toothpick inserted comes out clean and the bread gently springs back when touched.

Let the bread fully cool before slicing into it.
Recipe Notes
We've found store bought oat flour to be different than homemade. We prefer the texture to store bought and suggest that is what you use.

If you have an electronic scale at home please use it to measure the flour, as these flours are notorious for being difficult to measure with cup measurements.
---
Nutrition
Loading nutrition data...
29 comments
April 1, 2020
Subscribe to
Lexis Clean Living
Join our email list to get instant updates and weekly summaries of our top content and special exclusive offers along with our free clean eating kickstart guide!
This website may at times receive a small affiliate commission for products that we shared with you in our posts. Although we may receive a commission for linking certain products, there's no additional costs to you and all of our opinion and suggestions are 100% our own and unbiased. That's our promise to you!