Overnight Cinnamon Roll French Toast Casserole
This Cinnamon Roll French Toast Casserole is the the absolute best holiday brunch. It literally taste just like a cinnamon roll, without all the work of making cinnamon rolls. Plus, it's great to prepare the night before and either bake up for guests at home, or to bring along to a pot luck brunch. Trust me, you are going to love this one. Made in partnership with my friends at Ello Products.
Cinnamon Roll French Toast Casserole
Would you believe me if I told you, you could make an easy breakfast to feed a crowd, prepared the night before, that will leave your whole house smelling like legit cinnamon rolls? Based off of these photos, I hope you believe me because this overnight French toast bake is the real deal. It taste just like cinnamon rolls, but it's so easy to prepare! The hardest part is waiting for this dish to cook long enough before you can dig in. Plus, it can be made gluten-free, dairy-free and refined sugar free.
Ingredients for Overnight French Toast Bake
White Bread (we used gluten-free, but use what you need to!)

Milk (we used almond milk to keep it dairy-free)

Eggs

Coconut Sugar

Cinnamon

Butter (or ghee, or coconut oil for dairy-free)
We also topped this French toast with a dairy-free glaze made from cashew cream and maple syrup. It was heavenly. You could also top it with a standard powdered sugar glaze by mixing together powdered sugar and a place of milk, until it's reached the consistency you'd like.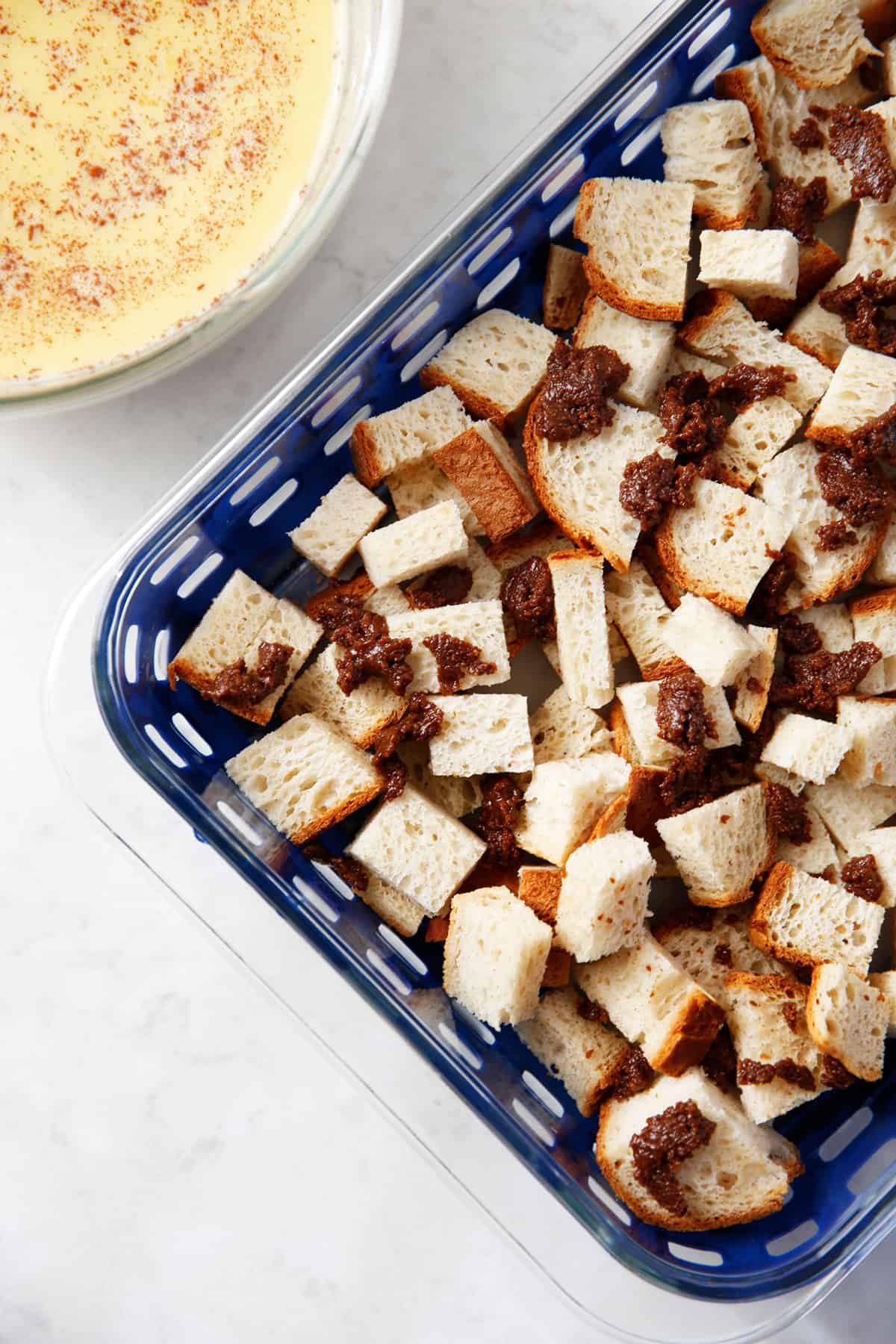 How to Make a French Toast Casserole?
It couldn't be easier. You cube up some bread. It's best if you can either do this ahead of time, and leave the bread out to dry out, or you can toast the bread in the oven beforehand. This step isn't absolutely essential, but it improves the texture of the final dish, especially if you are using gluten-free bread.
Next you place half the cubed bread cubes in a greased 9×13″ baking dish. We love using it in our Ello DuraGlass Bakeware Containers because they have a matching lid that makes this the perfect prep, bake and serve container for an overnight French toast.
Then you sprinkle a cinnamon roll sugar mixture over the bread crumbs. Top that with the remainder of the bread cubes. Next, pour over a mixture of eggs and milk and push down on the bread cubes to make sure all of it gets in contact with the milk. Sprinkle the remaining cinnamon sugar over the bread. Then cover the dish and let rest overnight!
When you are ready to bake in the morning, preheat the oven and pop the lid off the bakeware. Place in the oven and bake until cooked through.
And finally, drizze that cinnamon roll french toast for a more authentic look and taste.
Why we Love Ello Bakeware for Making this Dish
To make this extra portable I love baking this in Ello DuraGlass Bakeware Containers. For this recipe we're using the 9×13 baking dish. These durable glass baking dishes are perfect for both cooking at home and bringing food along to cook on the go. What makes this line of bakeware special is that they come with a protective silicone sleeve that doubles as a trivet so a dish can go from the freezer or refrigerator, to the oven and then right to the table.
That makes these Ello DuraGlass Bakeware with matching lids perfect for holiday baking, especially for make-ahead and on-the-go dishes. Each container is perfectly portable and pretty cute too so it works as both bakeware and a serving dish. I love that the lid first on perfectly when I store this overnight French toast bake in the refrigerator.
I love using glass both for baking and for storage because it's free of harmful chemicals, can be heated in the oven, and is (top-rack) dishwasher safe. Plus the crystal clear Tritan lid and colorful silicone sleeve let's me easily see what is in the containers so I can keep my refrigerator more organized. This is especially helpful during the busy holiday season when there is a lot of food being cooked and prepared ahead of time.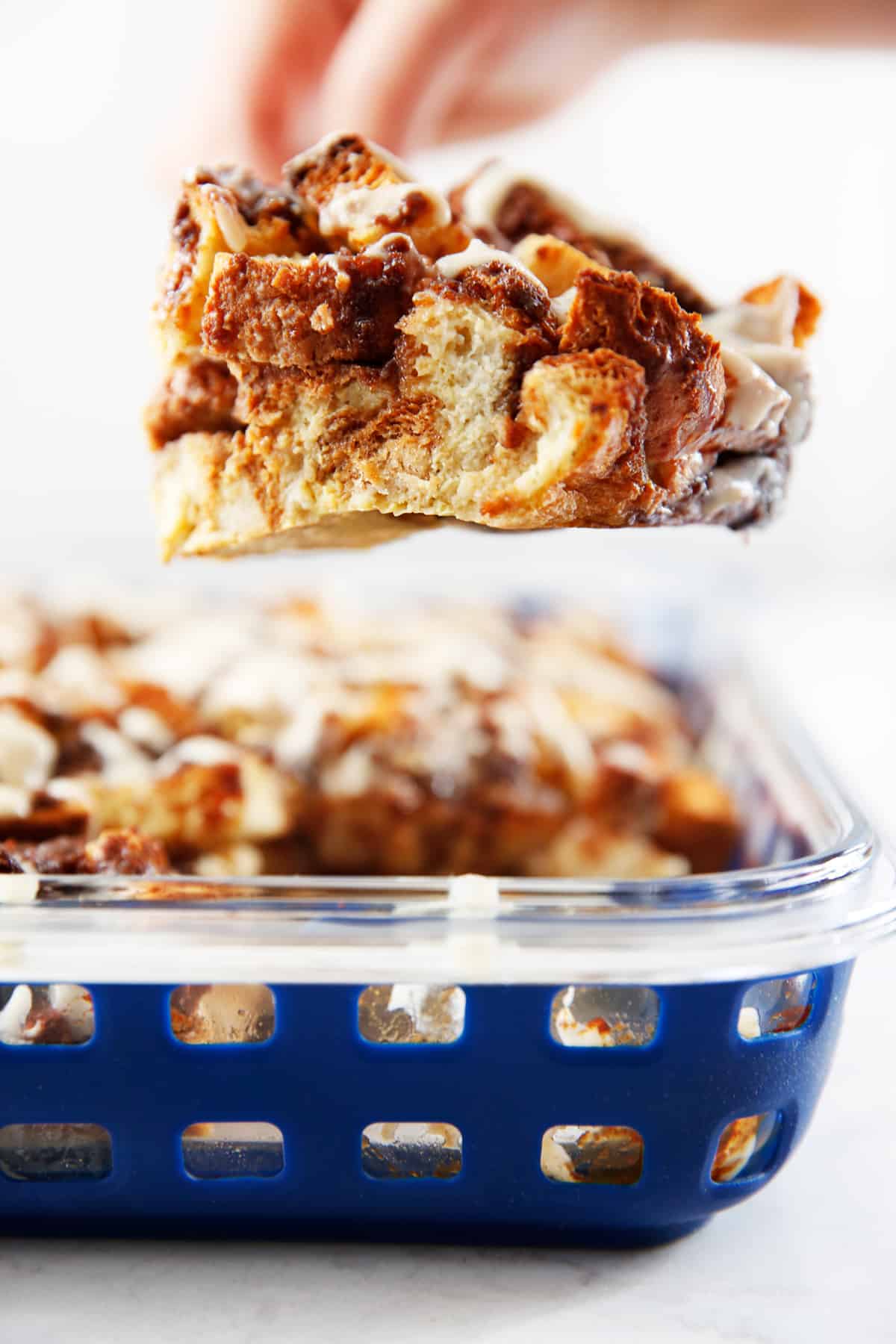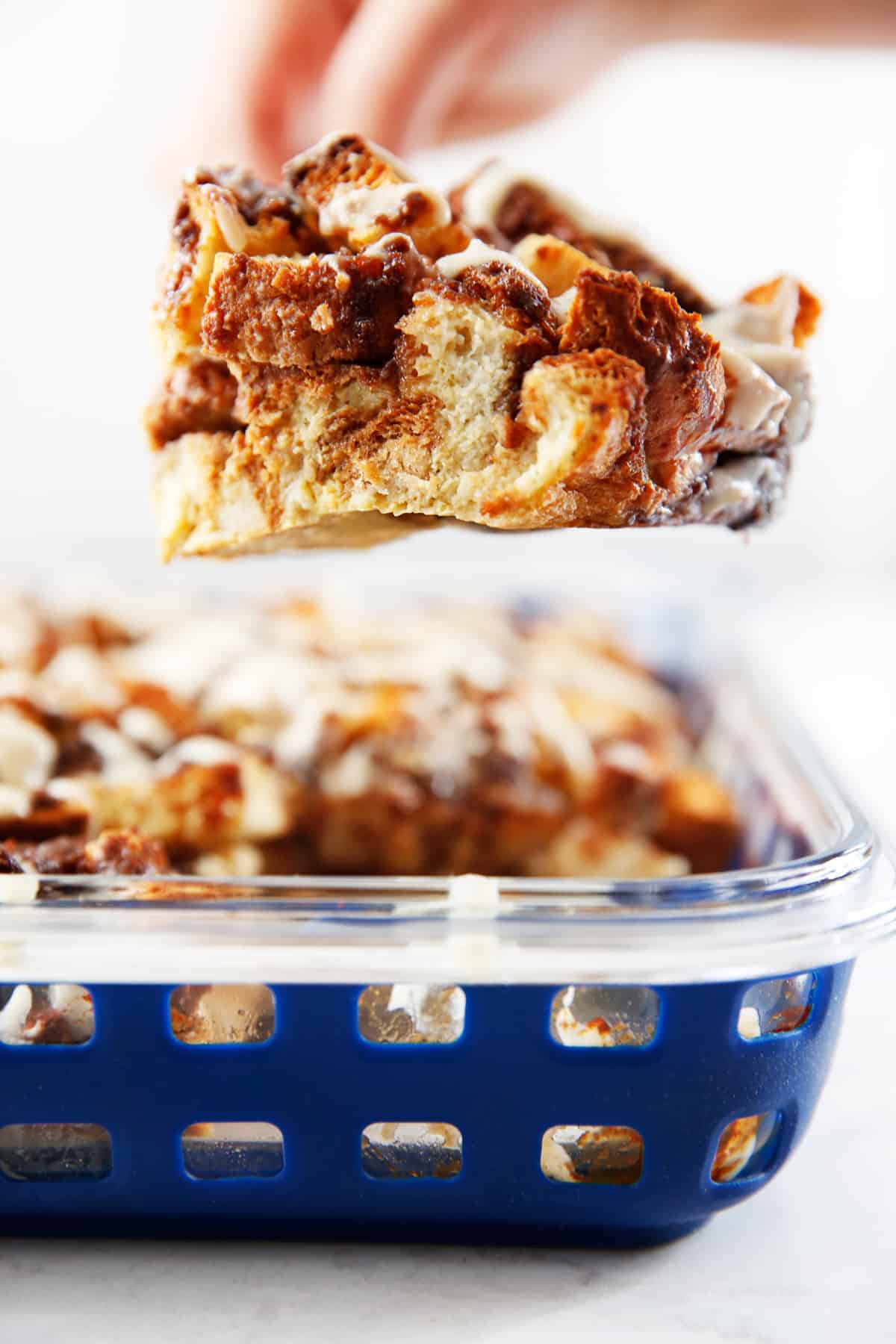 Do you need to prepare this overnight?
Casseroles are a perfect make-ahead dish. This French toast casserole tastes better when the bread has a chance to soak up the egg and milk mixture. We did test this baked right after preparing the dish and it still tastes great, but not all of the custard is absorbed at that point, so you will notice some of it baked up in the dish. We do recommend you prepare it the night before, though in a pinch, it can be baked right away. We know this is the perfect holiday brunch dish because there are two ways to prep for it ahead of time.
This dish is obviously prepared the night before. You can either bake the dish at home for guests, or snap on the lid and bake fresh at your destination. This is a good option if you are traveling with this dish, but want to eat it freshly baked.
Or you can fully bake this dish and reheat. This entire dish can be prepared fully, except for the glaze, cooled completely and then stored in the refrigerator, for up to 1 day, until ready to serve. Reheat the dish in a warm oven until heated through. Then drizzle it with the glaze.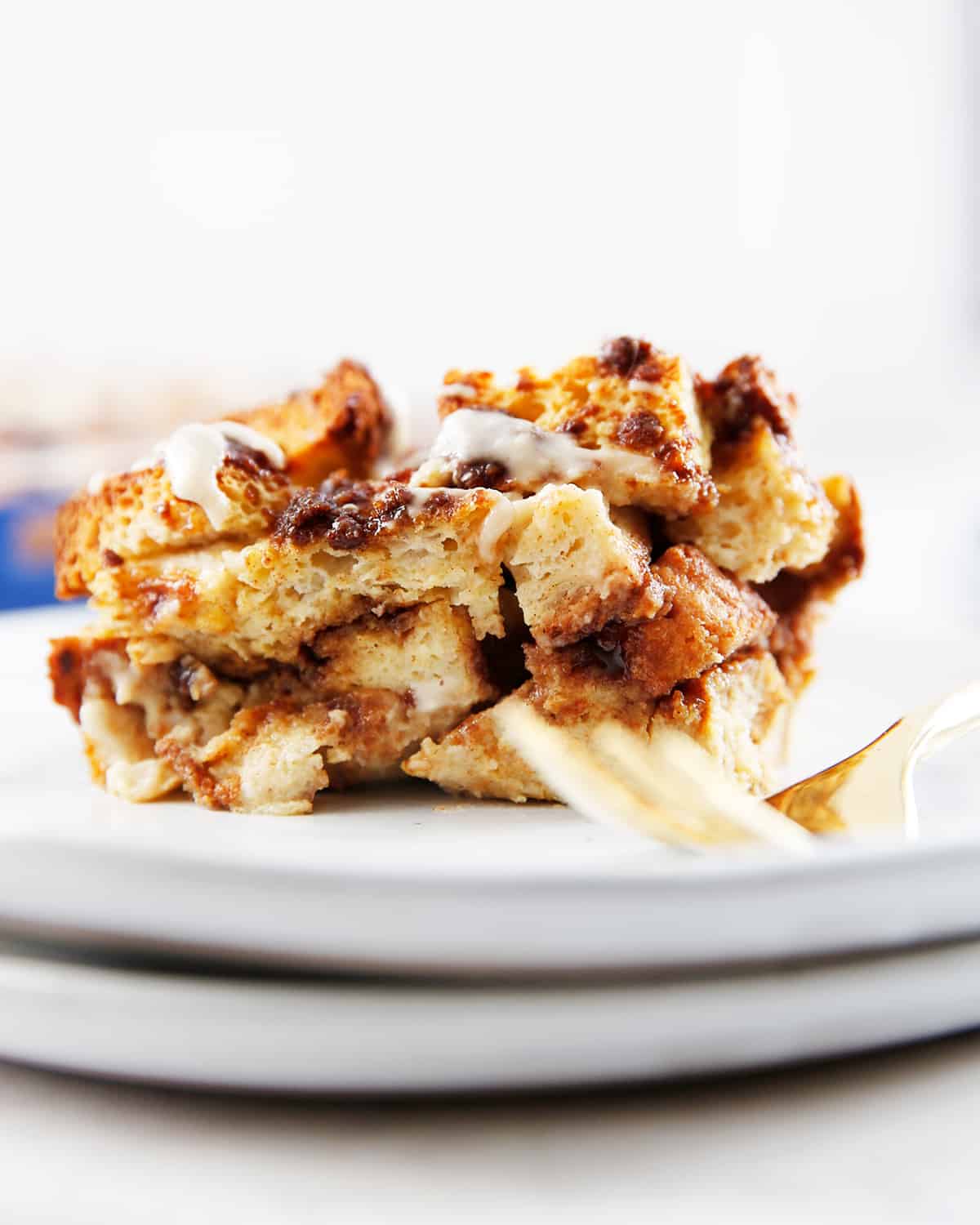 If you like this breakfast recipe, check out these others:


This post is sponsored by Ello Products. All thoughts and opinions are always 100% my own! I love the integrity of their products and think you'll love them too. Thank you for continuing to support LCK and the brands I work with!
Overnight Cinnamon Roll French Toast Casserole
If it's Fall, then you have to make this easy, one-bowl Gluten Free Pumpkin Bread! This perfectly spiced loaf is so moist and made using a nut-free blend of coconut and tapioca flour. It's also dairy-free and refined-sugar free and the perfect weekend (or weeknight!) baking project.
Gluten Free Pumpkin Bread
Pumpkin season is coming in hot! With our tutorial on making Homemade Pumpkin Puree and Pumpkin Butter this week, it only seems fitting to make up a pumpkin bread to utilize both. Easting a loaf of this is almost a fall right of passage, at this point! And, this Gluten Free Pumpkin Bread will be loved by everyone, whether you need to be gluten free or not. It's perfectly spiced, moist and so tender! Plus, it's made all in one bowl, is gluten, nut, dairy and refined sugar free.
Pumpkin Bread Ingredients
We tested this with both homemade pumpkin puree and store-bought canned pumpkin puree!
Pumpkin Pie Spice

Cinnamon

Eggs

Avocado Oil

Coconut Sugar

Coconut Flour

Tapioca flour

Baking Soda

Baking Powder
Salt
Optional Add-In Ingredients
We kept it pretty simple for this pumpkin bread recipe. But there is lots of room to add in additional flavors here! Some good choices to mix in with the batter would be:
Chocolate chips
Chopped pecans
Chopped walnuts
Raisins
Dried Cranberries
To use, fold in about a 1/2 cup of your optional add-in, after the batter has been mixed.
How to Store Gluten Free Pumpkin Bread
Store this pumpkin bread covered at room temperature for up to 2 days. For longer storage, place in the refrigerator. You can also freeze this loaf for up to two months! Defrost at room temperature.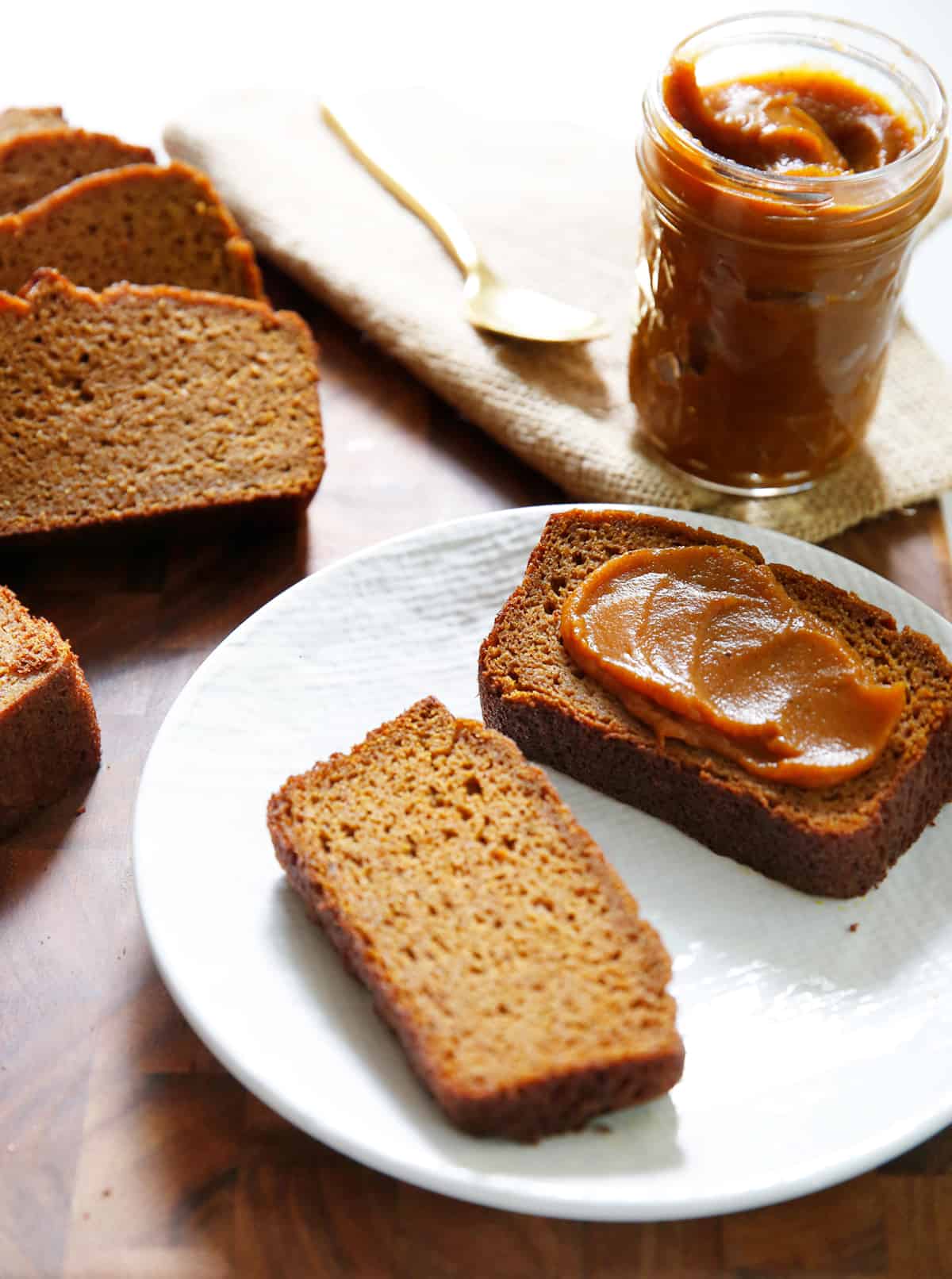 If you like this pumpkin recipe, check out these others:
Easy Pumpkin Coffee (coming soon)
If you like this fall-inspired recipe, check out these others:
Watch the video:
Gluten Free Pumpkin Bread
This gluten-free and healthy Slow Cooker French Onion Soup is comfort food at it's finest. It's made using simple ingredients you likely already have in your pantry, is largely hands-off cooking, is an economical meal and is so rich and flavorful. It can be eaten as is as a light soup, or more traditionally topped with melted cheese and either store-bought or homemade bread.
Slow Cooker French Onion Soup
French Onion Soup is such a classic comfort food, it's hard not to love. If you've only eaten it at restaurants you might think it's difficult to make because it's SO rich and flavorful, but truly it isn't that hard at all! And we've made it even easier by throwing the whole thing in the slow cooker for easy, hands-off cooking! This Slow Cooker French Onion Soup is a great example of taking really basic pantry items like onions, broth and a few other simple ingredients and turning it into something amazing by slow and low cooking. Recipes using pantry staples are a great to have in your back pocket on days when you don't have time to run to the grocery store but still want to be able to cook up a great meal for your family.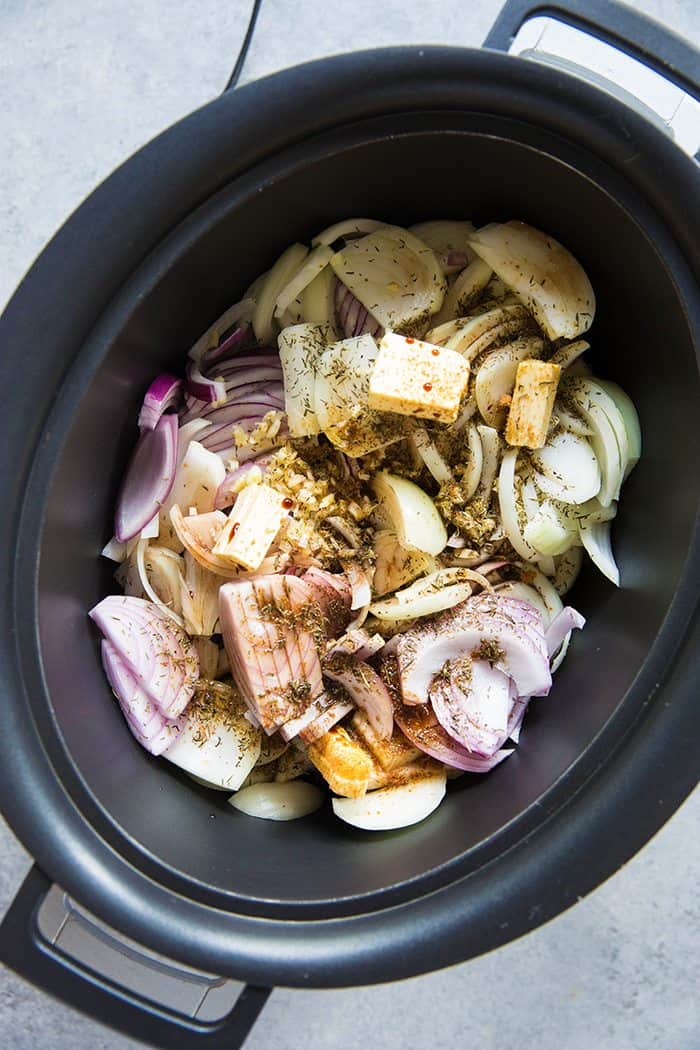 What is French Onion Soup Made Of
Traditionally French onion soup is made by slowly caramelizing onions on the stove top, which can require lots of babysitting and stirring to make sure the onions don't burn. The onions are then coated in flour and simmered for longer with broth. This Slow Cooker French Onion Soup recipe however takes all the amazing flavors of this bistro classic and tosses them all in the slow cooker to make while you are busy doing other things! The first step is to cook all the onions for about 6 hours, which doesn't require any stirring. This step can have some wiggle room if you are about and about because it's hard to burn onions in the slow cooker, so if you aren't home during the end of the 6 hours of cook time, the onions will likely be fine for 2-3 hours after. Next you simmer the onions in the broth for the remainder 2 hours of cooking time. Classic French onion soup is topped with a large crouton-like piece of bread and cheese. We've given directions on how to do this, but truly you can leave this off and this soup is still really flavorful!
What is the best onion to use for French onion soup
This Slow Cooker French Onion Soup recipes uses two kinds of onions. Yellow onion are more sweet with a really bright flavor and red onions have more depth with a touch of bitterness. Together they make a really nuanced and flavorful french onion soup!

Can you cook French Onion Soup in the Instant Pot?
The short answer is: yes! We've included the directions for cooking this soup in the Instant Pot in the notes section of this recipe. However we have to say that it is a little bit more hands on cooking than the slow cooker version.
If you like this slow cooker SOUP recipe, try these other favorites:
Want to try other crock pot comfort food favorites? Try these:
Watch the video:
---
[yumprint-recipe id='389′]
Slow Cooker French Onion Soup (Gluten-Free)
If you love my popular paleo sandwich bread recipe, but are looking a gluten free nut free bread recipe, it's finally here! The BEST Nut-Free Bread! It's fluffy and perfect for a sandwich, french toast, or anything you'd love a slice of bread for!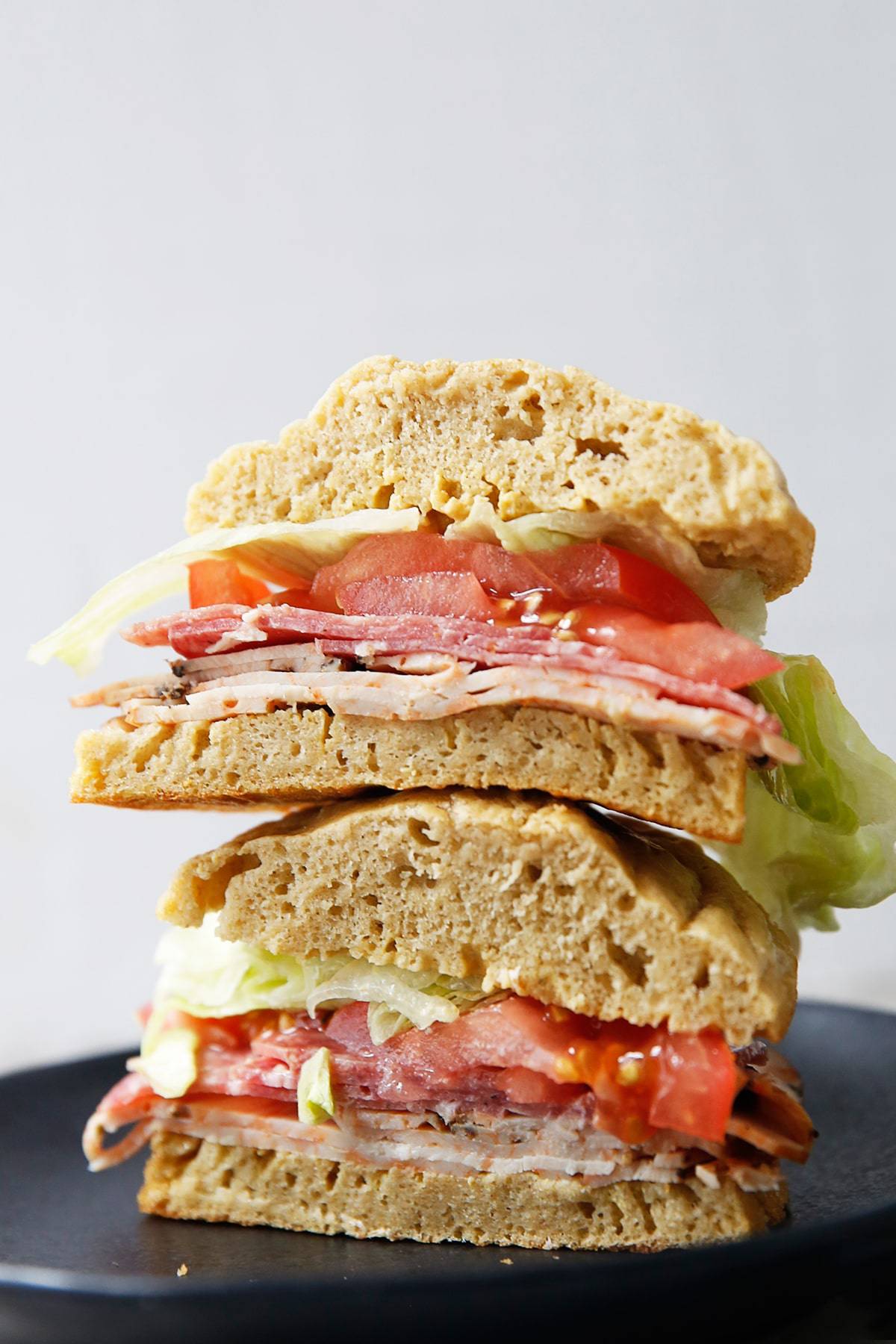 Gluten and Nut Free Rolls
I am so excited we finally perfected a nut-free version of my classic sandwich roll recipe that is loved by so many of you. Whether you are allergic to almonds, or want to send a nut-free bread in a school lunch box, you will absolutely love this nut-free alternative made with nut-free flours! The texture is just right. It will be your new favorite bread recipe.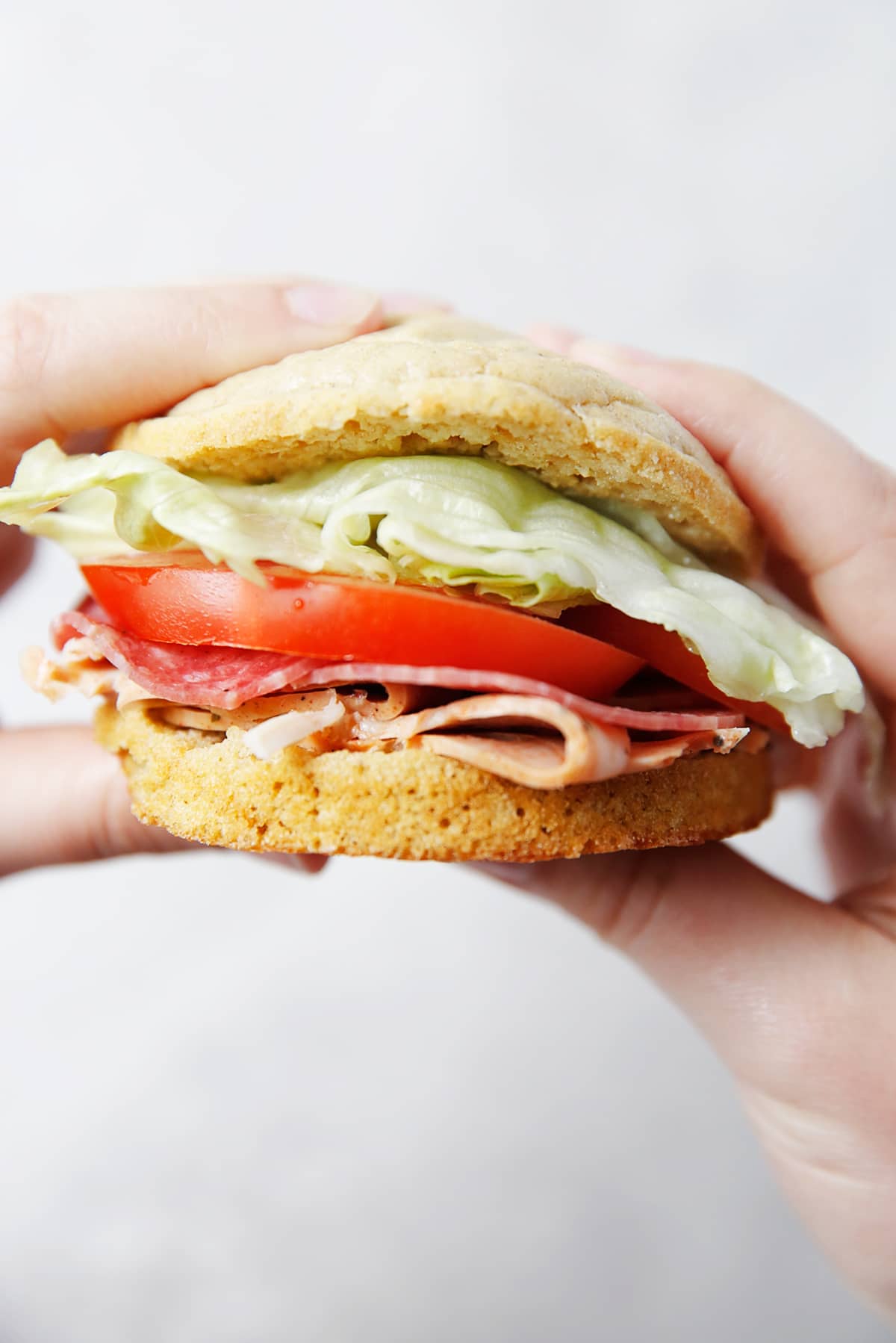 This gluten-free sandwich bread is just like a classic roll! This nut-free version uses oats so if you avoid oats/oat flour, make my classic paleo bread here.
Watch the video here:
I love making sandwiches with my:
Make it sweet by spreading on some homemade chia jam
And of course, good quality deli meats!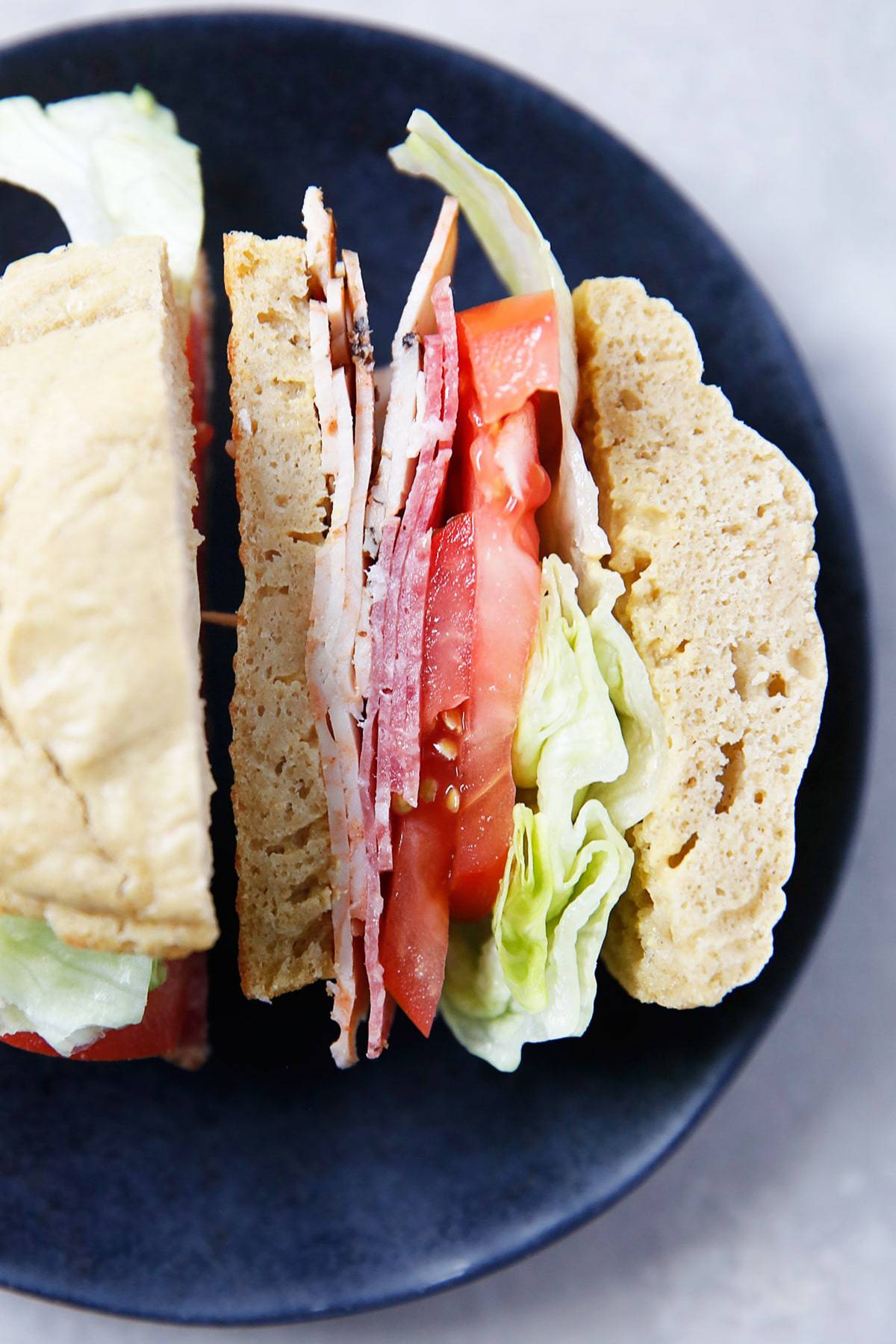 Use this nut-free gluten-free bread recipe in:
Sandwiches
Homemade Croutons (recipe in my cookbook)
Toasted for Bruschetta (recipe in my cookbook)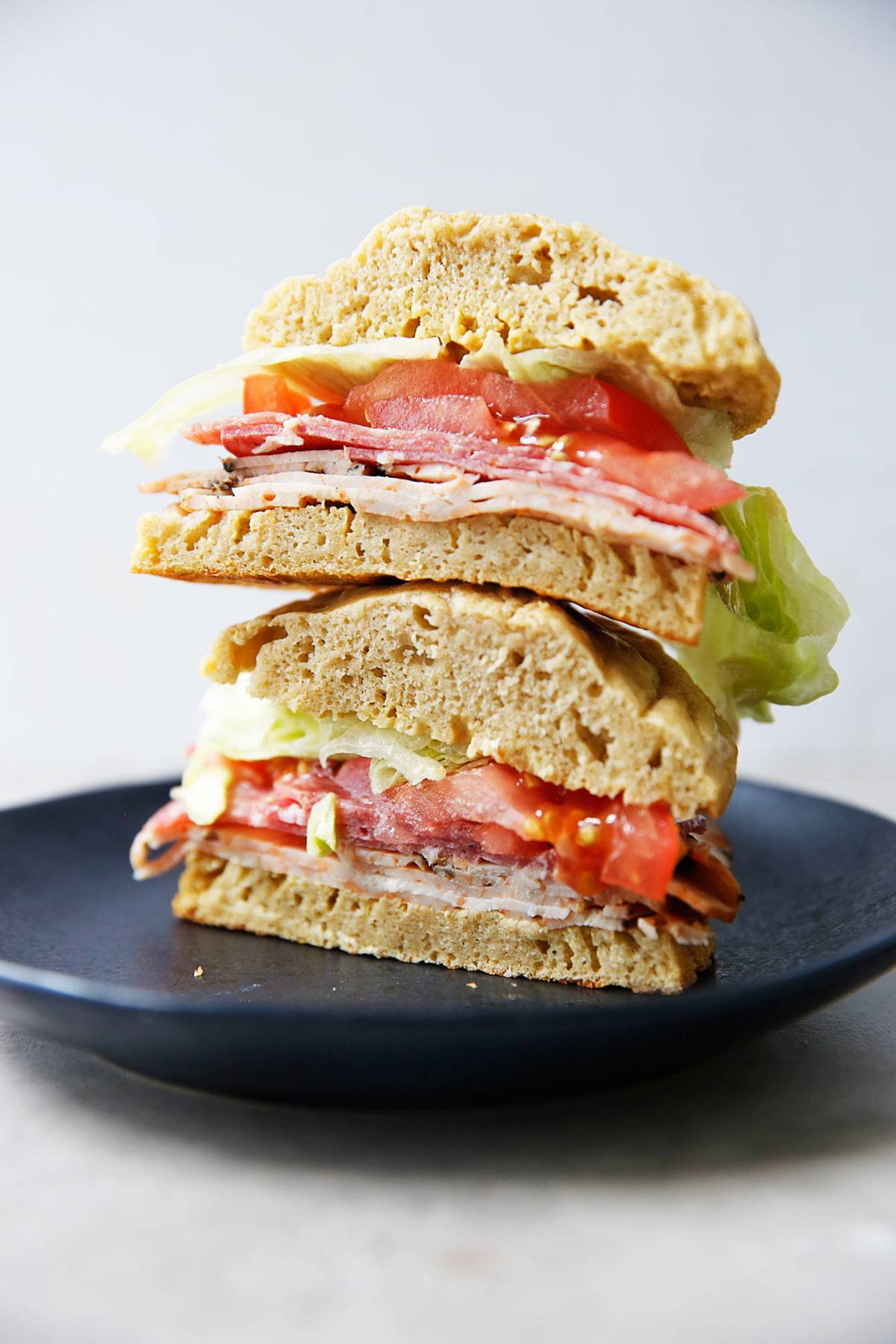 Easy Gluten-Free and Nut-Free Rolls
This super popular paleo bread recipe has the perfect texture and is such a satisfying grain-free, gluten-free, dairy-free bread. It's perfect for a sandwich, burgers or a slice of toast with nut butter! It uses almond flour and tapioca flour and the batter is put together in just one bowl, making this so incredibly easy to make! Want to to make it but can't have nuts? We also made this nut-free with this recipe here so everyone can make it and we've recently updated this recipe to include instructions on how to make as a bread loaf too!

How to make paleo sandwich bread
This recipe is one of my most popular paleo recipes and for good reason! This recipe can be made in both a loaf pan, or also as rolls. This paleo bread is gluten-free, grain-free, fluffy, sliceable, and TOTALLY BREAD-LIKE with the best texture! Plus, it's simple to prepare made all in one bowl without any kneading or rest time.
I wasn't a fan of gluten-free bread, whether store-bought or homemade, until this recipe. I always felt they were dense, not the right flavor, or difficult to make. But this paleo bread recipe? It has the right flavor and it's fluffy, soft, air-y, and with the perfect bread-like texture.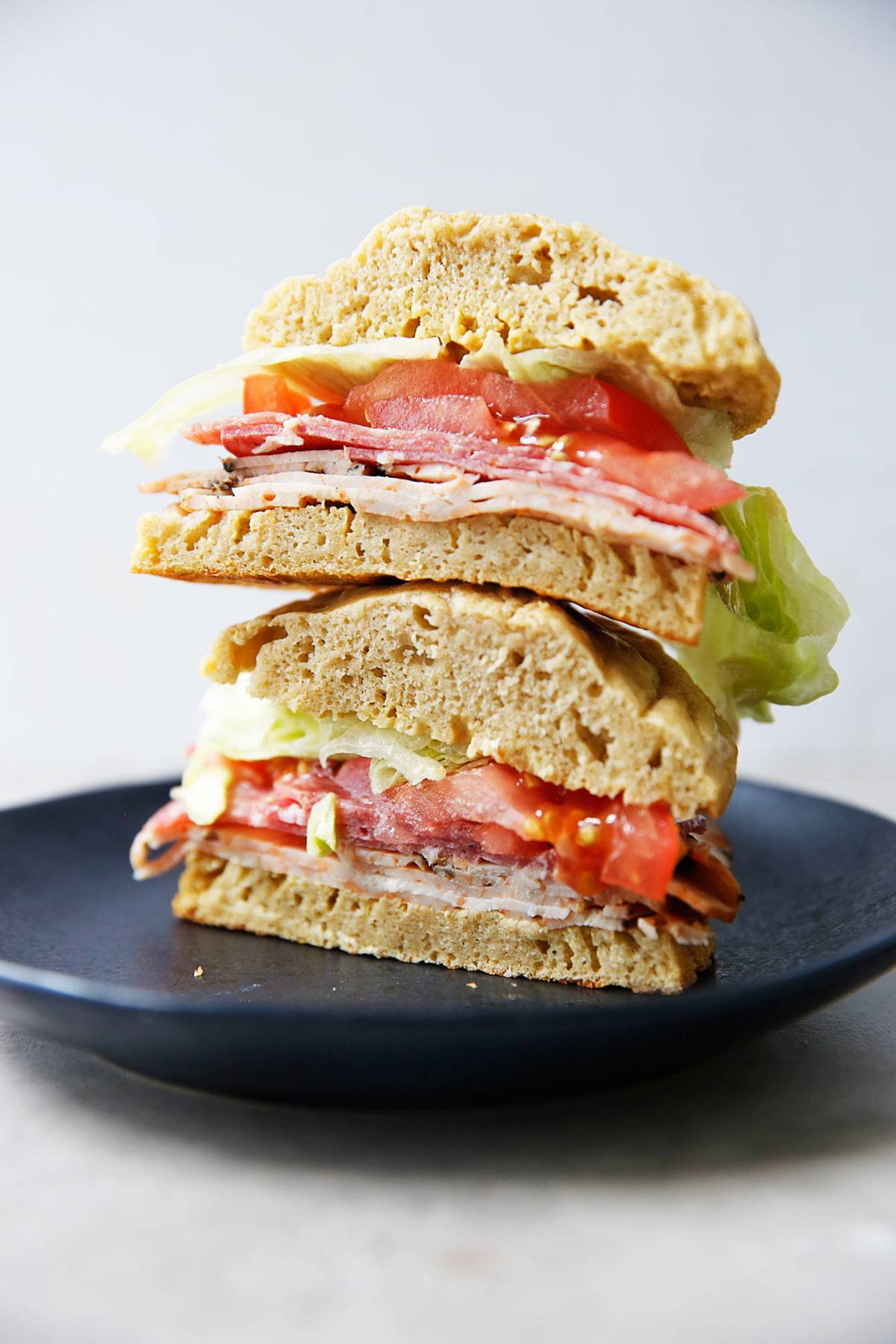 Can this be made as rolls or a loaf bread?
Originally when this recipe was first made a few years back the bread was made either as rolls, or as a long square loaf. I LOVE making it that way, but per request we've done some recent testing to include instructions on how to make it as a loaf pan! This is such a great update and hope you enjoy it too!
Watch how to make it:

Here's what you need to make it:
almond flour
tapioca flour
eggs
unsweetened apple sauce
baking powder
fine sea salt
We've made some updates to this recipe!
This bread recipe has long been a reader favorite and a cornerstone recipe for Lexi's Clean Kitchen! We've recently made some updates to it to include some instructions on how to make it into a loaf pan. We still enjoy the paleo rolls, and prefer making them that way but so many requested the ability to make this into a loaf pan, so we put it through some testing to get it to be able to do that! We call for using a smaller than average sized loaf pan, a 7.75″ x 3.75″ that way you get the proper rise for the loaf. If you use a bigger one the bread loaf won't be as tall.
What kind of bread can you eat on the Paleo diet?
Making this homemade bread is easy and kid-friendly! Paleo bread is different from gluten free bread because often on the paleo diet most grains are avoided. So gluten-free breads made with gluten-free flours like rice flour, teff flour, and corn meal would not be considered paleo bread! The combination of almond flour and tapioca flour as it creates the most legit paleo bread, and gluten-free I've ever tried!

How to use the bread:
If you like this paleo recipe, check out these others:
The BEST Paleo Bread (5-Ingredients and One Bowl)
On the lookout for the best gluten free stuffing to add to your Thanksgiving table? We have got you covered! This Easy Gluten-Free Thanksgiving Stuffing is packed with fresh herbs, hearty, easy & delicious! Perfect for your gluten-free guests this Thanksgiving as a Stove Top Copycat!
Gluten Free Thanksgiving Stuffing
I grew up on Stove Top stuffing. Honestly, I loved it! I've worked on this stuffing for a long time now. I'm PICKY with stuffing, you guys! It can't be too dry, it can't be TOO mushy, but has to be just right. This Easy Gluten Free Thanksgiving Stuffing is packed with fresh herbs, all the right veggies and will be loved by everyone, gluten-free or not!
Ingredients for Gluten Free Stuffing
Gluten Free Bread, homemade or store-bought
Turkey Broth
Butter (or ghee)
Mushrooms
Celery
Carrots
Onion
Garlic
Fresh Herbs (Sage, Thyme and Rosemary)
Eggs
Coconut Aminos
Salt and Pepper
Optional Add-ins
The base recipe is great as-is, but it's easy to add in additional flavors as you like. Some of our favorites are: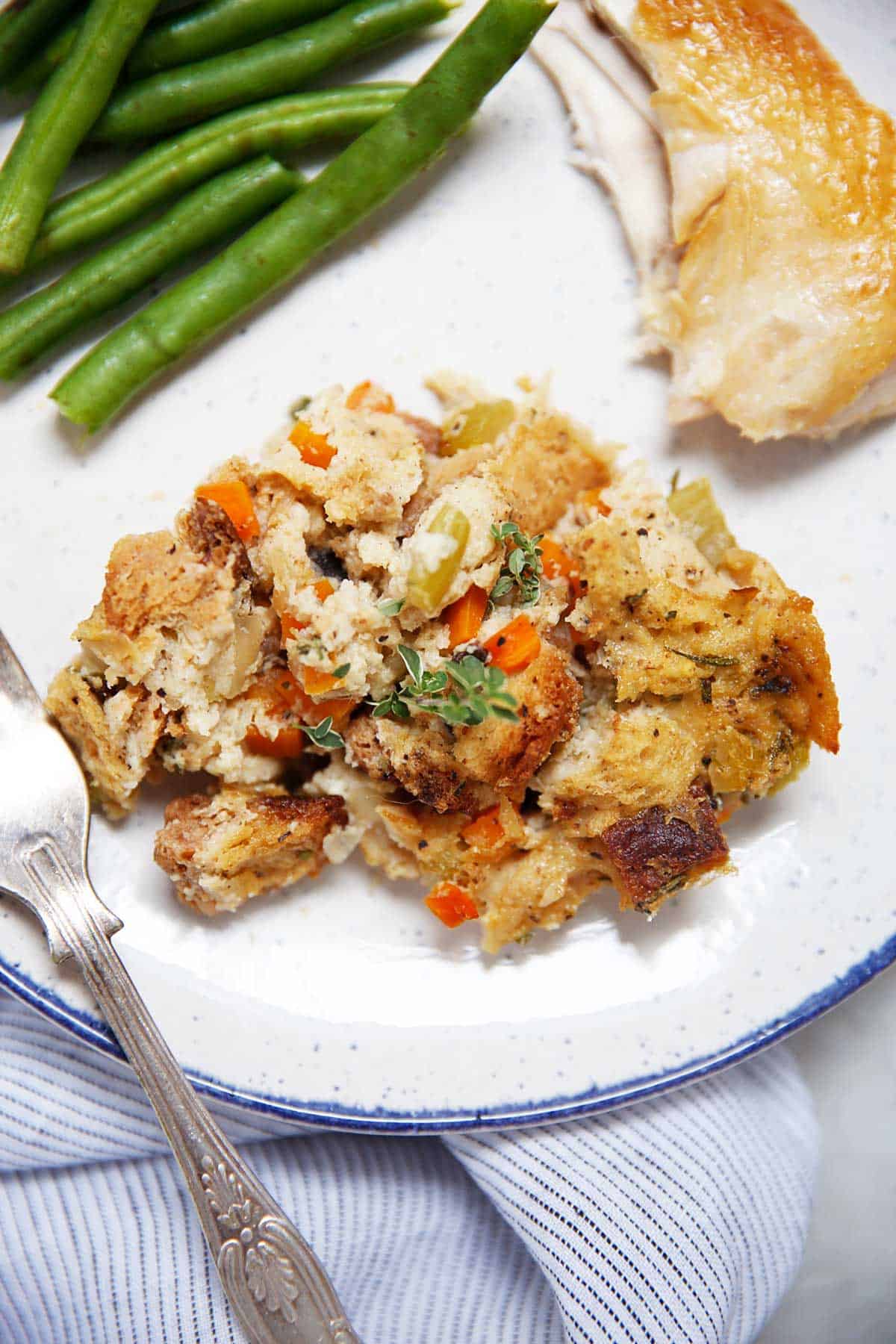 How to Dry Out Bread for Stuffing
This recipe, like many, called for the bread to be dried out. This helps keeps the bread from becoming too soggy. There are two ways to dry out bread. The simplest way is to cut cube the bread and let it sit out, uncovered, for a day or two. The second way to dry out bread is to cube the bread and place it in a low oven, about 250ºF for 1-2 hours.
How to Make Stuffing
First make sure your bread is dried out (see above). This prevents the stuffing from being too soggy.
Then, you want to cook the aromatics. Start with the mushrooms, and cook until all of the liquid has evaporated, and then add in the celery, carrots and onion and garlic and cook until translucent, about 7 minutes. Then, add in all the herbs and cook until they are fragrant. If you are adding any additional flavors, like cooked sausage, add them in here and stir together. Transfer the mixture to the casserole.
Now, whisk together the stock, eggs, coconut aminos and salt and pepper.
Finally, pour the eggy stock over the pan of bread cubes. Press down on the cubes with your hands to distribute the liquid evenly. Cover the casserole pan with foil and bake for 20 minutes. Then, remove the foil and cook until the stuffing is steaming hot and browned, but not dry, about 20 minutes more.
Check out these other Thanksgiving Recipes:
Easy Gluten-Free Stuffing for Thanksgiving
Lemons and poppy seeds together is a winning combination. This moist and flavorful Lemon Poppyseed Loaf topped with heavenly Vanilla Lemon Glaze will be the hit of your brunches, lunches, and treats all summer long.

Weekend brunch should always have some kind of brunch treat, and this loaf takes the cake. I'm so excited to bring you this recipe in partnership with my friends at Pacific Foods!
This loaf is…
Fluffy
Moist
Bursting with lemon goodness
Topped (generously) with a heavenly lemon glaze
And best of all, easy to make!

[yumprint-recipe id='362′]
Do you love lemons and poppy seeds together?
Lemon Poppy Seed Loaf with Vanilla Lemon Glaze
When Spring is so close you can just about touch it, it's time to break out the bowl and the whisk and bake up this Healthy Carrot Cake Loaf! It is so moist and made using a gluten-free and paleo-friendly blend of almond and coconut flour. This carrot bread is the perfect weekend (or weeknight!) baking project.
Healthy Carrot Bread
It is no surprise I am a big fan of Carrot Cake as we've done it a few times with this cake and these cookies and these muffins. Which is why I am so excited about this Healthy Carrot Cake Loaf! It's stuffed full of carrots and optionally raisins, nuts or chocolate and SO SO GOOD. It's made gluten-free using almond and coconut flour but this bread will be loved by everyone, whether you need to be gluten free or not. It's got just enough cinnamon and it's moist and so tender! Plus, it's made all in one bowl, and that is a win!
Ingredients Needed for this Carrot Bread
Almond Flour

Carrots
Coconut Flour
Eggs

Unsweetened Apple Sauce

Honey

Coconut oil

Vanilla Extract

Baking Powder

Baking Soda

Ground Cinnamon

Fine Sea Salt
There are a few optional ingredients depending on how you want to flavor this bread! You can add in raisins, chocolate chips or nuts! I love the combination of the carrots, raisins and nuts the best!
To Glaze or Not to Glaze
We opted to put a quick maple glaze on this bread, but you can skip it if you want to keep it a little lighter! This glaze uses organic powdered sugar. If you prefer to skip it and use a glaze without any refined sugars, check out the glaze we use on our Cinnamon Roll Overnight French Toast Bake!
If you like this carrot recipe, check out these others:
For more recipes for spring, check here: