2-Ingredient Paleo Chocolate Frosting
Looking for the easiest Paleo Chocolate Frosting that's dairy-free and requires only 2 ingredients? This is it! It's so simple to put together and can be used in a variety of ways to make the prettiest and rich and chocolately cupcakes or cakes.
Paleo Frosting Recipe
When you find out how to make this recipe you are going to wonder how something so easy can look so beautiful! This recipe requires just 2 ingredients (though there are some optional add-in's if you want) and is pretty simple to make! It's the perfect rich chocolate frosting, even if you don't need to be dairy-free and Paleo. Use this chocolate frosting to top your favorite cupcake, to decorate a cake or even to make those beautiful chocolate drips on a cake!
Here is what you need to make it:
Dark Chocolate (take care to use dairy-free if you need, such as Enjoy Life's brand)
Coconut Cream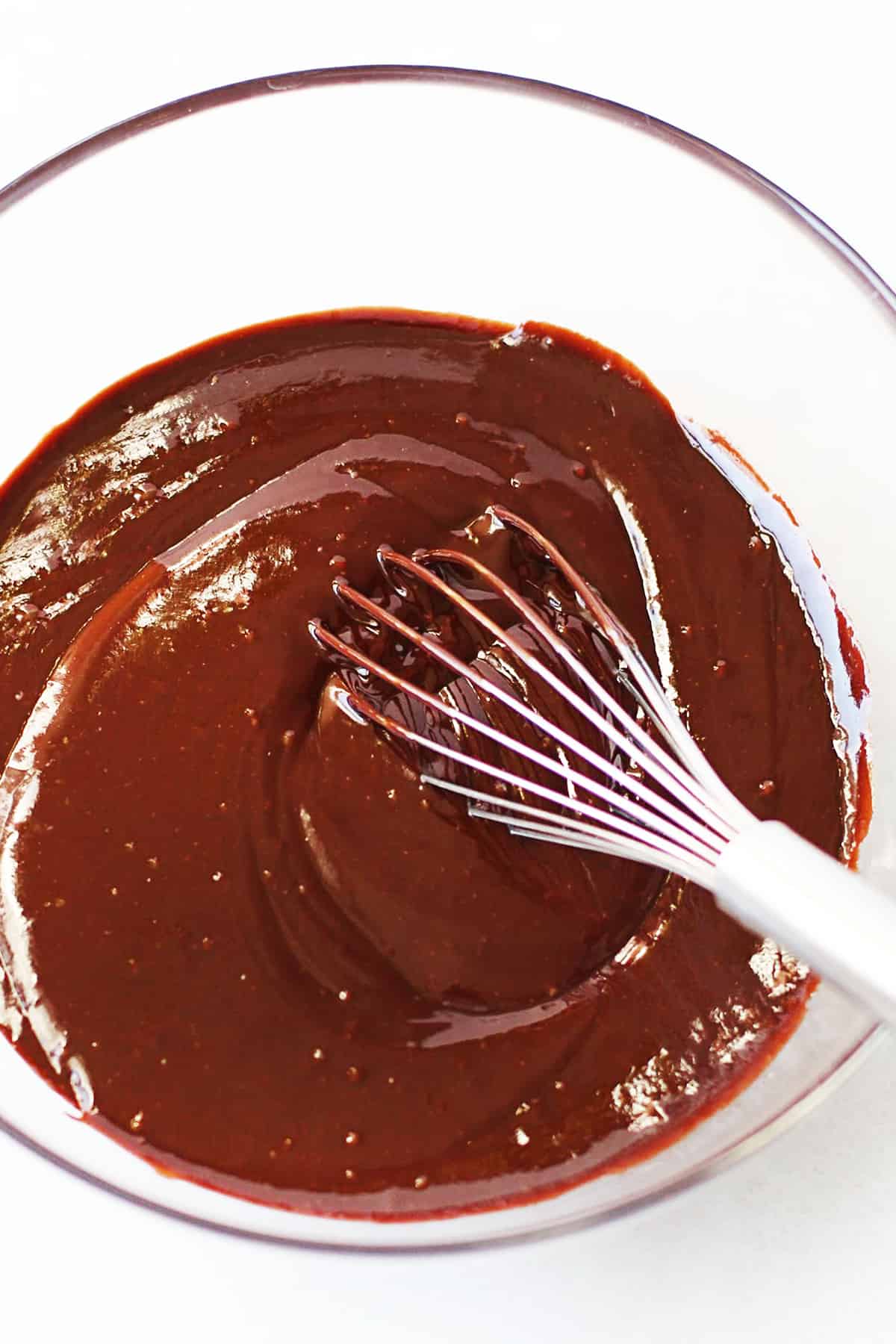 How to Make Dairy Free Chocolate Frosting
In the most basic form, this is a paleo ganache frosting. Basically the chocolate is melted with hot coconut cream, and it's stirred together until silky and smooth. Just make sure to use coconut cream. If you can't find the cans specifically labeled coconut cream, you can chill a can of coconut milk and scoop off the solidified cream.
Different Ways to Use It
I love how versatile this frosting is! Here are the two different ways you can use it:
As a Ganache Topping
A cupcake could be "frosted" with just the plain silky ganache as is. It creates a beautiful and thick glaze on top of the cupcakes (just like in this recipe here). To do it: dip the top of each cupcake carefully into the glaze and swish around to make sure it's covered completely. Then gently lift it up to let to let the excess glaze drip off and quickly flip it back right side up on a wire rack to cool completely.
As a Whipped Frosting
Once the ganache is completely chilled (but not too hard) you will whip it with an electric mixer. Whipping it will add air to the chilled ganache and make it light and fluffy. It will significantly lighten the color and make it spreadable and easy to use in a piping bag.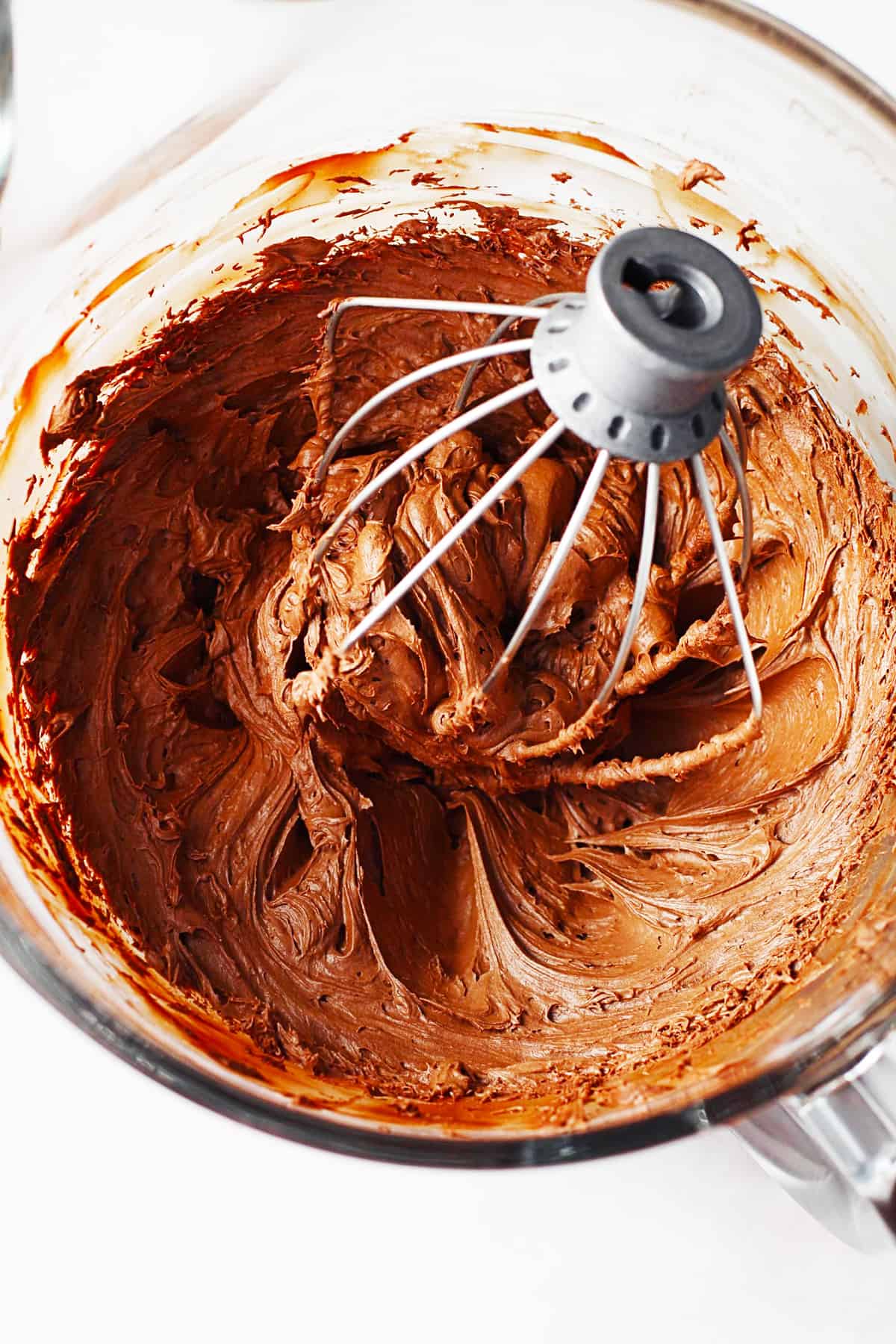 Optional Additions
So the frosting as it is written is pretty decadent and ALL about that chocolate flavor. Which is great, but it also is possible to switch up the flavor a bit and add in some different ingredients and dress up your cupcakes / cake.
Powdered Sugar: Looking for a more sweeter chocolate frosting? Add in about 1/2 cup organic powdered sugar when you are melting it. Of course, this makes it NOT paleo, but still leaves it dairy-free.
Extracts: There are so many different flavors you can add in here! The most obviously being vanilla extract. Start with 1 teaspoon for that. Other flavors could be peppermint, orange, or even almond. Start with 1/4 teaspoon for those and increase as desired.
Flaky Sea Salt: After you've finished frosting your cupcakes go ahead and sprinkle on some flaky sea salt. A little sprinkle of sea salt always is a welcome addition.
Sprinkles: Because, of course! Add these after you've finished frosting your cupcake.
Freeze Dried Fruit Powder: Using a sprinkle of freeze dried fruit powder not only can make the cupcakes or cake look pretty, but it also adds a nice punch of flavor without adding in extra moisture. Raspberry or strawberry would be great here! But feel free to experiment. Freeze dried fruit can be commonly found in most grocery stores now, just make sure to read the ingredient list. Look for a brand that lists only the actual fruit as the ingredients. Add this after you've finished frosting your cupcake.
Use this Paleo Chocolate Frosting with these recipes:
2-Ingredient Paleo Chocolate Frosting
Knowing How to Make Coconut Whipped Cream is essential for making delicious, dairy free whipped cream! This healthy alternative is more nutritious and tastes amazing! It's made with three ingredients, and aside from chilling time, comes together within 5 minutes!
How to Make Coconut Whipped Cream
This dairy free Coconut Whipped Cream is a great recipe to have on hand for when you want an alternative to regular whipped cream that still tastes great! Even if you don't need to be dairy-free, this coconut whipped cream is so good! It's creamy with a hint of vanilla and perfect with so many different dishes. We're dishing all the details on what you need to know on how to make!
Here is what you need to make it: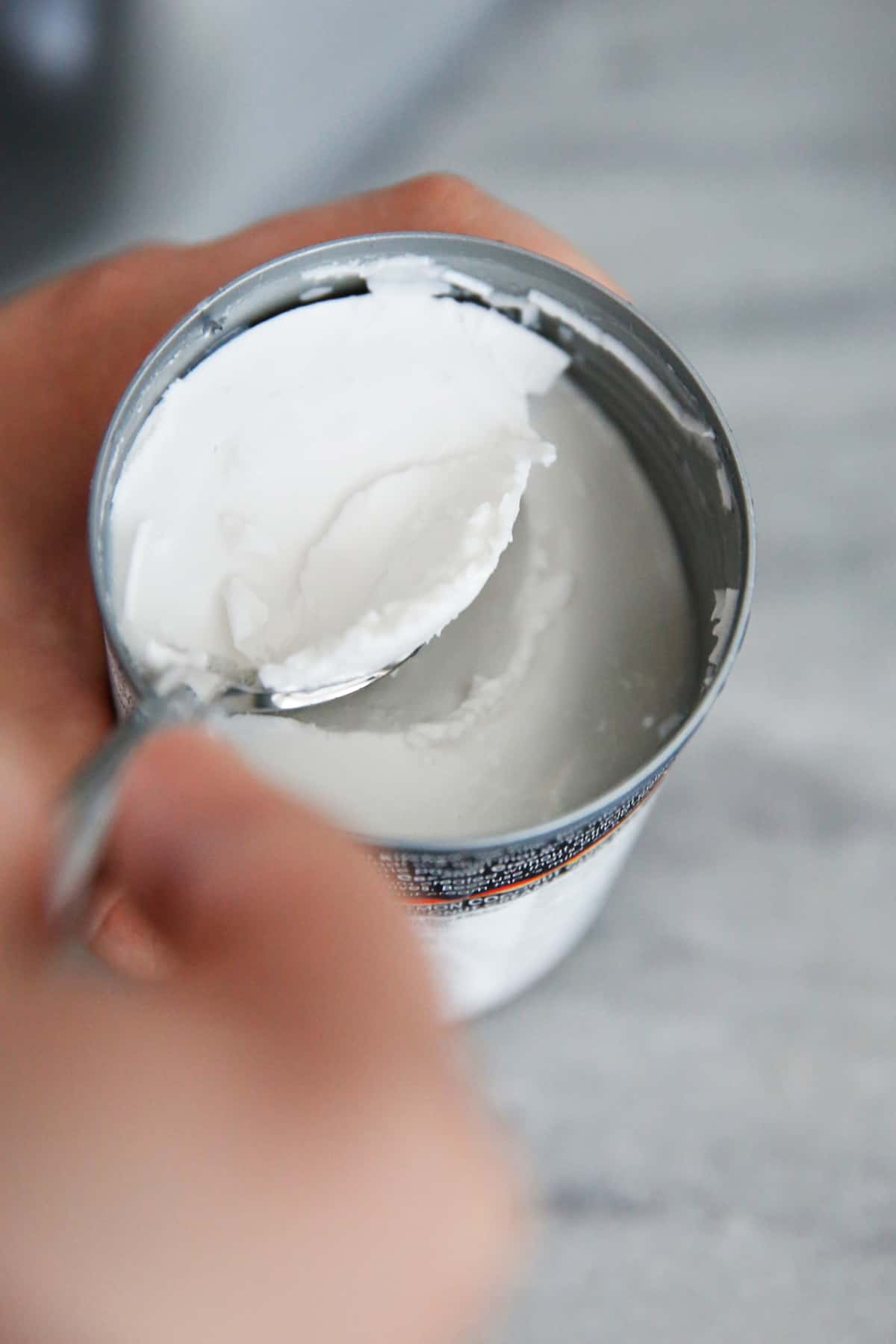 Tips for Making Coconut Whipped Cream
Look for coconut cream instead of coconut milk. It will give you more of the solid part of the coconut milk the that you need to whip up. If you can't find it, you can use regular coconut milk, but you may need about 2 cans to get enough of the solid part of the coconut milk.
You absolutely must refrigerate your coconut cream. We recommend doing so for 24 hours. However, if you are in a pinch 8 hours will work.
Use powdered sugar as a sweetener. It helps thicken the consistency of the coconut cream. If you were avoiding refined sugar you could use honey, but it will be a bit thinner.
Add vanilla extract to give it an extra flavor boost!
Serve immediately. You can make it up to 4 hours ahead of time, but it hardens back up in the refrigerator if stored for much longer.
If it does stiffen up too much in the refrigerator, you can rewhip it again to get it to a consistency you desire.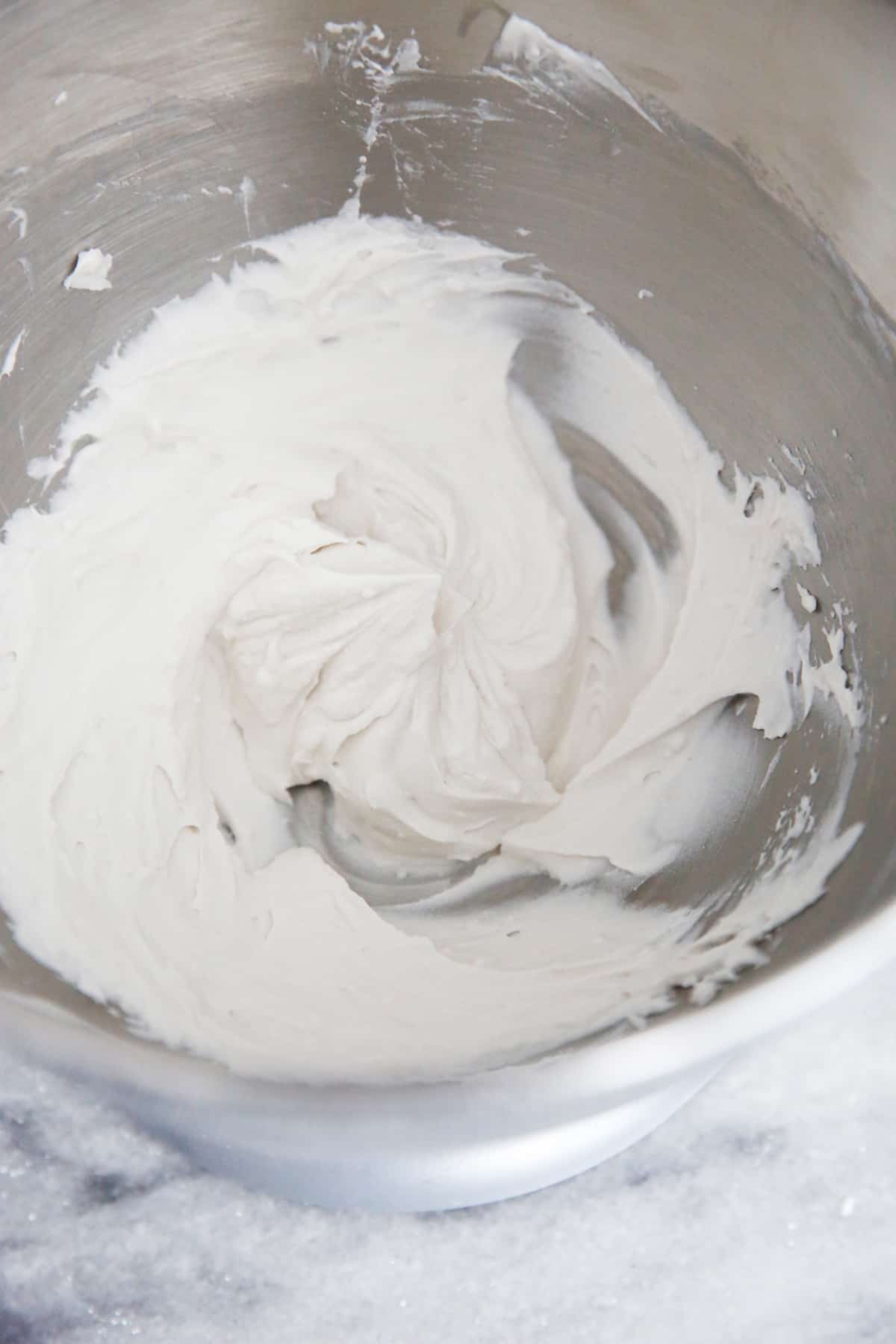 Ways to Use It
Use coconut whipped cream in place of many of your favorite uses for regular whipped cream! Just know that it is very susceptible to warm temperatures so it will not hold up as long as traditional whipped cream does.
Coconut whipped cream is delicious with: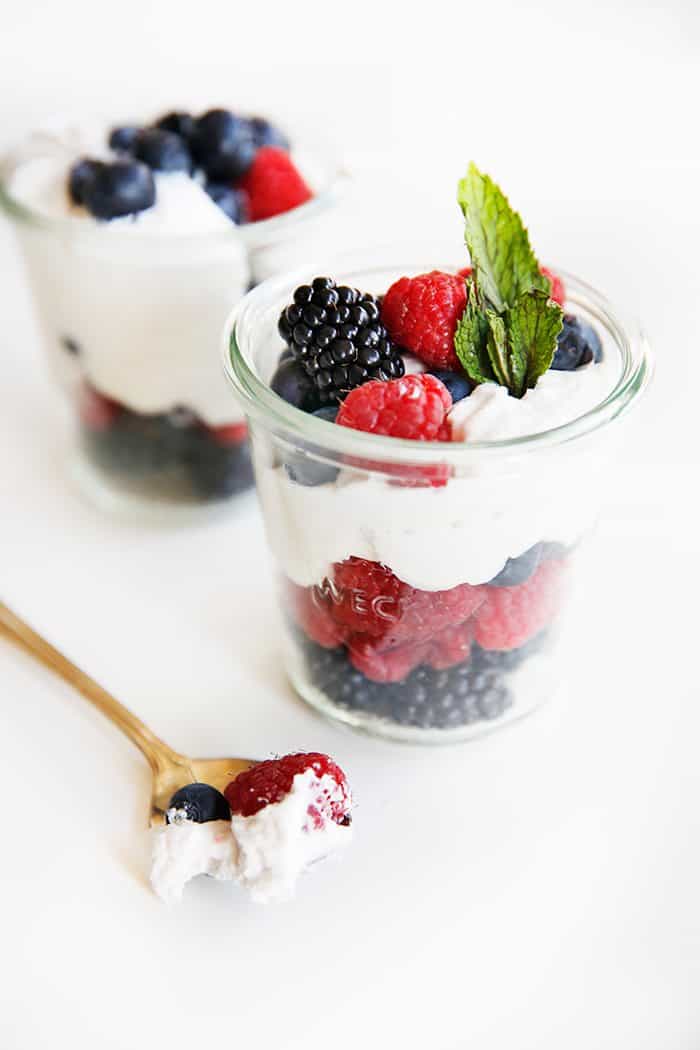 If you like this How To recipe, check out these others:
---
How to Make Coconut Whipped Cream
We tasted and tested so many dairy free and vegan milks to find the BEST and EASIEST ones for you to make at home! Scroll down for our Vegan and Dairy Free Milk Guide that dishes out all the details.
Vegan and Dairy Free Milk Guide
We drank a lot of non-dairy milk for you all! And we've got our favorites for sure! We've created recipes for all of them so you can try them at home. Even if you don't need to be dairy-free, these milks are nutrient dense and a great addition to any diet. They are free of any gums or stabilizers and truly all quick and easy to make. We hope you'll give some of them a try.
Here are our favorite dairy free milk choices and how to make them:
This is of course the most well known alternative milk. A simple process of soaking raw almonds and blending with fresh water. Homemade almond milk has tons of flavor, and you can concentrate the flavor by increasing or decreasing the amount of water it is blended with.
Cashew milk is so rich and creamy. It's also one of the easier nut milks to make because after you soak and rinse the cashews, you blend it with fresh water until creamy with no straining necessary.
Pecan milk is darker in color than the rest, and has a very nut forward taste. Similar to cashew milk this is a simple nut milk because it also doesn't need any straining.
Oat milk is a pretty neutral tasting milk, and we suggest adding a bit of salt and sweetener to help bring out the flavor. Oat milk is super creamy and thick, and our recipe doesn't require any soaking.
Who knew you had other options for coconut milk than buying it in the can? Coconut milk is made by quickly soaking unsweetened shredded coconut in hot water, blending and then straining. It's naturally sweet and creamy. It will separate and have a harder layer on top just like the canned coconut milk after it's been chilled.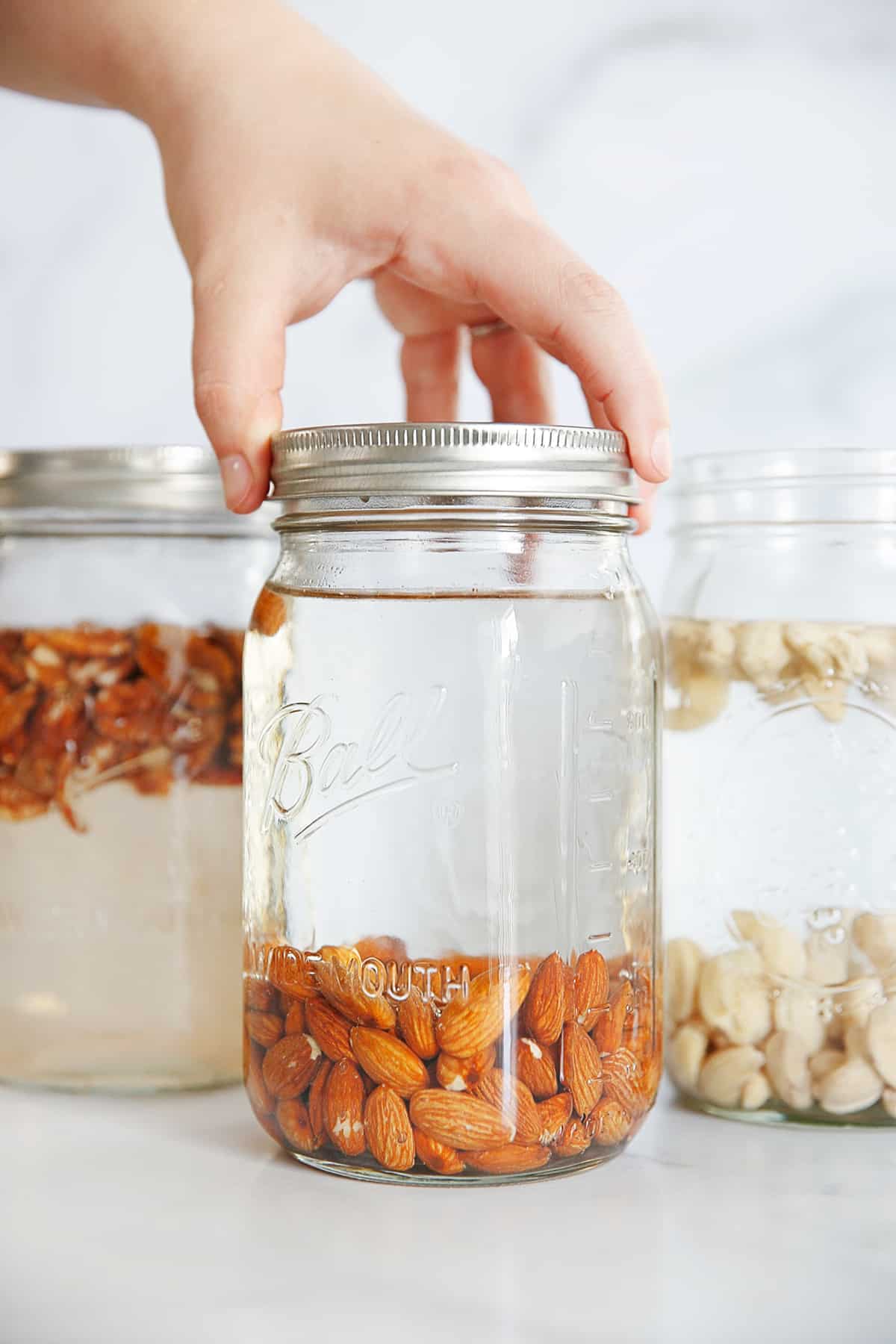 Tips for Making Alternative Milks:
Make sure to soak the nuts as directed and then drain and rinse them! Always blend with fresh water.
If you don't drink your tap water for any reason, do not use it to make this recipe. Alternative milk recipes call for filtered water, making the assumption that you do not drink your tap water. You'll be drinking the water you use to blend it, so make sure to use filtered water if you do not drink your tap water.
Finished alternative milk separates after it is chilled since there are no stabilizers or preservatives. Give it a good shake before you use it.
You can increase, or decrease the batch amount as needed. Nut milks are best when they're fresh, so to minimize waste make a smaller batch if you won't use it up as quickly. Most nut milks will last up to 5 days, but try to use them up quicker than that.
To prevent spilling the nut milk when transferring to a jar, use a ladle and funnel. Ladle the nut milk from the bowl into a funnel in the jar you plan to store. Nothing is worse than spilling half your precious milk!
Mix and match!
It's totally okay to mix and match these milks, especially the nut milks. We love the blend of almond milk and pecan milk, or cashew and almond milk together. Experiment and see what works best for you! Making them together is okay, even though technically you don't have to strain some of the milks. For instance, when making almond and cashew together we do blend and strain both of them at the same time.
Other alternative milks not mentioned, but available to purchase in store:
Soy milk
Flax milk
Rice milk
Hemp milk
Macademia milk
Recipes to use with alternative milks:
Other ways to use milk:
Smoothies
Cooking (think curries and soups)
Baking
Drinking straight from the glass
Coffee and teas (hello, matcha latte or golden milk latte!)
Overnight Oats (like these)
Popsicles
NOTE: We love getting our nuts cheaper in bulk online or at Trader Joe's!
PIN IT FOR LATER: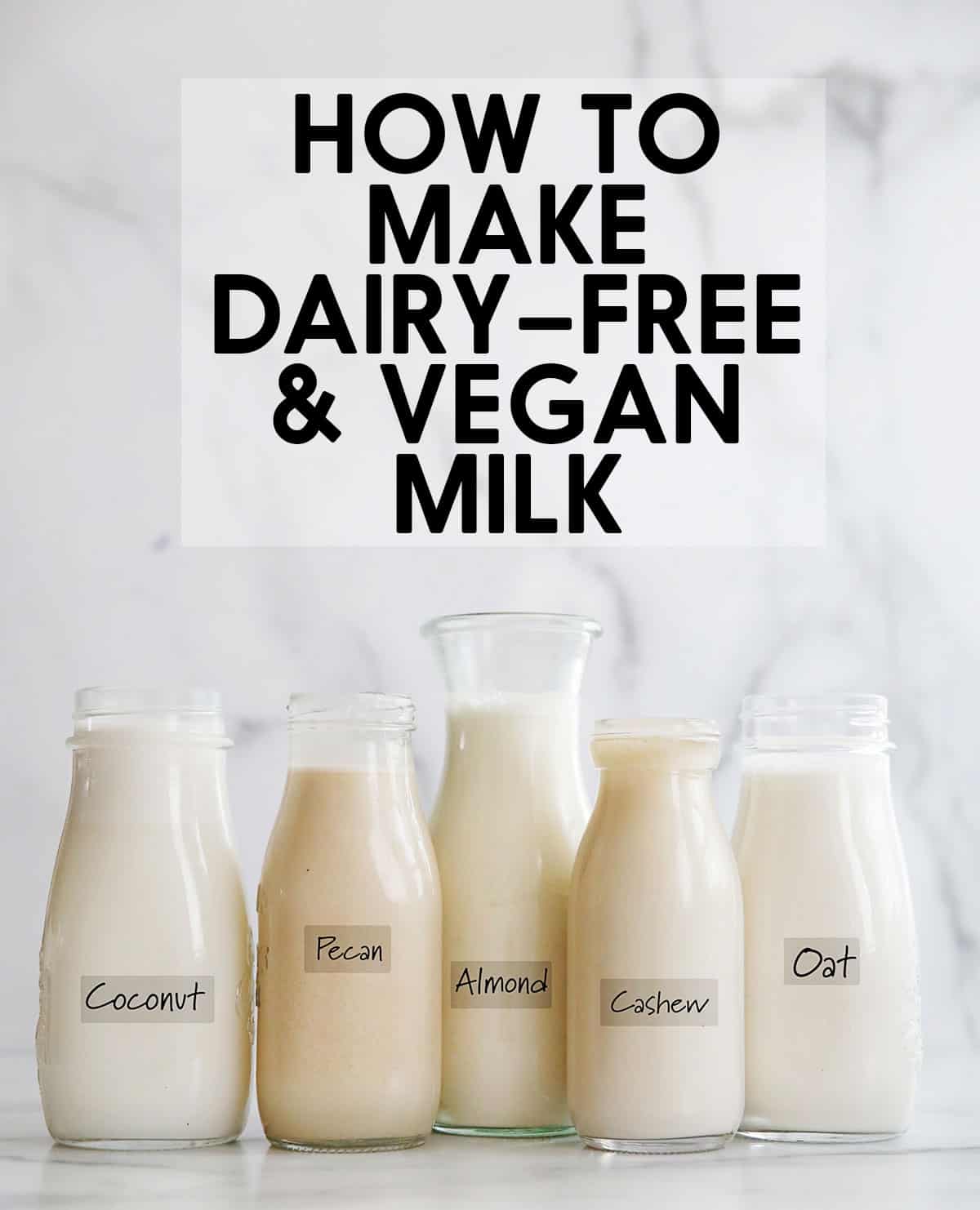 Vegan and Dairy Free Milk Guide
If you didn't know How to Make Coconut Milk at home, let me be the first one to tell you: it's easy! And requires only two ingredients and one appliance. Homemade coconut milk is creamy, naturally sweet and a great dairy-free milk alternative.
How to Make Coconut Milk at Home
We can't deny how easy it is to pick up a can of coconut milk at the store but did you know it's equally as easy doing it at home? All you need is a blender and natural coconut flakes! This alternative milk is naturally full of flavor and sweetness is so so versatile in the kitchen. And the best part is it's just two ingredients: water and coconut. There are no sneaky hidden additives and no need to check any labels.
Ways to use coconut milk
Smoothies
Cooking (think curries and soups)
Baking
Drinking straight from the glass
Coffee and Teas
Popsicles
How do you make coconut milk?
Soak 1 cup of shredded unsweetened coconut flakes in boiling water for 30 minutes

Blend together continuously for 1-2 minutes

Strain it through a nut milk bag or a thin, clean kitchen towel, squeezing out as much of the milk as possible.

Pour into a jar and store in the refrigerator for up to 5 days
Do you need to sweeten it?
We did not give directions for sweetening this milk because it is naturally sweet. But if you wanted to you can add in about 1-2 tablespoons of maple syrup and a dash of salt.
Ways to Use the Leftover Pulp
Once you strain the milk you will be left with shredded coconut! To minimize food waste you can use it in:
smoothies
oatmeal
baked goods
oatmeal bakes
popsicles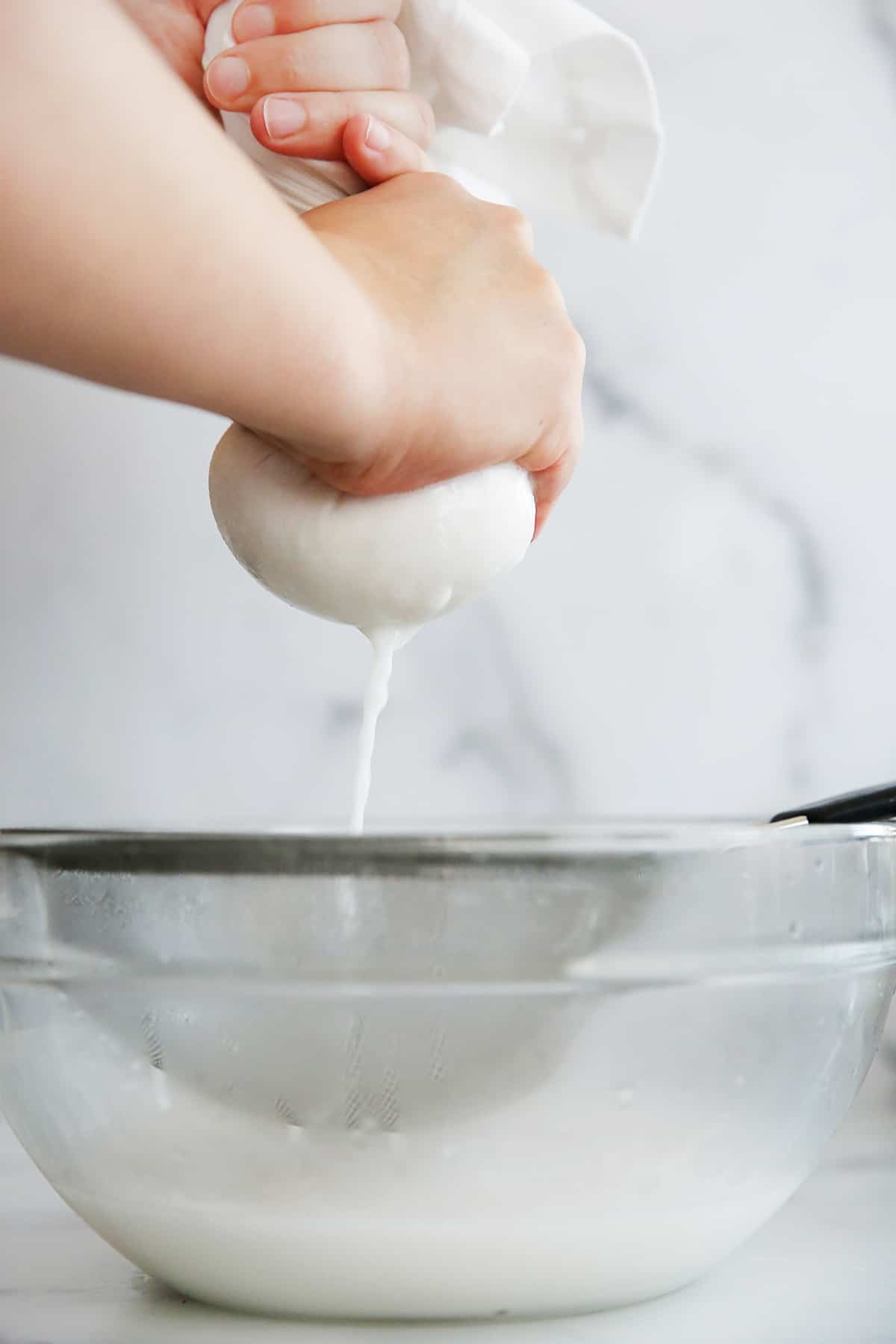 Check out the other posts in this nut milk series:
If you like this how to series, check out these others:
---
How to Make Coconut Milk
This Curry Butternut Squash Noodles recipe is an easy weeknight meatless dinner that is full of flavor and packed with veggies! A delicious curry sauce with tender butternut squash "noodles", peppers, onions and spinach can be prepped and cooked in under 30 minutes and is paleo, gluten-free, dairy-free and keto and whole-30 friendly.
Curry Butternut Squash Noodles
This super easy Curry Butternut Squash Noodles recipe is the perfect weeknight dinner to spice things up! Well, at least as spicy as you want it to be because it's easy to control the heat so you can make this family friendly. A simple coconut based curry is cooked while you cook up some veggies so you can have dinner ready in under 3o minutes. It's so flavorful for such little effort it's quickly going to be a new favorite!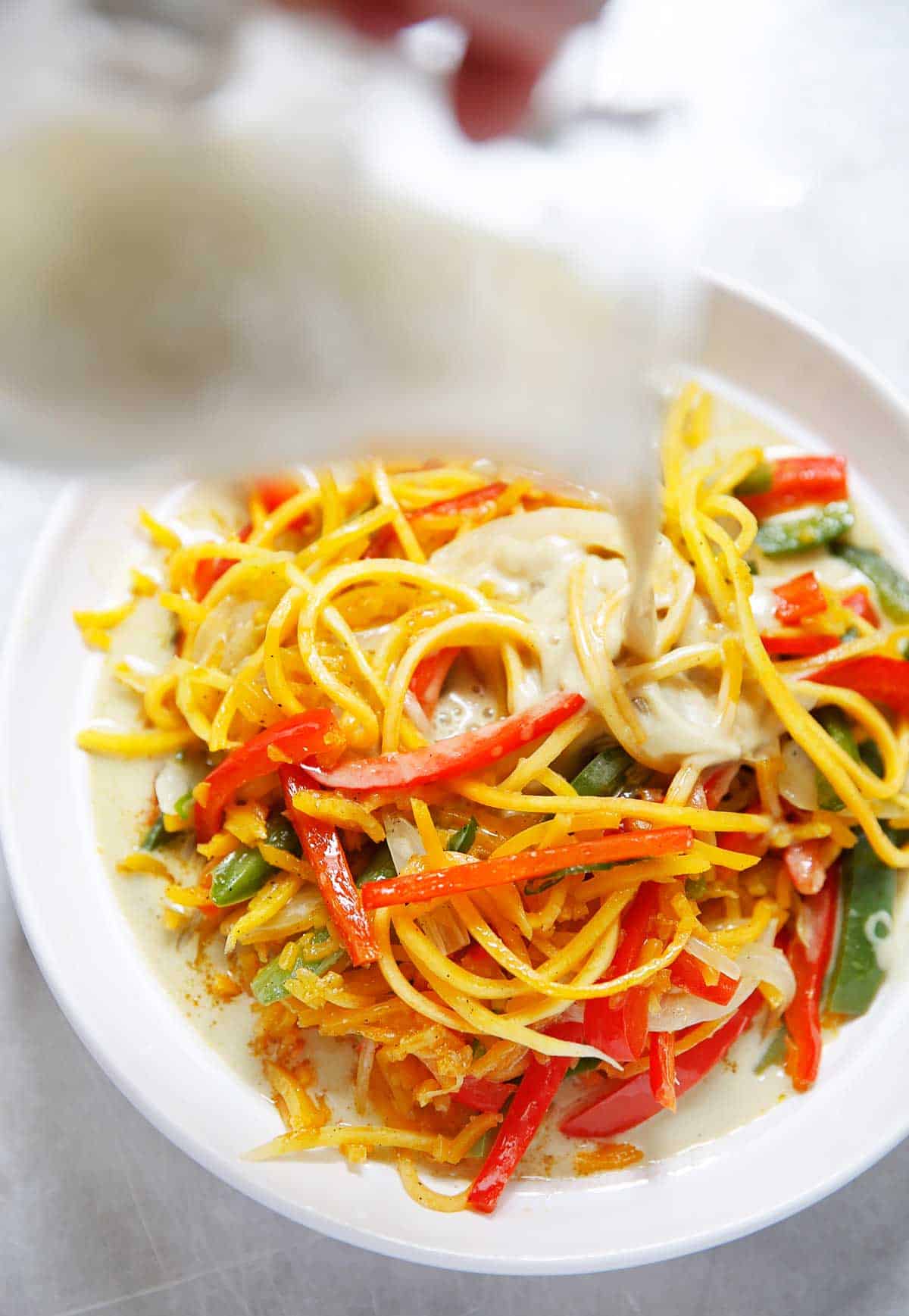 How to Make Butternut Squash "Noodles"
If you can't find these at your local grocery store (we sometimes buy already made butternut squash "noodles" at Whole Foods if we are short on time) you can spiralize them at home! A few tips:
Buy the straightest and longest butternut squash you can find. You can't spiralize the bulb at the end, so look for a long one!
Remove the bulb and reserve for another use. Peel the squash really well, trim the tip off and cut in half so it's easier to handle.
Spiralize using the large noodle fitting! We like this spiralizer: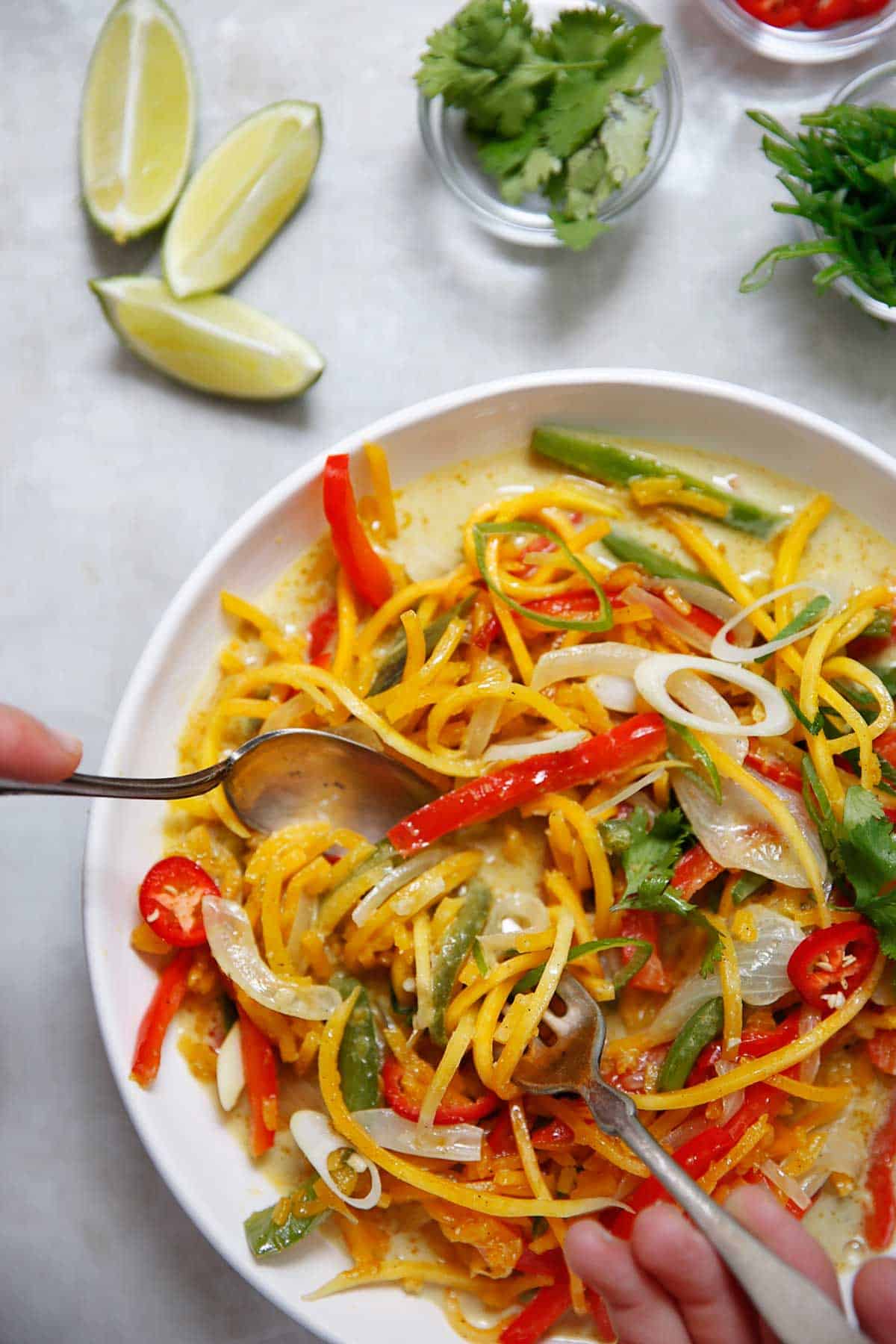 If you like this healthy weeknight dinner, check out these others:
Curry Butternut Squash Noodles
These Strawberry and Chocolate Ganache Sandwich Cookies are the cutest sweet treat, made even nicer because they are optionally free of the 14 most common allergens. Gluten free strawberry cookies are sandwiched between a dairy-free chocolate ganache with hidden strawberry jam in the middle. Made in partnership with our friends at Enjoy Life Foods.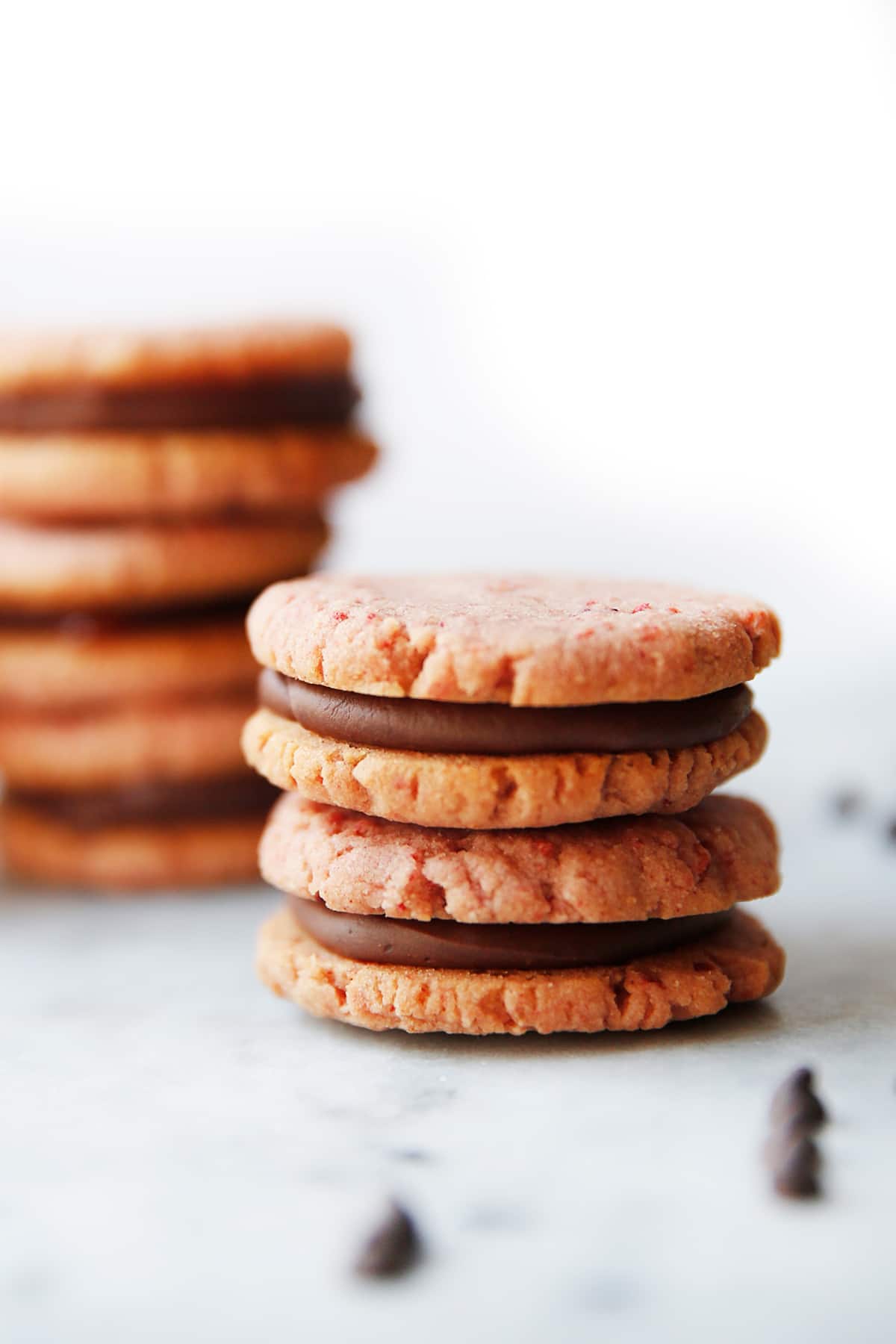 Strawberry and Chocolate Ganache Sandwich Cookies
These Strawberry and Chocolate Ganache Sandwich Cookies are magic! They almost taste like a nut-free macaron and they have an amazing strawberry flavor that is complimented so well with the chocolate ganache. They are coming just in time for Valentine's Day too–the perfect sweet treat to share on this love-filled holiday. These sandwich cookies are made even sweeter though because they are free of the top 14 most common allergens, including nuts and dairy! That means these little cookies are also school safe–making them the perfect treat to pack away for your kids to share with friends! Or really, just a treat for yourself. You deserve it!
So let's unpack what's going on with these cookies: There are two strawberry cookies sandwiched with dairy-free chocolate ganache and a hidden center of strawberry jam that balances the whole thing out.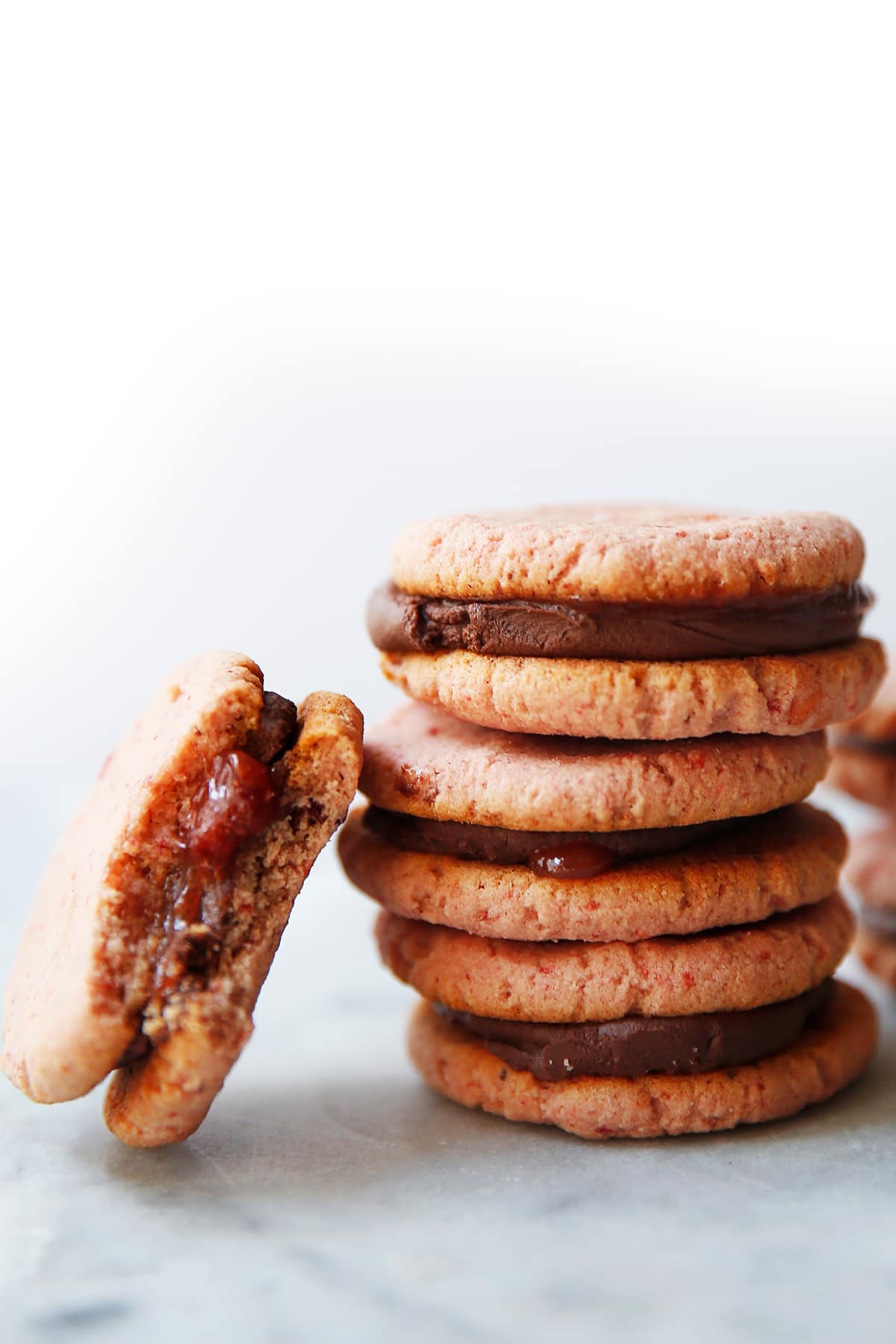 There are a few steps needed to complete this recipe, but there isn't anything hard to do! We use an electric mixer to make the cookie batter, but this doesn't take much time. You can use either coconut oil or butter, and we enjoyed both versions equally. You'll want the coconut oil to be solid at room temperature, and the same with the butter. It only takes a few minutes for the batter to come together, but once it does you'll need to let it rest for about 10 minutes while the coconut flour hydrates, until it is no longer sticky.
Once it has rested all you need to do to form the cookies is scoop out a tablespoon sized amount of dough, roll it into a ball and pat it out to a 2″ circle on a parchment or silpat lined baking sheet. We tried a couple of different methods of making the circle completely round but found that patting it out was the easiest. The cookies won't spread, so don't worry about spacing them out very far apart and they should all fit on one standard size sheet pan.
How do you make chocolate ganache
While the cookies are baking you can make the ganache. Making a ganache is simply heating up a milk and pouring it over chocolate! In this case we are using coconut milk and our favorite dairy-feee chocolate Enjoy Life mini chips which melt really easily and create a decadent ganache.
Once the cookies are cooled you'll pipe a small circle of ganache on half of them, with a little hole left in the center for the strawberry jam to go in. We used piping bags for this, but you can just as easily use a plastic bag with a small hole cut out of one of the corners, or even just place a tablespoons sized amount of ganache in the middle will work.
We wanted to make these Strawberry and Chocolate Ganache Sandwich Cookies free of almost of the allergens out there so that they were able to be an inclusive Valentine treat for everyone, regardless of allergies or intolerances. This is especially relevant for school as there can be a lot of restrictions on what can be brought in. And this is why we love the chocolate from Enjoy Life! Enjoy Life baking chocolates are certified gluten-free, free-from 14 common allergens, verified Non-GMO, certified kosher, AND certified vegan and paleo-friendly, which makes them so inclusive for many different types of dietary restrictions.
This month they've also launched the NEW Valentine's Day Chocolate Minis! They would be a great option to bring into school and are the perfect size to share. They come in Dark Chocolate, Ricemilk Chocolate, Ricemilk Crunch (our favorite), and a variety pack. You can buy them right online here! We've been lucky enough to have been snacking on them this week, and they're delicious! And as you can see below, they are also kid approved!
Tools we used in this recipe:
If you like this cookie recipe, check out these others:
---
Strawberry and Chocolate Ganache Sandwich Cookies (Allergen Friendly)
This Thai Curry Soup is my new favorite! I love all things Thai, and I especially love a filling, super flavorful soup. This dish is packed with so many of your CSA and farmer's market veggies: Summer Squash, Bok Choy, Snap Peas, Basil, and Cilantro. It'll be a hit of dinner, and then some with leftovers!
Week 3 of my CSA summer series with PaleOMG & Fed and Fit is here! There are now 9 recipes in the series and they are SO amazing. Don't forget to check out week 1 and week 2. I am in love with this series because I get to bring you all sorts of fabulous recipes with all the fresh ingredients from my farm and backyard, and ones that are in abundance for you, too!

[yumprint-recipe id='372′]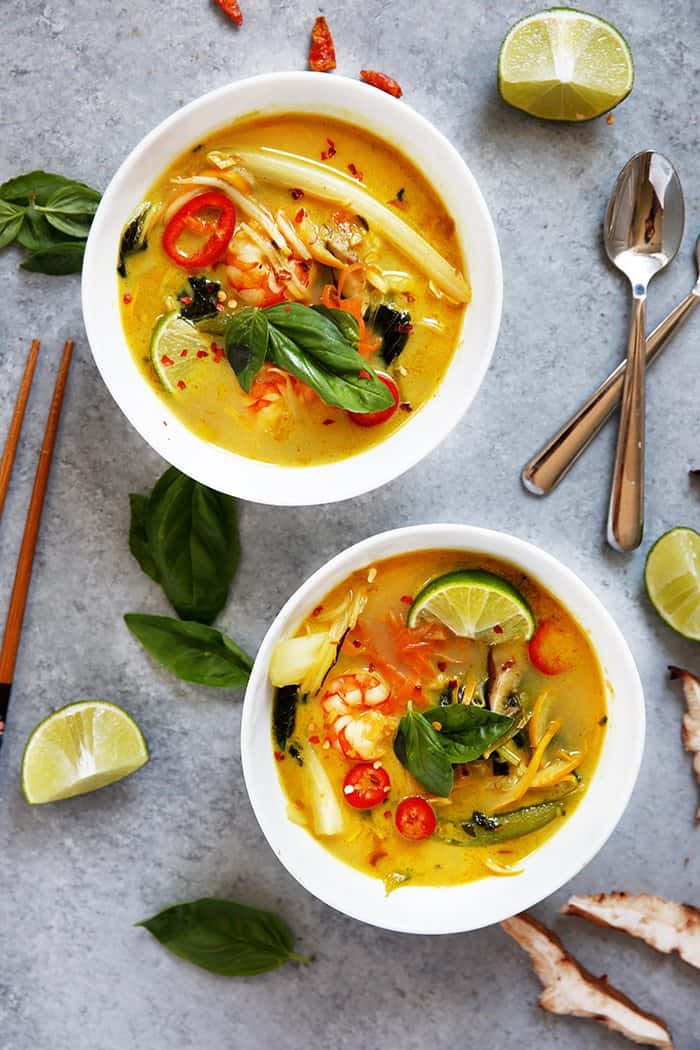 ---

What is your favorite Thai dish?
Thai Curry Soup
These Homemade Chocolate Turtles are the ultimate lightened-up homemade candy. They're so delicious and making them at home is easy, using only a handful of wholesome ingredients like our Vegan caramel, pecans and dark chocolate. They are the  perfect treat to have on hand in the fridge or freezer for when you want something sweet!
Homemade Chocolate Turtles
Homemade Chocolate Turtles just might be the best homemade candy of all time. If you don't know what a turtle is, let me tell you: It's chocolate with homemade caramel and pecans. We made a handheld version that is easy to make and eat. Plus we lightened these up using vegan, dairy-free caramel and dark chocolate, so these are essential a healthy snack, right?! Run, don't walk, into the kitchen to get started on these now!
Ingredients Needed:
How to Make Chocolate Turtles
To make these chocolate turtles you mostly just assemble ingredients. The only thing that needs to be prepared is the caramel. For this recipe, we are using our favorite vegan caramel. It is made with a handful of wholesome ingredients and is super simple to make requiring no special equipment and it's made in just under 20 minutes. We tested this dairy-free caramel with three different types of unrefined sweeteners: maple syrup, honey and coconut sugar. They truly all have their own flavor, so you can make whichever you'd like. We really enjoyed using a mix of the coconut sugar and maple syrup for our turtles recipe.
Here is how simple it is to make the caramel: You put all of the ingredients in a medium-large pot and cook it over medium-high heat, undisturbed for about 15 minutes until it's slightly thickened and darkened in color. Seriously, how easy is that? We wrote a whole post about it, so go check out all you need to know and the exact recipe to make it there.
You will want to let your caramel cool before trying to use it in this recipe. If possible, let it cool overnight in the refrigerator. As the recipe says, this caramel will be thin when it is first made and will thicken up as it chills.
Once you've got your cooled caramel you can mix in some pecan pieces and melt the chocolate. After that, there isn't too much more to do other than assembling! We used a muffin tin to make our turtle cups. Line a 12-cup muffin tin with parchment paper or silicone liners and then add in some chocolate. Using a spoon, push the chocolate 1/3 of the way up the sides. Next, freeze it for 10 minutes. Then, add in the turtle mixture, before topping with more chocolate and sea salt if desired.
How to Melt Chocolate
We suggest melting chocolate over a double-boiler. Most people don't have an actual double boiler at home, so make up your own by placing a heat proof bowl over a simmering pot of water. Just make sure that the bowl is not touching the water. Using this method to melt the chocolate is easy and it ensures you don't over cook the chocolate. Overcooking the chocolate can make it separate, or "break".
The microwave is an alternative way to melt chocolate. If you do use the microwave heat the chocolate in very short bursts, no more than 20 seconds, while whisking in between each time.
How to Eat and Store Chocolate Turtles Cups
These chocolate cups are best eaten when they are slightly warmed at room temperature (so the chocolate isn't super hard), but they're best stored in the refrigerator or freezer.
They'll keep in the refrigerator for up to 1 week or slightly longer. And in the freezer they'll keep for up to 3 months.
I like to store them in the freezer long term, and then grab out when I'm craving a healthy treat. Let it sit on a plate at room temperature for about 15 minutes and then it will be good to go!
If you like this lightened up treat, check out these others:
---