Sweet Potato Chili
This easy-to-make Sweet Potato Chili is the perfect option for meatless Monday or a family-friendly weeknight dinner win. With sweet potatoes, beans and tomatoes, it is hearty vegetarian comfort food. It's made easily in the slow cooker or Instant Pot and easily customizable by adding on all your favorite toppings.
Sweet Potato Chili Recipe
This is my classic go-to vegetarian chili recipe to make all fall and winter long. I call it healthy comfort food in a bowl because it's hearty and satisfying for all of those chilly days. It is perfect for a big gathering, football Sunday festivities, or for a good weekly meal prep option since there are tons of leftovers! Make it in your slow cooker or your Instant Pot pressure cooker for easy hands-off cooking! And don't forget about the best part about chili: all the toppings! I've got a list of my favorites below.
Vegetarian Chili Ingredients
Bell Peppers
Celery
Onion
Garlic
Sweet Potatoes
Beans
Veggie Broth
Spices
Tomato Sauce
Diced Tomatoes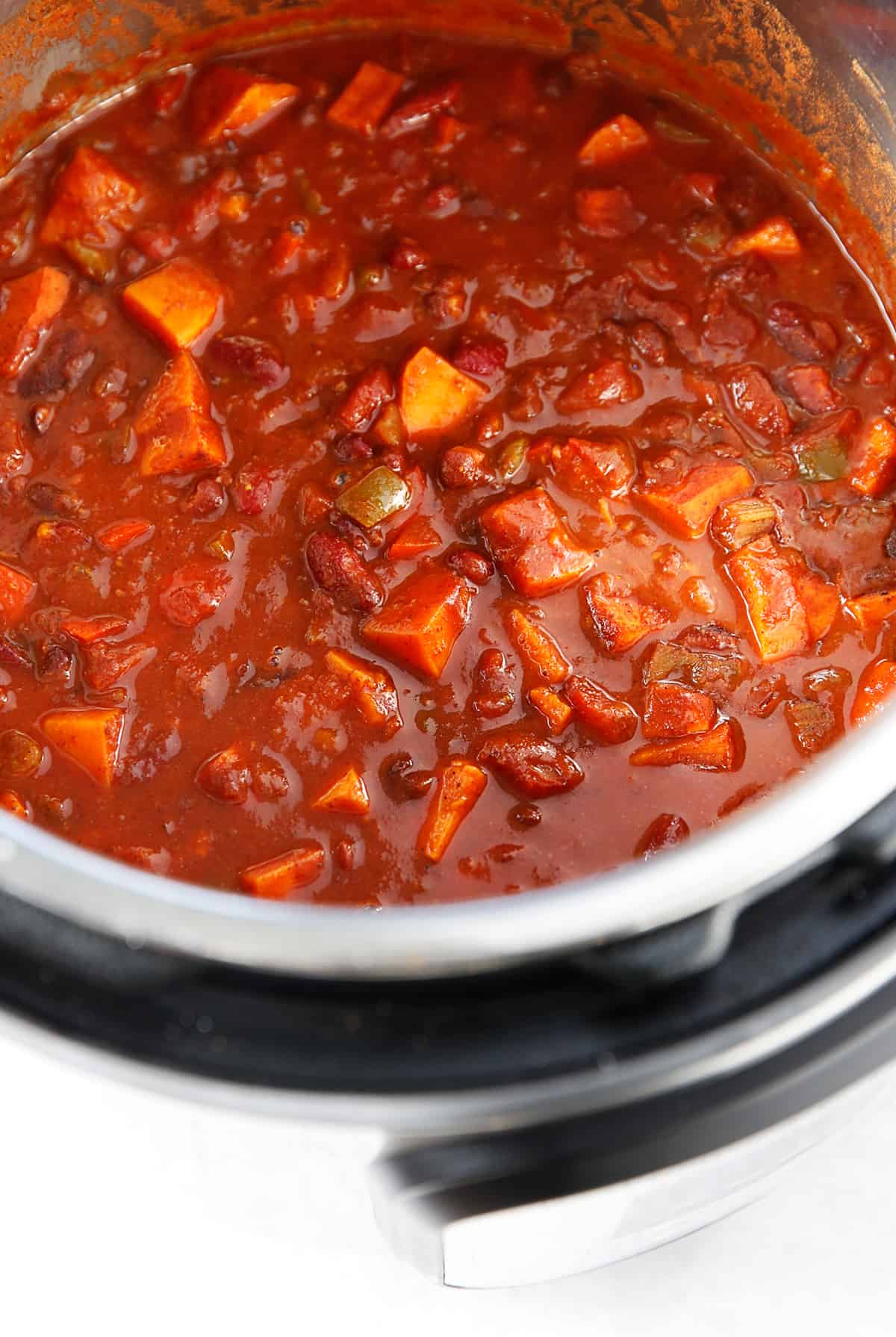 How to Make It
We've got options for making this in both the slow cooker and the pressure cooker. The slow cooker is a great option for making this if you want to prepare it in the morning before leaving for work and have it ready in the evening when you return home.
Making it in the Instant Pot is great because it builds flavor quickly without much hands on time. The vegetarian chili is under pressure for 5 minutes, with a 10 minute pressure release. However, don't forget to account for the prep time (gathering up your ingredients and dicing some up), the saute of the veggies and the time it takes to come up to pressure. It will take at most about an hour to cook this in the Instant Pot. But it's mostly hands-off cooking time and it adds a ton of flavor.
To Make on the Stove Top
We didn't include instructions for cooking this on the stove top in the recipe, but you could. To make on the stove top:
Heat the oil in a dutch oven. Once hot add peppers, celery, onion and garlic and cook, stirring occasionally, until very softened, about 10 minutes.

Add the sweet potatoes, beans, broth, all spices, tomato sauce and diced tomatoes and stir together. Bring up to a boil and then reduce heat to simmer.

Cook until the sauce has thickened and the sweet potatoes are cooked through.

Serve with desired garnishes.
Chili Toppings
Scallions
Avocado Slices
Cheese
Cilantro
Diced or Marinated Onions
Cilantro
Diced Tomatoes
Guacamole
Tortilla Chips
Shredded Lettuce
Sour Cream
If you like this chili recipe, check out these others:
Sweet Potato Chili
This Healthy Sweet Potato Casserole with candied pecans makes the absolute perfect side dish at your Thanksgiving dinner or at your December holiday party. Do you want to know the best part? It's lighter than your typical sweet potato casserole and free of refined sugar! Plus it's easy to make-ahead of time and the perfect side to bring along to a potluck style dinner. Made in partnership with my friends at Ello Products.
Healthy Sweet Potato Casserole
Sweet Potato Casserole is an absolute favorite for many on Thanksgiving! If you haven't had it before it is a layer of creamy cinnamon laced sweet potatoes topped with either a crumble, marshmallows or in our case, candied pecans. This Healthy Sweet Potato Casserole has all the flavor of the original but lightened up using unrefined sugar. I also love how simple this casserole is to prepare ahead of time and bring with you on-the-go to a potluck friendsgiving.
Sweet Potato Casserole Ingredients
Sweet Potatoes
Maple syrup or Honey
Butter (or Ghee or Coconut oil)
Cinnamon
Nutmeg
Vanilla
Sea Salt
Golden Raisins (optional)
Pecans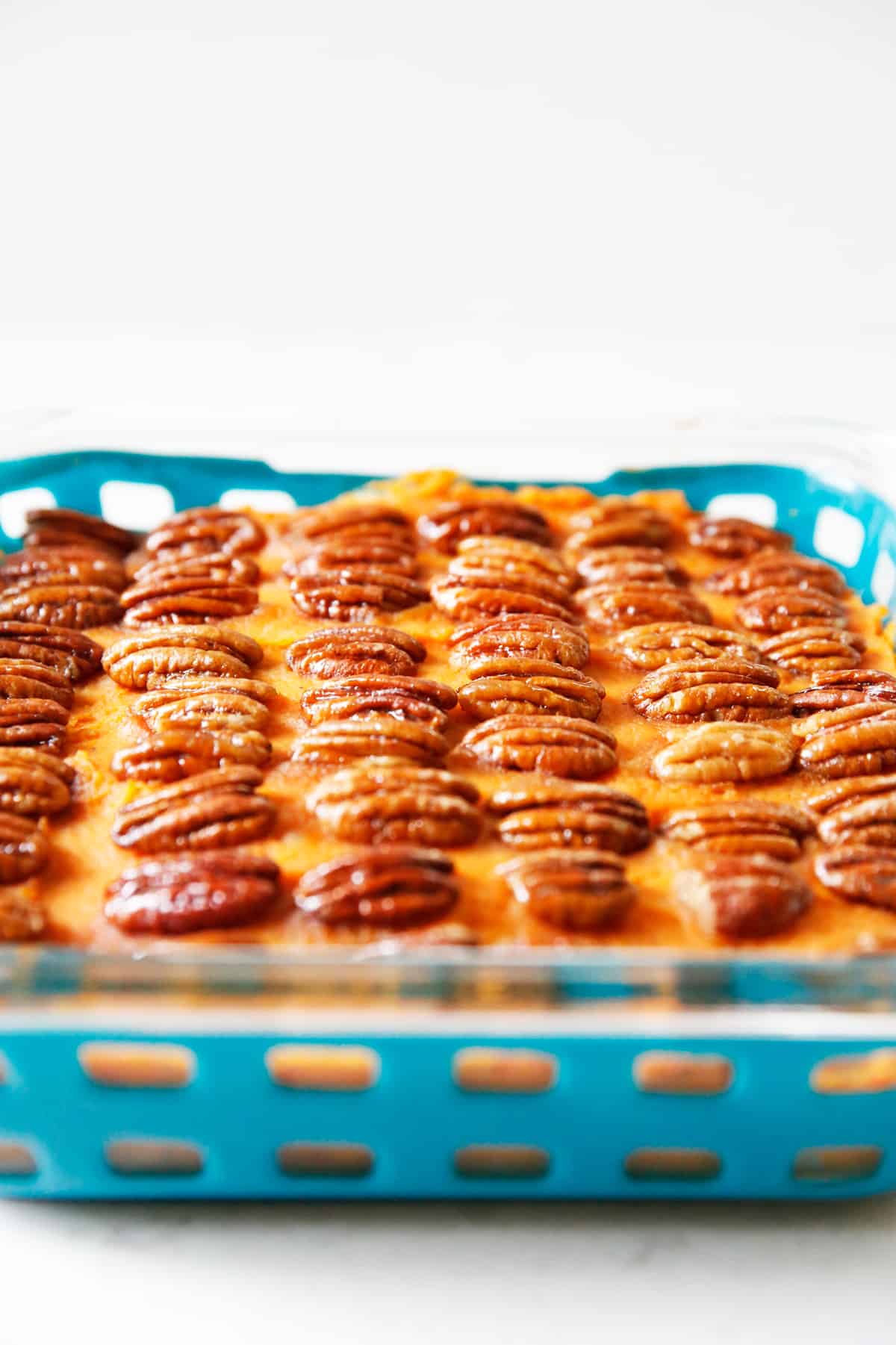 Why we Love Ello Bakeware for Making this Dish
To make this extra portable I love baking this in Ello DuraGlass Bakeware Containers. For this recipe we're using the 8×8 baking dish. These durable glass baking dishes are perfect for both cooking at home and bringing food along to cook on the go. What makes this line of bakeware special is that they come with a protective silicone sleeve that doubles as a trivet so a dish can go from the freezer or refrigerator, to the oven and then right to the table.
That makes these Ello DuraGlass Bakeware with matching lids perfect for holiday baking, especially for make-ahead and on-the-go dishes. Each container is perfectly portable and pretty cute too so it works as both bakeware and a serving dish.
I love using glass both for baking and for storage because it's free of harmful chemicals, can be heated in the oven, and is (top-rack) dishwasher safe. Plus the crystal clear Tritan lid and colorful silicone sleeve let's me easily see what is in the containers so I can keep my refrigerator more organized. This is especially helpful during the busy holiday season when there is a lot of food being cooked and prepared ahead of time.
A Perfect Make Ahead Dish
Casseroles are a perfect make-ahead dish. This Healthy Sweet Potato Casserole can be prepared ahead two ways:
You can assemble, but not bake this dish. This is a good option if you are traveling with this dish, but want to eat it freshly baked. Prepare your casserole up until step 7, which is the actual baking time. Let the dish cool completely and then cover with your lid and store until ready to bake.

You can fully bake this dish and reheat. This entire dish can be prepared fully, cooled completely and then stored in the refrigerator, for up to 1 day, until ready to serve. Reheat the dish in a warm oven until heated through, and the pecans are crispy again.
Looking for other Thanksgiving inspiration? Check out these recipes:
Love sweet potatoes? Check out these recipes:
---
This post is sponsored by Ello Products. All thoughts and opinions are always 100% my own! I love the integrity of their products and think you'll love them too. Thank you for continuing to support LCK and the brands I work with!
Healthy Sweet Potato Casserole
This Kale and Sweet Potato Stuffed Turkey Breast is perfect for a dinner party or small Thanksgiving feast. A boneless turkey breast is stuffed with quick caramelized onions, kale, sweet potato and herbs, then baked in the oven in just about an hour. Double the recipe to feed a crowd! It's also gluten-free, Paleo and Whole30 friendly.
Stuffed Turkey Breast Recipe
It's time to start thinking about Thanksgiving! If you are into the idea of making the traditional Thanksgiving Turkey, check out this recipe here with all the details you need to know if you've never made one before. But if you are hosting a small Thanksgiving dinner and wanted to enjoy turkey without actually cooking a whole one? This Kale and Sweet Potato Stuffed Turkey Breast recipe is perfect. It has all the flavor of the traditional turkey but wrapped up in a beautiful package that takes about one third of the time needed for making a whole turkey.
Don't worry–we are walking you through exactly how to make the stuffing, how to prepare and roll up the breast and finally how to cook it to perfection.
Steps for Making Stuffed Turkey Breast
Let's start with the actual turkey breast!
You'll be buying a boneless turkey breast roast. It usually comes wrapped up in a bundle of stretchable butcher's twine. Go ahead and remove that and discard. Next you are going to place the turkey breast skin side down on a cutting board. The turkey needs to be sliced through the middle and then opened up like a book so you can get more surface area to pound out. The more surface area you have, the more rolling you can do.
Next you will pound out the turkey with a meat mallet until the turkey is of uniform ¾" thickness. This again is so you have more surface area to roll and so that it cooks evenly. Finally, it's time to brine the turkey. Luckily, you can do this in as little time as 1 hour, though the flavor really improves if you allow it to brine for up to 24. To brine the turkey, season with 1 teaspoon kosher salt and pepper. Let sit at room temperature for 1 hour, or up to 24 in the refrigerator. If you do refrigerate it overnight, bring the turkey breast again to room temperature before cooking. This ensures even cooking, and more tender meat.
Move on to the filling.
We wanted to make the filling all in one pan, which includes making (quick) caramelized onions, cooking up the sweet potato and braising the kale. It takes about 40-50 minutes for everything to cook, but if you were really in a rush you could break apart the steps of each component and cook separately, but at the same time. You do want to let the filling cool slightly before adding it to the turkey breast, because it makes it easier to handle and roll the meat. The entire filling can be made up to 2 days ahead of time.
Rolling and Tying up the Stuffed Turkey Breast
Because the turkey has been seasoned with salt, there will be a good amount of moisture on turkey after it has been brined. Pat it dry so that the filling doesn't slip off. Spread the slightly cooled (or completely cooled) kale mixture into the middle of the breast, leaving a 1" border all around the edges. Then you are going to roll up the breast, starting with the short end that does not have the skin underneath. You do this so that when you have finished rolling the breast up, the skin is on the outside. Roll it into a tight log and completely enclose the filling. Turn the now stuffed turkey breast seam side down and smooth over the skin in the middle of the breast as best as possible. We've noticed that each turkey breast we worked with was a little different, and some of the meat had a cleanly butchered piece of skin, while others has less skin and it didn't cover the entire rolled piece of meat. It's important to leave the skin on because that helps keep the meat juicy, so do your best to ensure the skin is covering the meat. Next tie up the stuffed breast with butcher's twine evenly in 5 places.
Bake the Stuffed Turkey Breast
Place the breast inside a roasting pan. Dry off the skin and rub all over with olive oil, salt and pepper and pour chicken broth in the bottom of the roasting pan. This helps keep the meat moist, as you will baste the breast with it throughout the baking process. It also means you'll have flavorful broth with which to make gravy after! Bake, basting every 20 minutes, until it reaches 155º degrees with an instant read thermometer, about 60-70 minutes. Then take it out and cover it to let the temperature continue to climb up to 165ºF.
Now it's time to slice and serve!

How to Slice a Stuffed Turkey Breast
It is easiest to slice a stuffed turkey breast with a sharp serrated knife, such as a large bread knife. You can keep the stuffed breast tied up while you slice it, and then cut off the twine before serving.
What Temperature to Cook a Turkey Breast
The secret to a perfectly cooked juicy turkey breast is to not overcook it! Breast meat is pretty lean, so if it is overcooked it will taste dry and bland. As all meat does, the stuffed turkey breast will continue to cook after it has been removed from the oven.
We always suggest using an instant-read thermometer to check the temperature of meat, and this should be removed from the oven at 155º. Once the turkey has been pulled out, cover the pan with aluminum foil and allow it to rest. This let's the turkey finish cooking to 165º and lets all the juices reincorporate in the breast.
Sides to Serve with this Stuffed Turkey Breast
And don't forget the gravy! Check out this post for how to make gravy with and without drippings. Though let's be real, it's much better with the drippings!
Planning to have leftovers? Check out these recipes:
Kale and Sweet Potato Stuffed Turkey Breast
These Oven Baked Sweet Potato Fries are crispy and so delicious, especially when paired with Honey Mustard Dipping Sauce! The perfect side to pair with just about anything.
Oven Baked Sweet Potato Fries
These Crispy Sweet Potato Fries are the PERFECT side dish. And they're so easy to make with mostly hands-off cooking time in the oven. I love to pair mine with this addicting honey mustard dipping sauce, too. While they are crispy when they come straight from the oven, it's easy to make a large batch and eat them throughout the week for meal prep. They do get soft once they are stored, but you can crisp them back up again inside the oven or toaster oven.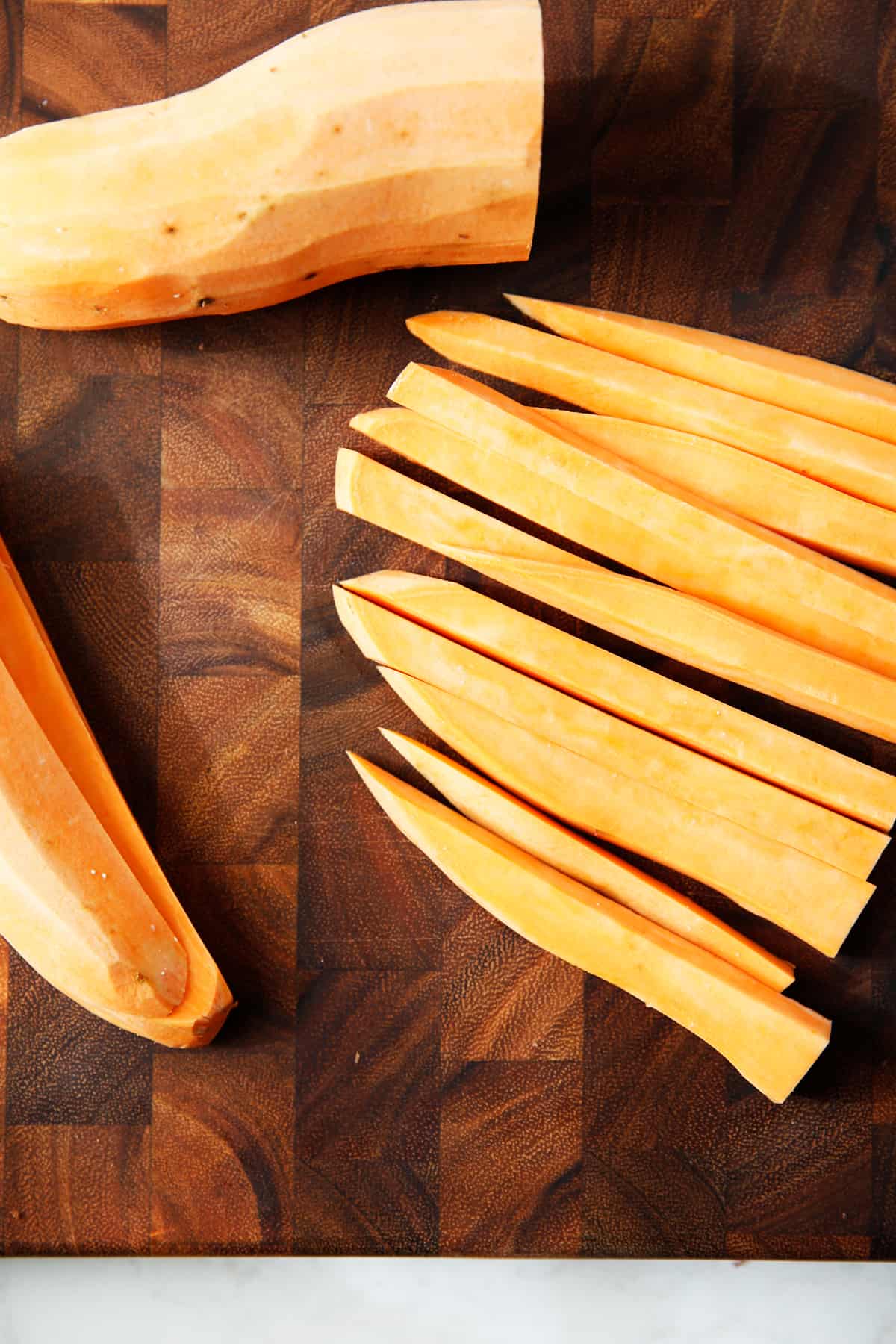 Tips for Making Crispy Sweet Potato Fries:
Cut sweet potato fries into the same size. It helps them cook easily.
Soak the sweet potatoes for about 10 minutes. This helps bring out some of the starch.
Don't overcrowd the baking sheet. Make sure to lay the fries flat on the sheet pan, leaving space in between each fry.
Flip the fries, halfway through baking! This ensures both sides get crispy
To Peel, or Not to Peel
Peeling the skin off the sweet potato is totally up to you! It doesn't make a difference either way. Though the skin has extra fiber, which can be a bonus!
Main Dishes to Pair with
The options are endless for what goes well with these oven baked fries, but here are a few of our favorites: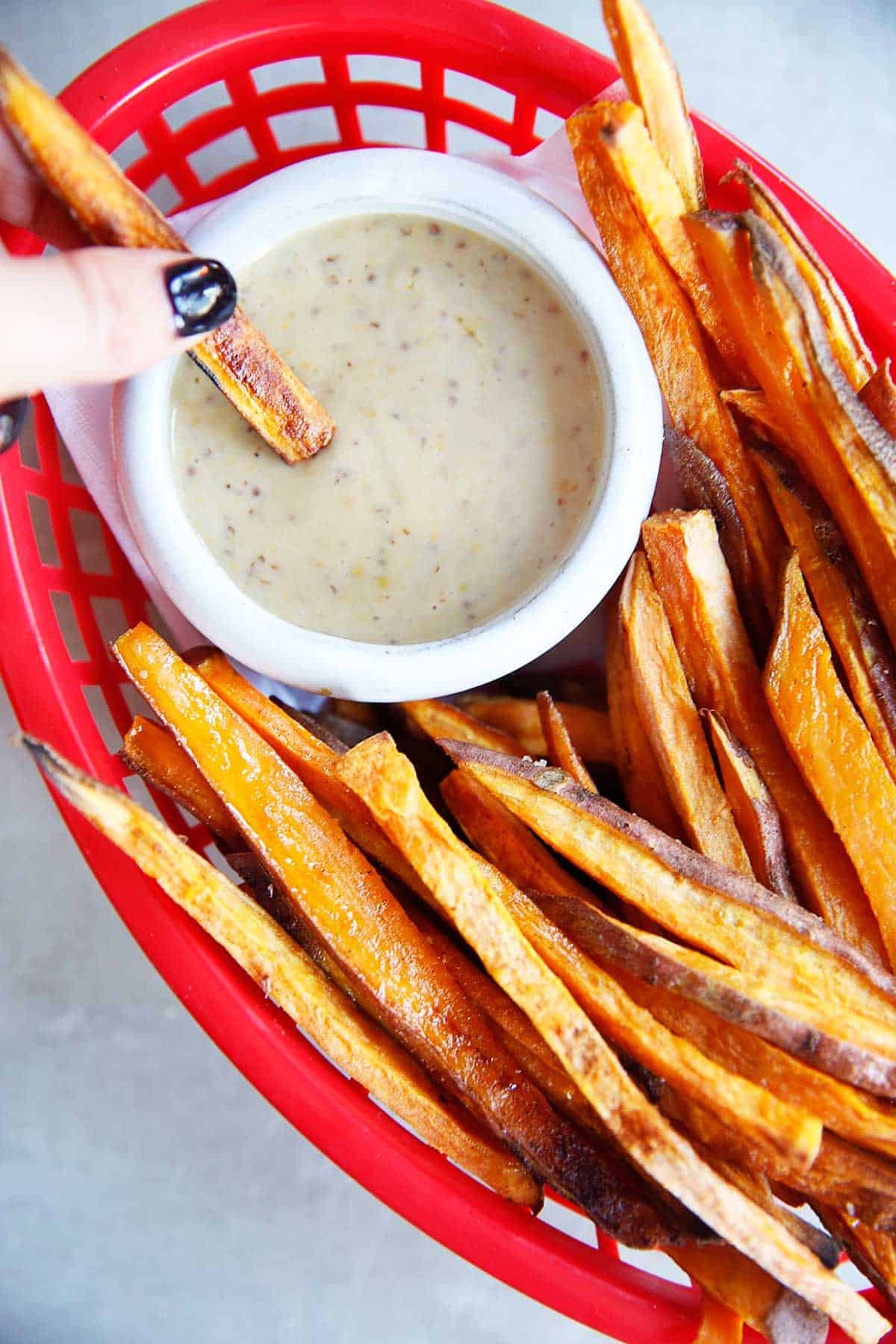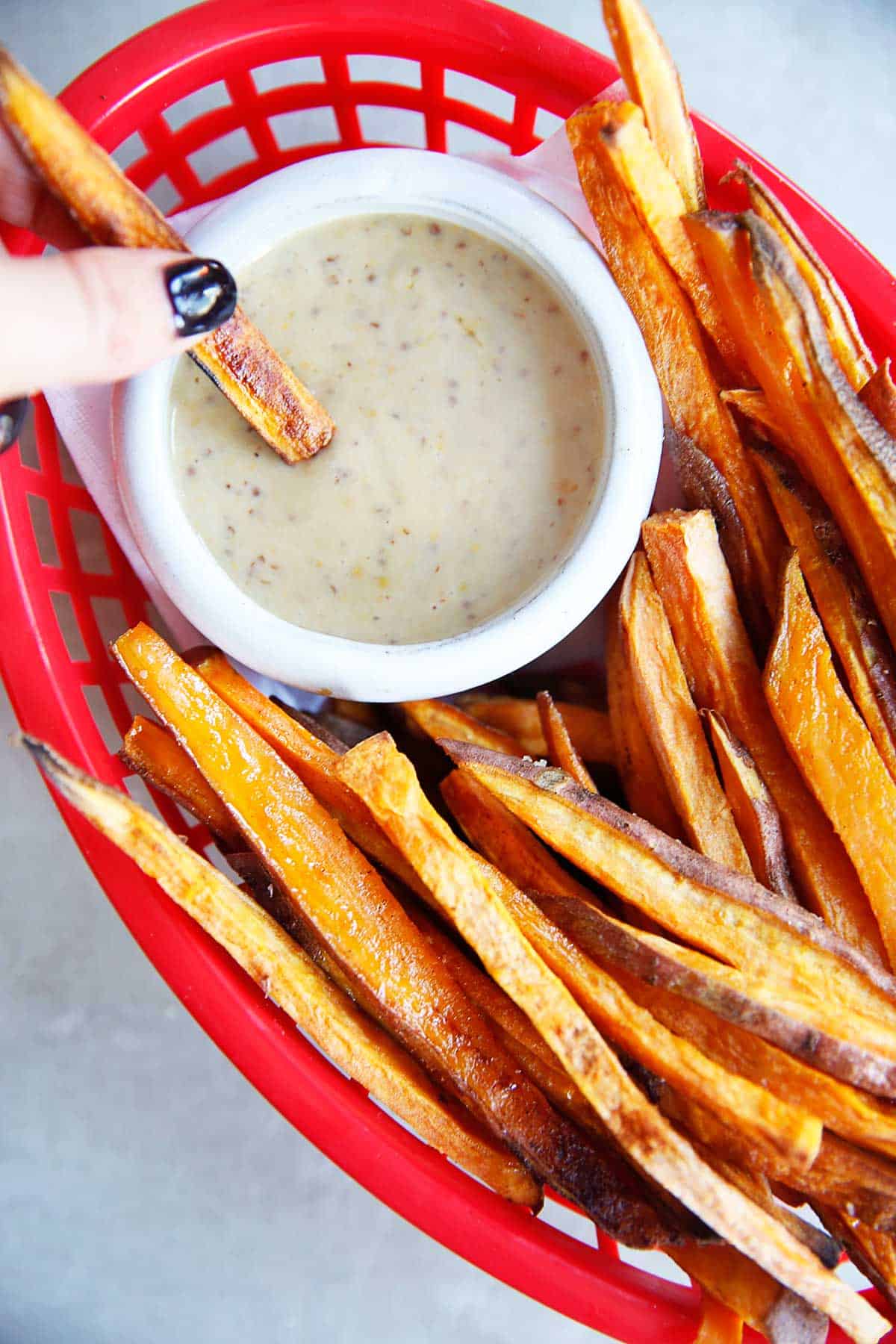 If you like this sweet potato recipe, check out these others:
Baked Sweet Potato Fries with Honey Mustard
These healthy baked egg cups make the perfect breakfast meal prep for when you are rushing out the door but still want your protein-packed nutrient dense meal. They also make a great snack as well! And they're paleo and whole30 friendly!
Breakfast Egg Cups Recipe
This recipe goes out to all of those people who LOVE and NEED a good breakfast but don't always (read: ever) have time in the morning to whip up a freshly cooked eggs! These easy oven baked breakfast egg cups are nutrient dense and so delicious! Make these on Sunday and you'll be thanking yourself all week you did!
This breakfast meal prep eggs have a sweet potato bottom crust and and you can top with two different options: sunny side up with bacon or veggie omelets! You choose! And if you are feeling it, you can mix and match and make both!

Make it how you like it!
The best part about these baked eggs is that you can truly customize it the way you like it! We love the sunny side up with some crumbled bacon, but you can omit the bacon to make them vegetarian or add in another type of meat like ham!
The veggie omelets have a standard pepper, onion and tomato mix but you can literally add in any veggie here, so long as you chop them up small enough, or precook them.
Here are some other suggestions you can add to the egg muffin cups:
zucchini
mushrooms
spinach
cheese
ham
prosciutto
kale
Can you freeze them?
Yes! Make sure to cool the egg cups completely before placing in a air tight container and freezing for up to 1 month. Defrost overnight in the refrigerator and warm it up in the toaster or microwave before serving.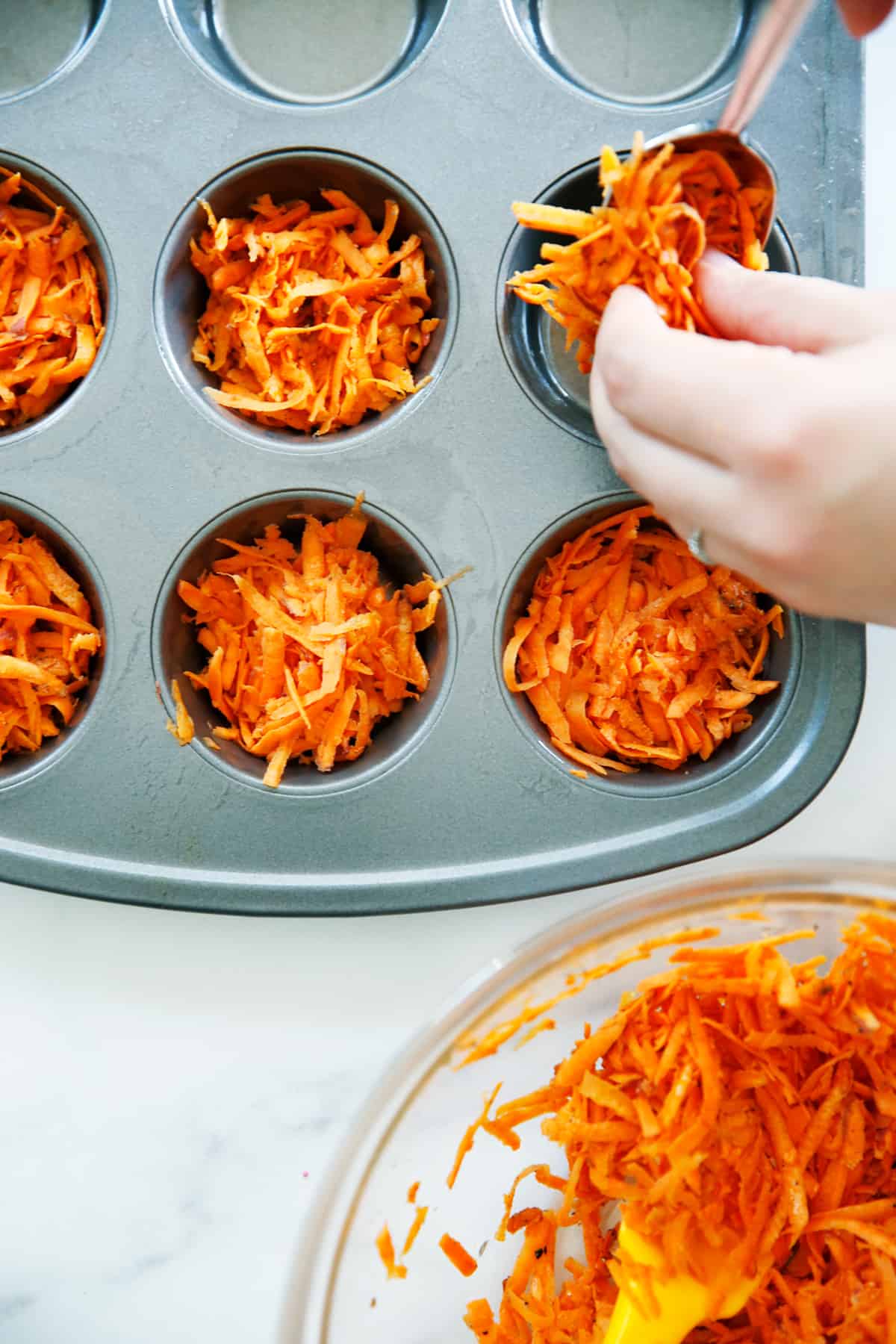 Looking for other paleo breakfast recipes?

If you like this meal prep recipe, check out these others:
[yumprint-recipe id='117′]
Breakfast Prep Baked Egg Cups
These Buffalo Chicken Stuffed Sweet Potatoes are so creamy, flavorful and delicious and make a great lunch or dinner! They also could be perfect as a make-ahead meal option. This buffalo chicken sweet potato recipe is nutritious and filling, gluten-free and optionally made Paleo and Whole30 by omitting the cheese.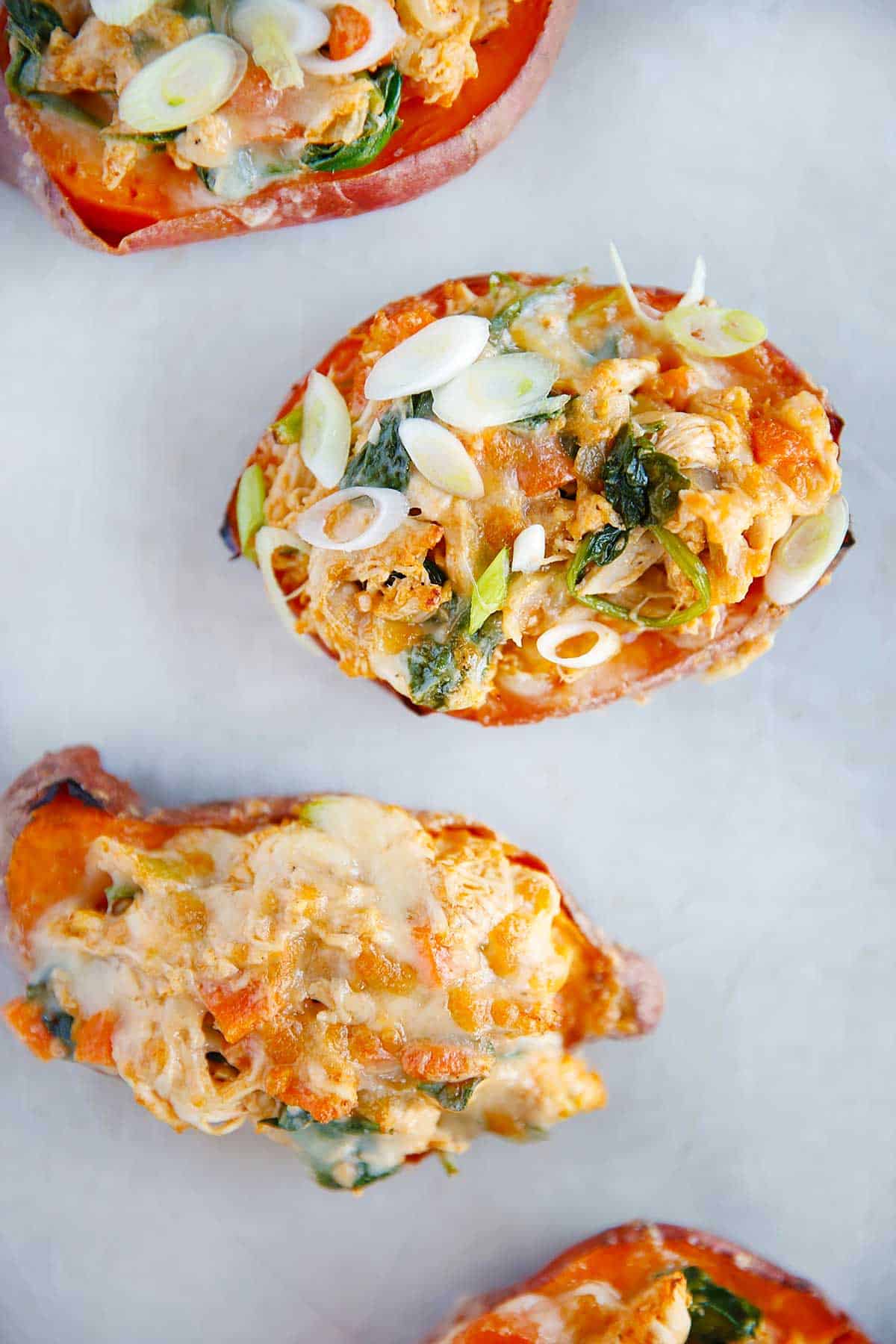 Buffalo Chicken Baked Sweet Potato
Who doesn't love potato skins? Nobody! Who doesn't love potatoes skins that are made healthier but still with all the flavor? Can't think of anyone! These healthier baked sweet potato skins are stuffed with a creamy buffalo chicken dip packed with extra veggies and nutrients. These are the perfect appetizer for a game day party, or a super delicious lunch or dinner. We love the portability of these and think they'd be a great make-ahead meal as well.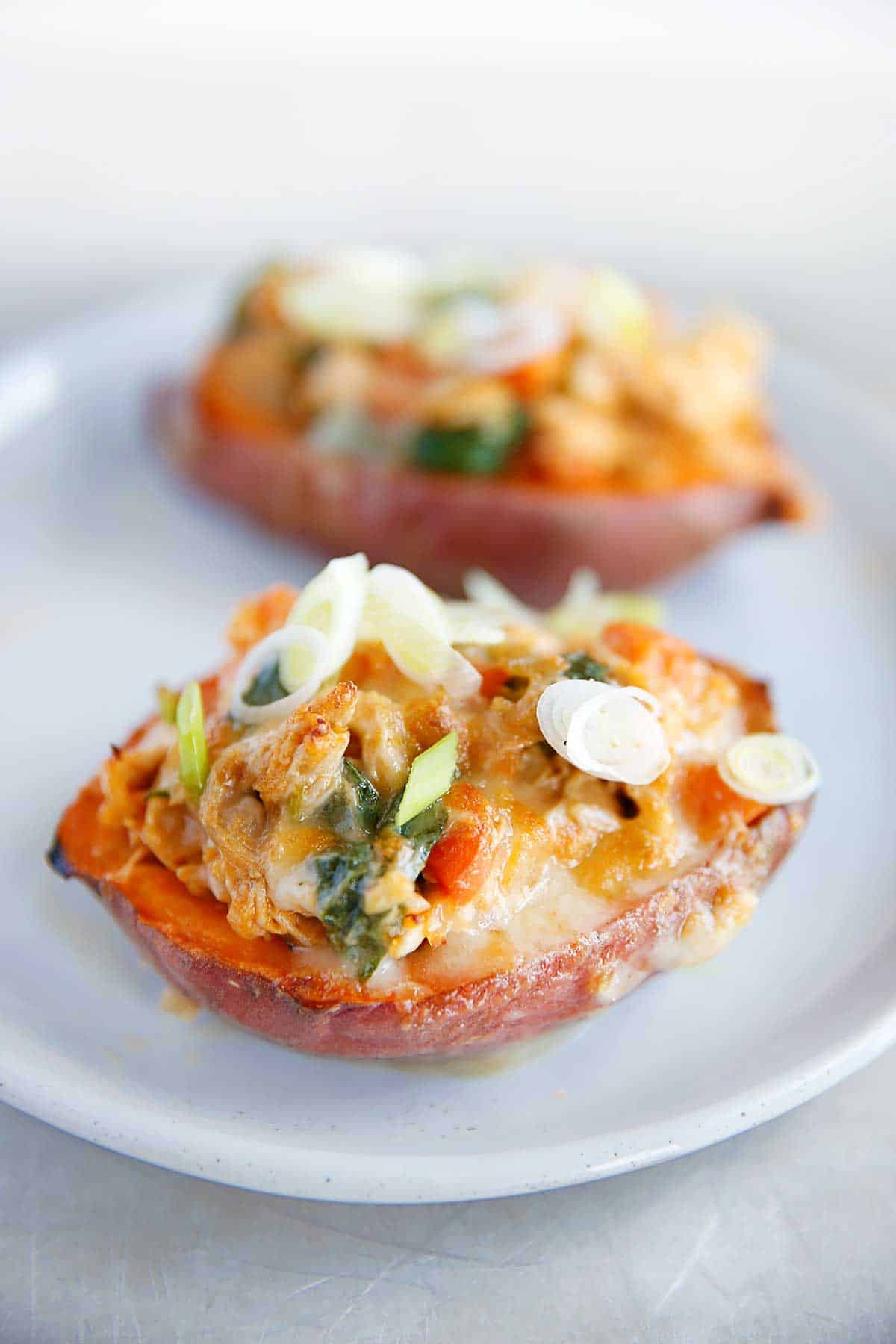 What type of sweet potatoes are best for this recipe?
We choose small to medium sweet potatoes to minimize the time roasting in the oven. You can choose larger ones, but they will take longer to roast. Just make sure they are all about the same size, and as round as you can get to fit in more of the buffalo chicken stuffing.
Can you cook the sweet potatoes in the Instant Pot instead?
You could, but it will likely take you the same amount of time to roast in the oven between the time it takes to come up to pressure and the time it takes to naturally release. Put the sweet potatoes on a basket and add 1 cup of water. You can use the steam function for 10 minutes, with a natural release.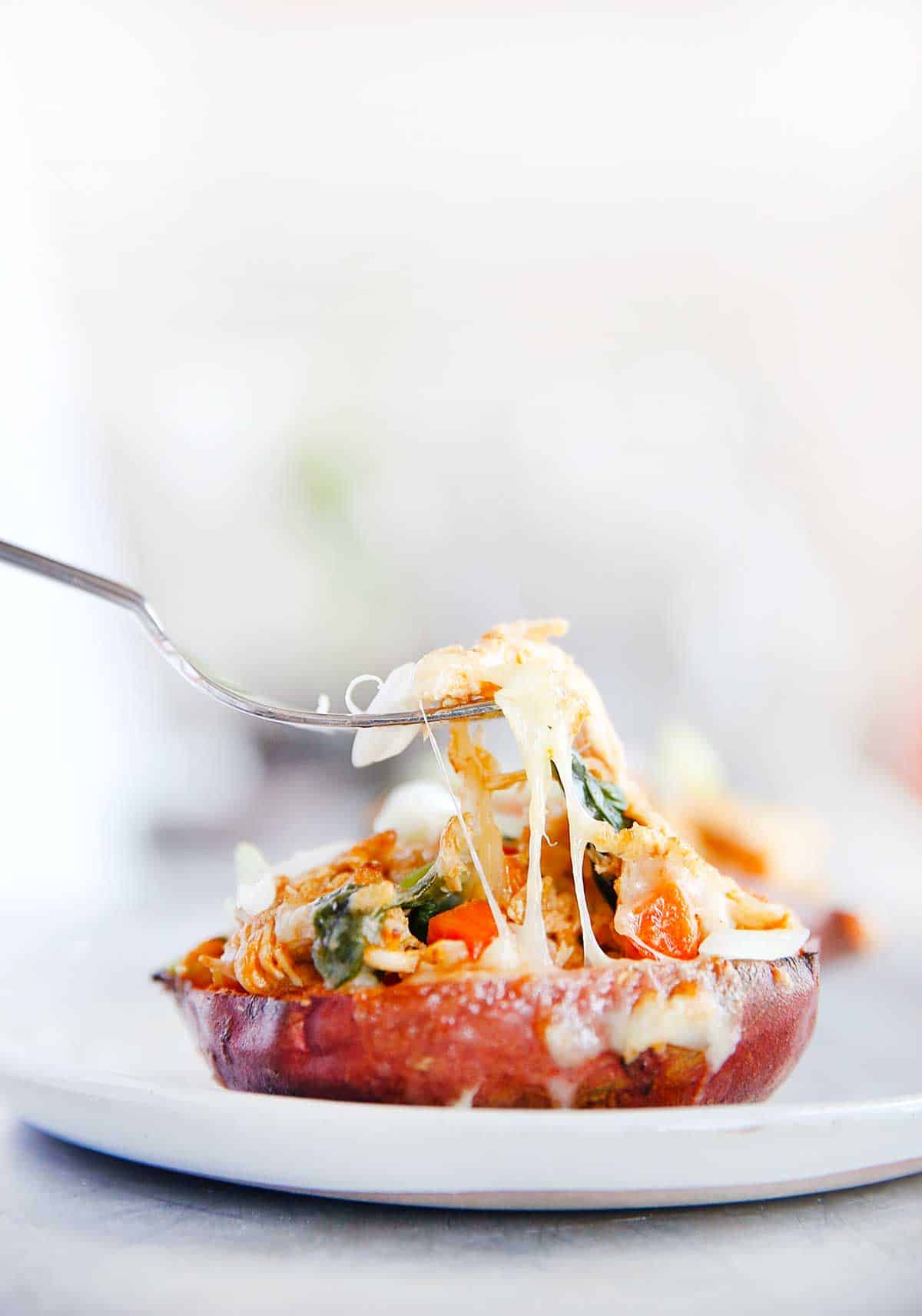 How can you store these Buffalo Chicken Stuffed Sweet Potatoes for meal prep?
If you wanted to make these for a few days of lunches, complete the recipe as directed and then cool the broiled sweet potatoes completely before placing in a container in the fridge. We like using glass containers because they can double as a storage container and can be heated up in either a microwave or a toaster oven. These would taste better if heated up in a toaster oven, but if the only option when you are at work is a microwave that will work as well!
If you like this recipe with buffalo sauce, check out these others:
Buffalo Chicken Stuffed Sweet Potatoes
We're diving in to How to Make Sweet Potato Toast today because they are our new favorite breakfast, snack, or lunch and can guess they'll be yours too! Sweet potato toasts are easy to make, nutrient-dense, and there are so many options to shake up your toast topping game. Sweet potato toast is a great fiber-rich, gluten-free, Whole30 approved, and vegan healthy toast replacement! PLUS, they are super easy to make!
How to Make Sweet Potato Toast
Making sweet potato toast is about to become your new favorite breakfast, snack, lunch, or hey, even dinner! These Pinterest-worthy lower carb "toasts" have been making the rounds lately. What is sweet potato toast? Well basically they are cooked slices of sweet potato that are a great nutrient-dense alternative to regular toasted bread that can hold a hefty portion of toppings. Did we mention they are also delicious? Today we're diving into all the details on How to Make Sweet Potato Toasts for our ongoing How to Wednesday series and sharing our favorite topping choices as well!
What kind of sweet potatoes are best?
Look for large round sweet potatoes! These work best because you can get good slices out of them. Curved ones, or oddly shaped ones, aren't great for toast because you'll waste more of the sweet potato when you're slicing them up!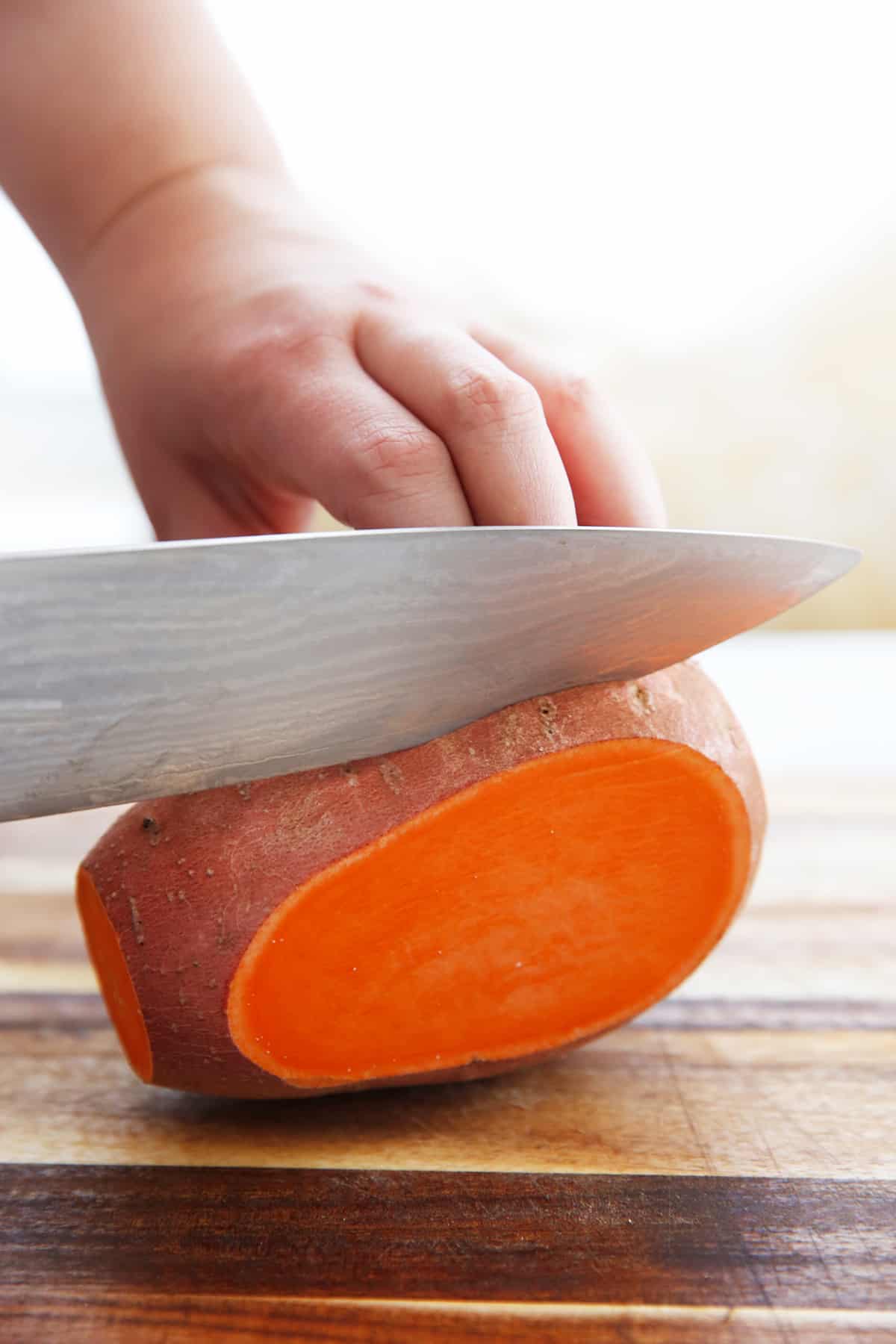 What are the different kinds of sweet potatoes?
Well this isn't the most straightforward question! These day the grocery stores can sell a few different types of sweet potatoes and sometimes they are labeled yams (but apparently they're not actually yams?). For this purpose the best type of sweet potato is usually labeled as a Garnet Yam, but a Beauregard or a Jewell Sweet Potato will work best too.
Garnet Yams are actually sweet potatoes and they are the best choice for sweet potato toast.
Japanese Sweet Potatoes and Hannah Sweet Potatoes: These two look different on the outside, with the Japanese having a purple skin and the Hannah having a tan skin but they are both similar on the inside with starchier yellow flesh. We don't recommend these for sweet potato toast.
Purple Sweet Potato: This has a very starchy firm purple potato. While delicious, we also don't recommend this type for sweet potato toast.
How do you easily cut up sweet potatoes
There are two options for slicing up the sweet potatoes. You can either use a mandolin, though it will need to be a good quality one with a sharp blade. Or use a sharp knife! If you are a little unsteady with your knife skills, slice of a piece of the sweet potato so you can rest it on that fast surface for safer cutting.
Do you peel sweet potatoes?
Peel the sweet potato if desired! The skin is edible, but can be rough and fibrous, so if you are concerned with texture you can peel the skin off. The most important thing is to aim to make them all the same size. For sweet potato toast, we find it's easier to leave the skin on because it helps the sweet potato keep it's shape.
Why we aren't making sweet potato toast in the toaster
We know this method is out there–but we don't recommend it. It takes too long to cook the sweet potato in the toaster (unless you are using a powerful toaster oven) so we recommend using the oven bake method first, and then to reheat you can use a toaster to warm it up and get it slightly crispy.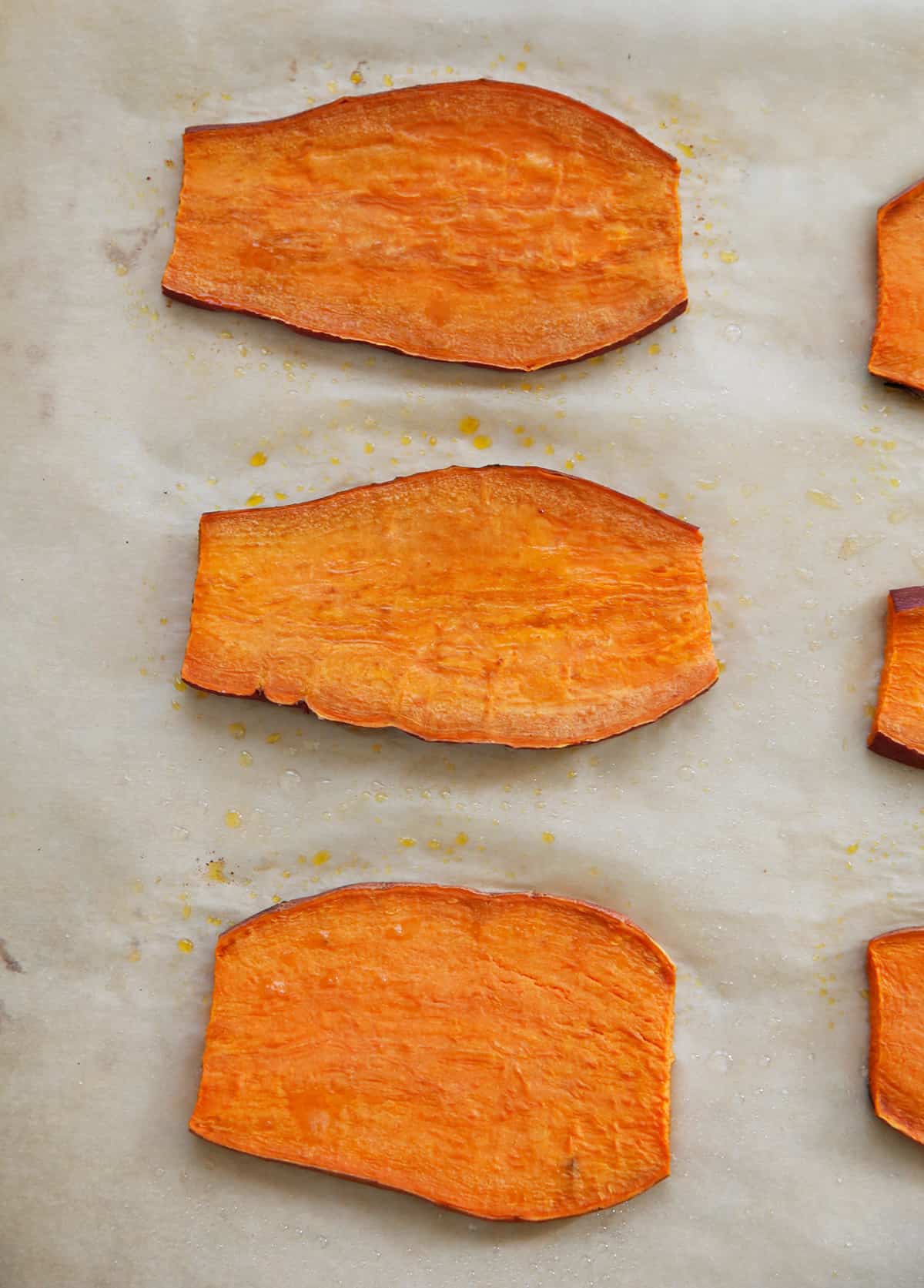 There really are endless options for topping the sweet potato toast. You can go with savory or sweet, or even make a DIY sweet potato bar and let your loved ones make their own!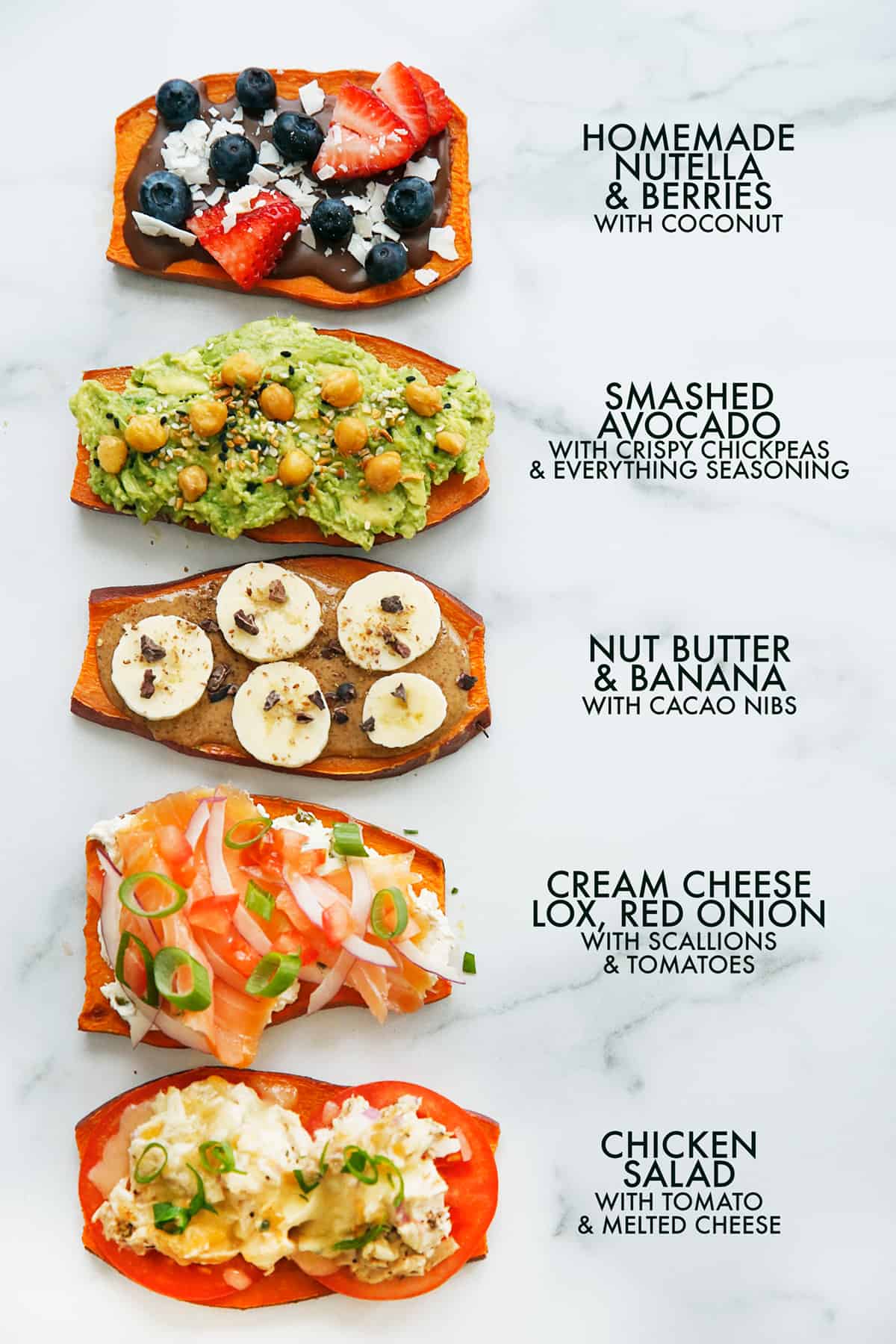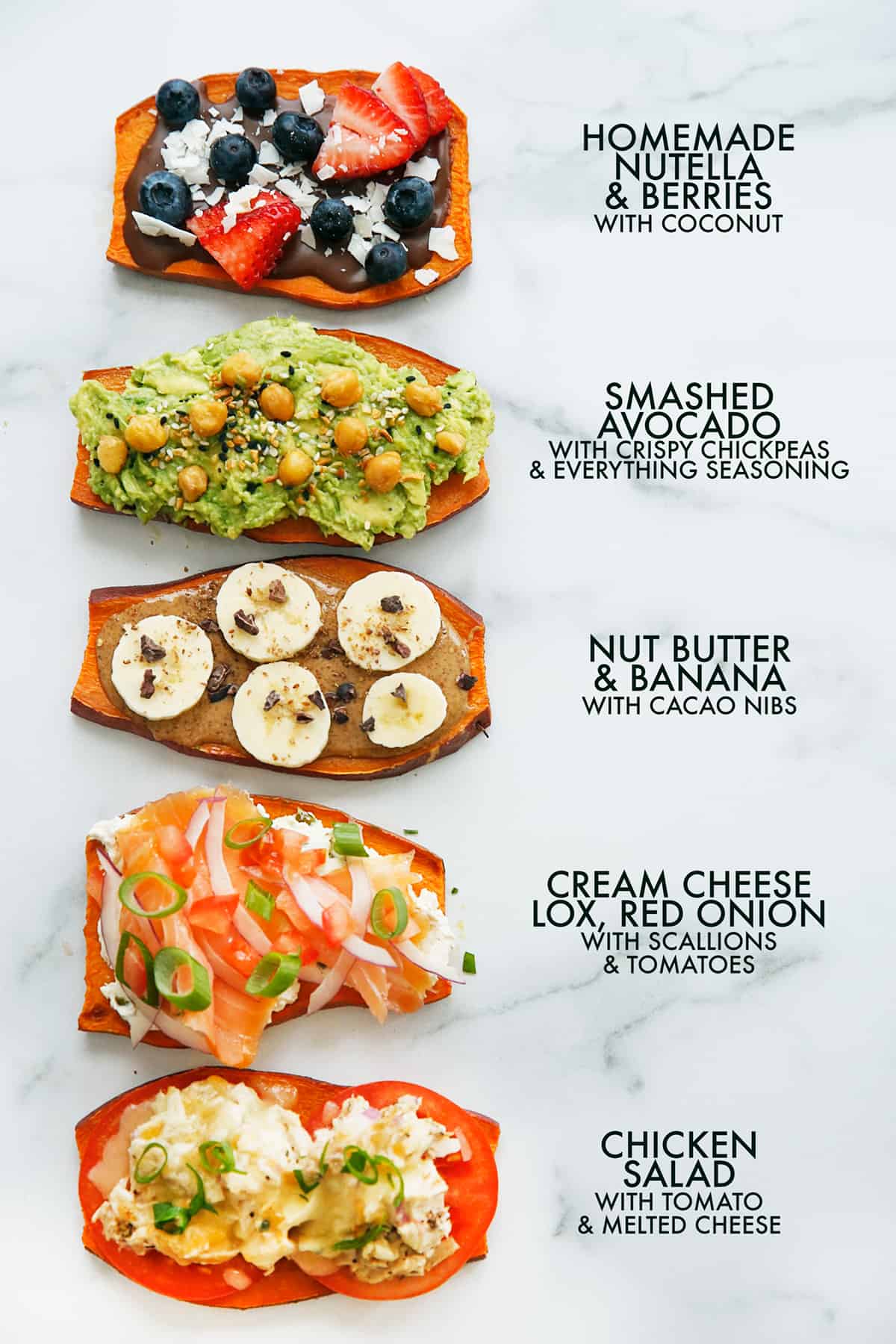 Savory Ideas:
Cream Cheese, Lox, Red Onion, Tomato slices, and Capers: Kite Hill is a great dairy-free alternative for cream cheese.
Tuna Melt or Chicken Salad Melt: Place your favorite tuna salad or chicken salad on your sweet potato toast, top with slices of tomato and cheese, then place under the broiler, for about 1 minute, until cheese is melted!
Loaded Avocado Toast: In the LCK cookbook, there is a killer avocado toast that recipe that can be used here! You can use that topping, or make a quick smashed avocado topping: Smash your avocado, sprinkle some salt, red pepper flakes, garlic granules and squeeze of lime juice! Then top with crispy chickpeas, everything bagel seasoning, and some sriracha!
Sweet Ideas:
Nut Butter, Banana, and Cacao Nibs: You can use any type of nut butter or sunflower seed butter here and add in fresh banana and cacao nibs for crunch or regular chocolate chips. Sprinkle with some chia seed or flax seed for some extra fiber.
How to Reheat:
This recipe makes a large make ahead batch for the week. To reheat as needed either stick it in a toaster, a toaster oven until hot and edges are crispy. It's best to top as needed (like regular toast) but you can prep one for lunch to reheat at work later and reheat like any other food, though the sweet potato won't be crispy.
---
If you like this how to, check out these others:
How to Make Sweet Potato Toast
This Loaded Paleo Breakfast Hash is such a delicious hash for weekend BRUNCH or when you are craving breakfast for dinner! The spicy chicken sausage and bacon pair so perfectly with the sweet potato, onions, and peppers. It can be eaten as is for a veggie and protein filled breakfast, or topped with an egg!
Loaded Paleo Breakfast Hash
Normally when preparing sweet potatoes for breakfast I make these Roasted Cinnamon Sweet Potato Home Fries. But today, seeing as it was a 'breakfast for dinner' kind of night, I decided to be adventurous. I loaded up my skillet and cooked up a hash that was a huge hit. This loaded hash with eggs and hot sauce… I think I could be in heaven!
Ingredients Needed:
Olive oil
Garlic
Sweet Potato
Red Pepper
Green Pepper
Onion
Tomato
Chicken sausages
Bacon
Salt and pepper
Baby spinach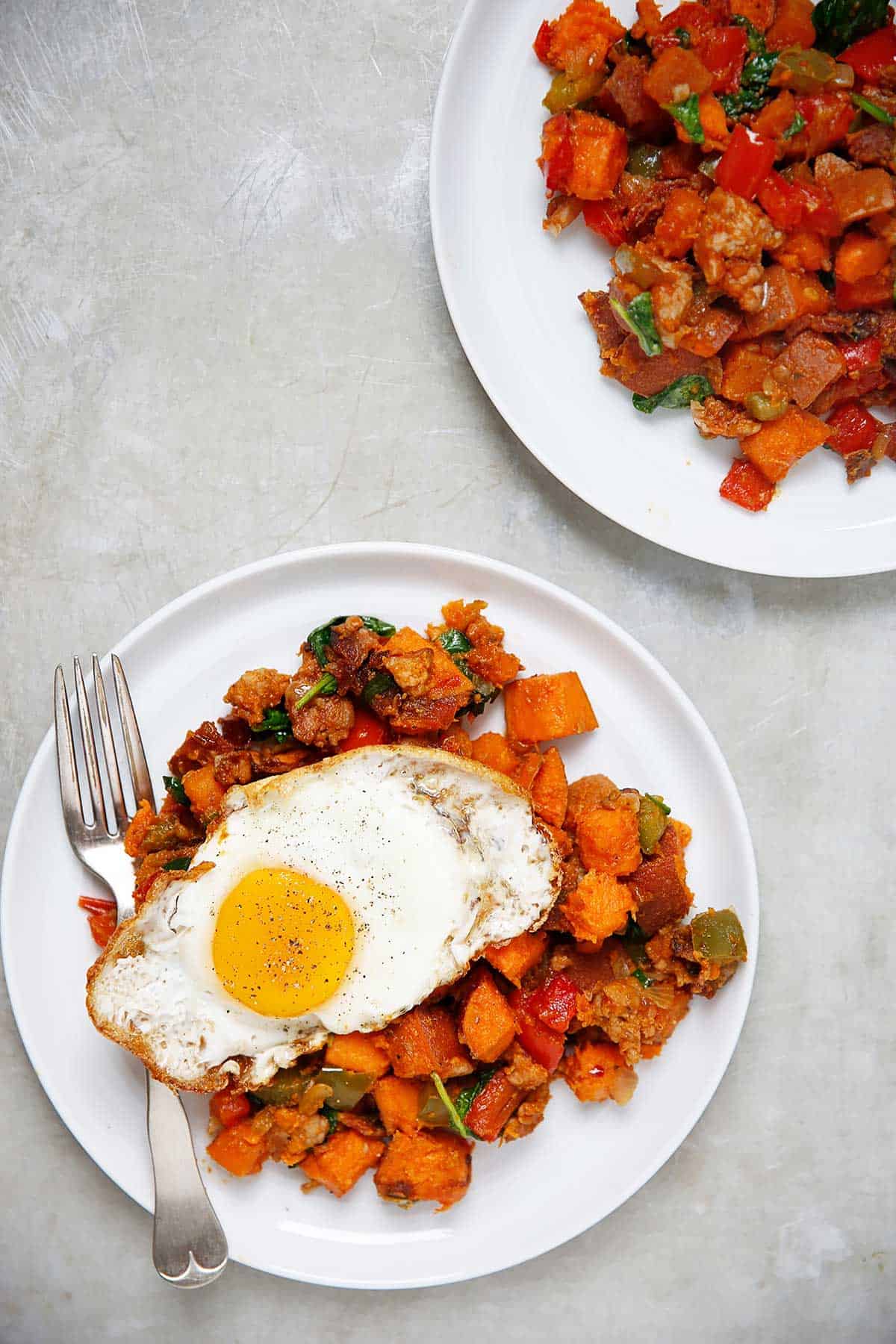 This would also be a great make ahead breakfast idea that you can prep ahead of time on a Sunday and enjoy the next three mornings, with or without eggs! It's great because it's packed with veggies, protein and fat and will keep you satisfied for the whole morning!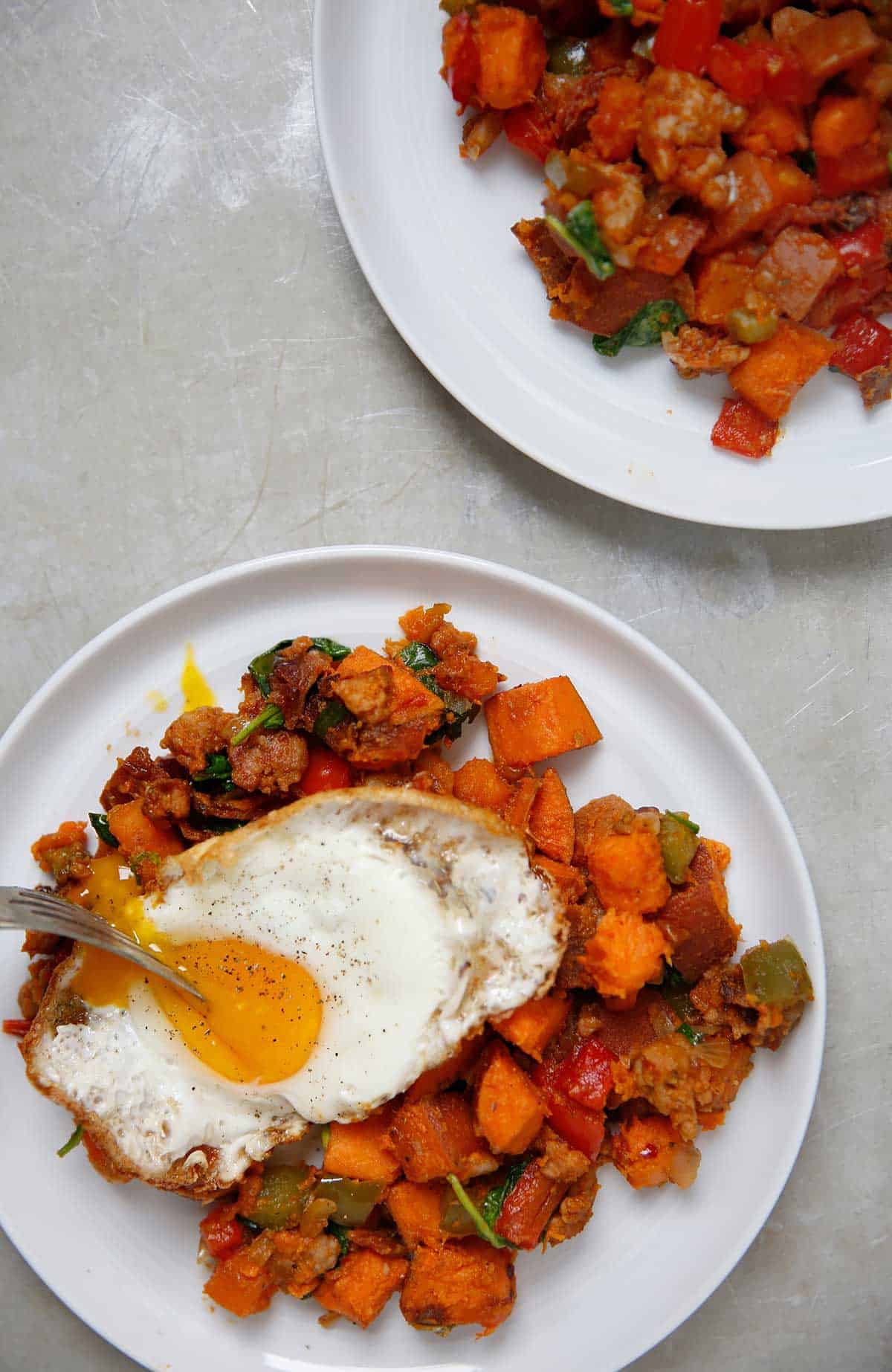 If you like this Sweet Potato Hash Paleo recipe, check out these others:
Loaded Paleo Breakfast Hash
This Sheet Pan Ranch Chicken and Vegetables is made with homemade paleo ranch dressing, marinated chicken, and perfectly cooked veggies! It makes for the ultimate healthy-yet-hearty dinner!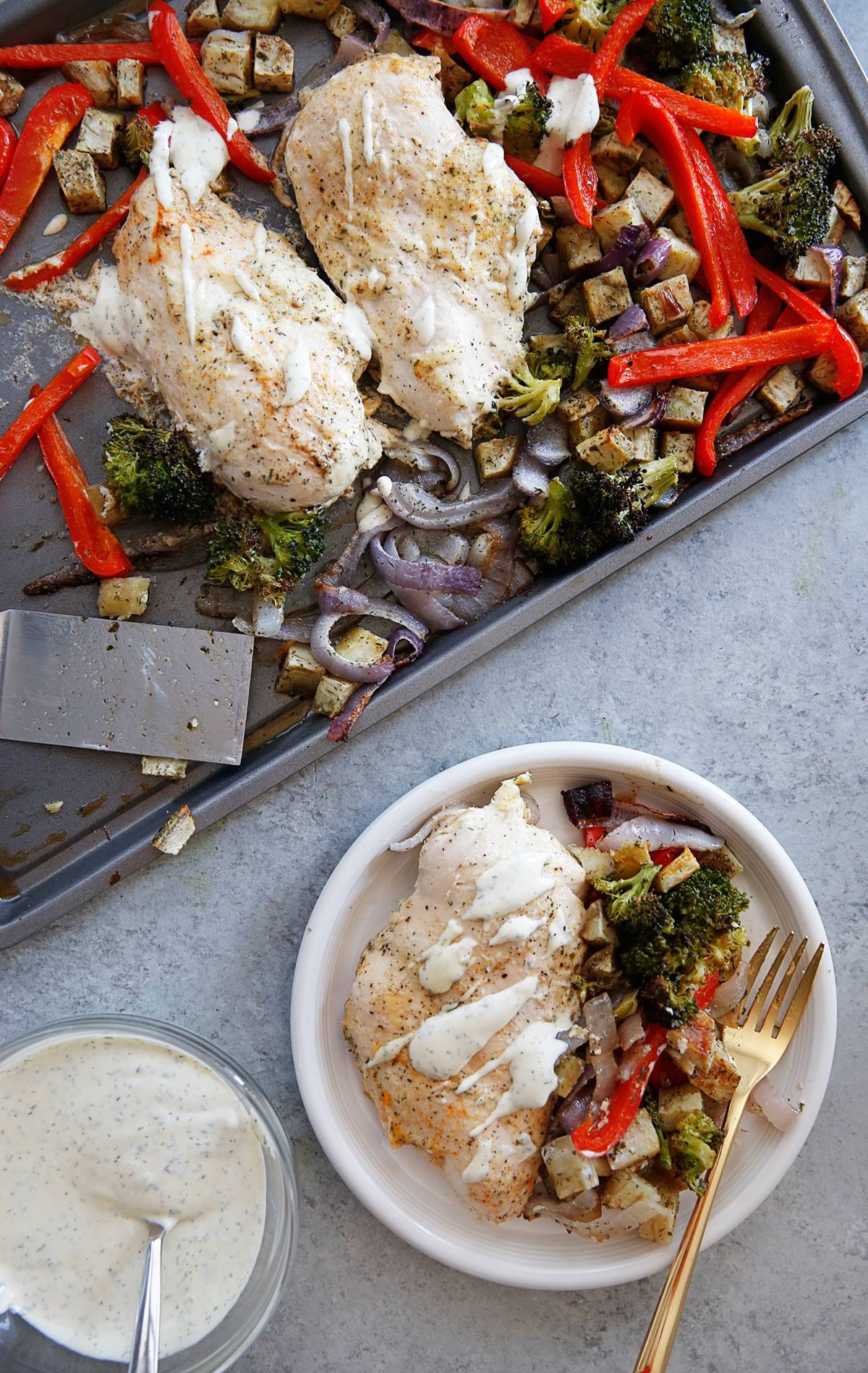 Sheet Pan Ranch Chicken and Vegetables
We love the mighty sheet pan here at LCK! This hands-off cooking method makes getting a delicious meal on the table simple and the clean up is a breeze. We've tested a range of recipes for different meal occasions and varying cooking time, but mostly we just love that utilizing the sheet pan allows for unattended cooking, giving us EXTRA time in our busy lives.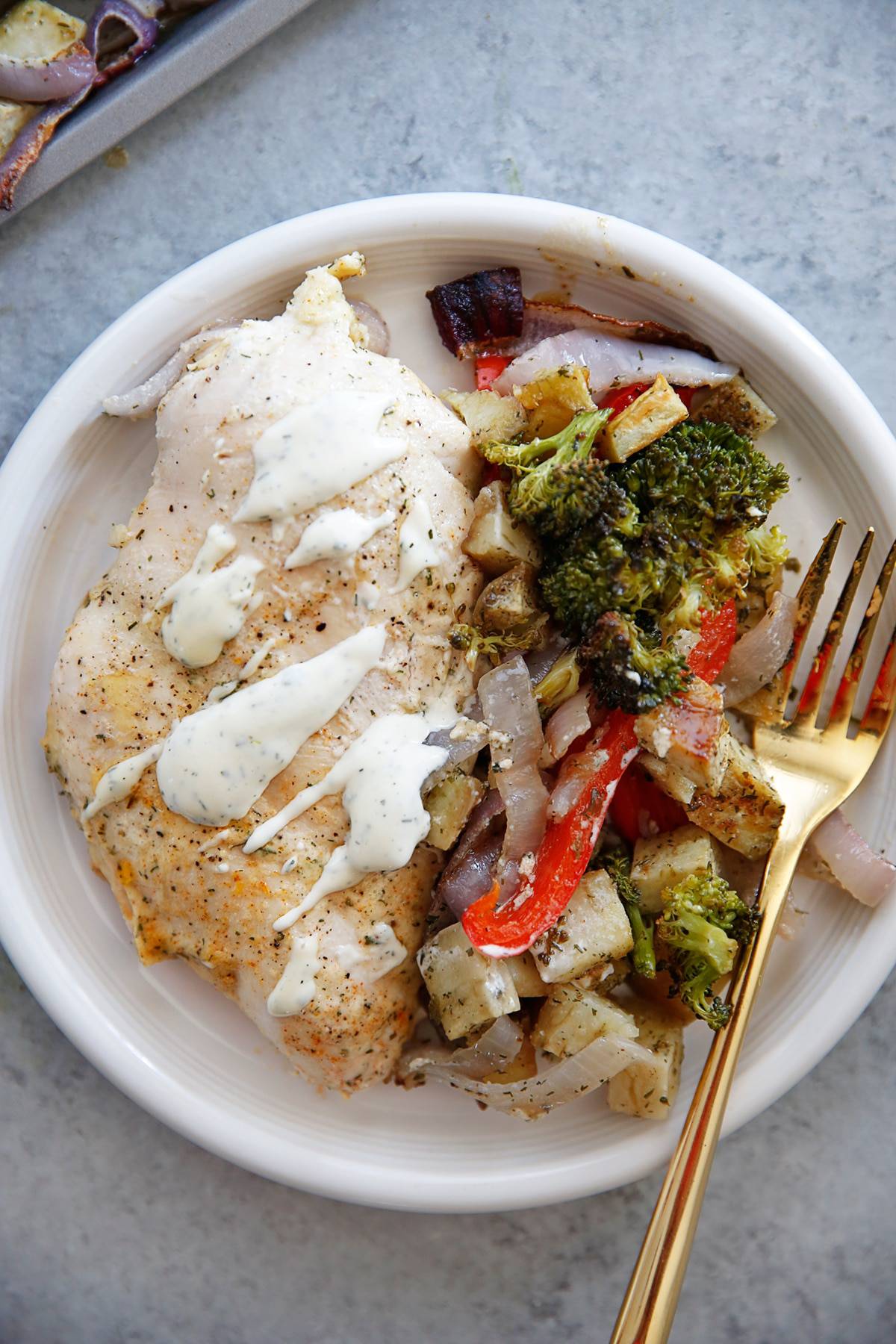 Tips for sheet pan cooking:
Read the recipe all the way through (of course) and plan to use a timer! Most recipes require different cooking times, so make sure to use a timer so you can truly walk away from the oven and not have to worry about when your adding anything in to the oven.
Do the prep ahead of time: Cut vegetables, make sauce or mix spices the night before or that morning if you are looking to speed up the process when it comes time for the actual cooking.
Use parchment paper to make clean up a breeze.
Use the correct size sheet pan. When we say sheet pan we are referring to the rimmed half sheet pan which is 18″ by 13″. The size of the sheet pan matters because you do not want to overcrowd the pan when cooking, so if you are using a smaller sheet pan you may need to use 2 to achieve the same result.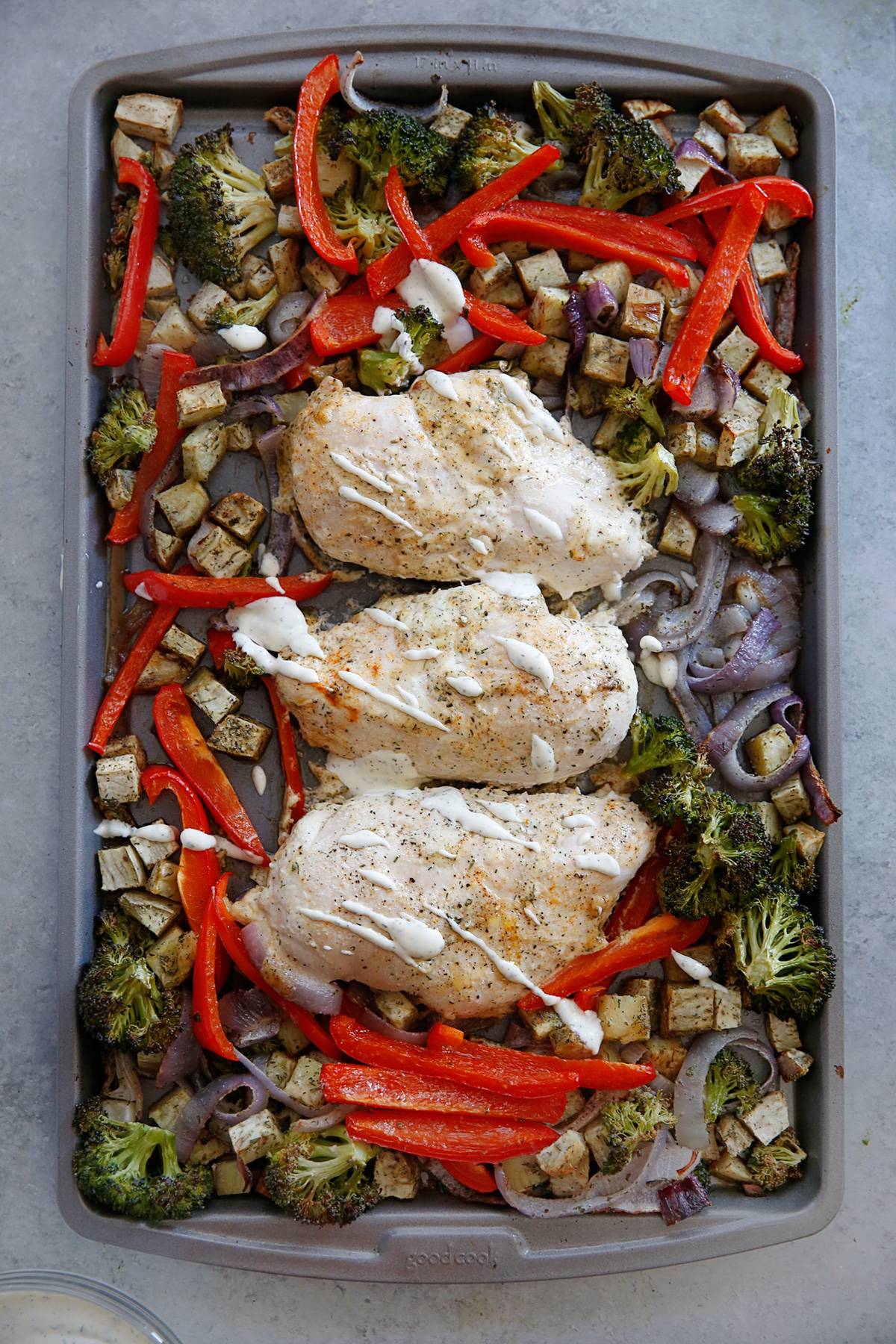 If you like this recipe, try these other sheet pan meals:
Sheet Pan Ranch Chicken and Vegetables
This Slow Cooker Baked Potato Bar is a delicious and fun DIY meal that is totally customizable. Everyone will love this meal, and it's simple to put together!
Slow Cooker Baked Potato Bar
We are all about easy and fun meal ideas, and this Baked Potato Bar dinner idea is just about the best there is! Not only is it super easy to make, thanks to making the "baked" potatoes in the slow cooker, but it's also super delicious and fun for the whole family. Make the perfect baked potatoes right in your slow cooker, grab those toppings and off you go!
And this slow cooker Sweet Potato Bar is perfect for game-day! Such a perfect and simple dish! Get creative with this, and top with all of your favorite toppings!
What do you serve with slow cooker baked potatoes?
The key to setting up a good baked potato bar is to have variety of toppings! And to lighten it up, make a big giant salad to serve alongside the made up baked potato.
How do you bake potatoes for a potato bar?
There are so many options for making the potatoes for the potato bar. In the recipe, I talk about making the potatoes in the slow cooker, which is my favorite way. Check out that for the directions. Or you can roast the potato, or cook them in the instant pot.
To Roast Potatoes:
Pierce about 8 holes in the potato.
Bake in a preheated oven at 400ºF for 50-60 minutes, until cooked through
To Cook in the Instant Pot:
Pierce about 8 holes in the potato and place on a steaming rack and put 1 cup water in the bottom of the Instant Pot liner.
Cook whole potatoes on high pressure for 12 minutes, with a 10 minute natural pressure release.
Baked Potato Bar Toppings
Steamed or Roasted broccoli
Cheddar Cheese
Sour Cream or Cashew Cream
Shredded Chicken (Slow Cooker or Instant Pot or Store-bought Rotisserie)
Chopped Tomatoes
Chopped Scallions
Crispy Bacon
Hot Sauce
Spicy Mayo
Avocado
Beans
Salsa
If you like this fun dinner recipe, check out these others:
---
Pin it for later:
Slow Cooker Baked Potato Bar
Sliders are a super fun, and super easy football snack that can be totally customizable. This year I'm thinking of making a slider BAR! I'll put out the sweet potato skins, have everyone make a few of them, toss them in the oven for the remaining 8-10 minutes and BOOM! Superbowl Slider Bar!
Or… just make a few of these as directed for an awesome appetizer that will fly off your serving tray. Guilt-free deliciousness.

[yumprint-recipe id='245′]

Click here for all of my game day recipes!
Sweet Potato Sliders
This Sweet Potato Gnocchi: Two Ways takes some time to make, but it isn't complicated once you get the hang of it and makes for such a fun hands-on task! Simply delicious, and guilt-free! I served it two ways, with my favorite easy tomato sauce and then with a spinach and butter sauce. So so good.
For a while now I've wanted to make a gnocchi recipe. I knew with the right combination of gluten-free flours I could achieve that dough-like pasta that is loved by many. I also knew it could be customizable based on your desired taste.
This dish was a huge hit. All of my trusty taste-testers requested seconds! I plan on making a spinach version, pumpkin, pesto, and so on one day!
Sweet Potato Gnocchi Without Ricotta
Disclosure: This is a sponsored post with Muir Glen Organic Tomatoes. I was compensated  for the time spent developing this recipe. All opinions expressed on Lexi's Clean Kitchen are always my own. My sponsors help make this blog possible!
What is your all-time favorite pasta dish?
Sweet Potato Gnocchi: Two Ways (Gluten-Free)

Happy Mother's Day to all of you fantastic moms out there! Of course, I'm sending love to my own mom today! I'm lucky that my best friend is also my mom, and for her constant love and support. It's days like today where you step back and think that even if you tell your mom everyday that you are grateful for her, today, make it really count and make her feel extra special! Love you mom!
Many of you might have seen that we closed on our first home on Friday. I've been waiting for weeks and weeks to share the news with you guys, and it's finally here! We are doing some on a budget remodeling before the move-in, and I think I'll share a before-and-after kitchen remodel with you guys! I am so excited for this next chapter in our lives, and can't wait for you all to see some of it!

Now, today's recipe is for you last minute preppers! If you are still looking for the perfect brunch for today, or for a nice meal prep for the the next few days, this Sweet Potato BLT Fritatta is your answer!



I'm looking for some first home tips today! Homeowners, what do you have for me?
Sweet Potato BLT Frittata
These Gluten Free Sweet Potato Latkes are a twist on the traditional. They're slightly sweet and savory, crispy on the outside and perfect served with either apple or cranberry sauce! Made gluten and dairy-free!
Sweet Potato Latkes
I have to admit, I love a classic Potato Latkes, but these Sweet Potato Latkes have a special place in my heart too! They're a twist on the classic, made a bit more nutritious thanks to the extra nutrients in the sweet potato, but still super delicious. Whether or not you serve yours with sour cream or applesauce, you are going to love these! These are also gluten-free, but nobody is going to know the difference! Serve hot and crispy and make extra because these are going to go fast!
Ingredients for Sweet Potato Latkes
Sweet Potatoes
Onion
Scallions
Eggs
Tapioca Flour
Sea Salt
Baking powder
Oil, for frying
Potato Latke Pro Tips:
Don't wear a shirt you care about while making these! The oil can spatter.
Make a tiny one to test in case you want to adjust salt for remaining batches.
I keep my strainer near by so I can strain extra liquid as needed.
After grating potatoes, place into a bowl of cold water. This helps bring out some of the starch!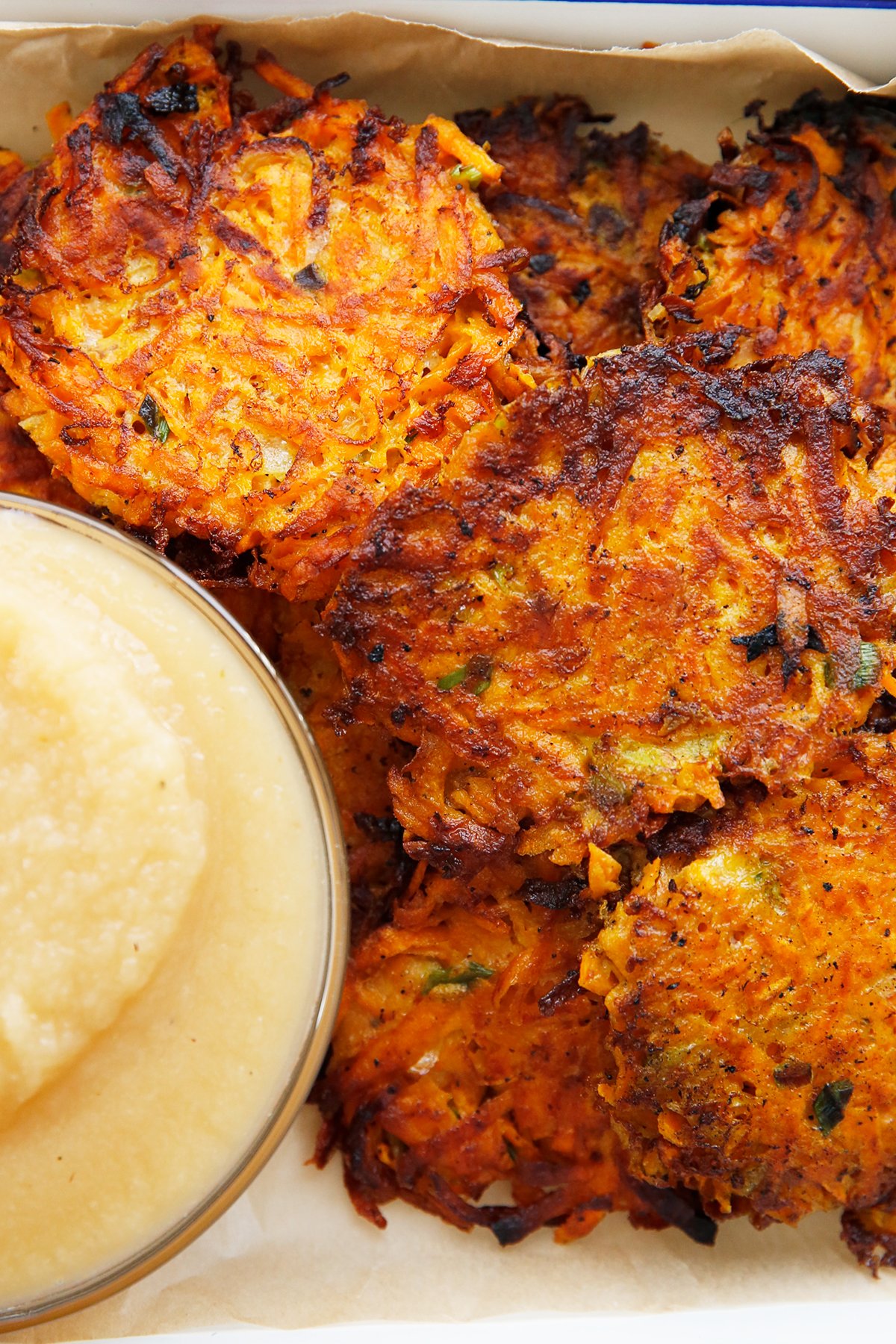 If you like these untraditional latke recipe, check out these others:
---
[yumprint-recipe id='68']