This Chicken Milanese with Crispy Fried Chicken is the perfect healthy spin on the Italian dish! Delicious grain-free pan-fried chicken topped with fresh tomatoes and lemon dressed arugula = simple Summer dinner perfection!
Fried chicken, you guys! I mean, not fried chicken in a fryer with bad-for-you oils and batter, but healthy delicious chicken recipe dredged in good-for-you ingredients and fried in a pan with your favorite healthy oils- are you in yet?
This chicken is crispy on the outside and juicy on the inside. I love chicken made Milanese style- which is fried in a pan and, how I've seen it-  topped with arugula, tomato, and layers of freshly grated parmesan (omit for dairy-free) in a light lemon olive oil dressing.
Perfection. Seriously… dinner perfection. Make this fried chicken in any way you'd like, and you'll score a huge win with your family. I did 😉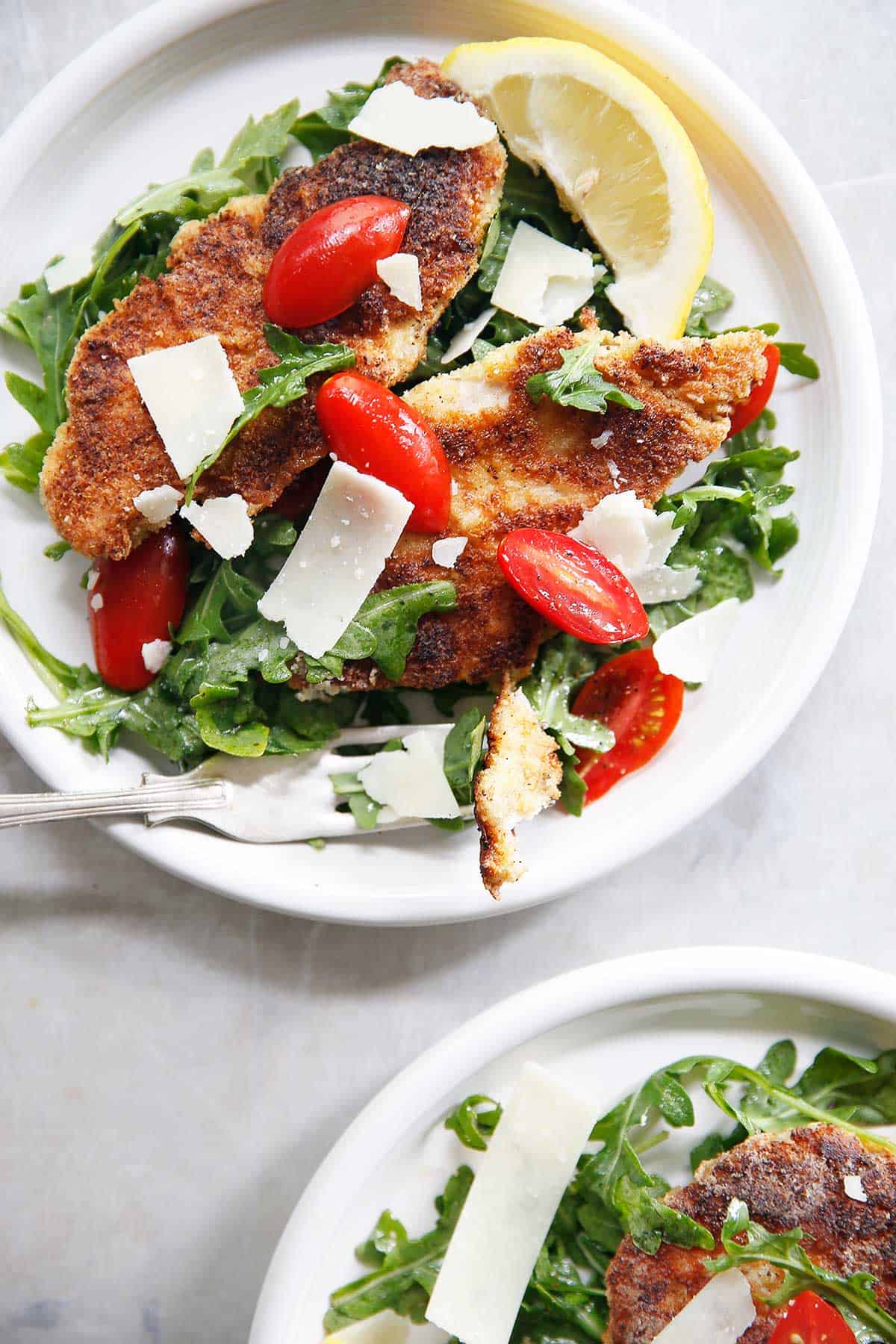 What's your favorite way to serve fried chicken? Let's hear it!

Ingredients
Fried Chicken
1

lb. organic chicken breasts

2

organic, pasture-raised eggs

1/2

cup tapioca flour

1/4

cup ground flaxseed

1/4

cup coconut flour

Dash Himalayan sea salt

Dash freshly ground pepper

2-3

tablespoons oil of choice (I like avocado oil for high heat cooking)
Other
Instructions
In a medium mixing bowl combine flours, salt, and ground black pepper.
In a separate small mixing bowl, whisk together eggs.
Pat chicken dry with a paper towel and season generously with salt and pepper. Using a meat pounder, gently pound chicken until it is 1/4 inch thick. Place on a cutting board, and slice chicken breasts in half.
Dip sliced chicken breasts into the egg, then dredge in flour mixture, dip back into the egg mixture, and into the flour one more time. Dipping the chicken in the egg and flour mixtures twice helps create an extra thick and crispy crust. Repeat until all chicken is coated.
In a large skillet, heat oil for 2-3 minutes until hot.
Place chicken in the skillet and let fry for 5-8 minutes on each side. Cook until chicken is crispy and golden-brown, but juicy in the center.
Toss arugula and tomatoes with oil, lemon, salt, and pepper. Add-in parmesan if using.
Place a bed of arugula on a plate and add chicken. Top with a handful of tomatoes and arugula. Serve warm with a few wedges of lemon.
Recipe Notes
*Cooking time will vary based on thickness of chicken. Make sure to keep an on eye on them to avoid overcooking. Make sure to add more oil if needed during the cooking process.
** Pictures updated May 8th, 2017.
use our hashtag!
I am so excited that you are making a recipe and would love to see how it turns out! Make sure to use the hashtag on social media!
#LEXISCLEANKITCHEN
share this post!
subscribe to the email list!