These Instant Pot Mashed Potatoes are the easiest side dish. They're so quick to make, creamy, and comforting.
These mashed potatoes are Whole30 and Paleo-friendly and can easily be made dairy-free!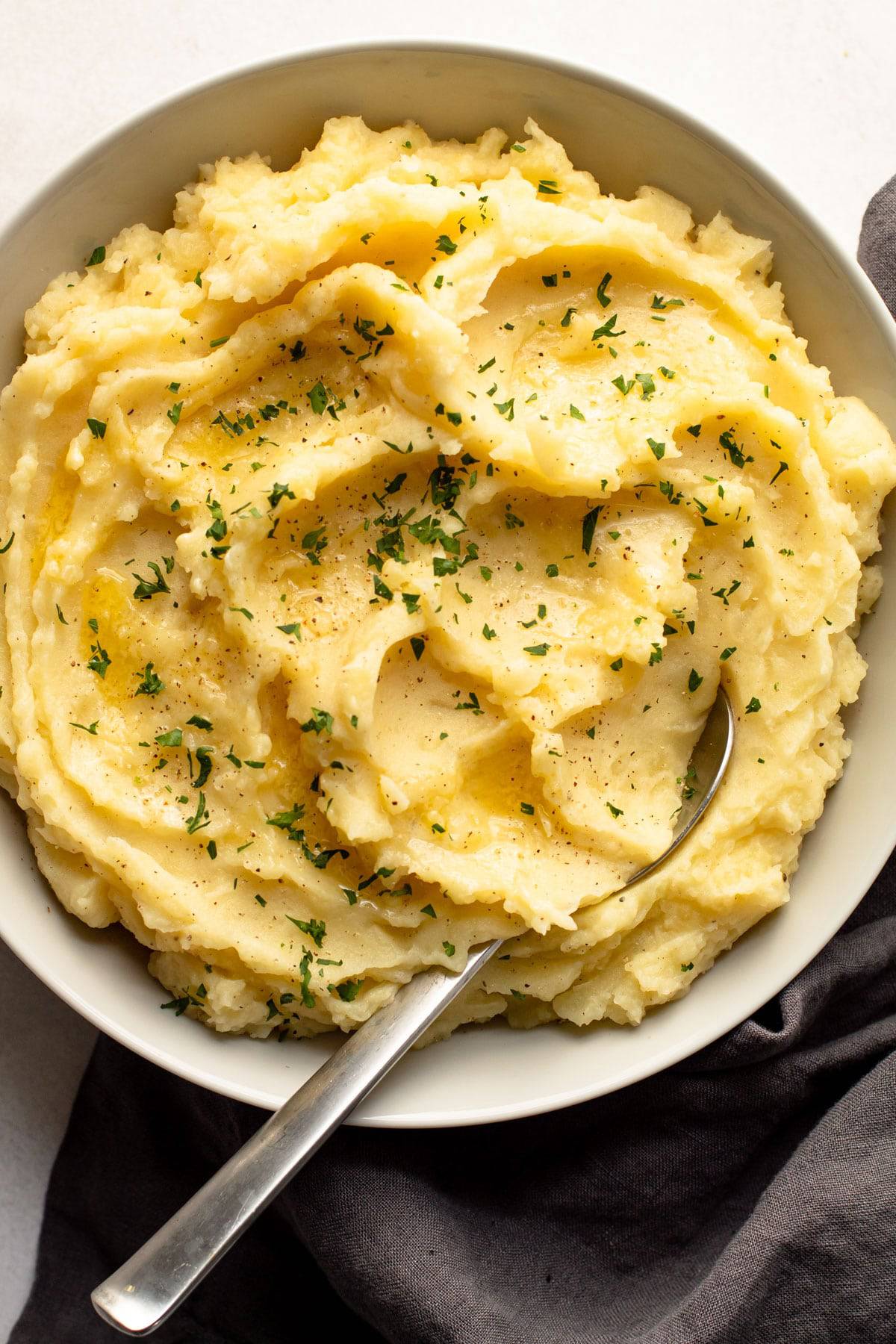 Easy Mashed Potatoes in the Instant Pot
Is there any better comfort food than classic mashed potatoes? They're the perfect side dish to serve with hearty meals like roasted turkey or fried chicken.
Well, we've been making mashed potatoes in our favorite gadget lately: the instant pot! They're so quick and easy to whip up and the result is the richest, creamiest, most delicious mashed potatoes recipe of all time.
At this point, we're never going back to making mashed potatoes the traditional way!
Ingredients Needed:
Potatoes: Our favorite potatoes are yellow potatoes aka Yukon gold or creamer potatoes.
Water: You need water for the instant pot to come to pressure. Be sure to drain it before you add the remaining ingredients.
Seasonings: We're using a simple blend of salt, ground black pepper, and garlic powder.
Milk: Dairy or non-dairy milk will work.
Butter: Regular butter or ghee will work.
Parsley or Chives: Use fresh herbs to garnish the potatoes.
Substitution Ideas
Milk: You can use dairy milk here or any other milk you prefer. Almond milk, oat milk, or rice milk all work great, but I don't recommend coconut milk as it will give the potatoes too much of a coconut flavor. You could also skip the milk and use chicken or vegetable broth instead, like we do in our Vegan Mashed Potato recipe.
Butter or Ghee: Butter is ideal because it adds that classic buttery flavor, but ghee works just as well for Paleo and Whole30 diets. Alternatively, use olive oil or avocado oil for a dairy-free option.
Herbs: Use whatever herbs you like! We love chives or parsley, but rosemary and thyme are delicious options too.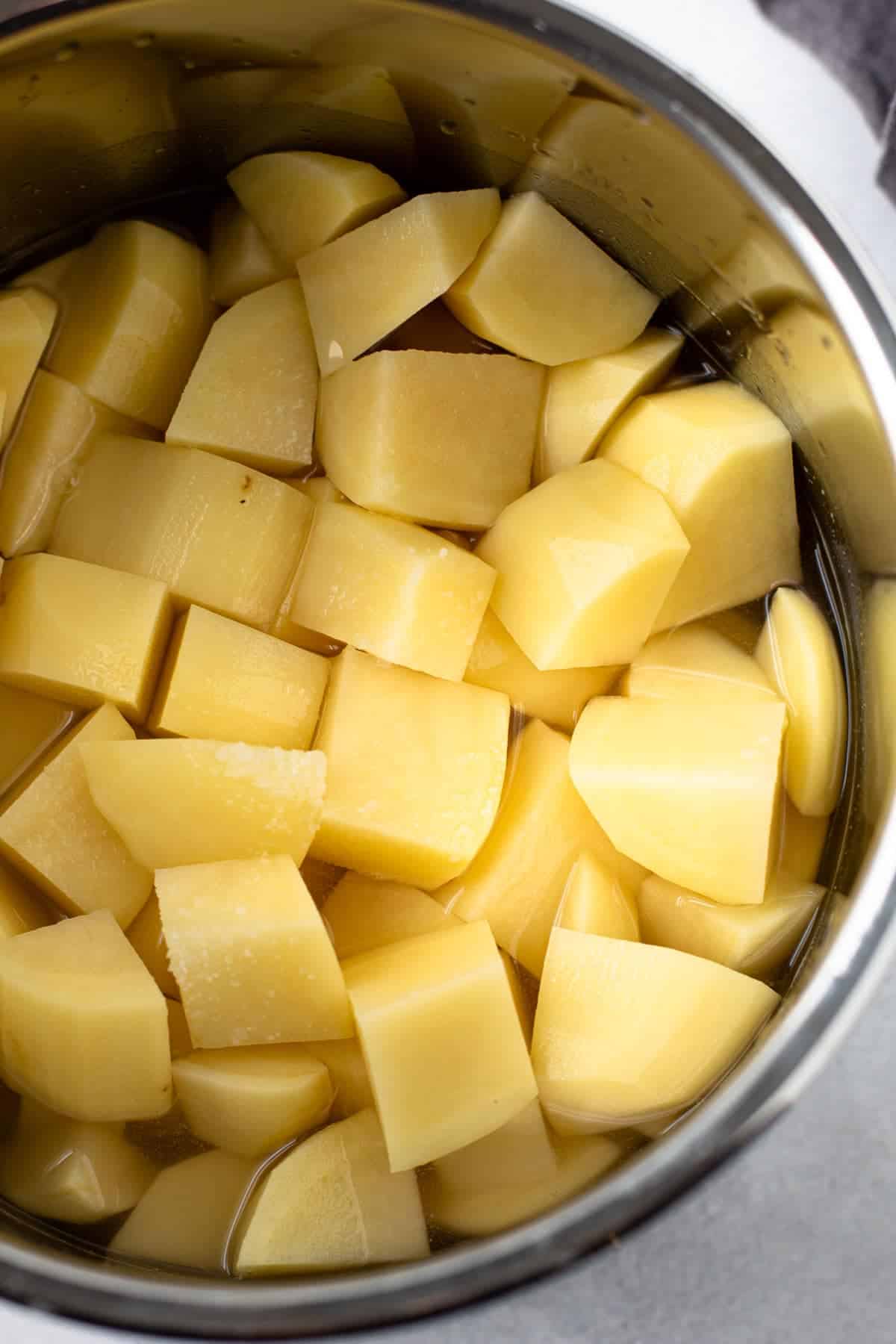 How to Make Mashed Potatoes in the Instant Pot
These mashed potatoes come together in the instant pot in a total of 20 minutes!
Salt and pressure cook: Place the prepared potatoes into the instant pot, pour the water on top, sprinkle with salt, then cook on high for 5 minutes. Release the steam, then drain.
Add remaining ingredients and mash: Add the potatoes back to the pot along with milk, butter, black pepper, and garlic powder. Mash until smooth, then garnish and serve.
Different Mashing Methods
We like to grab our trust masher and mash the potatoes right in the instant pot. Everyone has their own favorite, and others may find these methods easier, so feel free to use your favorite!
Potato Ricer
Food Mill
Immersion Blender
Fork
Electric Mixer
Note: that if you use an immersion blender or electric mixer you need to be extra careful not to overmix. Overmixed potatoes go from creamy to gluey really quickly. If you're using an electric machine, work the potatoes just until they come together. 
What Potatoes to Use for Instant Pot Mashed Potatoes
You'll often see recipes that call for more traditional potatoes such as Russets because of their high starch and low moisture content.
While those work well too, we always go with yellow potatoes if possible. Yellow potatoes, sometimes labeled as Yukon gold or creamer, have creamy flesh and a medium starch level that's so good in this recipe.
A third option would be red-skinned potatoes. They can be a bit waxy and are low in starch which can make them feel a bit denser. Still delicious though!
Tips and Notes
Peel the potatoes. While you can technically leave the peel on, the mashed potatoes are so much smoother and creamier without it. I recommend removing it before you chop the potatoes up.
Chop the potatoes evenly. Make sure the potato chunks are all similar in size so they cook at the same rate. I recommend 1" cubes for the cook time listed.
Don't forget to drain. The potatoes need the water to cook in the instant pot, but if you don't drain them before you mash you'll end up with watery potatoes.
Mash while hot. Don't let the potatoes cool off before you mash them.
Don't over mix. Over mixed potatoes can become thick and gluey. Mix only until just combined for the perfect creamy and fluffy texture.
Serving Suggestions
Mashed potatoes are one of the most versatile side dishes! So, feel free to serve them up with whatever entree your heart desires.
A few of our favorites are:
Looking for another way to use them? Try Shepherd's Pie!
How to Store
Leftover mashed potatoes will last in an airtight container in the fridge for 3-5 days. To reheat, warm on sauté mode in the instant pot or on low on the stove with a splash of broth or milk to moisten.
I don't recommend freezing them because the texture will not hold up when thawed.
More Side Dish Recipes You'll Love
Watch the Video:
Instant Pot Mashed Potatoes
These Instant Pot Mashed Potatoes are the easiest side dish. They're so quick to make, creamy, and comforting.
Ingredients
2

lbs.

yellow

russett or red potatoes, washed, peeled and cut to 1" pieces

1

cup

water

3/4

teaspoon

fine sea salt

½-3/4

cup

milk of choice

3

tablespoon

butter or ghee

1/2

teaspoon

ground black pepper

1/4

teaspoon

garlic powder

Parsley or chives

finely minced (optional)
Instructions
Place potatoes inside the Instant Pot. Pour the water over the top, and sprinkle with salt. Close the lid, and switch the valve to sealing. Cook on high pressure for 5 minutes. Switch the valve to venting to release the steam.

Drain the potatoes in a colander, and return back to the pot.

While potatoes are still hot, add in the milk, butter, black pepper and garlic powder. Mash with a potato masher until smooth. If the potatoes are not loose enough, add in more milk as needed. Taste, and adjust seasoning

Garnish with herbs and serve immediately.
Notes
Try to cut the diced potatoes to a similar size so the pieces all cook evenly. This recipe calls for a smaller dice of the potatoes so they cook quicker.
Nutrition
Serving:
1
/4 recipe
Calories:
274
kcal
Carbohydrates:
44
g
Protein:
8
g
Fat:
9
g
Saturated Fat:
5
g
Cholesterol:
25
mg
Sodium:
448
mg
Fiber:
3
g
Sugar:
6
g