There's so much to love about the holiday season. This time of year gives us all an opportunity to share gifts with the people we care about most. Does gifting stress you out? Don't panic! As always, I've put together a holiday gift guide to help you with your search.
I'm also a big believer in the fact that food is love, and I don't think you can ever go wrong with sharing some edible treats come the holiday season. Everyone on your list will appreciate the fact that you took the time to actually get in the kitchen and DIY a present for them… and that's before they even take a taste! On top of all this, it's lighter on your budget! I've scoured all of my favorite LCK recipes to create this list of the most giftable treats. Enjoy!
18 Edible Gifts for All of Your Favorite People
Give the gift of yum.
---
Classic Homemade Granola: Granola is almost always a crowd pleaser, and my gluten-free granola recipe is both delicious and healthy. It's extra crunchy and flavored with cinnamon, pumpkin pie spice, honey, maple syrup, molasses, vanilla, and other nutrient-packed ingredients that will help you and your friends and family members get the fiber, antioxidants, and protein you need. You'll give the gift of many delicious breakfasts and snacks with this one!
Peppermint Bark: There's also what you might think of as the most classic version of chocolate bark — the peppermint variety! My recipe features just five ingredients and involves little more than melting chocolate and making it look pretty. It's great for putting in bags and gifting to teachers, co-workers, neighbors, and anyone else you care about.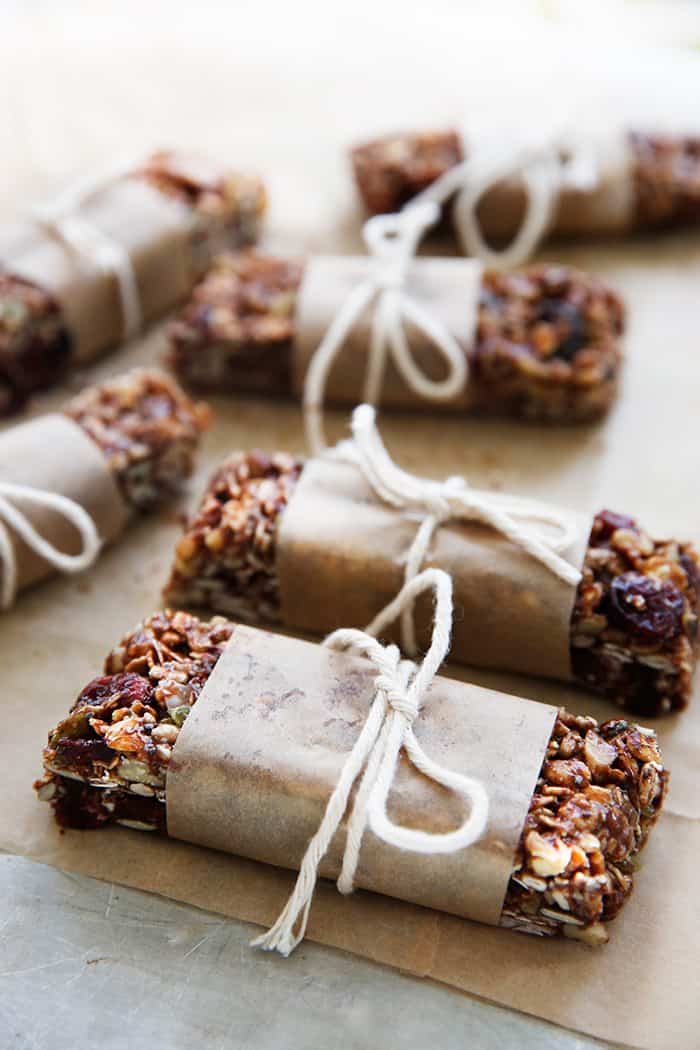 Trail Mix Granola Bars: I love making these granola bars to keep around the house for snacks and on-the-go breakfasts. I'm sure the busy moms in your life would absolutely love to receive a box of them to keep on hand, as well! You can even customize the recipe so it's chock full of the nuts, seeds, and fruits that the recipient loves best.
DIY Everything Bagel Seasoning: Everything Bagel Seasoning from Trader Joe's has been all the rage lately, but thanks to my recipe, you can make your own version and gift it to friends and family members! The best part is that you probably have most of the ingredients in your pantry already. This is an especially great gifting option for people who don't have easy access to a Trader Joe's themselves.
Trail Mix Bark: This sweet & salty bark is one of my favorite treats to DIY. In addition to appealing to pretty much all taste buds, the bark is gluten-free, grain-free, dairy-free, and even vegan friendly, so it can satisfy almost all lifestyles, too! I love making bark with cookie cutters so they're that much more special and festive.
Sweet & Smoky BBQ Sauce: I'm a big believer in the fact that everyone should have their own signature BBQ sauce recipe, but if you know this isn't the case for some of the people on your gift list, you can just let them borrow yours (or mine)! My sweet and smoky version is paleo friendly and free of refined sugars. Plus, it takes just twenty minutes to make, so it will fit easily into your busy holiday schedule.
Maple Meringue Cookies: Maple is one of my favorite flavors of the season, and cookies are almost everyone's favorite at this time of the year! Put the two together and you've got my easy Maple Meringue Cookies — simple, crunchy, light, paleo, and naturally sugar- and gluten-free. It's upside all around! I worked really hard to perfect this recipe, and I can't wait to see you share it with the people you love most this holiday season.
*BONUS IDEA: Make a few types of cookies, like adding these and these, and make a cookie platter or basket!
Maple Kettle Corn: Your holiday needs more maple, and my recipe for Maple Kettle Corn is a fantastic way to add it to the mix. It's whole grain and made without refined sugars and will still prove totally addicting to everyone you give it to. The best part for the gift giver? It only requires three ingredients!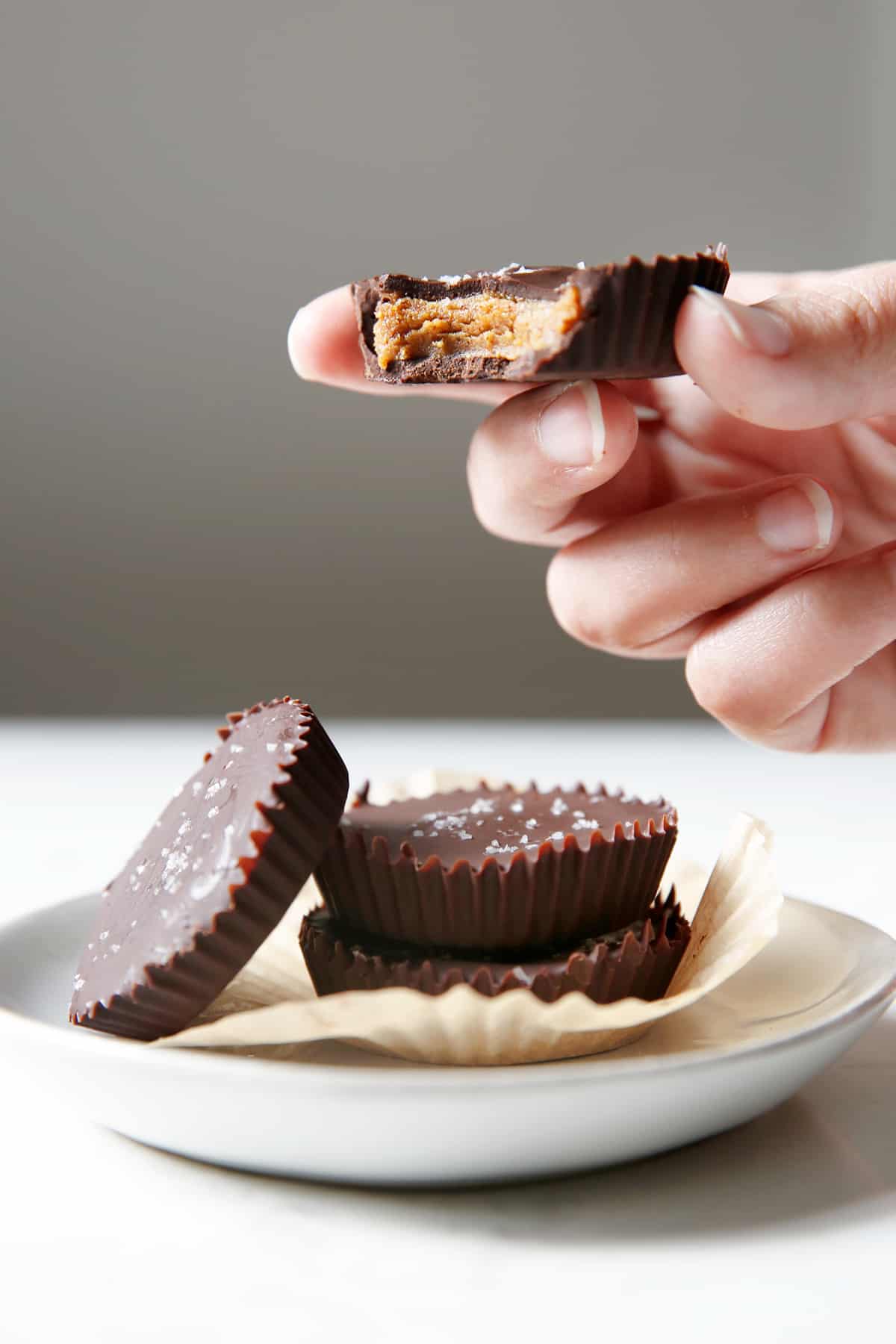 Homemade Almond Butter Cups: There are few treats more universally beloved than nut butter cups, and my recipe for a Dark Chocolate Almond Butter version allows you to enjoy all the candy yumminess without the not-so-healthy elements of the kind you buy at the store. You'll use wholesome ingredients, making the cups paleo friendly and refined sugar-free. And don't be scared off by the idea of making your own candy! The process is easy and totally worth it.
Taco Seasoning: Upgrade Taco Tuesdays with the gift of homemade taco seasoning! It only takes a few minutes to mix up the chili powder, cumin, paprika, garlic, ground celery seed, sea salt, and cayenne pepper that will give the perfect kick to Mexican recipes. If you have kiddos around, ask them to decorate envelopes to package the seasoning up!
Cherry, Coconut and Chocolate Granola: Satisfy all the sweet tooths you know with this granola variety. Tart cherries, sweet coconut flakes, and big chunks of chocolate guarantee delicious flavor, but that doesn't mean I'm cutting corners on nutritional value. The recipe is also full of fiber and healthy fats, and is free of gluten and refined sugar. What's not to love?
Homemade Vanilla Extract: A little jar of homemade vanilla extract is the ideal present for all the baking enthusiasts in your life, because it's the gift that keeps on giving! They'll think of you every time they make one of their own favorite recipes in the months ahead — and since vanilla extract is that much better when it's homemade, the thoughts will only be good ones! It might sound complicated to make your own extract, but it's actually super simple and only requires vanilla beans and gluten-free vodka. (But nobody needs to know how easy it is!)
Homemade Marshmallows: Nothing warms up a cold winter day better than a cozy mug of hot chocolate… and the only thing that can make that cozy mug of hot chocolate even better is a handful of marshmallows. My recipe for paleo marshmallows is perfect for gifting to anyone on your list, and all of your loved ones will thank you for making their winter beverages that much more delicious. Wrap them in a gift bag with a ribbon for an extra touch!
Espresso Candied Pecans: There's something about homemade candy that is really impressive, and these Espresso Candied Pecans are no exception. You'll make them with egg whites, shelled pecans, espresso powder, maple sugar, cinnamon, and sea salt, then add a personal touch with some pretty packaging. The recipe is great for mixing up in large batches, so you can use it to easily check lots of people off your gift list.
Homemade Burger Seasoning: If you live in a colder climate, the days of grilling burgers might seem far off right about now… but it's never too early to start thinking about seasoning those burgers perfectly! I love mixing up my own seasoning mix, and I promise you that all your favorite burger lovers will be crazy about it, too. Plus, giving the gift of homemade burger seasoning is a fantastic way to ensure that you'll get invited to plenty of summer barbecues next year!
Chocolate Matzo Crack: Chocolate-covered matzo bark is often considered a Passover treat, but it's so delicious that it deserves to be served (and gifted!) all year 'round. Why not portion it into cute gift bags and give it as holiday presents? I have recipes for three variations — peanut butter swirl, trail mix, and chocolate toffee crunch — so you can easily satisfy all of the preferences among your friends and family members.
Body Scrub: My DIY Chocolate Coconut Scrub is technically edible, but unlike the other items on this list, you're probably not gifting it with snacking in mind. It's all about exfoliating! There are so many health and cosmetic benefits to exfoliating, but at the end of the day, when you share a present like this with someone you love, you're really giving them the gift of self-care. Everyone deserves a reminder to slow down and take care of themselves this holiday season. If it's DIY, all the better!
---
Happy cooking, happy gifting, and happy holidays!