This Grilled Corn on the Cob is the perfect summer side dish. It's sweet, perfectly charred, and deliciously buttery. No soaking or foil needed!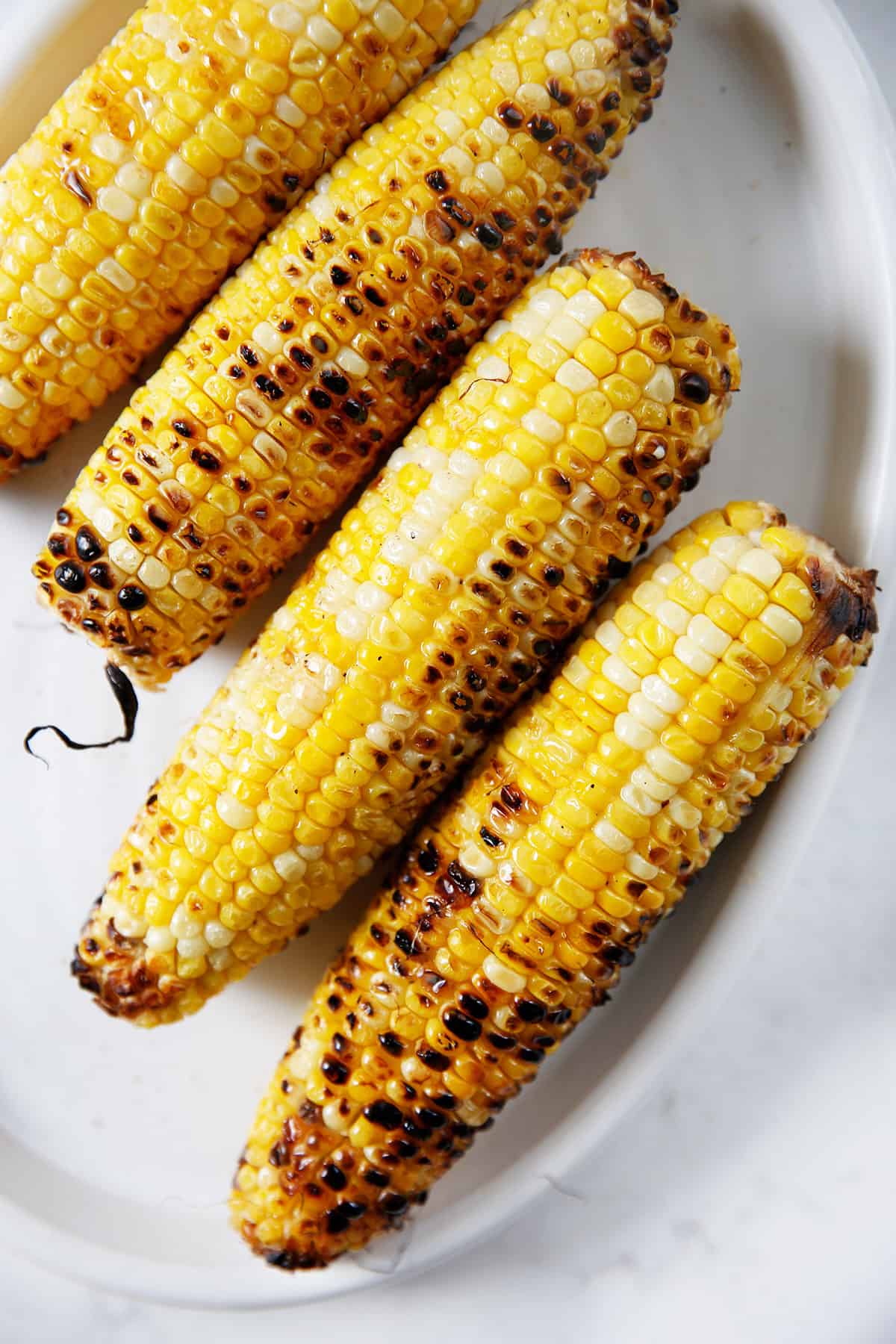 Corn on the Cob on the Grill
I don't know about you, but for me it doesn't truly feel like summer until I'm digging my teeth into a sweet, juicy, and buttery cob of corn. And this grilled corn recipe is one of my all-time favorite ways to make corn on the cob. Growing up my mom would wrap the corn in foil, but I prefer not to do that! Alternatively, if you don't have a grill, you can boil your corn or use the Instant Pot method!
Today, I'm going to show you just how to grill corn on the cob in order to achieve that perfect pop of juicy sweetness with a deliciously charred exterior.
Husks removed, no soaking required, no foil needed! This simple method will have you grilling corn every night of the week all summer long!
Ingredients Needed:
How to Cook Corn on the Cob on the Grill
Grilling corn could not be any easier! It's ready to go in just a few simple steps:
Prep the grill: Brush oil on the grill grates.
Prep the corn: Shuck the corn and remove the silk, then rub with butter and seasonings.
Grill: Place the corn directly over medium-hot heat and cook until cooked and speckled with char spots, rotating every few minutes!
Season again and serve: Add additional salt and butter, then serve hot.
Corn on the Cob FAQ's
Should Corn Be Cooked Before Grilling?
Nope! That's one of the best parts about making corn on the grill. It cooks with no extra steps (like boiling) beforehand.
Do You Have to Soak Corn Before You Grill It?
Nope! While in some cases soaking the corn in a mixture of salt and water can help it retain moisture, I find there's no need for this recipe. We're grilling hot and fast, so there's not quite enough time for the corn to dry out. It comes out sweet and juicy without the extra step!
Can You Grill Corn Without Foil?
Absolutely! In fact, I recommend grilling the corn on the cob unwrapped. This is what gives it that delicious charred exterior, plus I personally prefer not to cook in aluminum foil!
If it's wrapped in foil, it will steam instead. And although that's good, it doesn't have quite the same grilled, smoky flavor we're looking for from grilled corn on the cob!
Should You Grill Corn Without the Husks?
Yes! Cooking corn on the cob on the grill with the husks removed is a great way to achieve that charred, nutty, smoky flavor. Without the husks as a barrier, the sugars in the corn are exposed to the heat. This caramelizes them, adding a delicious depth of flavor that just can't be produced using any other method.
I highly recommend removing the husks for the best grilled corn on the cob.
How Long Do You Grill Corn?
While grilling corn on the cob can vary slightly when it comes to timing, it usually takes right around 20 minutes over direct medium-hot heat to achieve perfect grilled corn. Don't forget to rotate every 5 minutes or so to get those char spots all the way around!
Serving Suggestions
Grilled corn on the cob is the perfect summer side dish next to any of your favorite grilling recipes!
Serve Your corn on the cob with…
How to Store
Leftover grilled corn will last in an airtight container in the fridge for up to 4 days. To reheat, bake in the oven at 350ºF until heated.
You can also freeze corn, you will just want to do so off the cob. To freeze the grilled corn, use a sharp knife to shave the corn kernels off of the cob. Transfer them to a container or bag and freeze for up to 1 month.
Fun and Unique Garnish Ideas
Get Creative With Compound Butter
Compound butter is simply a mixture of softened butter and flavorful components like herbs and spices. I like to infuse our butter with classic southern-inspired spices like celery seed, white pepper and cayenne, among others.
Recipes for Leftover Corn
Watch The Video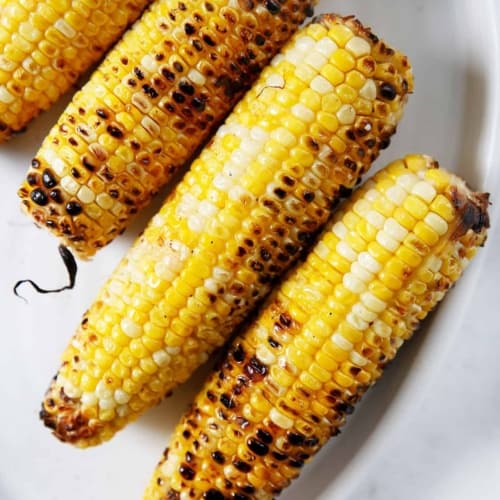 Grilled Corn on the Cob
This Grilled Corn on the Cob is the perfect summer side dish. It's sweet, perfectly charred, and deliciously buttery. No soaking or foil needed!
Ingredients
6-8

ears fresh corn

husks and silk removed (see note)

2

tablespoons

butter

more to taste

Salt

to taste

Pepper

to taste
Instructions
Preheat grill to 350ºF and brush or spray oil on grill grates.

Remove husks from corn and remove the silk (the thin strands attached to the corn).

Rub each ear of corn with unsalted butter, salt and pepper.

Place directly over heat on medium-hot grill (350ºF).

Rotate when dark spots appear and kernels deepen in color (roughly 5 minutes) until ears are uniformly cooked (usually 20 minutes). The ear will be speckled with char spots!

Add salt and serve hot with additional butter and salt.
Notes
Look for bright yellow corn with golden silk. Plus ideally local and non-GMO whenever possible!